The Best Free Christmas Printables
Today we've got a big list of the best and totally free Christmas printables! We've got all sorts of fun games, DIY ornaments, kids activities, and even a few gift ideas using our free printable Christmas gift tags!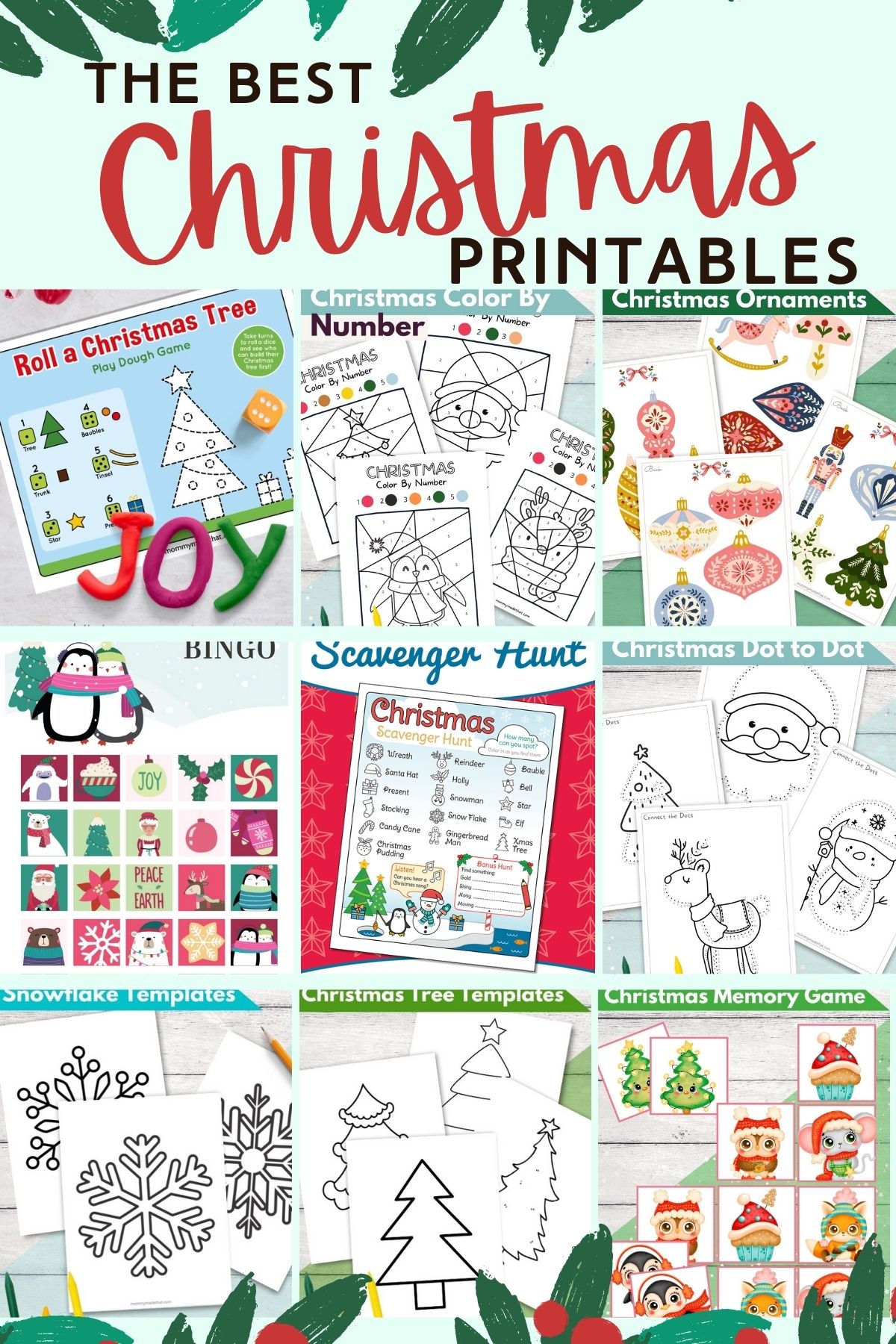 We have all sorts of Christmas Printables on this list! They're free and easy to download and print out.
I'm sure you'll get tons of fun Christmas cheer out of these printables this holiday season.
We have all sorts of Christmas Printables on this list! They're free and easy to download and print out.
I'm sure you'll get tons of fun Christmas cheer out of these printables this holiday season.
Christmas Bingo Printable Card Game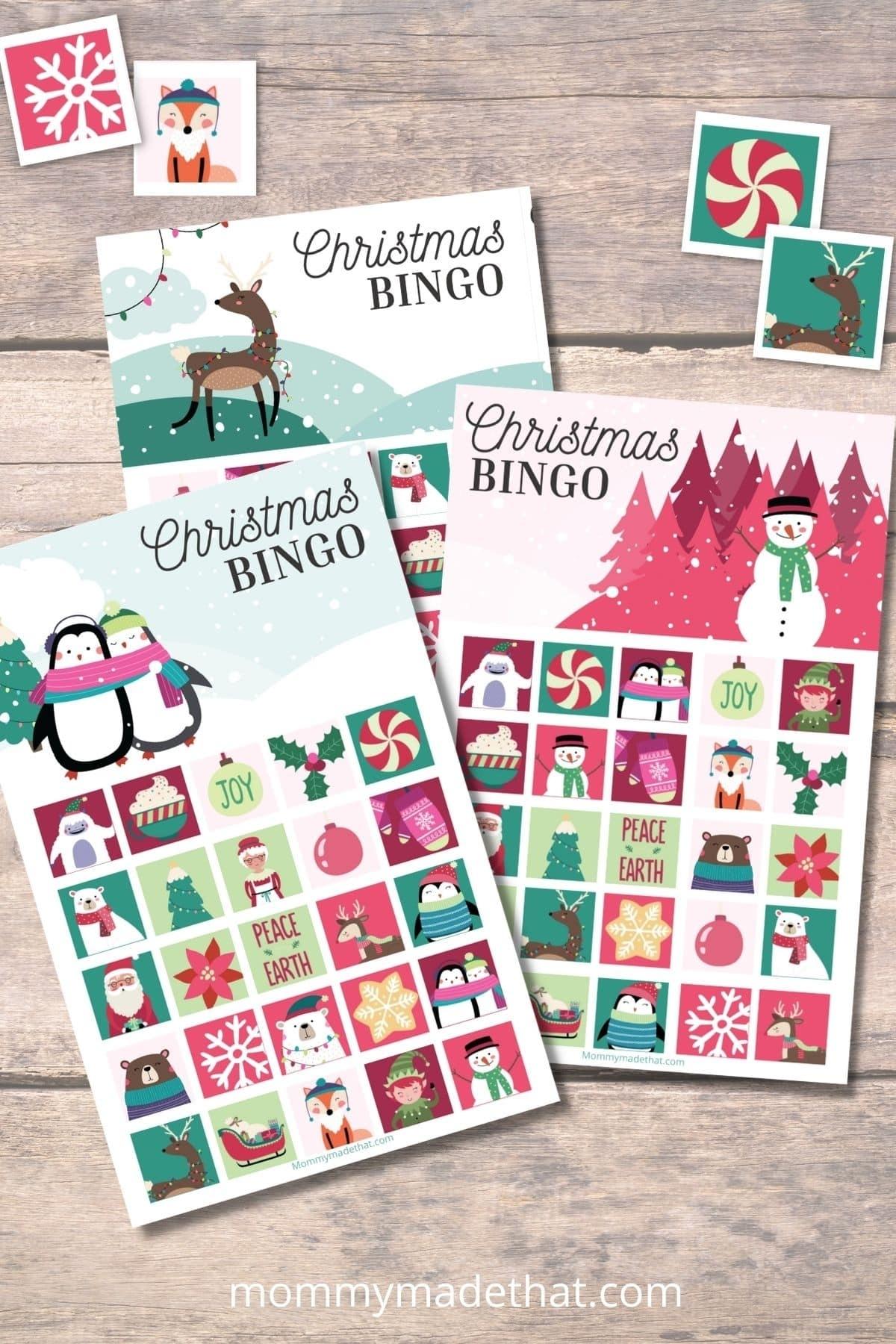 This fun Christmas Bingo Game is a Holiday favorite in our house.
The kids love a good family game of Bingo.
We take turns being the "caller" and the kids love the cute little Christmas characters on the cards.
We laminated the printable cards ours so we can use the same cards year after year.
For game pieces, we tend to use a giant bag of M&Ms we get from the store.
They only make it through the first few rounds though.
Printable Christmas Gift Exchange Game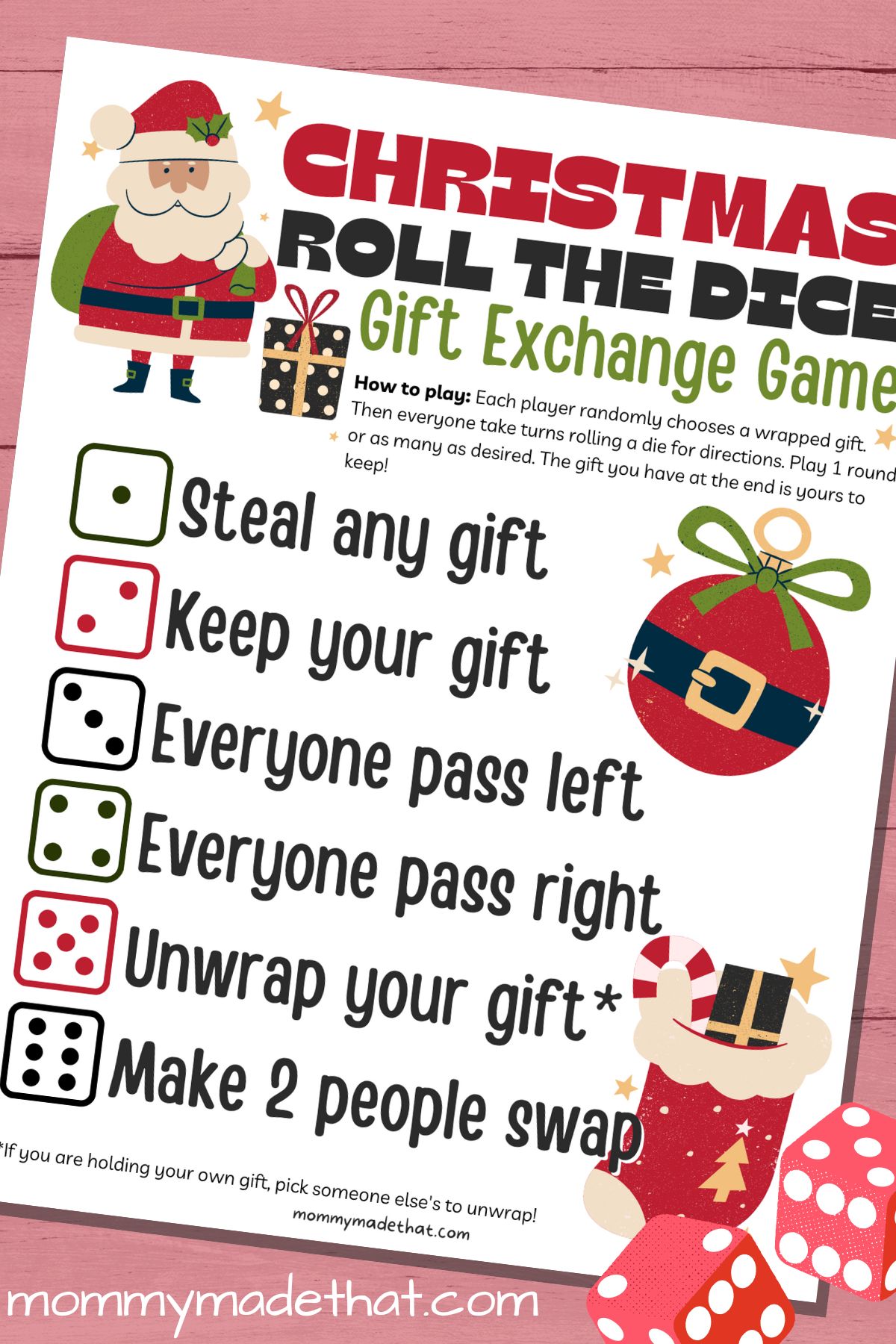 Looking for a fun free printable Christmas gift exchange game? This one is perfect!
You can print out the game rules and grab a dice. It's a fun Christmas party activity that takes very little effort but is sure to cause some laughs and good memories!
Christmas Bucket List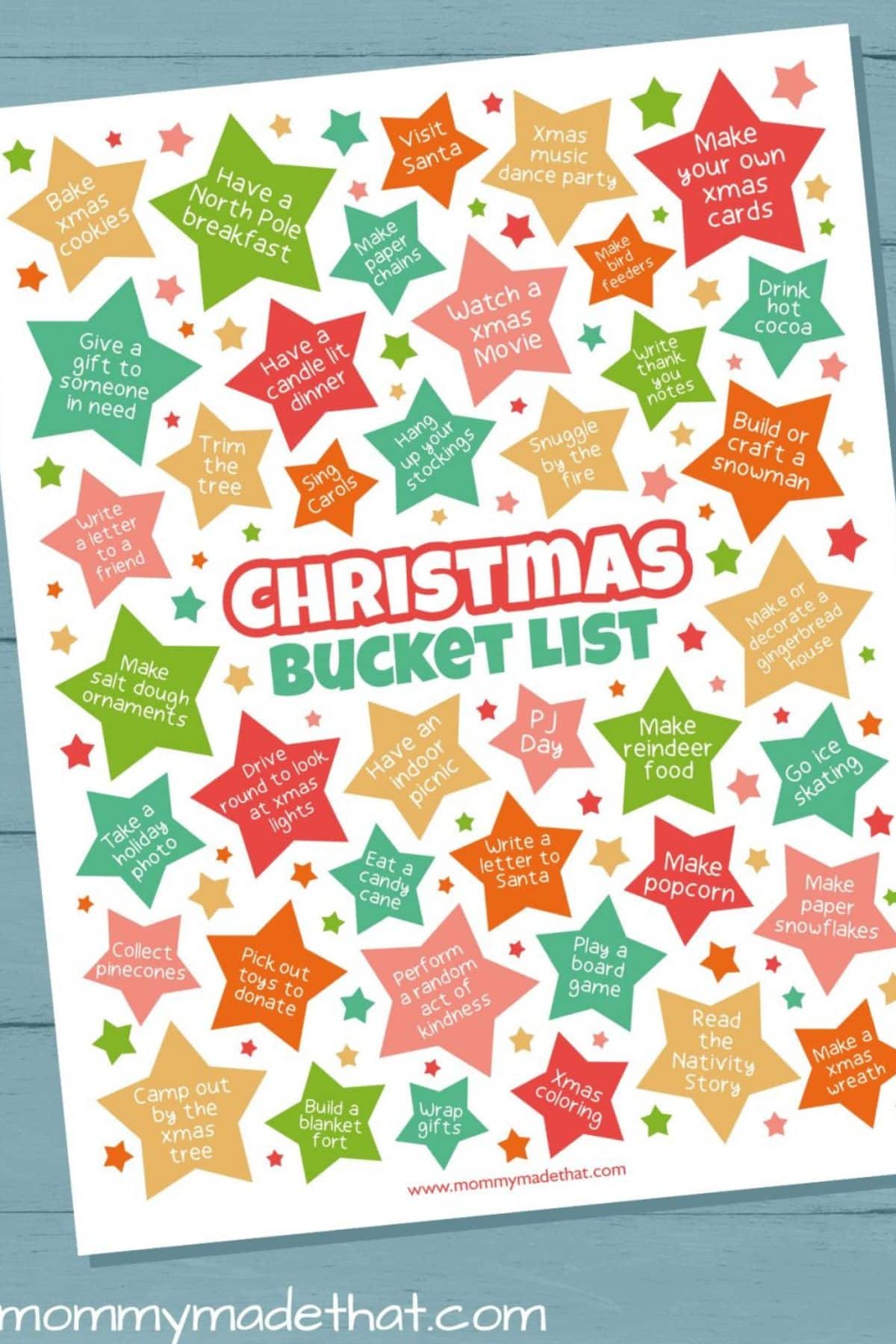 Make the most out of the holiday season with our Christmas bucket list printable!
This fun and festive Christmas printable features a list of exciting and memorable activities that you and your family can enjoy together during the holiday season.
From baking cookies and watching classic movies to decorating the tree this printable has something for everyone.
Simply print out the list, hang it up in a visible spot, and start checking off the items as you complete them.
This Christmas bucket list is the perfect way to bring some joy and togetherness to your holiday season while creating lasting memories that you'll treasure for years to come.
Printable Christmas Playdoh Mat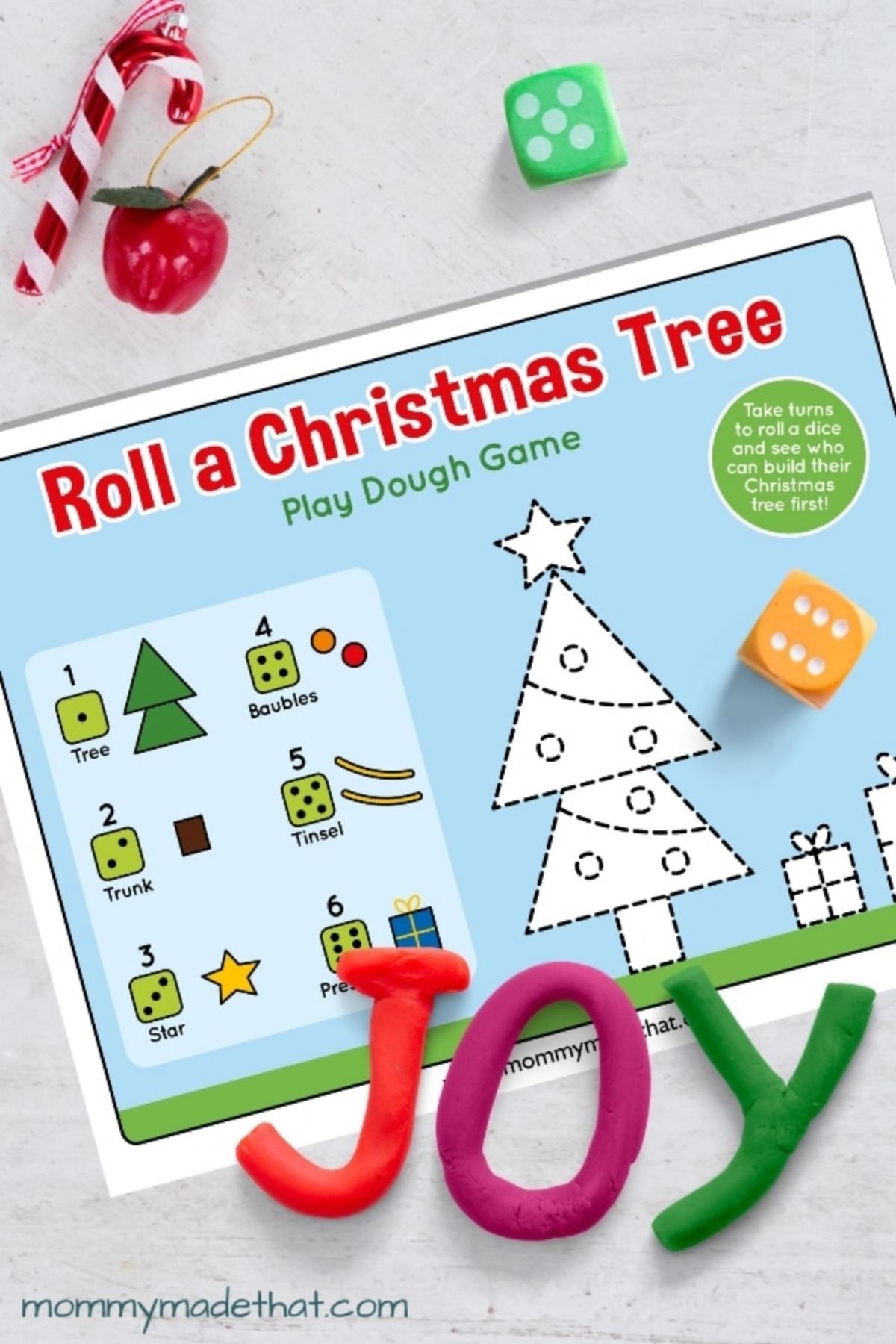 My kids love playdoh! But as they've gotten older, they like a change-up from typical playdoh creations.
This printable Christmas playdoh mat provides just the thing.
It's a roll a dice game.
So they roll the dice and have to build the part of the Christmas tree the number lands on.
They have lots of fun playing and building their own little trees.
Christmas Color by Number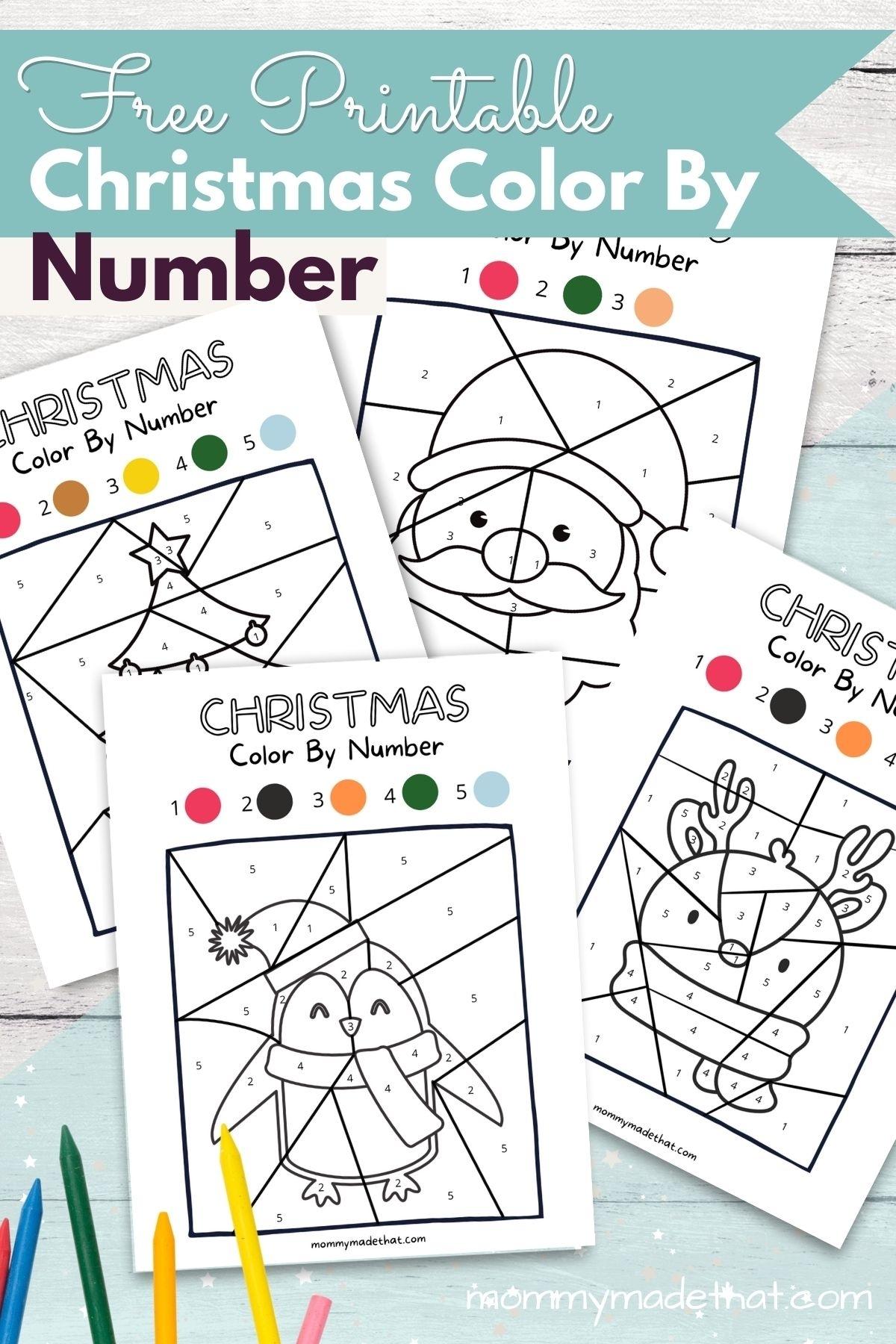 These Christmas color by number printables have lots of adorable Christmas characters.
The worksheets are easy enough that younger kids can play and develop their number recognition skills.
But they're fun enough that the older kids enjoy the Christmas coloring pages too.
Pin the Nose on the Snowman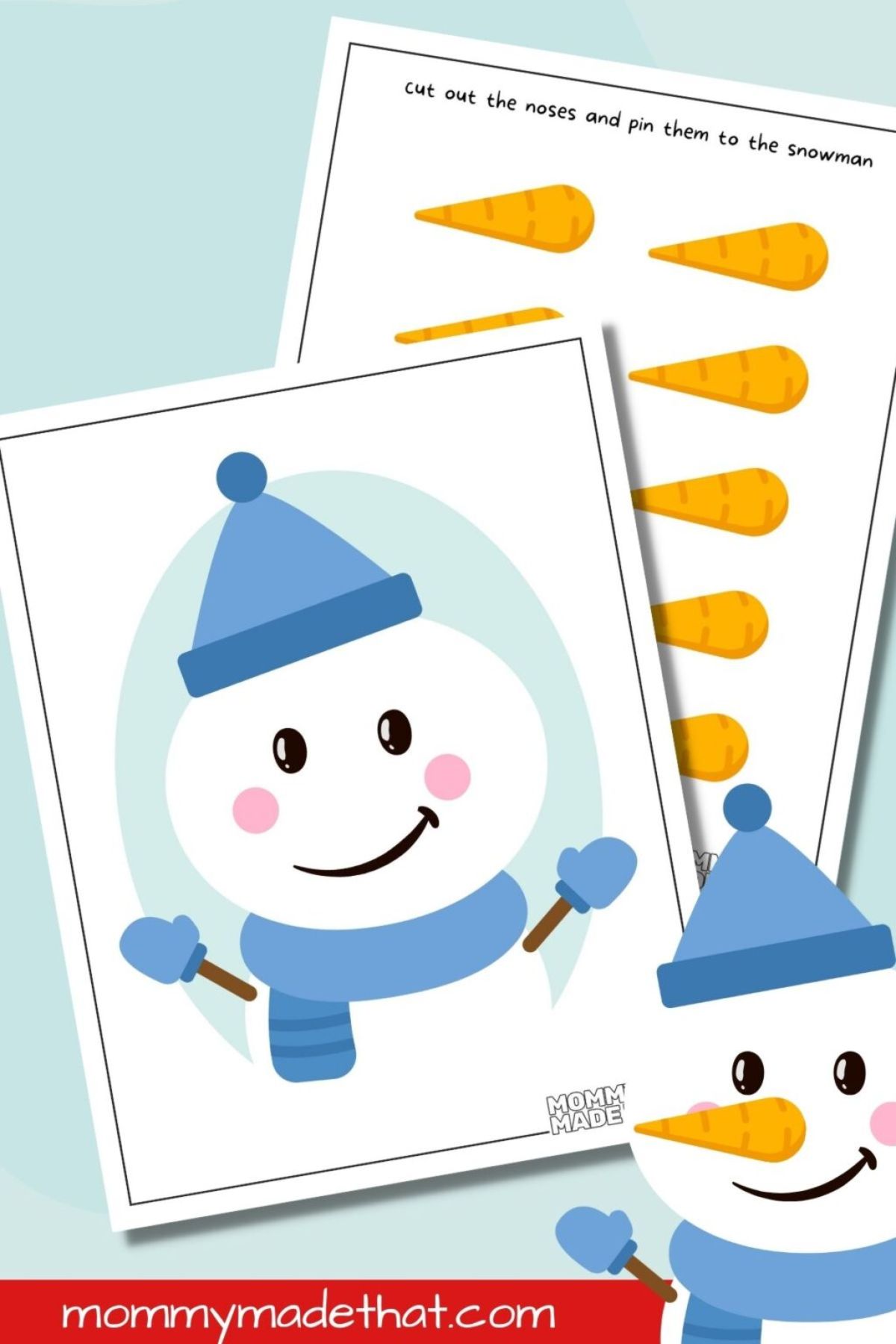 How about a fun Christmas printable game? This pin the nose on the Snowman game is a fun twist on the beloved party favorite and perfect for all ages.
Print out the snowman poster and cut out the nose pieces.
Blindfold each player, spin them around, and let them try to pin the nose on the snowman. The player who gets the closest wins!
Vintage Christmas Coloring Pages
We also have these fun Old fashioned Christmas coloring pages. They're free printable coloring pages that have that old feel charm of a classic Christmas.
Christmas I Spy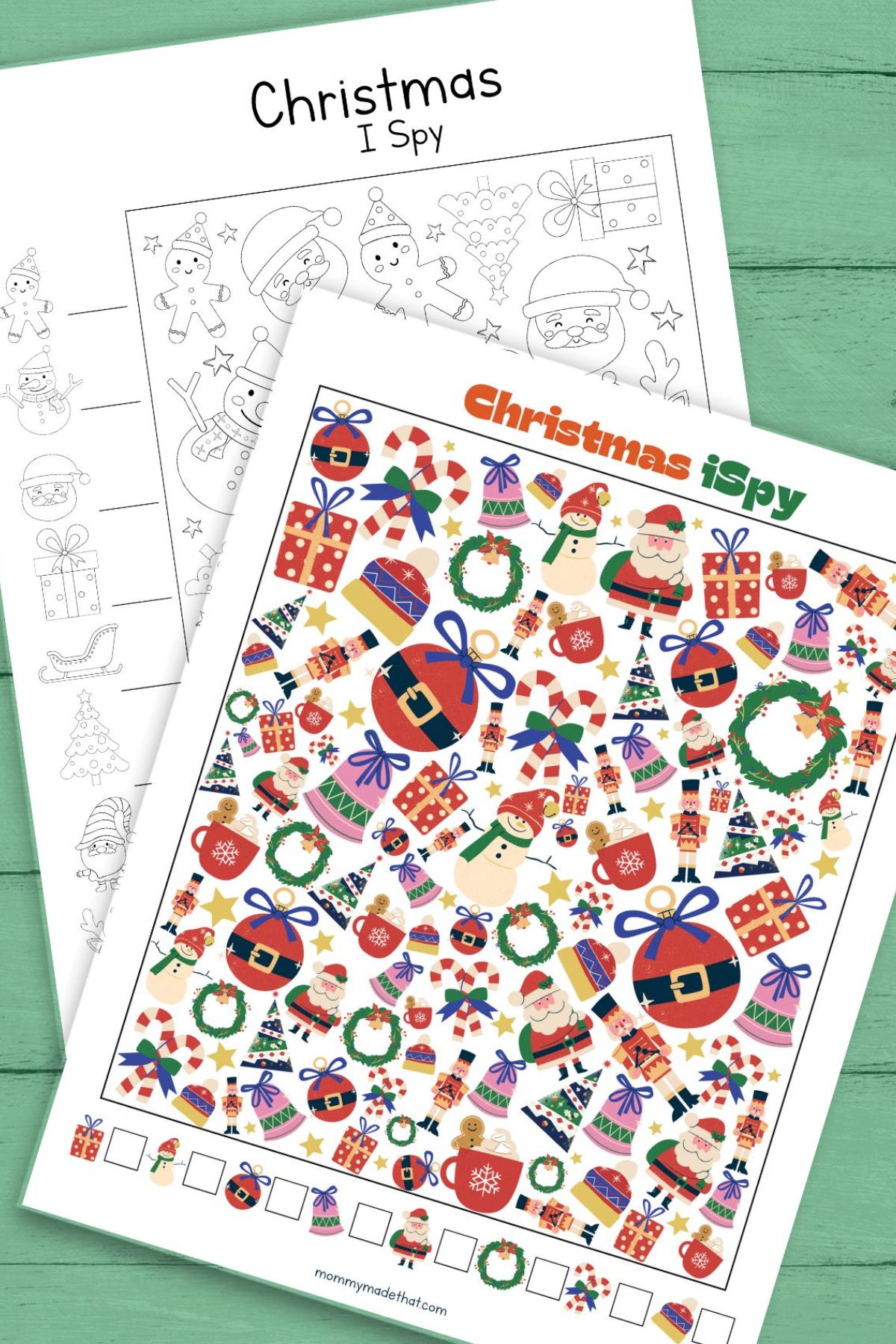 I spy games are a classic activity that keeps kids busy while increasing their focus skills. This Christmas I spy is a festive version of that.
We have two different ones, a printer friendly black and white version that can double as a coloring page, and a full colored version.
They also include an answer key, making it perfect for classroom use.
Printable Christmas Trees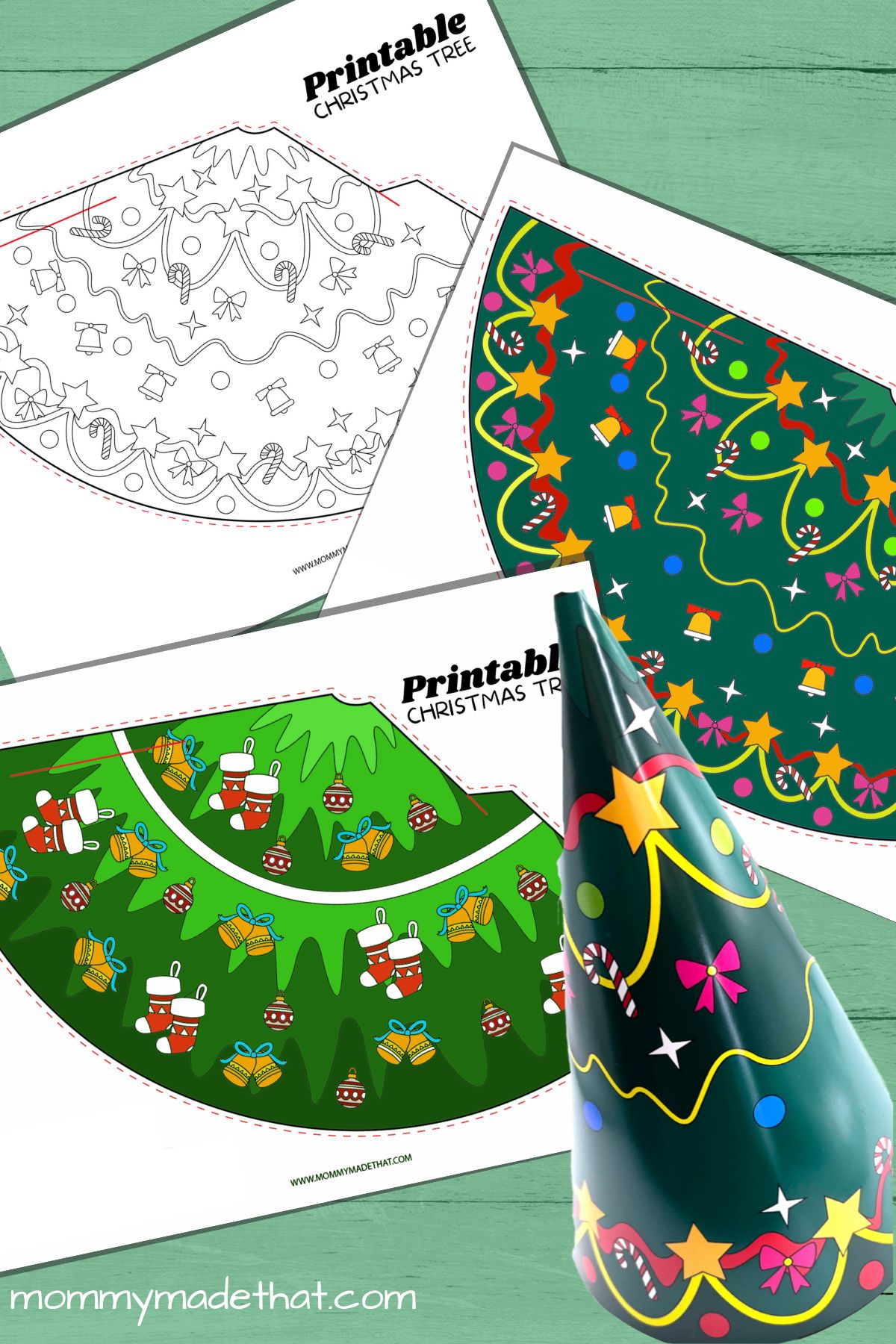 These fun printable Christmas trees are another fun Christmas printable.
You can print out one of the already colored trees, or grab one of the color your own Christmas tree patterns.
Then print and cut the template out. Roll it up and you have your very own paper Christmas tree.
Printable Christmas Scavenger Hunt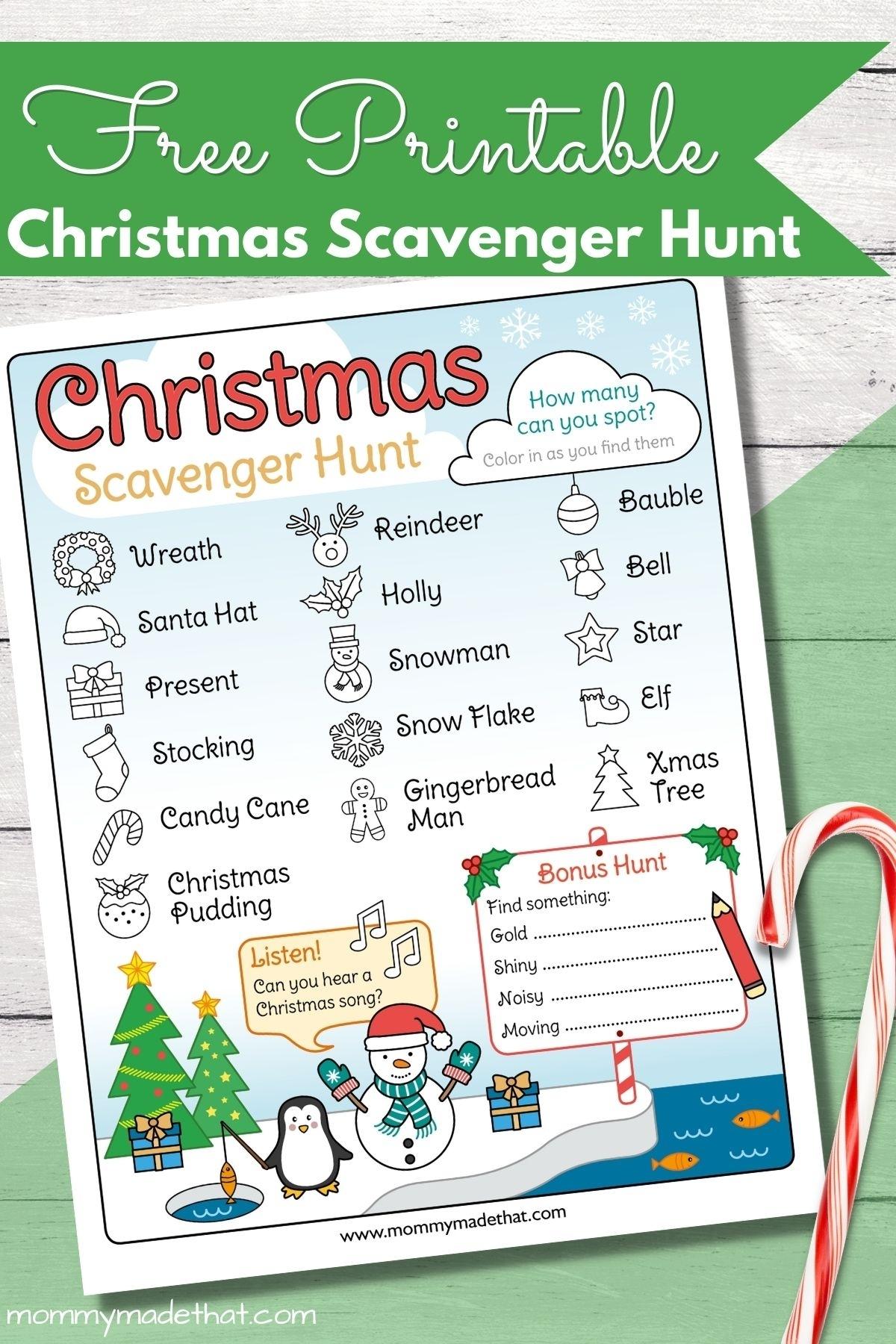 This printable Christmas scavenger hunt is a fun and quick game the kids like playing while were out holiday shopping.
We make a whole event of it. They get to color in the little marks as we find the items around town.
We then sit down and enjoy a hot cocoa together while strategizing where we can find the last few items.
It's fun to watch the critical thinking in progress.
My favorite thing about this particular printable game is that there is no prep work!
Snow Globe Coloring Sheets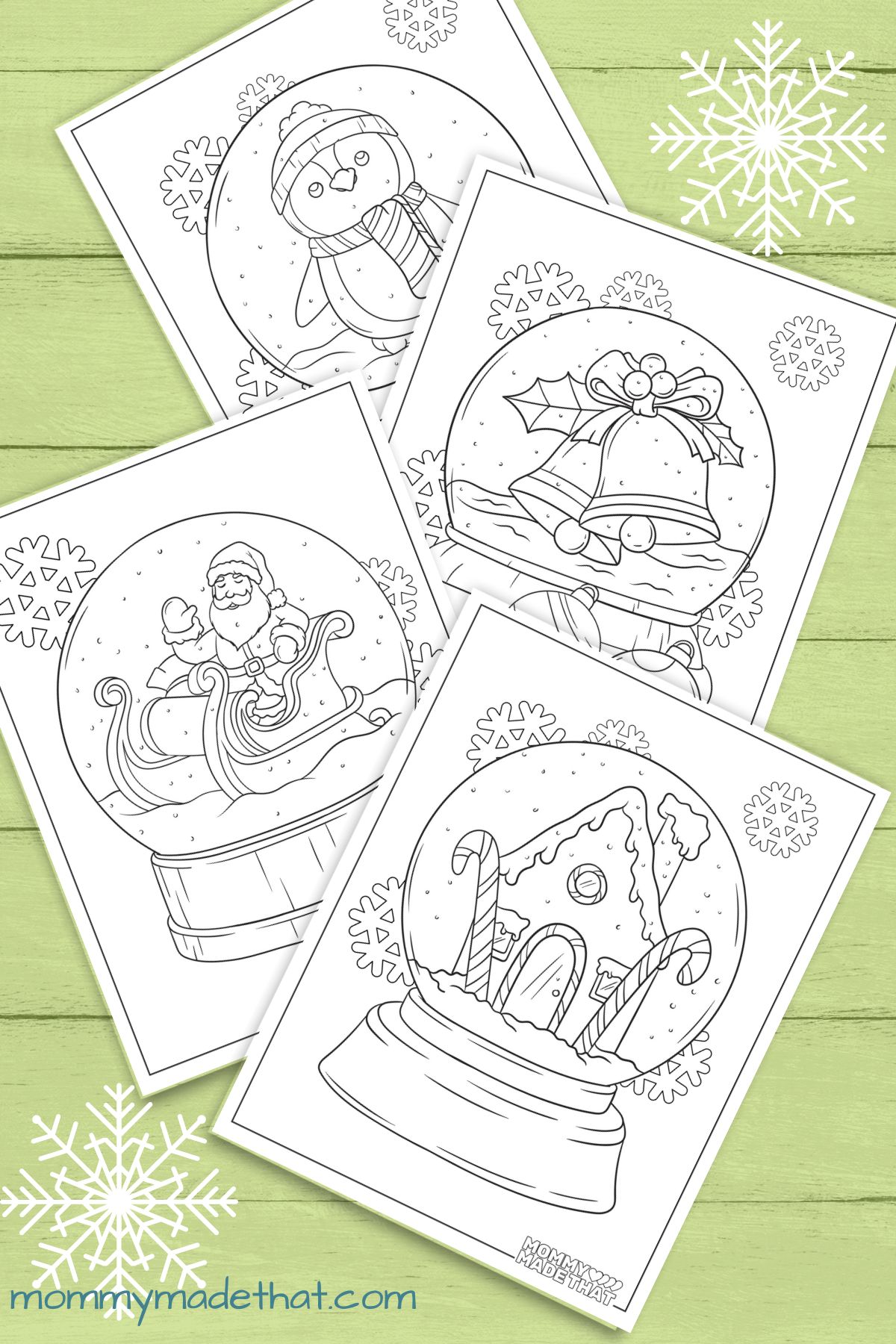 These free printable snow globe coloring pages are a fun way to get in the Christmas spirit.
Color in a cute snow globe scene using fun Christmas colors.
Printable Nativity Scene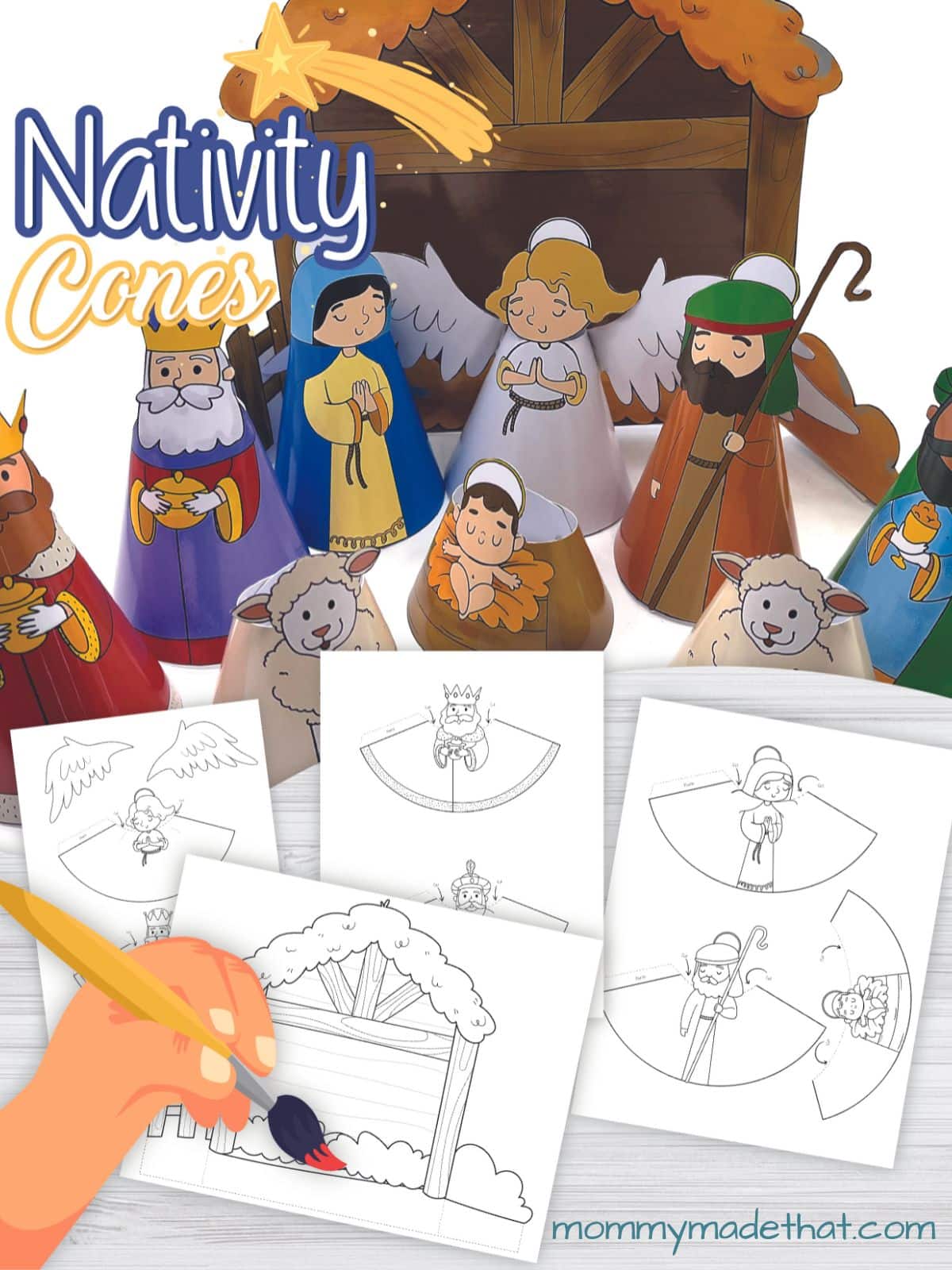 This free printable nativity scene is a ton of fun to print out, color and create your own DIY nativity.
It has all the characters of the Nativity, and they roll up into 3D cones!
They're super adorable and perfect for an easy Christmas decoration.
Free Printable Christmas dot to dot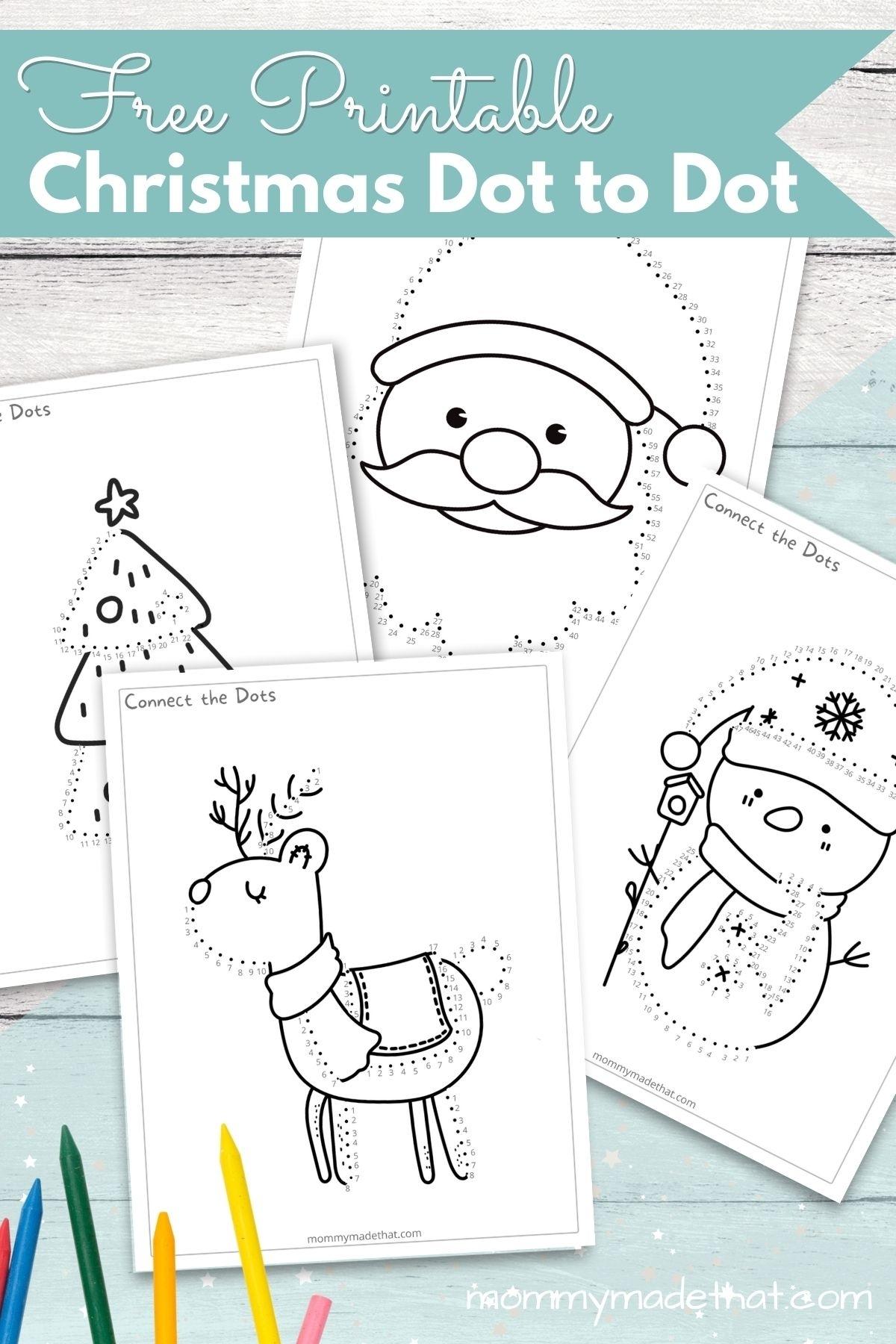 Another fun kids activity for the holidays are these free Christmas connect the dot printables.
We made these ourselves and the printable pack includes Santa Claus, a reindeer, a Christmas tree and an adorable little snowman.
Print them out and let the kids connect the dots.
It's great for numerical order recognition and they can use them as coloring pages afterward.
Christmas Acts of Kindness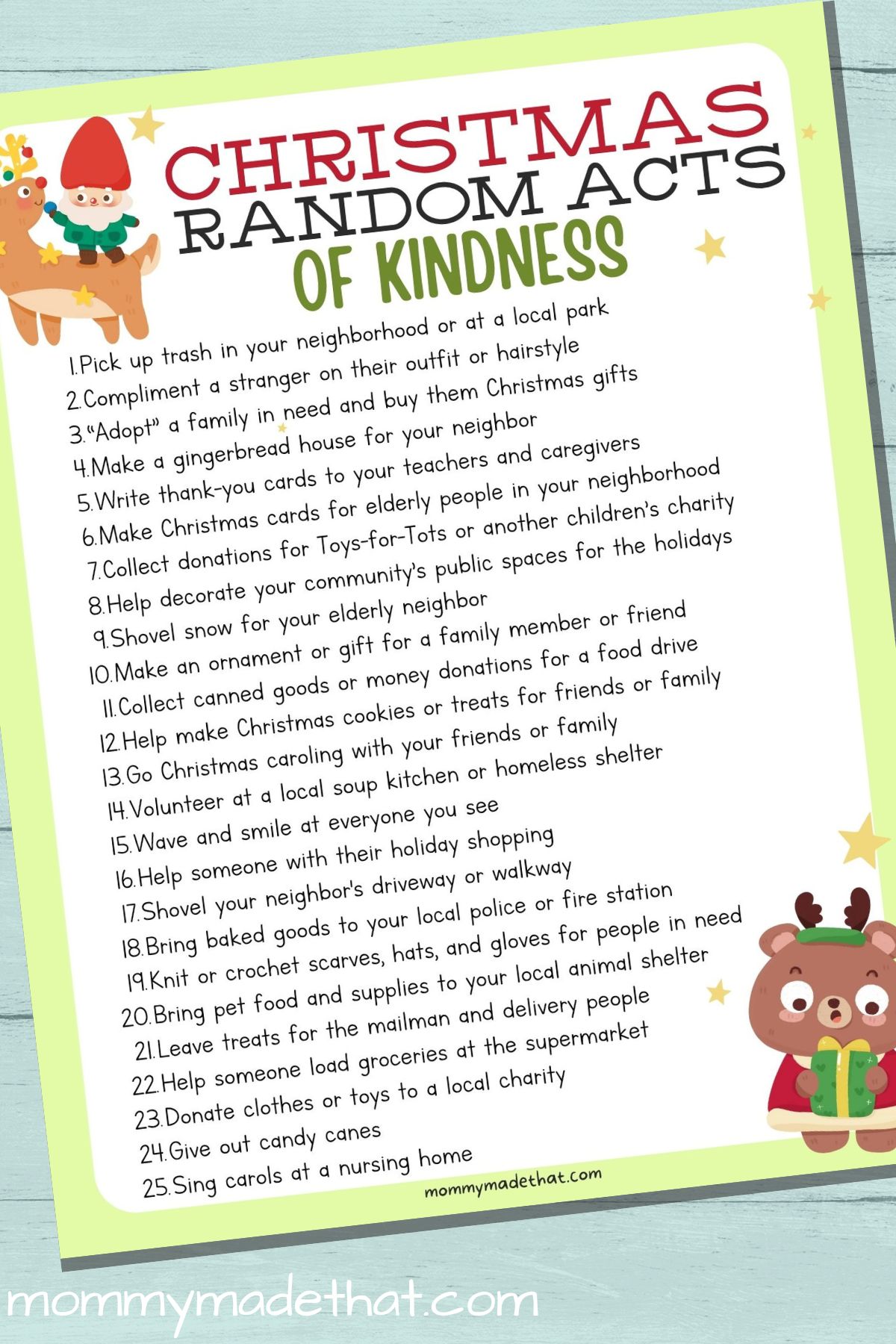 Another one of our favorite Christmas printables is this Christmas random acts of kindness.
It's a list of 25 things you can do to show some kindness during the holiday season.
One for each day of December leading up to Christmas!
Gingerbread House Coloring Page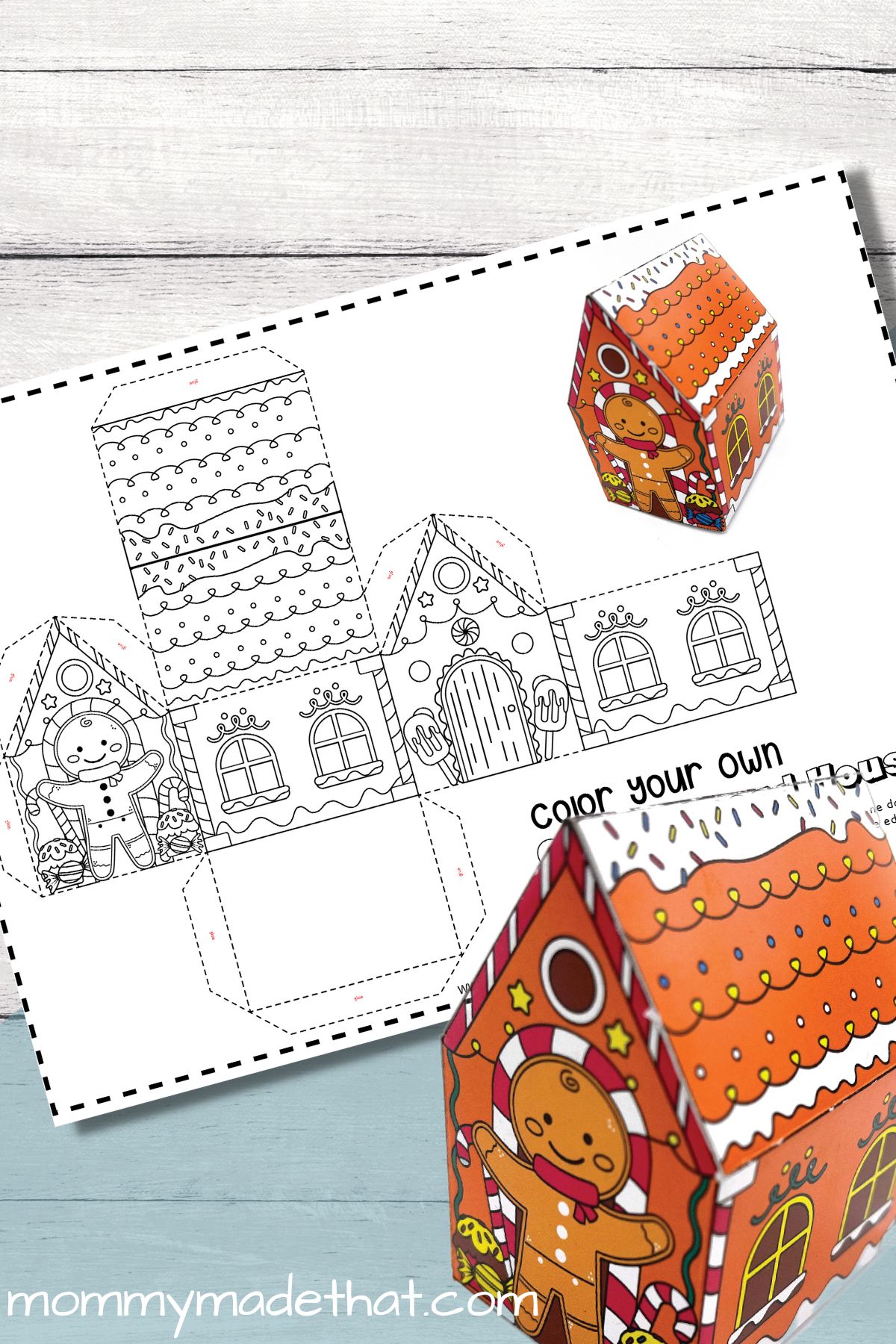 This fun gingerbread house coloring page also doubles as a cute build your own gingerbread house craft.
Color in the house, cut it out and fold it on the dotted lines!
Kids love this Christmas activity!
Roll a Gingerbread House
Another fun gingerbread house printable is this roll a gingerbread house game.
Kids roll the dice and take turns drawing candy and decorations onto their houses!
It's a fun game that reinforces counting and color recognition.
Free Printable Christmas Memory Game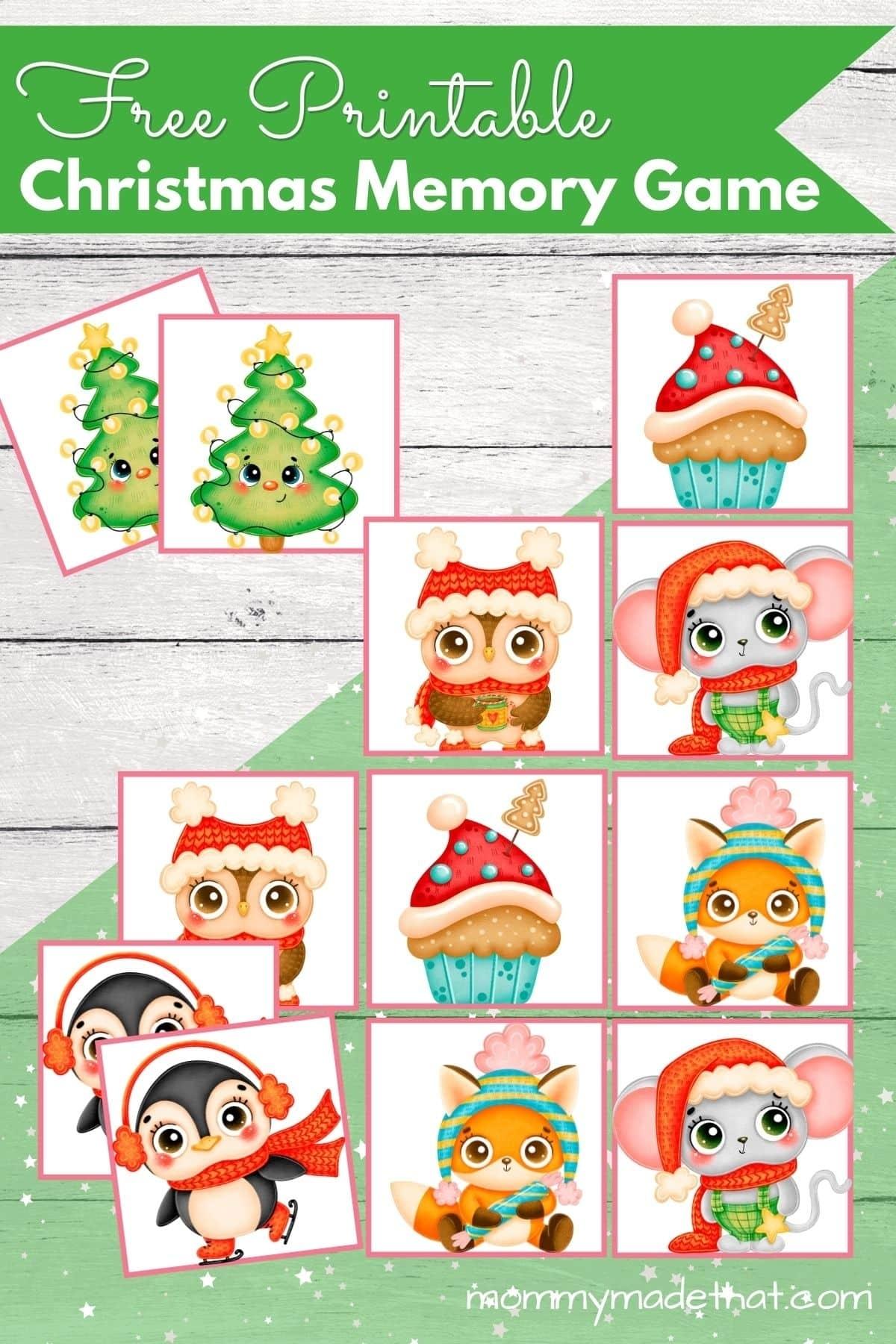 Another fun and free Christmas printable is this Christmas memory game!
It's a perfect memory game for younger kids during the holiday season.
Print out all the cards, laminated (optional) and then cut out all the pieces.
Turn them over and get to playing.
The kids love the doe-eyed Christmas characters and develop strong memory skills while playing the fun game.
Printable Christmas Crafts
These printable Christmas crafts are a fun activity for kids!
They can print out and color a variety of different Christmas characters.
Then cut out the pieces and put them together.
Christmas Ornament Coloring Pages
One of the most popular kinds of Christmas printables of course are coloring pages!
These ultra fun Ornament coloring pages are great for kids and adults!
It's a fun free activity the whole family will enjoy.
Color the ornaments in any color combo your heart desires.
You can even add fun touches like a bit of glitter glue or some fun decorative gems.
The possibilities to design your own ornaments are endless!
We like printing out a bunch of copies of these ornaments and putting them out on the kid's table during family holiday parties.
Add a few crayons and craft bits and the kids gravitate toward them.
Santa Placemat
This Santa placemat is perfect to use on Christmas eve.
It's a place to put the milk and cookies, and a carrot for the reindeer of course.
It's also great for starting conversations on the history of Christmas traditions.
Letter to Santa
This letter to Santa template is perfect for kids wanting to write a thoughtful message to the big man himself.
Just print it out and help your child fill out the blanks.
Put it in an envelope and ship it of to the north pole for Santa to receive before Christmas.
Elf on the Shelf Coloring Pages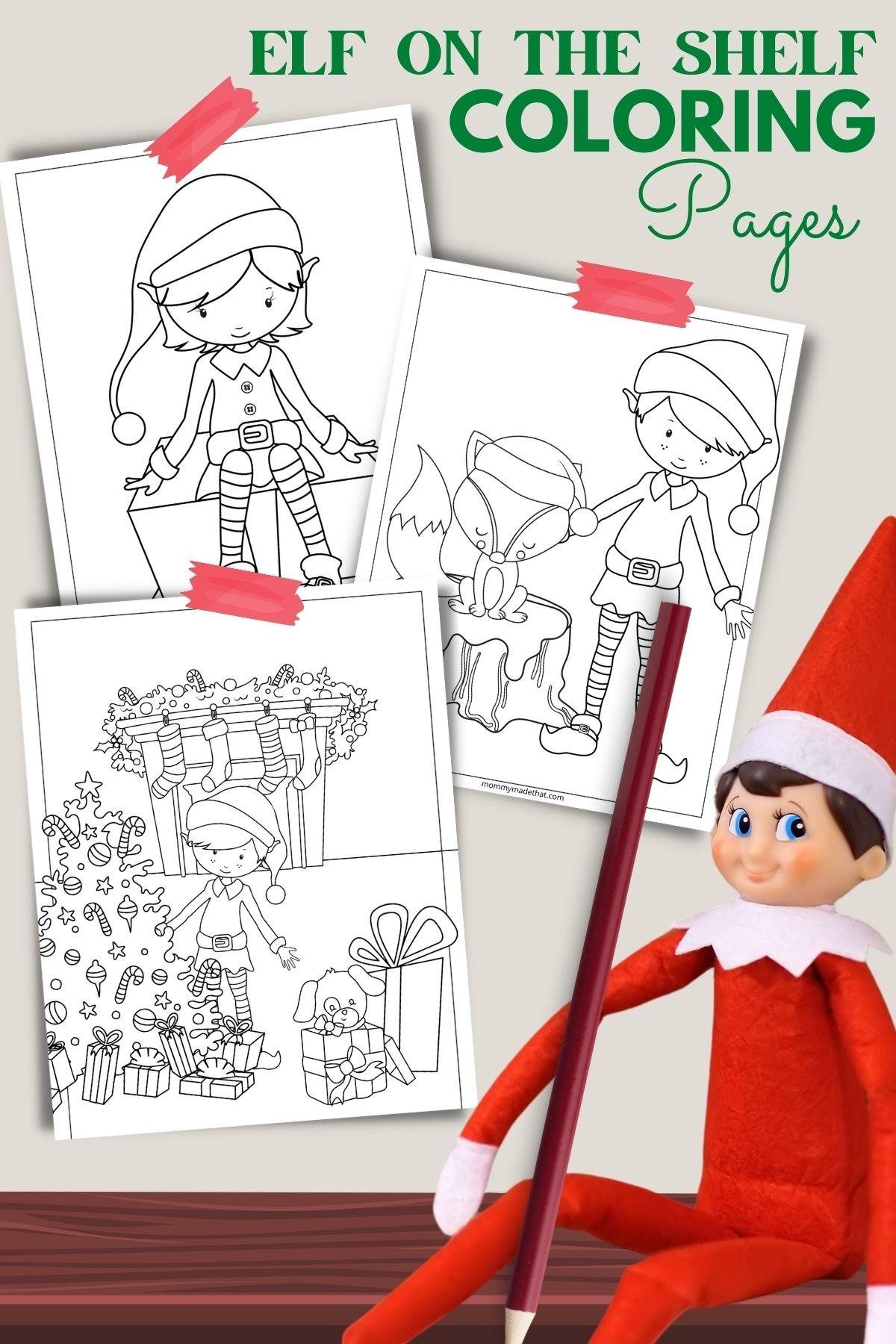 Who doesn't love an elf on the shelf activity?
These elf on the shelf coloring pages are a ton of fun for kids to color that reminds them of all the fun and joy their little elves help bring to Christmas.
If your little one is expecting the elf to join the Christmas fun this year, these are perfect to get them excited for their arrival!
Elf Adoption Certificate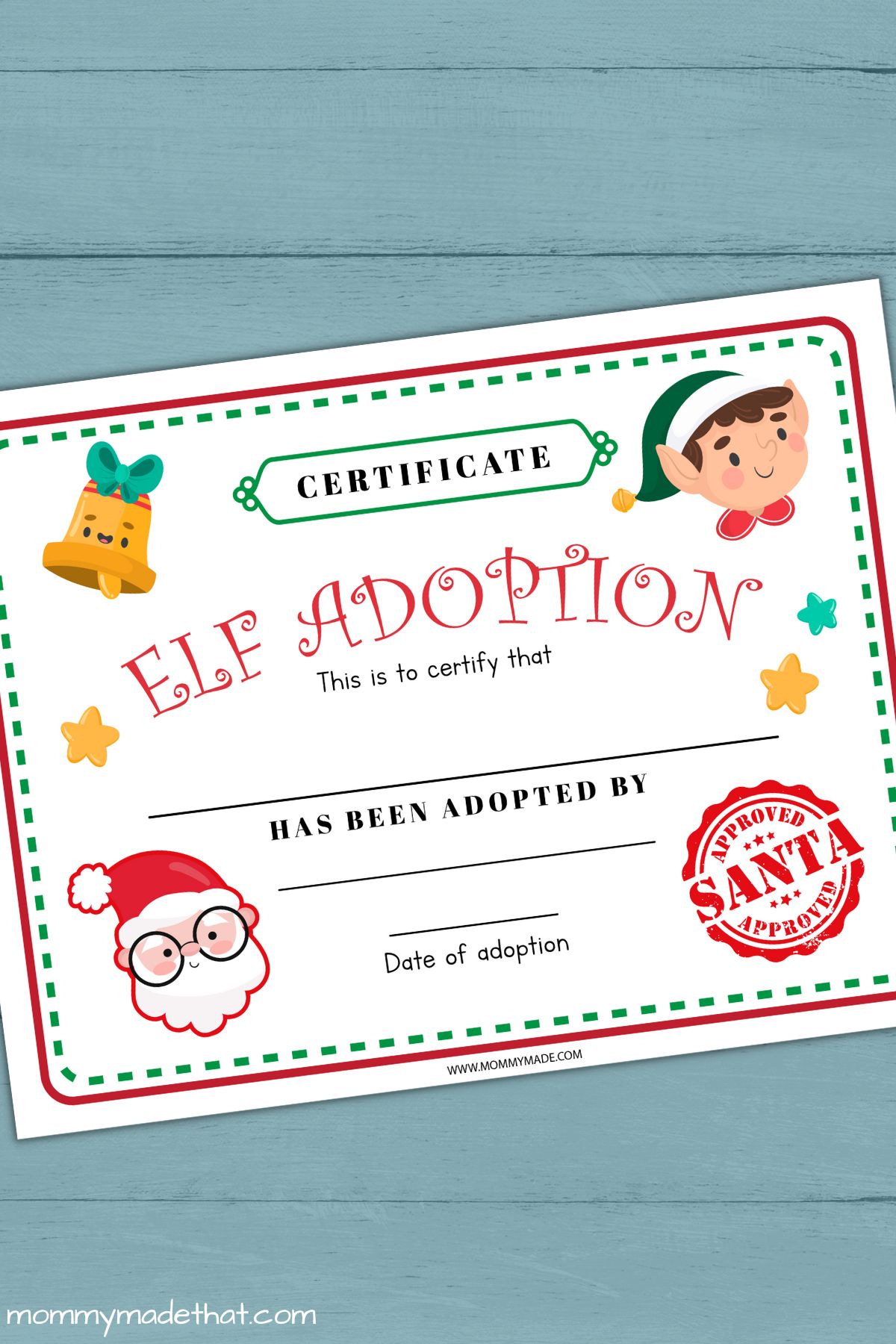 If you're planning on introducing your elf on the shelf this year, you can grab the free printable elf adoption certificate.
It's the perfect way to make him or her officially part of the family!
Christmas Perler Bead Pattern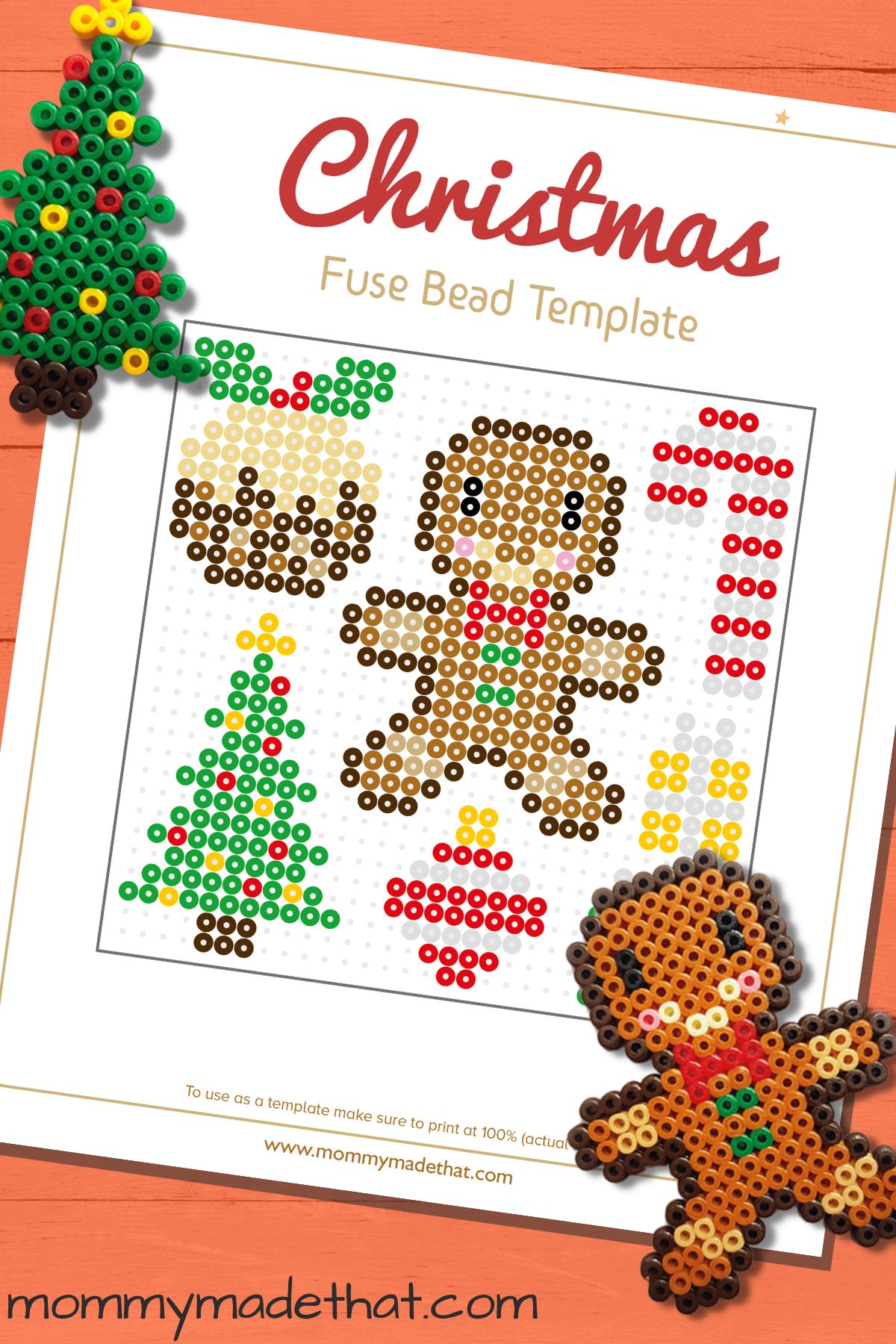 These cute Christmas Perler bead patterns are perfect for making lots of cute melty bead crafts for Christmas time!
You can print out the free patterns and then create your own cute Christmas characters.
It's a fun way to create easy DIY Christmas ornaments.
Creative Christmas Wish List Spinner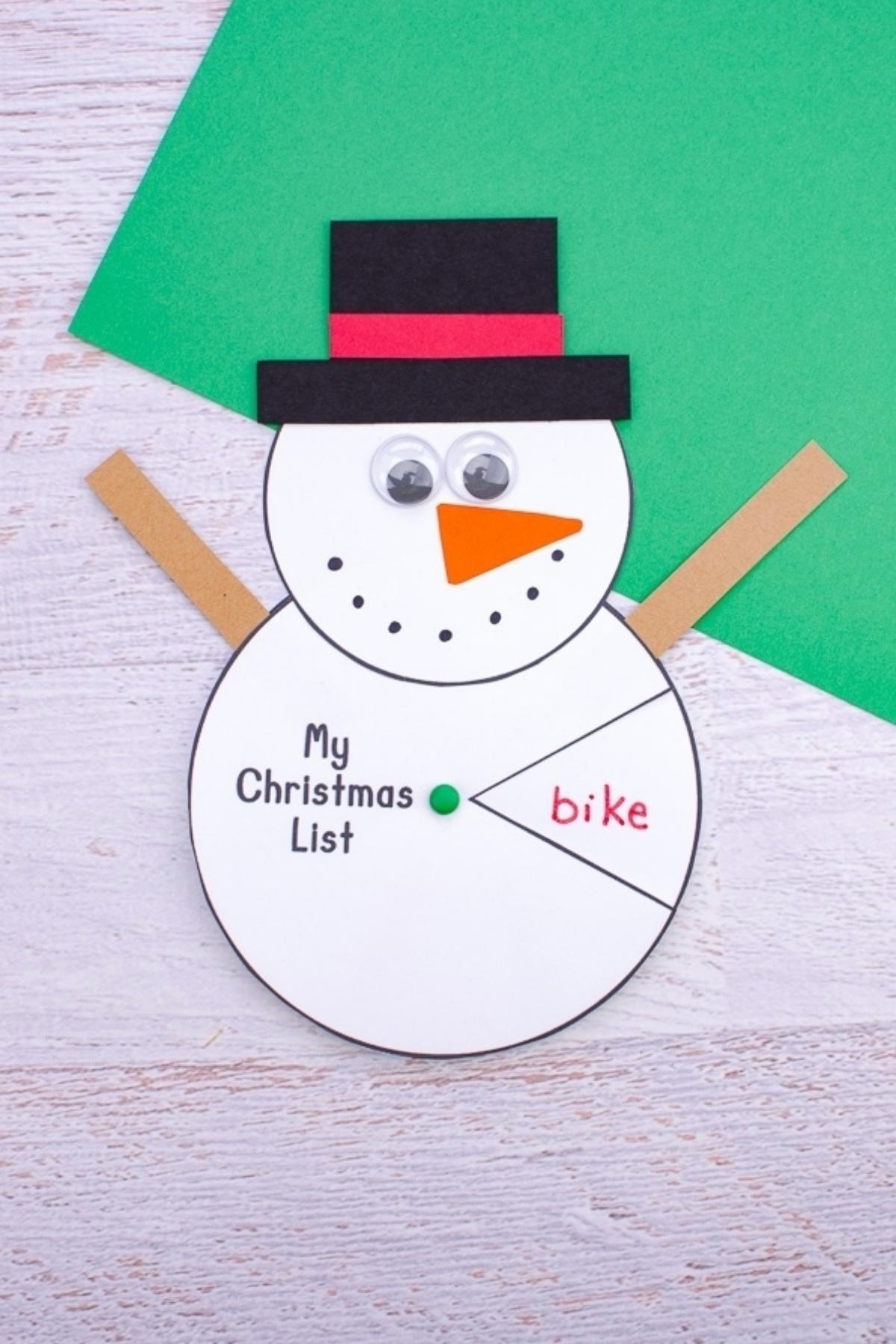 This fun Christmas printable doubles as a craft! Snowman crafts are always fun.
But this one has a dual purpose!
The printable template can be used to create this fun snowman Wish list spinner!
You'll need a couple of other supplies like a tack and possibly some craft paper.
But you could always just color the template in with markers or colored pencils.
The cool thing is that this snowman turns into a fun wish list!
Roll a Snowman Printable
Speaking of snowmen, we also have this fun roll a snowman game printable that's perfect for a quick and easy roll a dice game.
All you need is a pencil, some dice and our free printable to play.
If you don't have dice ready, go grab our free printable dice.
Snowman Coloring Pages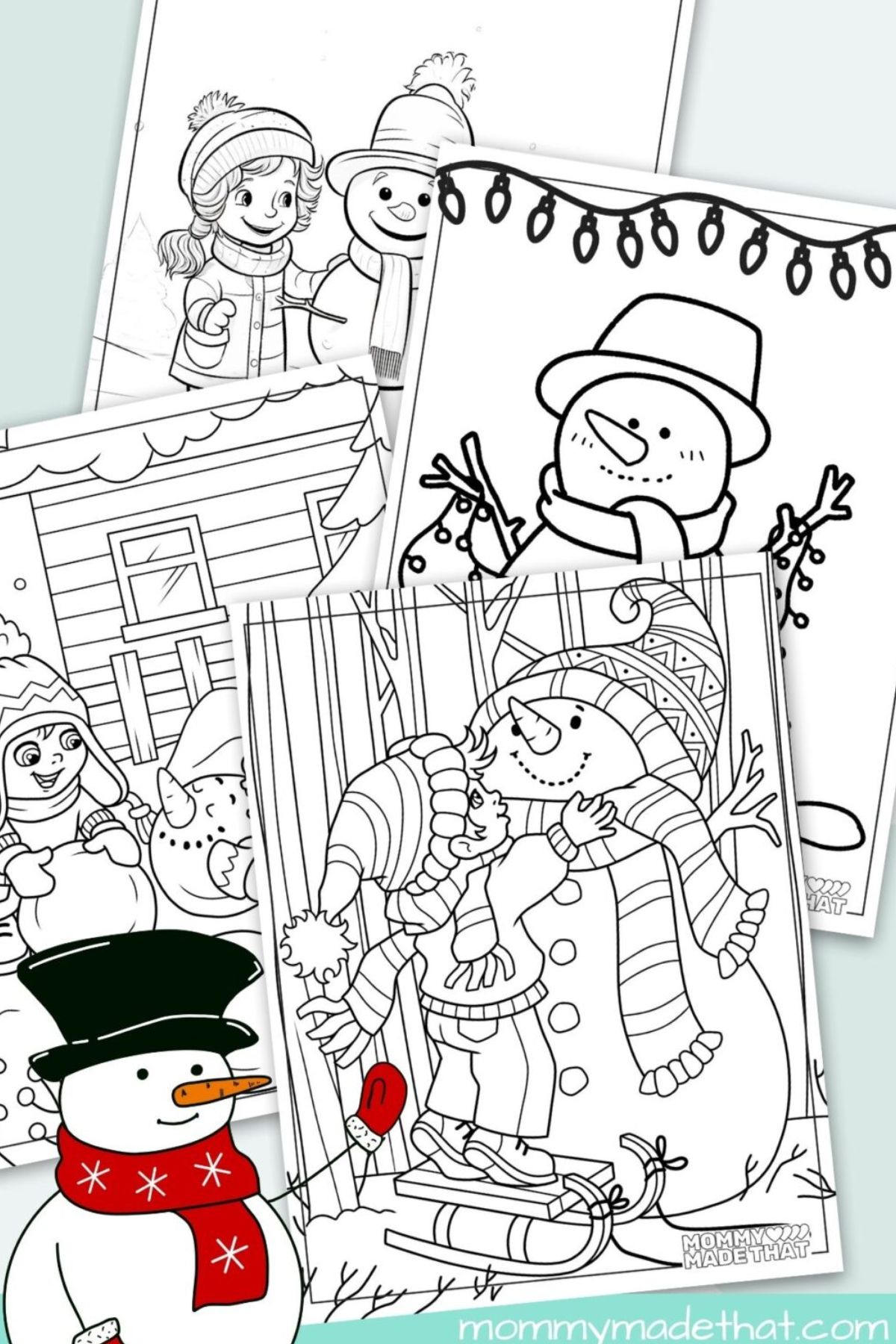 Add some fun to your holiday season with these snowman coloring pages! These free Christmas printables feature adorable snowmen in various winter-themed scenes.
Kids of all ages will enjoy coloring these cute and festive illustrations, making them a perfect activity for family gatherings, classroom parties, or solo playtime.
Christmas Tree Templates and Coloring Pages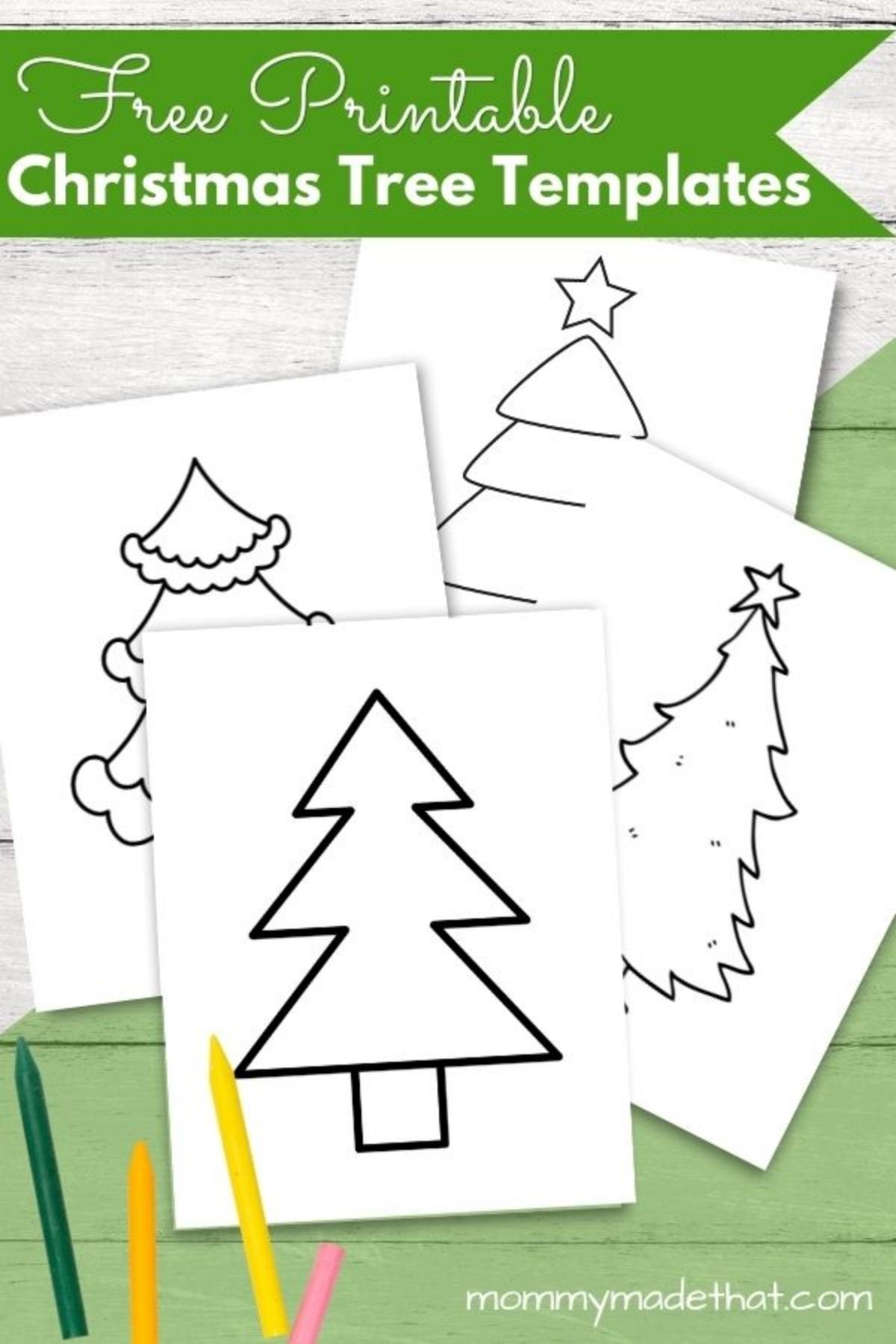 If you're planning on doing Christmas crafts these printable Christmas tree templates are perfect for the occasion.
You can use them to cut out Christmas tree shapes on craft paper or construction paper.
They also make great coloring pages or double as an activity to draw and create your own decorated Christmas trees!
We have lots of Christmas printable templates.
Printable Snowflake Templates and Coloring Pages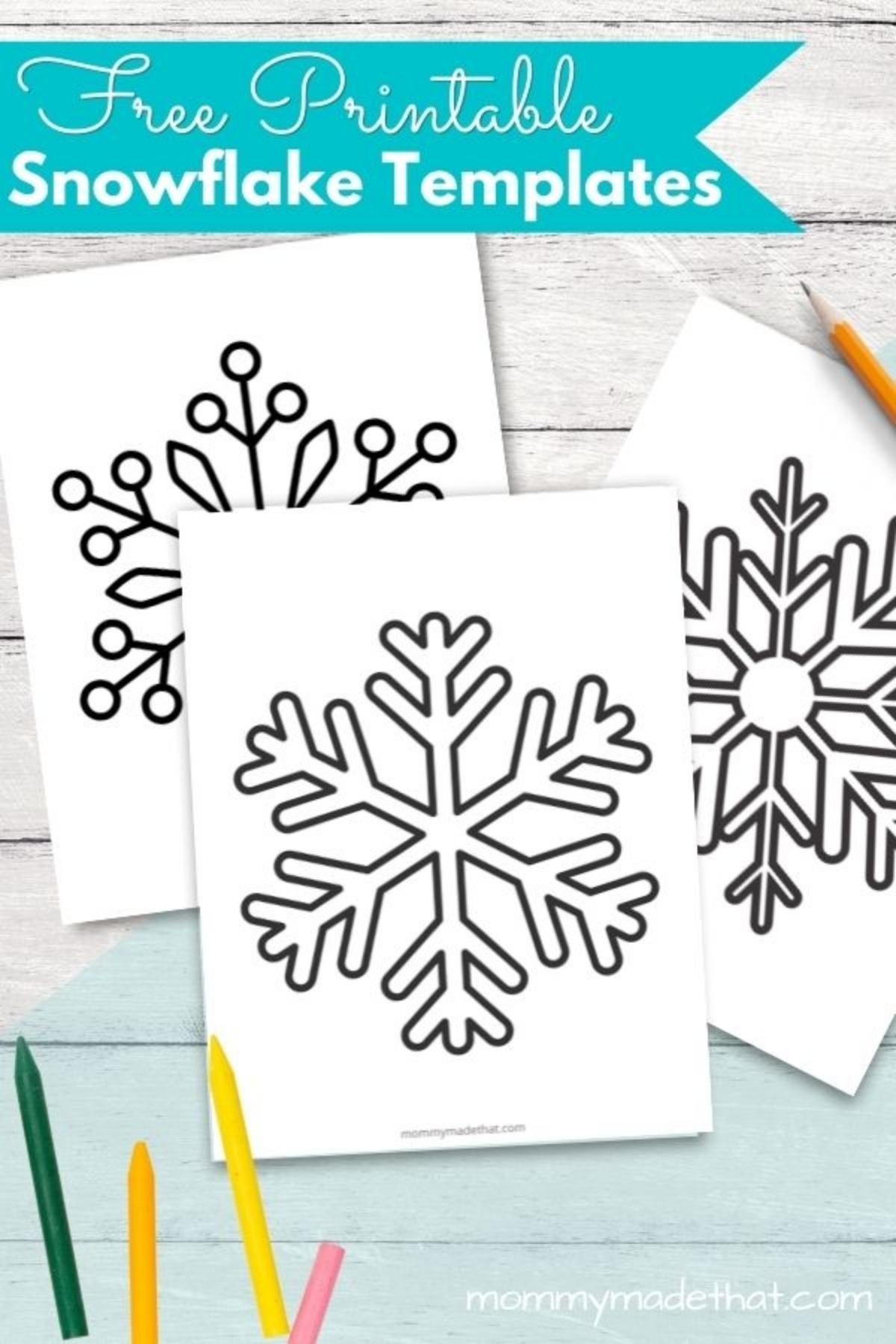 Much like the Christmas tree templates, these snowflake templates are perfect for Christmas crafting!
You can color them or use them to create one of our favorite Christmas decorations.
We cover the printable with wax paper and then use glitter glue to trace the snowflake shapes.
We peel them off when they're all dry and hang them into the window to create our very own snowflake window clings!
Snowman Paper Doll Printable
Get ready for some winter fun with our printable snowman paper doll!
This unique and interactive Christmas printable features a charming snowman character complete with interchangeable winter clothing and accessories.
Kids can cut out the pieces and dress up their snowman in different hats, and outfits creating fun combinations and imaginative play scenarios.
With its cheerful design and easy-to-follow instructions, this printable is sure to delight children of all ages during the holiday season.
Candy Cane Printable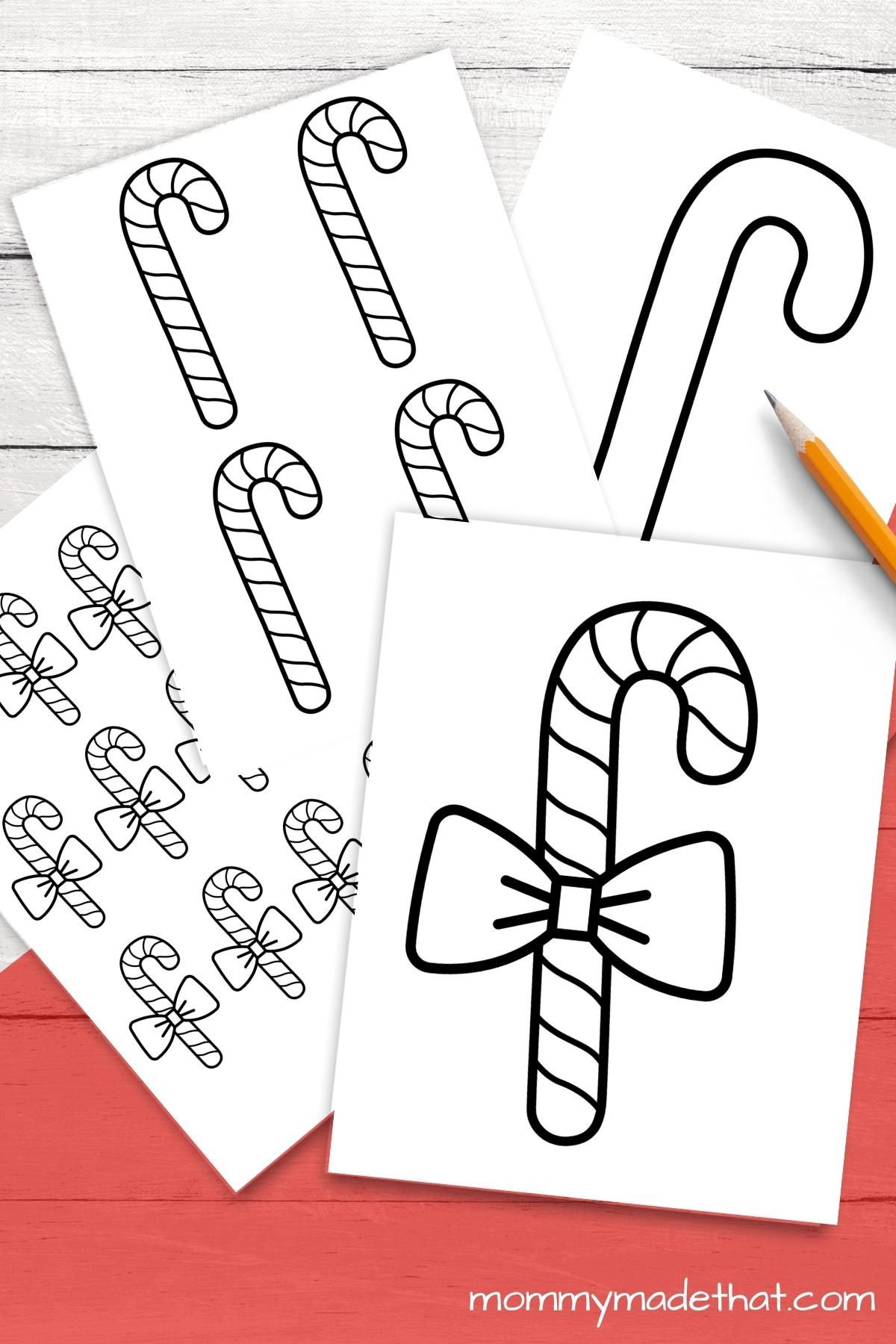 These candy cane templates are another fun Christmas printable.
They're good for crafts, to use as coloring pages, making Christmas crafts, or even printing out and hanging them on the Christmas tree like actual candy canes.
Santa Face Printable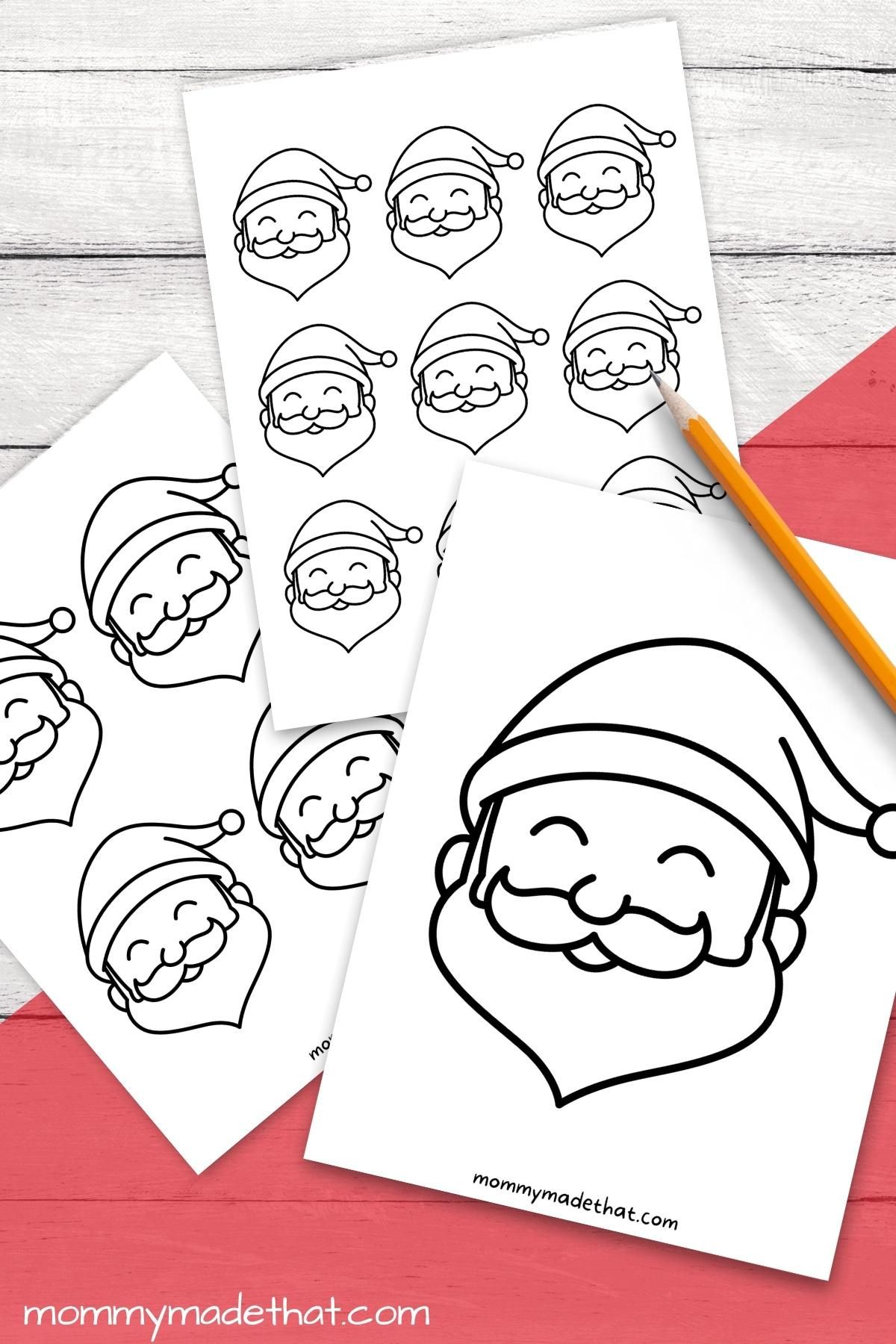 Another cute printable is this Santa face template. Our kids love printing him out and coloring in his hat and face.
We then fill the beard with pom poms. It's a fun and easy activity for kids.
Which of these are your favorite Christmas printables? Let us know in the comments!
Blank Snow Globe Templates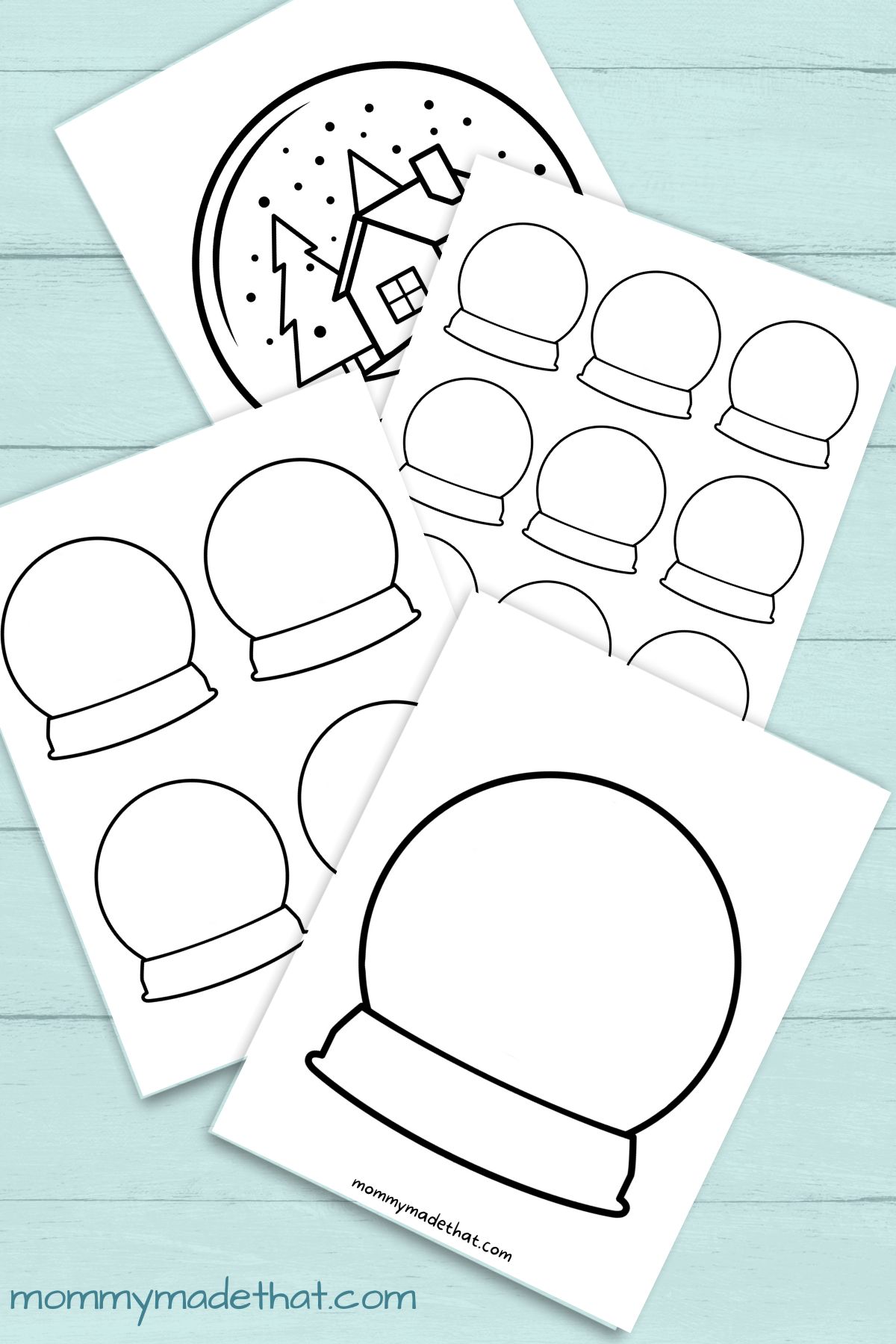 These free snow globe templates are perfect for creating your very own Christmas scene!
Print out the snow globe and draw in a cute Christmas picture or use one of the other winter template printables.
Cut and paste it in for an instant Christmas snow globe craft.