Fun and Festive DIY Christmas Ornaments
Making your own Christmas ornaments is a great way to get in the holiday spirit.
You can make one for every member of the family, and they'll be unique because you made them yourself!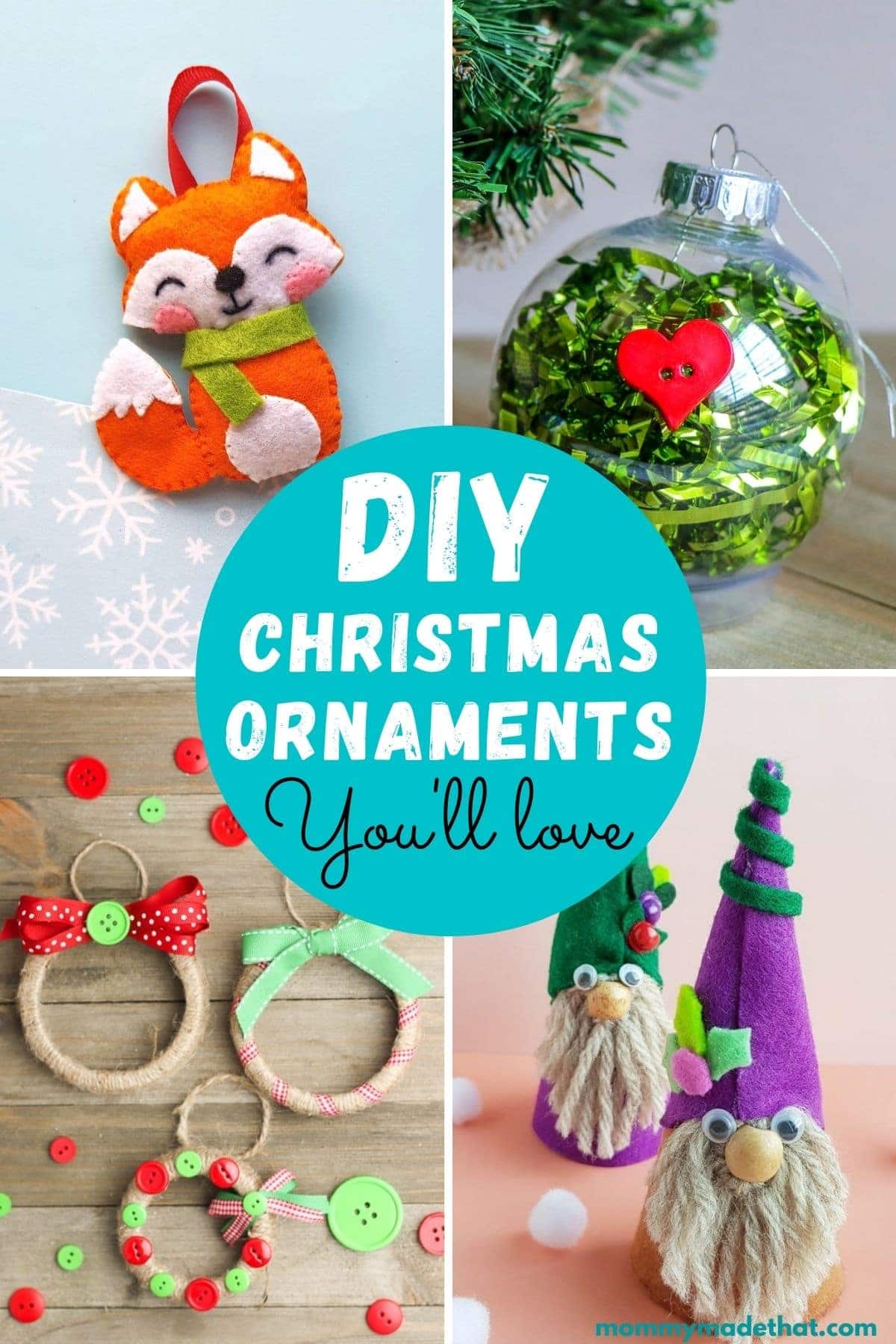 Some Ornaments are perfect as sentimental gifts, personalized just for loved ones.
While others are great Christmas crafts to make and sell.
Many people are sentimental about their ornaments, especially handmade ones crafted with love.
Here are some of our favorite tutorials for tons of fun DIY Christmas ornaments that you can get started making for the holidays.
Some of these are super easy, requiring only a few craft supplies you probably already have around the house.
Others are a little more intricate but produce stunning effects.
Regardless, we hope you find a few on this list you'd love to try to make yourself.
And be sure to check out more of our fun winter crafts and Christmas crafts for kids to make this season.
DIY Felt Fox Ornament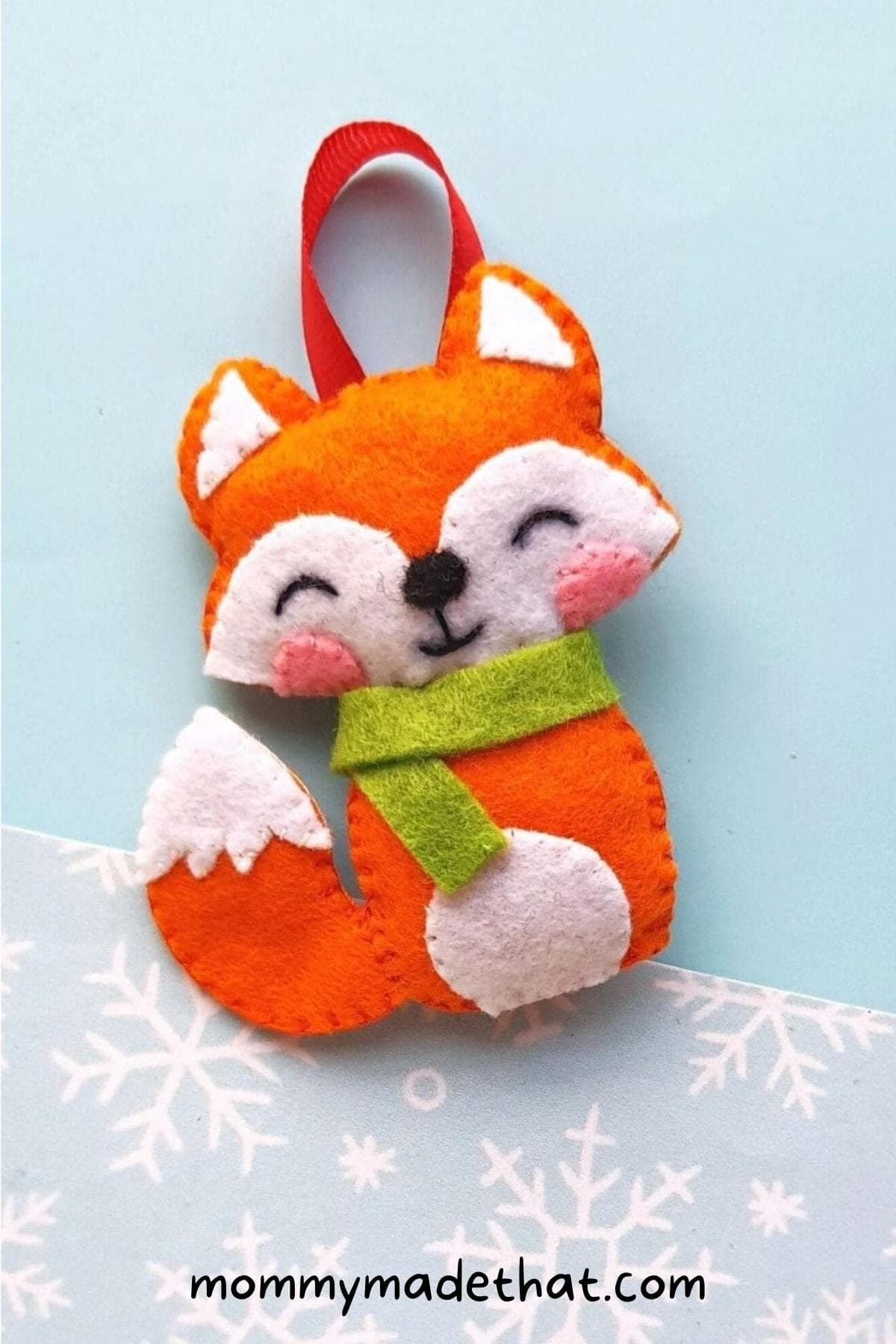 This adorable DIY felt fox ornament is a gorgeous handmade felt Christmas ornament that looks great on any tree.
It also makes a wonderful gift or a fun craft to make and sell for extra holiday money.
Be sure to grab the free template in the tutorial.
DIY Gnome Ornaments
These cute DIY Gnome ornaments are a fun Christmas ornament made from felt.
These little guys are a fun DIY that involves a little sewing, but well worth the effort!
Make sure to grab the printable pattern before you get started making your own!
And if you love these you should see all of our felt ornaments with free patterns.
Easy DIY Grinch Ornament
These Handmade Grinch Ornaments are perfect to hang on your Christmas tree or to give as handmade gifts this holiday season.
Basically by filling an empty clear ornament ball with your favorite green crafting items and adding a big red hear button you'll have a gorgeous and easy to make Christmas ornament.
Free Printable Christmas Ornaments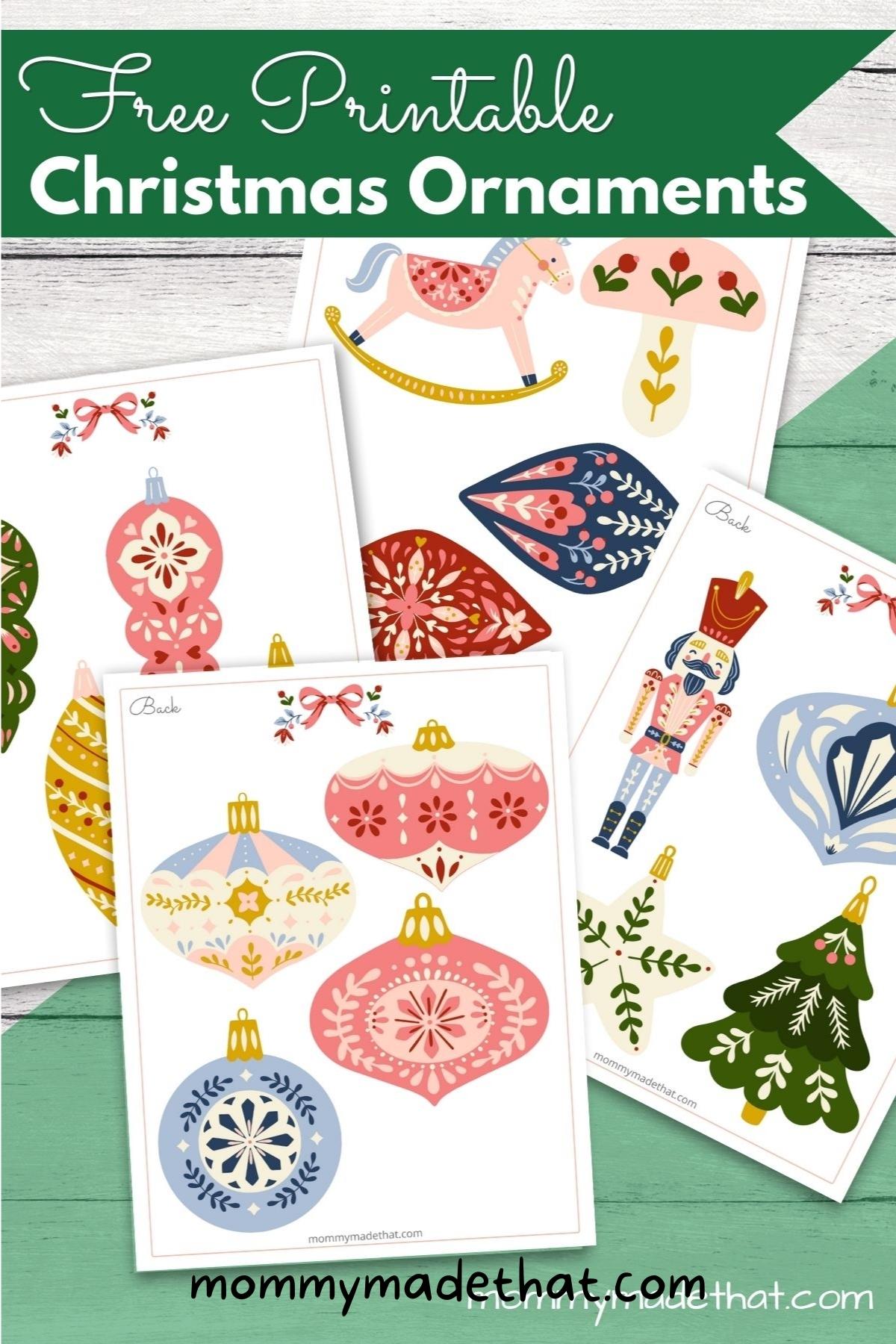 These free printable Christmas ornaments are a fun and easy way to make a bunch of ornaments that'll look great on a tree.
You can print them out and add your own touches with a glitter pen then cut them all out.
Add a bit of string or twine and you have great looking ornaments, that are nearly completely free.
Felt Reindeer Ornaments
Another one of our fun DIY felt Christmas ornaments are these little felt reindeer.
You could even give him a little red nose and turn this reindeer into Rudolph!
Pipe Cleaner Snowflake Ornaments
These cute pipe cleaner snowflakes make easy homemade Christmas ornaments that adults and kids love to make!
They're quick and simple to make and you can easily make several in only a few minutes.
They'd make excellent additions to any Christmas tree.
Star Ornaments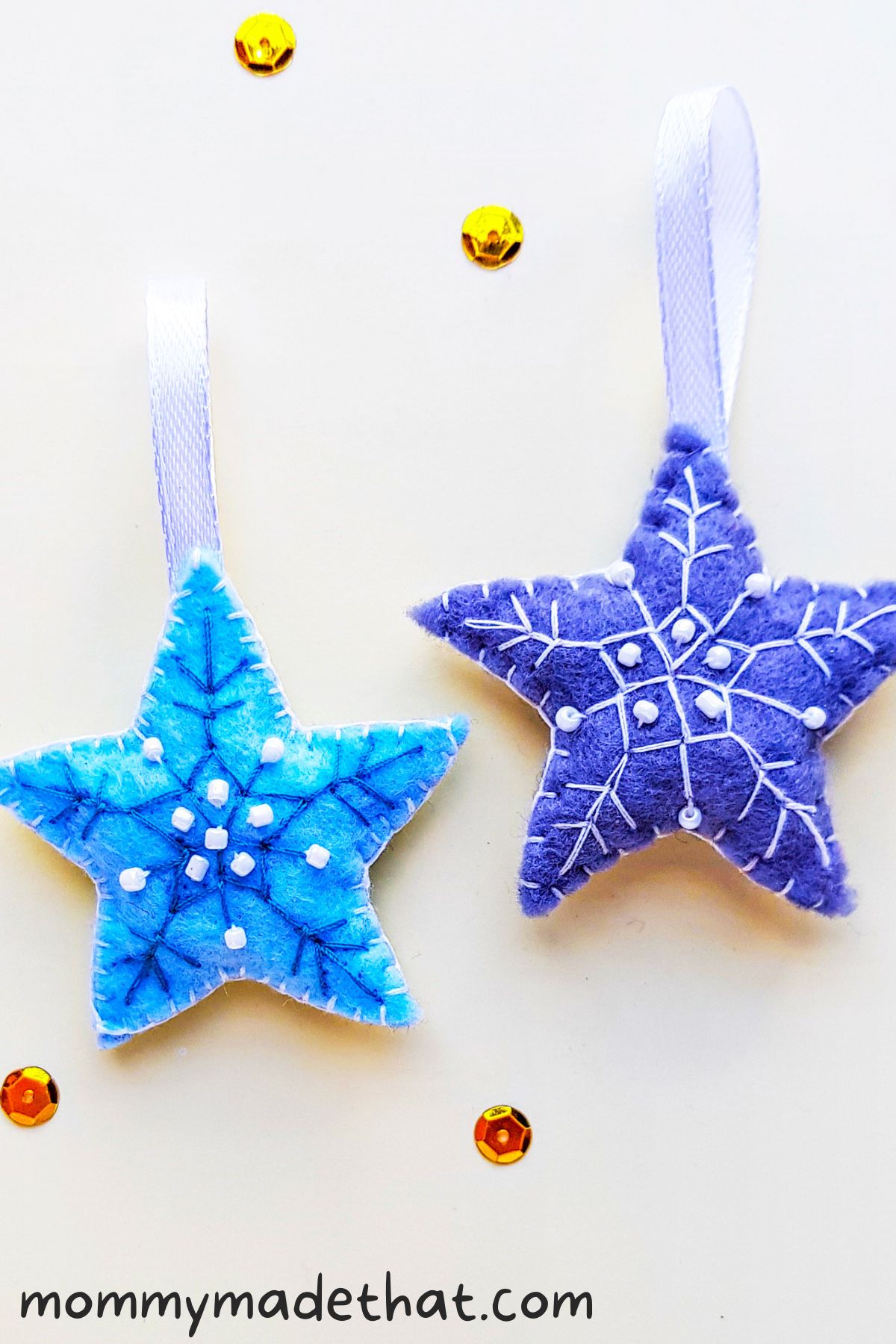 These felt stars make pretty ornaments that include fun but easy embroidering.
You can make these as simple or as intricate as you like and they'll look amazing on the tree.
Christmas Ornament Coloring Pages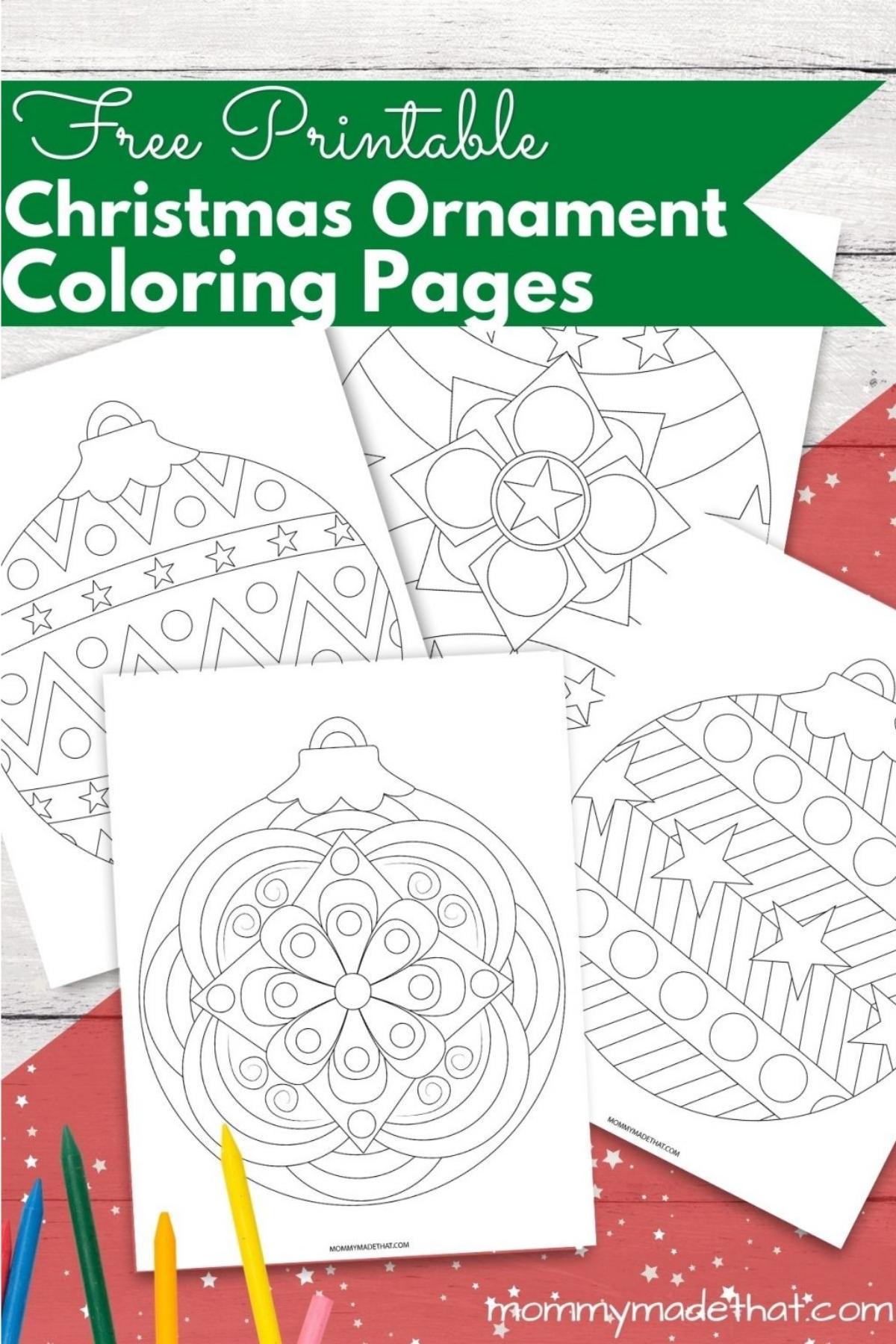 These printable ornaments to color are another fun way to make your own Christmas ornaments with just a piece of paper and some markers or crayons.
Kids especially love these coloring pages and will love seeing their art hung up on a tree or on the wall
DIY Grinch Pipe Cleaner Christmas Tree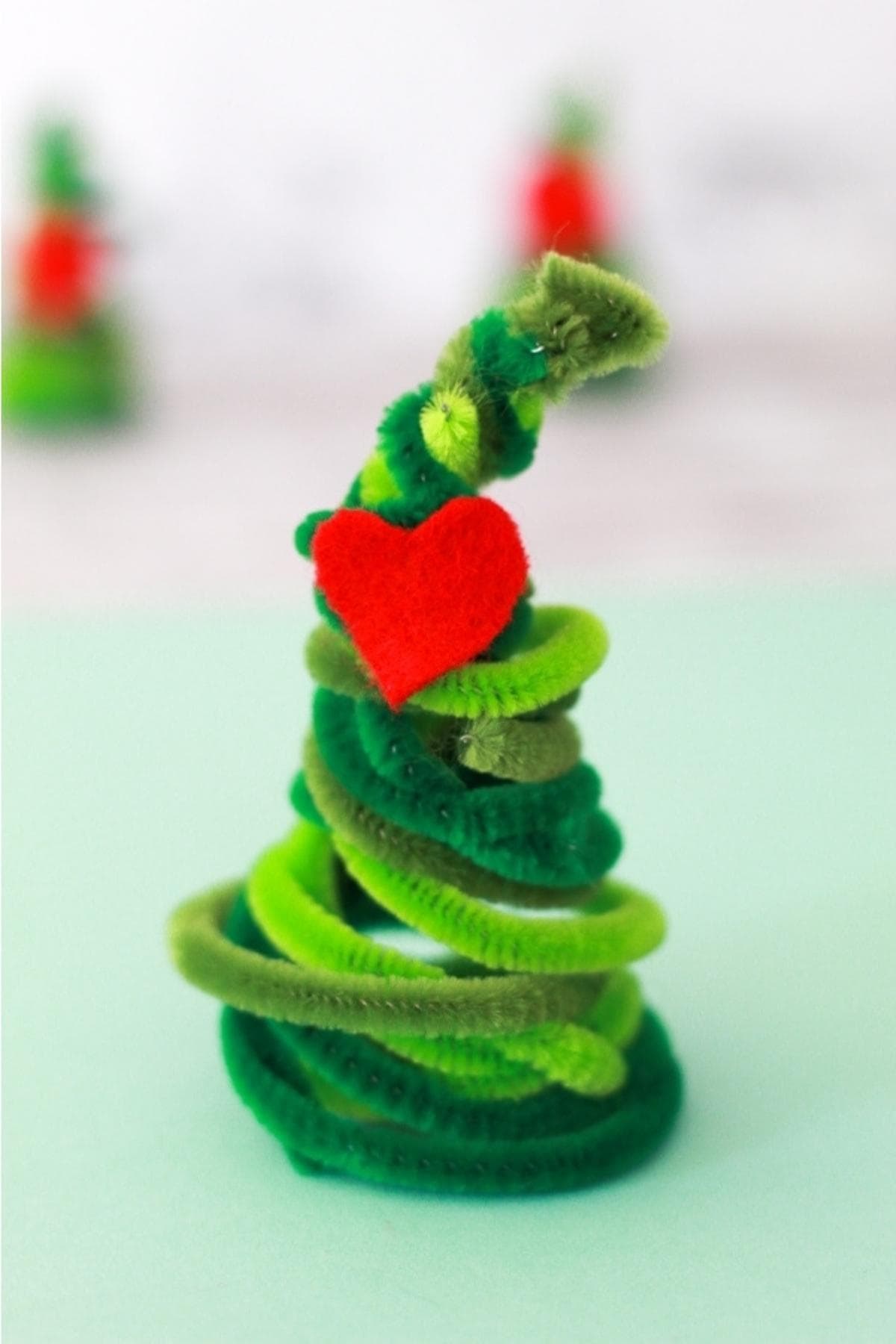 Another fun Grinch ornament, these pipe cleaner Christmas trees are super easy to make using just pipe cleaners and a bit of felt.
You could easily sub out the felt heart for a red paper heart or heart shaped buttons.
Or leave it off entirely and just create pretty pipe cleaner trees to hang as ornaments.
Adorable DIY Christmas Ornaments Made With Mason Jar Lids
Have some extra mason jar lids hanging around? Then why not create some pretty twine wreath ornaments.
For this project all you'll need are the rings from mason jar lids, some twine, ribbon and decorative buttons.
You can create dozens of pretty ornaments that look cohesive, but different and special each in their own way.
DIY Cute Felt Christmas Tree Craft With Buttons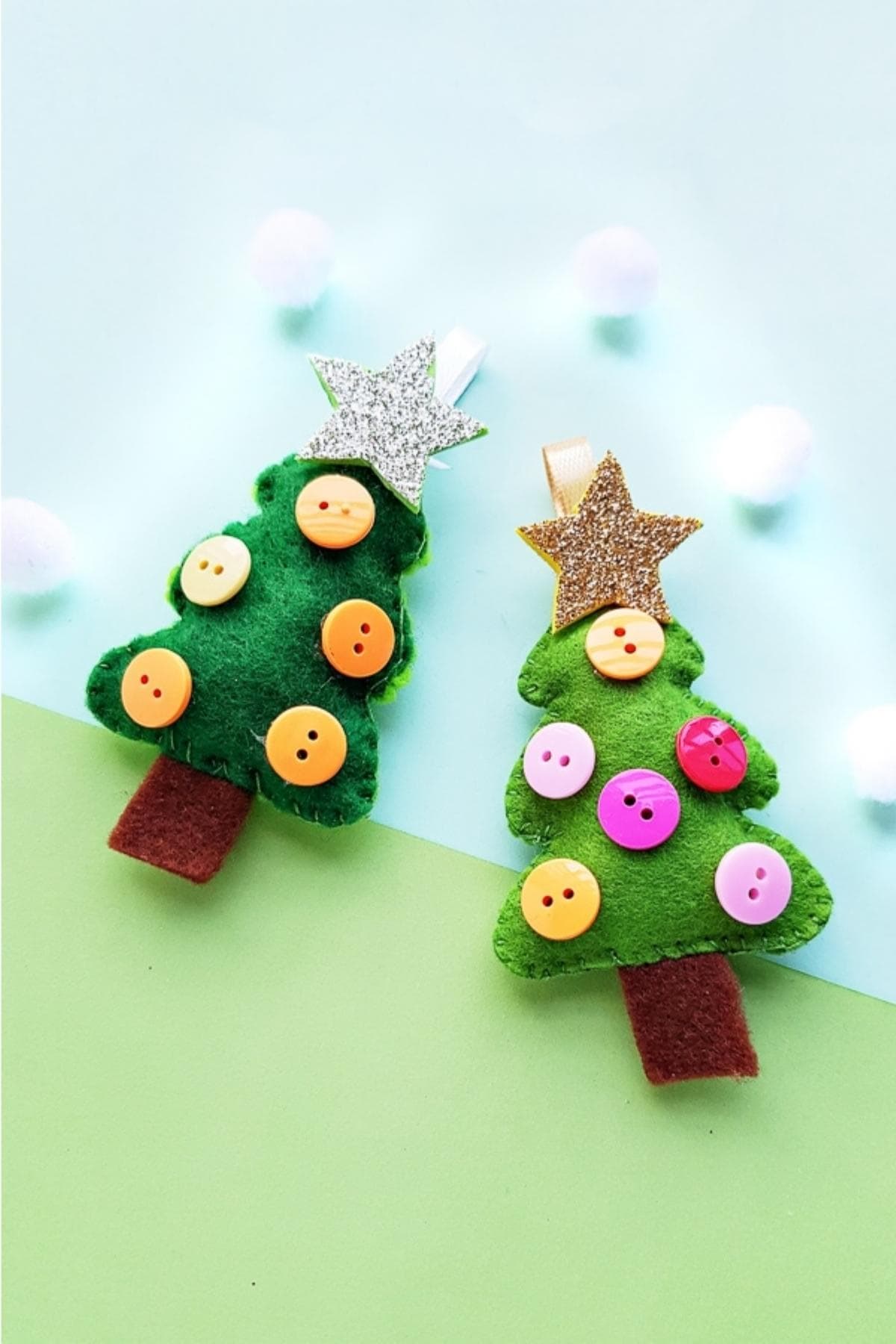 These felt Christmas tree ornaments are another fun and pretty DIY ornament that looks great without being overly complicated.
Add some pretty glitter stars and a few decorative buttons and you have great looking ornaments.
Adorable No Sew Felt Gnomes
Are you a fan of gnomes? Why not try your hand at making this DIY felt gnomes.
We provide the free printable template that makes it super easy to create lots of fun little gnomes to decorate your tree with.
Adorable No Sew Gnomes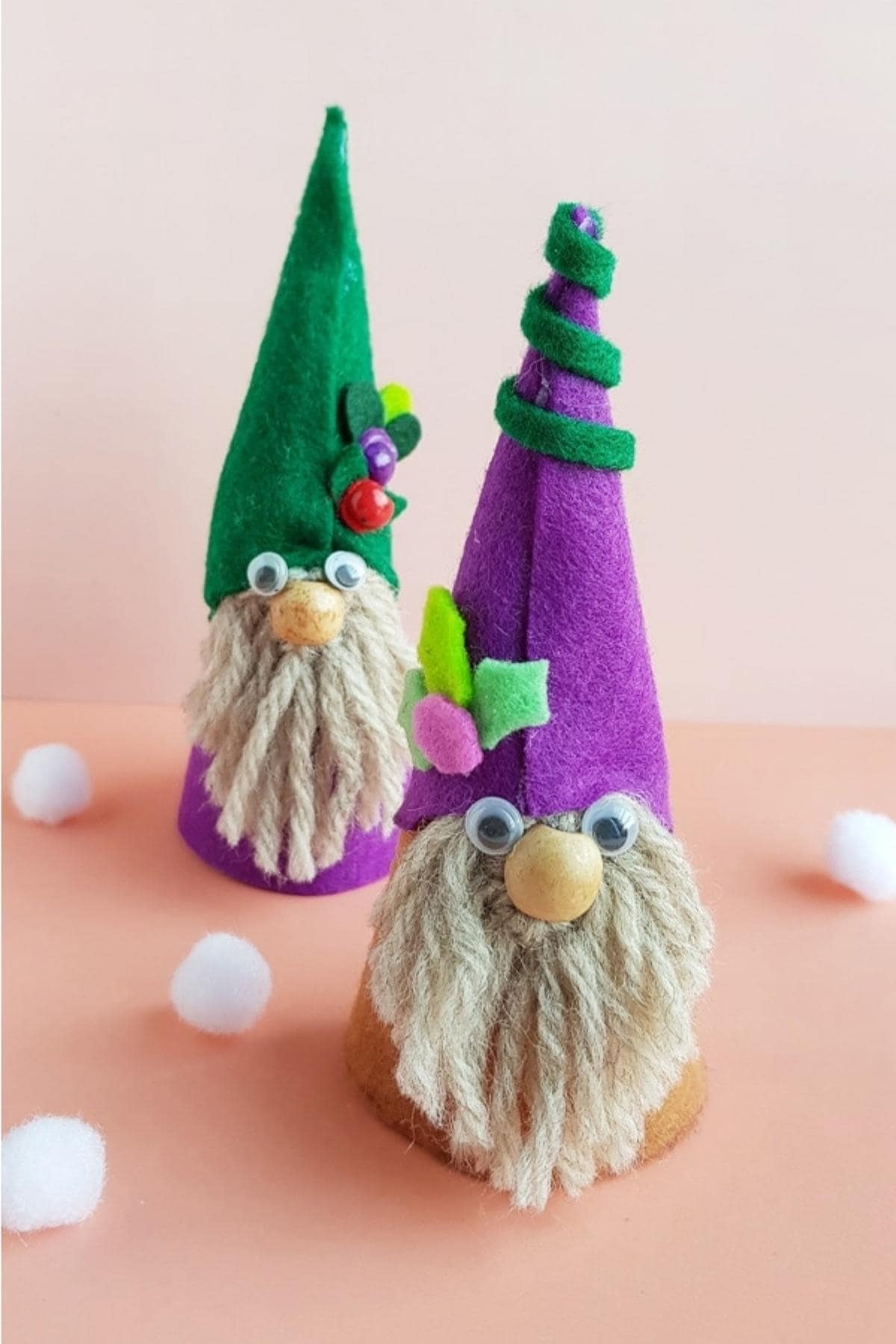 Another fun gnome project are these no sew felt gnomes.
While we didn't create them to be used as Christmas ornaments, they're the perfect size.
Add a little ribbon to the top of their hats and you'll have fun adorable ornaments that are sure to get some attention.
Simple DIY Felt Ornament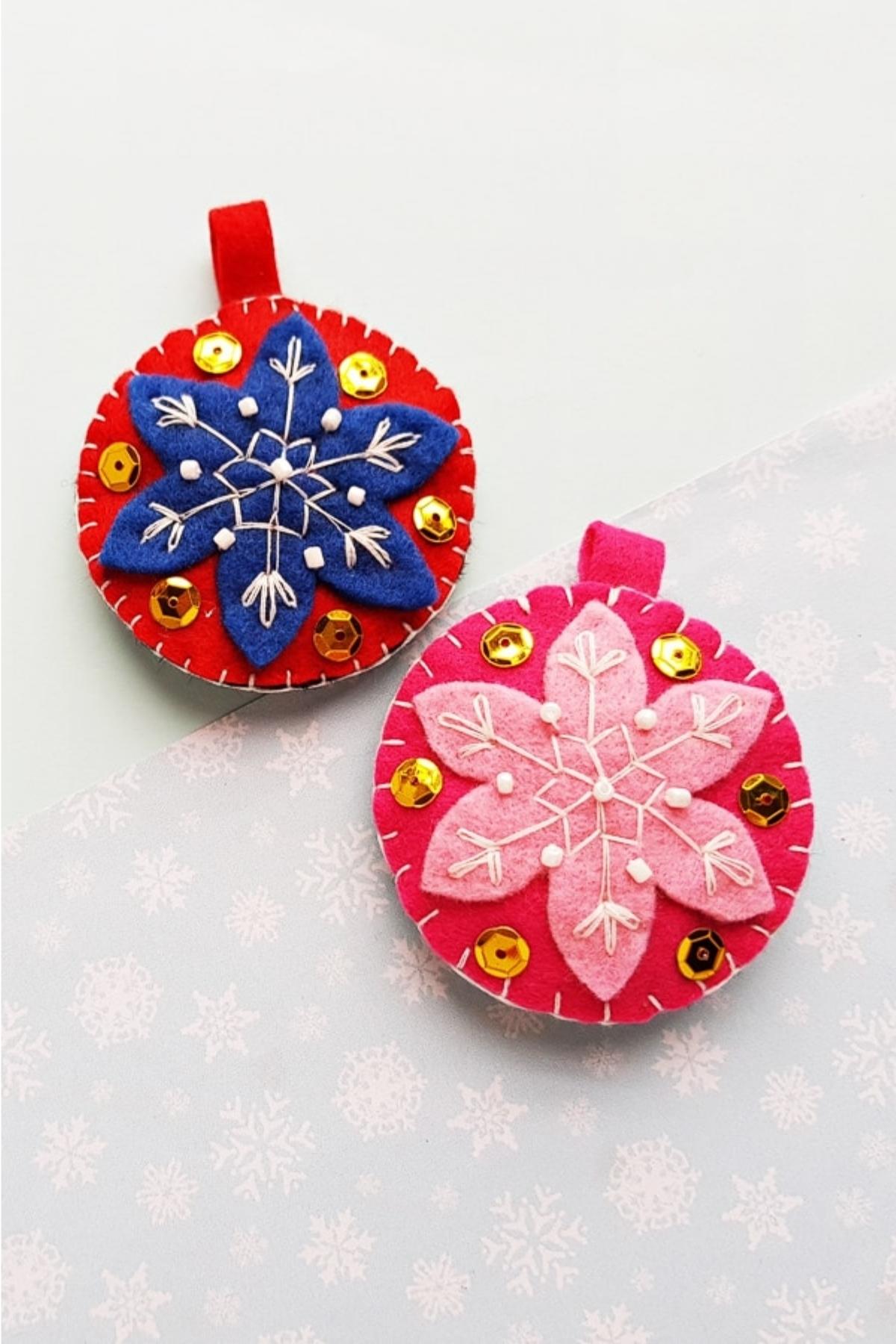 These simple, but gorgeous easy felt ornaments are handcrafted but look store bought.
They do take some hand sewing and embroidery work, but we show you how to make the ornaments step by step in our full tutorial.
DIY Rudolph Ornament Kids Craft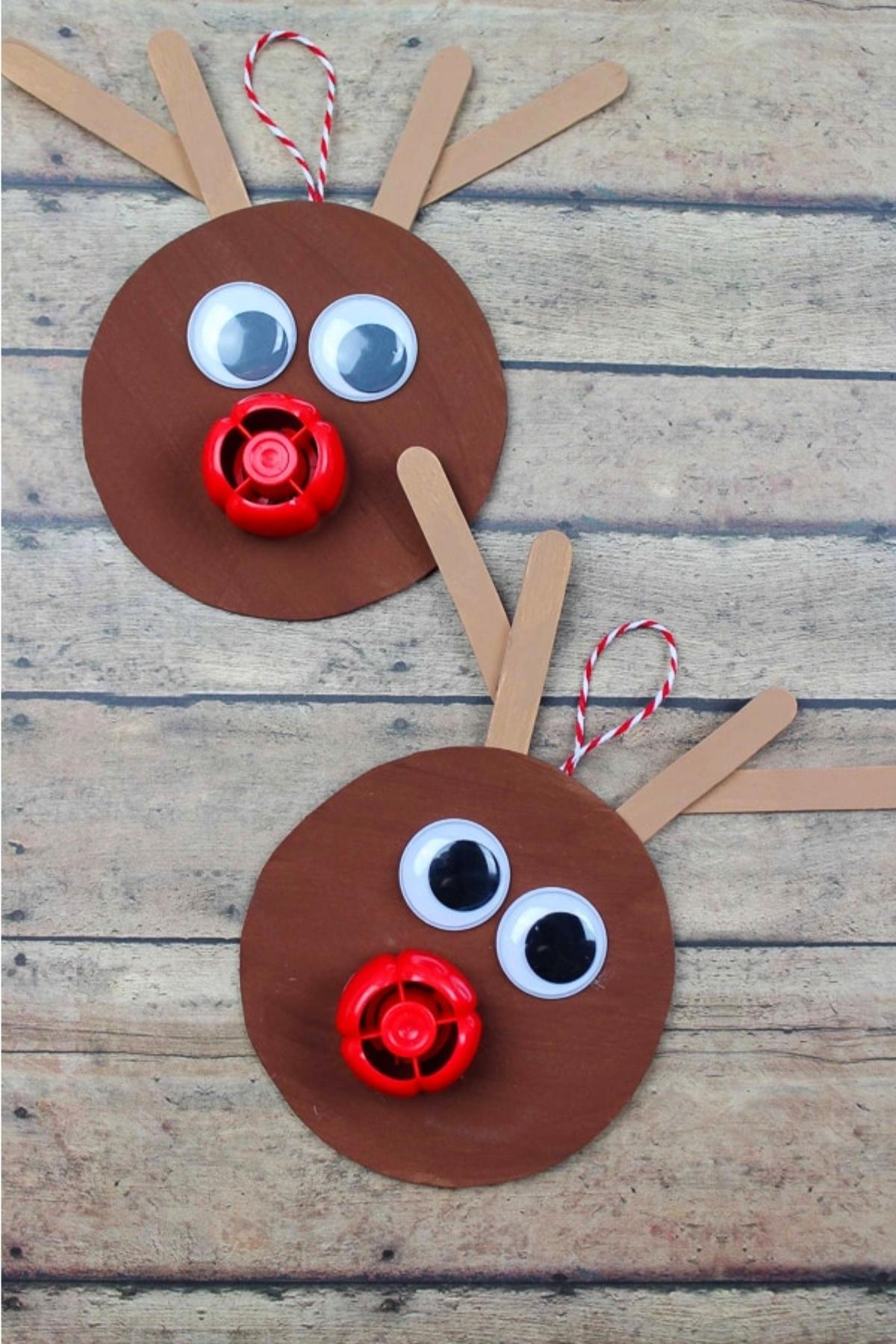 Looking for a super easy ornament the kids can make, try these little Rudolph ornaments.
They're made from recycled pieces found around the house.
All you need is some construction paper, googly eyes and anything you can find that'll make a good nose and antlers.
DIY Snowman Ornaments With Wooden Slices
These DIY Wood slice Snowman ornaments are super cute
I don't know about you, but I always love having extra wood slice pieces on hand to create fun and easy crafts.
These little snowmen are easy to make with just a bit of paint and glue. You can add extra details using some colored string and decorative ribbon.
Cute DIY Quilled Christmas Tree
This quilled Christmas tree makes an elegant ornament made from just thin strips of paper.
Quilling may seem intimidating, but it's a lot of fun and one of those calming crafts.
Put a piece of ribbon on the back of the tree and you'll have a gorgeous ornament to give as a gift or keep for your own decor.
Mary and Baby Jesus Paper Ornament for Kids
These DIY ornaments are one of my favorite on this list.
These Mary and Baby Jesus ornaments are made out of paper and string and look so darling.
My kids loved crafting these ones and we gave them as gifts to the grandparents.
Elf Popsicle Stick Craft for Kids
These cute popsicle stick elf ornaments are a great handmade ornament you can make from materials you probably have in your craft box.
We like making these after watching Elf. They look just like his outfit in the move.
Santa Suit Popsicle Stick Craft
These Santa popsicle stick ornaments go great with the elf ornaments above.
They big red suit are the perfect match for the bright green ones. We used a lot of the same pieces of foam paper too.
Although you could easily substitute the foam for craft paper if that's what you have on hand.
Penguin Popsicle Stick Craft for Kids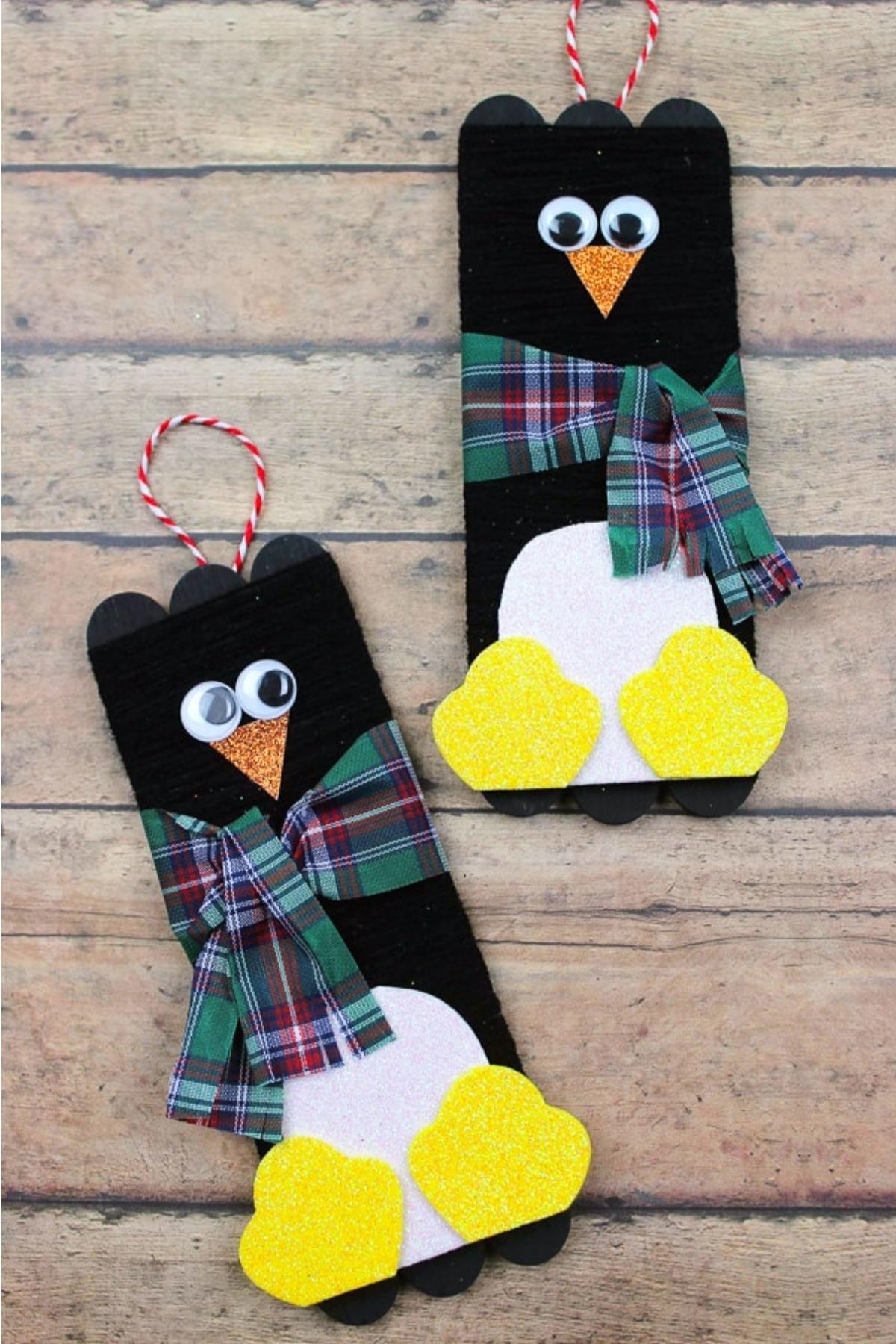 These popsicle stick penguin ornaments are another fun way to make ornaments from string and popsicle sticks.
The betty and feet are made from felt though. We also added little scarves from leftover fabric I had in my sewing box.
These look so cute hung up on the tree.
We hope you like our handmade, DIY Christmas ornaments.
We'll be making more this holiday season and will keep adding to our list.
Have fun with your creations and make sure to make a few to give as gifts.
Your loved ones will love the hand crafted creations!