Santa Suit Popsicle Stick Craft
Today the kids and I decided to make a Santa craft. We gathered some string and other items we already had on hand to make this cute Santa popsicle stick Santa craft ornament. It's a fun Christmas craft for kids and adults alike!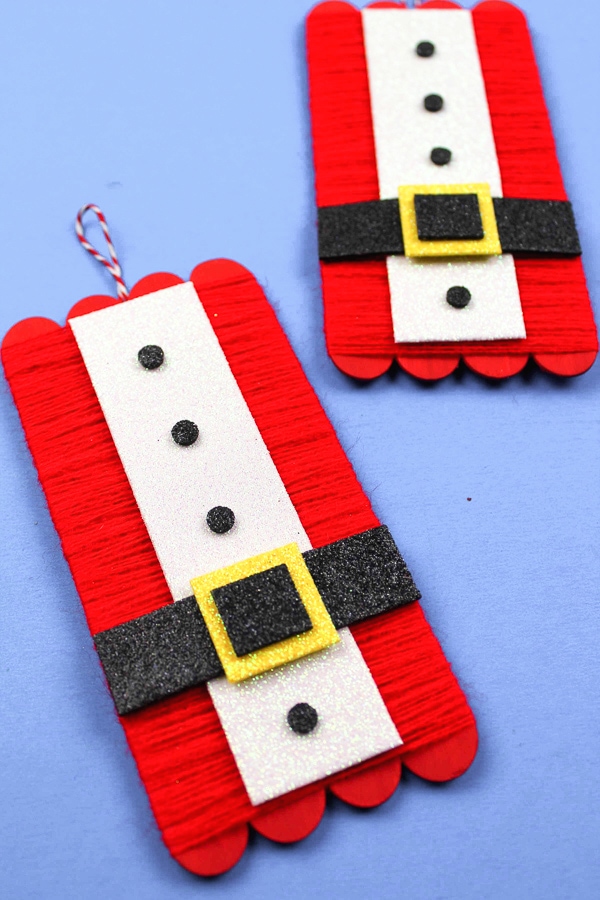 Today we are making a cute Santa suit ornament to go along with our adorable little elf suit popsicle stick ornaments.
They make a fun DIY Christmas ornament that the kids will love helping with.
We'll show you step by step how to make your own Santa popsicle stick ornaments in this tutorial.
Be sure to check out all of our winter crafts for more crafting fun!
This post may contain affiliate links. This means if you make a purchase after clicking on a link we may earn a small commission. We only recommend products we love or think you will love! Read our disclosure for more info.
Supplies Needed for Santa Suit Popsicle Stick Craft
To make this Santa suit you will need the following craft supplies:
Plain crafting popsicle sticks
Red paint
Red String or Yarn
Glitter Foam Sheets (In white, black, and yellow)
Glue
Scissors
Ribbon or Decorative String
A Hole Punch
Paintbrush
How to Make These Santa Suit Popsicle Stick Craft
First, start by gluing four popsicle sticks together.
You'll want to glue them all in a row so that they lay flat when they are dry.
After the glue on the popsicle sticks are completely dry, paint them red.
Allow the paint to dry completely.
When the painted popsicle sticks are dry wrap the popsicle sticks with red string or yarn.
Make sure that none of the popsicle stick is showing, except for a little bit of the top and bottom.
Next cut shapes from the glitter foam to create a belt, buckle and suit decoration.
Then glue all of the pieces into place.
You'll want to cut the following pieces:
A long white strip for the middle of Santa's suit
A red strip for the belt
A larger yellow square for the buckle
A smaller black square for the center of the buckle
Use a hole punch to make black buttons from the black glitter foam
The long white strip should go down the middle of the Santa suit longways.
The black strip should go across horizontally overlapping the white strip, making Santa's belt.
The yellow square should go on the center of the black strip, and then glue the black square in the middle of the yellow square.
It should look like the photo below.
Next, use a hole punch to create buttons for the santa suit out of the black glitter foam sheet.
Glue 3 buttons onto the white glitter foam sheet.
Make sure that the buttons are fully dried.
Finally loop a ribbon or decorative string and glue onto the back of the ornament.