Paper Bag Gingerbread Man Puppet Craft (Free Template)
Get ready for some festive crafting fun with this adorable Paper Bag Gingerbread Man Craft! Perfect for holiday storytelling, this delightful gingerbread man puppet brings the magic of the season right to your fingertips.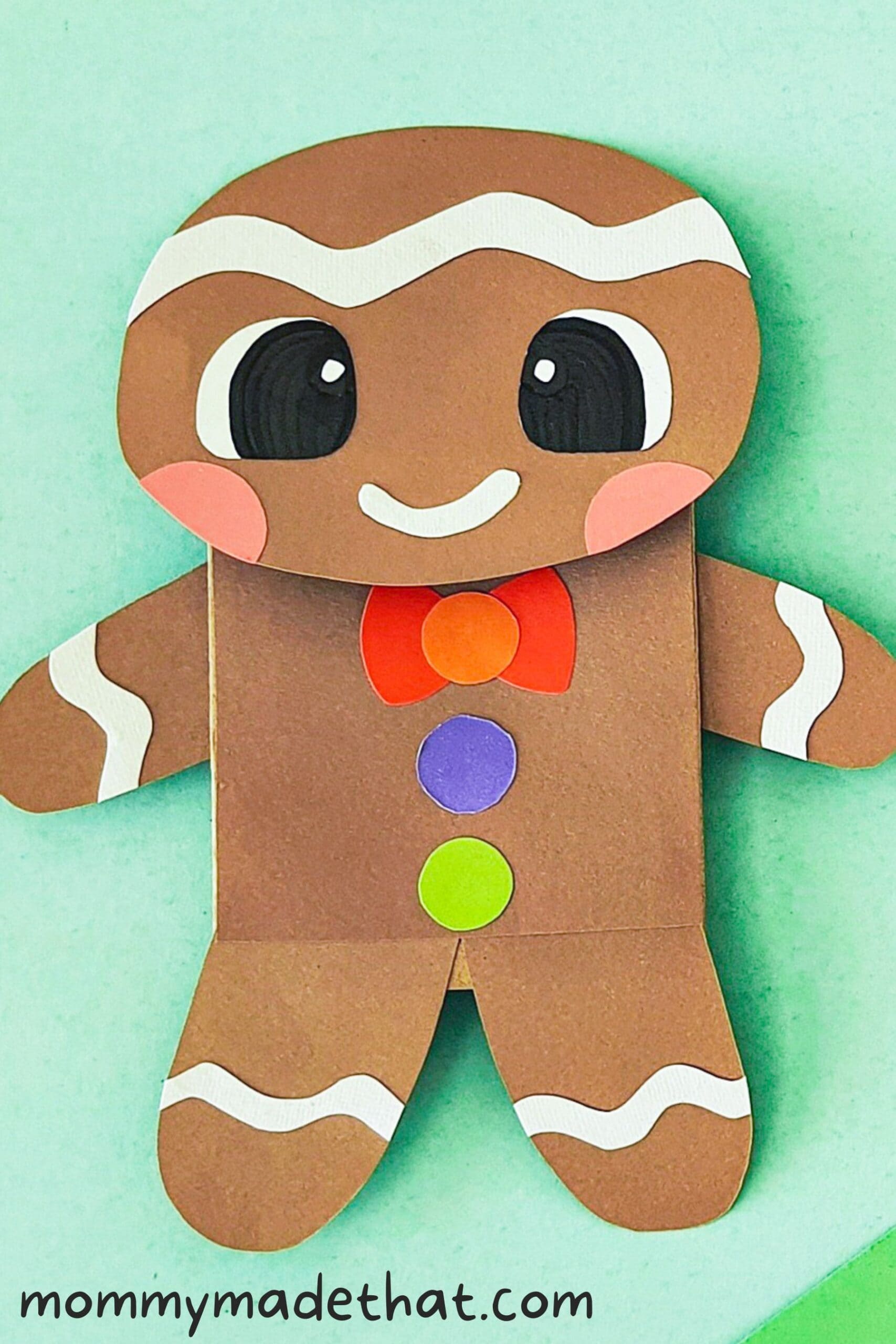 Nothing says holiday spirit like gingerbread treats! But this Paper Bag Gingerbread Man Craft is not only a treat to look at—it's also a fun, hands-on activity that's great for kids.
It's a fantastic way to encourage fine motor skills, color recognition, and creativity. Plus, it's versatile enough to be a hit at any Christmas party, classroom holiday event, or just a cozy afternoon at home.
For more gingerbread activities and fun you can grab our gingerbread man templates (we include a gingerbread girl too!) Kids can decorate and color their own gingerbread men with these!
We also have some fun printables like our roll a gingerbread house game.
And a 3D printable gingerbread house that you color and build!
Why You'll Love This Craft
Easy to Make: You don't need to be a crafting guru to enjoy this project. Just some basic supplies and our free template!
Educational: Helps kids improve their hand-eye coordination and learn about shapes and colors.
Seasonally Adorable: A gingerbread man puppet brings holiday flair to playtime!
Customizable: Use different colors and add-ons to make your gingerbread man truly unique.
Materials
Colored Craft Papers: The main star! Brown for the gingerbread man and various colors for the details.
Pencil: For tracing the template onto the craft papers.
Craft Glue: To stick all your pieces together.
Sharpie or Gel Pen: For adding facial features.
Paper Bag: To form the puppet base.
Instructions
Step 1: Prepare Your Paper Pieces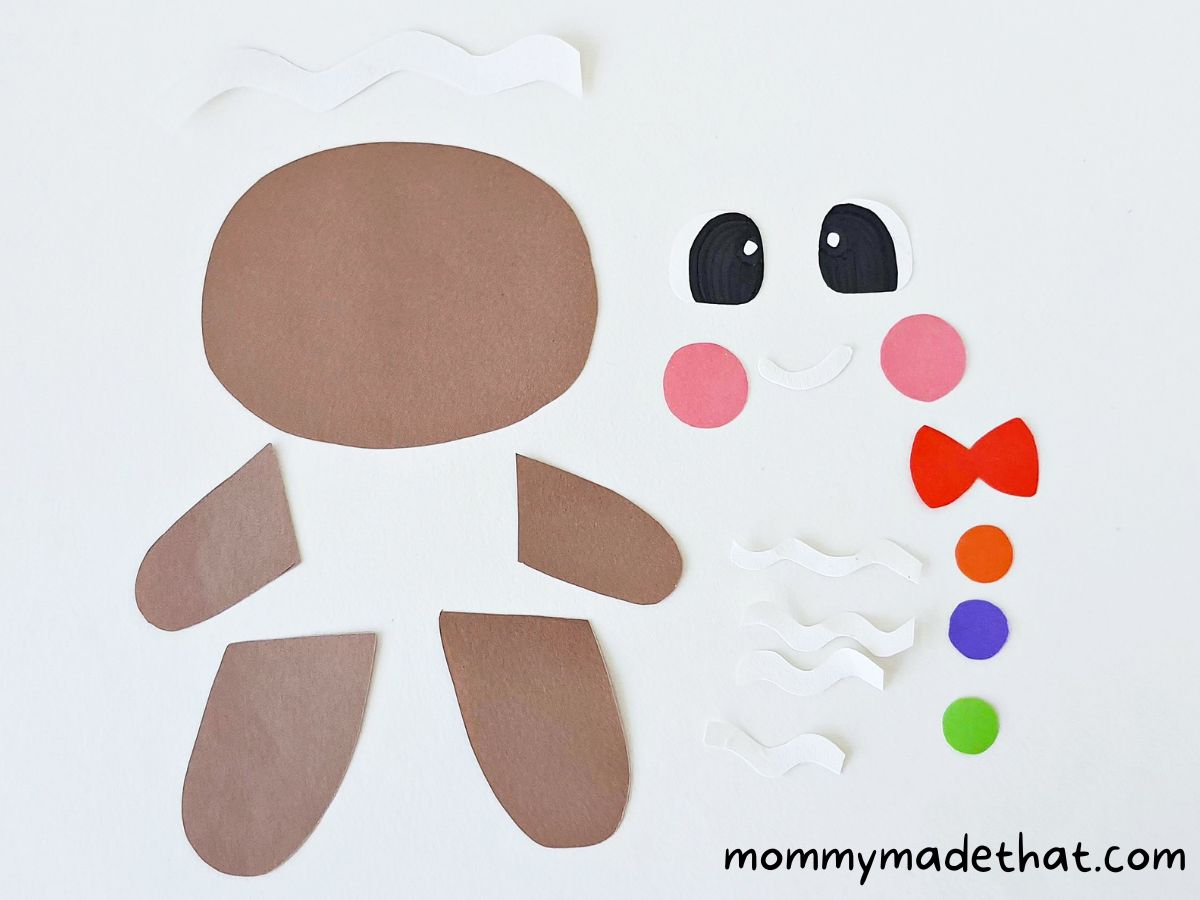 First, grab and print out the gingerbread man templates. There's a small version for small paper bags and a large version that fits the standard lunch sized paper bag.
Start by choosing brown craft paper for the gingerbread man's body and other colors for the decorations. Using the template, trace the shapes for the head, legs and arms on the brown paper.
The eyes on white paper, the frosting from white paper, and the buttons and bow tie in any colors you like.
Cut out all your pieces.
Step 2: Add Frosting to the Head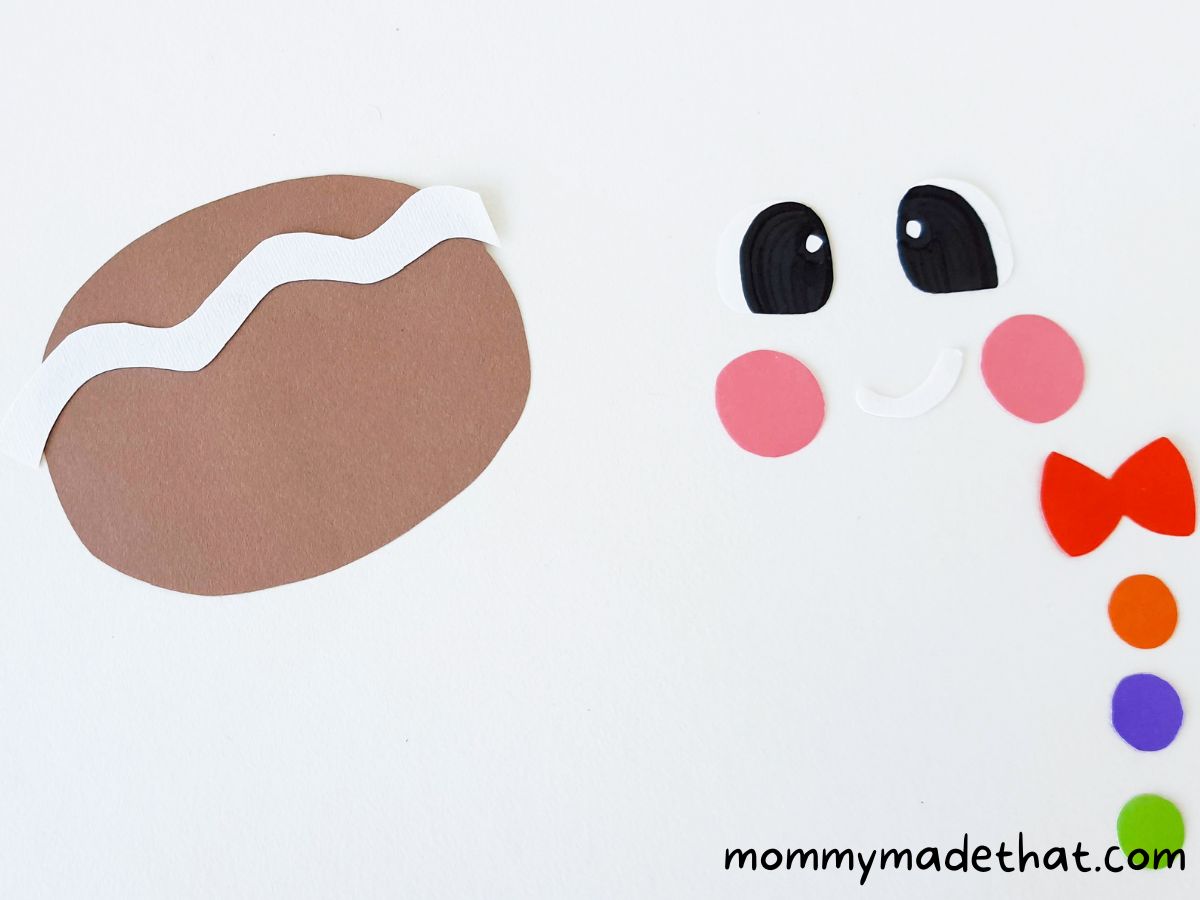 Place the frosting-line cutout at the top of the gingerbread man's head and glue it in place.
Step 3: Create The Face
The next step is to draw the eyes onto the eye cutouts with a Sharpie or gel pen. Glue these, along with the mouth cutout, onto his face.
Step 4: Add Some Cheeky Blush
Glue the blush cutouts onto both cheeks of the head.
Step 5: Decorate Arms and Legs
Next, attach the frosting-lines onto both the arm and leg cutouts.
Step 6: Prepare the Paper Bag
Take a paper bag and measure it to cut a brown paper piece that will cover its front surface. This will become the gingerbread man puppet's front side.
Step 7: Attach the Legs
Glue the leg cutouts to the bottom of the brown paper piece.
Step 8: Stick It to the Bag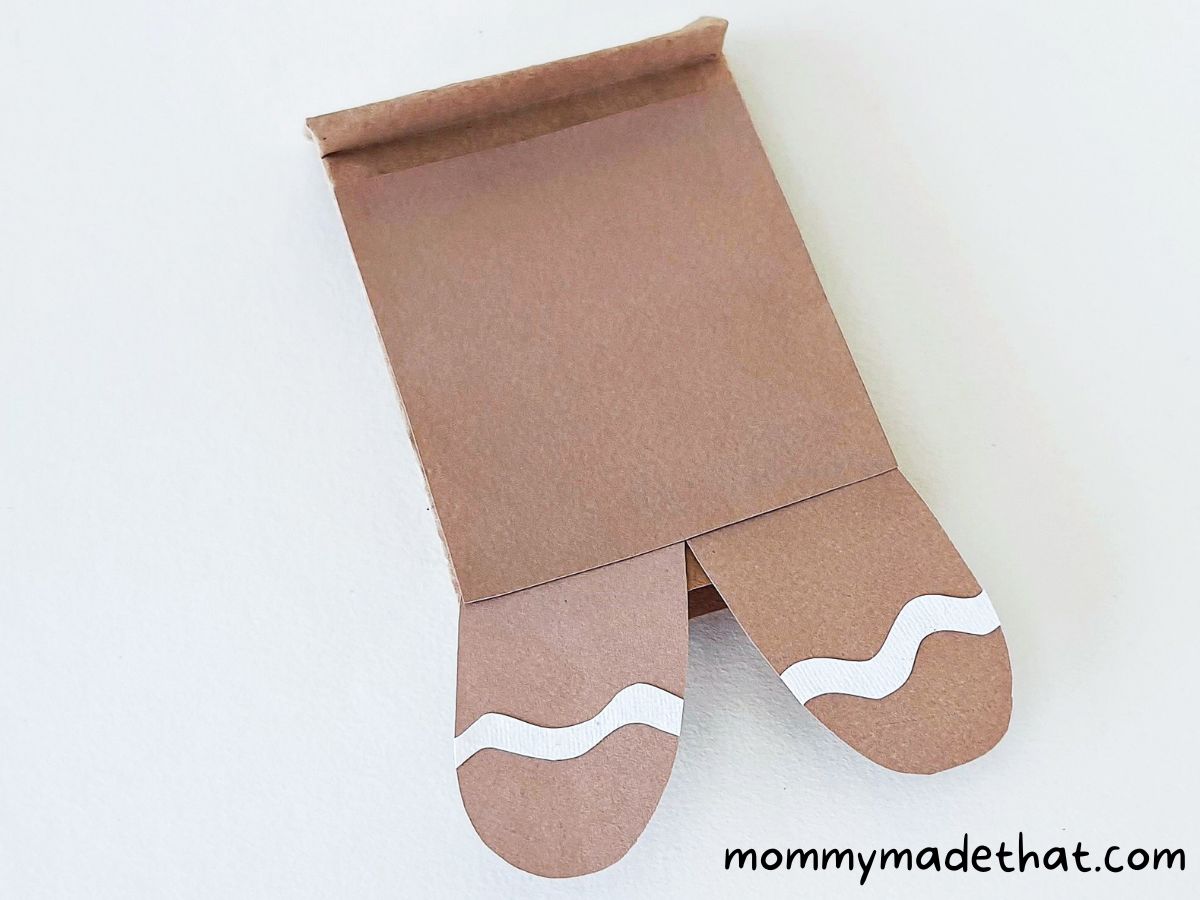 Now, glue the prepared brown paper (with legs attached) onto the front of the paper bag.
Step 9: Flatten the Bag
Flatten the bottom part of the paper bag, ensuring the front is showing. Then attach the head to that part of the bag. Then attach both of the gingerbreads arms.
Step 10: Final Touches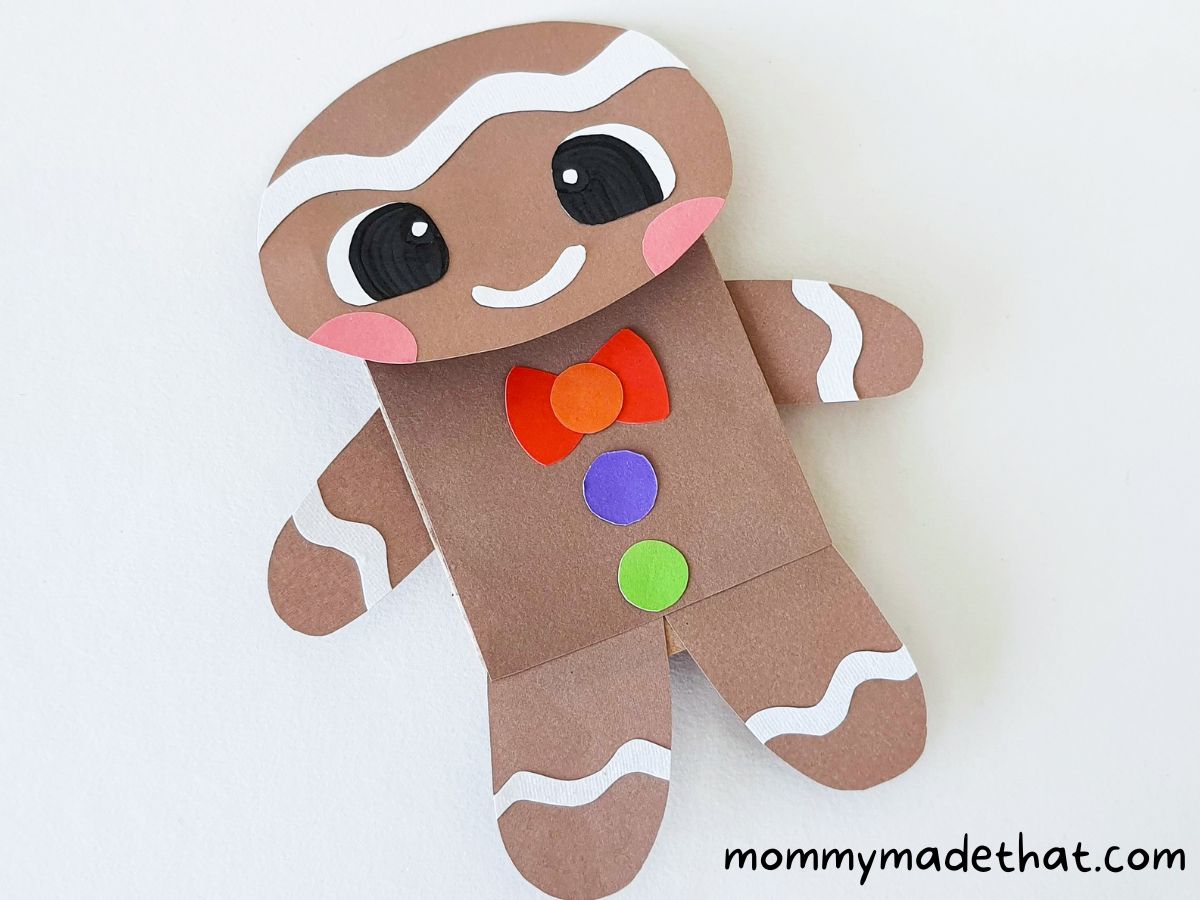 Attach the button and bow tie cutouts to the body to finish decorating him.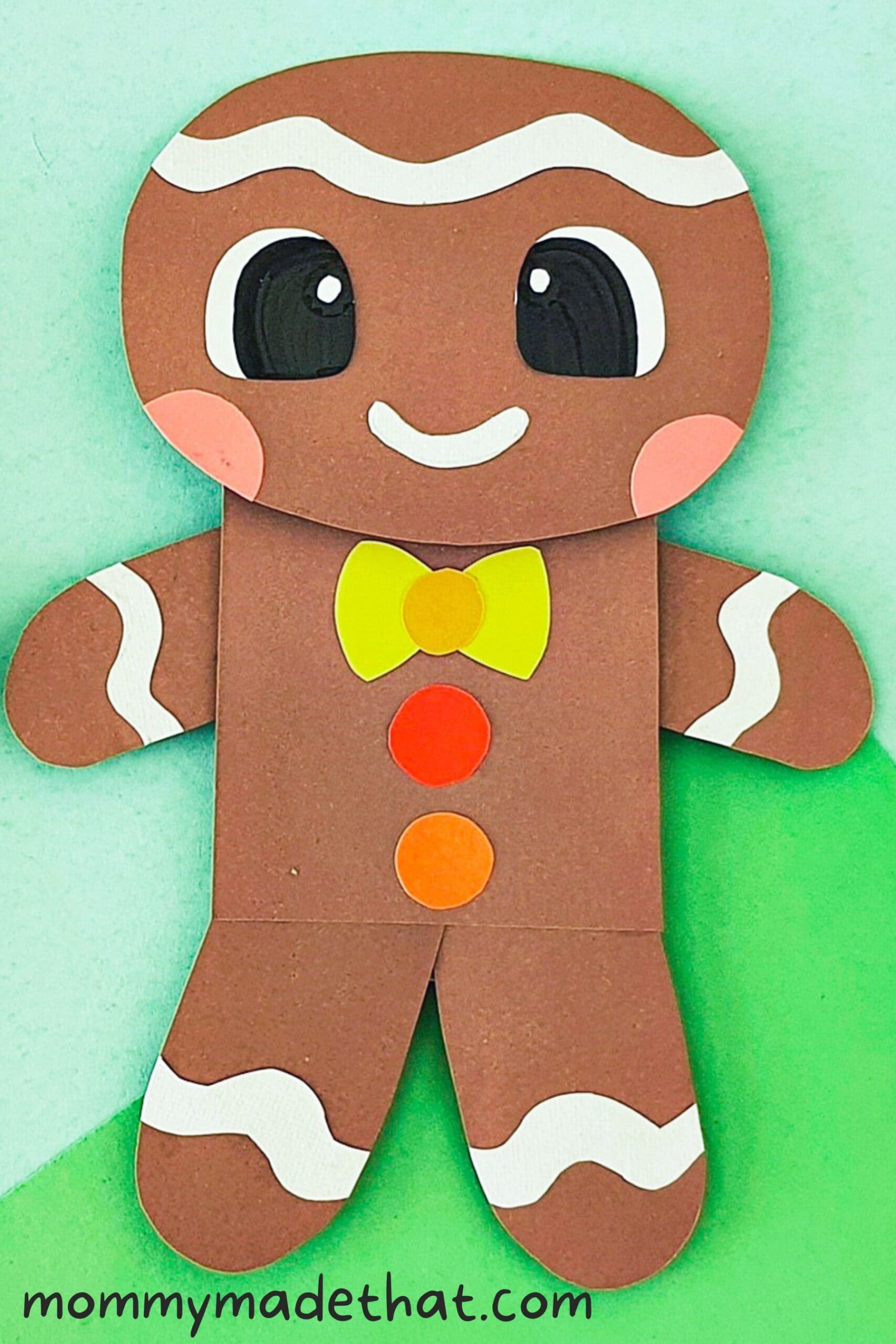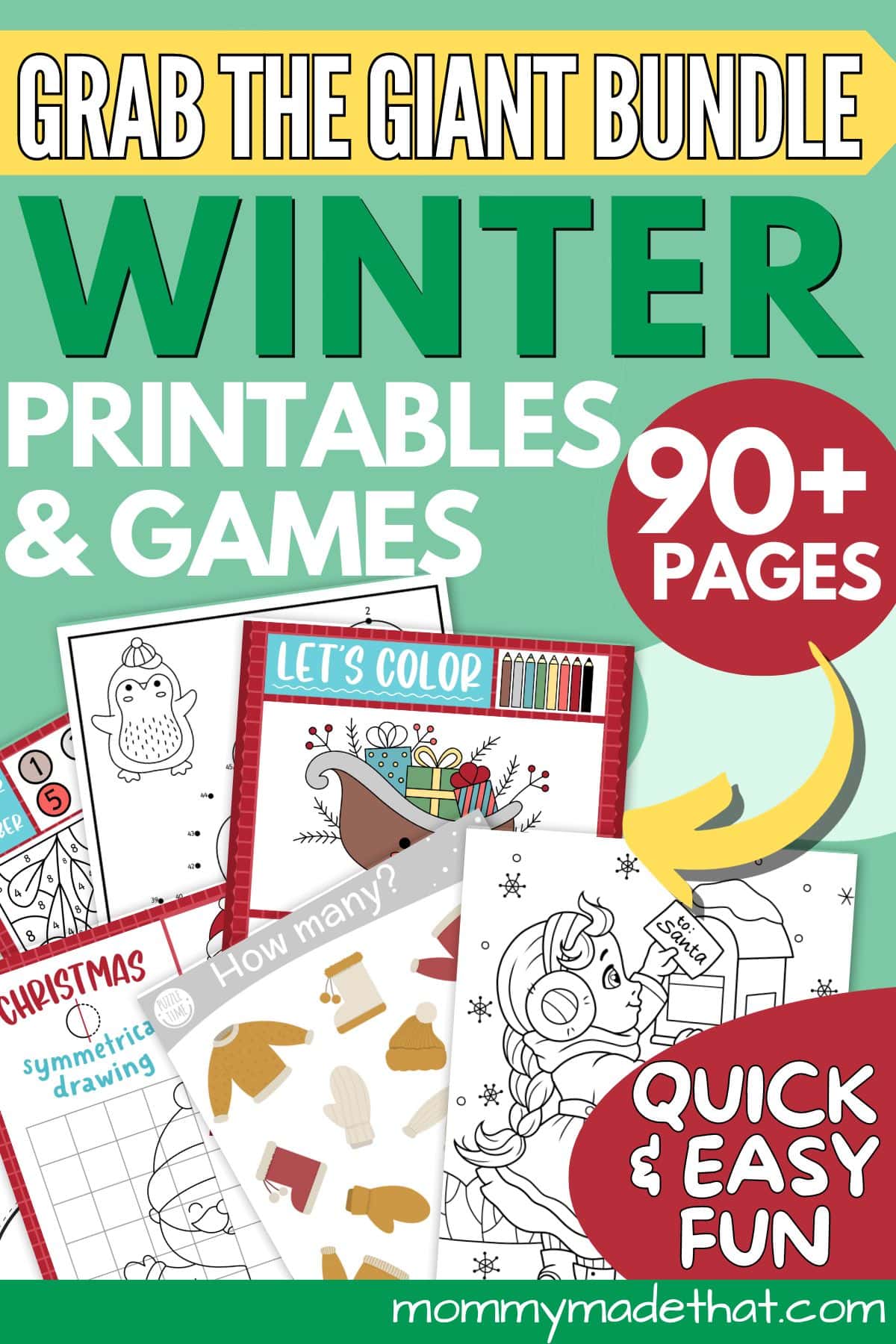 And that's it! Now you have an adorable little gingerbread man puppet made from a paper lunch bag.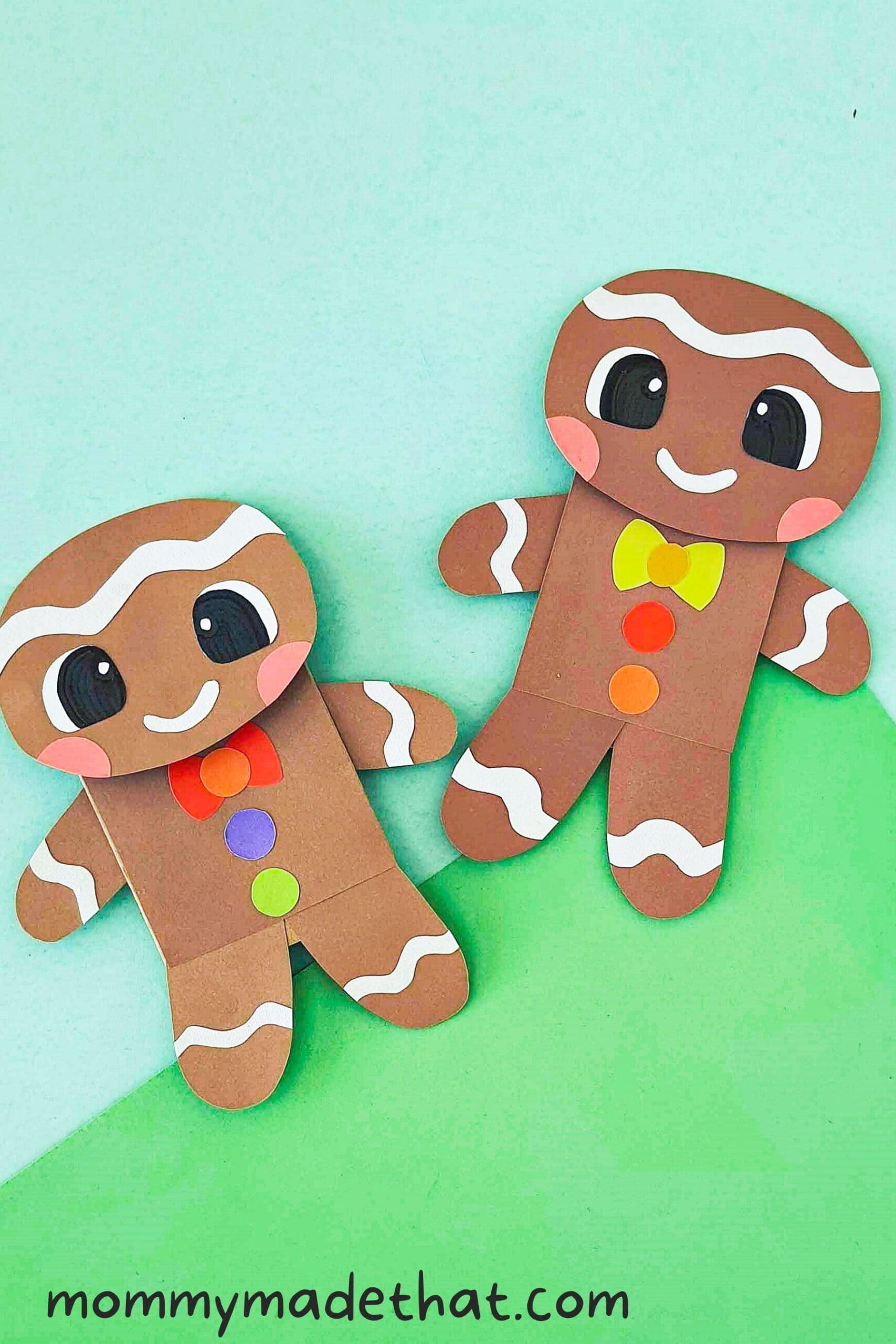 Top Tips
Make sure to press down firmly on the glued areas for a few seconds to ensure they stick well.
If you don't have colored craft papers, plain white paper colored with crayons or markers works just as well.
Feel free to add your own flair with stickers, glitter, or even fabric!
Always supervise younger kids to ensure they use craft supplies safely.
Be sure to check out some of our other Christmas crafts for kids! Our current favorites our our pipe cleaner snow flakes and our cute paper bag penguin puppets!
Grab the Template
To get your hands on the printable template for this craft, simply enter your name and email in the pink box below.
We'll send the template, along with other fun crafts and activities, straight to your inbox. This is for personal or classroom use only, please, not for commercial use. Thank you!
This Paper Bag Gingerbread Man Craft is not just another holiday decoration—it's a ticket to hours of imaginative play!
Perfect for kids and adults alike, this craft is a delightful way to ring in the holiday season. Happy crafting!