Printable Moving Gingerbread Man Craft (Free template!)
Today we have this cute printable gingerbread man craft that has moving pieces using split pins! It's a fun Christmas craft kids will love.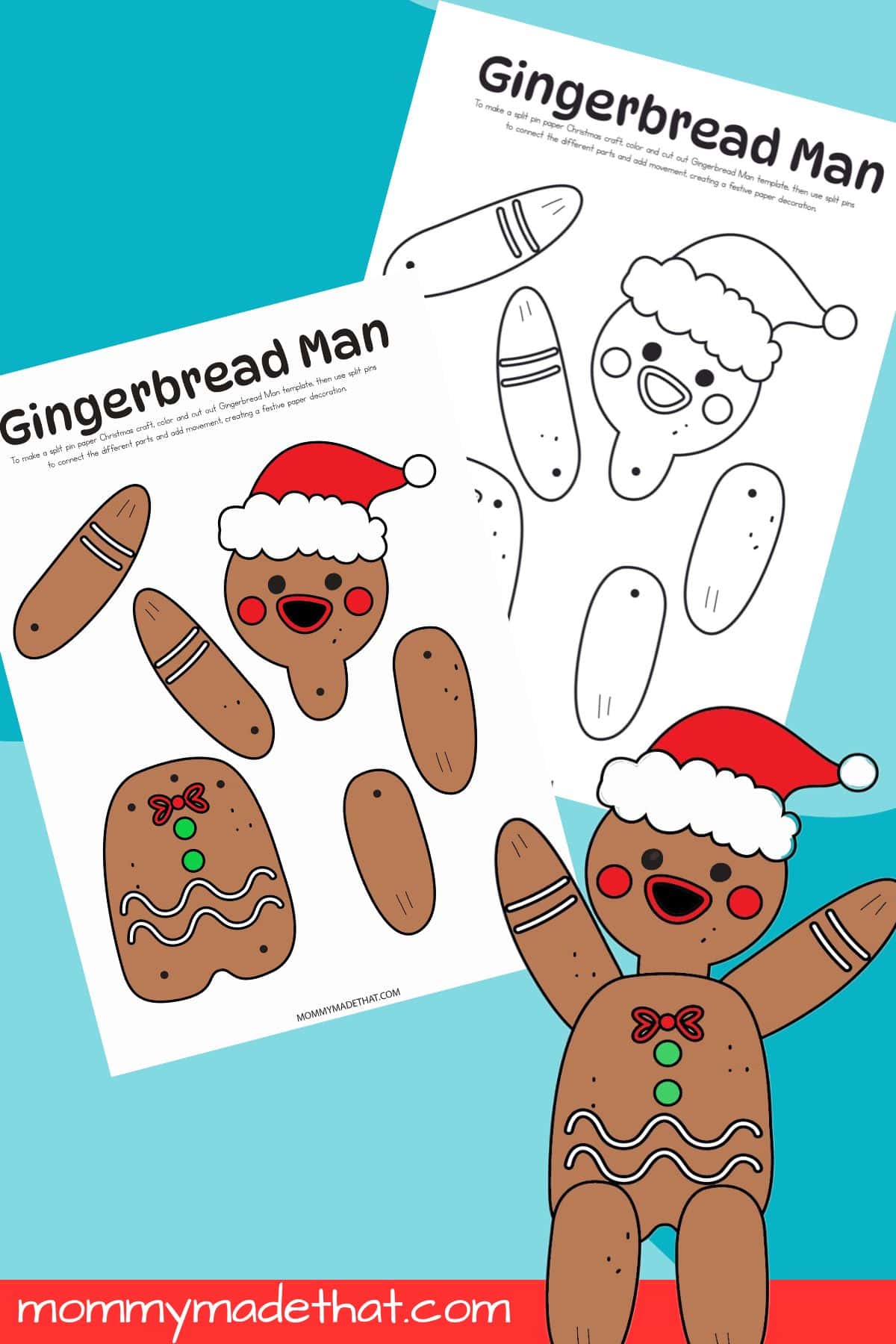 Hey, crafty parents and innovative teachers! Welcome back to another fun and educational activity perfect for the holiday season. Today, we're diving into the world of printable Christmas crafts.
We've got something special that not only sparks creativity but also adds a touch of magic to your Christmas celebrations: a DIY Gingerbread Man Craft made with split pins!
That's right—this gingerbread man is more than just cute; his arms, legs, and even his head are moveable. Let's get started!
And for more gingerbread man crafts and activities, be sure to grab our printable gingerbread man template. Kids can design and decorate their own gingerbread man or girl!
If you are looking for more gingerbread crafts, we got tons! Like this cute gingerbread man paper bag craft. We include a free template so it's easy to turn a brown paper bag into a cute gingerbread man.
Or grab our roll a gingerbread house game or check out the build a gingerbread house printable.
Materials
Before you begin, make sure you have the following supplies at hand:
Our Gingerbread Man Printable (more on this below!)
Scissors
Split Pins
Colored pencils or crayons (if you're using the black and white version)
Glue stick or tape (optional)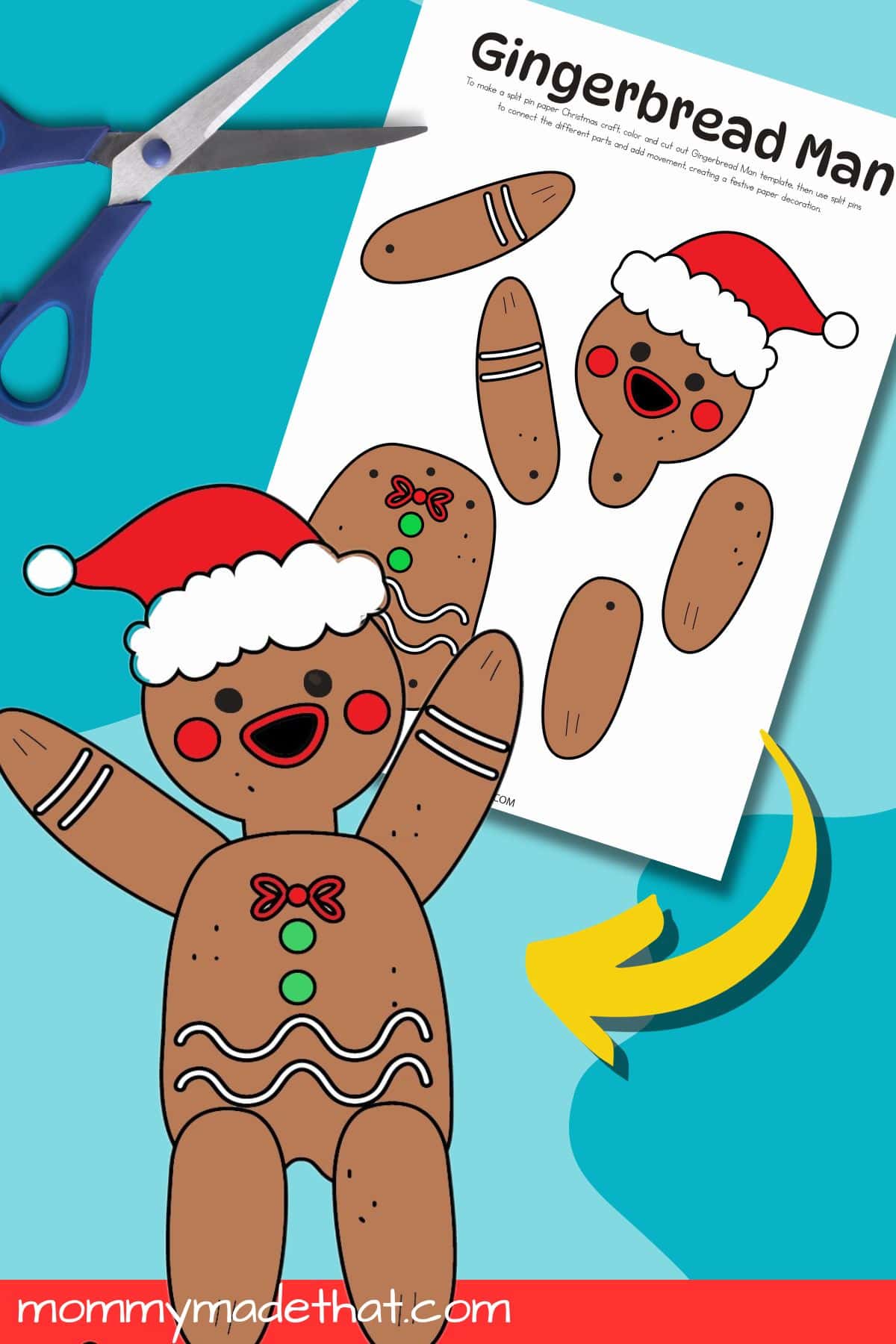 Instructions
Download the Printable: Scroll down to the 'Grab the Free Printable' section and follow the simple steps to get your own gingerbread man template.
Print the Template: Choose between our colored version and a black and white option, which doubles as a Christmas coloring page.
Cut the Pieces: Carefully cut out the gingerbread man and his arms and legs.
Assemble with Split Pins: Locate the small circles on each piece. These are where the split pins will go. Attach the arms, legs, and head to the body using the split pins.
Decorate: If you're using the black and white version, this is the time to let your creativity run wild! Color your gingerbread man using crayons or colored pencils.
Show Off Your Masterpiece: Hang it on the fridge, use it as a puppet, or incorporate it into a holiday storytime!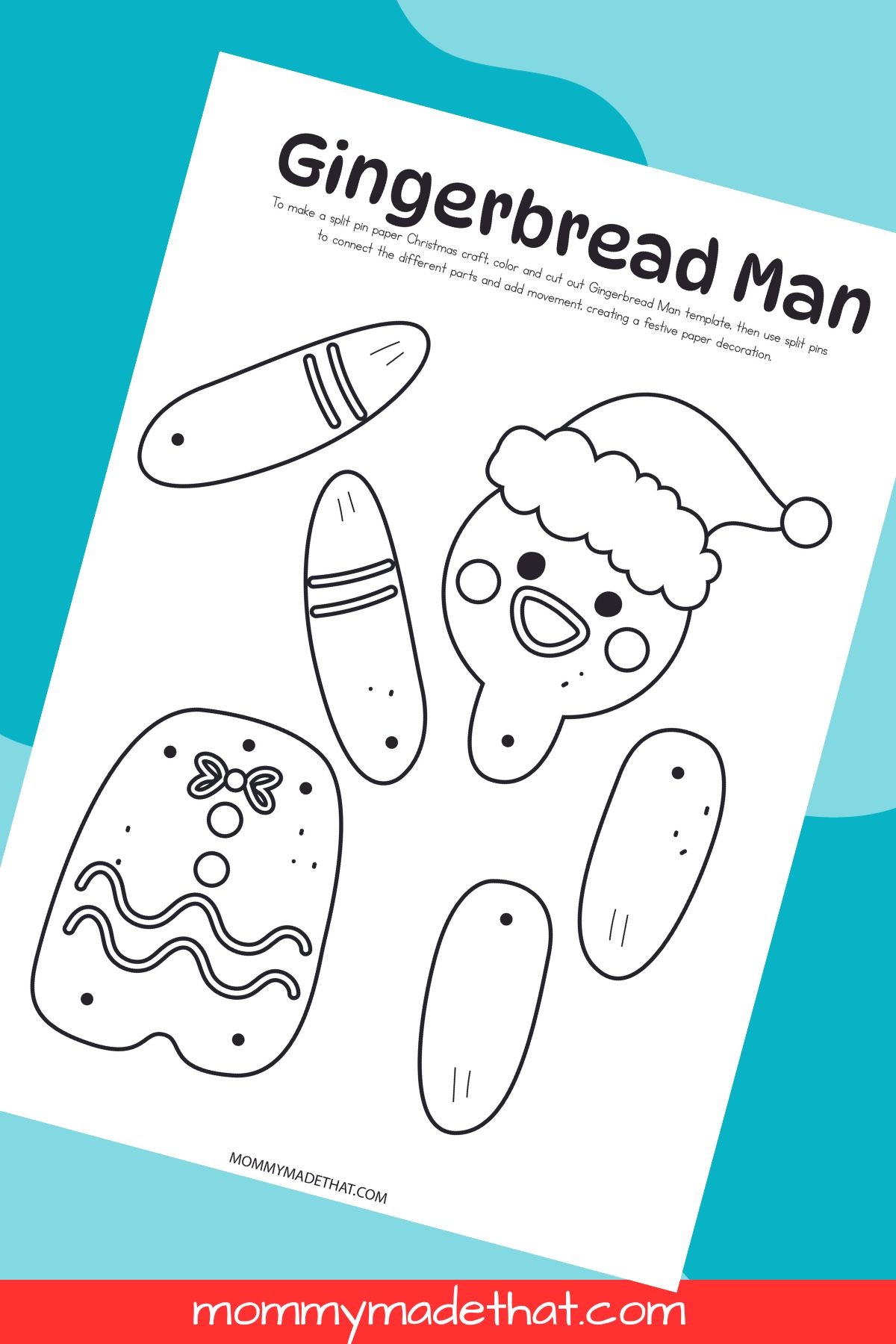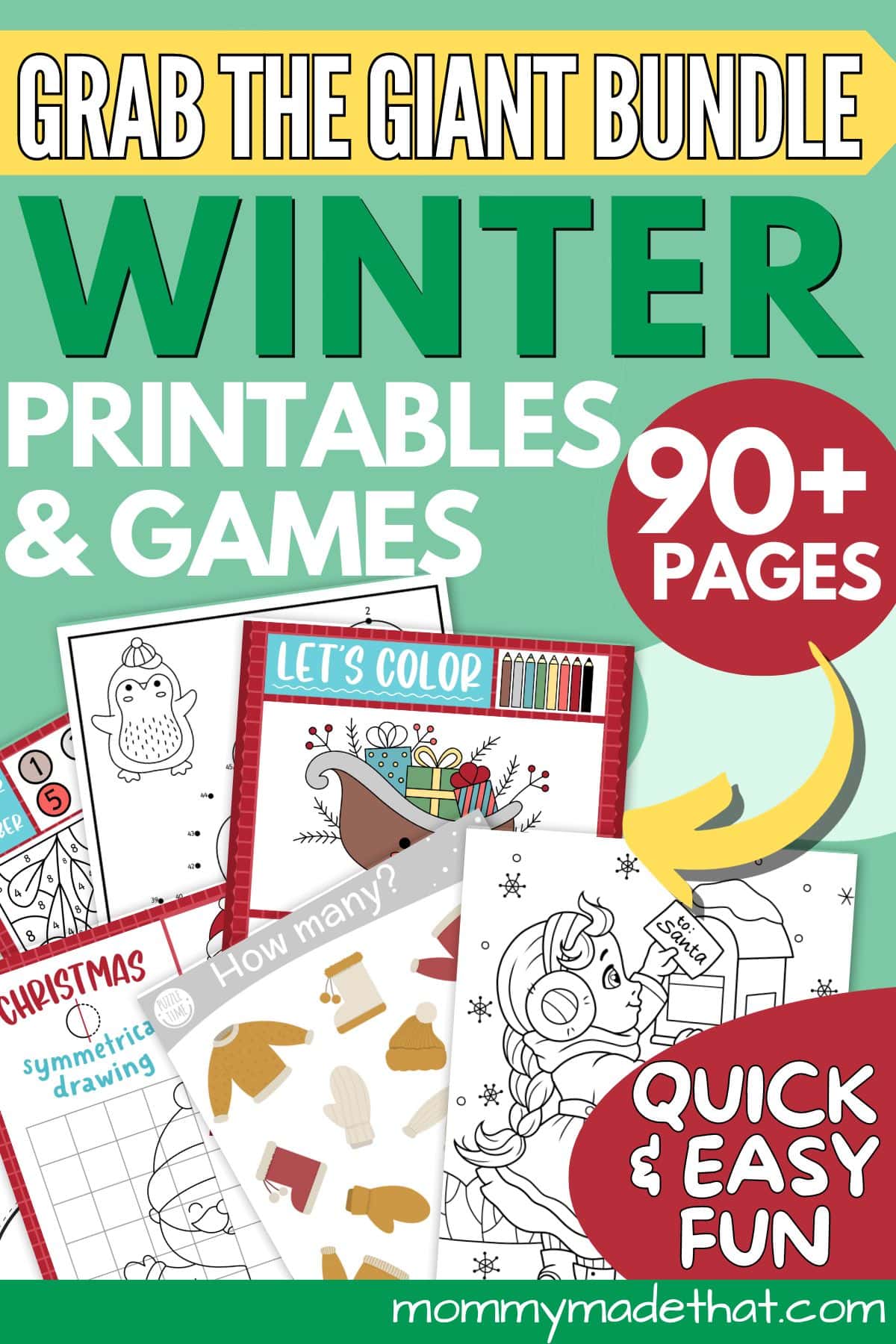 Our Gingerbread Man Printable
Our printable gingerbread man is specially designed for easy assembly and hours of fun.
You get two options: a pre-colored gingerbread man for a quick craft or a black and white outline for a combined coloring and crafting experience.
Both versions come with marked spots to guide you where the split pins should be inserted, making it a breeze to create a moveable gingerbread man craft.
No split pins? No problem. You can still put together your little gingerbread man using tape or glue if you prefer. The limbs just won't move. Still a great activity!
Grab the Free Printable
Ready to create your own gingerbread man? Awesome! To grab the free printable craft, simply put your name and email address in the pink box below.
We'll send the printable straight to your inbox, along with other fun craft ideas and free printables. Remember, this is for personal or classroom use only, please—not for commercial use. Thank you!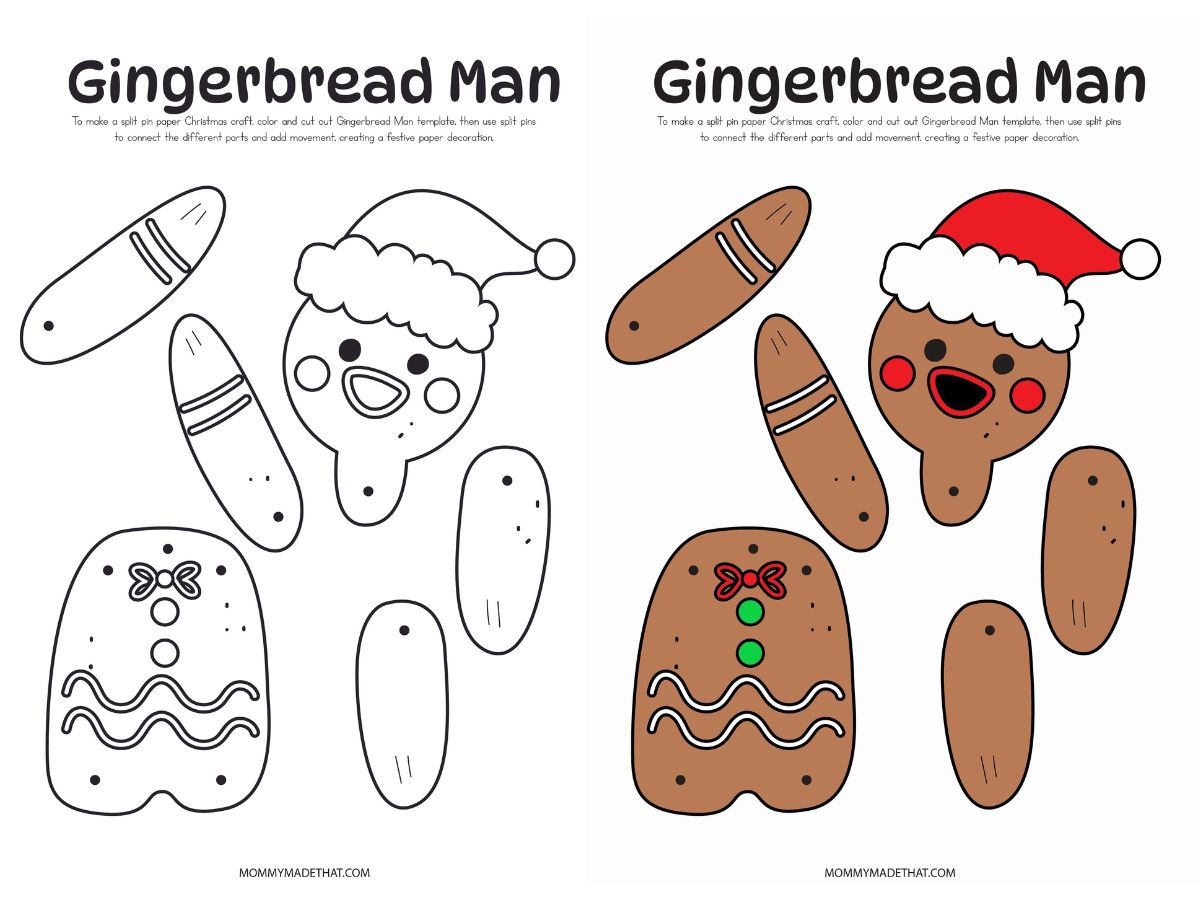 Ideas for Your Gingerbread Craft
Now that you've made your gingerbread man, here are some additional ideas to take your crafting to the next level:
Storytime: Use your moveable gingerbread man as a prop for a storytelling session. Act out the story of the Gingerbread Man with your craft as the star!
Learning Numbers: Use the split pin crafts to teach counting. How many split pins did you use? How many arms and legs does the gingerbread man have?
Arts & Crafts Lesson: Combine this activity with a lesson on levers and pivots, teaching the kids some basic principles of physics in a fun way.
Creating this split pin gingerbread man craft is not only a great way to celebrate the holiday season, but it's also an excellent opportunity for learning and creativity.
With our printable gingerbread man, the possibilities are endless. So what are you waiting for?
Dive into the festive world of printable Christmas crafts and make your holidays a bit more magical!