Snowman Paper Doll (Adorable Free Printable)
We've got this cute snowman paper doll printable perfect for a cute wintertime activity.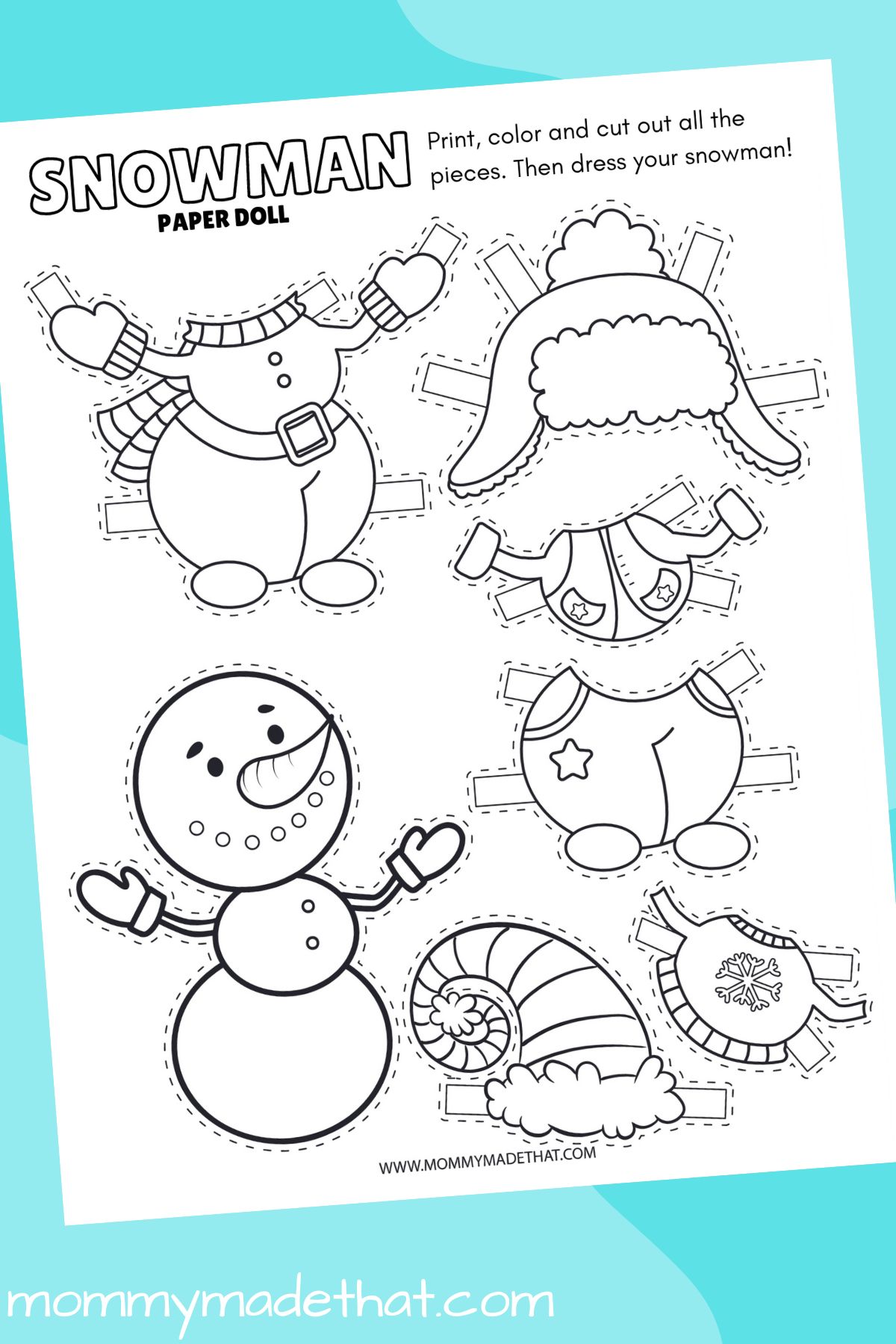 Get creative and make winter a blast with this printable snowman paper doll!
A perfect activity for kids of all ages, this snowman will join in on the fun and bring a whole new level of detail to your winter activities.
With our simple instructions, you can easily create your own unique snowman without any hassle.
All you need is some scissors, paper, and a little bit of imagination to bring your own one-of-a-kind snowman to life. Let's get ready for some winter fun!
Be sure to check out our other snowman printables, like our roll a snowman game and our snowman templates.
And our cute snowman crafts for kids like our printable snowman craft or our adorable snowman bookmarks.
The Snowman Paper Doll Printable
Our cute free printable snowman paper doll template features a cute little snowman you can cut out and color.
Then cut out his clothing pieces and color them with some festive colors or craft pieces.
Then attach them to your snowman and play dress up!
He features two adorable little hats to choose from, a sweater, a vest, pants or a one-piece snow suit!
Perfect for mixing and matching and creating your own custom outfit's for your snowman.
Grab the Free Printable
To grab the free printable snowman doll, put your email in the box below. We'll send it straight to your inbox, along with some of our other free printables!
This is for personal or educational use only please, not for commercial use.
Thank you!!
Once you've finished coloring and cutting out your snowman puppet. Be sure to give him an awesome snowman name!
Snowman Coloring Pages: Embrace your artistic side with our delightful snowman coloring pages! Grab your favorite coloring tools and spend a cozy afternoon indoors, bringing these frosty friends to life.
Using Snowman Quotes: Add a touch of whimsy to your holiday cards, social media captions, or home decor by incorporating charming snowman quotes. These heartfelt sayings will warm the hearts of those who read them and spread winter cheer!
Play Pin the Nose on the Snowman: For a playful twist on a classic party game, try "Pin the Nose on the Snowman!" Blindfold players, spin them around, and let them attempt to pin a carrot nose on a snowman poster. Laughter and fun are guaranteed for all ages!
These exciting snowman activities are perfect for creating unforgettable memories with family and friends this winter season. Which one will you try first? Share your thoughts in the comments below!