The Best Snowman Quotes & Sayings
Looking for some cute snowman quotes? From frosty the snowman to snowman sayings about building a snowman, we've got the best ones right here.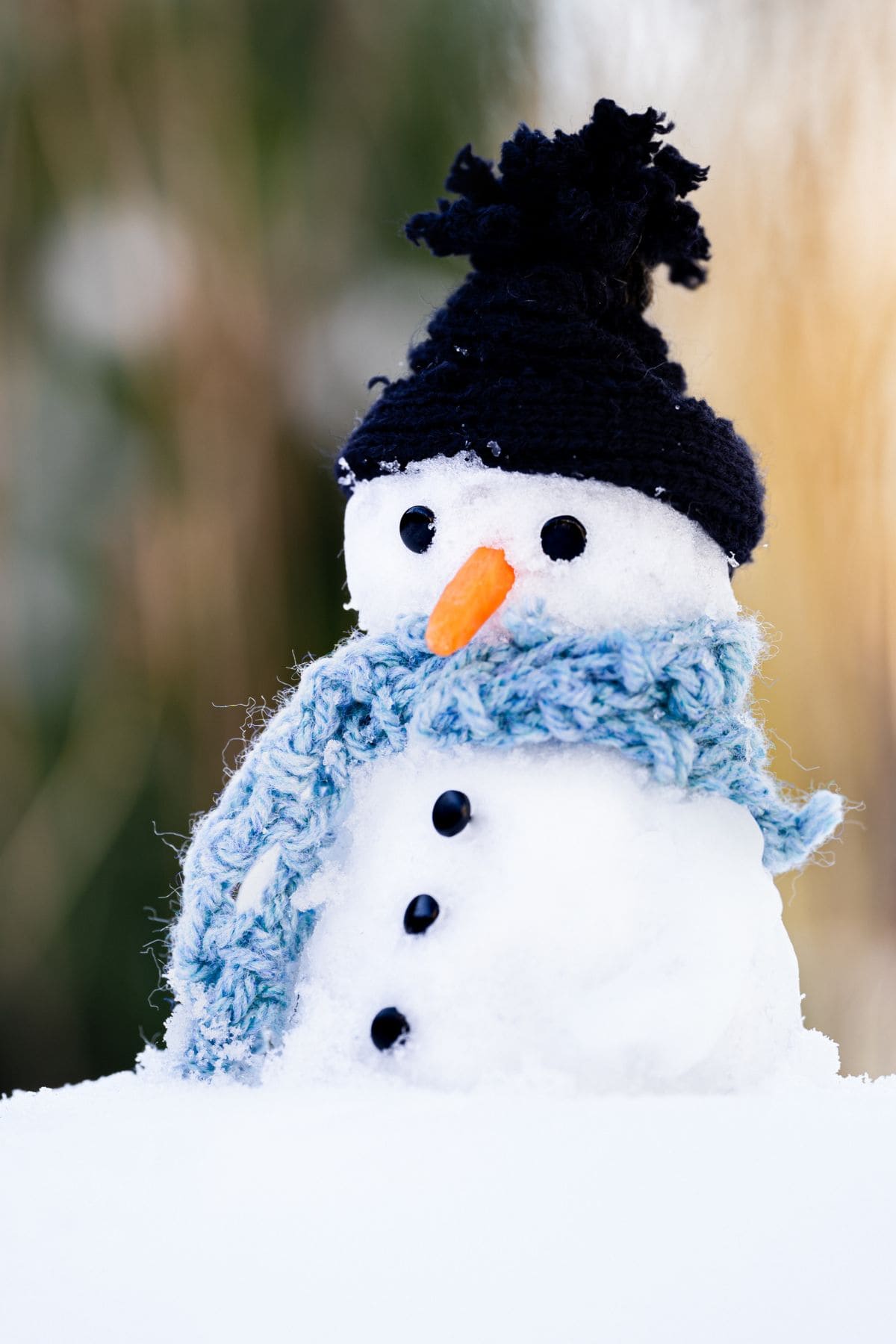 As the winter season approaches, we can't help but feel a sense of magic in the air.
Snowflakes gently falling, cozy nights spent by the fireplace, and of course, building snowmen with family and friends! Snowman quotes are a wonderful way to celebrate the joy and wonder of this enchanting time of year.
They can be used for various purposes, such as adding a touch of whimsy to your social media captions, personalizing holiday cards, or simply providing some inspiration during the colder months.
In this blog post, we will explore a delightful collection of snowman quotes from famous literature and movies, as well as inspirational, funny, and heartwarming sayings that capture the essence of winter.
So grab your warmest blanket and a cup of hot cocoa, and let's dive into the world of snowman quotes!
If you are looking for more snowman fun we also got tons of snowman crafts and cute snowman printables, like our pin the nose on the snowman game and our printable snowman craft that lets you build your own snowman!
And be sure to give your snowman a proper snowman name once you've made him!
Famous Snowman Quotes from Literature and Movies
Get ready for a trip down memory lane!
We've gathered some of the most memorable snowman quotes from your favorite books, famous Christmas movies, and TV shows.
These quotes are sure to bring back warm memories and spark nostalgia. Isn't it amazing how a simple line can transport us back in time?
"Happy Birthday!" – Frosty the Snowman
Who can forget the moment when Frosty comes to life and exclaims these cheerful words? This classic quote is a reminder that magic exists in the simplest of things, like building a snowman with friends!

"We're walking in the air, we're floating in the moonlit sky…" – Raymond Briggs, The Snowman
This enchanting quote from the beloved children's book (and later, animated film) captures the wonder and beauty of flying through the night sky with a snowman by your side.

"I tell you, it's not a proper winter without a decent snowman." – Mr. Tumnus, Chronicles of Narnia: The Lion, the Witch, and the Wardrobe
Mr. Tumnus knows what's up! A winter season without a snowman just doesn't feel complete, does it?

"Some people are worth melting for." – Olaf, Frozen
Our lovable snowman, Olaf, reminds us of the importance of love and friendship in this heartwarming quote.

"Snowmen fall from heaven… unassembled." – Unknown
This humorous quote is a fun reminder that sometimes, we have to put in a little effort to create our own magic!

"The world changes when it snows." – Lorelai Gilmore, Gilmore Girls
Lorelai perfectly captures the transformative power of snow, turning ordinary landscapes into winter wonderlands.

"A snowman is love and laughter all rolled up into one." – Unknown
This quote embodies the joy and happiness that comes from building a snowman with friends and family.

"Do you want to build a snowman?" – Anna, Frozen
Anna's iconic question from Frozen is an invitation to join in on the fun and create something special together.

"Nothing says 'holiday cheer' like a snowman." – Unknown
Snowmen are synonymous with the festive season, bringing a touch of whimsy and delight to any winter celebration.

"In the meadow we can build a snowman, and pretend that he's a circus clown." – Jule Styne & Sammy Cahn, Winter Wonderland
This classic holiday song lyric highlights the imaginative possibilities that come with building a snowman.
Snowman Sayings
These adorable snowman sayings are perfect for adding a touch of whimsy and charm to your winter season!
Use them as funny Christmas card sayings, as social media captions, or simply to brighten someone's day. Let these cute phrases melt your heart and bring a smile to your face!
"Chillin' with my snowmies!" A playful way to describe hanging out with your friends during the winter season.

"Snow many memories!" This phrase captures the countless unforgettable moments created during wintertime.

"Frosty friends forever!" A cute saying that celebrates the bond between friends who love winter.

"Keep calm and build a snowman." A fun twist on the popular "keep calm" sayings, inspiring you to enjoy the simple joy of building a snowman.

"You're snow special to me." An adorable way to tell someone how much they mean to you during the winter season.

"There's snow place like home." This charming saying reminds us that home is where our hearts truly belong, especially during the cold winter months.

"Let it snow, let it snow, let it snowman!" A delightful adaptation of the classic holiday song lyric, perfect for embracing the snowy season.

"You melt my heart." A sweet phrase that can be used to express your love and affection for someone during the winter months.

"Snowflakes and snowmen make winter a wonderland." This saying highlights the beauty and magic of the winter season, thanks to snowflakes and snowmen.
Inspirational Snowman Quotes
Feeling a little chilly? Warm up with these uplifting and motivational snowman quotes that will inspire you to embrace the beauty of winter and make the most of this magical season!
After all, there's something truly special about watching the world transform into a snowy wonderland.
"To appreciate the beauty of a snowflake, it is necessary to stand out in the cold." – Aristotle
This quote reminds us that sometimes, we need to step out of our comfort zones to truly appreciate life's wonders.

"When it snows, you have two choices: shovel or make snow angels." – Unknown
Life is all about perspective! This quote encourages us to find joy in even the most mundane tasks.

"Snowflakes are kisses from heaven." – Unknown
This poetic quote invites us to see the beauty in every snowfall and cherish each unique flake.

"In the depths of winter, I finally learned that within me there lay an invincible summer." – Albert Camus
Camus' powerful words remind us that we can find inner strength and warmth even during the coldest seasons.

"The first fall of snow is not only an event, but it is a magical event." – J.B. Priestley
Embrace the magic of the first snowfall with this enchanting quote that captures the excitement and anticipation of winter's arrival.

"Winter is not a season; it's a celebration." – Anamika Mishra
This quote inspires us to view winter as a time of celebration and joy, rather than just another season.

"Kindness is like snow – it beautifies everything it covers." – Kahlil Gibran
Just as snow transforms the world around us, kindness has the power to change lives for the better.

"Snow provokes responses that reach right back to childhood." – Andy Goldsworthy
This quote evokes a sense of nostalgia, reminding us of the pure joy and excitement we felt as children when it snowed.

"A snow day is a chance to live in the moment." – Unknown
Snow days offer us an opportunity to slow down and appreciate the world around us, making the most of the present moment.

"Laughter is the sun that drives winter from the human face." – Victor Hugo
As Victor Hugo suggests, laughter can warm our hearts and souls even during the coldest of times.
Funny Snowman Quotes
Ready for a laugh? These hilarious snowman quotes will have you chuckling and giggling all the way through the winter season!
After all, laughter is the best way to keep ourselves warm, right?
So grab your coziest blanket, snuggle up, and enjoy these funny quotes that are sure to put a smile on your face.
And if you like these, check out our great big list of snowman jokes and puns!
"A snowman's life is pretty short, but they sure do have a blast!" – Unknown
This lighthearted quote reminds us to live life to the fullest and enjoy every moment, just like our frosty friends.

"I'm sorry for the things I said when it was winter." – Unknown
We've all been there – winter can sometimes bring out the grump in us! This quote offers a humorous apology for any winter-induced crankiness.

"What do snowmen eat for breakfast? Frosted Flakes!" – Unknown
A classic snowman joke that'll have you laughing over your morning cereal!

"If snowflakes were currency, we'd all be rich in winter." – Unknown
Imagine if we could pay our bills with snowflakes! This funny quote playfully highlights the abundance of snow during winter.

"What do you call a snowman with a six-pack? An abdominal snowman!" – Unknown
This pun-tastic snowman joke is sure to get some laughs at your next winter gathering.

"Cold hands, warm heart." – Unknown
A humorous reminder that even when we're feeling chilly, our hearts can still be full of warmth and love.

"When life gives you too much snow, make snowmen." – Unknown
This playful twist on the classic "When life gives you lemons" quote encourages us to find joy in unexpected situations.

"If you listen carefully, the silence of snow falling is beautiful." – Unknown
A cheeky reminder that sometimes, silence can be just as enjoyable as laughter.

"I used to be a snowflake… but I had a meltdown." – Unknown
This witty quote is perfect for those days when winter seems to be getting the best of us.

"What do you call a snowman party? A snowball!" – Unknown
Another fun snowman pun that'll have you laughing all winter long!
Which of these funny snowman quotes cracked you up the most?
Snowman Quotes About Friendship and Family
Winter is the perfect time to gather with loved ones, share warm hugs, and create lasting memories!
These heartwarming snowman quotes emphasize the importance of spending time with family and friends during the winter season.
So grab a cup of hot cocoa, snuggle up with your favorite people, and let these quotes remind you to cherish every moment spent together.
"Snowflakes are like family – beautiful and different." – Unknown
This touching quote celebrates the uniqueness and beauty of each individual within our families.

"Friends are like snowflakes – none of them are the same, but each one is beautiful." – Unknown
Just as no two snowflakes are alike, our friends bring their own unique qualities and beauty into our lives.

"In winter, the warmth of family and friends can melt even the coldest heart." – Unknown
This heartwarming quote reminds us that the love of our family and friends can provide comfort even on the chilliest winter days.

"A snowman is a perfect symbol of love – it melts your heart." – Unknown
Building a snowman with our loved ones is a simple yet profound way to show our love and create lasting memories.

"A family that builds a snowman together stays together." – Unknown
This playful quote emphasizes the importance of bonding and creating memories with our families during the winter season.

"Snowball fights are just one way to say 'I love you' in the language of winter." – Unknown
A friendly snowball fight with family and friends is a fun and lighthearted way to express our love and affection.