Roll a Snowman (Fun Free Printable Game)
This roll a snowman printable is a fun build a snowman game where kids roll a dice to draw their snowmen. It's perfect for classroom holiday parties or just good ol family fun.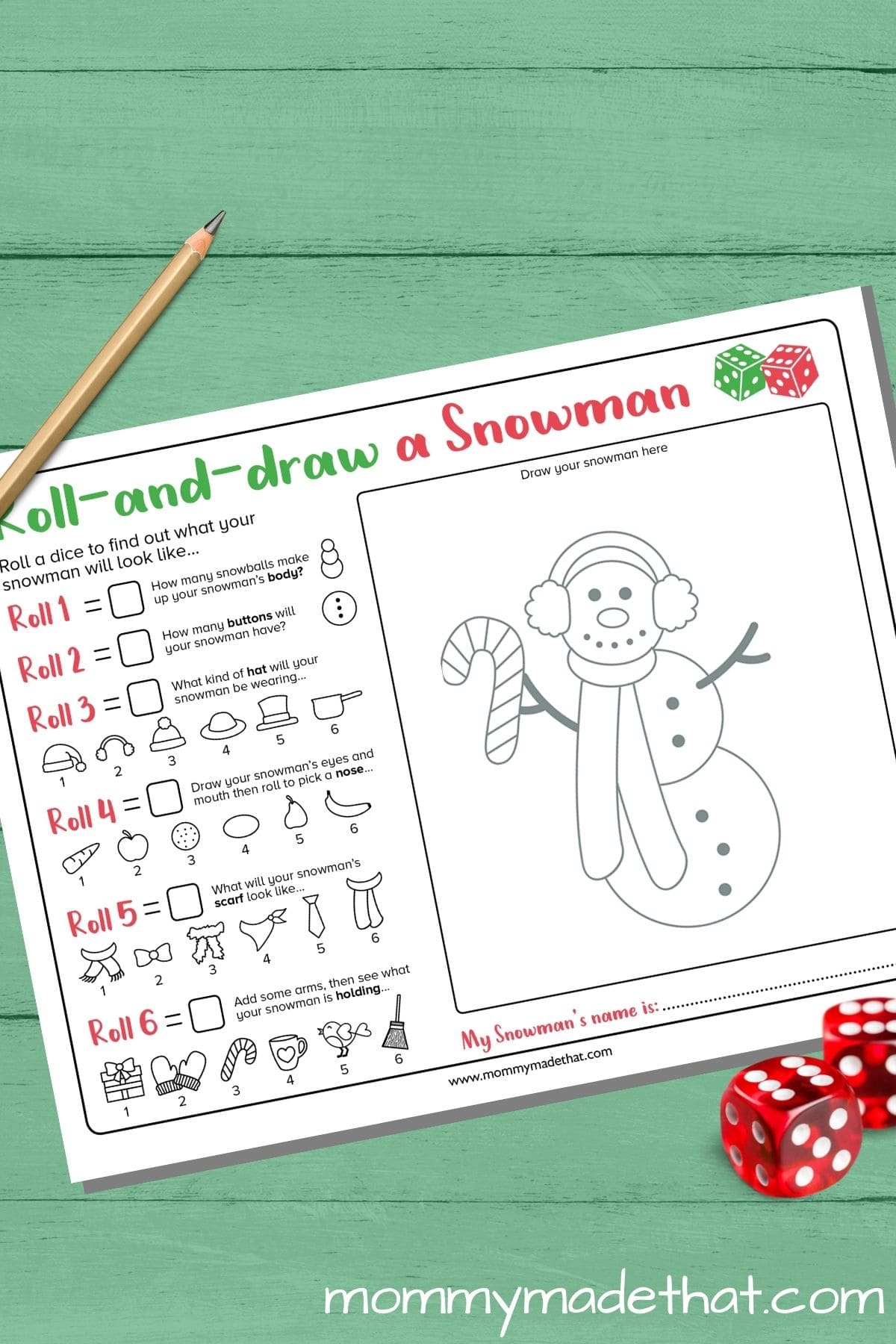 Winter brings with it a world of possibilities, and what better way to celebrate the season than with a delightful game?
Introducing the Roll a Snowman game, a free printable activity that will keep your little ones busy, entertained, and filled with laughter during the holiday season.
Its one of our many fun and totally free Christmas printables that's perfect to keep the kids busy and entertained this holiday season.
It's a game that combines chance, creativity, and imagination, making it the perfect winter activity for kids of all ages.
It's a Christmas themed roll a dice game similar to our popular roll a gingerbread house printable, the Roll a Snowman game will surprise and delight your children as they discover the unique snowman they've created.
I love how surprised they always get by how their snowmen turn out.
In addition to the Roll a Snowman game, we offer a variety of other snowman crafts and printables, such as pin the nose on the snowman game and snowman paper dolls.
You can pair these activities with our snowman templates and snowman coloring pages for even more snowman fun.
So, gather the dice, pencils, markers, or crayons, and let's dive into the world of snowmen.
We'll guide you through the rules of the Roll a Snowman game, provide you with the necessary materials, and offer insights into the benefits of creative play for children.
Items Need to Play
Our roll a snowman printable: You can grab it at the end of this post.
Dice: You'll just need once regular die for this game, or you can print out our printable dice template and make your own.
Pencil: You can also use markers, colored pencils or crayons. Get as creative as you like!
Coloring materials: Optional, to color in your snowman after you've made them.
How to Play Roll a Snowman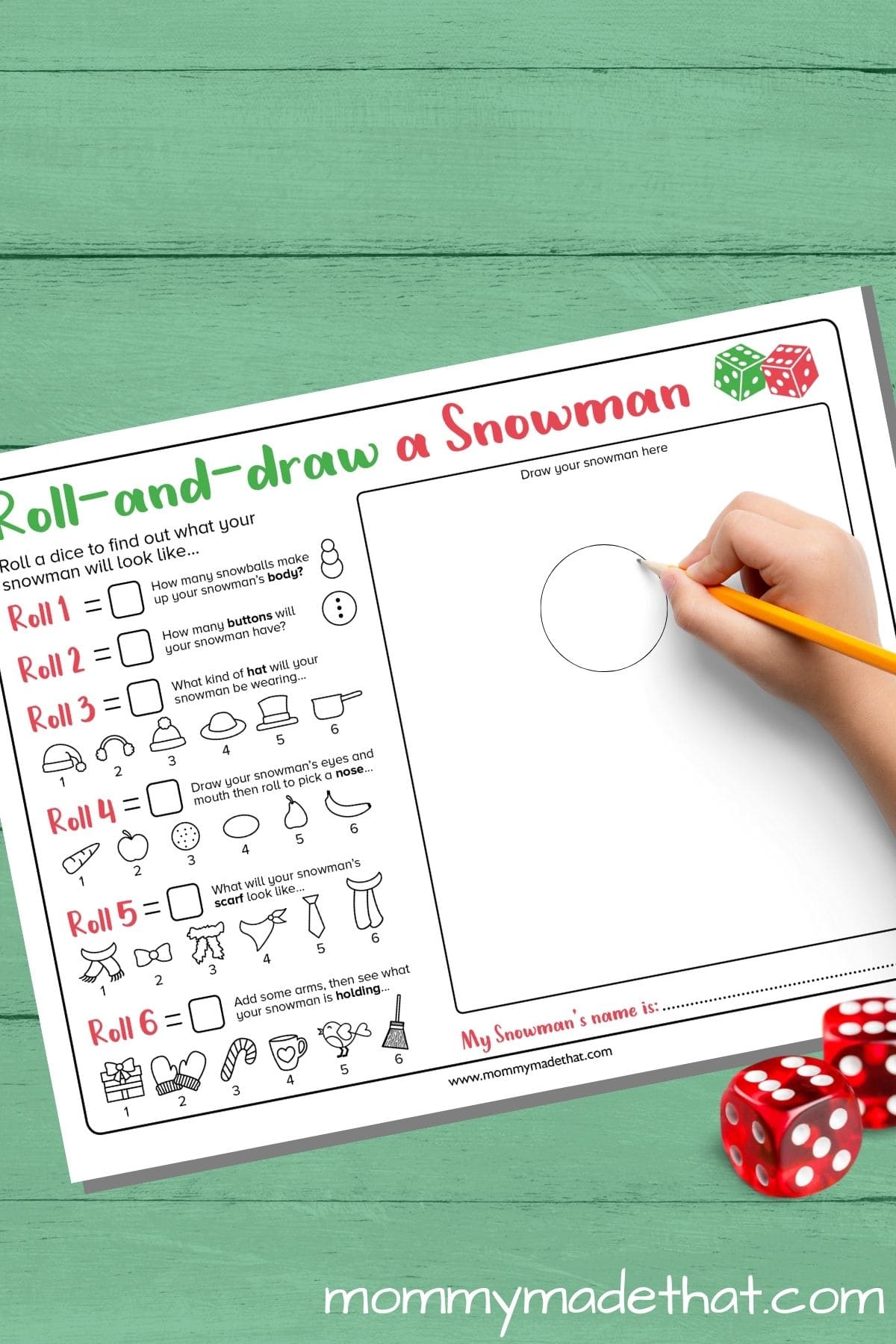 How to Play the Roll a Snowman Game
Print the Free Roll a Snowman Game Printable: Start by printing out the Roll a Snowman game printable.
You can find the printable at the end of this blog post. Make sure you have enough copies for each player.
Understand the Game Rules: The Roll a Snowman game is a drawing prompt game where each roll of the dice determines a specific part of the snowman to draw. Here's how it works:
Roll 1: The first roll determines the number of snowballs that make up the base of your snowman.

Roll 2: The second roll determines the number of buttons to add to your snowman.

Roll 3: The third roll determines the style of hat your snowman will wear.

Roll 4: The fourth roll determines the shape of the snowman's nose.

Roll 5: The fifth roll determines the style of scarf your snowman will have.

Roll 6: The final roll determines what your snowman will be holding, such as a broom or a gift.
Roll the Dice and Draw: Take turns rolling the dice. After each roll, refer to the printable to see what part of the snowman corresponds to the number rolled.
Encourage creativity and imagination as you draw each feature of the snowman. Repeat this process for each player until all the parts are drawn.
Give Your Snowman a Name: Once your snowman is complete, it's time to give it an awesome snowman name! Encourage the players to come up with creative and unique names for their snowmen.
Optional: Color in Your Snowman: After the drawing is finished, you can use coloring materials to add vibrant colors to your snowman. This step allows for additional creativity and personalization.
Enjoy the Snowman Gallery: Display the completed snowmen and take a moment to appreciate the unique creations made by each player. Share laughter, stories, and enjoy the winter-themed artwork.
Remember, the Roll a Snowman game is not only a fun activity but also a great opportunity for kids to enhance their creativity, imagination, and drawing skills.
Let the dice guide you on an exciting journey of building the most charming snowmen!
Grab the Free Printable Game
To grab the free printable roll a snowman game, put your email in the box below. We'll send the printable straight to your email.
Note: The Roll a Snowman game is designed for personal or classroom use only and not for commercial purposes.
Enjoy the game responsibly and have a wonderful time creating snowmen with your children!
I hope you enjoy this printable activity. Be sure to check out our Christmas crafts for kids too!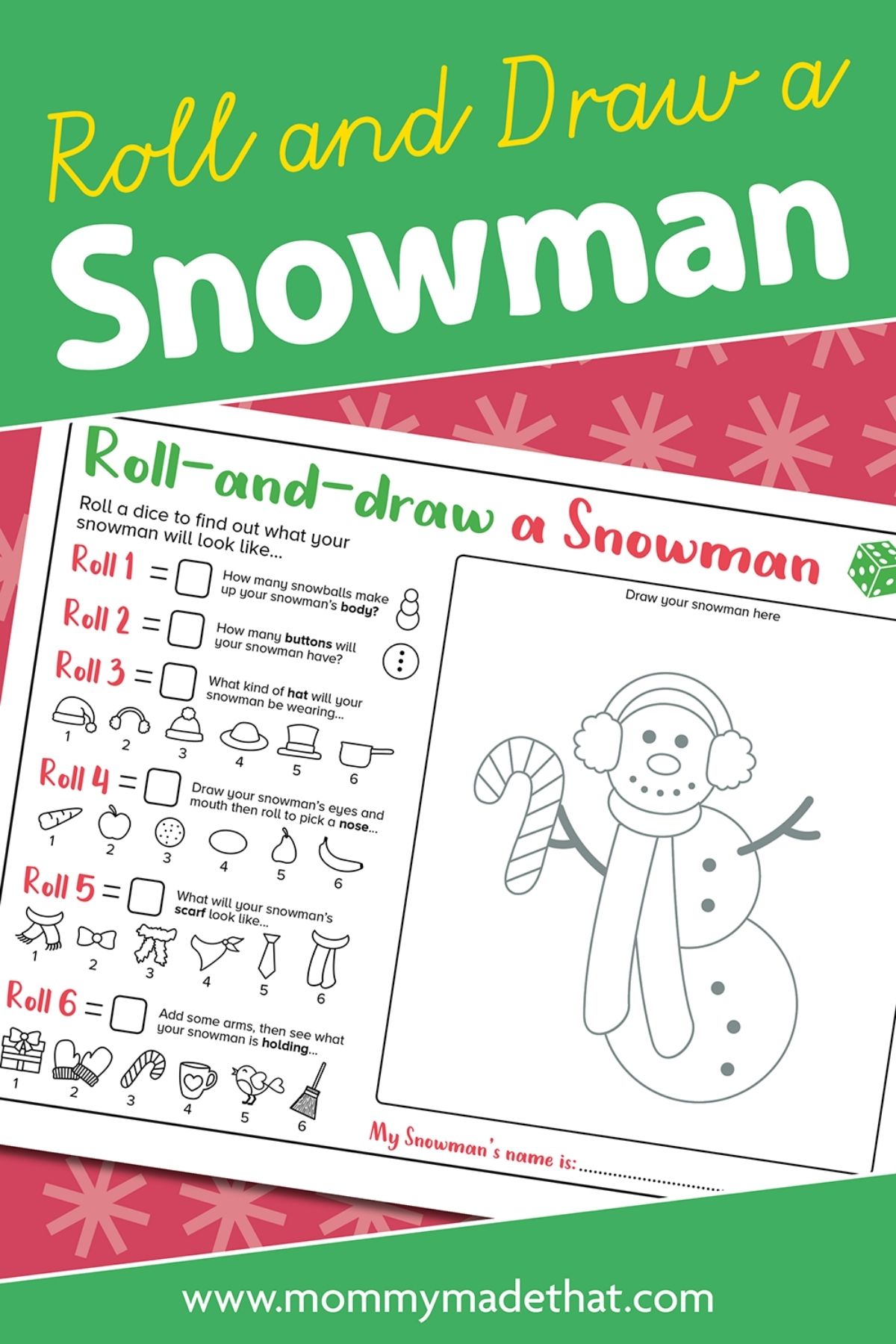 Be sure to check out some of our fun snowman quotes while playing the game to make it feel even more special and our funny snowman jokes for kids!