Disguise a Turkey Project (Free Printable Templates + Ideas)
Need to know how to disguise a turkey? We've got just the solution! Our free printable templates let you help disguise a turkey with a creative costume to help them escape Thanksgiving.
Here are our favorite turkey disguise ideas.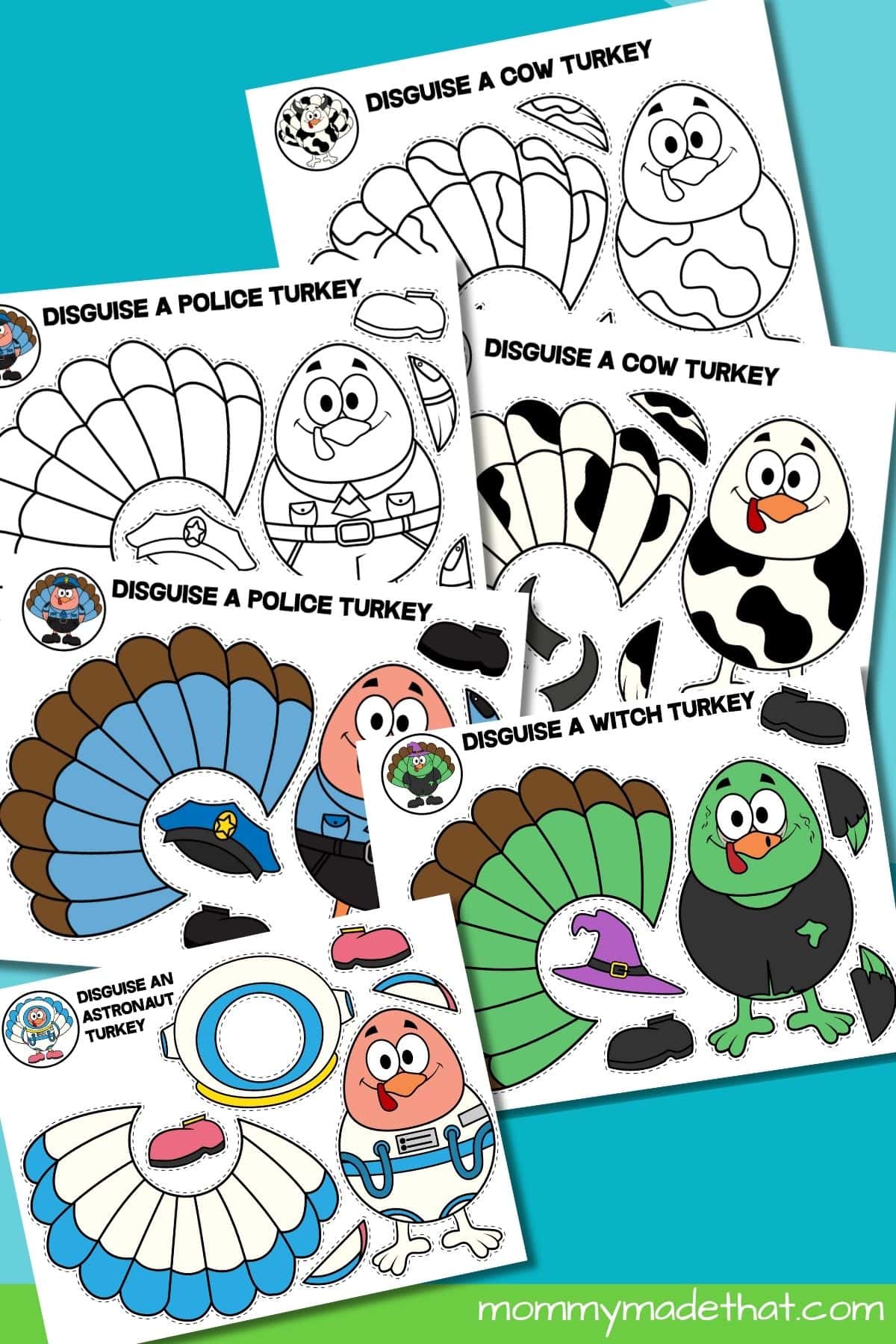 The playful season of Thanksgiving is around the corner, and it's the perfect time for a crafty adventure with our young ones!
The Disguise a Turkey project is a delightful blend of imagination, creativity, and festive fun.
We've got lots of other fun Thanksgiving printables and activities you need to check out perfect for kids, like our thankful turkey printable and our adorable turkey coloring pages.
What is the Disguise a Turkey project?
The Disguise a Turkey project is a cherished school project that dates back to many Thanksgivings ago.
The premise is simple: kids get to disguise a turkey, ensuring it remains undercover during Thanksgiving time.
The motive? To creatively shield our turkey friends from being the main course!
Not only is it an entertaining endeavor, but it also offers a fresh perspective on the holiday, encouraging empathy and creativity.
It goes along with a popular children's Thanksgiving book called Turkey Trouble where Tom Turkey has to disguise himself to prevent himself from becoming Thanksgiving dinner.
He comes up with many hilarious attempts to disguise himself.
Benefits of the Project
Boost Creativity: This project is a sandbox for budding imaginations. Each disguise offers a canvas where ideas take flight, blending reality with fantasy.
Fine Motor Skills Development: The tactile nature of the project – cutting, coloring, gluing – is instrumental in refining children's motor skills, preparing them for more intricate tasks in the future.
Storytelling Skills: Behind every disguised turkey lies a tale waiting to be told. Whether it's the adventures of a turkey-turned-astronaut or the daily life of a turkey police officer, kids hone their narrative skills.
Understanding Perspectives: At its heart, the project is about shifting perspectives. It offers a chance to discuss the varied dimensions of Thanksgiving, fostering a deeper appreciation and understanding.
Our Disguise a Turkey Printables
To make this easier for younger kids, we've created easy to use disguise a turkey projects.
We created 8 different costumes kids can choose from to cut and paste their way to a disguised friend.
Our printables include:
For every aspiring artist or storyteller, we have two artistic mediums: pre-colored templates for those quick to play and black & white outlines for those ready to color outside the lines.
Cow Turkey: Transform your turkey to 'moo-ve' away from prying eyes.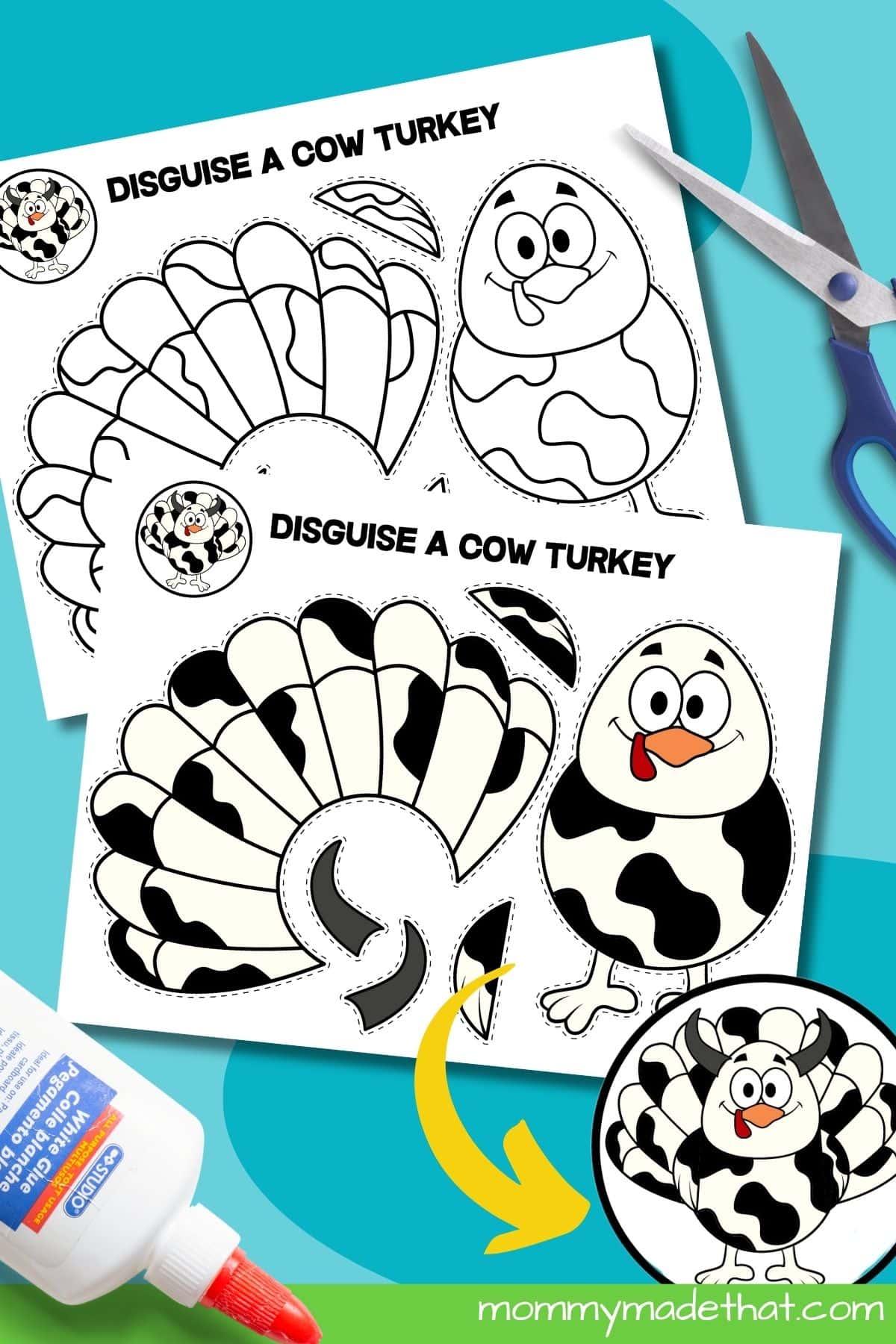 Police Officer Turkey: Always on duty to ensure a peaceful festive season.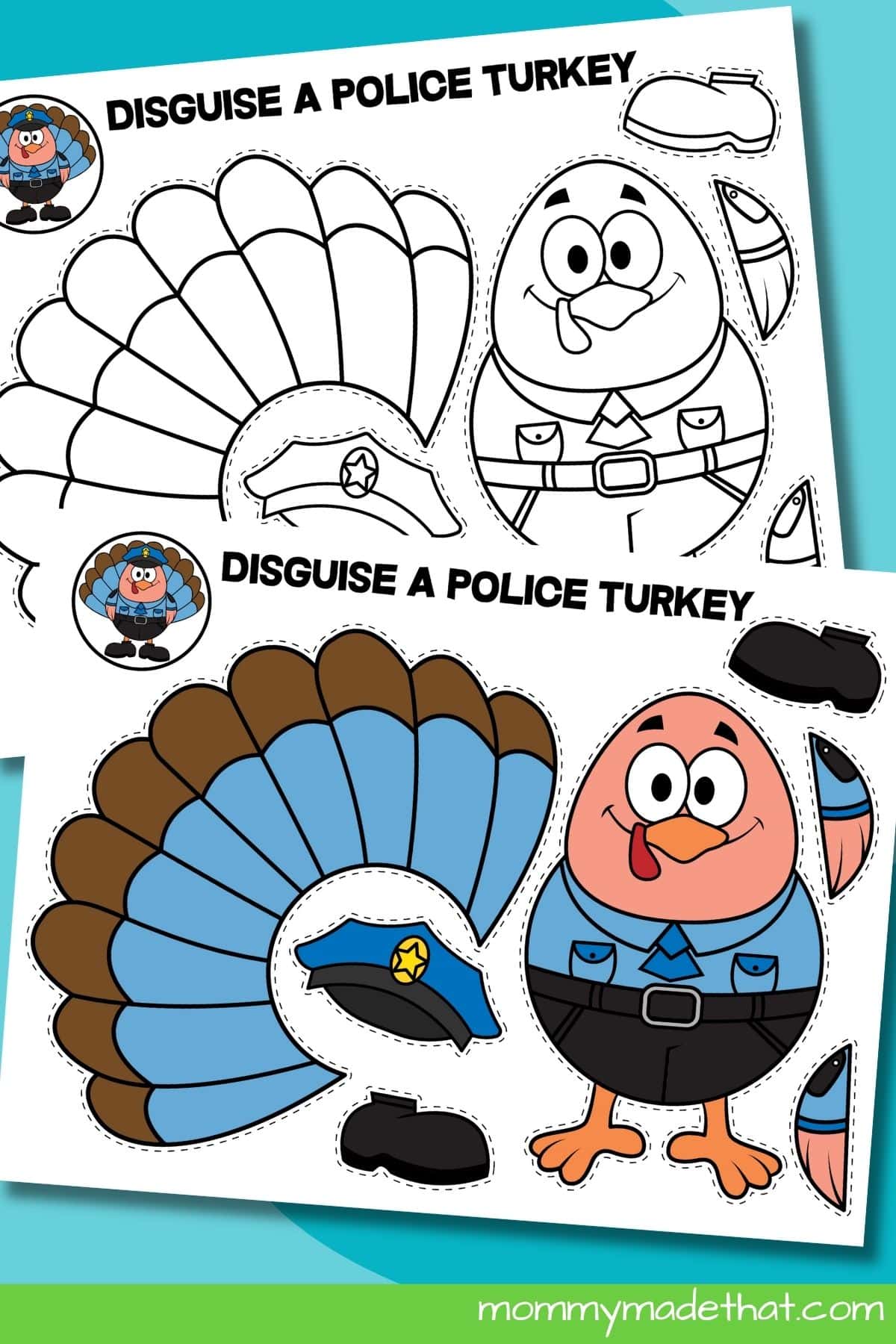 Firefighter Turkey: Fire alarms won't reveal this turkey's whereabouts!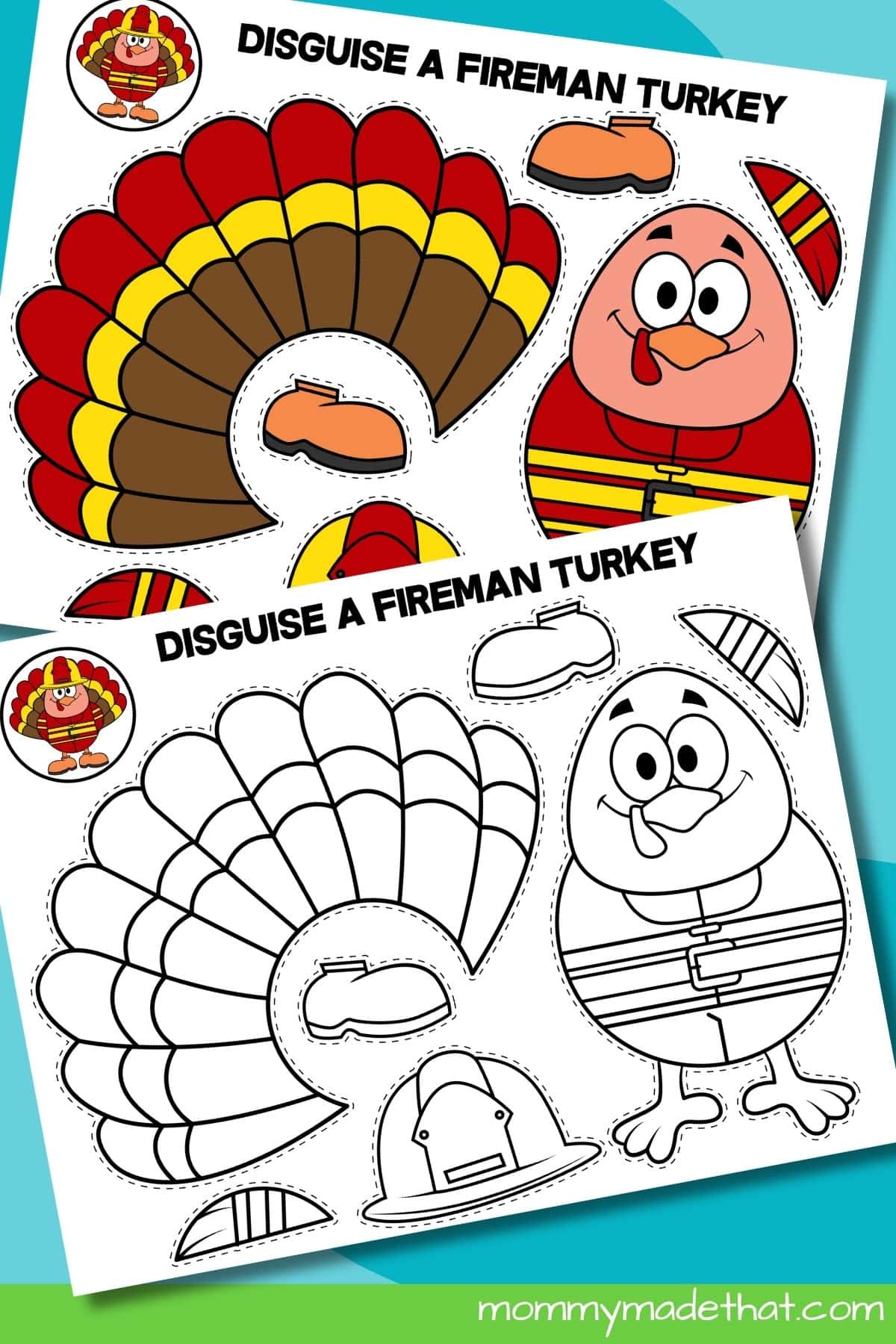 Football Player Turkey: Dodging the defense and the dinner table.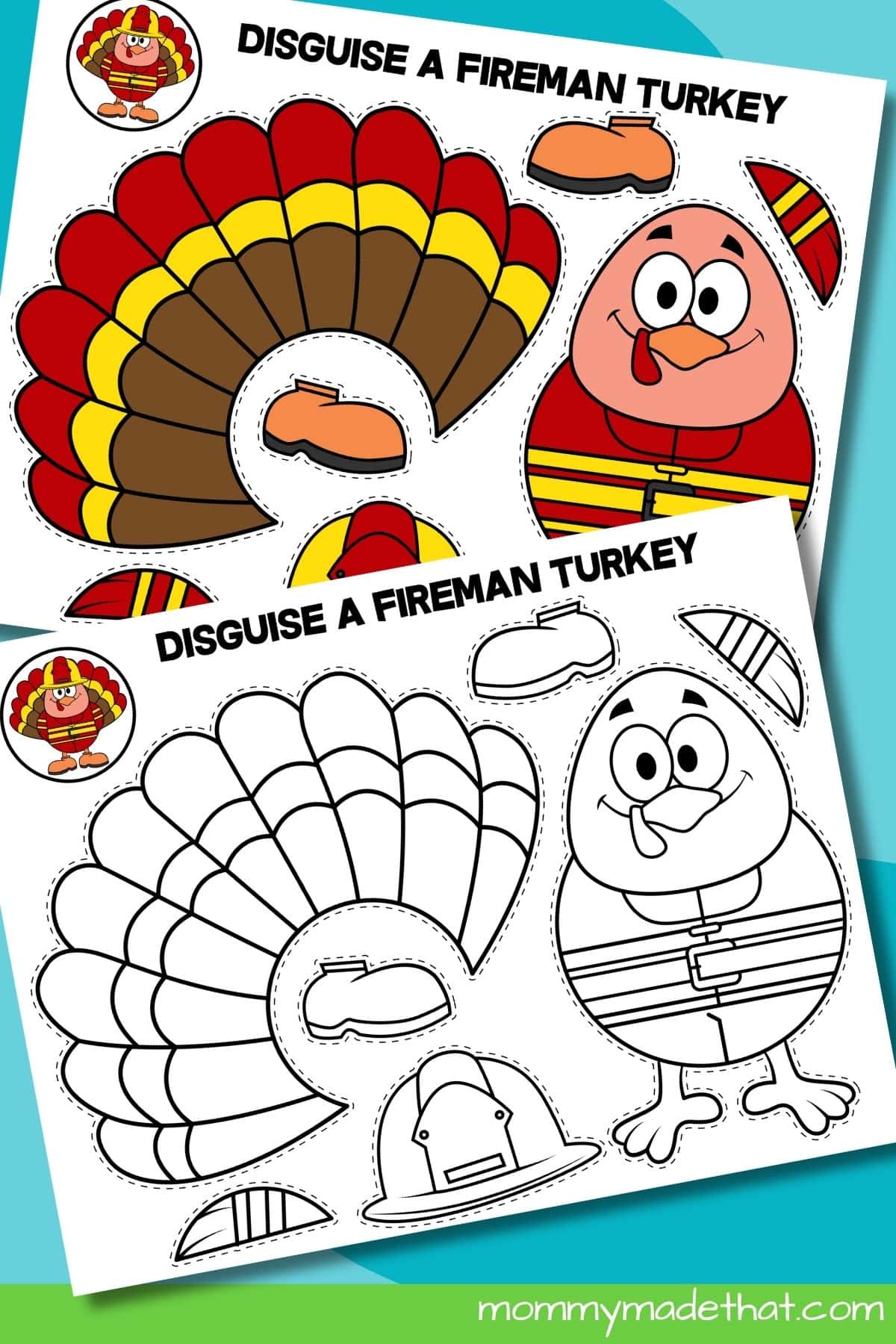 Witch Turkey: This turkey's potions ensure it remains unseen.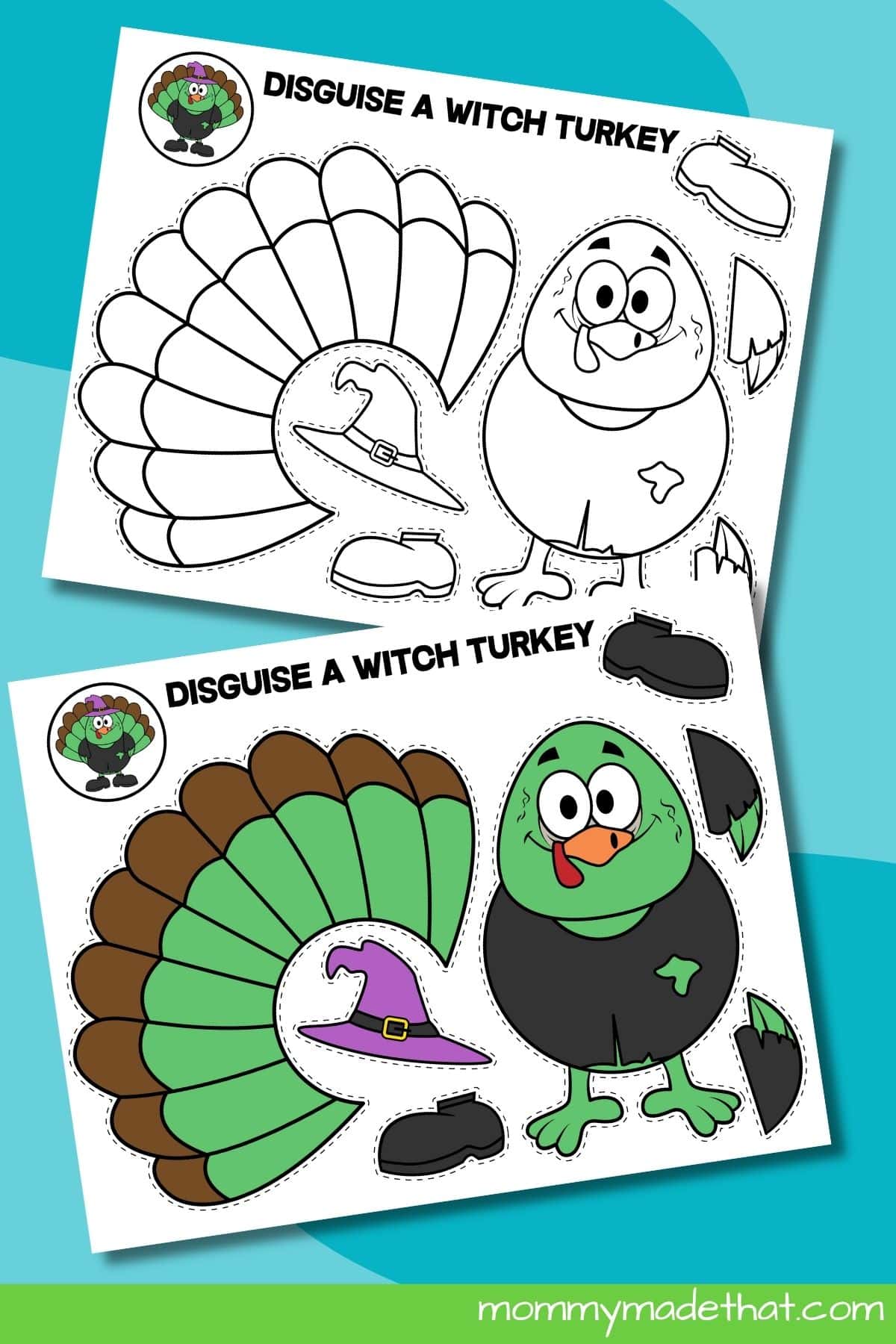 Soldier Turkey: Mastering the art of camouflage and courage.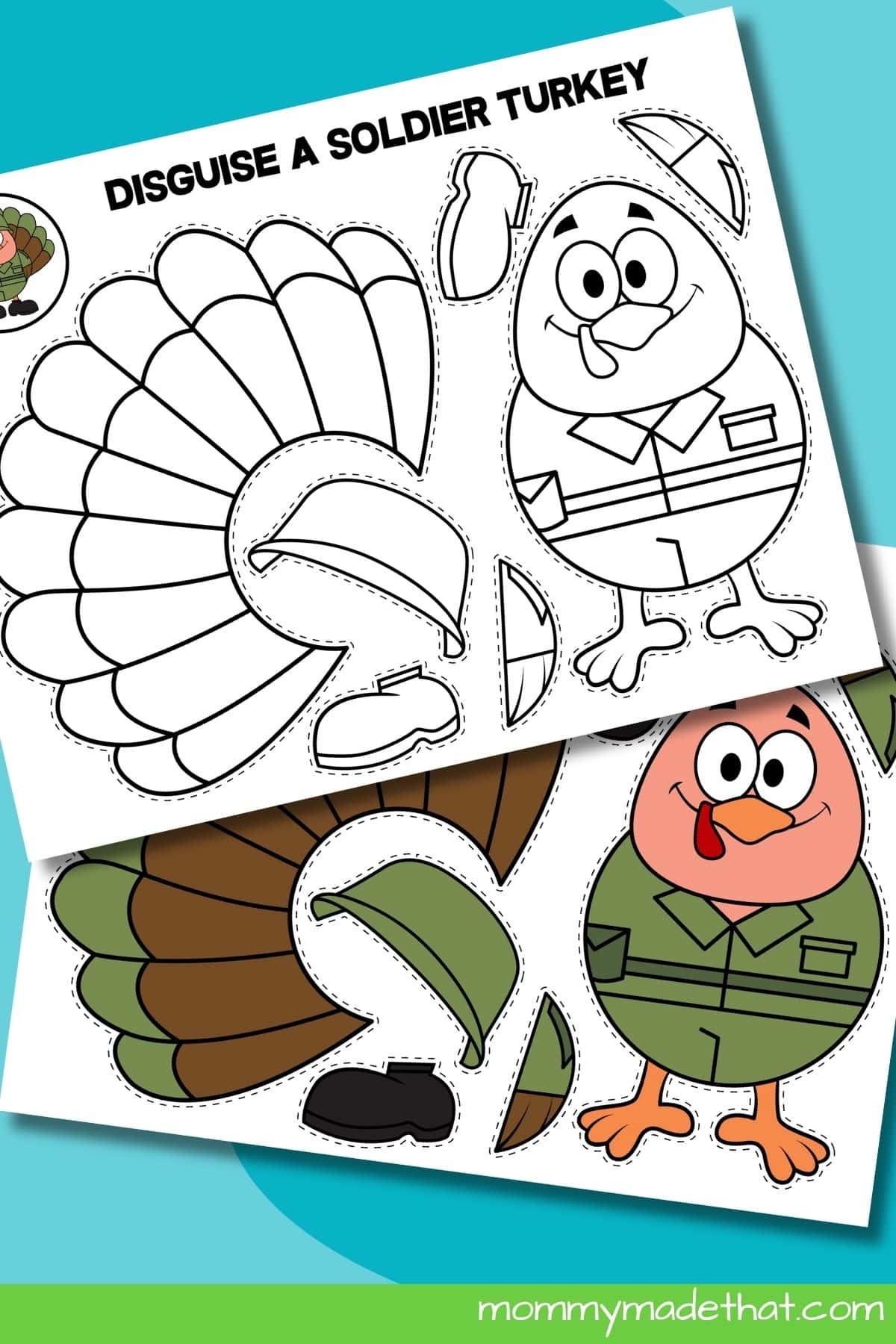 Astronaut Turkey: Why stay on Earth when there's a universe to explore?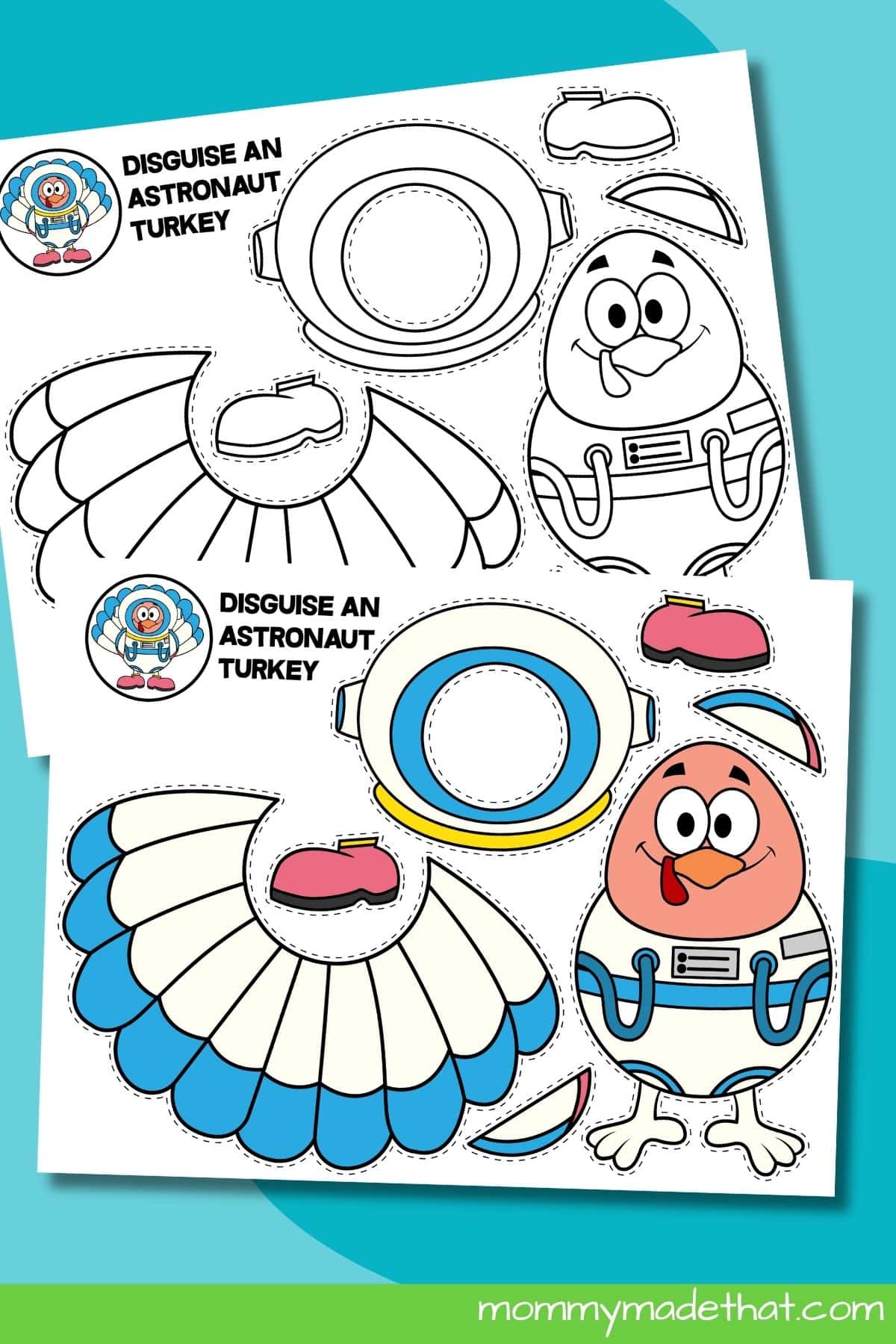 Superhero Turkey: Defending turkeys everywhere with an unbeatable disguise.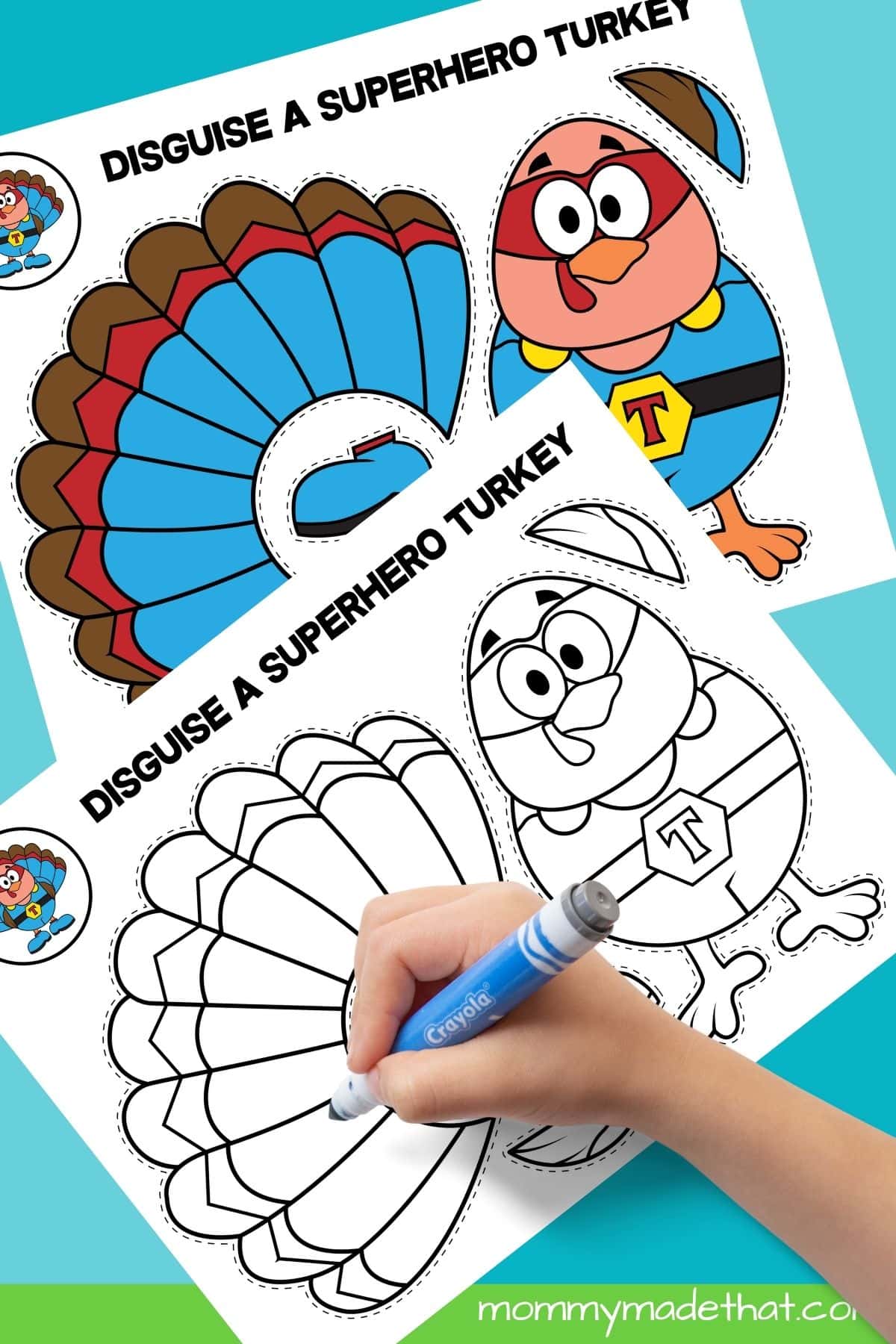 Blank Disguise a Turkey Template
Want to come up with your own fun ideas. We also include two separate templates for you to print out and come up with your own creative turkey disguise.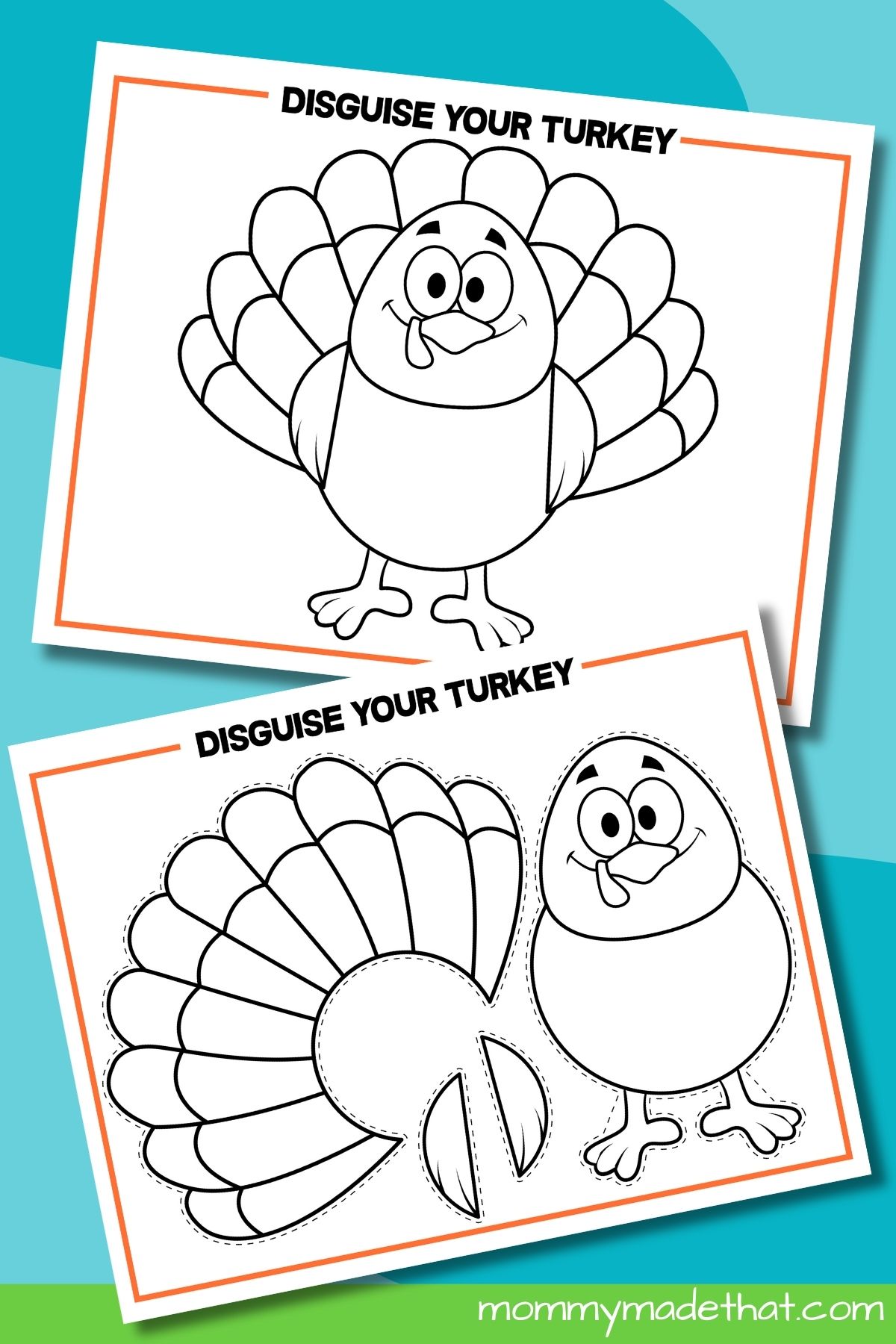 How to Use the Printables
Downloading & Printing: Our printables are a click away. Ensure a high-quality print by selecting the 'best' mode on your printer.
Materials Needed: Gather crayons, markers, scissors, and some adhesive. Let's make art!
Tips for Coloring: For our black & white canvases, don't hold back! From sequins to ribbons, add any flair you like.
Glue Together and Show Off!: Once complete, these masterpieces can grace classroom walls, home galleries, or even become the star of your Thanksgiving centerpiece.
More Ideas for your Disguise a Turkey Project
Here are some extension ideas to add in with your turkey project!
Themed Storytime
Stories have a magical way of resonating with young minds, especially when they align with a hands-on activity. Each turkey disguise offers an opportunity to delve deep into imaginative tales:
Firefighter Turkey: As kids work on crafting the Firefighter Turkey, immerse them in riveting tales of brave firefighters dousing towering flames, saving lives, and their adventures at the fire station.
Stories like "Fire Truck!" by Ivan Ulz or "Firefighters A to Z" by Chris L. Demarest can complement the crafting experience, making the bond between the story and craft inseparable.
Cow Turkey: While crafting the Cow Turkey, consider reading tales that transport kids to a bucolic setting. "Click, Clack, Moo: Cows That Type" by Doreen Cronin or "The Cow Who Clucked" by Denise Fleming can offer a delightful backdrop, merging the essence of farm life with the turkey's new persona.
Astronaut Turkey: As little hands shape the Astronaut Turkey, journey through the cosmos with books like "There's No Place Like Space: All About Our Solar System" by Tish Rabe or "The Darkest Dark" by Chris Hadfield.
These tales can fuel imaginations, complementing the crafting process with interstellar adventures.
Superhero Turkey: Aligning with the Superhero Turkey craft, dive into tales of valor, justice, and courage.
Even though traditional superhero stories may not always fit the theme, books like "Superhero ABC" by Bob McLeod or "Even Superheroes Have Bad Days" by Shelly Becker can provide a thematic overlap, celebrating the essence of heroism.
Group Activity
Turkey Parade: An exhilarating way to celebrate the culmination of the "Disguise a Turkey" project! Organize a lively "Turkey Parade" where each participant gets to strut their stuff, proudly parading their turkey creation.
Extension Activities
Galactic Journeys with Astronaut Turkey: Let the Astronaut Turkey be a launchpad for space exploration. Introduce kids to basic astronomy, the concept of gravity, and the wonders of our solar system.
You can also engage in interactive activities like building simple rockets or recreating planetary models.
Farm Life Exploration with Cow Turkey: The Cow Turkey is a great pretext to delve into farm ecosystems.
Organize a virtual farm tour, discuss the importance of sustainable farming, or maybe initiate a small gardening project where kids can plant and nurture their own vegetables.
Heroic Endeavors with Superhero Turkey: The world of superheroes is vast and varied.
Beyond just the craft, engage kids in discussions about real-life heroes in their communities – from firefighters to doctors.
Organize workshops where children can come up with their own superhero stories, understanding the underlying values that make a true hero.
Incorporating these ideas will not only make the Disguise a Turkey project more enriching but also foster a holistic learning environment, blending craft with knowledge.
Grab the Free Printables
To grab the turkey disguise printable template put your email in the box below.
We'll send all of the turkey printables straight to your inbox.
These are for personal or classroom use only, not for commercial use. Thank you!
But feel free to print out and use as many as you like.
Which is your favorite turkey disguise?