Bee Names (200+ Buzz-Worthy Names)
Looking for the perfect bee names? We've got lots of great ideas right here, whether you want a funny bee name or a cute honeybee name, you'll love these.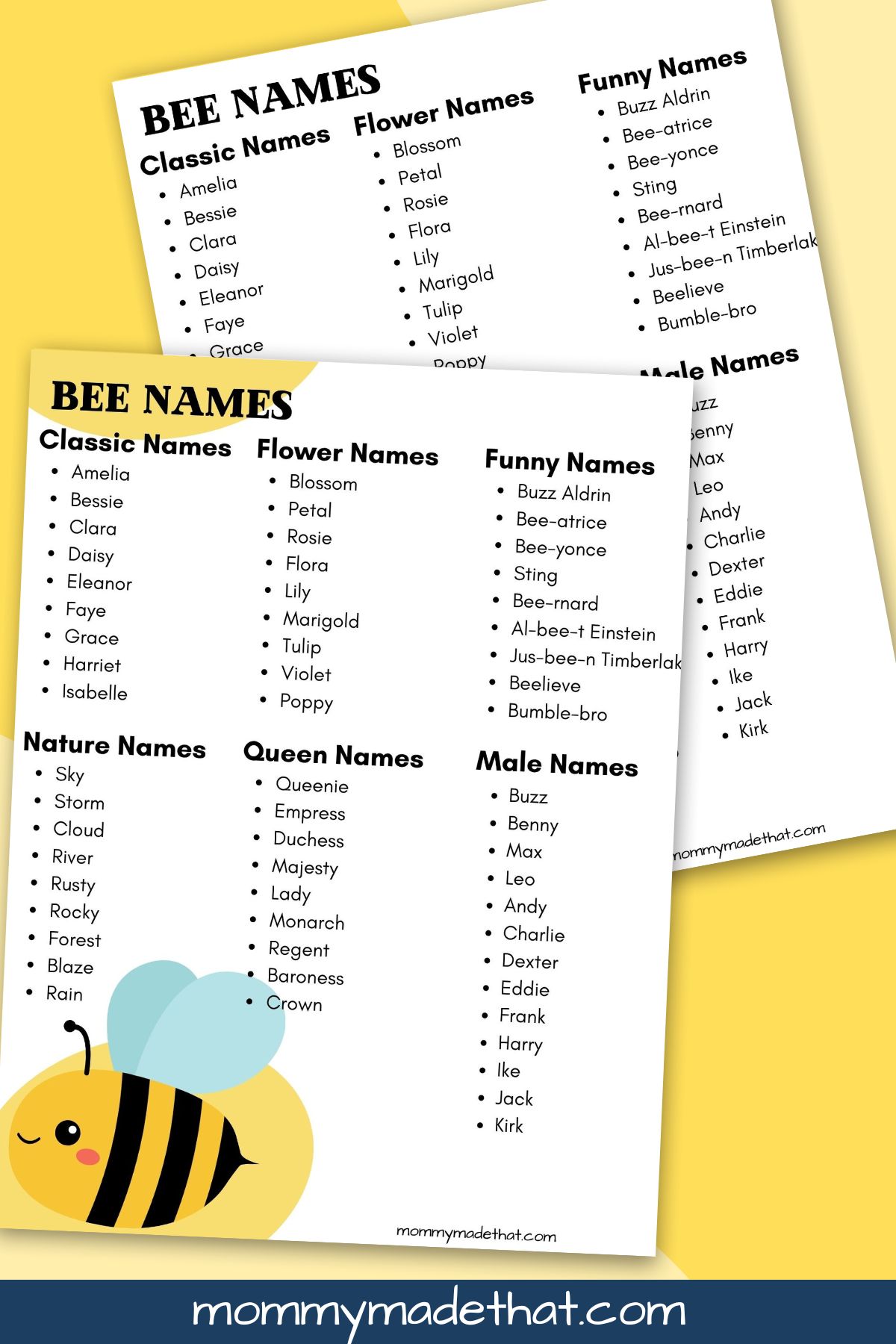 Beekeepers know that each tiny creature in their care is more than just a honey-producing insect.
They're friends, allies, and a testament to the wonders of nature. While it might sound quirky to some, naming our bees and their homes helps foster a connection with them.
This guide is here to inspire you with fun, creative, and heartwarming names for your buzzing buddies!
And if you enjoy these, be sure to check out our bee crafts like our printable bee craft or our fun felt bee ornament.
Or if you are looking for more fun name ideas, we've got great lion name ideas and penguin names too!
Understanding Bee Basics
Before you dive into naming, it's important to understand the basics of bee genders. A bee colony has three primary roles:
Queens: The heart of the hive, laying all the eggs.
Drones: Male bees whose main role is to mate with a queen.
Workers: Female bees that do not reproduce but play crucial roles in foraging, cleaning, and caring for the hive.
Female Bee Names (Especially for Queens)
Need a great female bee name? These names are perfect for all sorts of girl bees, but they also make the best queen bee names!
Classic Bee Names
Here are some great classic female bee names.
Amelia
Bessie
Clara
Daisy
Eleanor
Faye
Grace
Harriet
Isabelle
Juliet
Katherine
Lila
Mabel
Nora
Opal
Penelope
Quin
Rosalind
Sylvia
Tabitha
Ursula
Victoria
Wendy
Xena
Yvette
Zoe
Flower Inspired Names:
How about some flower bee names?
Blossom
Petal
Rosie
Flora
Lily
Marigold
Tulip
Violet
Ivy
Jasmine
Orchid
Poppy
Rosemary
Sunflower
Dahlia
Fleur
Heather
Lavender
Primrose
Gardenia
Daisy
Bluebell
Azalea
Camellia
Fern
Holly
Royalty-themed Names
Queenie
Empress
Duchess
Majesty
Lady
Monarch
Regent
Baroness
Crown
Diadem
Reign
Tiara
Throne
Noble
Royal
Highness
Sovereign
Princess
Ruler
Sceptre
Gem
Diamond
Palace
Kingdom
Jewel
Male Bee Names (for Drones)
Though their life is short-lived, drones play a vital role in bee reproduction.
Classic Bee Names
Buzz
Benny
Max
Leo
Andy
Charlie
Dexter
Eddie
Frank
George
Harry
Ike
Jack
Kirk
Luke
Mike
Ned
Oscar
Pete
Quincy
Ralph
Sam
Tim
Ulysses
Vince
Nature-themed Bee Names
Woody
Sunny
Sky
Storm
Cloud
River
Rusty
Rocky
Forest
Blaze
Rain
Cliff
Brook
Thunder
Lightning
Comet
Drizzle
Ocean
Breeze
Midnight
Star
Dawn
Dusk
Field
Stone
Honey Bee Names
We love honey bees too! Here are some great names for honey bees. These names pay homage to the honey bee's most delightful and cherished product – honey!
Golden – Representing the classic color of honey.
Nectar – The main ingredient bees use to produce honey.
Sweetie – An ode to the sweet taste of honey.
Amber – Another representation of honey's color.
Honeybun – A term of endearment and a nod to their product.
Dripper – Reflecting the process of extracting honey.
Glow – Celebrating the golden glow of honey.
Mead – A drink made from honey.
Syrup – Because honey is nature's syrup!
Mellow – Inspired by the mellow sweetness of honey.
Clover – A type of honey that many bees produce.
Manuka – A unique and medicinal type of honey.
Beebread – A mix of honey and pollen, the main food for bees.
Glaze – Inspired by the shiny coating honey can produce.
Caramel – A nod to the deeper, richer colors and flavors of some honeys.
Honeycomb – The beautiful structure where honey is stored.
Blossom – As flowers blossom, they provide nectar for bees to transform into honey.
Sticky – For honey's texture.
Honeysuckle – A plant name, but it perfectly captures the essence of bees and their product.
Honeydew – A different type of sweet nectar that some bees collect.
Bee-Sweet – A blend of the bee's identity and its delicious creation.
Bumble Bee Names
How about some names perfect for bumble bees? Here are some of our favorite bumble bee names.
These names capture the essence of the lovable bumble bee:
Bumbly – A playful take on their name.
Fuzzy – Bumblebees are known for their fuzzy bodies.
Buzzter – Merging "buzz" with a fun suffix.
Rumble – Capturing the deep buzz sound they make.
Fluff – Another nod to their fluffy appearance.
Hummer – Reflecting the humming sound of their wings.
Bumper – They sometimes bump into things while flying!
Roundy – Recognizing their round and robust bodies.
Tumble – Inspired by their sometimes-clumsy flight.
Buzzbee – A literal combination of their sound and being.
Puff – Another name inspired by their fluffy look.
Drummer – Their buzzing can sound like a tiny drum.
Bloomer – As they're always around blooming flowers.
Garden Gem – Because they're precious to any garden.
Zigzag – Their unpredictable flight pattern.
Pollen Puff – Celebrating their role in pollination.
Buzzyboo – A cute and endearing name.
Nectar Navigator – As they find their way to the best flowers.
Buzzington – A posh twist to their buzz.
Velvet – Their bodies have a velvety appearance.
Whirly – They often whir around flowers.
Famous Bee Names
Naming your bee after a famous counterpart can be both fun and memorable.
Historical Mentions
Melitta – The Ancient Greek bee deity that symbolizes dedication.
Ambrosia – A divine nectar related to bees and immortality in ancient myth.
Beelzebub – An ancient deity once associated with "Lord of the Flies".
Aristaeus – Ancient Greek god credited with discovering honey.
Deborah – A Hebrew name meaning "bee".
Merope – One of the Pleiades stars, meaning "honey-faced" in Greek.
Pop Culture References
Barry – The protagonist of "Bee Movie".
Winnie's friend – The honey-loving bear from "Winnie the Pooh".
Maya – The lovable character from "Maya the Bee".
Bumblebee – The name of a popular Transformer.
Beedrill – From the Pokémon series.
Charmy Bee – From the "Sonic the Hedgehog" series.
Queen Bea – From the game "Bugsnax".
Beezus – From Beverly Cleary's "Ramona" books.
Bee Puns and Playful Names
Who doesn't love a good pun?
Buzz Aldrin
Bee-atrice
Bee-yonce
Sting
Bee-rnard
Al-bee-t Einstein
Jus-bee-n Timberlake
Beelieve
Bumble-bro
Bee-dazzled
Sting King
Honey Bun
Queen Bee-thoven
Bee-nedict Cumberbatch
Bee-boop
Bee-sy Bee
Bee-tles (like the band!)
Bee-twixt
Wannabee
Bee-line
Funny Bee Names
How about some names for bees that are funny? Bees have a playful nature, and what better way to celebrate their cheerful buzzing than with some funny and whimsical names? Let's dive into some hilarious bee names.
Bee-nedict Cumberbuzz – A play on actor Benedict Cumberbatch's name.
Wannabee – For the bee that's always trying to fit in!
Bee-rilliant – The smartest bee in the hive.
Bee-toven – For the musically inclined bee.
Bee-lieve – The bee that always keeps hope alive.
Buzz Lightyear – An homage to the famous "Toy Story" character.
Buzzfeed – For the bee always in the know.
Al-bee Einstein – The genius of the hive.
Bee-rthoven – A nod to the composer, perfect for a bee with a musical buzz.
Zum-bee – For that energetic bee that just can't sit still.
Bee-rbara – A name that's sure to induce giggles.
Sir Buzz-a-lot – For the bee that's always buzzing around.
Bee-two (and Bee-one) – For inseparable bee buddies.
Buzz-tache – For the bee with a distinctive mark that looks like a mustache.
Obi-Wan Ke-bee – A "Star Wars" pun for fans.
Jubee-lee – For that bee that's always in a celebratory mood.
ABeeC – For the young or newly hatched bee.
Bee-kini – Perfect for a bee that loves summer.
Bee Mine – A little romantic twist.
Bee-dazzled – For that bee that shines a little brighter than the rest.
Clever Beehive Names
Your bees' home should have a name as special as its inhabitants.
"Buzzing Palace" – For the regal hive.
"Honeycomb Hideout" – A secretive space for your bees.
"The Bee Bungalow" – A cozy touch.
"Sting Station" – For the playful at heart.
"Nectar Nest" – Highlighting the sweet side of beekeeping.
"Bee Bliss Base" – A peaceful paradise.
"Hive Haven" – A sanctuary for your bees.
"Bee-treat Retreat" – A playful take on a peaceful hideaway.
"Golden Grub Garage" – Emphasizing the honey-making magic.
"Pollinator Palace" – For bees that are crucial for plant fertilization.
"Buzz Base Alpha" – For a modern, futuristic hive.
"Dronedom" – Mainly for those male bees.
"Queendom Keep" – A tribute to the ruling queen.
"Beehive Boulevard" – A bustling bee community.
"Stinger's Sanctuary" – A haven for all those bees ready to protect their home.
International Flavor: Bee Names from Around the World
Why not take inspiration from various corners of the globe? Naming your bees using words from different languages can give a special and unique touch to each tiny buzzing friend.
Apis (Latin) – The scientific name for bees, harkening back to the origins of western science.
Abeille (French) – A sophisticated and elegant choice, just like the French language itself.
Miele (Italian) – Meaning "honey" in Italian, it's sweet just like the nectar bees produce.
Bij (Dutch) – A fun and simple name, echoing the Dutch love for nature.
Biene (German) – Embracing the German precision in caring for nature.
Abeja (Spanish) – A name that rolls off the tongue, much like the Spanish dances.
Tips for Naming Your Bee
Choosing the perfect name for your bee is a delightful task. Here are some tips to guide you in finding a name that resonates:
Observation is key: Spend some quality time with your bees. You might notice one that's more adventurous, another that's a hard worker, or one that likes to stay close to the hive.
Their unique behaviors can be a rich source of inspiration.
Roleplay: Each bee plays a specific role in the hive, whether it's a queen, worker, or drone.
Think of their individual responsibilities and characteristics. Maybe name a drone Romeo for his main role is to find and woo a queen.
Fun and Lighthearted: Remember, naming is all about enjoyment and fostering a deeper connection with your bees.
Don't get bogged down trying to find the "perfect" name. Instead, choose names that make you happy and bring a touch of joy every time you utter them.
Cultural and Historical References: Look to books, movies, and historical figures for inspiration.
A bee named Cleopatra might remind you of a queen's powerful rule.
Discuss with Friends and Family: Sometimes, two heads are better than one.
Get input from others; they might come up with a name that never crossed your mind.
Keep a Name List: Just like writers keep a notebook of ideas, keep a list of potential names.
You might hear or read a name that strikes a chord; jot it down for when you have a new bee to name.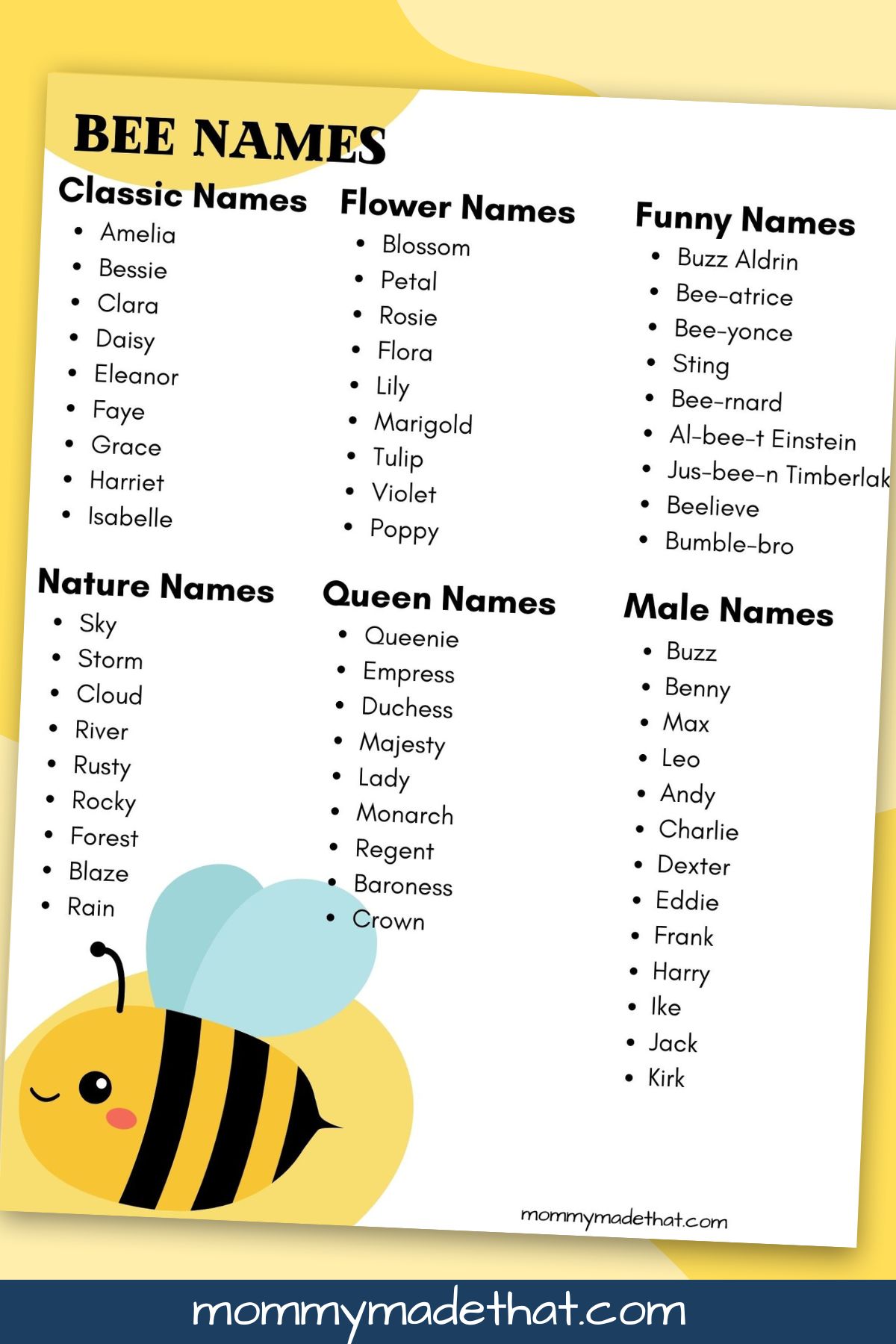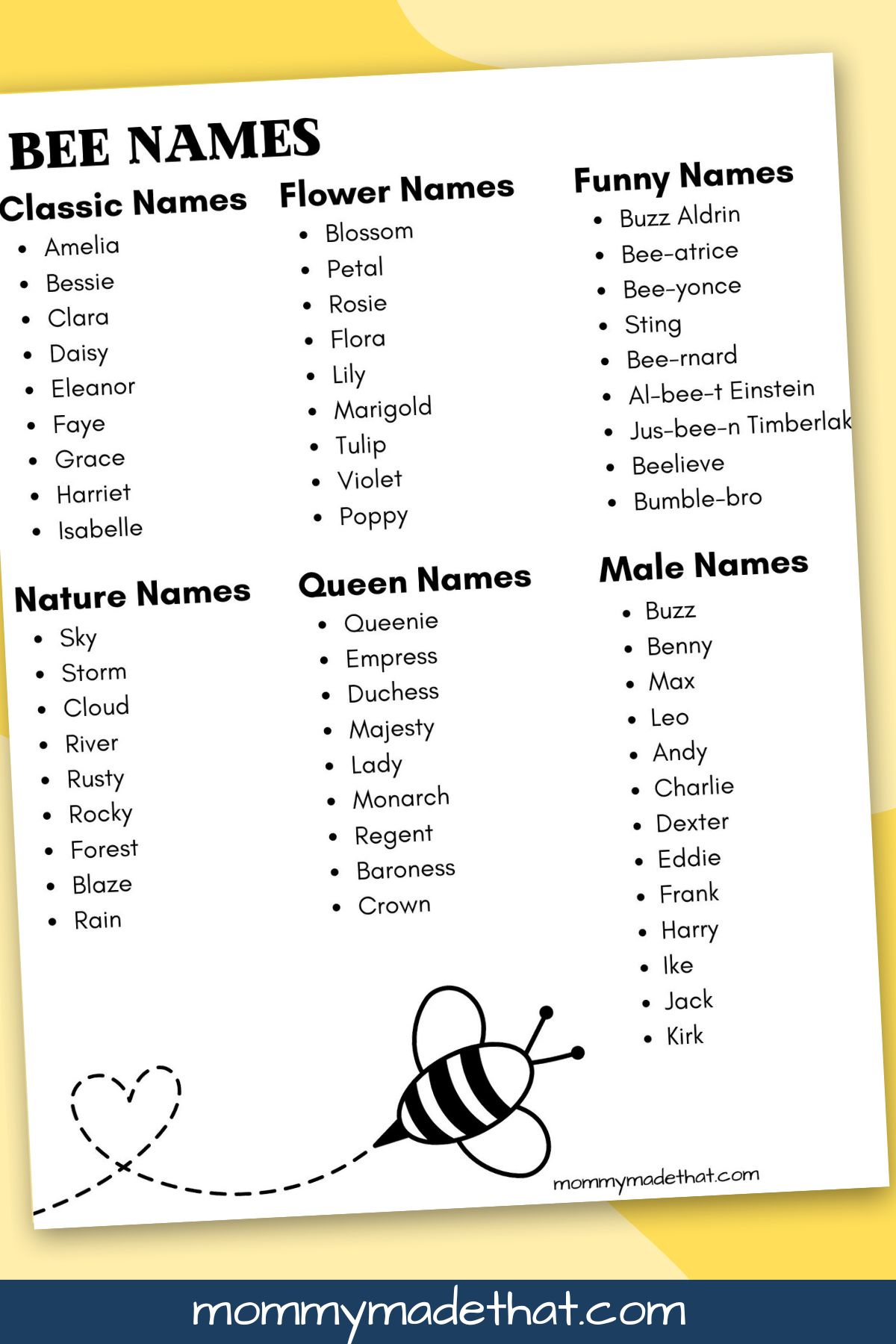 Grab the Bee Names Printable
To grab the free printable full of great bee names, put your email in the box below. We'll send a full colored version along with a black and white version straight to your inbox.
This is for personal or classroom use only please. Not for commercial use. Thank you!
We hope you enjoy these names for bees! And they help you find the perfect name for your queen bee or honey bee.