Butterfly Perler Bead Patterns (With Free Printable Template)
Today we have some adorable butterfly perler bead patterns with a free printable template you can grab!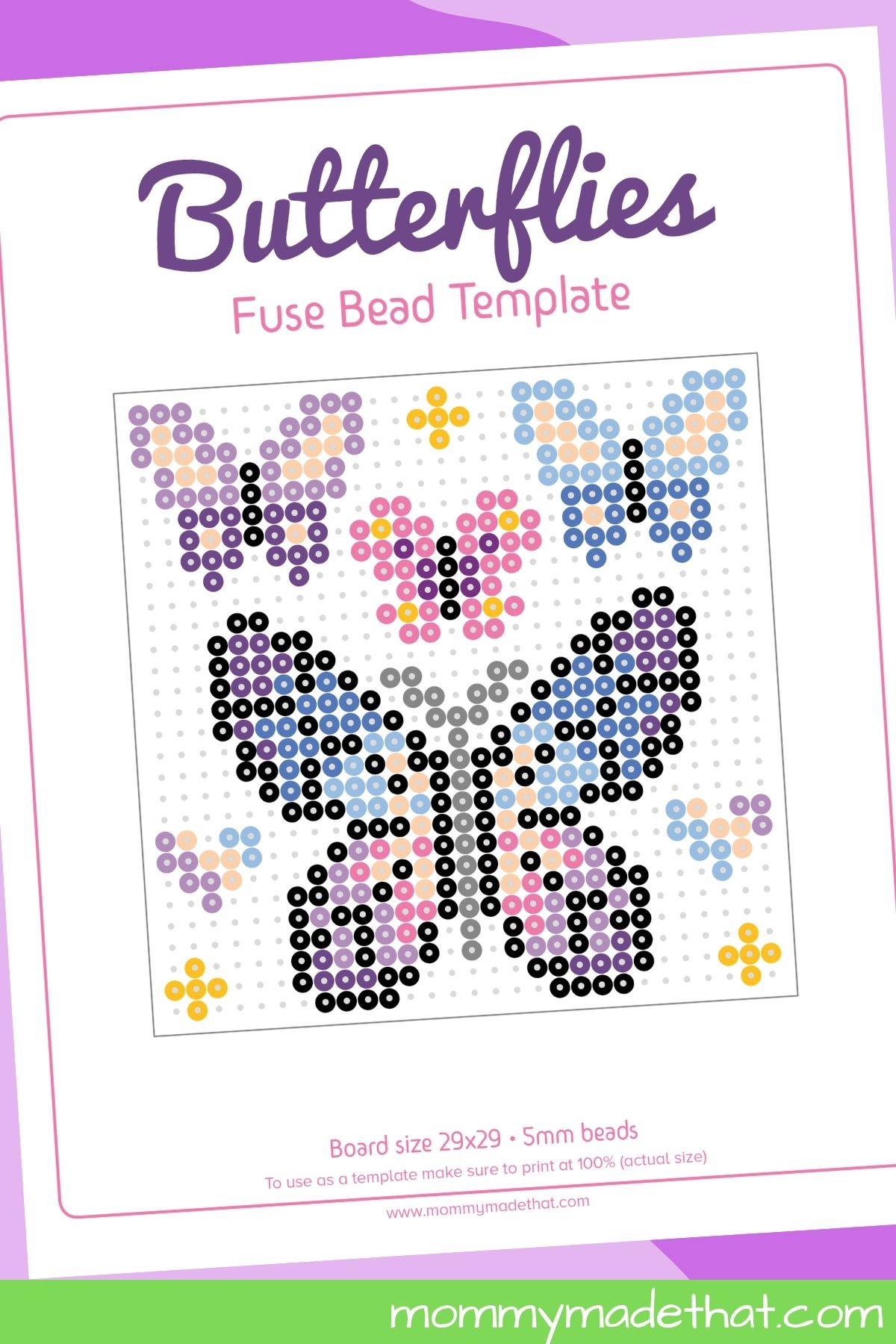 There's something magical about turning simple materials into a work of art. We've been having lots of fun with all sorts of great perler bead ideas.
Today, we'll explore that magic using Perler and Hama beads to create stunning butterfly perler bead patterns.
What's even more exciting is that these patterns are printable and come as free templates. So let's dive in!
Perler beads, also known as Hama beads are small, colorful, plastic beads that can be arranged on pegboards to form various designs, and then fused together with an iron.
Originating from Sweden and Denmark respectively, they've found popularity worldwide, mainly due to the infinite creative possibilities they offer.
These beads are the perfect medium for our butterfly perler bead pattern, as they allow intricate detailing and color blending, making your butterflies as vibrant and lifelike as you wish.
We've also got some fun flower perler bead patterns that include a pretty bracelet you can make.
Materials Needed
Before we begin, ensure you have the following materials at hand:
A selection of Perler or Hama beads
A pegboard
Ironing paper
An iron
Tweezers (optional, but they can help in placing the beads)
Our free templates for butterfly perler bead patterns
We recommend choosing an array of colors to give your butterflies a vibrant look.
Instructions
Start by grabbing and printing out our free template. Once you have the pattern ready:
Place your pegboard on a flat, heat-resistant surface.
Using the template as a guide, start placing your beads on the pegboard, creating the butterfly design.
Once you've placed all the beads, carefully put the ironing paper over your design.
With the iron set on medium heat, gently iron over the paper in a circular motion until the beads are fused together.
Let the design cool for a bit before removing it from the pegboard.
Remember to always supervise children during the ironing process to prevent any accidents.
The Butterfly Patterns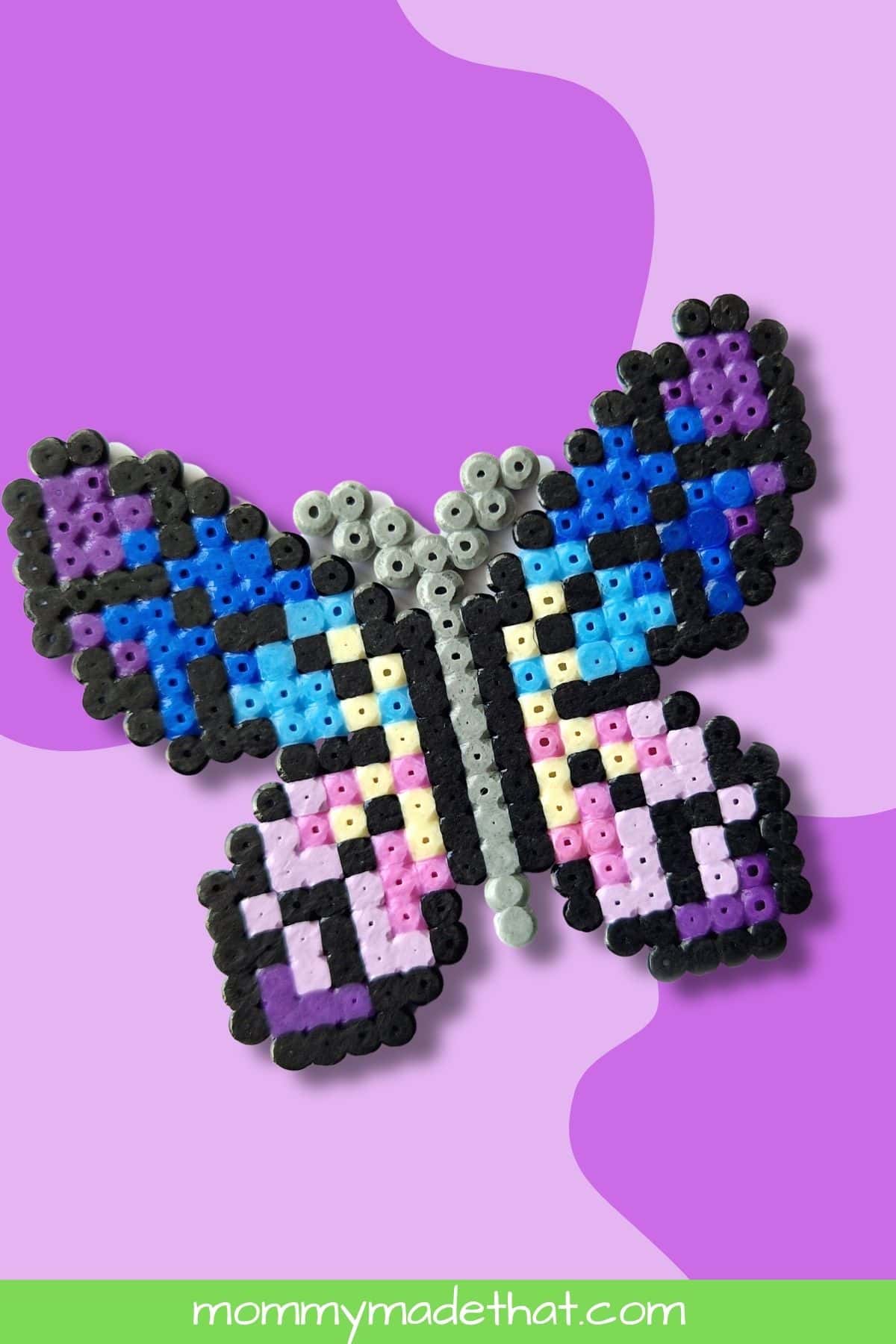 Our template includes a big perler bead butterfly pattern along with several small butterflies.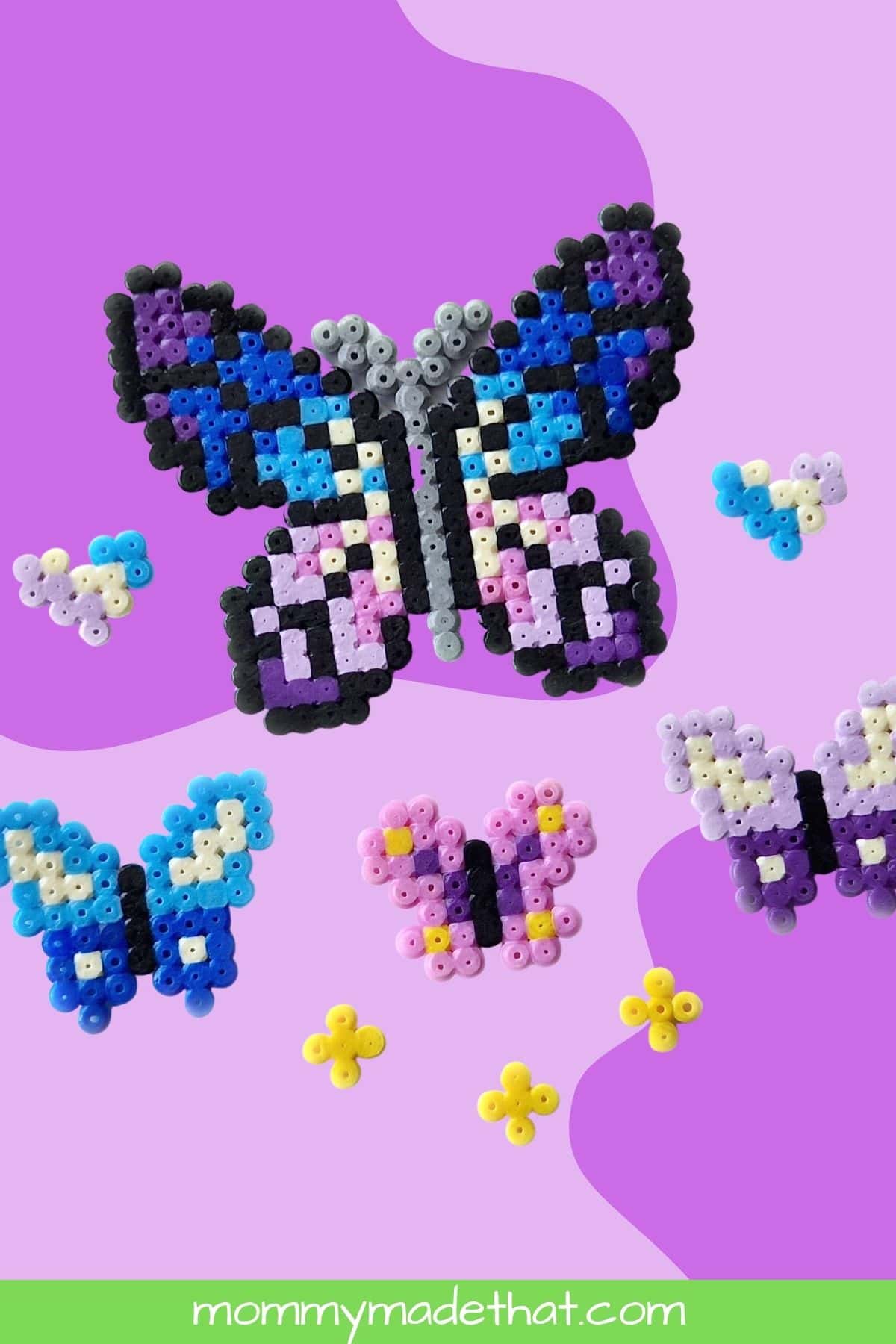 Although our pattern includes lots of purples and blues, you can get creative and swap out your colors using any colors you like.
Customization Ideas
Don't feel bound to our template colors; the world of butterfly perler bead patterns is vast and diverse.
Feel free to experiment with your own color combinations and even add embellishments if you like. You're only limited by your creativity!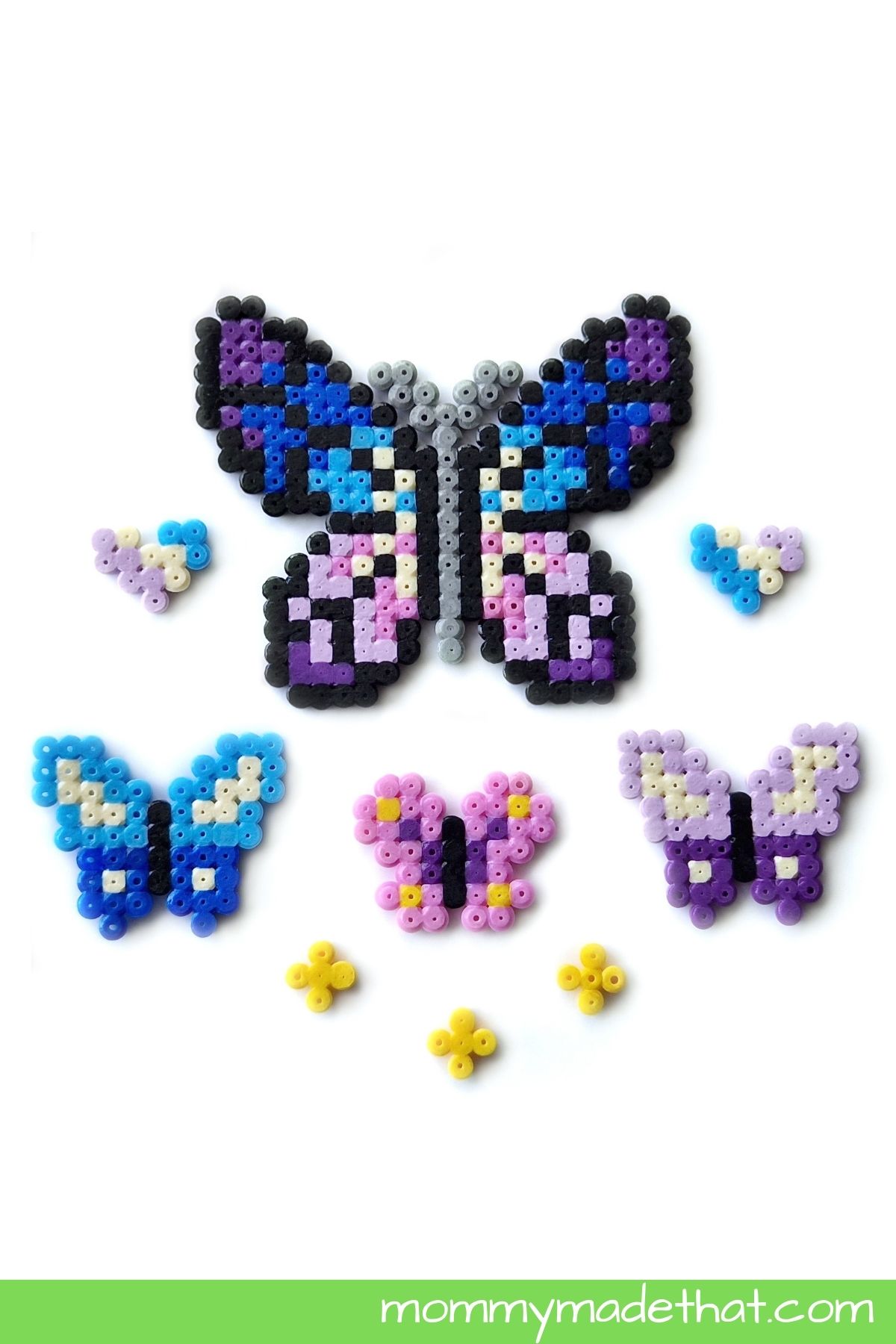 Ways to Use Your Butterfly Creations
Your colorful perler bead butterflies are not only a joy to create but can serve various delightful purposes. Let's explore some creative ways to make the most of these vibrant creations.
Decorations: These beautiful butterflies make wonderful decorations. Attach a string and hang them around the house, especially near windows where they can catch and refract sunlight, creating a magical ambiance. They can also be used as striking embellishments for your potted plants, instantly adding a burst of color to your green spaces.
Gifts: If you're looking for a thoughtful handmade gift, your butterfly perler bead creations are perfect. Attach your butterfly to a blank greeting card for a charming touch or even offer a set of butterflies as a unique and personal present. The receiver will surely appreciate the time, creativity, and effort you put into their gift.
Ornaments: These butterflies can also bring a whimsical touch to your Christmas tree or become a festive part of other holiday decorations. They are sturdy, reusable, and their vibrant colors can complement traditional ornaments for an eye-catching mix.
Educational Tools: For parents or educators, these butterflies can be used as visual aids for teaching kids about life cycles, nature, and art. You can create butterflies in different sizes and colors to make learning more fun and interactive.
Jewelry: With a bit of creativity, these butterflies can be transformed into unique pieces of jewelry. Convert them into pendants for necklaces, charms for bracelets, or even into colorful brooches. This can be a fun project for older kids or even adults who enjoy DIY jewelry.
Bookmarks: Attach a tassel or ribbon to your butterfly and it becomes a functional and beautiful bookmark. This can be a perfect gift for book lovers, encouraging them to embark on new reading adventures.
Remember, these are just ideas. The possibilities are truly endless with your creativity and a handful of perler beads. Happy crafting!
Grab the Printable Template
Ready to start? Grab the free printable butterfly perler bead pattern by putting yoru email in the box below.
We'll send the free printable straight to your inbox.
Then you can grab your beads and get started. These are for personal or classroom use only please.
Not for commercial use. But feel free to print out as many copies as you like.
Creating butterfly perler bead patterns is more than just a fun activity; it's a journey of transformation and creativity. Don't forget to share your beautiful creations with us—we'd love to see your vibrant butterflies! If you have any questions or need further guidance, don't hesitate to reach out. Happy crafting!