Popsicle Stick Scarecrow Craft
Today we are making a popsicle stick scarecrow! It's a cute and fun fall craft for kids that's they'll love to make.
Making a scarecrow out of popsicle sticks is a fun and easy Halloween popsicle stick craft for kids to craft.
It's a good craft to make while teaching kids about the usefulness of scarecrows in farms and gardens and why they might see them there.
This scarecrow craft can be made with just a few supplies, and it's a great project for kids of all ages.
It's one our favorite popsicle stick crafts for kids and a good Halloween craft too.
Materials Needed
To make this scarecrow popsicle stick craft, start by gathering the following materials:
Popsicle sticks: The base of the craft. Plain ones are perfect for this craft.
Craft paint: We used orange and red to make a brownish color. It'll be for the scarecrows hat so any color you like will work.
Yarn or string: We used hemp string, but you can use raffia, yellow yarn or any kind of string you think would work.
Foam sheet: We used an orange foam sheet for the scarecrow's hat, but orange construction paper or yellow paper would work well too.
Craft paper: We had black paper on hand to make the eyes, but you could use googly eyes or our free printable eyes as well.
You'll also need some basic craft supplies like:
Scissors
Glue (we used a hot glue gun, but Elmer's glue will work for younger kids too!)
Black marker
Paintbrush
How to Make a Popsicle Stick Scarecrow
Once you've got all your materials together, we can start making our scarecrow craft.
Step 1: Arrange the popsicle sticks
Place 7 popsicle sticks all together in a straight row together.
Carefully draw a slanted line on the upper part of the scarecrow like shown below.
Step 2: Paint
Next, paint above the slanted line you made orange. Once the paint is dry, glue the them together.
Step 3: Paint an Additional Stick
Next, grab an additional popsicle stick and paint it orange. After it's dry glue it across the sloped line.
This will be the hat brim for the scarecrow.
Make sure to cover up the paint line, this will create a neater look.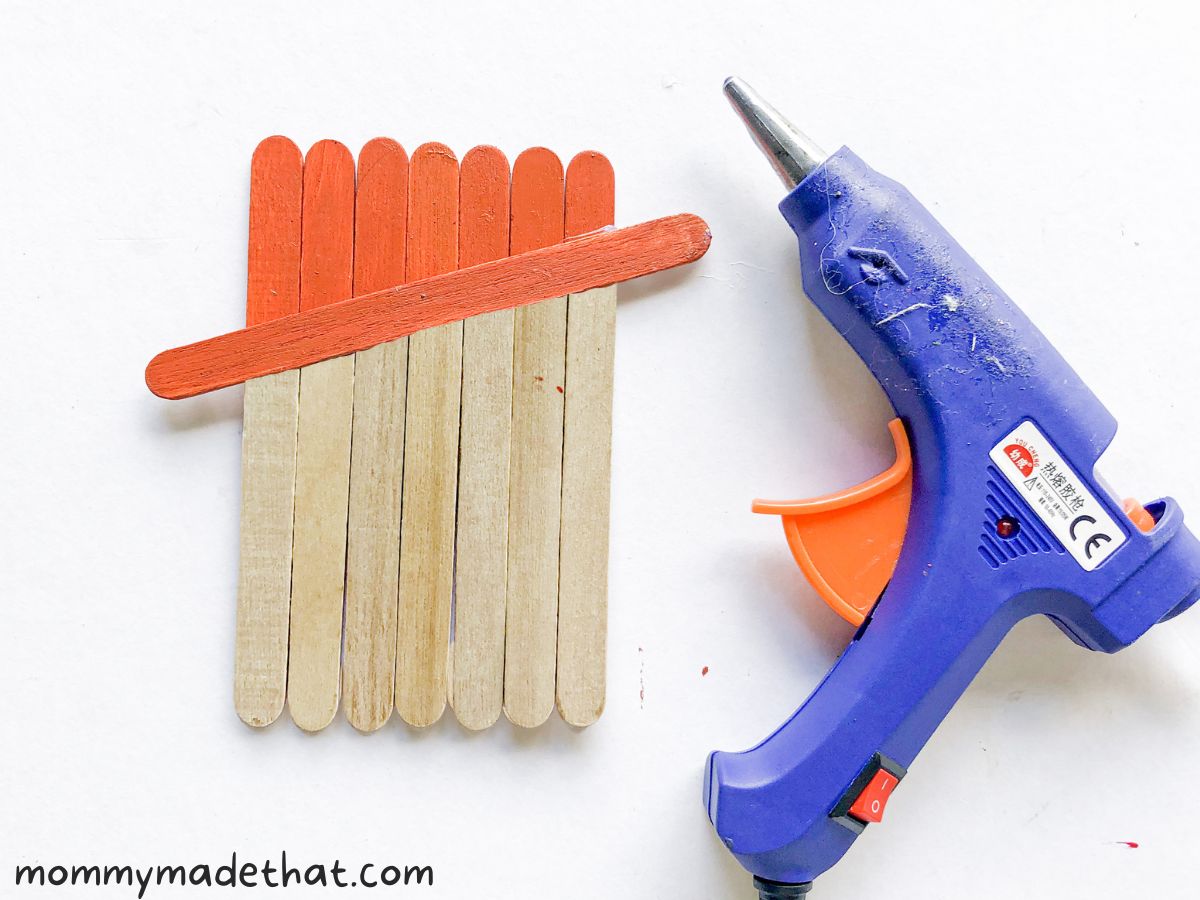 Step 4: Cut out the Eyes
Next, it's time to make the scarecrow's eyes.
We used a thick black paper and painted the outer eyes white and the pupils we kept black.
But you could easily create eyes on white paper and cut them out.
Step 5: Attach the eyes
Next, glue the eyes onto your popsicle stick scarecrow.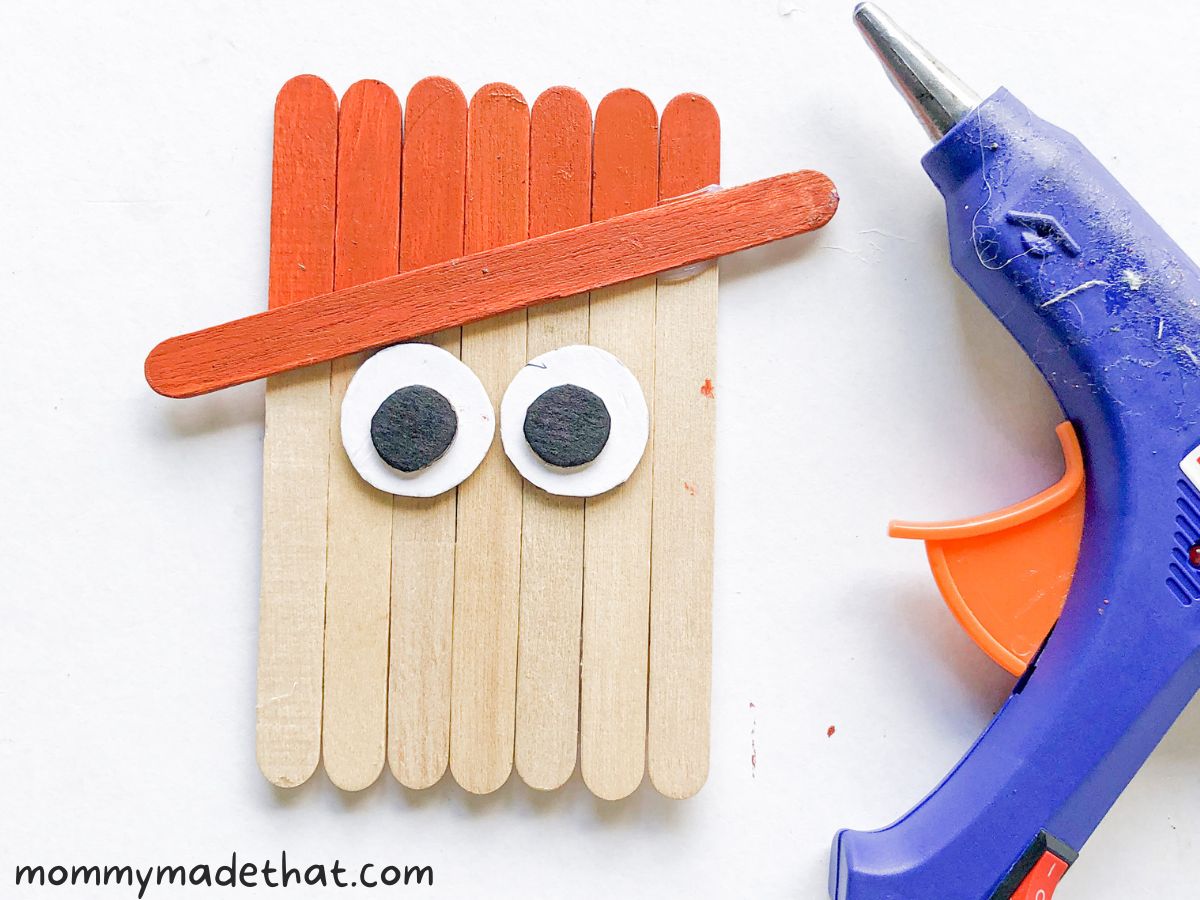 Step 6: Make a Nose
Next, create a nose by cutting a small triangle from the orange foam sheet. Paper would work fine for this step as well.
Glue it to the face under neath the eyes.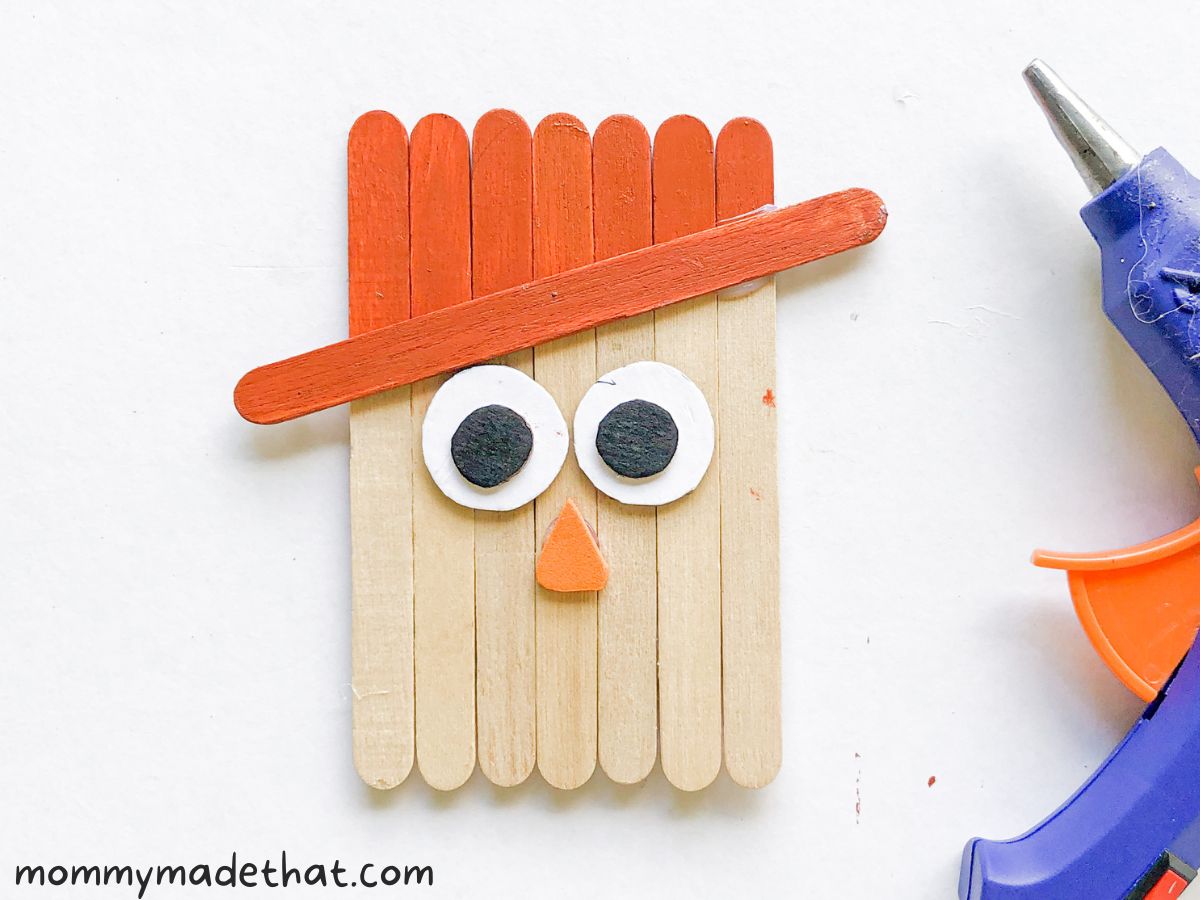 Step 7: Make a Mouth
Next, make a mouth by drawing a line under the nose. We made a big smile.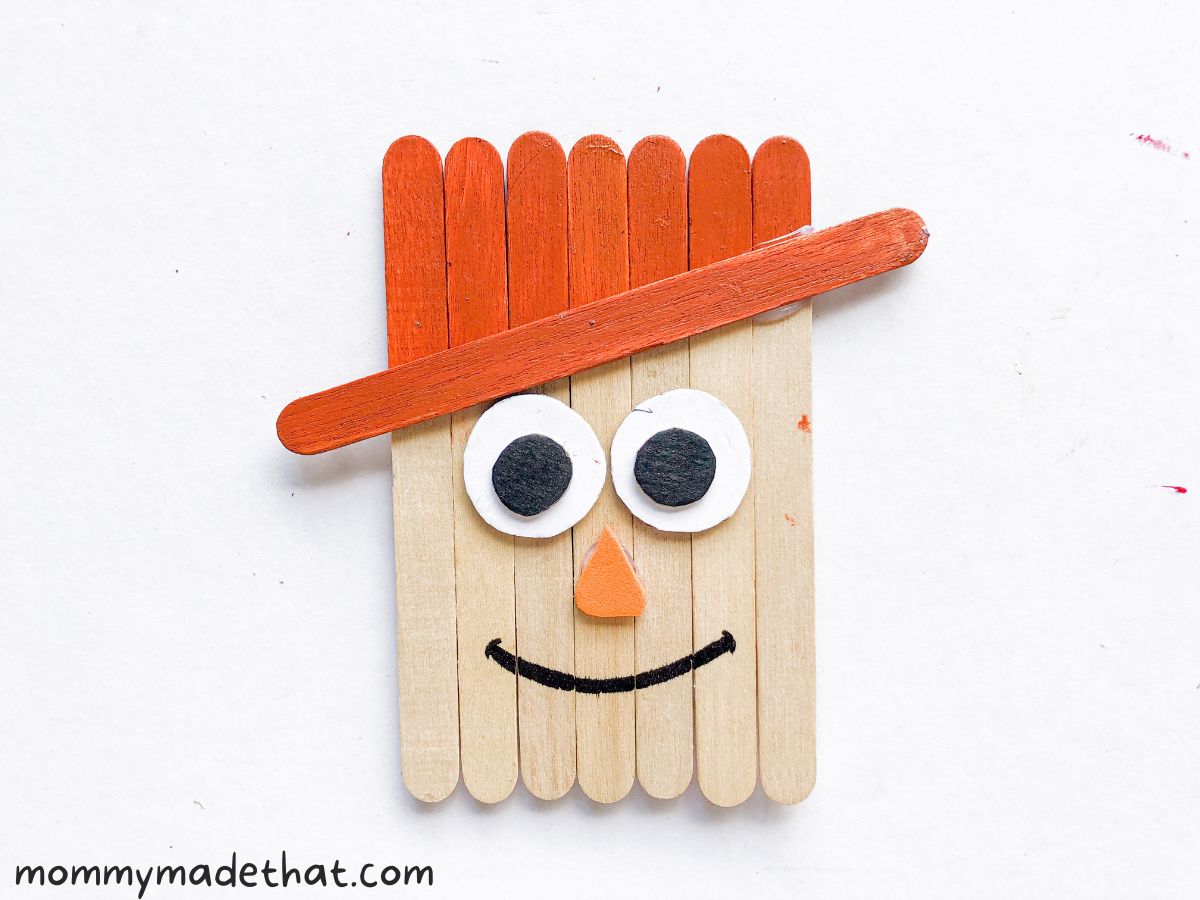 Step 8: Start the Hair
Next, take your yarn or string and loosely wrap it around your hand several times creating a multistrand loop like shown below.
Step 9: Cut the Edges
Tie it off in the middle to bind them all together and cut the edges.
Step 10: Attach the Hair
Now, turn the scarecrow over (once everything is dry) and attach the hair to the back of the scare crow at the top.
We also reinforced the scarecrow by adding an additional popsicle stick on the back and gluing it to secure the bottom sticks together.
Step 11: Admire your Creation!
That's it! Turn your popsicle stick scarecrow back over and admire your little creation.
This is a great craft for kids, or to use as some cute fall decor.
He'd look great with our popsicle stick pumpkin craft and or popsicle stick vampire!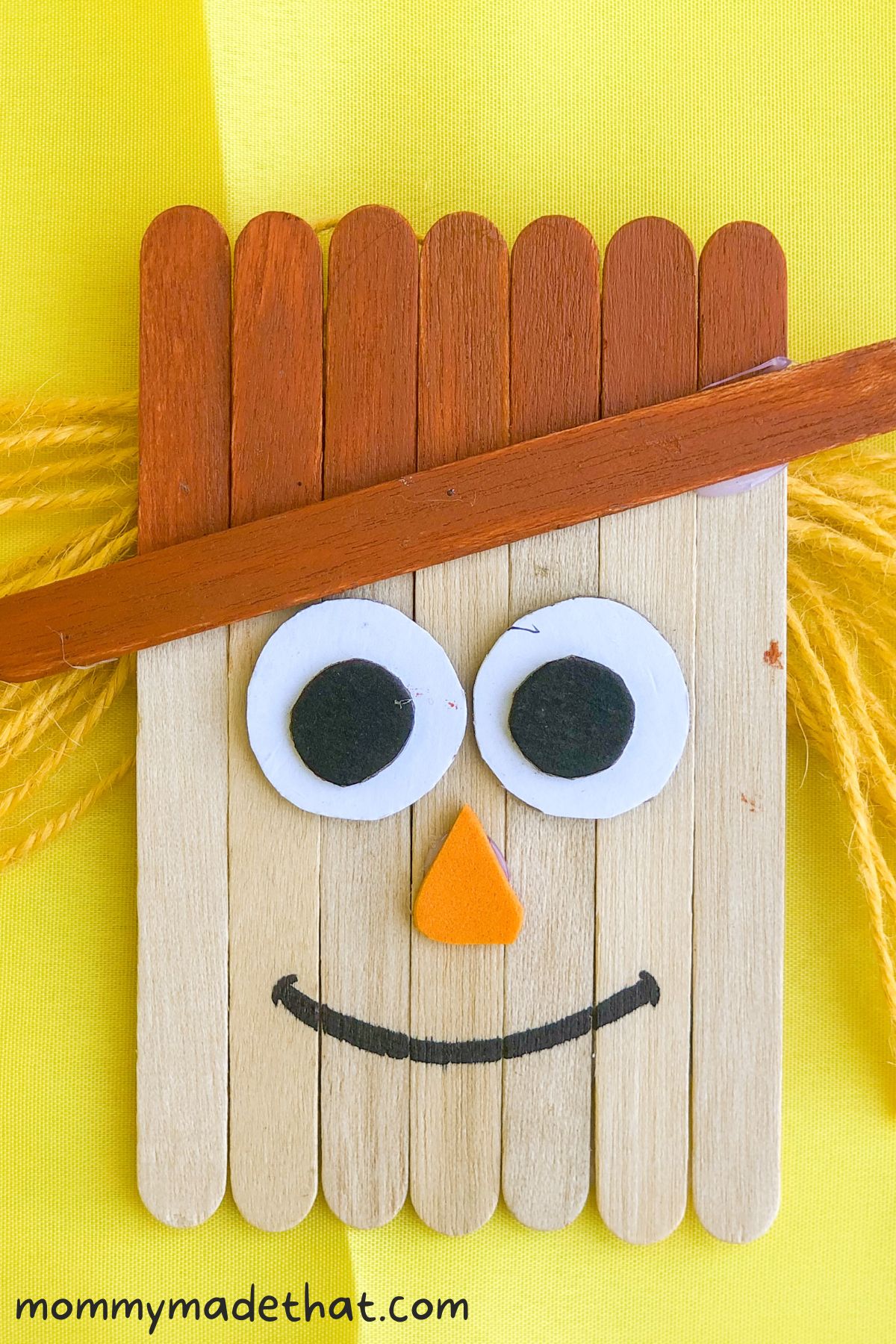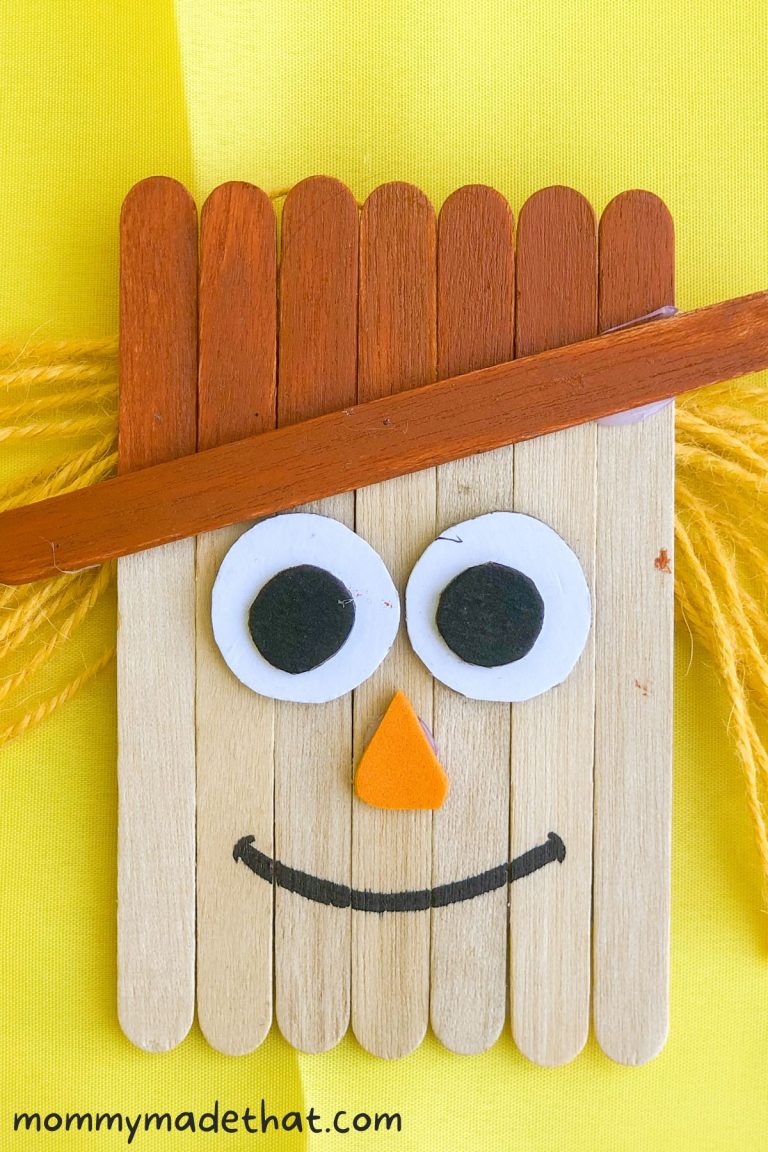 Yield:

1 Scarecrow
Popsicle Stick Scarecrow Craft
This adorable popsicle stick scarecrow is a fun fall craft for kids and adults alike! It's easy to make and looks so cute for fall decor.
Materials
Popsicle sticks
Paint (For the hat)
Craft paper
Orange foam paper
String, raffia or yarn (For the hair)
Tools
Scissors
Hot glue gun or craft glue
Black marker
Pencil
Instructions
Align 7 popsicle sticks in a straight row, Draw a slanted line in the upper 1/3 of the sticks.
Pain't the upper area of the line, this will be the base of your scarecrow hat.
Paint a separate popsicle stick and glue along the line, creating the brim of the hat.
Cut out a set of eyes using craft paper.
Aattach eyes to the popsicle stick face.
Cut a small triangle from the orange foam or paper and attach it under the scarecrow's eyes.
Draw on a mouth with the black marker.
Lloosely wrap the yarn or string around your hand, forming a loop.
Tie the loop off in the center and cut the edges of the loop.
Attach the yarn to the back of the scarecrow toward the top. Glue an additional popsicle stick to the back for support.
Enjoy!
Notes
Be sure to glue everything together well and allowed to dry, or your craft will fall apart.