Adorable Popsicle Stick Pumpkin Craft
Today we are making this fun popsicle stick pumpkin! We love popsicle stick crafts and this fun Halloween kids craft is perfect for the fall season.
We've been loving some Fall crafts lately and whipping up some fun pumpkin crafts.
And with Halloween just around the corner, what could be more fun than using popsicle sticks to create a pumpkin craft?
We've got lots of fun Halloween popsicle stick crafts and this Jack O lantern is a popular favorite.
This project is simple enough for even young children to do, and the results are both festive and charming. So let's get stated with this fun and easy kids craft!
Materials
To make this little popsicle stick pumpkin craft, we'll need a few materials: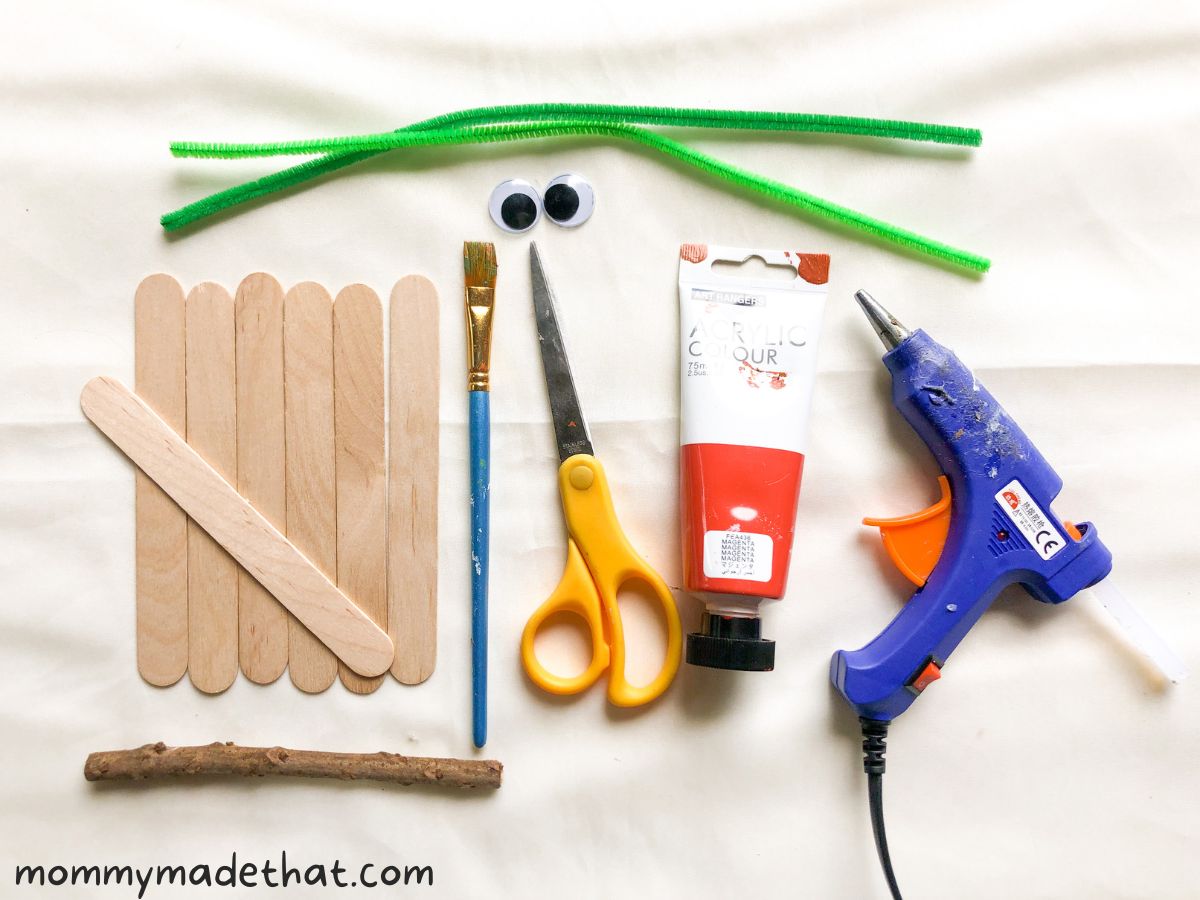 Popsicle sticks: We used the regular sized ones.
Craft paint: Orange paint, or you can use red and yellow to make your own shade of orange.
Pipe cleaners: We used green ones for the stems
Twig: We added a twig we found outside to add a cute natural looking stem.
Googly eyes: Or you can draw your own eyes, or use our printable googly eyes.
You'll also need some basic supplies like:
Scissors
Hot glue gun or craft glue (We find it easier to for the grown up to use the hot glue gun to save on drying time, but craft glue works well too.)
How to Make a Popsicle Stick Pumpkin
To get started making your pumpkin from popsicle sticks, start by grabbing all your supplies.
Step 1: Paint
Start by painting your popsicle sticks orange, on both side and let them dry. We used 6 popsicle sticks to make our pumpkin.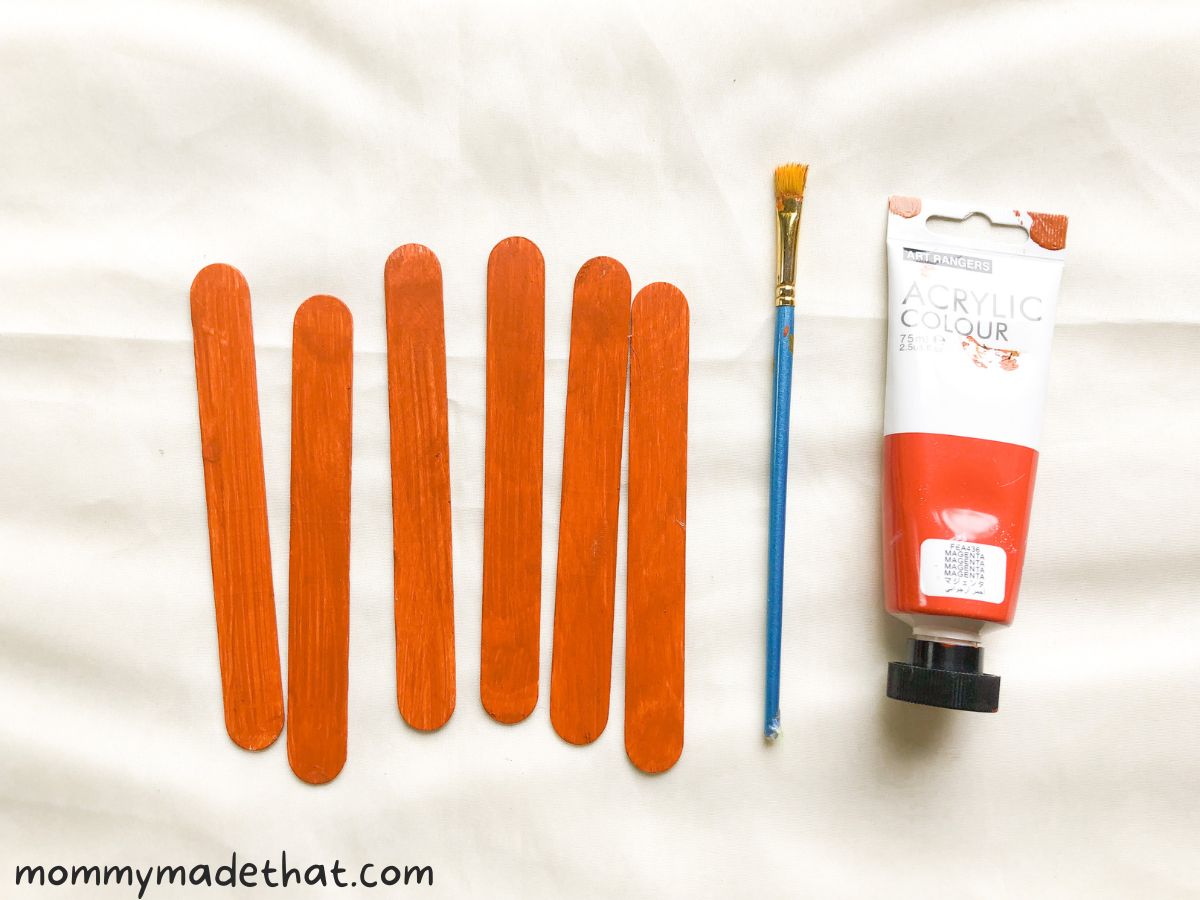 Step 2: Glue the Sticks Together
Next, glue your popsicle sticks together. I find that apply a little glue to the edge of each stick and pressing them together one at a time works well.
Then attach them all together using another popsicle stick across all of them like shown below.
Step 3: Add Eyes
After gluing together all the sticks, flip it back over to work on the front of the pumpkin.
Glue on the googly eyes, or eyes you make your own onto your pumpkin's face in the center, slightly nearer to the top.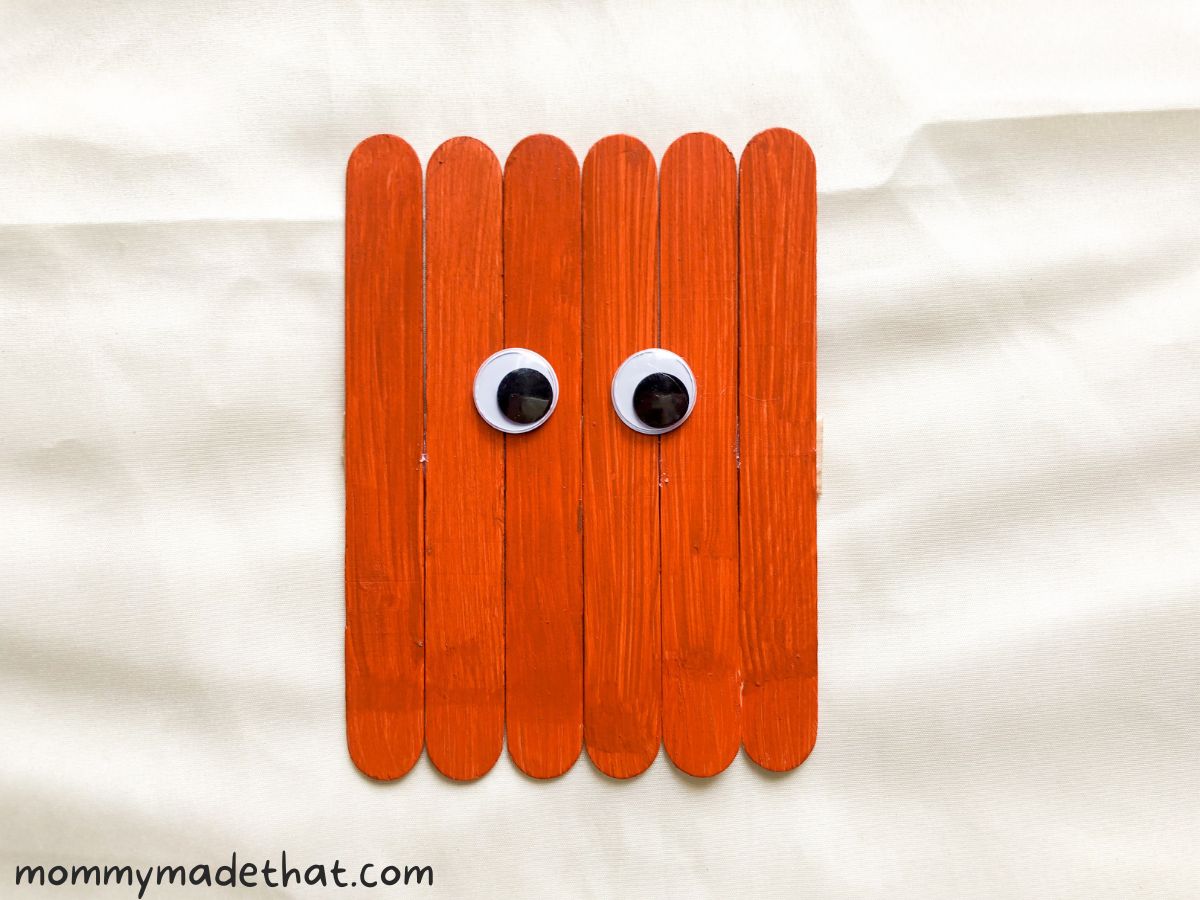 Step 4: Draw the Pumpkins Face
Next, using your black marker, draw on a mouth, nose and eyebrows for your pumpkin's face.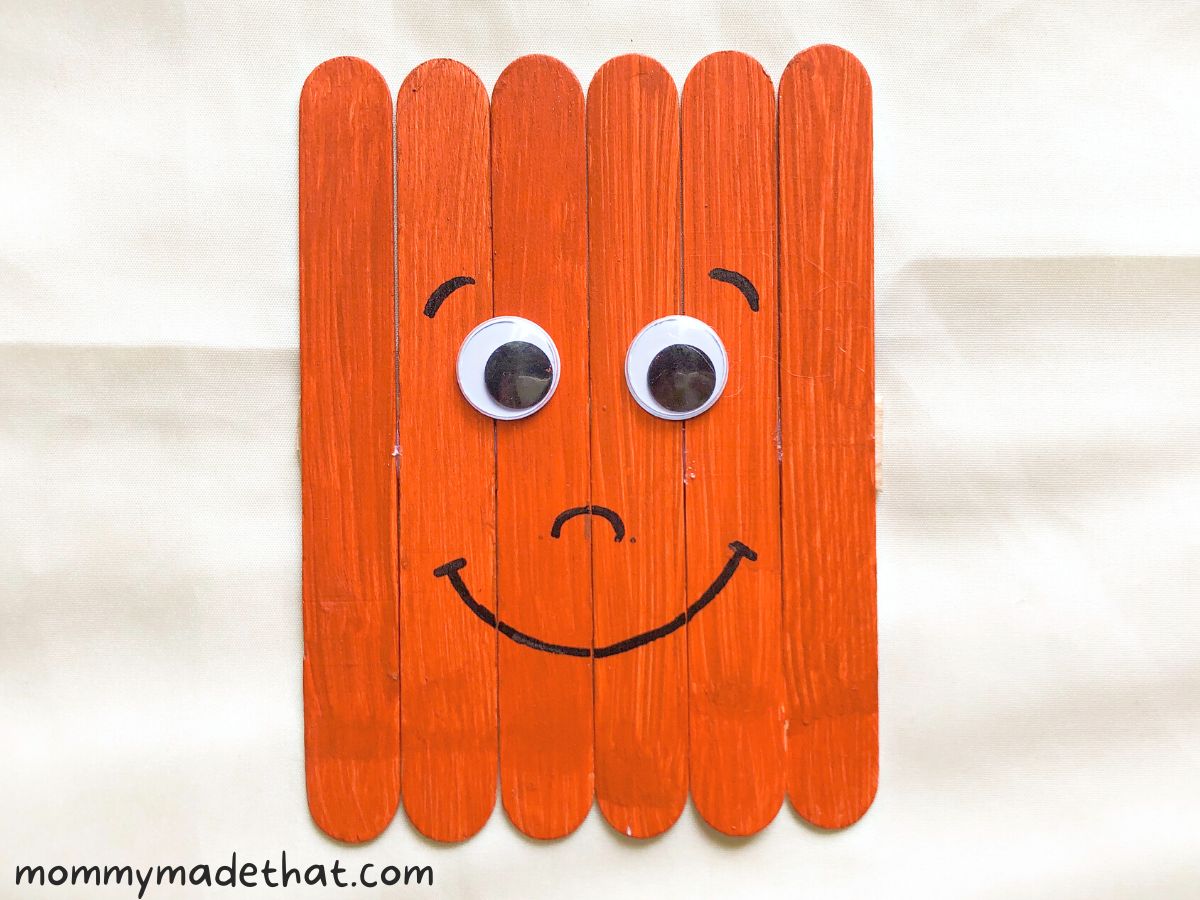 Step 5: Make the Pumpkin Stem
Next, it's time to turn that twig into a stem for your pumpkin.
If it's long cut the twig to only a couple incles long. Then glue it to the back of your pumpkin.
Then glue it to the back side of the pumpkin.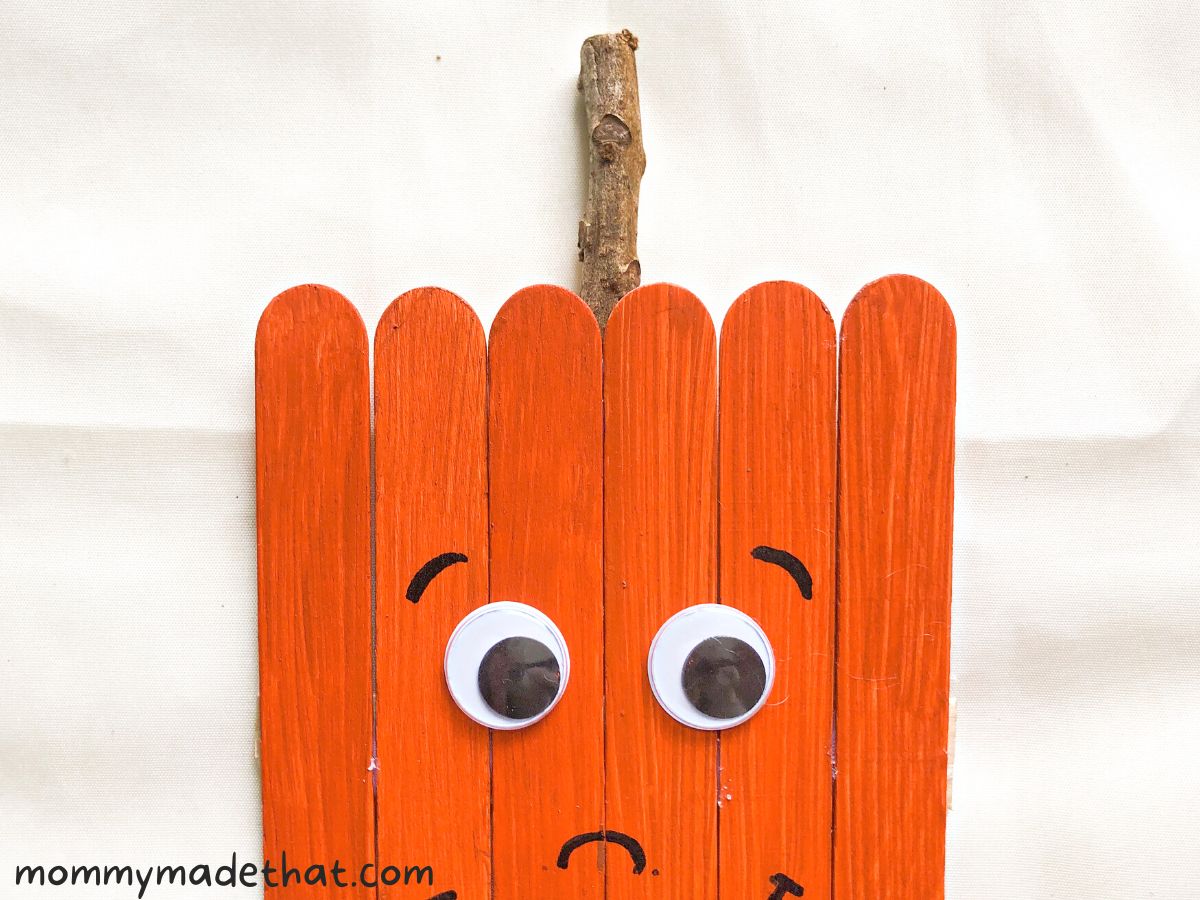 Step 6: Make the Tendrels
Next grab your green pipe cleaners and twist them around a pencil to make pretty spirals, like shown below.
These will be the twisty tendrels of the pumpkins stem. Glue them to the back of the pumpkin near the stem.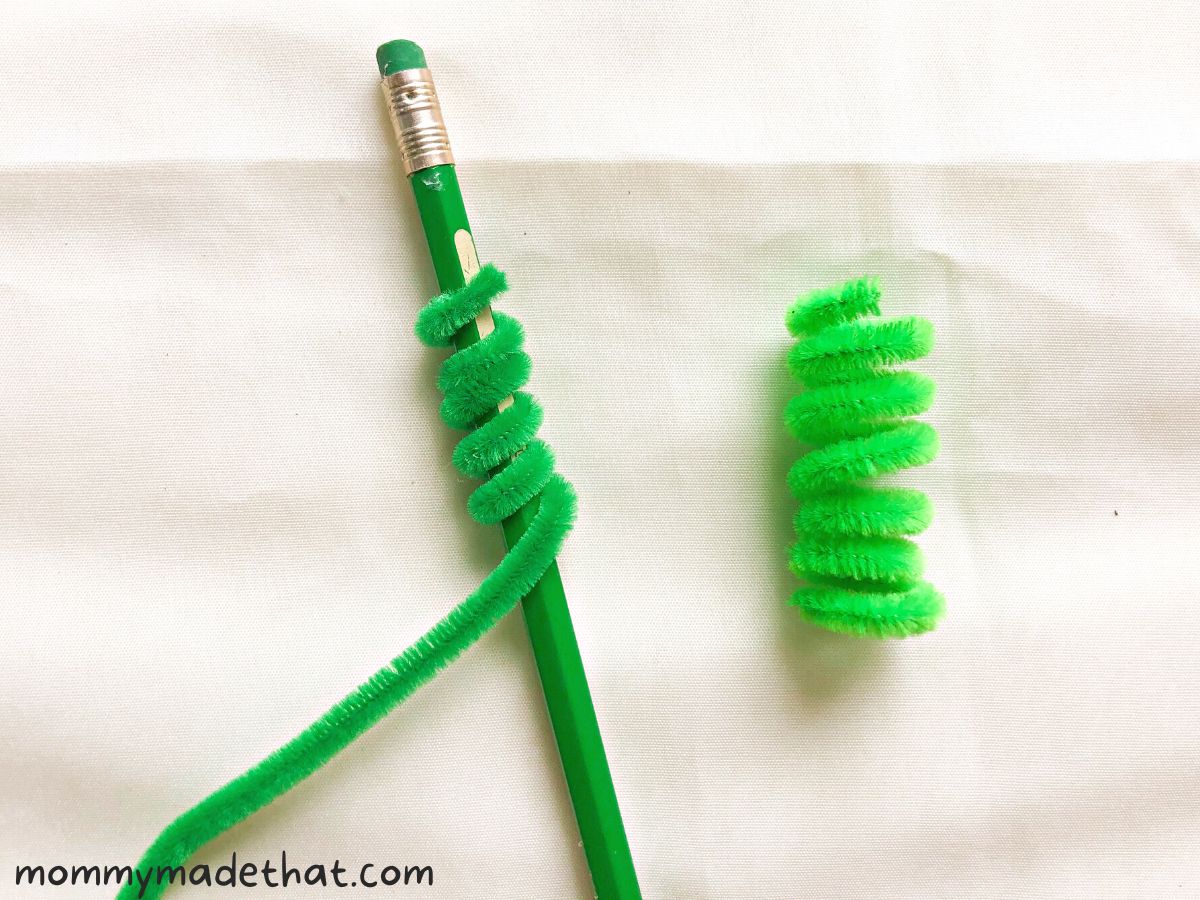 Step 7: Enjoy!
And that's it! Now you have an adorable little popsicle stick pumpkin!
It would be fun to make several pumpkins and have a little pumpkin patch going.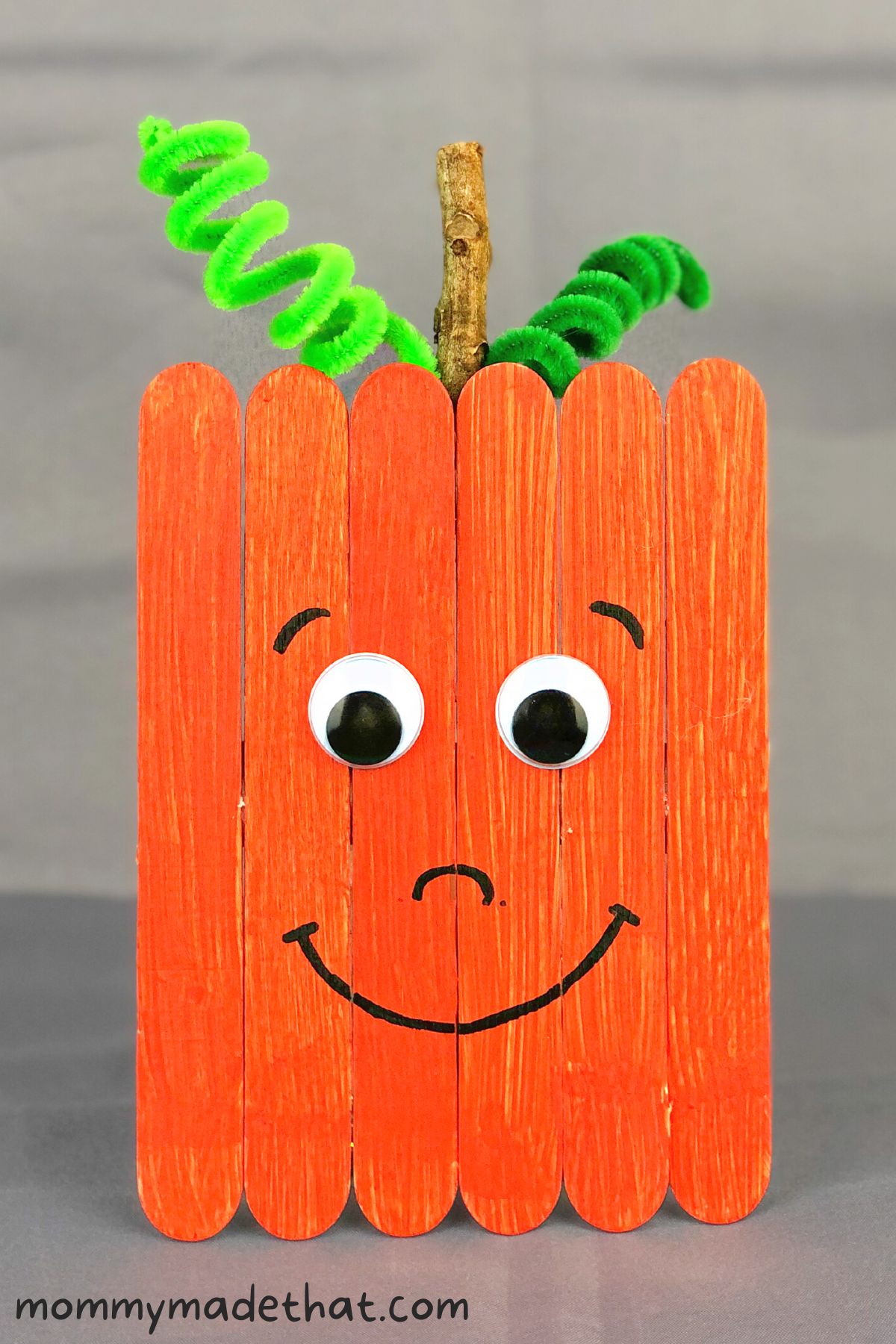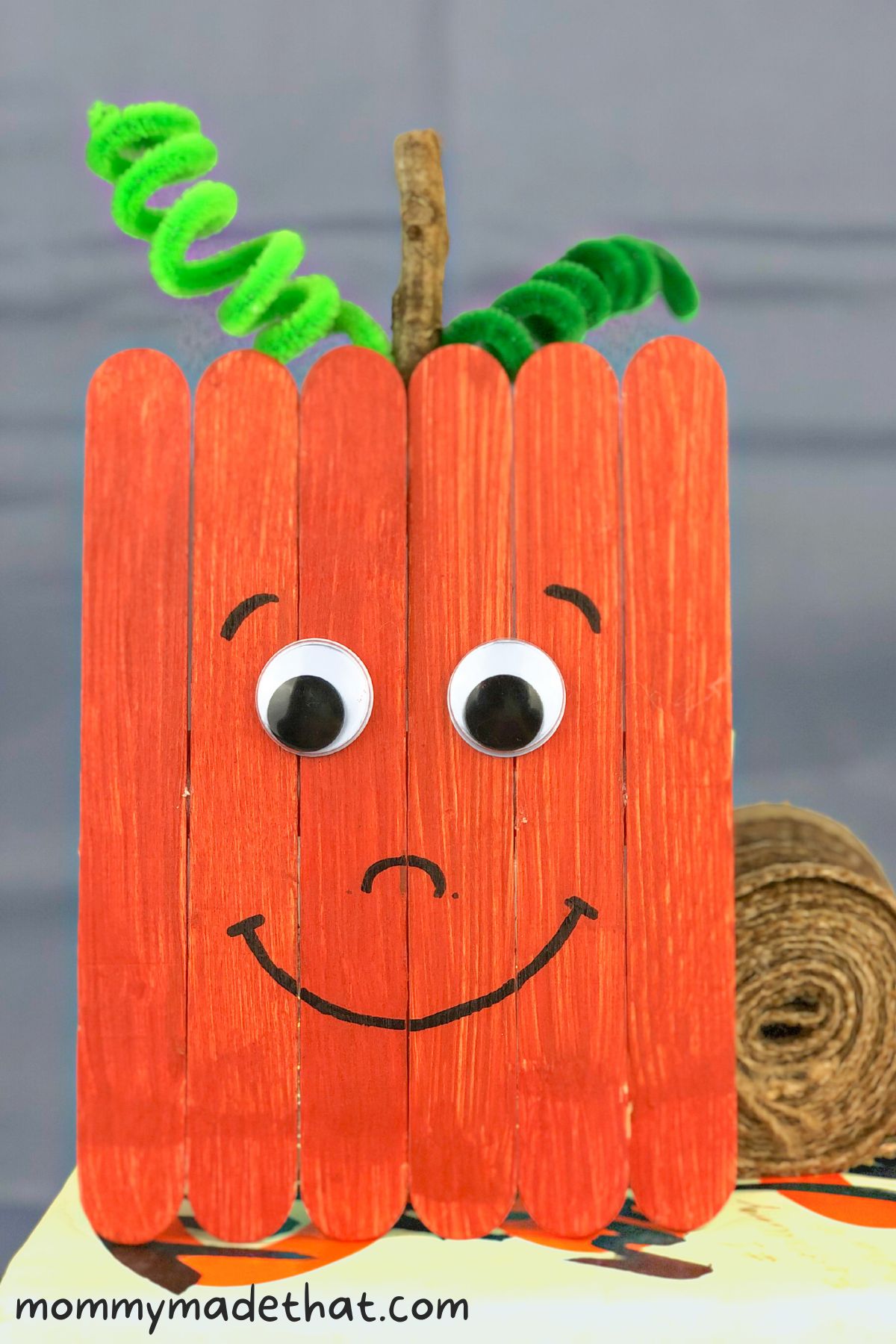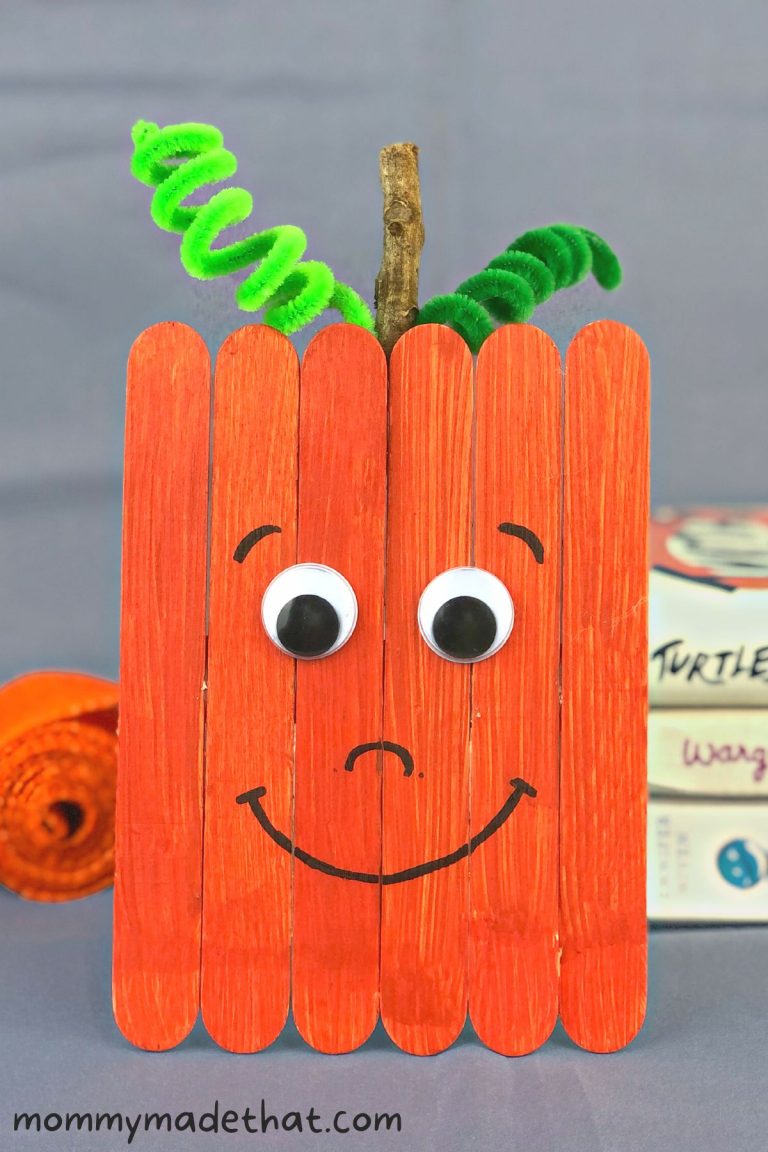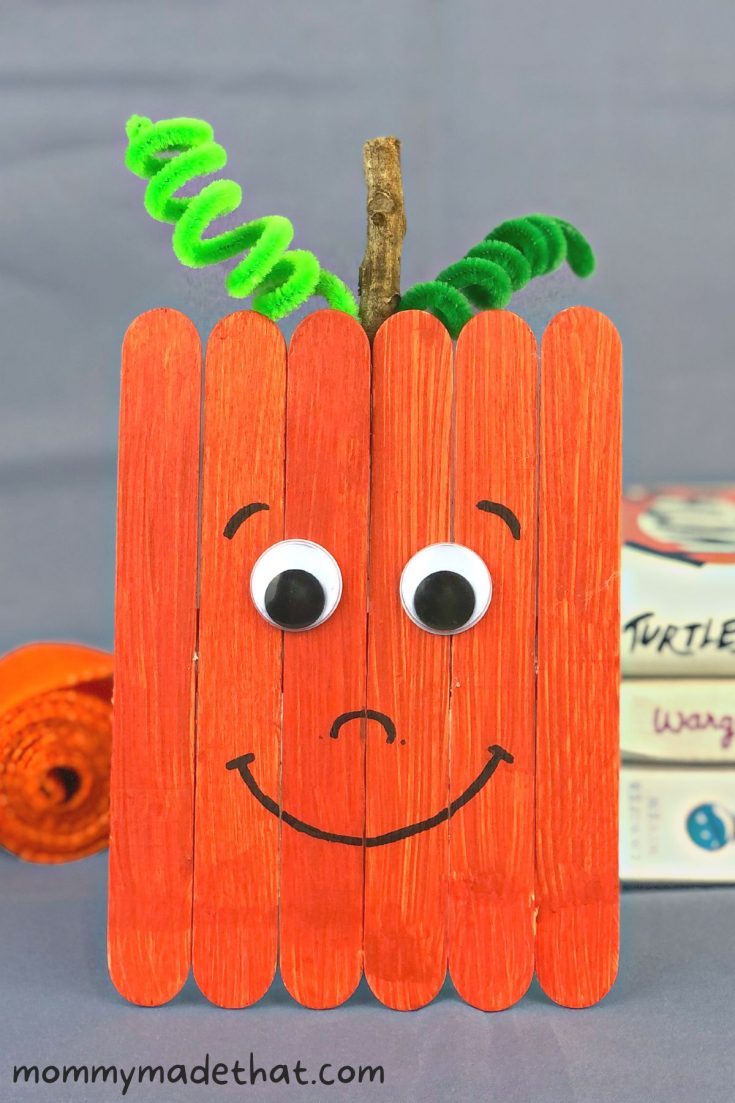 Yield:

1 Pumpkin
Popsicle Stick Pumpkin Craft
This easy popsicle pumpkin craft is a cute and easy Halloween craft for kids!
Materials
Popsicle sticks
Orange craft paint
Green pipe cleaners
Googly eyes
Twig
Tools
Paintbrush
Black marker
Craft glue or hot glue gun
Instructions
Paint 6 popsicle sticks orange and let dry.
Glue the popsicle sticks together, using an additional stick on the back to provide stability.
Glue on googly eyes.
Draw on a mouth, nose and eyebrows with the black marker.
Trim twig to only 2-3 inches, and glue to the back of the pumpkin.
Twist the pipecleaners around a pencil creating swirls, and attach to the back near the stem.
Enjoy your pumpkin craft!