Popsicle Stick Vampire Craft
This Popsicle Stick Vampire craft is perfect for kids who are looking to get in the Halloween spirit. It's simple, fun, and easy to make, and it doesn't require any special materials or tools.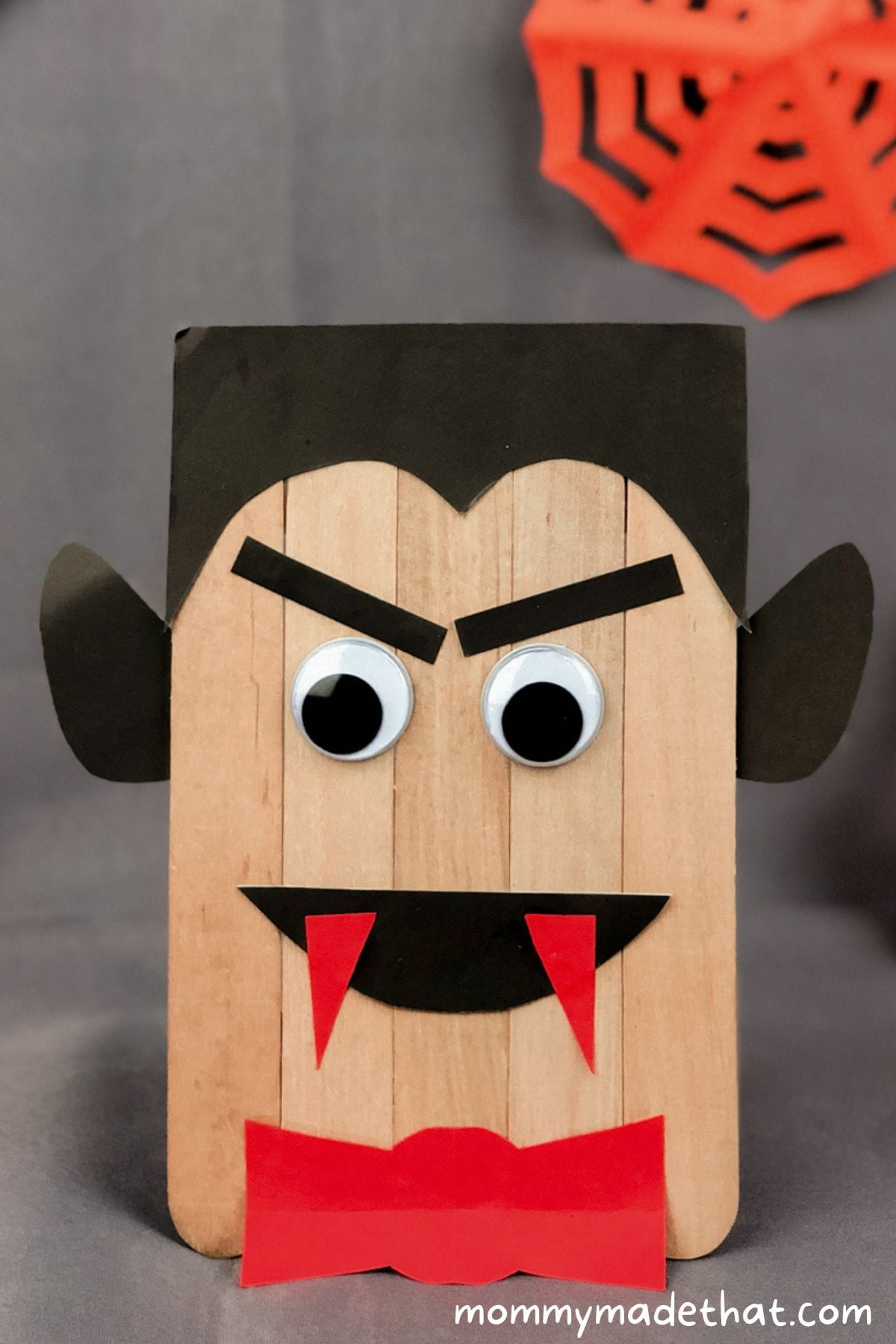 Looking for a fun Halloween craft for kids? This vampire craft is perfect!
It's one of our many Halloween popsicle stick crafts and is adorable and fun for the spooky holiday.
If you're looking for more popsicle stick fun, make sure to check out all of our popsicle stick crafts.
Now to make this fun little Dracula, you'll need to grab a few materials.
Materials Needed
Popsicle stick vampire template: Grab and print out the template to make cutting out the vampire pieces super easy.
Popsicle sticks: We used the wider popsicle sticks.
Colored craft paper: We used black, red and white.
Googly eyes: You can use real googly eyes or grab and print out a set of our printable googly eyes.
You'll also need some basic craft supplies like:
Glue
Hot glue gun & stick
Scissor
How to Make a Popsicle Stick Vampire
To make this vampire craft we are going to start by gluing 5 popsicle sticks together.
You can do this by lining them up and carefully gluing them together.
Then cut 2 additional popsicle sticks shorter.
Then attach them together by gluing the two smaller sticks across all 5 popsicle sticks.
Then print out our Vampire template and cut out all the pieces to use as a template.
Then trace and cut out the hair, ears, and mouth on black. And the bow and vampire fangs on red.

Glue each piece on to the popsicle stick base. Glue the hair at the top of the popsicle sticks, the eye brows directly underneath it, with the ears out on the sides, and the mouth toward the bottom half.
Then attach the red bow and fangs. It should look a little like the photo below.
Next, attach your googly eyes, print out eyes or just draw your own on!
And that's it! He'd look great with our popsicle stick scarecrow and our cute popsicle stick pumpkin!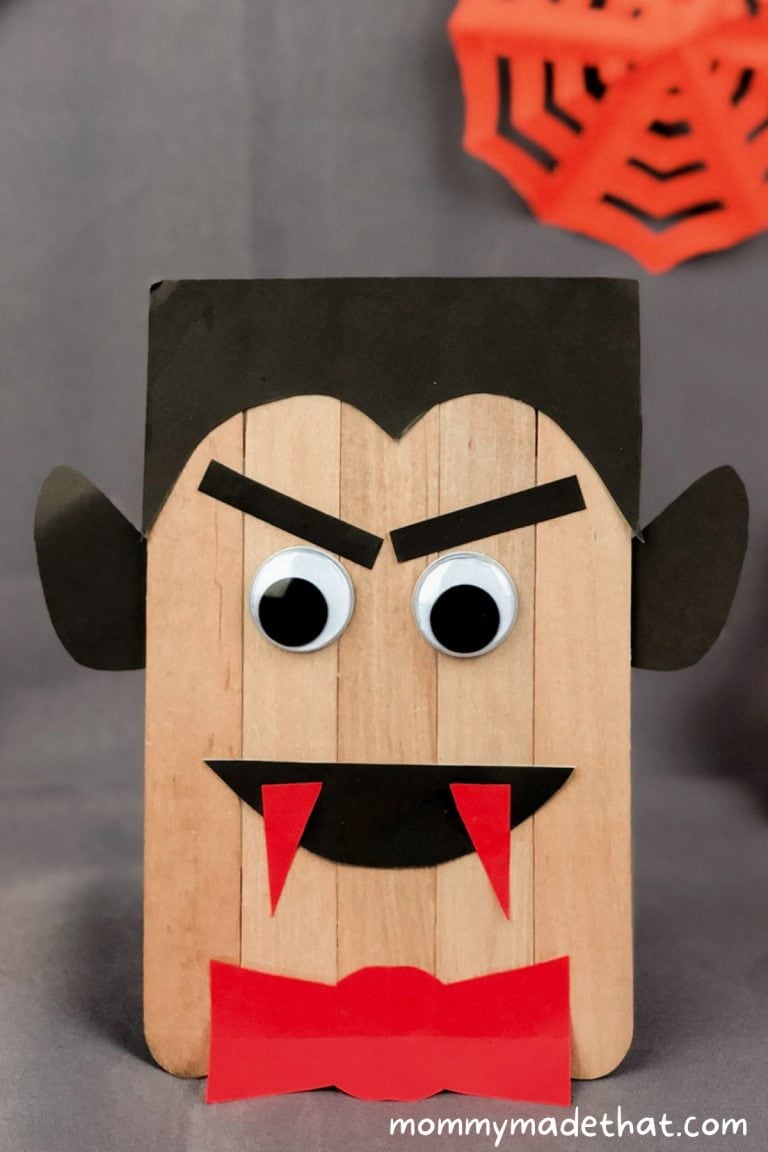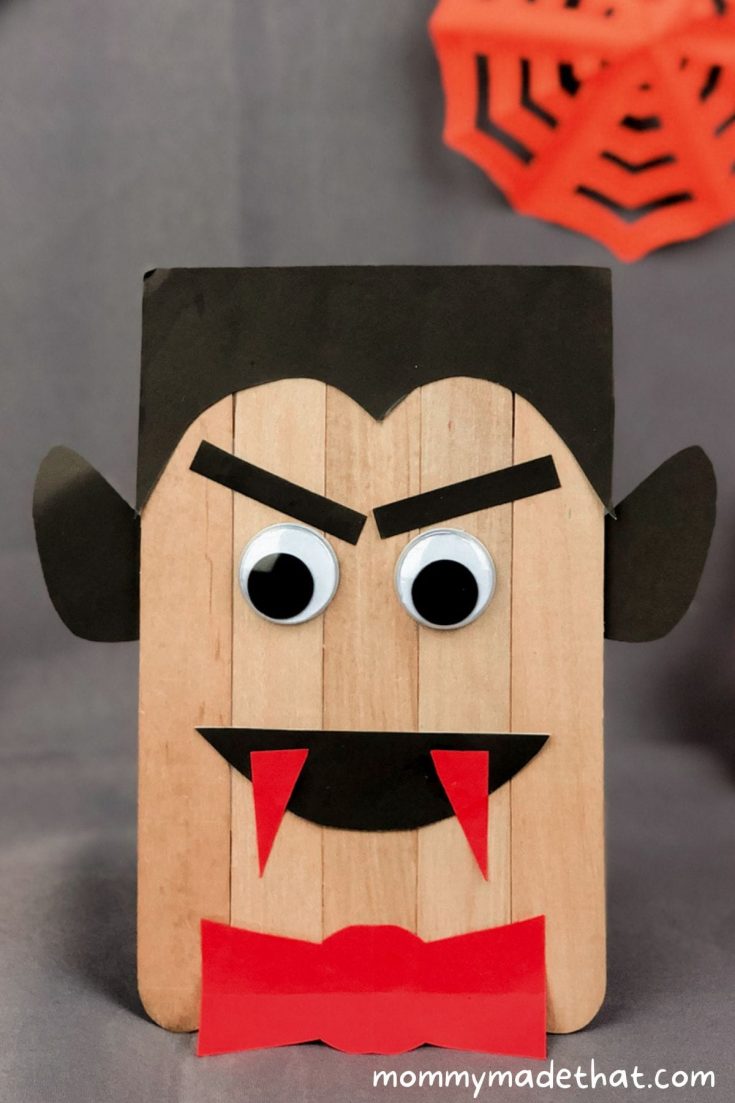 Yield:

1 Popsicle stick vampire
Popsicle Stick Vampire Craft
This adorable popsicle stick vampire craft is an adorable Halloween Dracula craft for kids!
Materials
Template provided
Popsicle sticks
Colored paper (red & black)
Pair of googly eyes
Glue
Instructions
Glue together 5 popsicle sticks.
Rreinforce the back by gluing two shortened popsicle sticks in the opposite direction.
Print out the template and cut out all the vampire pieces.
Trace and cut out the hair, eyebrows, ears and mouth onto black paper.
Then trace and cut out the fangs and bowtie on red paper.
Aattach the vampire pieces to the popsicle sticks with glue.
Add googly eyes.
Enjoy your fun Dracula craft!