Pom Pom Caterpillar Craft
Today we have an adorable pom pom caterpillar craft! This caterpillar craft is one of our faves as it's super easy and they come out looking so cute! The kids love them.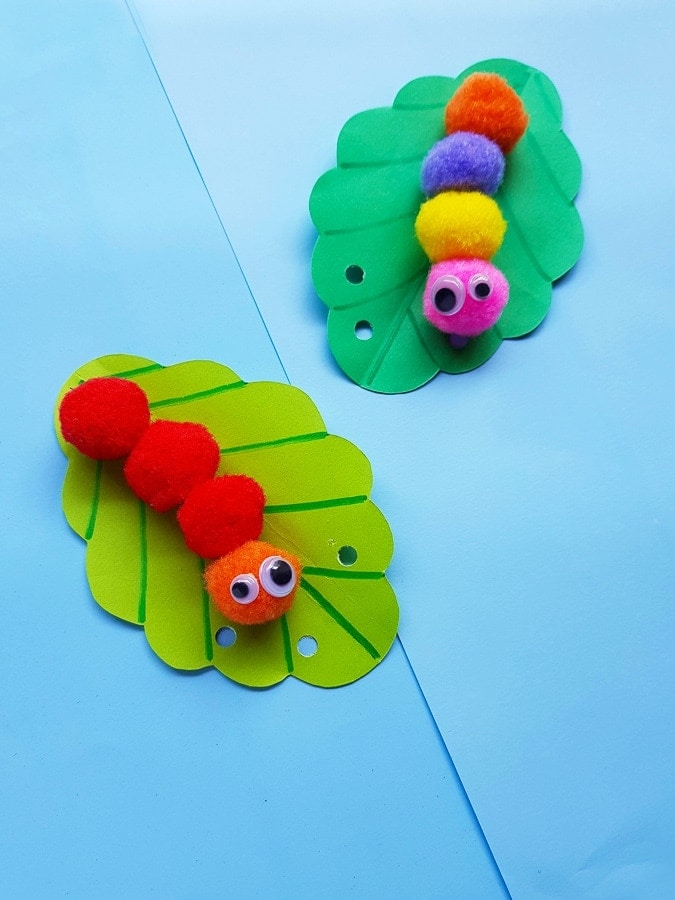 Today we have a cute and oh so easy pom pom caterpillar craft! It's a fabulous spring craft for kids.
These little caterpillars are so much fun.
They are also very simple to make, making it a great craft for kids, even preschoolers.
This fun bug craft also has some cute leaves for our caterpillars to hang out on and eat away. (And we'll give you the template for these for free!)
All you need for this craft are some pom poms (The bigger the better!) some construction paper, small googly eyes and a hole punch.
This craft would be an awesome addition to kids learning about caterpillars' lifecycle or when reading the book the hungry hungry caterpillar.
They make a great summer craft idea for kids.
Supplies for Pom Pom Caterpillar Craft
To make your pom pom caterpillar, you'll need:
Colored craft paper (We used green for the leaves)
Large pom poms
Small Googly eyes
Scissors
Glue
Hole Punch
Our Free Pom Pom Caterpillar Craft Leaf Template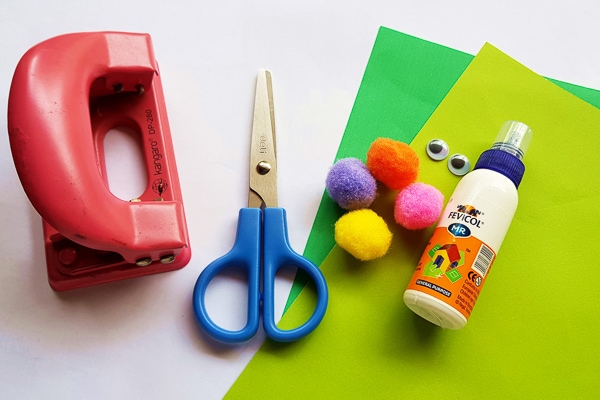 How to Make Your Pom Pom Caterpillar
To make this pom pom caterpillar craft, start by gathering all of your supplies.
Make sure to print out our free printable template (you can find it at the bottom of this post) and then follow our step by step instructions. 
Step 1: Cut Out Your Leaves
Start by cutting out your leaf pattern. We did a few because more caterpillars are more fun!
You can free hand your leaf our use the craft template we mentioned above in the craft library.
We also have tons of great printable leaf templates to choose from.
If you are free handing your design, you want the leaf a little bigger than your caterpillar.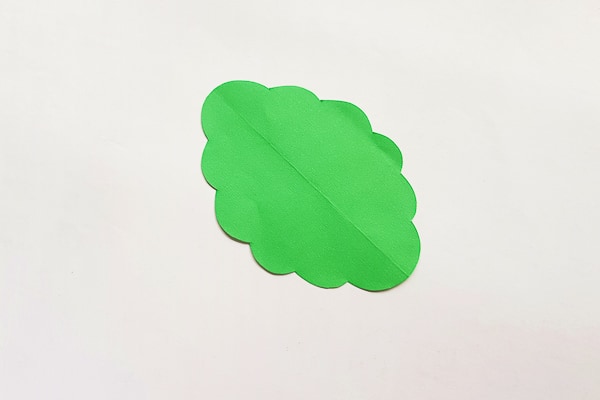 Step 2: Punch out the Leaf Holes
Using your hole punch, punch out a few holes around the edges of your leaf cut out. That way it can look like your caterpillar is happily munching on the tasty leaf.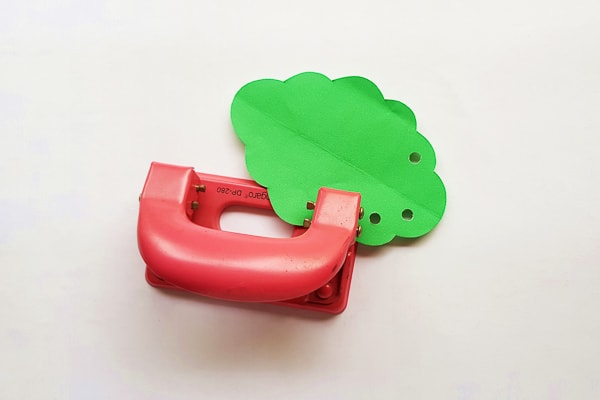 Step 3: Draw on Leaf Details
After you've punched somewhere between 3 to 6 holes (or however many you prefer) use a green marker to draw a vein pattern on your leaf.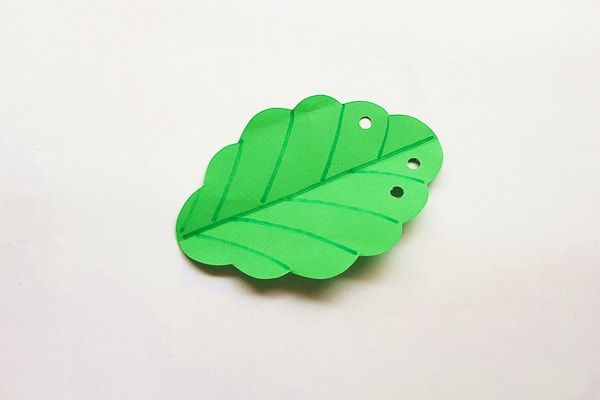 Step 4: Start your Caterpillar
Now grab a few pom poms and start to craft your caterpillar. You can use all of one color, or mix it up. This is even a good time to practice patterns with your kids.
Glue the poms poms side by side to form the caterpillar's body. We used 4 this time, but you can make them as long or as short as you like.
Set your caterpillars aside on a flat surface to dry completely.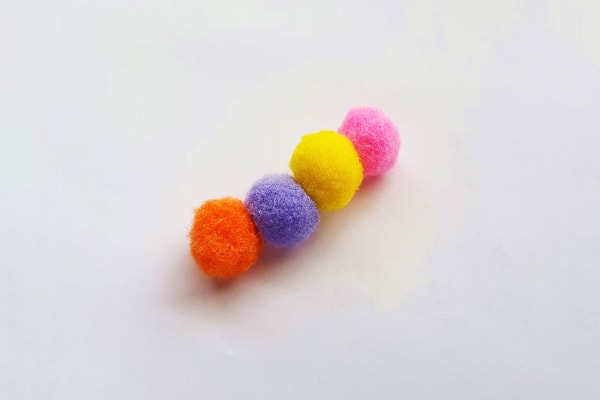 Step 5: Add Eyes to Your Caterpillar
Once your little caterpillar has dried, you can glue 2 googly eyes to one of the front pom poms.
We found it works best if the googly eyes are more on the top of the caterpillar then directly on the side, so you can see them better.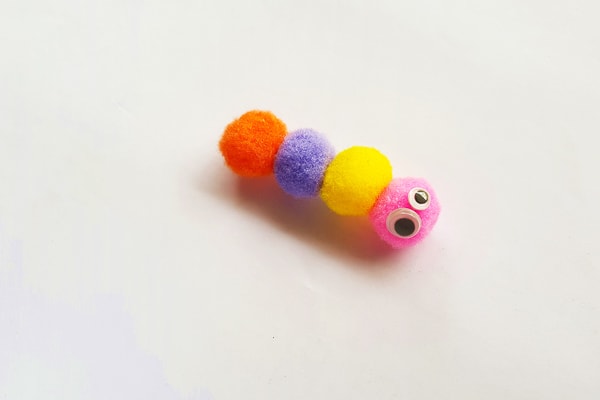 Step 6: Place Your Caterpillar on its Leaf
Once your caterpillar is all dried and ready to go, you can place him on the paper leaf. We glued ours down in place.
My favorite part of this craft is the fun color combos you can create with all the fun pom poms!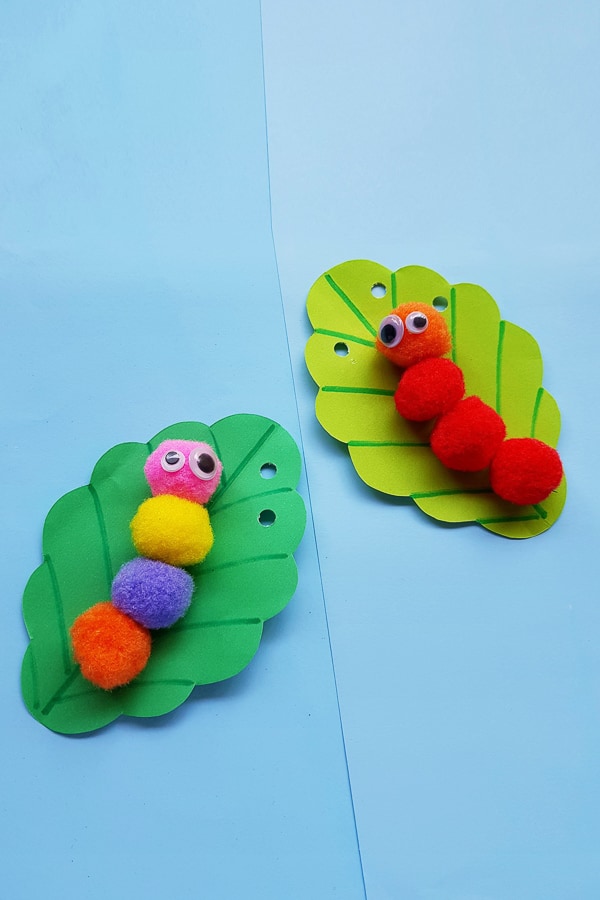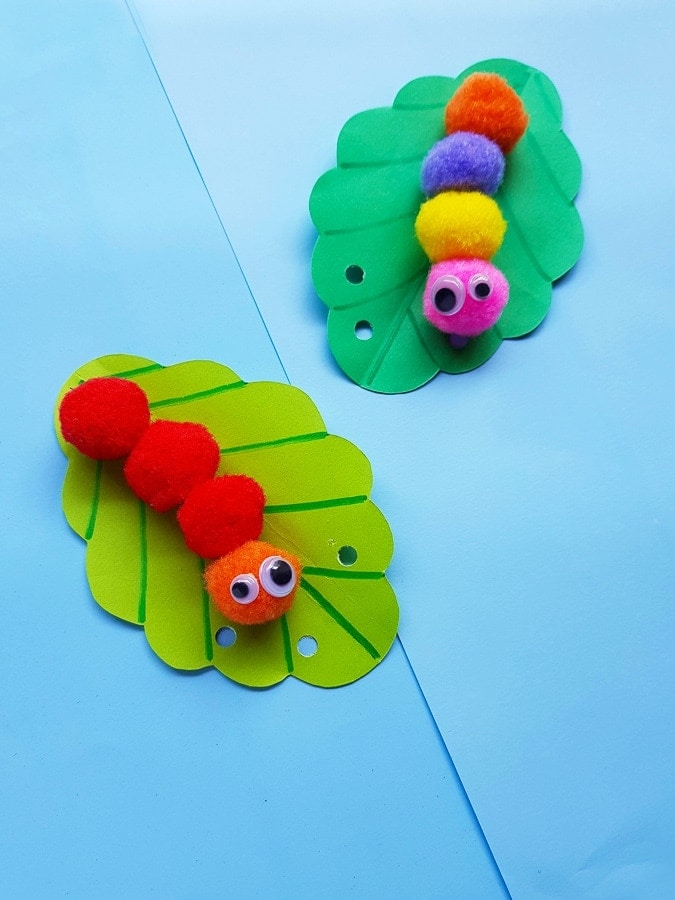 Pom Pom Caterpillar Craft
This cute pom pom caterpillar craft is perfect for preschoolers and smaller kids, and only uses pom poms, googly eyes and a bit of craft paper.
Materials
Colorful large pom poms
Craft paper
Small googly eyes
Pom Pom Caterpillar Craft Template (In our craft library)
Instructions
Print your template and cut out a leaf pattern on you green colored craft paper. (You can also free hand this part.) Make sure to keep your leaf larger than you will want your caterpillar.
Using the hole punch, punch out a few holes around the edges of your leaf. (This will be the "bite" marks from your caterpillar.)
Now, using a green marker, draw the leaf veins onto your leaf pattern.
Next, grab your pom poms and start making your caterpillars. You can create all solid caterpillars, but we really liked mixing up the colors too! Glue your pom poms side by side. We used 4 for each of our caterpillars. Allow to dry completely.
Now glue 2 googly eyes onto the front, top of your first pom pom.
Now glue your caterpillar craft onto your leaf and allow to dry.
Enjoy your adorable pom pom caterpillar!
If you like these pom pom caterpillars, be sure to check out our pom pom dragonflies craft!
It's also perfect for preschoolers and almost as adorable as this craft!
Other fun Bug Crafts
Here are a few more fun bug crafts for kids to check out!