🐛 Printable Caterpillar Craft (With Free Template)
This free printable caterpillar craft template is perfect to use as a build a caterpillar craft for kids. Its a fun and easy activity without a ton of mess!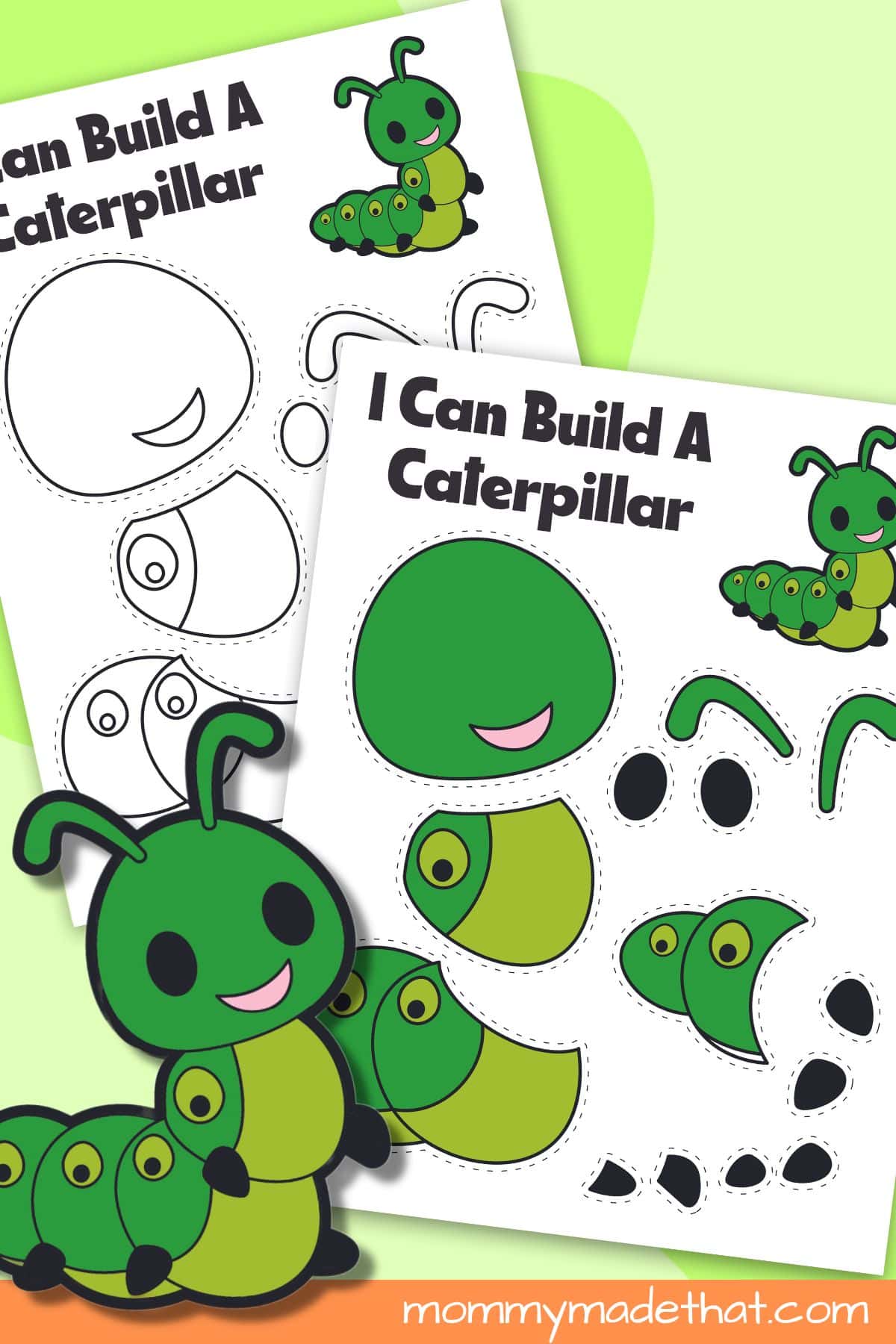 Welcome to our charming Printable Caterpillar Craft! Are you ready to embark on a fun-filled crafting adventure with your little ones?
Our adorable cut and paste craft, complete with a free printable caterpillar template, is perfect for kids of all ages and skill levels.
Not only will this activity keep them entertained, but it's also an excellent opportunity to learn about these fascinating creatures and their role in nature.
So, let's dive right in and start creating some crawly cuteness together! Who's excited? We know we are!
And if you like this caterpillar craft, check out our paper caterpillar craft and our pom pom caterpillar craft which are both perfect for younger kids and preschoolers!
The Printable Caterpillar Templates
Our printable caterpillar templates come in two versions. The first is a bright fully colored version.
It's perfect for printing out and letting the kids get straight to cutting and pasting.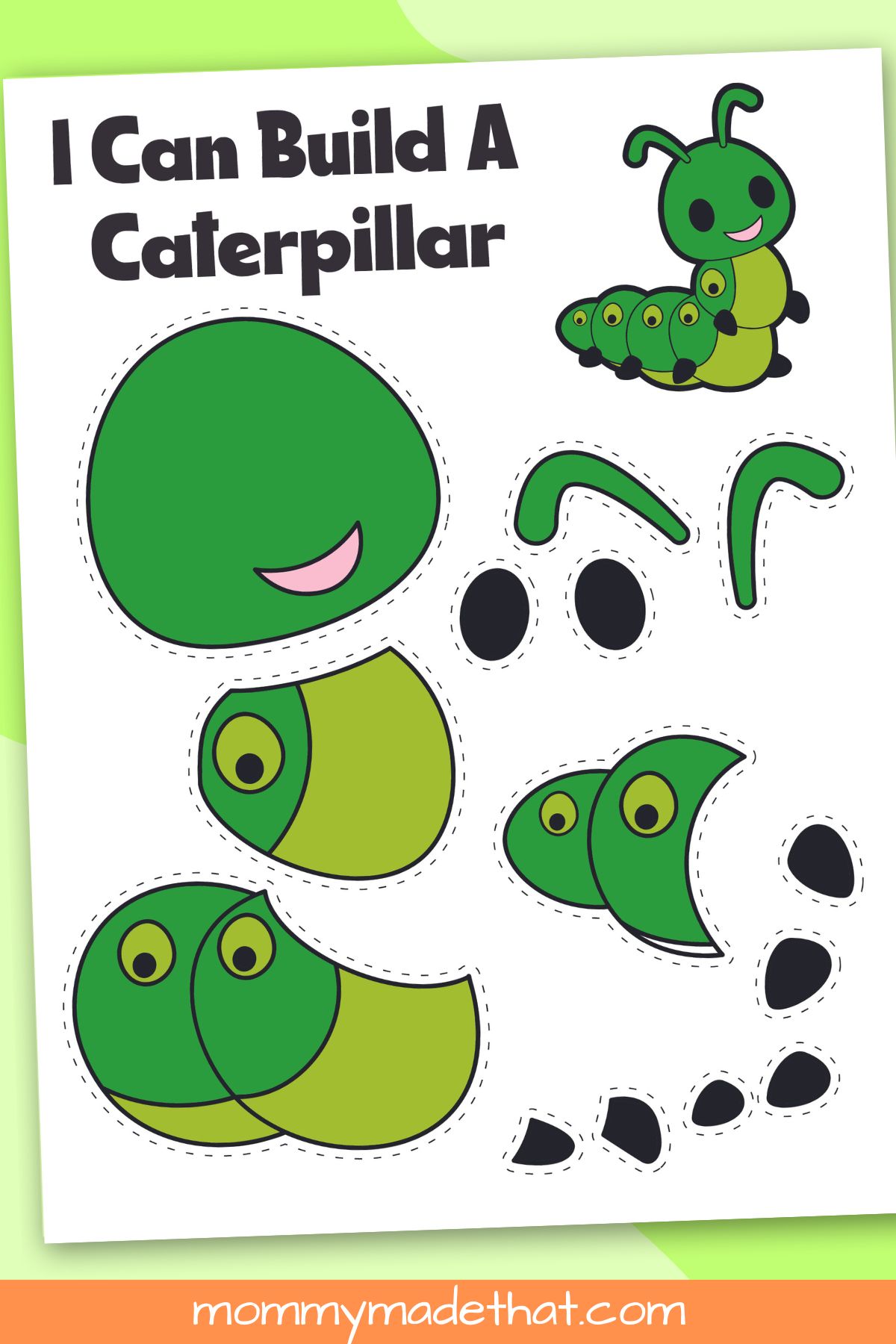 Our second version is a printer friendly version perfect for letting kids get creative with color.
They can color in their own caterpillar and then cut out and build their caterpillar.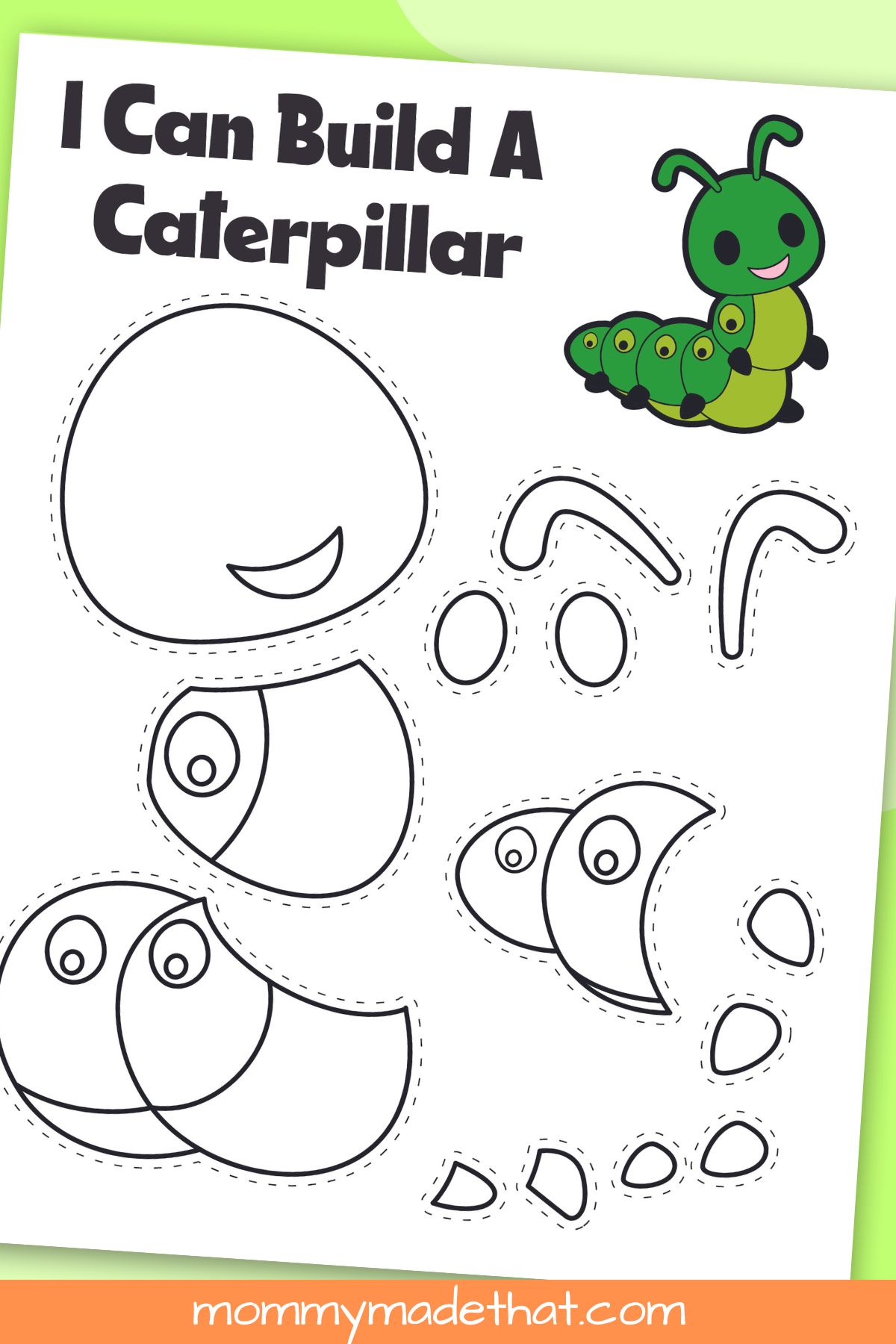 Supplies Needed
Are you ready to start creating your adorable printable caterpillar craft? Here's a list of all the supplies you'll need to make this happen:
Free printable caterpillar template: Don't worry, we've got you covered! Download and print our super-cute caterpillar template provided at the end of this blog post.
Scissors: Grab a pair of scissors for cutting out those caterpillar pieces. And hey, if you're crafting with kiddos, make sure to use child-safe scissors!
Glue or tape: Time to stick those pieces together! Choose between glue or tape – whatever works best for you. We suggest using a glue stick for a mess-free experience.
Coloring tools: What's your favorite coloring tool? Crayons, colored pencils, markers? It's your choice! Let your creativity run wild as you color your caterpillar.
Optional decorative items: Want to add some extra pizzazz to your craft? Consider using glitter, stickers, or even small googly eyes to give your caterpillar a unique personality!
Step-by-Step Instructions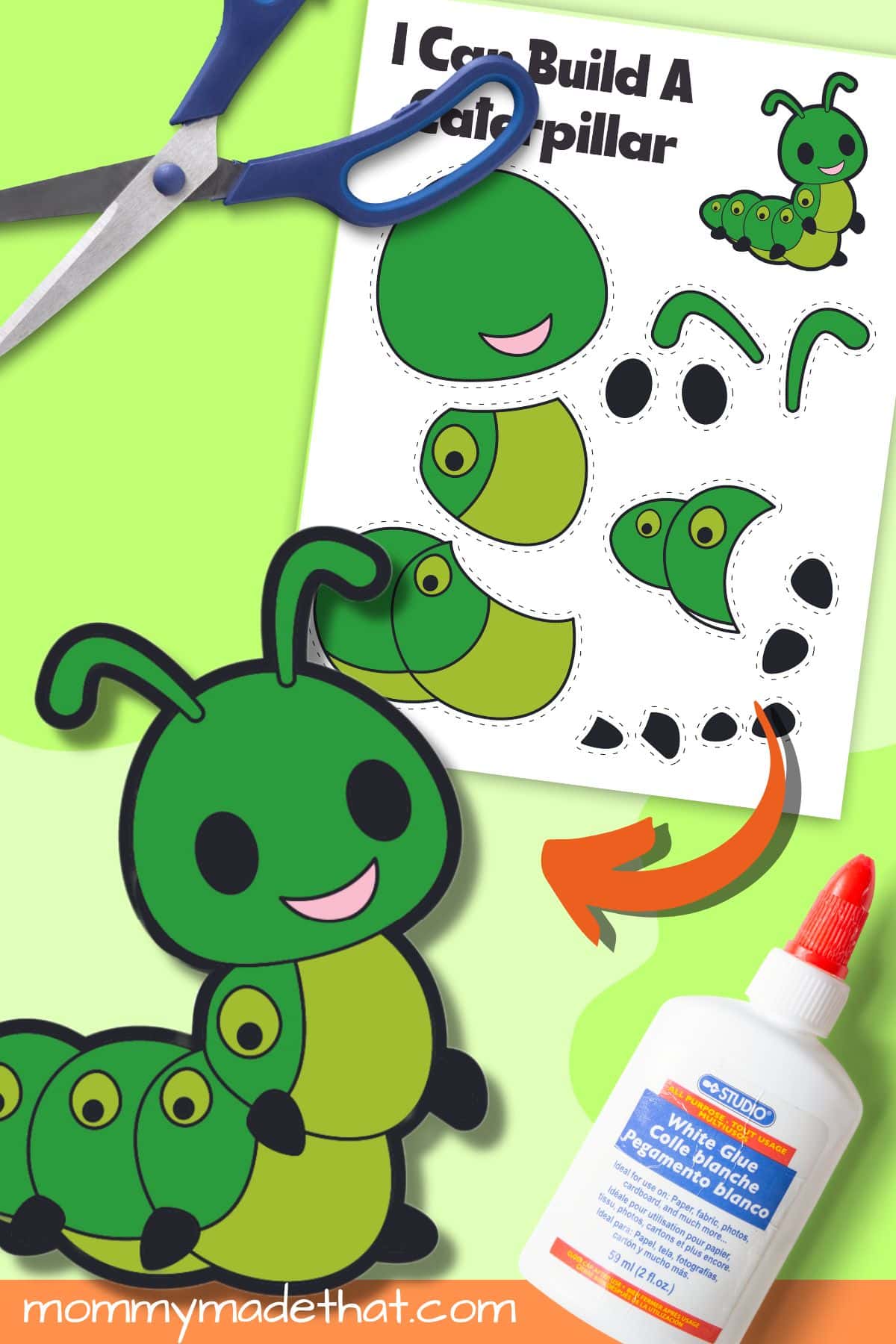 Yay! It's time to put those supplies to work and create your delightful printable caterpillar craft. Just follow these simple steps, and you'll have a cute caterpillar friend in no time! 🐛
Download and print the free caterpillar template: First things first – grab our free caterpillar template. Print it out on standard printer paper or, for a sturdier result, use cardstock paper.
Color the caterpillar template: Now, let your imagination soar! Use your favorite coloring tools (crayons, colored pencils, markers) to bring your caterpillar to life. Mix and match colors, create patterns – the sky's the limit!
Carefully cut out the caterpillar pieces: Once you're happy with your caterpillar's colors, it's time to snip, snip, snip!
Carefully cut out each piece of the template using scissors. Remember to supervise young children during this step or use child-safe scissors. Safety first, right?
Assemble the caterpillar: Your caterpillar is almost ready to crawl! Glue or tape the pieces together. Take your time to align the edges correctly for a polished final product.
Add optional decorative items to personalize your caterpillar: Want to make your caterpillar extra special? Why not add some optional decorative items like glitter, stickers, or small googly eyes? These little touches can really make your caterpillar stand out from the crowd.
And there you have it! You've just created an adorable caterpillar!
Grab the Free Caterpillar Craft Template
To grab the free caterpillar template, put your email in the box below. We'll send it straight to your inbox.
This is for personal or classroom use only please. Not for commercial use. Thank you!
Creative Tips: Learn and Play with Your Caterpillar Craft!
Who says learning can't be fun? With our adorable printable caterpillar craft, you can easily turn craft time into an educational experience!
Check out these creative tips to make the most of your craft while keeping it friendly, enthusiastic, and informative:
1. Teach about the life cycle of a butterfly: Why not use your caterpillar craft as a starting point to teach kids about the magical transformation from caterpillar to butterfly?
Discuss the different stages of metamorphosis and create additional crafts for each stage – eggs, chrysalis, and butterfly!
2. Counting and colors: Let's make math exciting! Encourage children to count the body segments of their caterpillar and practice basic addition or subtraction.
You can even discuss different colors and patterns they've used on their caterpillar – who knew learning could be so colorful?
3. Storytelling and creativity: Spark your child's imagination by creating stories around their caterpillar craft.
What's the caterpillar's name?
Where does it live?
What adventures does it go on?
This storytelling activity helps improve communication skills and expands their creative horizons.
4. Caterpillar races: Ready, set, race! Organize a caterpillar race with your child and their friends.
Each child can create their own caterpillar and then "race" them across a table or floor. It's a fun way to encourage friendly competition and teamwork!
5. Nature exploration: Take this opportunity to go on a nature walk with your child.
Look for real caterpillars and other insects, observe their behavior, and compare them to the caterpillar craft.
This hands-on learning experience is an excellent way to nurture a love for nature and science.
Now that you're armed with these creative tips, it's time to make learning fun and engaging with your printable caterpillar craft! Are you ready to explore, learn, and create? We can't wait to see what you discover!