Life Cycle of a Butterfly Printable Mat
Today we have a fun and awesome printable for you! It's a Life Cycle of a Butterfly printable mat.
It's a perfect activity for kids learning about the butterflies lifecycle. Best of all, the printable is free!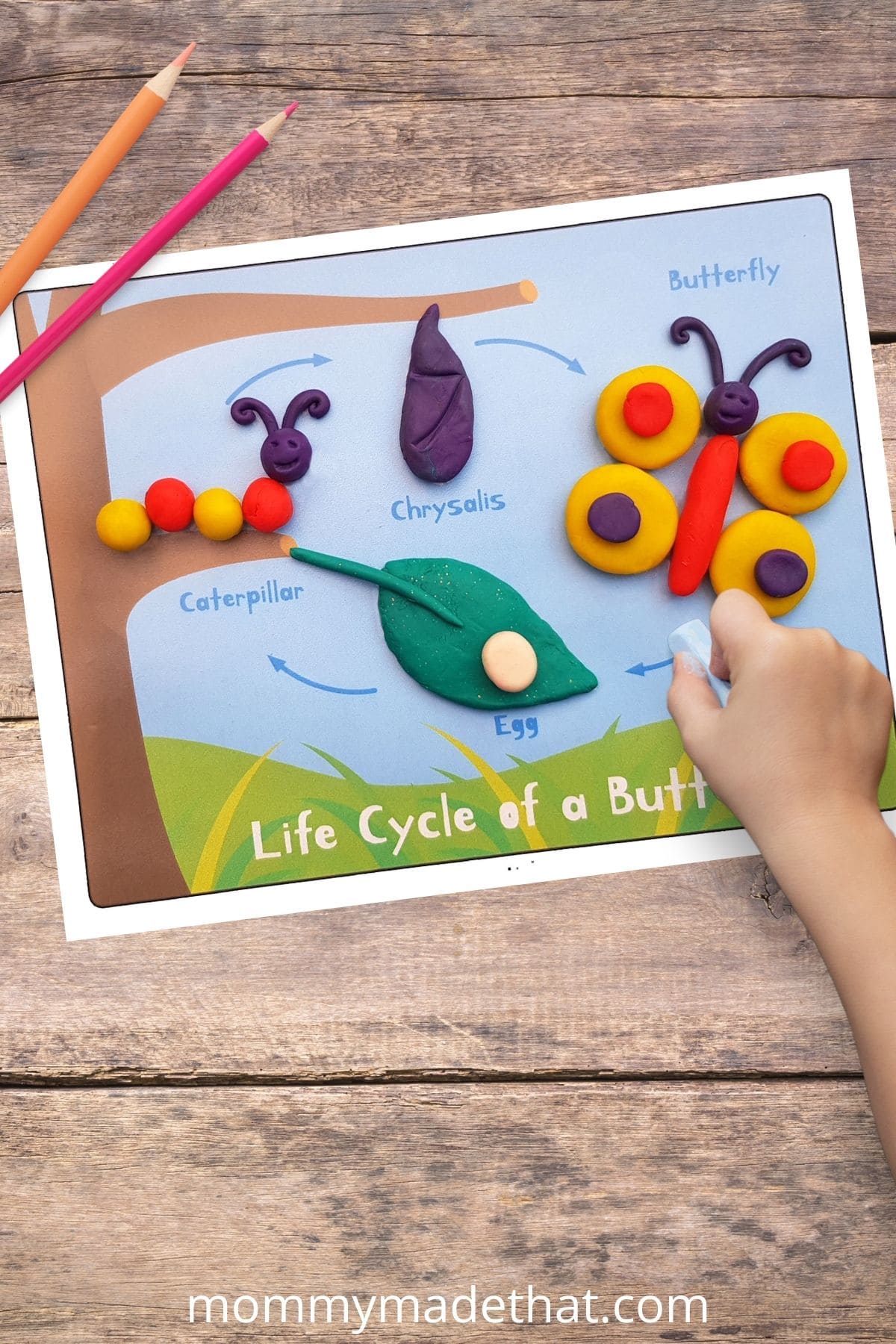 This butterfly life cycle mat is a play-doh mat for kids to learn all about the differnt stages of a butterflies transformation.
It shows all the wonderful stages a butterfly goes through starting with the egg, to a caterpillar in the tree, to forming a chrysalis hanging from a branch to transforming into a stunning butterfly.
You kids will love making the different shapes from play dough and putting them all together.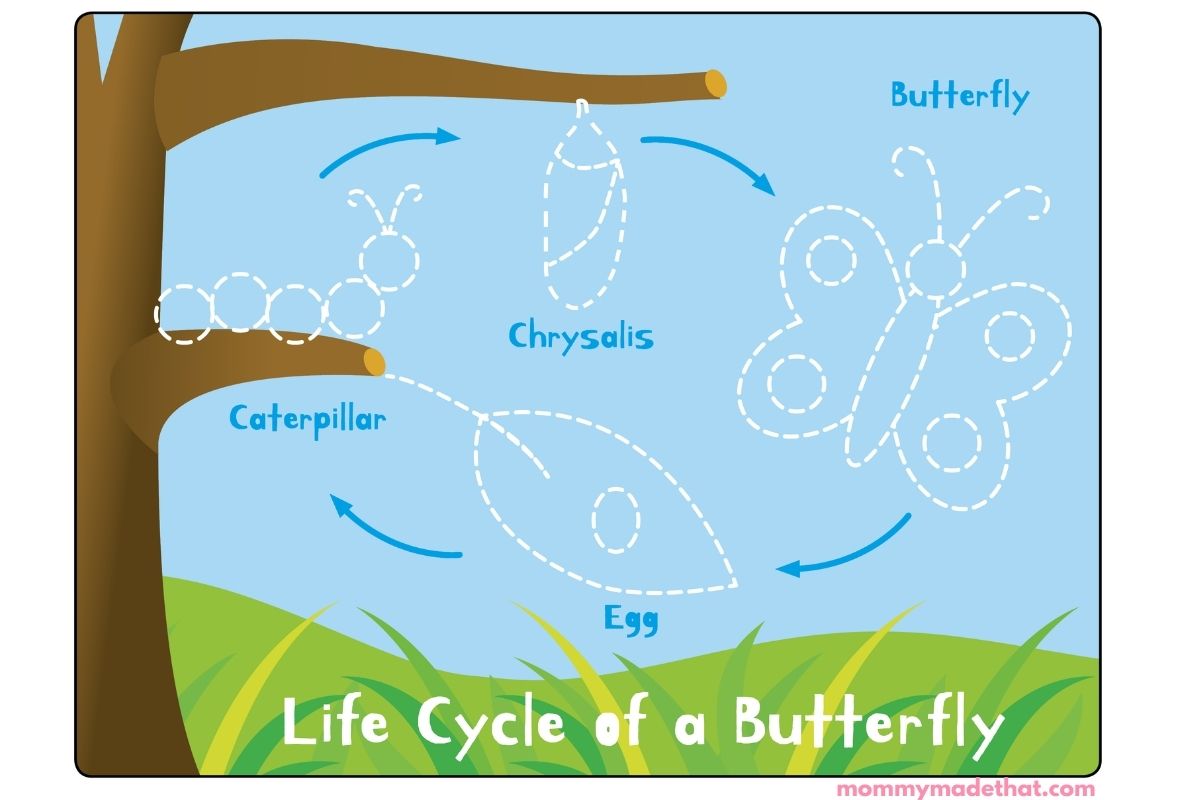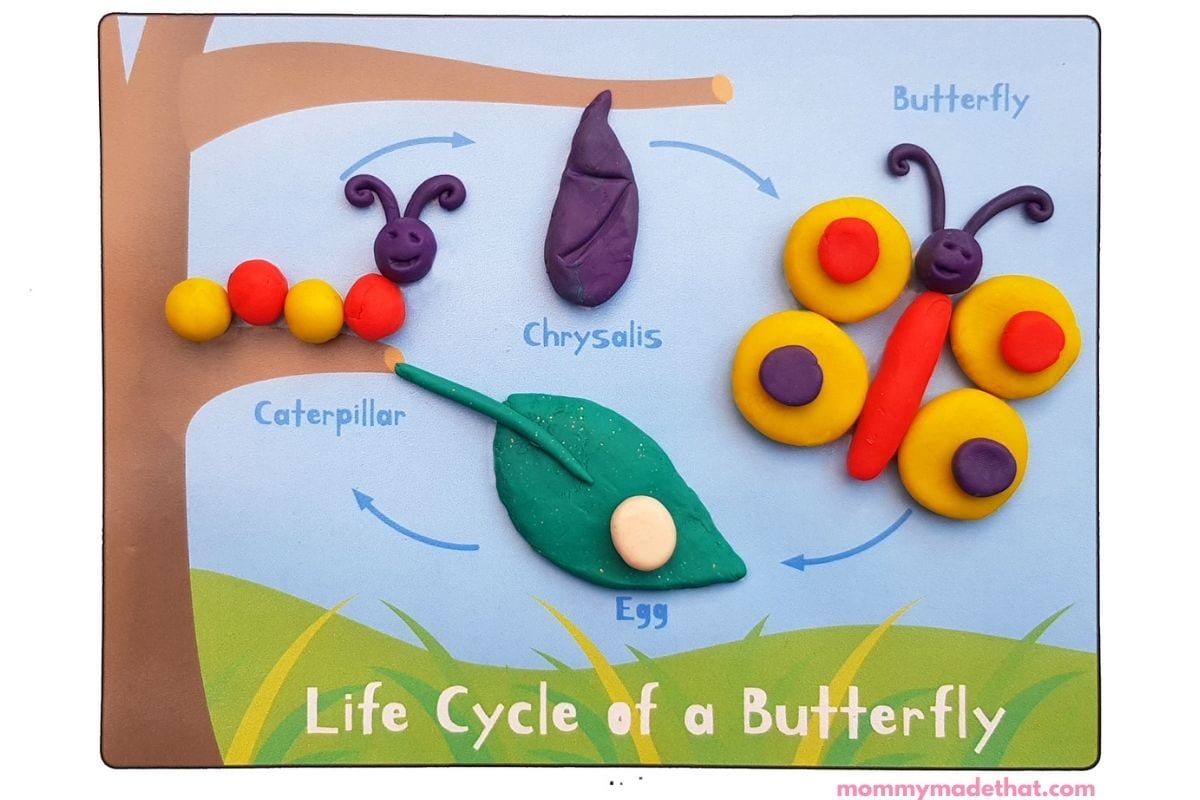 The different life cycles are east to make, which makes this a great activity for preschoolers.
But older kids will enjoy getting creative with play doh as well.
How to Use the Butterfly Life Cycle Printable
The only materials you'll really need for this butterfly activity is the downloadable prinatble mat and playdoh in various colors.
You can grab the printable over in our resource library.
If you want to reuse the play doh mat, you can laminate it before playing with it.
Teaching about the egg cycle.
When teaching about the egg cycle, you can have the child create a leaf from green or other leaf colored play doh and then create a small ball to represent the egg.
Some teaching points about the egg cycle include:
The egg stage lasts 3-7 days
Butterflies like to lay their eggs on leaves or plants
Some butterflies only lay one egg at a time, while others will lay them in bunches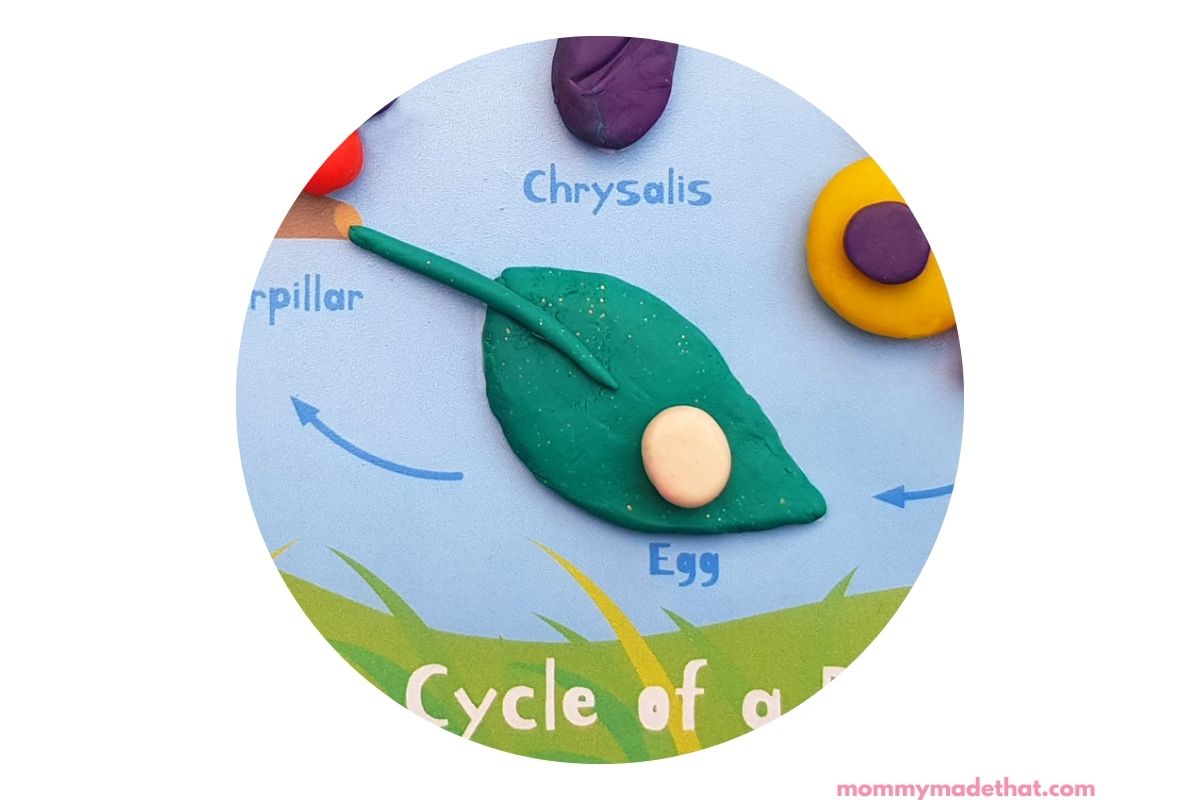 Teaching About the Caterpillar Stage
Next you can move to the caterpillar stage. This one is super easy to make. Just form several small balls from the play doh and connect them in a row.
Finally create a cute little face for your caterpillar, complete with antennae.
Teaching points about the caterpillar stage:
The caterpillar stage is also called the larva stage
Caterpillars hatch from the egg and become "eating machines" eating all the leaves and plants they can get their mouths on
This stages usually lasts 2-5 weeks
You can also check out our popular caterpillar pom pom craft for kids.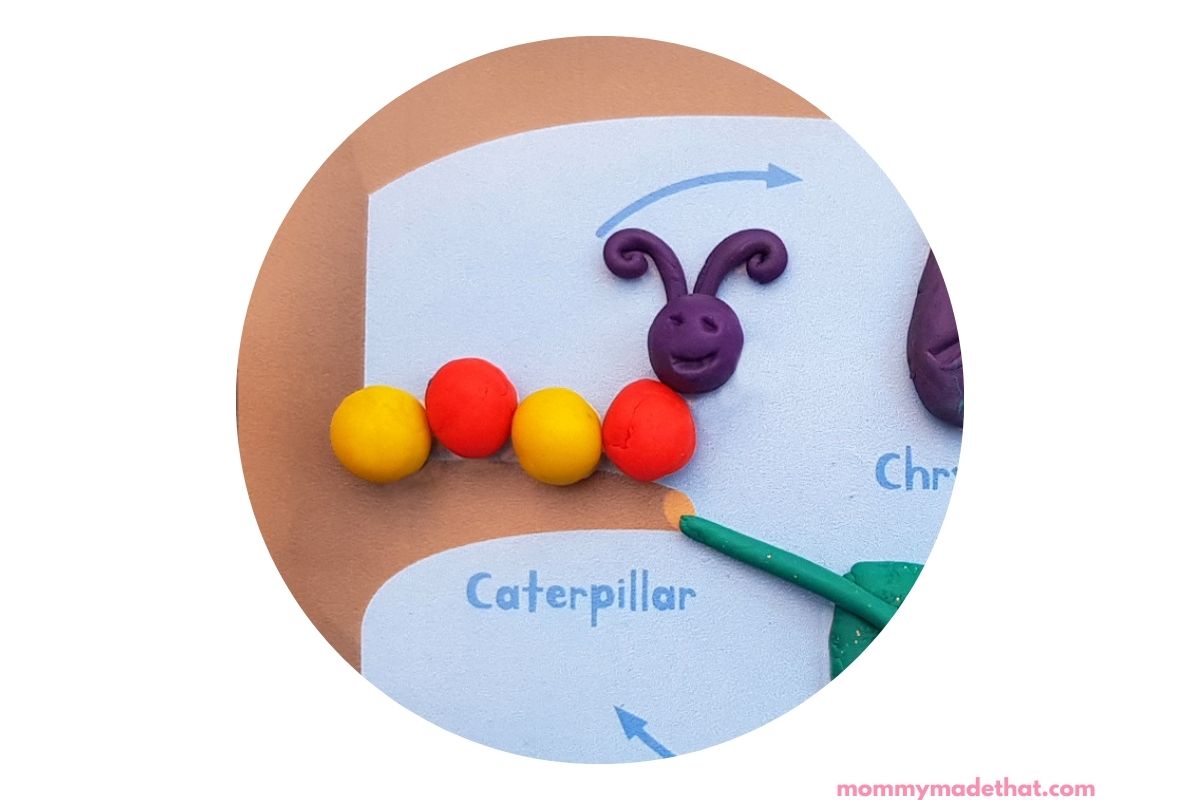 Teaching About the Chrysalis Stage
To make the Chrysalis stage of the life cycle, you'll simply want to make an oblong oval shape with a little "stem."
The you can use a pencil to carve lines along the chrysalis as shown on the printable.
Teaching points about the Chrysalis stage:
This stage is also called the pupa stage
It usually lasts 1-2 weeks
Caterpillars form a chrysalis to protect themselves while they transform into a butterfly.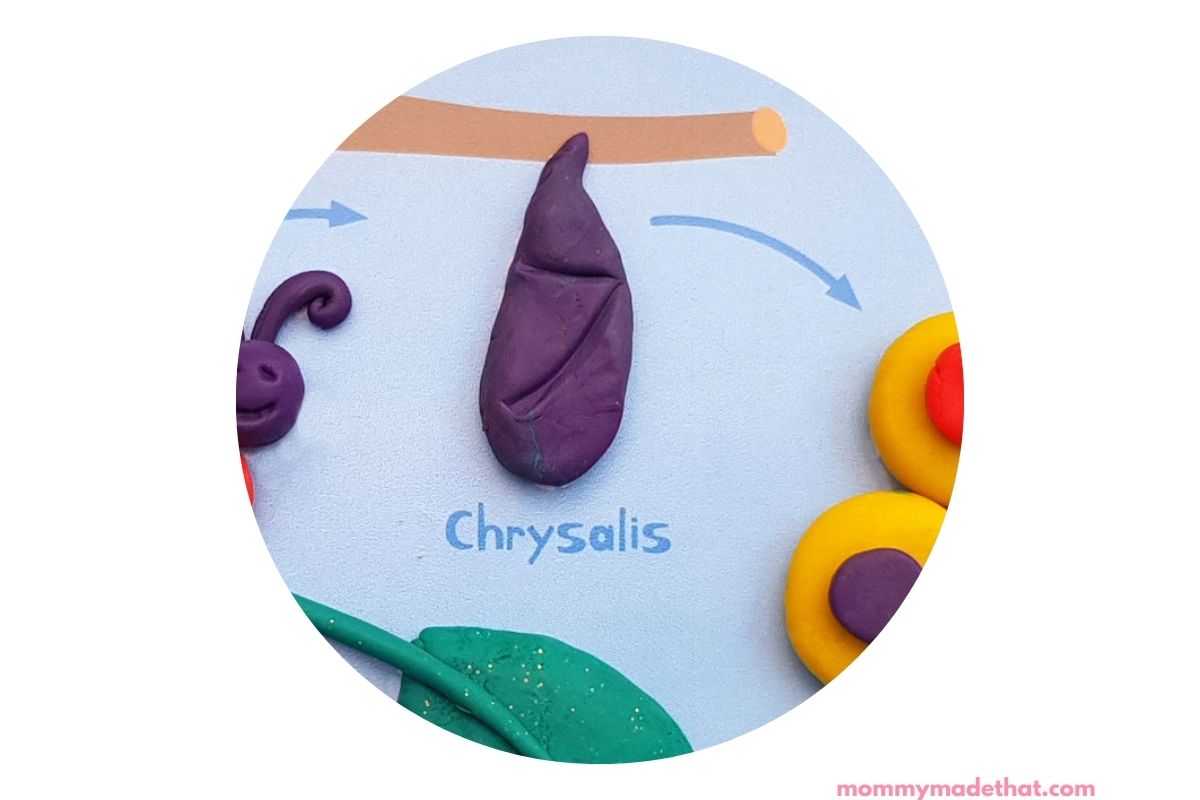 Teaching Kids About the Butterfly Stage
To create your butterfly on the play doh mat, create a long oval body shape. Then form wings from a pretty color of play doh.
Finally create 5 circles, 1 for the head and 4 to add details to the wings like shown below.
Teaching points for the butterfly stage:
Butterflies emerge from their chrysalis with crumpled wings.
They take several hours to pump fluid into their wings and to let them dry before they can fly.
The typical butterfly stage lasts 2-3 weeks before starting all over.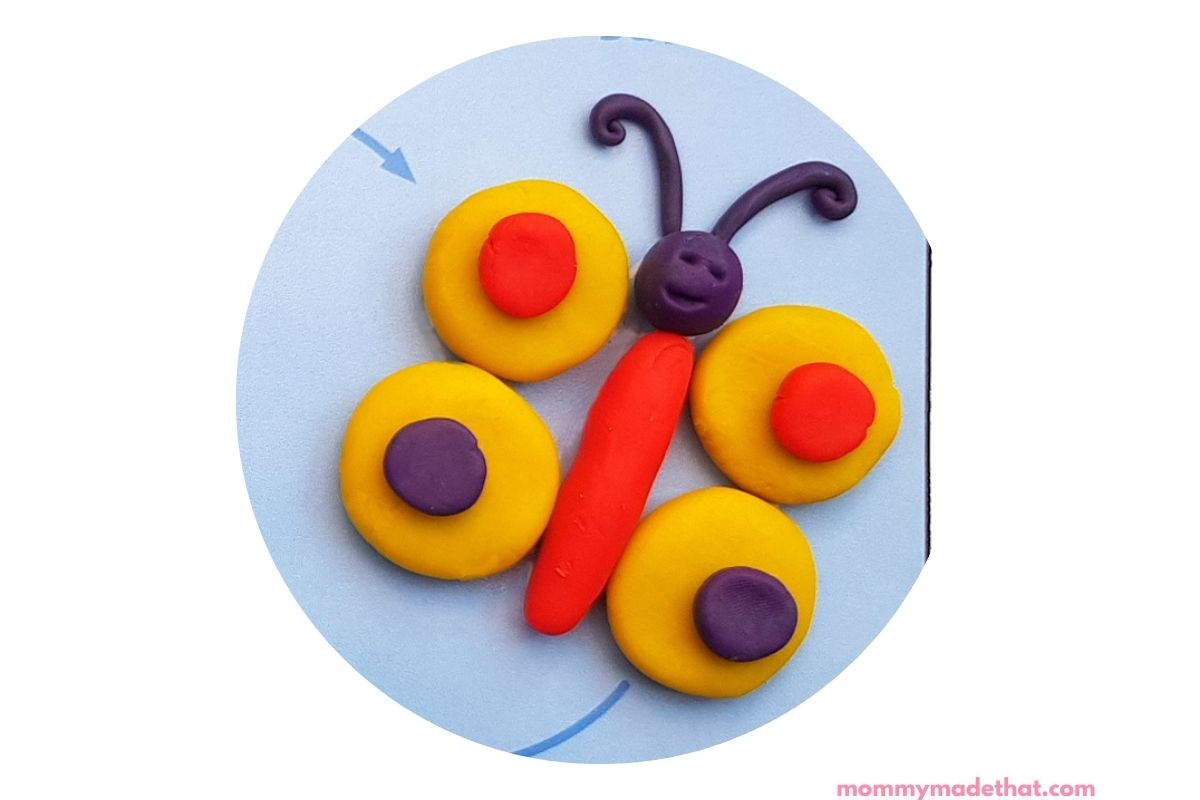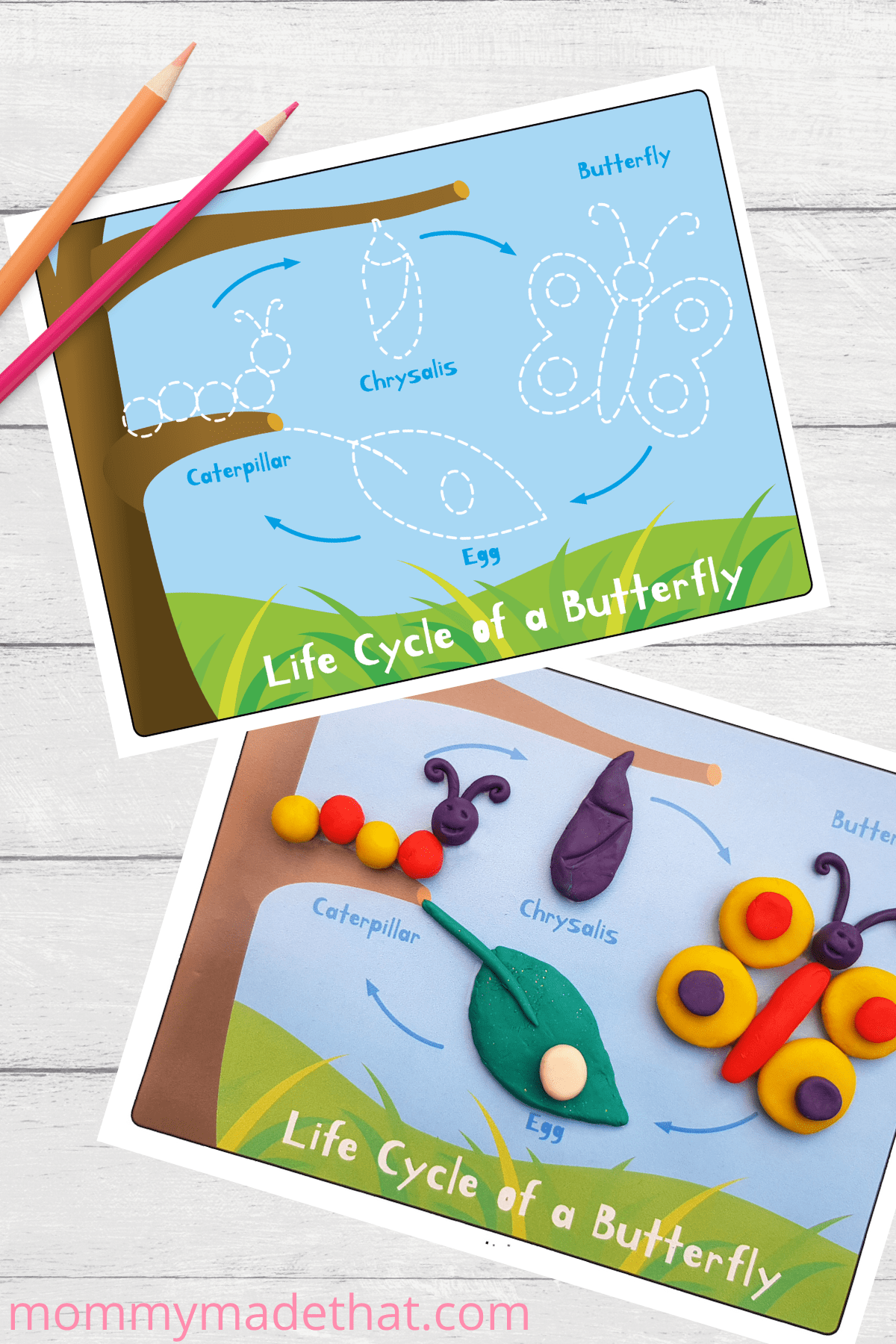 While learning about the butterfly life cycle, why not have the kids munch on a fun butterfly snack!
Check out these quick and easy butterfly snack bags for kids.