We are making these awesome paper plate fish today! And not just any old fish, we are making rainbow fish!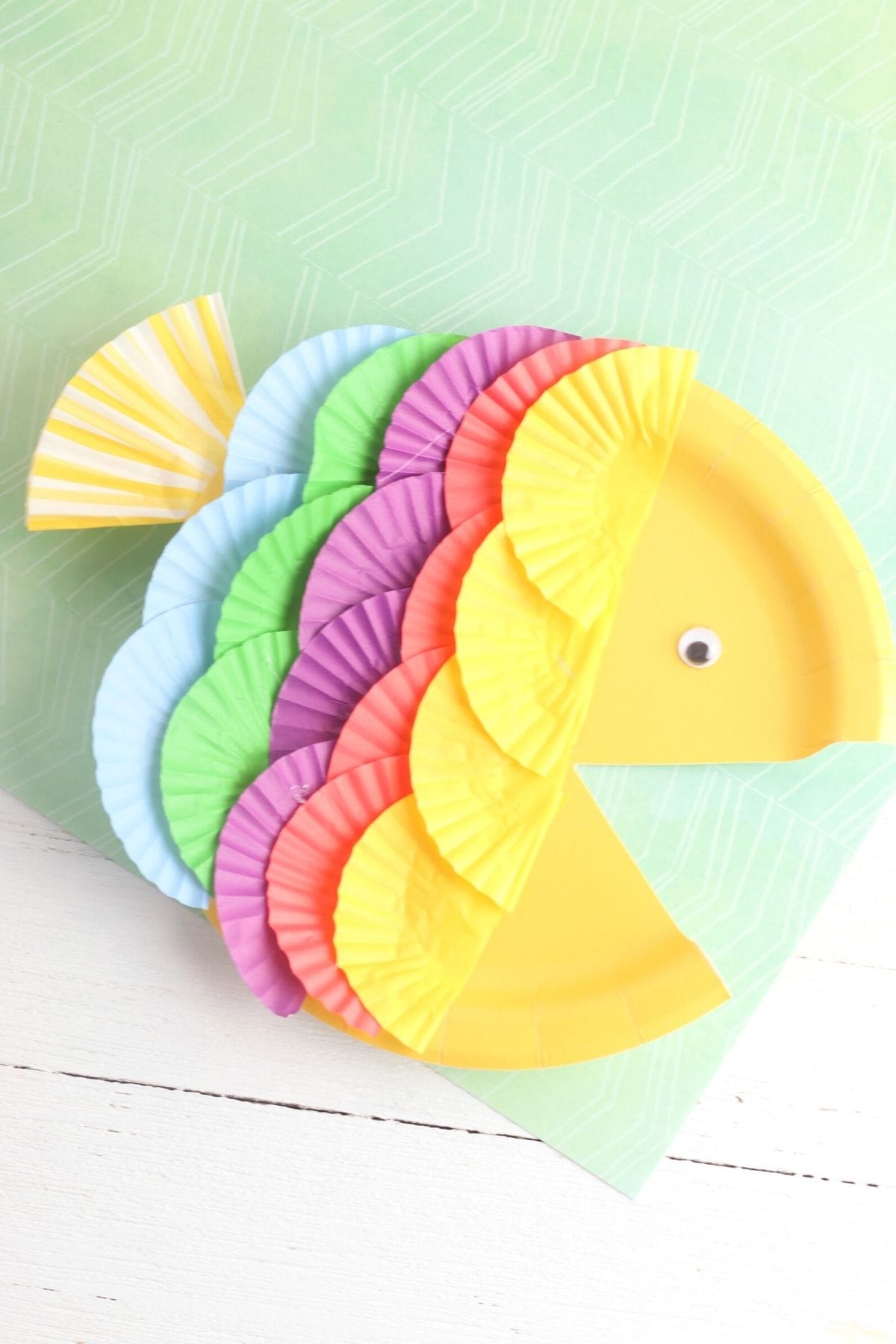 This paper plate fish is such an easy craft to make! But looks amazing. They are fun and bursting of rainbow colors!
How to Make a Rainbow Fish From a Paper Plate
It has limited cutting, which makes it a great preschooler craft. And the only supplies you need are a paper plate, some colorful cupcake liners and a googley eye.
Although you could totally just draw the fish eye on!
Here we'll go through step by step how to make this rainbow fish from a paper plate.
Materials Needed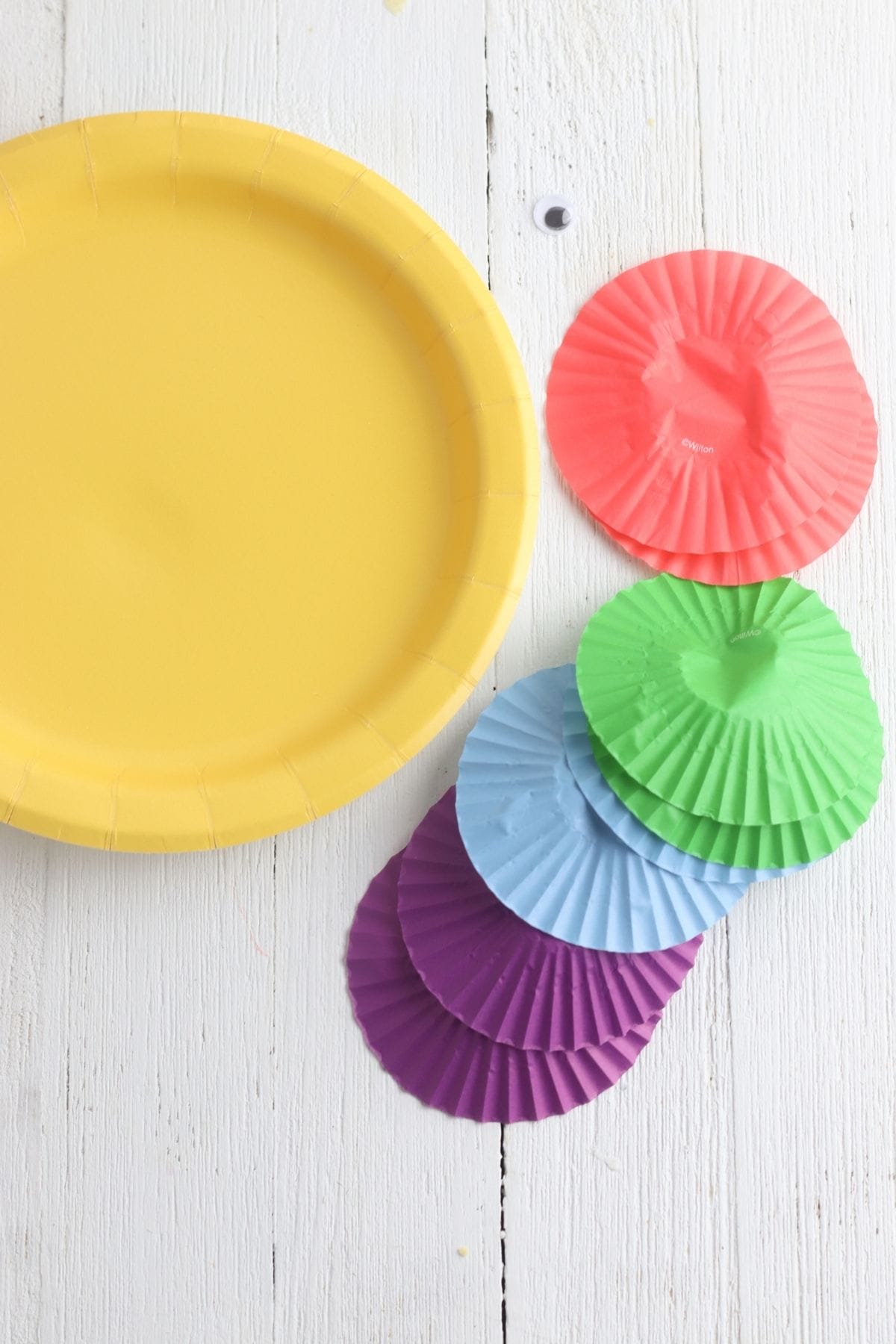 For this paper plate craft you'll need the follow:
A Paper plate (We used a cheery bright yellow
Mini cupcake wrappers in rainbow colors
1 googly eye
As far as cupcake liner colors go, we used
1 yellow cupcake liner (regular sized)
2 yellow (mini)
2 red (mini)
2 purple (mini)
2 green (mini)
2 blue (mini)
Supplies Needed
As far as supplies go, you'll only need 2 things
Directions for Making Your Rainbow Fish
Start by flattening all of the mini cupcake liners and cut them in half. These will be the colorful fish scales.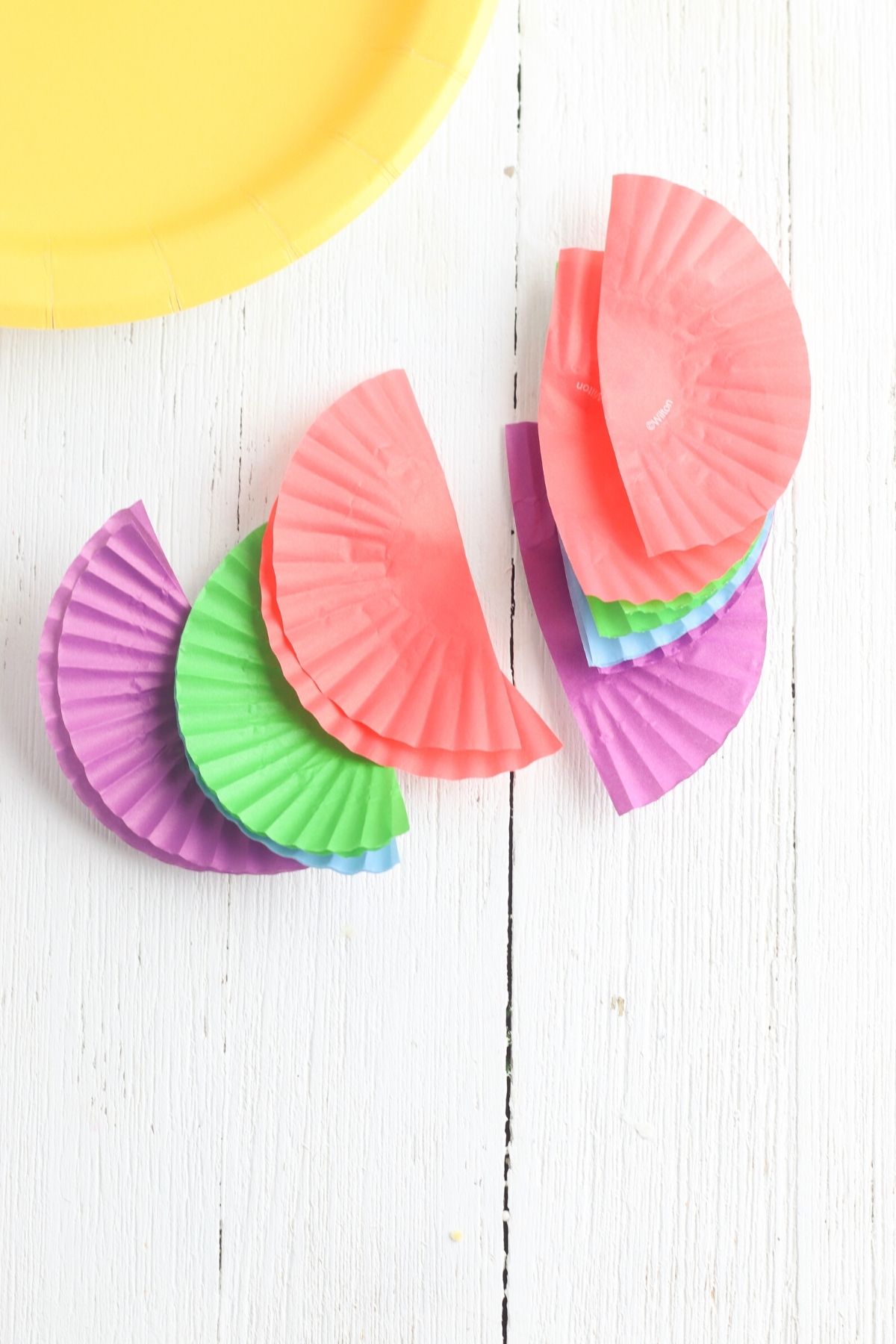 Next, sse the scissors to cut out a small wedge out of the paper plate. This will be your fish's mouth. You can throw away the wedge piece.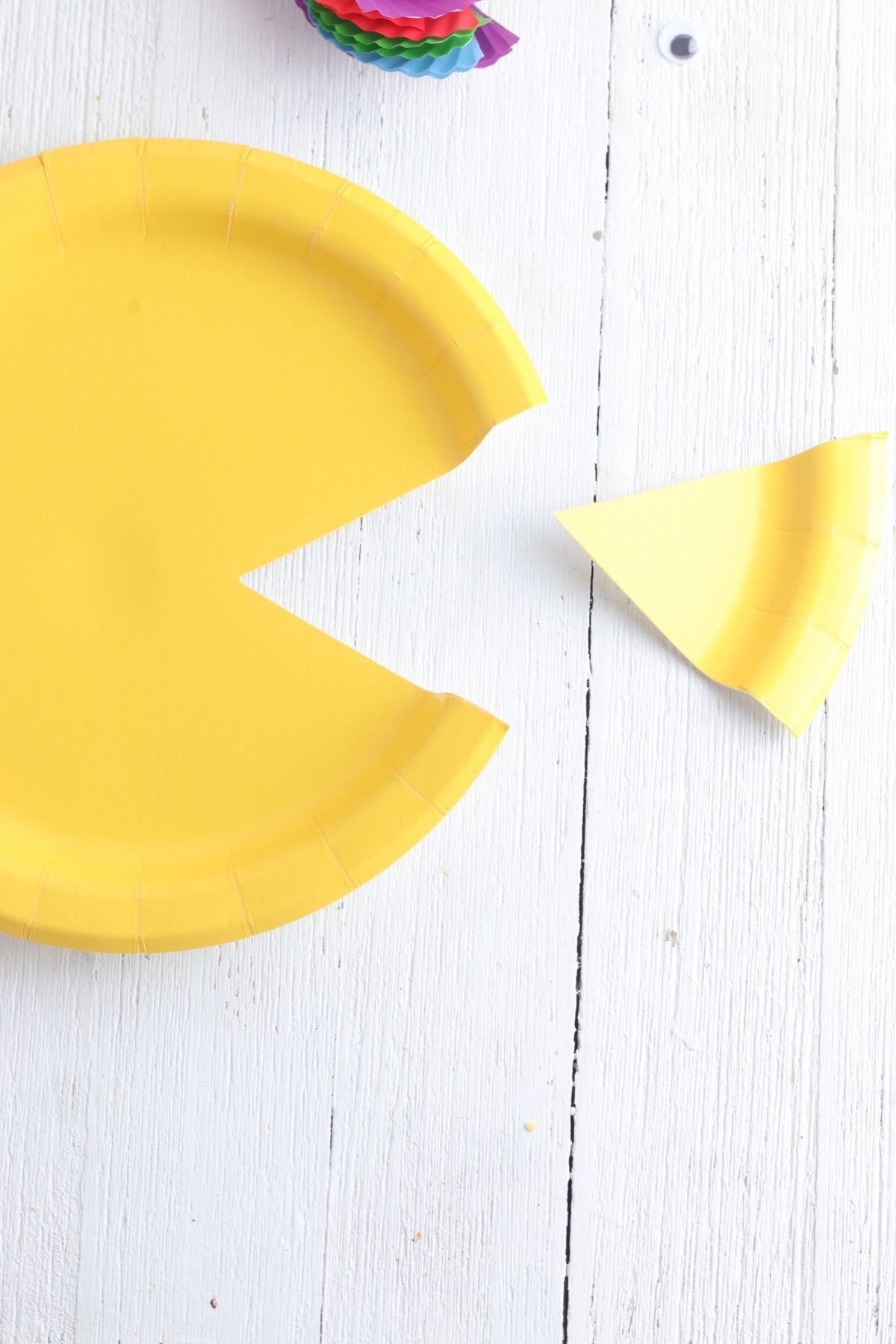 Here we folded our large yellow cupcake liner to create a tail and glued it to the back of the fish, opposite of his mouth.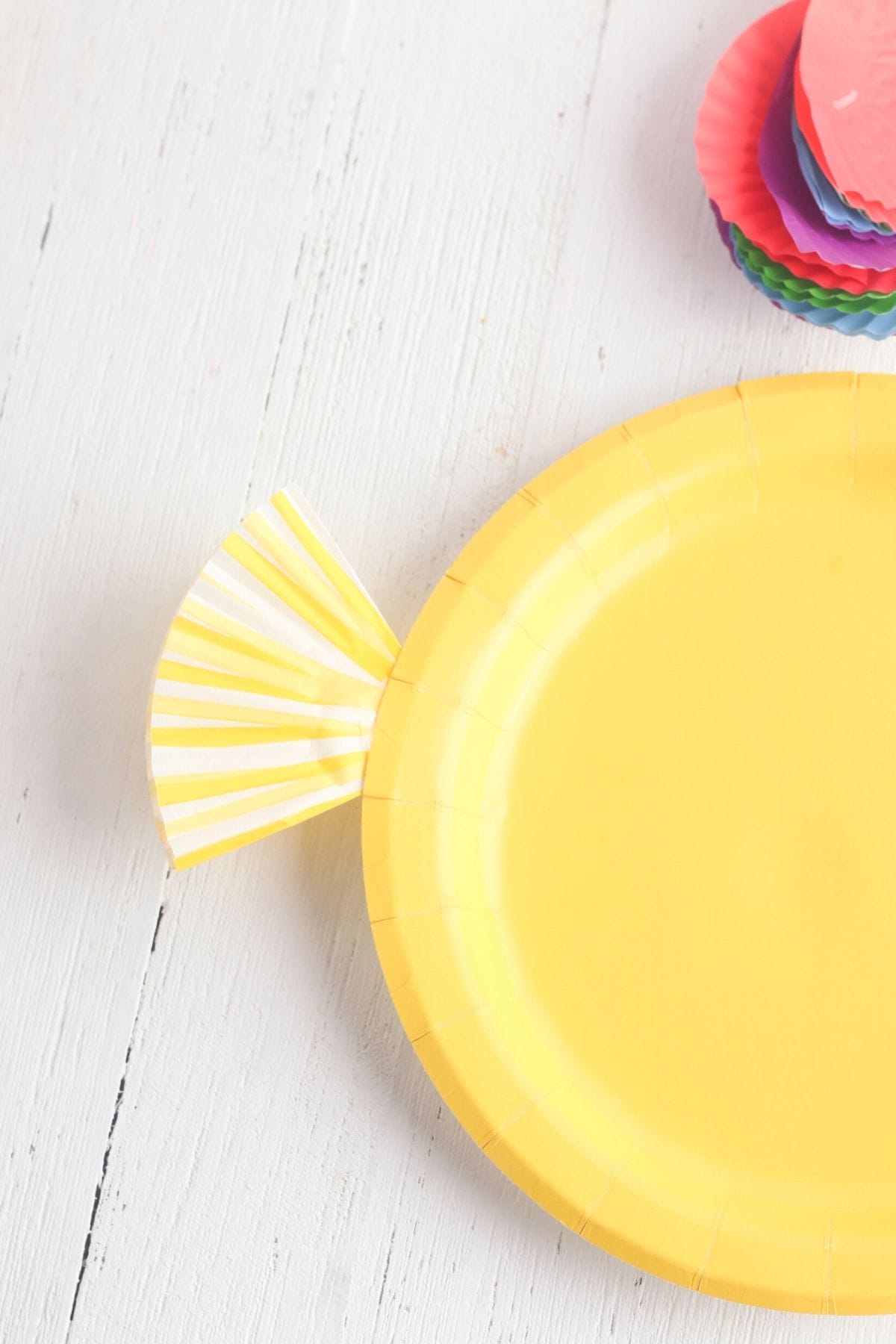 You can add your fish's eye now, or wait until your rainbow scales are all finished.
Next, start a row of colored liners along one side of the paper plate to create a line of scales like shown below.
When that layer is dry, add an addition layer of scales under lapping the first layer, like shown below.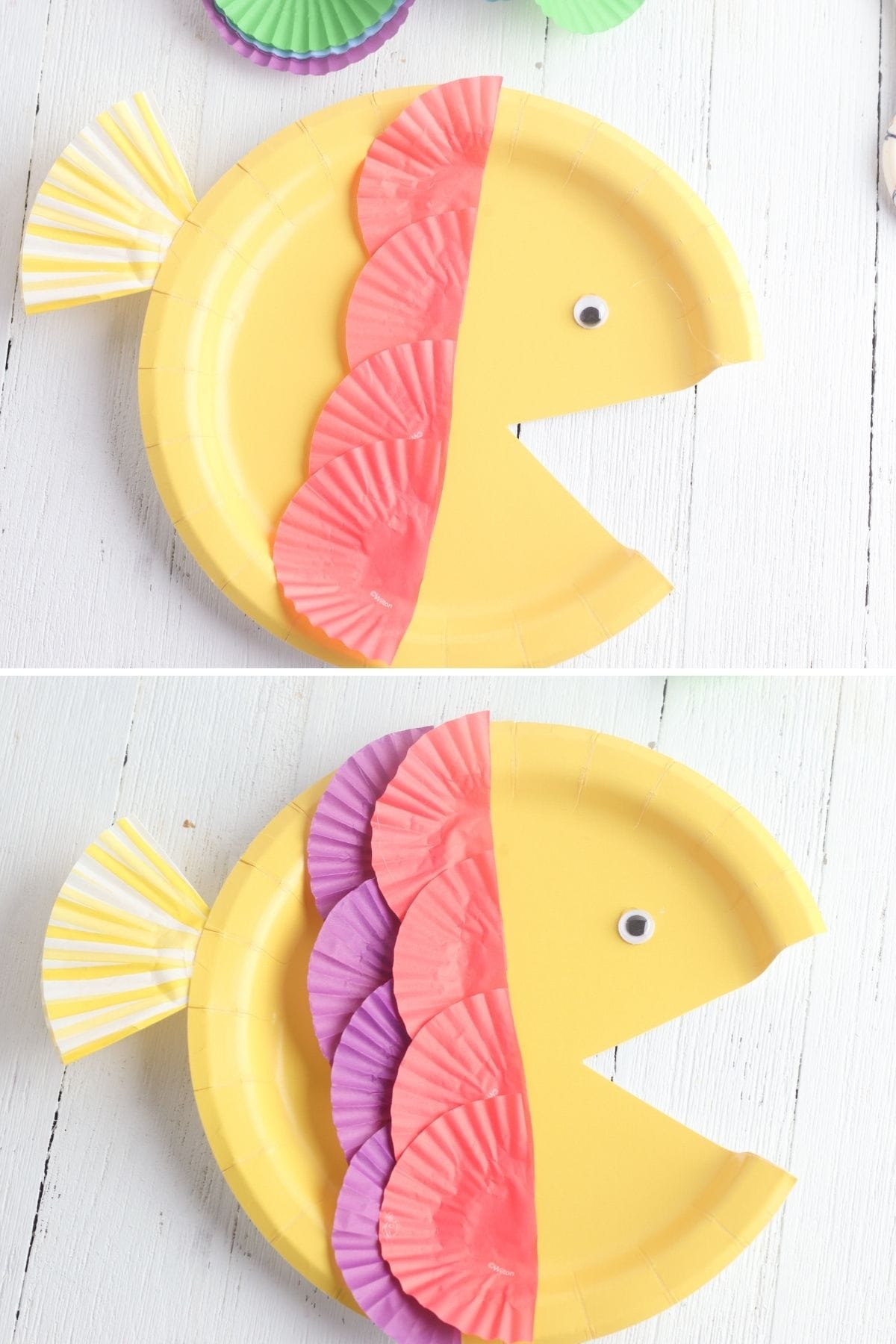 Keep gluing on the different color rows of cupcake liners until you have 4 rows of full liners in a rainbow fashion.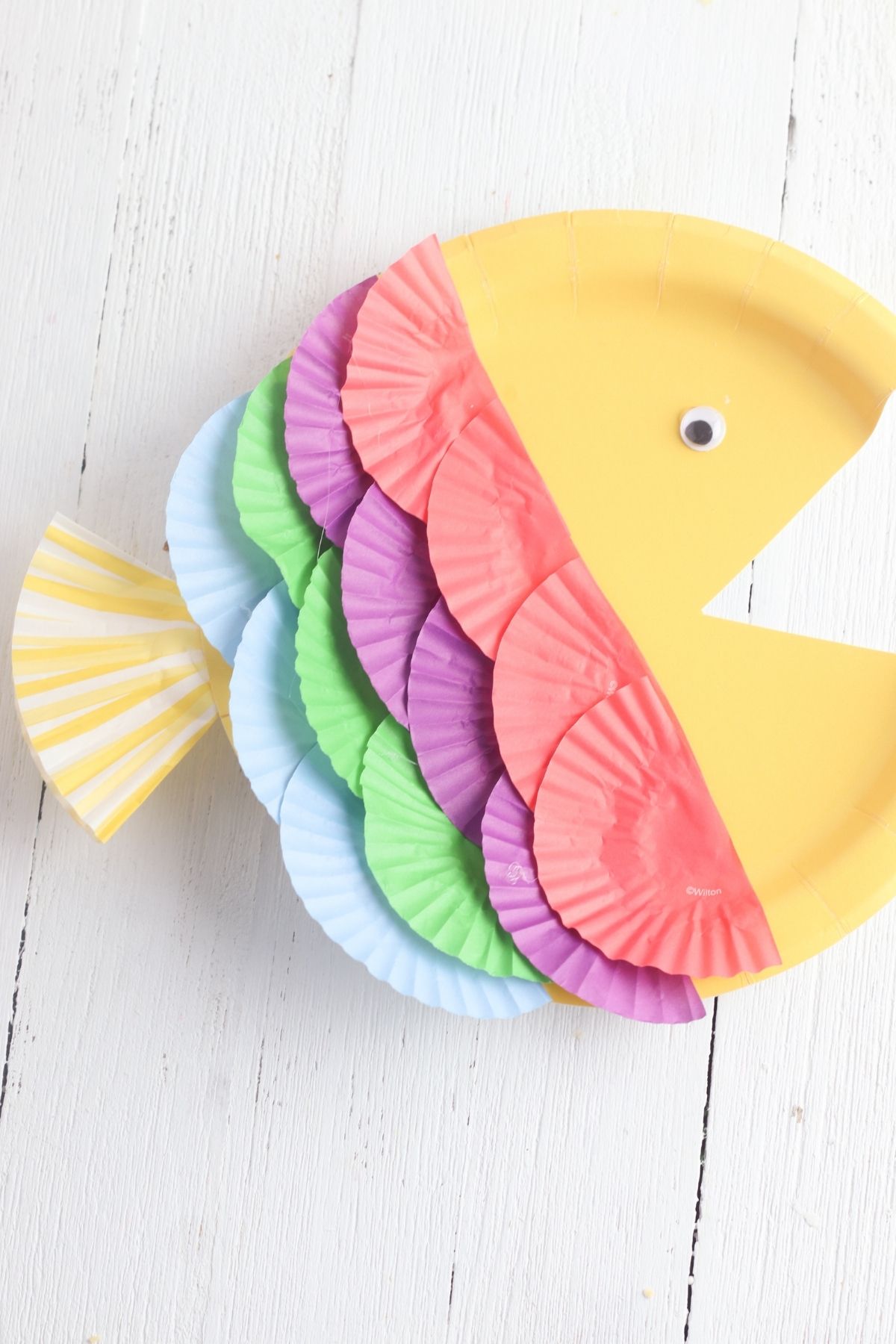 Doesn't our little fish look fabulous! I can only imagine how much a whole school of them would look hanging together!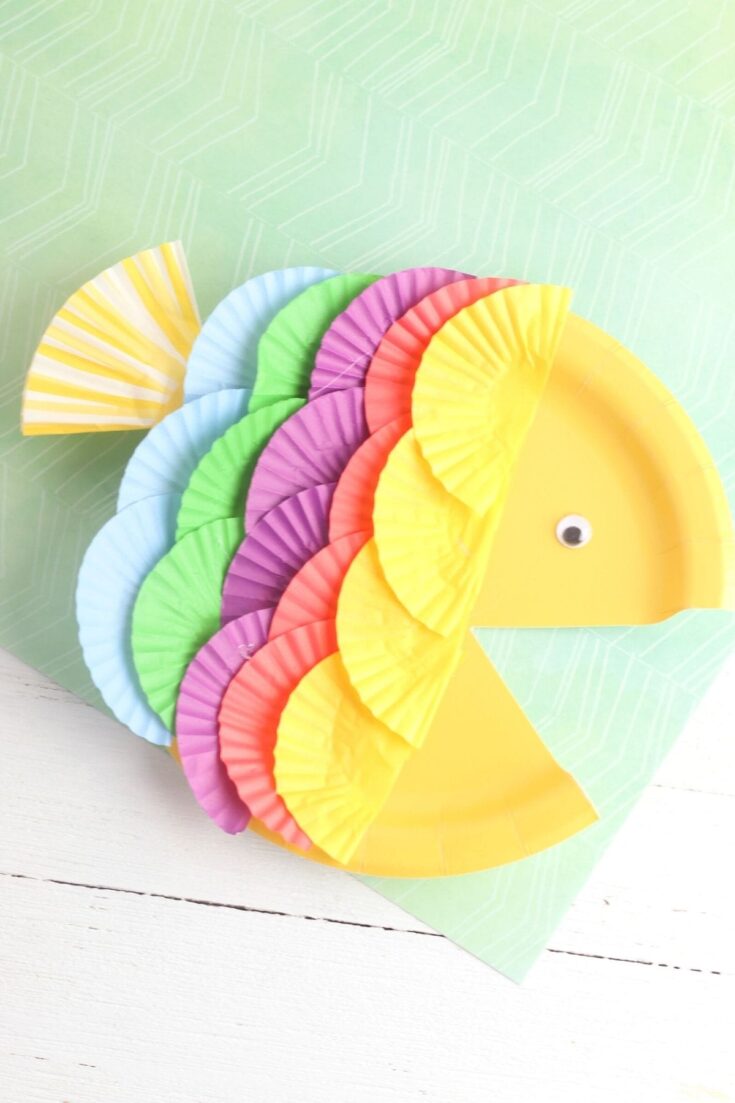 Yield:

1 Paper plate fish
Rainbow Fish Paper Plate Craft
This adorable rainbow fish paper plate craft is so easy and so much fun! Great for younger kids as there is minimal cutting. But will look great regardless.
Materials
1 Large paper plate
1 Regular sized cupcake liner
10 mini cupcake liners in various colors (2 yellow, 2 red, 2 purple, 2 green, 2 blue)
1 Googly eye
Instructions
Open and flatten all the mini cupcake wrappers and cut them in half. These will be the fish "scales"
Using the scissors, cut a small wedge out of the paper plate to make your fish's mouth.
Using a large cupcake liner, fold in half, and then in half again to create a fish tail. Glue down and let dry.
Create a row of scales on one side of the fish and glue down. Keep adding rows of scales until all of your cupcake liners are gone.
Glue down a googly eye and ta da! Your Rainbow fish is complete!