We are making these awesome paper plate fish craft today! And not just any old fish, we are making rainbow fish!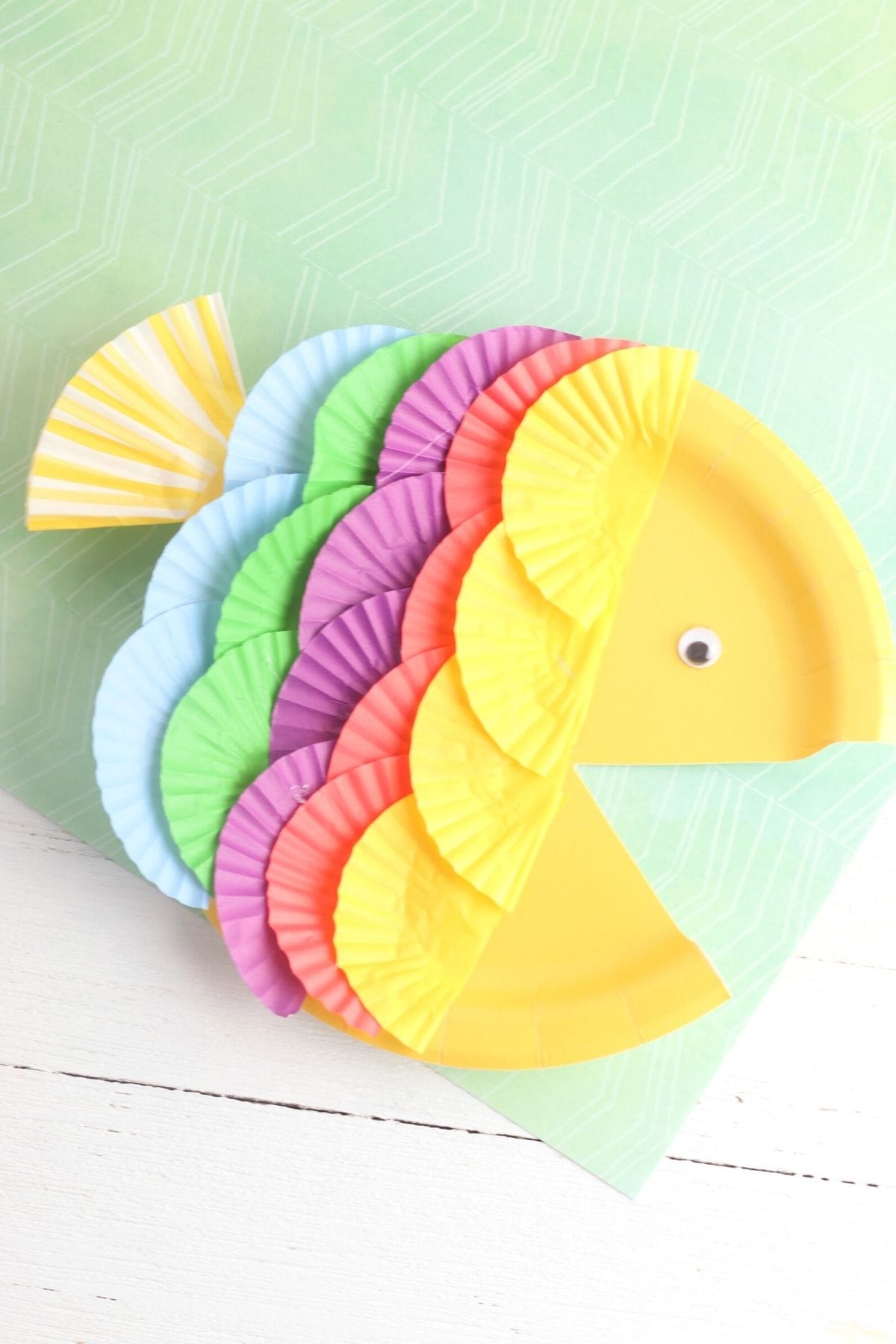 This paper plate fish is such an easy craft to make! But looks amazing with it's vibrant colors that kids love!
They are fun and bursting of rainbow colors!
It's a great summer craft or ocean craft for kids or to make when learning about the sea and pairs fabulously with our rainbow templates when learning about colors.
We love paper plate crafts, especially since we tend to have pretty ones left over from parties.
This project is simple enough that children of all ages can participate, and the finished product is both colorful and decorative.
Best of all, it's a relatively inexpensive craft that doesn't require many materials. It's a fabulous summer craft for kids.
It has limited cutting, which makes it a great preschooler craft.
And the only supplies you need are a paper plate, some colorful cupcake liners and a googley eye.
Although you could totally just draw the eye of the fish on!
Materials Needed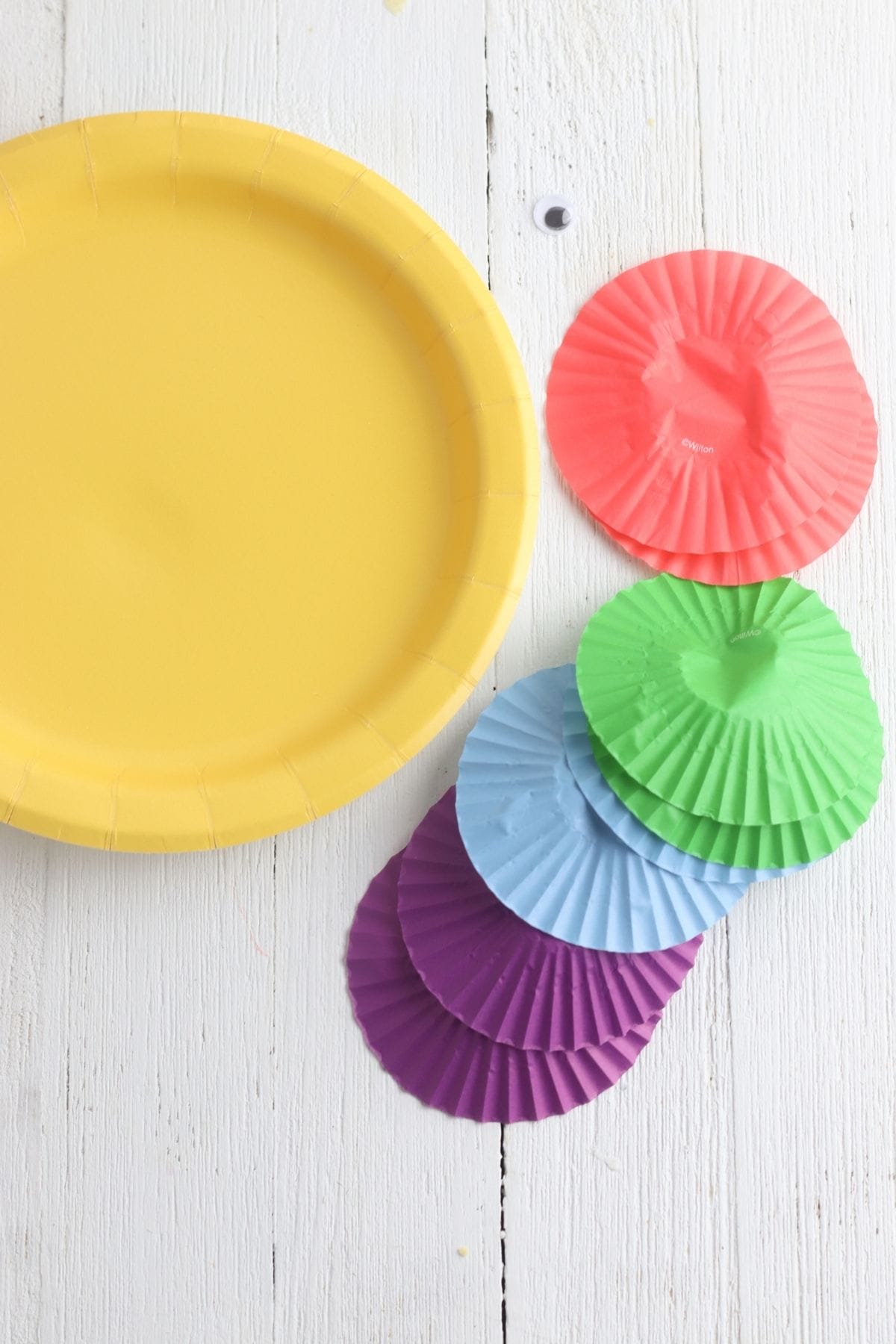 For this paper plate craft you'll need the follow:
A Paper plate (We used a cheery bright yellow)
Mini cupcake wrappers in rainbow colors
Large googly eye
As far as cupcake liner colors go, we used
1 yellow cupcake liner (regular sized)
2 yellow (mini)
2 red (mini)
2 purple (mini)
2 green (mini)
2 blue (mini)
Supplies Needed
As far as supplies go, you'll only need 2 things
How to Make a Paper Plate Fish
If you can, I recommend using a stiffer paper plate in a bright fun color. The paper plate will be the body of the fish.
To get started making your fish craft, by flattening all of the mini cupcake liners and cut them in half. These will be the colorful fish scales.
If you want to get really creative, you could even use a glue stick and add some glitter to create sparkly scales on your fish.
We skipped the glitter today.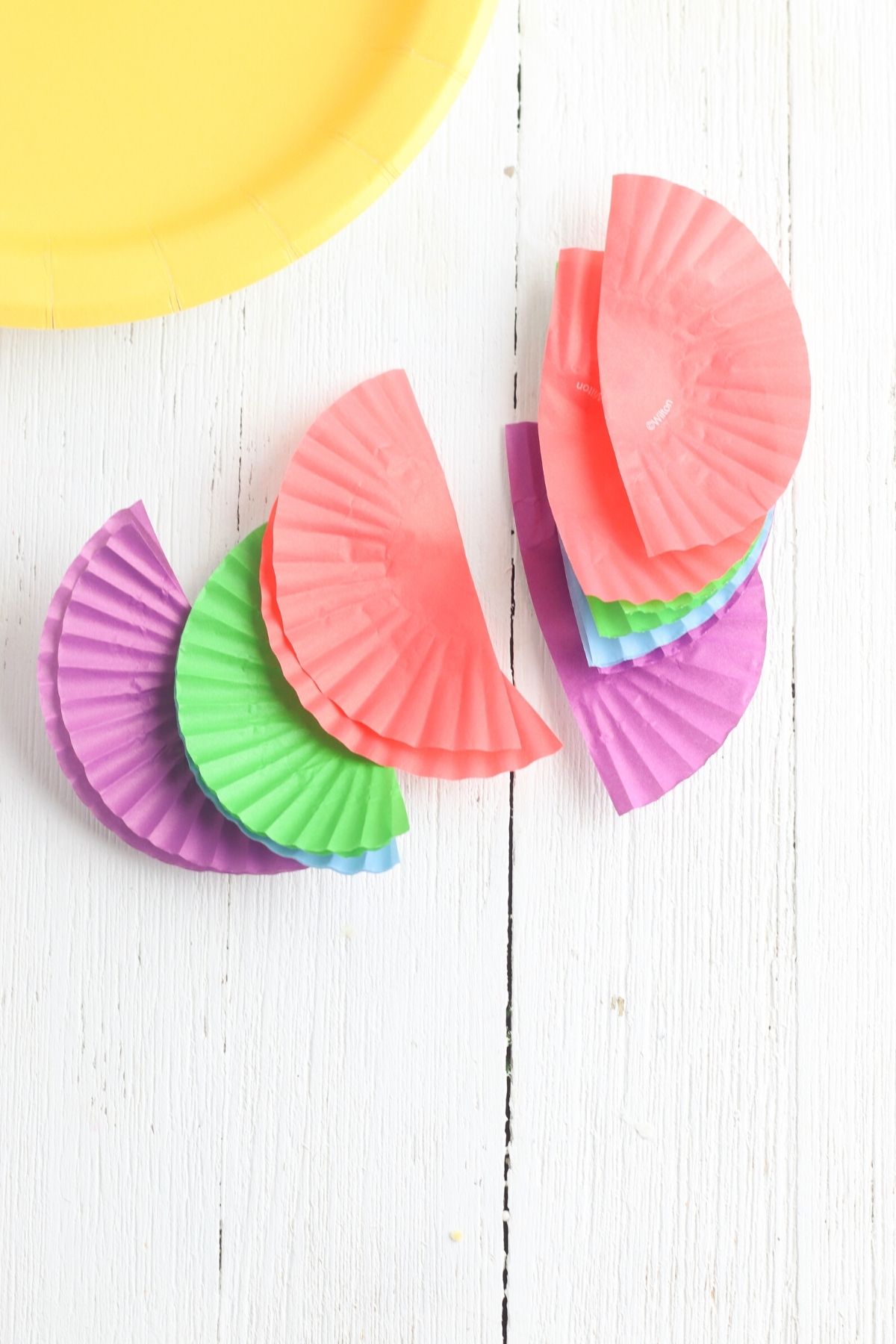 Next, sse the scissors to cut out a small wedge out of the paper plate. This will be your fish's mouth. You can throw away the wedge piece, you won't need it for the rest of the craft.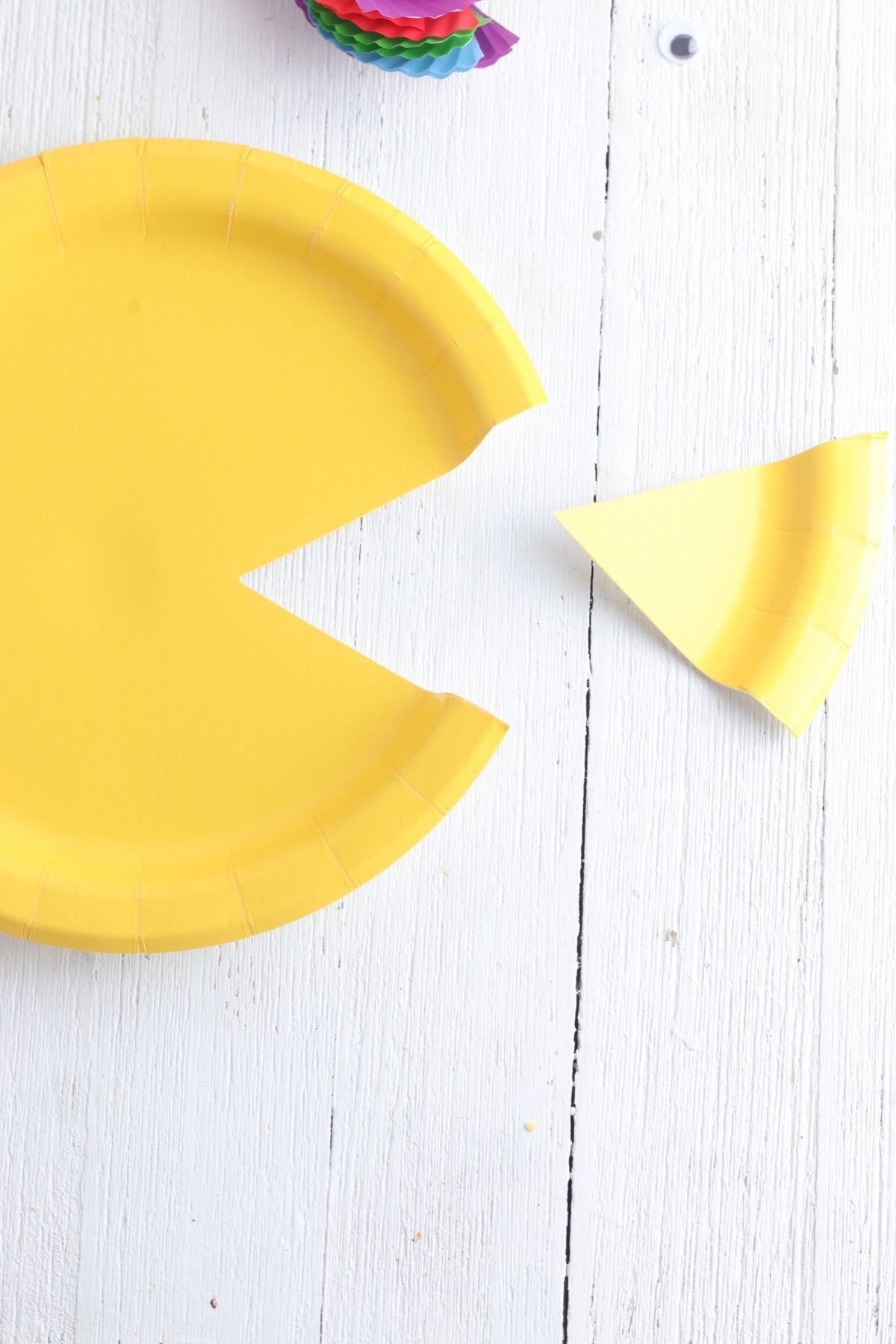 Here we folded our large yellow cupcake liner to create a tail and used some craft glue to attach it to the back of the fish, opposite of his mouth.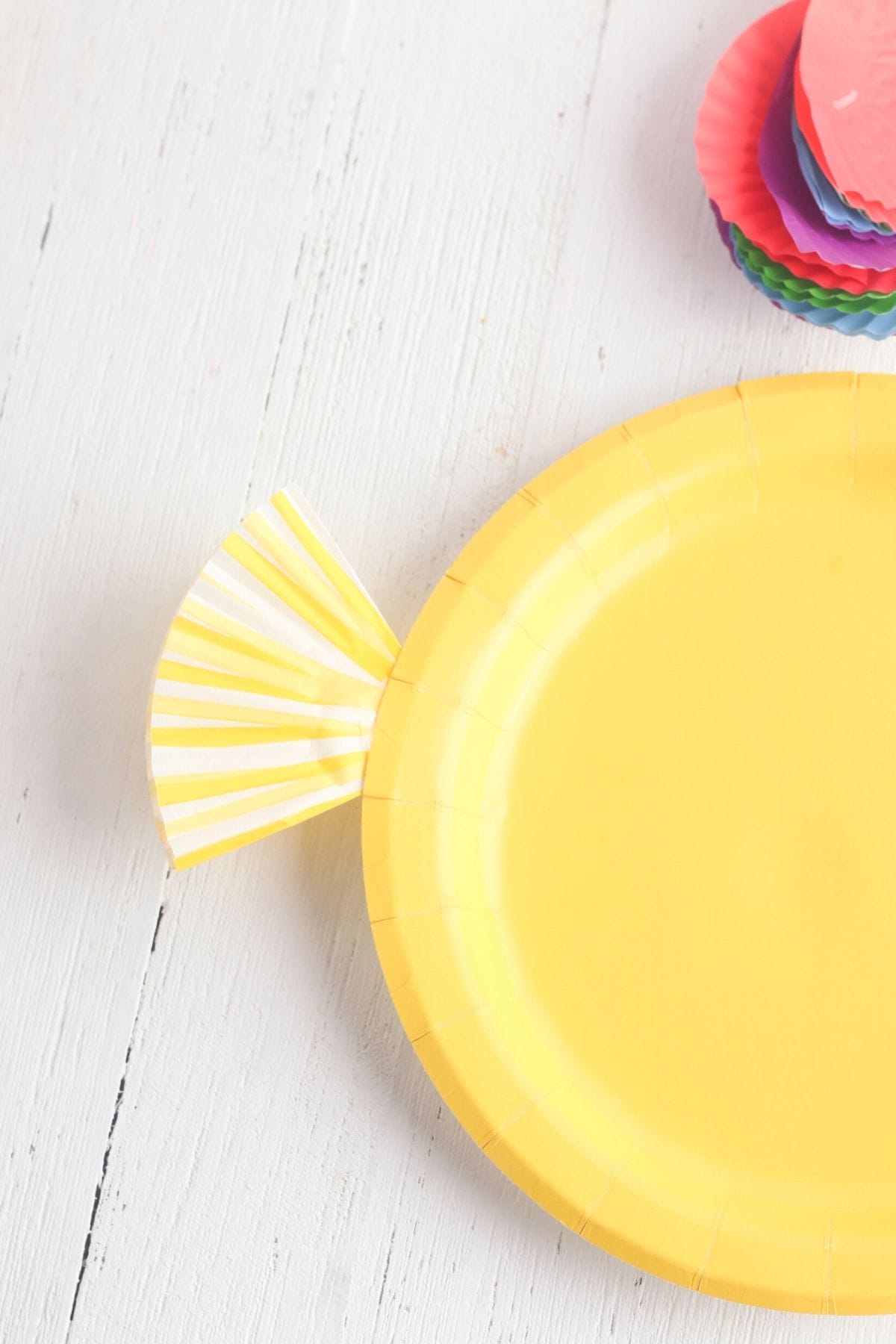 You can add your fish's eye now, or wait until your rainbow scales are all finished.
Next, start a row of colored liners along one side of the paper plate to create a line of scales like shown below.
When that layer is dry, add an addition layer of scales under lapping the first layer, like shown below.
If you don't have a googly eye on hand, you can use a black marker to draw your fish's eye onto the paper plate.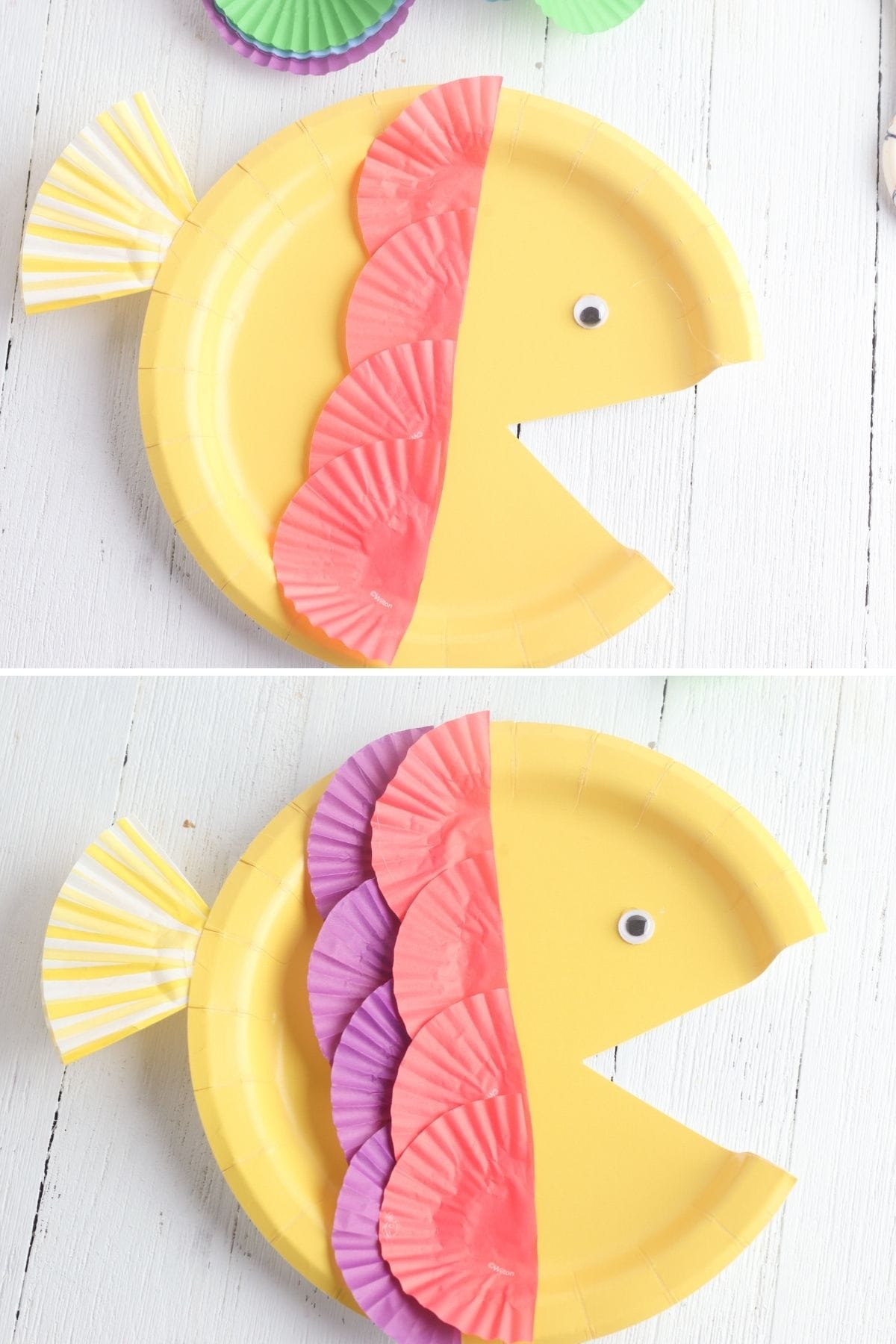 Keep gluing on the different color rows of cupcake liners until you have 4 rows of full liners in a rainbow fashion.
Make sure to set aside and let your glue dry completely before playing with your paper fish.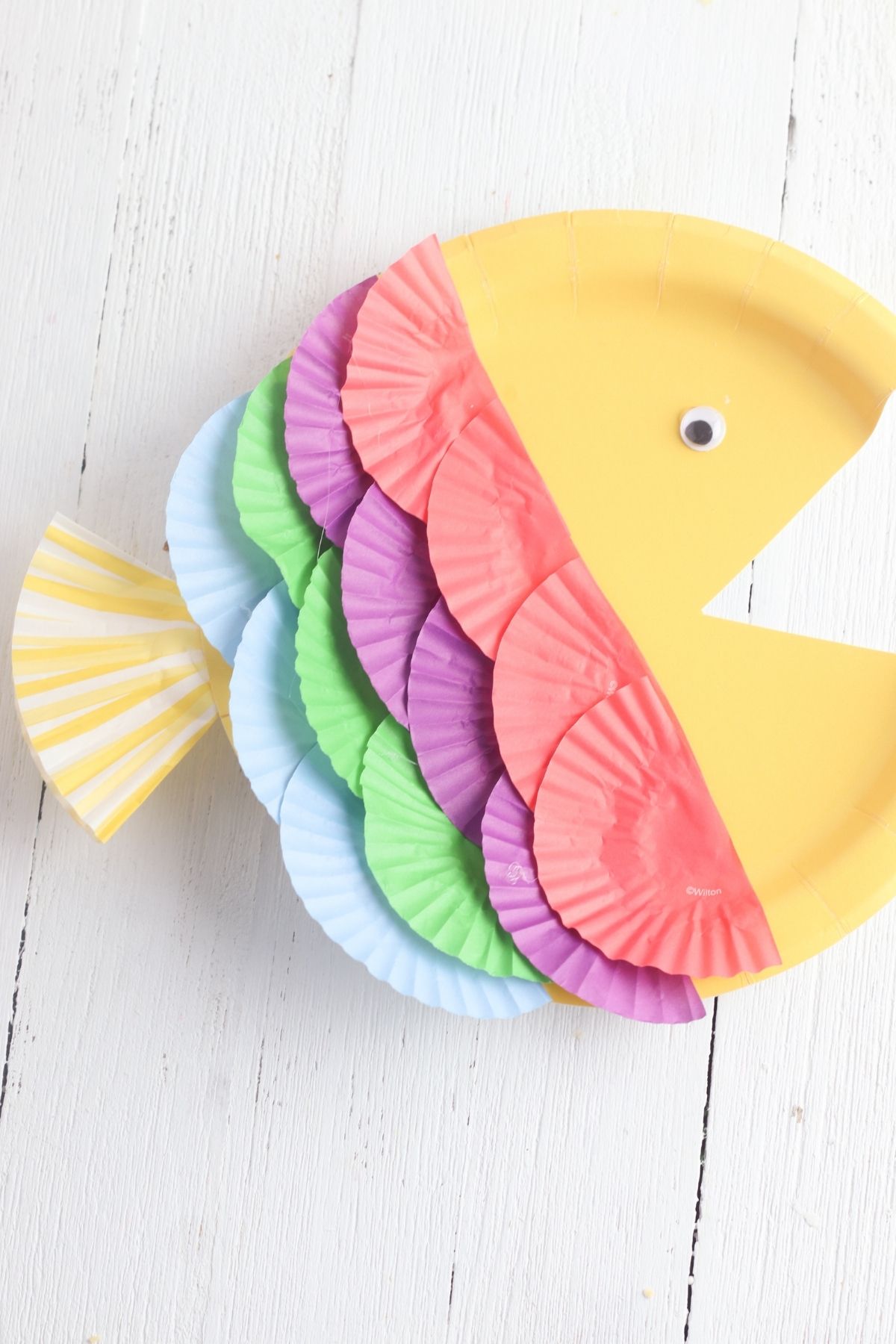 Doesn't our little fish look fabulous! I can only imagine how much a whole school of them would look hanging together!
Additional Ideas for This Project
If your looking for activities to go with your paper plate fish, why not try some of the ideas below:
Grab a fish book to read with your kids after they make their paper fish. An obvious book that comes to mind with this particular craft is "The rainbow fish."
But to be honest, I don't really like the lesson of that book, as it gives kids the impression you have to give away bits of you to be liked.
Instead maybe a fun learning book on fish like this one.
Or if your making these in a classroom setting, you can hang up all the fish together to create a "school of fish."
Or you can make this craft along with one of our other ocean animal crafts like our quilled seahorse craft or our feed the shark game for younger kids.
It would also be a fun project to play with our rainbow rice sensory bins!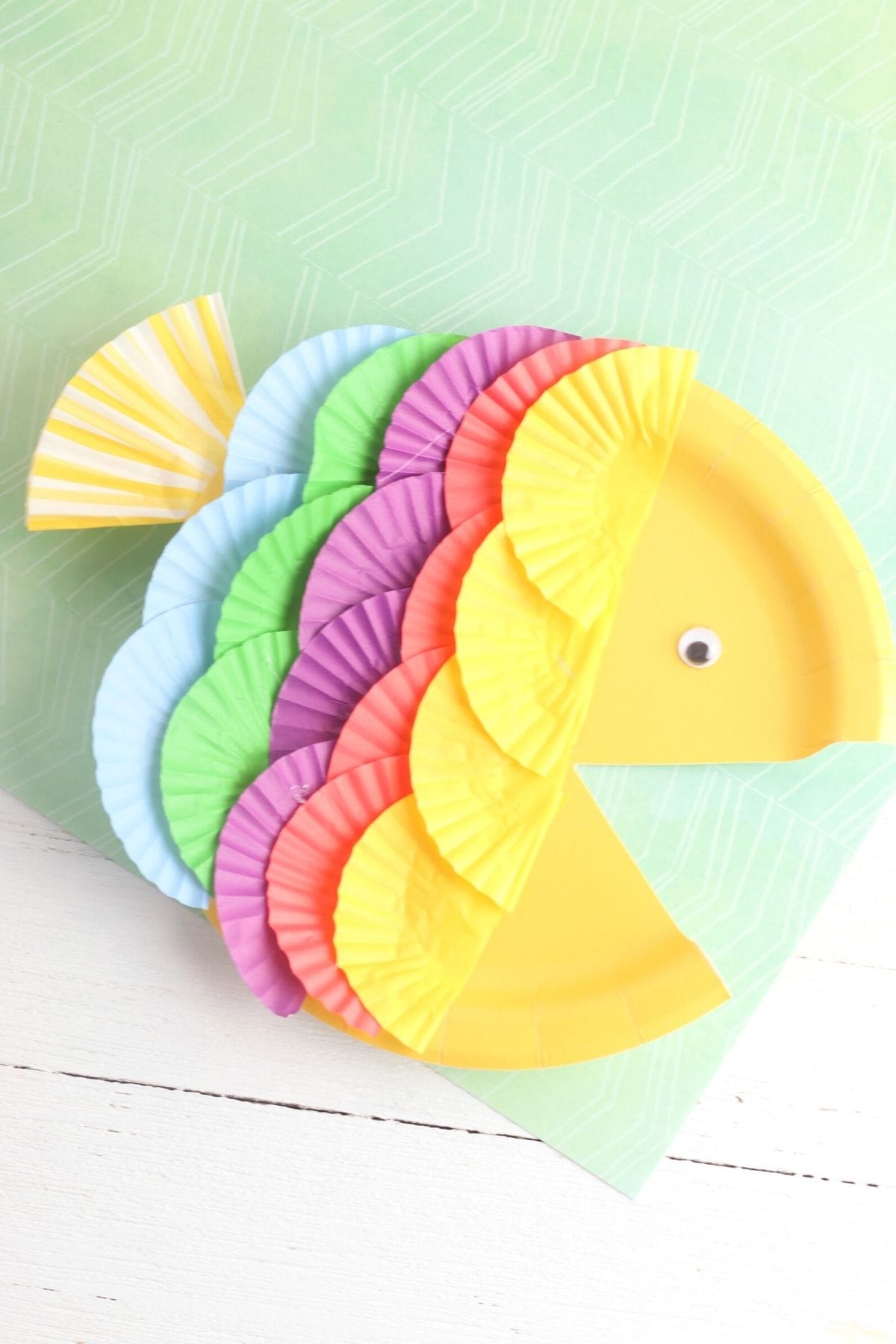 Yield:

1 Paper plate fish
Rainbow Fish Paper Plate Craft
This adorable rainbow paper plate fish craft is so easy and so much fun! It's great for younger kids because of it's simplicity, but loved by older kids because of all the beautiful rainbow colors.
Materials
1 Large paper plate
1 Regular sized cupcake liner
10 mini cupcake liners in various colors (2 yellow, 2 red, 2 purple, 2 green, 2 blue)
1 Googly eye
Instructions
Open and flatten all the mini cupcake wrappers and cut them in half. These will be the fish "scales"
Using the scissors, cut a small wedge out of the paper plate to make your fish's mouth.
Using a large cupcake liner, fold in half, and then in half again to create a fish tail. Glue down and let dry.
Create a row of scales on one side of the fish and glue down. Keep adding rows of scales until all of your cupcake liners are gone.
Glue down a googly eye and ta da! Your Rainbow fish is complete!
We hope you enjoy making your rainbow fish craft as much as we did!