Today we are doing Halloween word searches! We created a few spook-tacular Halloween word search puzzles for you too! These are free printable word searches! We hope you love them!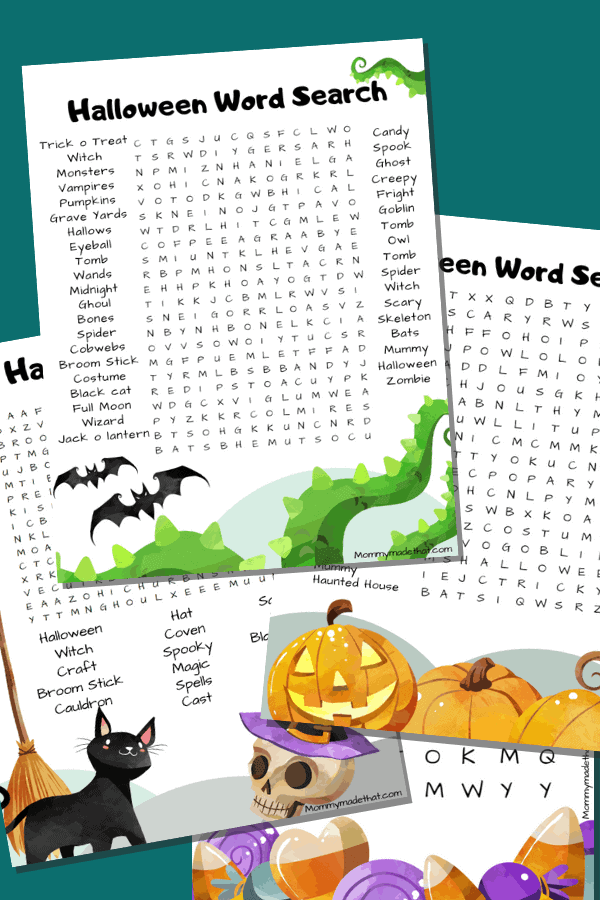 Looking for some awesome Halloween word searches?
We've got several for you.
We made these word searches with plenty of spooky Halloween words to get you and the kids in the festive frightful mood!
Some of these are geared toward adults, but we included a set for younger kids and a set for older kids too!
The best part is you can get these printables all for free! And if you do enjoy these printables, make sure to checkout the rest of our fun and free Halloween printable games.
Before you decide if you even want to do these word puzzles, let's take a quick look at why they are awesome.
P.S. Check out our Witches Spell Printable for Kids as well!
Benefits of Word Search Puzzles
Doing word searches can have tons of learning benefits for kids (and adults for that matter!)
The benefits of doing word search puzzles include:
Reinforcing vocabulary
Helps to recognize site words
Helps those who do them to become better spellers
So doing these Halloween word search puzzles can help anyone become just a wee bit smarter while having fun and doing something festive for the season!
We have 4 free printable halloween themed word search puzzles for you today!
Halloween Word Search: Medium Difficulty
This cute Halloween word search is medium difficulty but still loads of fun.
This printable puzzle is full of fun Halloween themed words, including our favorite halloween creatures like witch's, mummy's and bats! But also a bunch of feel good spooky words like full moon, twilight and Haunted House.
Who is this word search good for?
It's great for older kids or adults looking for a fun word search that isn't too hard.
Halloween Witchy Word Search: Medium Difficulty
This word search is full of witch words! It's also medium difficulty.
Perfect for all those witchy folks in the household. It features a cute black cat and a skull with a witch's hat.
Whos this Halloween Word Search Good For?
Any witch loving adult or older child will love this printable witchy themed word search!
Adult Halloween Word Search: Hard Difficulty
This is one of our harder search a word puzzles. For some reason difficult word searches are just so much more satisfying.
There are tons of Halloween words too look for in this printable! Be warned, it'll probably take you a bit to complete the search completely. But that's what makes it that much more fun.
We added tons of creepy words to make this a more time intensive game.
Who is this Halloween Search a Word good for?
This one is perfect for adults who are looking for a challenge and have the time to really search.
Halloween Word Search for Kids: Easy Difficulty
If you are looking for a quick and simple printable Halloween word search for kids, then this is the one for you!
This word search is not creepy, spooky or scary in the least! The graphics are kid-friendly candies. No scare here! 
This is perfect for older kids who enjoy a good word search, but not so hard they want to give up. 
How to Get Your Free Halloween Printable Word Searches
If you want to get these free Halloween printable word searches, simply head over to our crafty resource library.
They are hanging out over there with tons of other fun free printables!