Today we have a fun fall slime craft for kids! This slime recipe is perfect for fall because of all the gorgeous leaf glitter and fall colors! The kids will love this!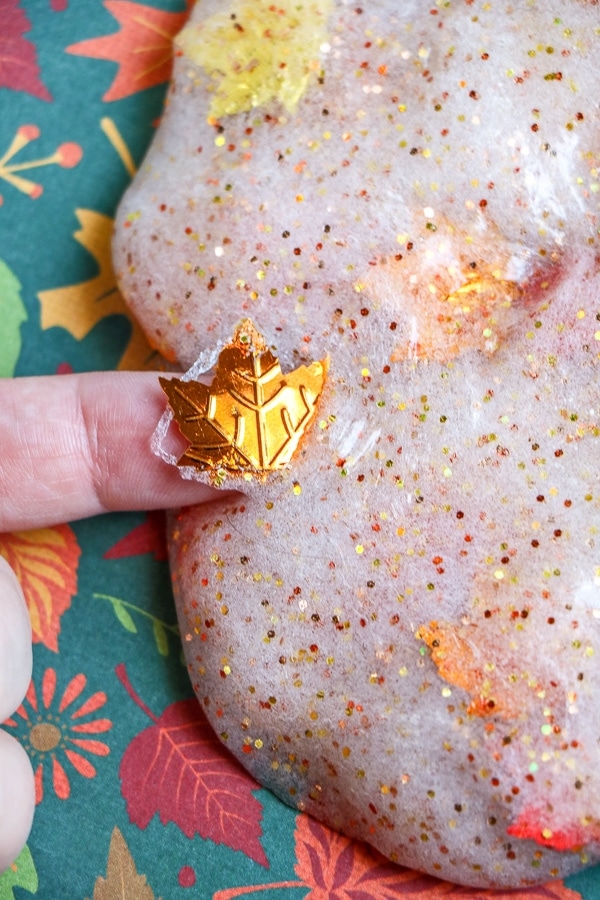 Fall is rolling in! The kids are going back to school. The leaves are starting to fall.
It's a perfect time to pull out the slime ingredients and create this full fall slime recipe!
Ingredients Needed for Fall Slime Recipe
For the fall slime you need:
1 (6 ounce) bottle of clear Elmer's Glue

¼ cup of warm water

½ teaspoon baking soda

1½ tablespoon contact lens solution (containing boric acid)

About 1 ½ tablespoon of shimmery or fall colored glitter
Fall Slime Add-ins
To make the slime recipe fall-themed you can add in some fun add ins. We added:
How to Make Your Fall Slime
Start by grabbing a large mixing bowl.
Pour the entire container of clear glue into the bowl.
Fill the empty glue bottle about 1/3 full with your warm water. (This will be about 1/4 cup.)
Shake the glue container well to combine the remaining glue with the water and pour into the bow.
Mix your glue and water together well.
Add the baking soda into your glue mixture and mix thoroughly.
If you are adding in your glitter, nows the time! Add in your shimmer glitter and any other fall-themed add-ins at this time.
Stir gently until fully mixed with the glue and baking soda mixture.
The slime is definitely taking on a fall feeling now!
Next, add in the contact lens solution. Make sure its the kind with borax, or it won't turn into slime!
Add in the contact solution slowly until the glue starts coming together enough to form a soft slimeball.
Remove the fall slime from the mixing bowl. Leave any excess liquid inside the bowl.
The slime will be sticky. Begin to play with the slime, kneading it as you would bread dough, to bring the slime together.
The slime is ready for the kids to play with when it's no longer a sticky mess.
Now your fall themed slime is ready!
Make sure to store in an airtight container so it'll last longer.