In this post we'll show you how to make some awesome black cat cupcakes. They are fun with just the right amount of spooky. The perfect Halloween cat cupcake.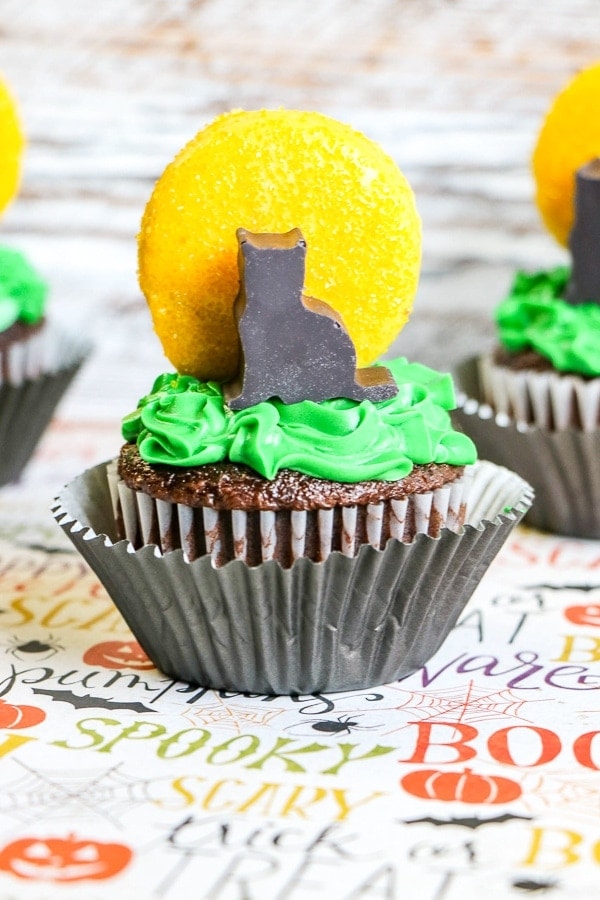 It's almost Halloween! Today we are breaking out one of our favorite Halloween Cupcake Ideas.
Black cat cupcakes!
These cupcakes are so impressive and a lot of fun.
And the best part, the eerie moon and black cat cupcake topper are edible!
These look a little complicated, but when we break down all the steps, these cat cupcakes are actually really easy to make!
We'll show you step by step how to make your own black cat cupcakes!
This post may contain affiliate links. You can read our full disclosure here.
Ingredients for Black Cat Cupcakes
The instructions for these cupcakes will yield 12 black cat cupcakes.
12 Premade Cupcakes
12 Oreo Cookies

1 (12oz) pack of yellow candy melts wafers

Yellow sugar sprinkles
2-3 Cups of green frosting
Additional Supplies needed:
Small open star tip (a grass tip would work too!)
Piping bag
Cat silicone candy mold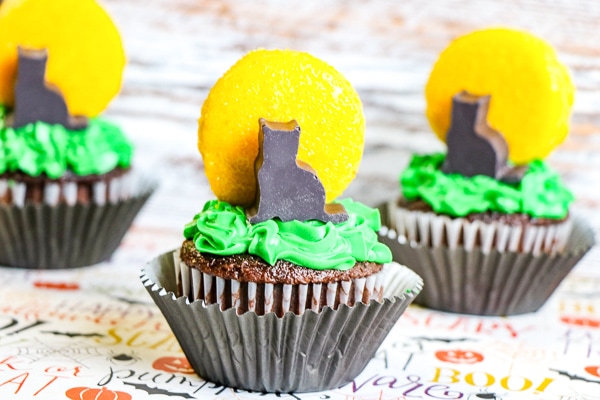 How to Make these Cute Halloween Cat Cupcakes
Start lining a baking sheet with wax paper. This will be where you prep your Halloween moon toppers.
Start by melting your yellow candy melts according to their instructions.
*We have some great candy melting tips at the bottom so be sure to read those before making your cupcakes!
Dip each of your cookies into the yellow melted candy so that one side and all the edges are completely covered.
Remove the cookie and gently tap off any excess back into the candy bowl.
Place the cookie onto the waxed paper.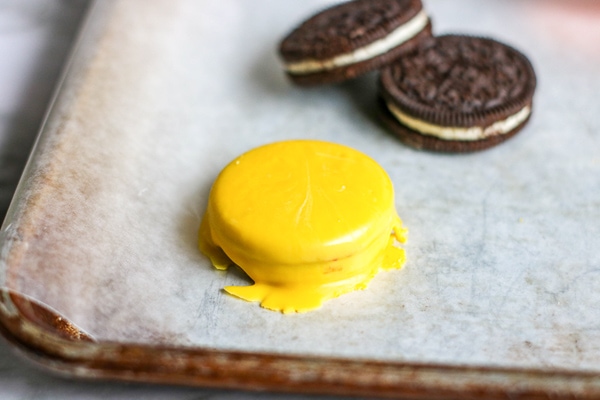 Immediately cover your candy-coated oreo with the yellow sugar sprinkles, creating your moon toppers.
While your cookies are still wet, gently work a lollipop stick into the bottom of each moon cookie.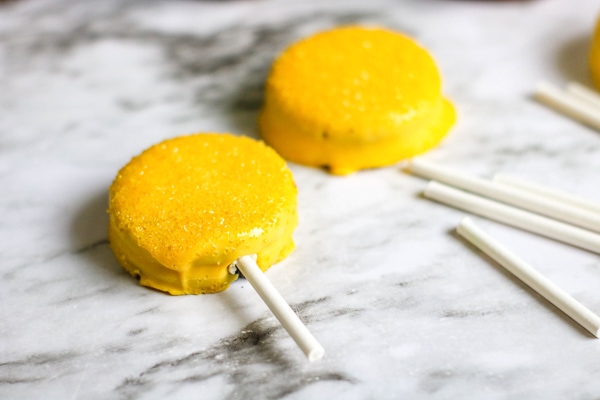 These sticks will allow you to set the moon as the background of your cat cupcakes, without them falling over.
Allow your cookies to completely set before assembling your cupcake toppers.
Next, melt your black candy coating as per the instructions.
Stir well and pour into you cat candy mold. Allow your cat candies to harden completely before removing from the cat mold.
You can pop them in the fridge if you are in a hurry.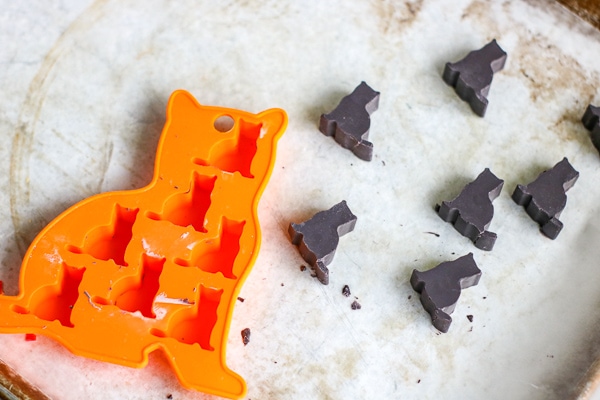 Next, pipe the green frosting over each of your cupcakes using a circular motion.
Work your way from the center of the cupcake toward the outsides.
See how the icing looks like grass. It's the perfect setting for you cat toppers!
Once all of your cookies and cat candies are completely dry, you can start placing a moon into the center back of each cupcake.
Now you can firmly set a black cat topper into the center of your cupcake, in front of your moon cookies.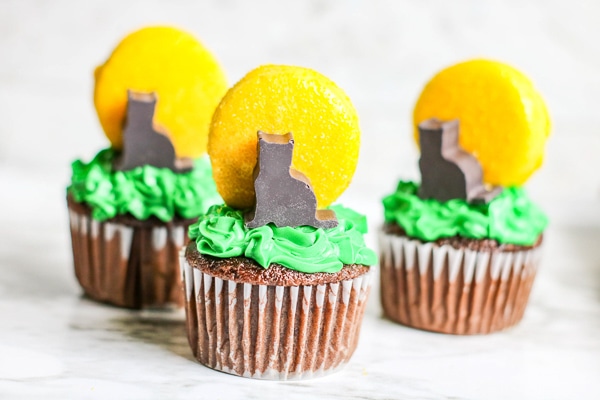 Aren't they cute!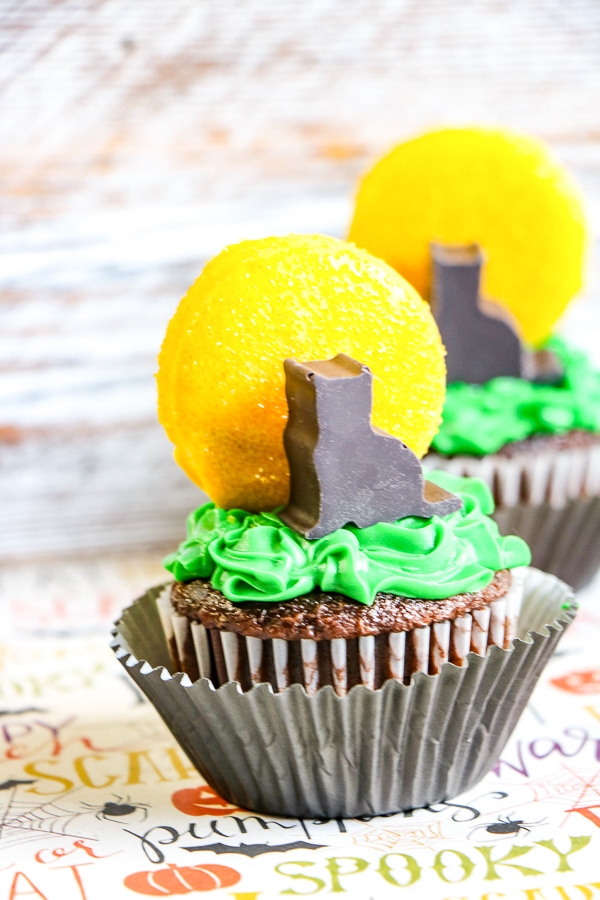 We love these cat cupcakes! They're perfect for Halloween.
Tips for Making the Black Cat Cupcakes
We used chocolate cupcakes, but you can use any kind of cupcake you like.
I thin purple cupcakes would be awesome too! Don't be afraid to mix up the colors and make your own version of these black cat cupcakes.
An orange or silver moon would look great!
Tips for Using Your Candy Melts
*If the melted candy is too thick, don't cook longer. Instead, add a teaspoon of coconut or vegetable oil and stir well. You can keep adding up to 1 tablespoon of the oil per bag of candy wafers to thin out your candy if needed.
If you notice lots of tiny bubbles in your candy when dipping your cookies, you can use a toothpick to pop them and create a smooth surface.