Printable Halloween Skeleton Play Dough Game
This fun printable skeleton game is a spooky Halloween game where you roll the dice and make a skeleton!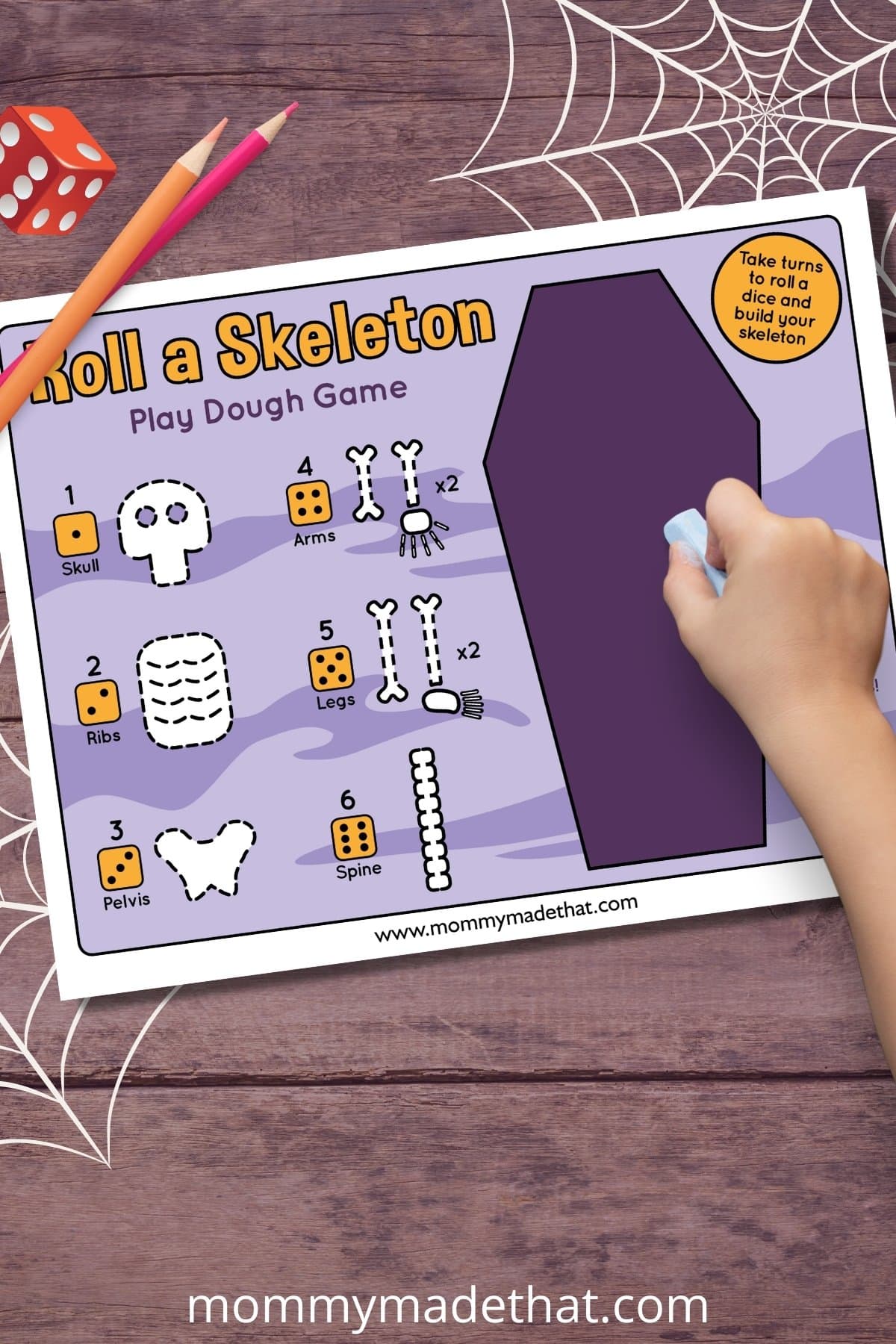 We love free printable games. Especially printable Halloween games!
The best part is you just click, print and your ready to go. My kids had a blast playing with this skeleton game.
They got to use several skills like counting, creating and copying the shapes they were to make, teamwork and patience!
This post contains affiliate links, this means if you click a link and make a purchase, I may receive a small commission at no cost to you.
If you plan on using this play doh mat more than once, I highly suggest laminating it at home.
We love downloading free printables here at home and have a designated dresser just for storing them all.
We laminate most of our printables using this laminator.
It gives them durability and stability and keeps them in great shape even after being played with over and over.
How to Use the Printable Skeleton Play Dough Game
First you'll have to grab the printable, print it out and laminate it (if you choose to do so.)
I invested in a cheap laminator and it's been so useful! There are a ton of fun printable games out there.
And now I only have to print once, put it through the laminator and my kids can use them again and again.
Directions for Playing
To play the game is easy. You do need one dice to play or find a printable dice template to print out and roll.
There's a few different ways to play the game.
Cooperatively Build the Skeleton
Each person play takes a turn rolling the dice.
When you get your number, you create the skeleton part associated with that number.
Then the next person has a turn. If your number was already used, you keep rolling until a fresh number comes up and then build that part of the skeleton.
The game is finished when the whole skeleton is built.
Play vs. Mode
Alternatively, you can print two of the Halloween skeleton games out.
Then each person take a turn rolling the dice and building their skeleton.
In this version, if you roll a number you've already built, you lose a turn and it's the next person's turn.
Getting Creative
The cool thing about this play dough mat is you definitely don't have to abide by the rules above.
Print the Halloween skeleton game out and use it however you please!