This free printable Halloween worksheet is perfect for learning letters AND having some Halloween fun. Learning is always more fun with its themed with a holiday that kids (and adults for that matter) go crazy for.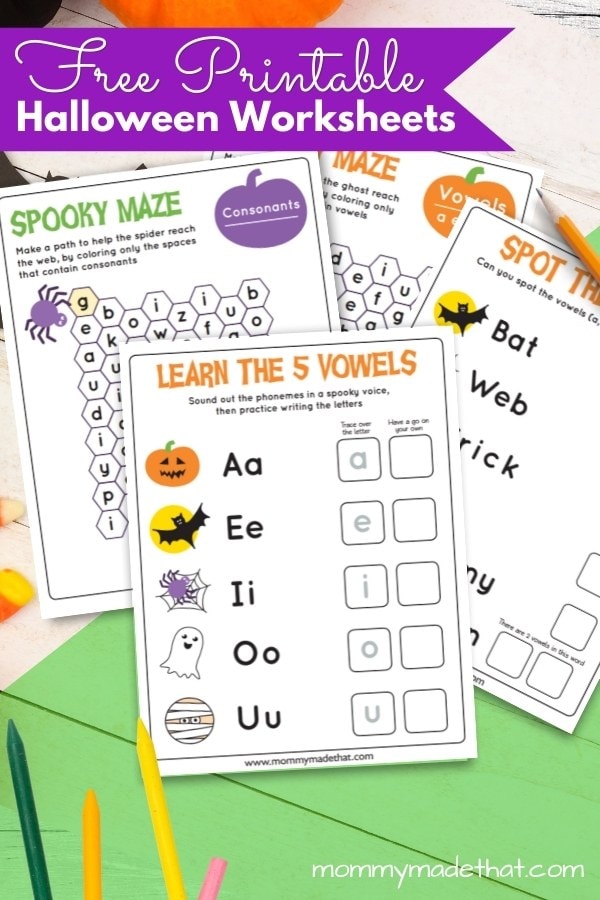 These printable Halloween worksheets are a fun way to introduce and practice vowel learning for new readers!
We have lots of fun Halloween printables. So be sure to check out all of them.
They contain a few fun Halloween worksheets and then a couple of fun letter mazes!
We even added a few empty worksheets so you can make your own maze, making it as easy or as complicated as you like.
Of course your little maze doer may want to take on the task of creating their own maze, reinforcing letter writing and practicing.
And while your at it, make sure to grab the rest of our free printable Halloween games!
How to Use the Halloween Worksheets
These printable Halloween worksheets feature an introduction to vowel learning! They're perfect for those starting to learn their letters.
My oldest kid is just being introduced to vowels vs consonants and loved working through these fun Halloween worksheets.
The Free PDF printable contains 8 pages total. The first couple of pages introduces vowels and encourages letter identification and writing them out.
Then there are three Halloween mazes where the kids follow the vowels to get to the end of the maze.
The last 3 pages are blank Halloween mazes so that you can recreate a maze as many times as you like, or have the kids make their very own maze.
This first page is perfect to introduce the vowels and help act as a reminder for kids who may forget while doing the letter mazes.
The second page is great for reinforcing letter identification. They'll be able to go through and find each of the vowels in the worksheet of Halloween themed words.
And finally we have the "game" part of the Halloween worksheets. This part feels less like work and more like fun!
Kids love navigating mazes and making their way out to the end. But they are secretly learning more and reinforcing the vowel recognition.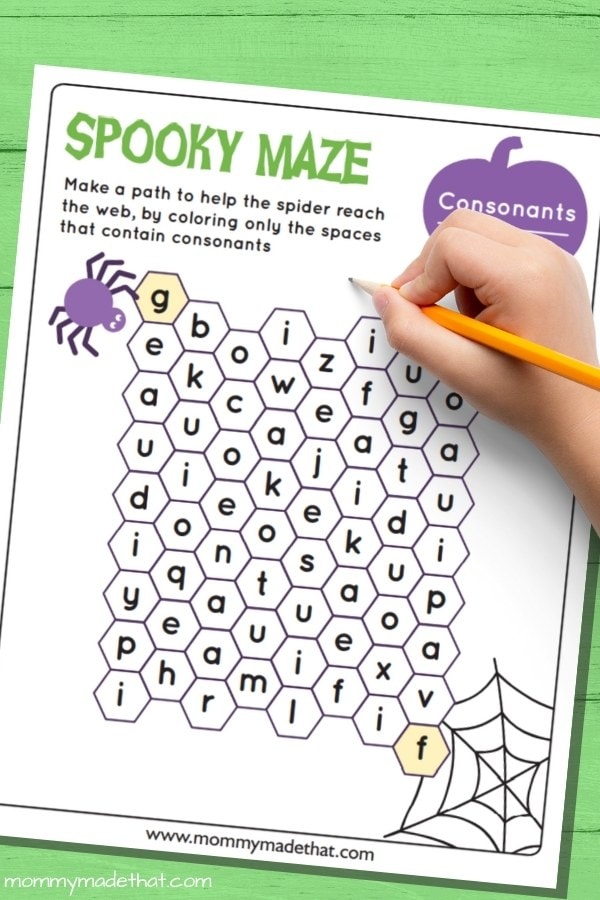 We also included a maze to help with consonant recognition.
We hope your kids love these worksheets and have all the learning fun.
How to Download the Halloween Worksheet PDFS
This part is so easy! Just head on over to our Crafty resource library and grab the free printables! You'll just click the link and grab the printable.
Enjoy!