Halloween Scavenger Hunt (Free Printable for All Ages!)
Today we have a free printable Halloween Scavenger hunt! It's perfect as a family activity or to print and play at a Halloween party!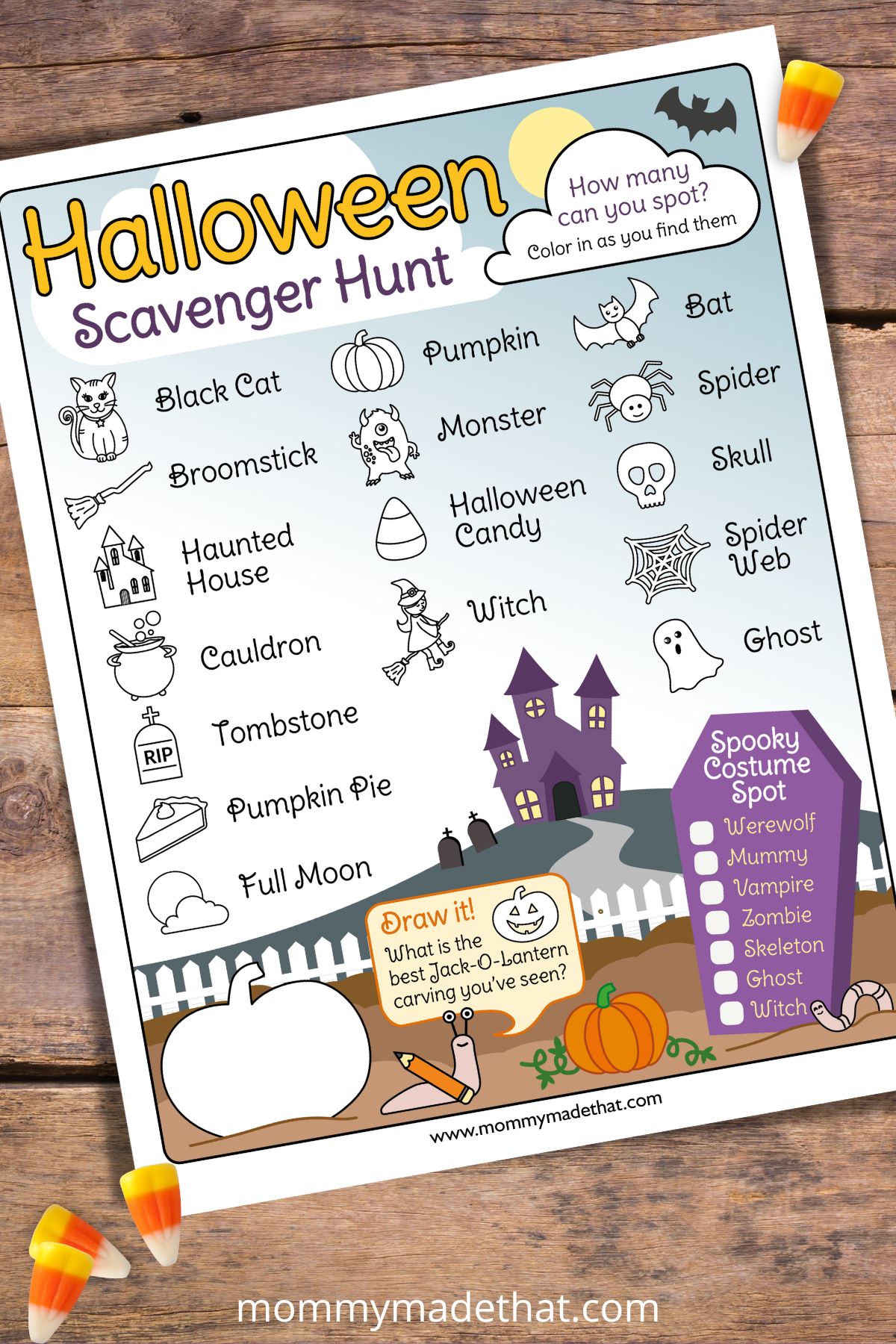 Looking for a fun family activity to do this Halloween? We have just the Halloween printable for you!
We wanted to come up with some fun Halloween scavenger hunt ideas. And this one was perfect.
With tasks ranging from easy to challenging, this hunt is perfect for all ages.
So gather your friends and family and get ready to have some spook-tacular fun!
Growing up, scavenger hunts were one of our favorite activities!
And Halloween scavenger hunts were even more special! It was the one night of the year when we could actually find those types of spooky items.
Some scavenger hunts are designed to print out and look for different clues in the provided area.
And while that's fun, it's also a bit more work.
Our Halloween scavenger hunt for kids is way more simple and takes very little planning.
This is great when you already have a ton of other items on your Halloween to-do list.
We have lots of fun printable Halloween games and this one is always a big favorite for younger kids and older kids alike.
Our other Halloween printables like our Halloween Bingo and Halloween word searches are also a big hit for all ages.
We also have a fall scavenger hunt if you want something just as fun, with a little less spook.
How to Use the Scavenger Hunt Printable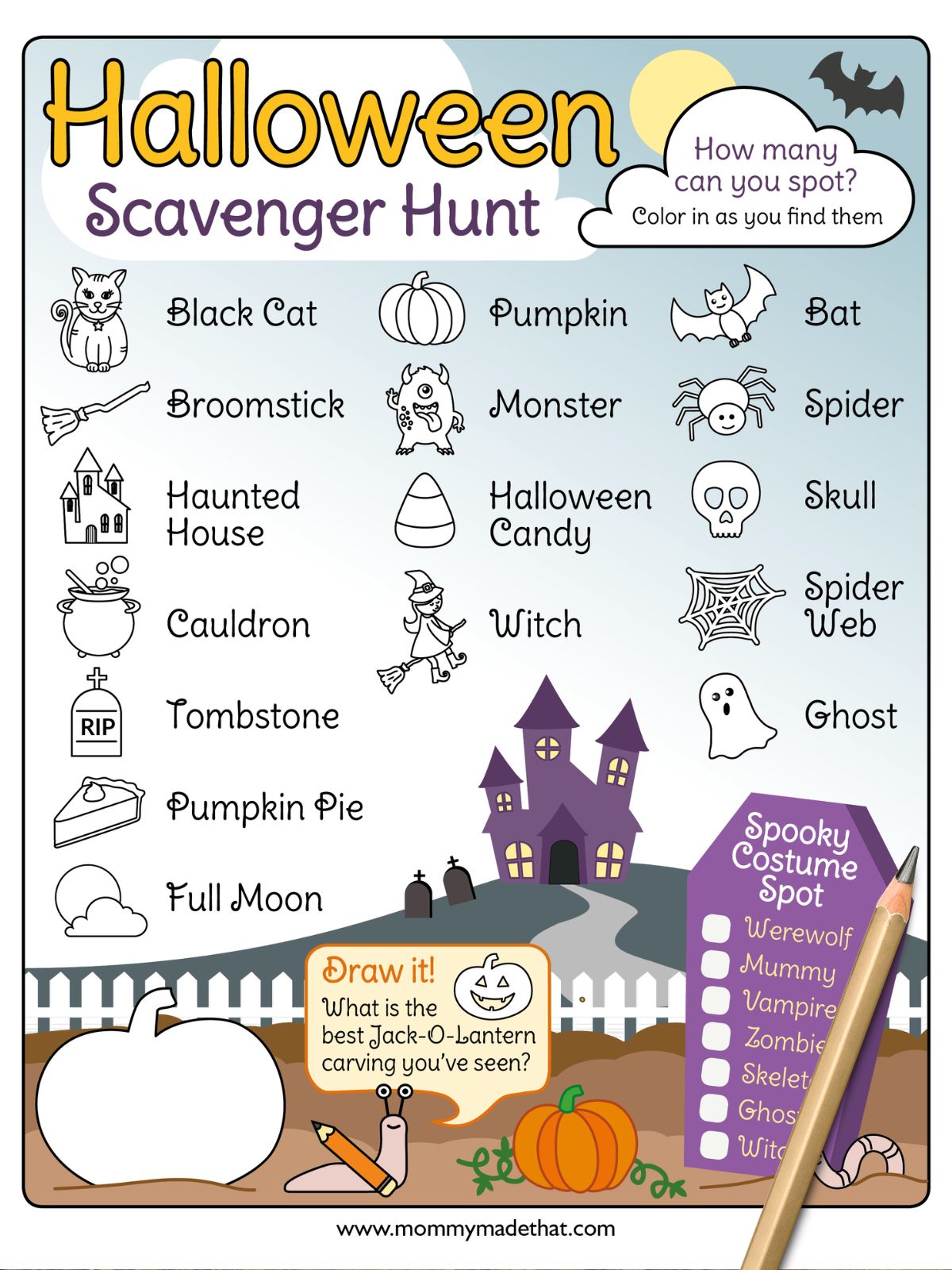 This type of scavenger hunt is a fun activity and yet one of the easiest kinds of scavenger hunts!
It's one page of Halloween fun.
We included both an image of each Halloween item along with the word.
This way younger kids who can't read can play just as well as the kids who can!
The different Halloween items are things that the kids can go look for and find.
I like bringing a copy with us while trick or treating and we can cross off the items as we find them while also scavenging for candy around the neighborhood.
My kids love looking for all the items. We usually find them as Halloween decorations or as costumes!
The items are ones you are sure to find out during Halloween, but not so easy that it takes the fun out of it.
You can give each child their own printable and let them compete to find all the items. Or you can make it a group effort to find all the clues together!
It's also a great activity for Halloween parties to keep kids entertained.
Halloween Scavenger Hunt Items
The items on our list include things like:
Black cat
Haunted house
Spider web
Halloween candy
Witch
Tombstone
Pumpkins
Plus more…
I like the items on this list, because they are spooky and fun, without being too scary.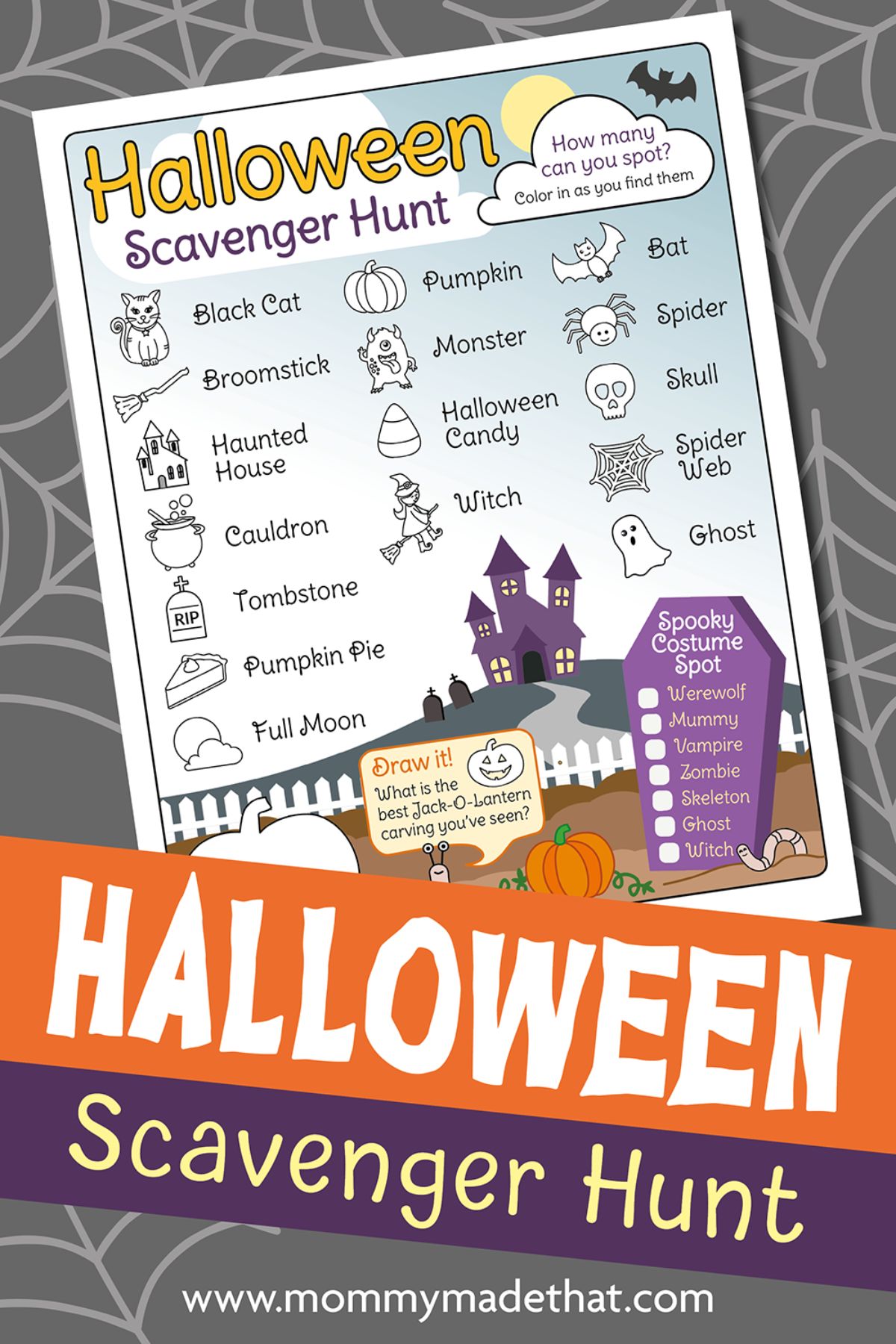 Grabbing the Scavenger Hunt
I don't recommend printing the scavenger hunt from the photos here on the post.
The quality will not come out good.
To grab our free printable Halloween scavenger hunt simply head over to our free printable library and search for the "Halloween Scavenger Hunt" link.
We have tons of fun free printables in there.
Hit the download the printable link and it should open up a new tab in your browser.
Print and have fun!
Hope you enjoy the fun! And Happy Halloween night!