Cute Halloween Bingo Game (Free Printable)
This cute Halloween bingo is a super cute and totally free game your kids will love to play this Halloween.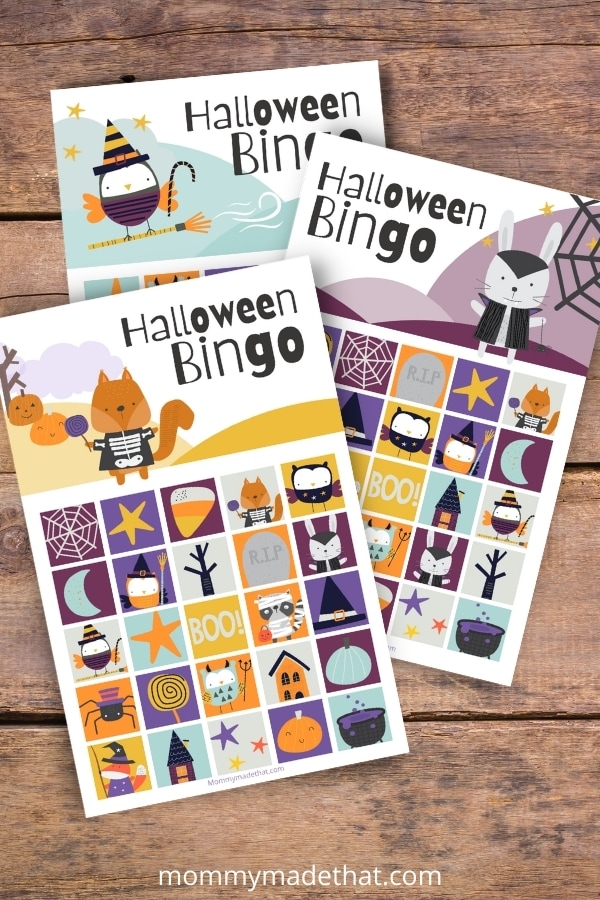 Halloween is one of our favorite times of year. And this year we made a fun printable Halloween Bing Game to add in the spooky fun.
This printable Halloween bingo game is totally free and loads of fun.
We have lots of fun Printable Halloween games but this one is definitely one of the kids favorites.
This post may contain affiliate links. This means if you click a link and make a purchase we may earn a small commission at no cost to you. Thank you!
How to Play Halloween Bingo
To play this Halloween bingo game, you'll play it just like you play any other printable bingo game.
You start by printing out the entire Halloween Bingo Printable PDF. It includes 6 Pages all together. Each Halloween Bingo Card looks similar to this, but with its own character and changed up playing board.
If you plan on using this play doh mat more than once, I highly suggest laminating it at home.
We love downloading free printables here at home and have a designated dresser just for storing them all.
We laminate most of our printables using this laminator.
It gives them durability and stability and keeps them in great shape even after being played with over and over.
This way, every Halloween you can break out the same Bingo game creating a fun and nostalgic tradition.
The first page is the call cards. You'll cut out each of the Halloween themed images. Then mix them up and place them all in a bowl or hat.
If you're using these for a Halloween Party, I'd grab a cute cauldron like this one to put all the calling cards in.
The printable also comes with 5 pages of Halloween bingo cards. But each page contains 2 bingo cards each.
Cut all the pages in half and you'll have 10 individual bingo cards.
Then simply pass a Halloween Bingo Card to each player. Next, designate a "caller" who will pull images from the cauldron or hat.
The caller will pull one of the calling cards, describe the image and show the image to all the players.
The players will then mark their Halloween bingo card "crossing out" that image on their card.
To keep the bingo cards reusable, I don't recommend crossing out the cards with pens. Instead find fun markers to cover up the spot.
I suggest using candies, candy corn or fun Halloween themed erasers.
First one to get 5 in a row horizontally, vertically or diagonally gets to call Bingo! Although, we like to call BOO!
How to Get the Free Printable Halloween Bingo Cards
We made this super easy. Simply click this link to down load our free printable Halloween Bingo Game.
We hope you enjoy and are as excited to play with these bingo cards as we are to have made them.
Other Fun Halloween Printable Games
If you liked our Halloween Bingo Game, then I'm sure you'll love some of our other printable games. Make sure to check these ones out too.