15 Amazing Halloween Rice Krispie Treats
These Halloween rice krispie treat ideas are perfect for a Halloween party or to make as a fun Halloween treat for kids.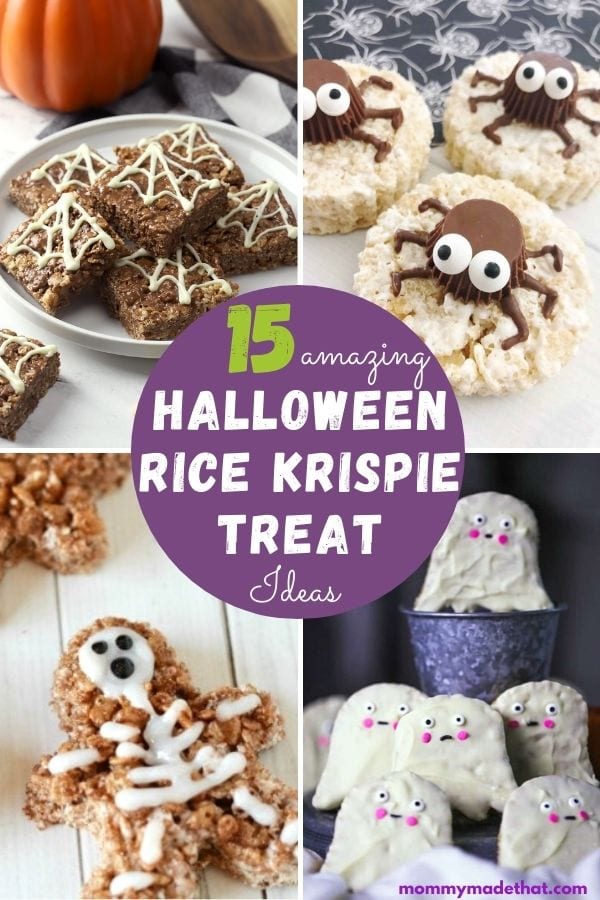 Here we have some of the best Halloween Rice Krispie Treat Ideas we could find.
These recipe and decorating ideas are perfect for whipping up a Halloween themed rice krispie treat.
Halloween Themed Rice Krispie Treats
Rice Krispie Mummy Treats
These fun little rice krispie mummies are such a cute way to dress up any rice krispie treat for Halloween.
These ones are made from premade rice krispie treats and use only candy melts and candy eyes to create the adorable mummies.
Adding a popsicle stick to the bottom makes them easier to decorate and way more fun to eat!
Quick and Easy Rice Krispie Halloween Treats
These CRAZY quick and easy rice krispie Halloween treats not only look the part but they taste it too.
Maximum effect with minimum effort!
It's amazing at what a few colored sprinkles and a set of candy eyes can do to turn any dessert into a fun Halloween treat.
Halloween Rice Krispie Bundt Cake
This gorgeous Halloween Rice Krispie Bundt Cake would look amazing on a party table!
What a fun way to serve a grown up version of everyone's favorite snack.
The cool thing is when you slice, there's a fun surprise inside!
Rice Krispie Ghosts
These rice krispie ghosts are so cute!
Some white chocolate and some well placed sprinkles and googley eyes give them the best faces!
What a ghoulish way to dress up a rice krispie treat.
Spider Web Rice Krispie Treats
Another fabulous looking Halloween rice krispie treat are these spider web rice krispie treats.
These ones are pretty and elegant and would look great at a classy Halloween party.
No Bake Pumpkin Rice Krispie Treats
These colorful no-bake Pumpkin Rice Krispie Treats are easy to make and are shaped into cute pumpkins.
They are whipped up with only 6 ingredients and fun for the kiddoes to make.
Candy Corn Rice Krispies
Everyone's favorite rice crispy treat has been turned into festive candy corn shapes perfect for Halloween!
If candy corn is a favorite of yours, you should definitely try out these candy corn rice kispie treats.
Spider Rice Krispie Treats
Spooky Halloween Spider Rice Krispie Treats are the perfect party idea.
This recipe is so easy, even the kids can make them. Plus they look so amazing.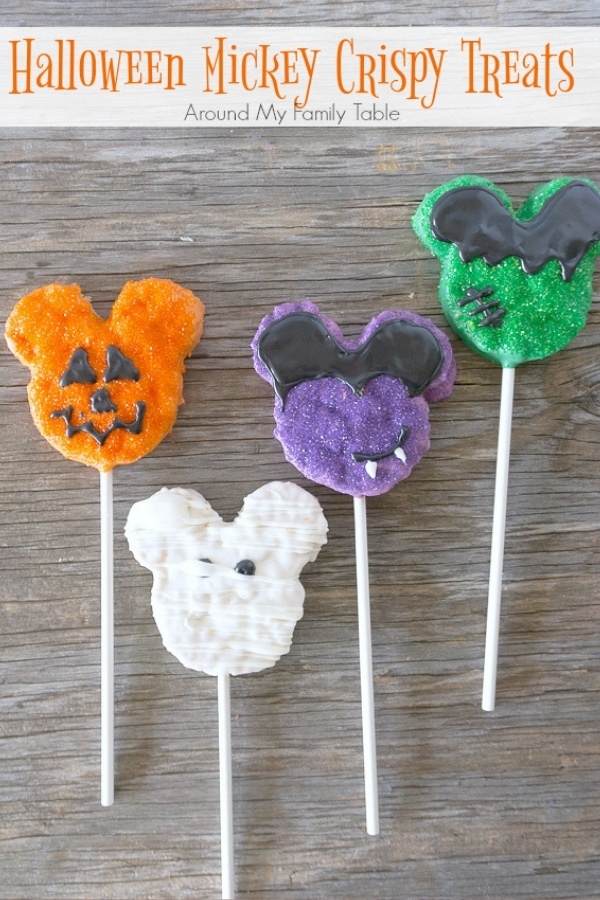 Halloween Mickey Rice Krispie Treats
These super cute Halloween Mickey Rice Krispie Treats are so much fun to look at.
I'm sure they'd be just as much fun to make, especially with little ones.
Read the tutorial to find out how you can whip up your own monster themed Mickey treats.
Skeleton Rice Krispie Treats
These Halloween rice krispie treats may just be my favorite ones on this list.
These little skeletons just look so good, are so impressive, but surprisingly easy to make!
Check out the recipe and tutorial for these skeleton rice krispie treats.
Spider Rice Krispie Treats
These Spider Rice Krispie Treats are such an adorable and simple way to add some Halloween flare to your rice krispie treats.
Those extra big candy eyes make these spiders more cute and less spooky. They may just be the cutest Halloween rice krispie treat we've seen.
Rice Krispie Brainsss
As a zombie movie fanatic, I think this idea is AMAZING. Whipping up some Rice Krispie Brain Treats looks like so much fun!
Plus they look delicious and will definitely add some creepiness to any Halloween party table.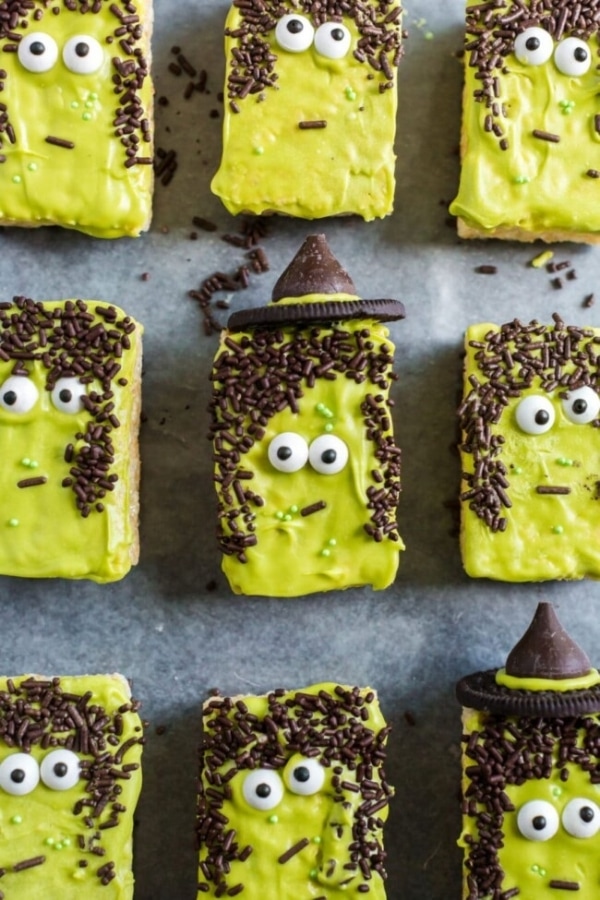 Adorable Rice Krispie Witches
These rice krispie witches are so much fun to look at.
I especially love the little witch hat made from an Oreo cookie and Hershey kiss and the sprinkle "warts."
Mini Rice Krispie Pops
Theses adorable Halloween themed mini rice krispie pops are too cute! They were created to put in these fun Halloween DIY "Boo" Kits.
You can whip up a few of these and add extra cute Halloween goodness to anyone's day.
Candy Corn Rice Krispie Treat
If you love candy corn, these candy corn rice krispie treats are right up your alley.
The orange and yellow scream Halloween, but they are definitely not creepy or scary in any way.
Halloween Rice Krispie Pops
These fun and cheery Halloween rice krispie treat pops look great as a set! The tutorial tells you how to make the adorable characters and Halloween icons step by step.
The hard part will be choosing which one to eat!
Frankenstein Rice Krispie Cake
This Frankenstein Rice Krispie Treat Cake is just plain impressive!
Frankenstein just screams Halloween! Definitely centerpiece worthy material.