Easy Halloween Bat Treats
These easy Halloween bat treats are so cute and so much fun to make a put on display. Your kids will love them as well as any party guests.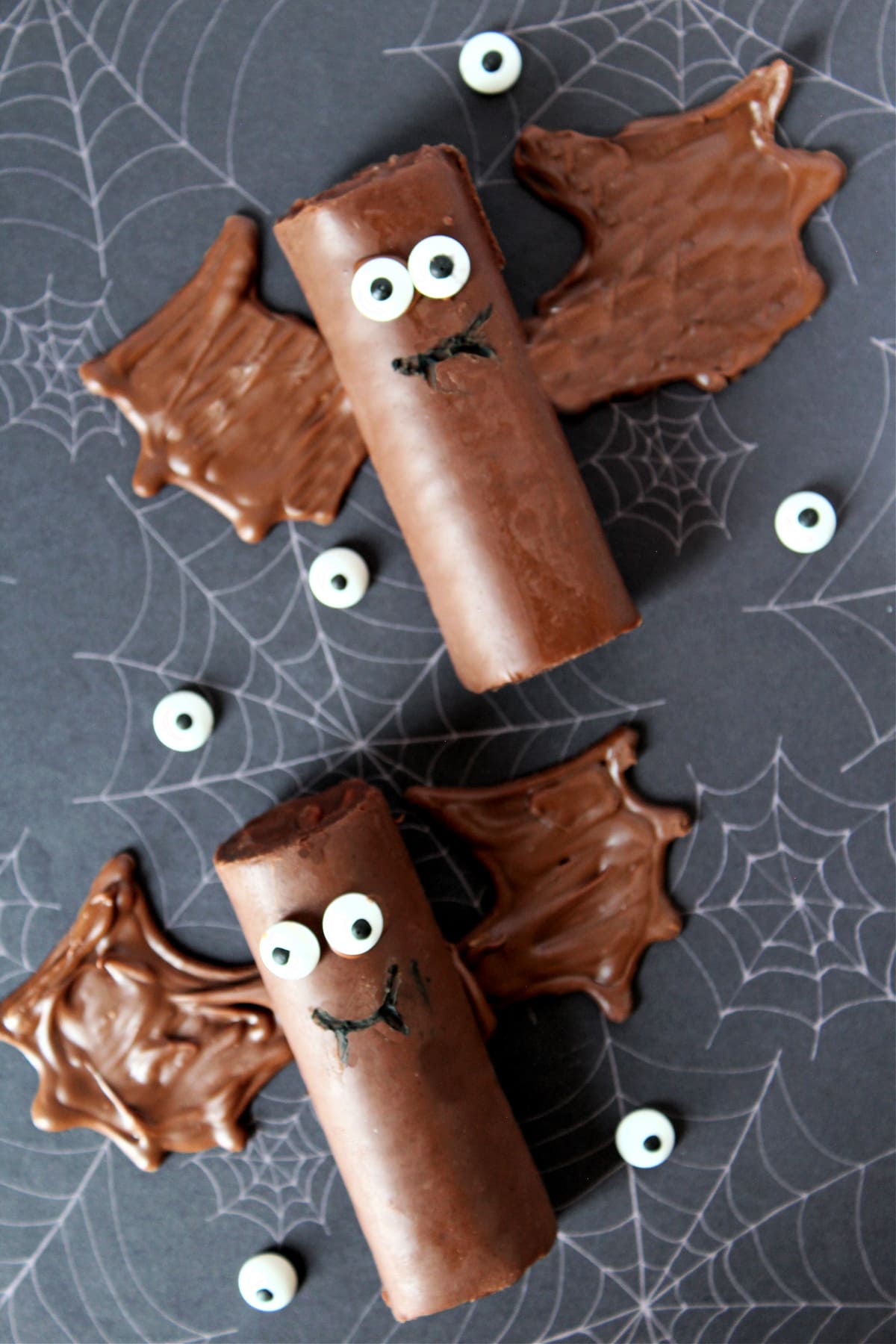 We love Halloween around here. and create Halloween crafts and snacks are one of our favorite things to do.
Now that it's close to that time of year again, we have these fun Halloween bat treats!
These bat treats are fun and easy to make and kids will love creating these cute bat cakes with you.
The best part is that these bat treats can be made using only 3 ingredients and some Little Debbie snack cakes.
You can use their swiss rolls or you could use hostess Ho Hos.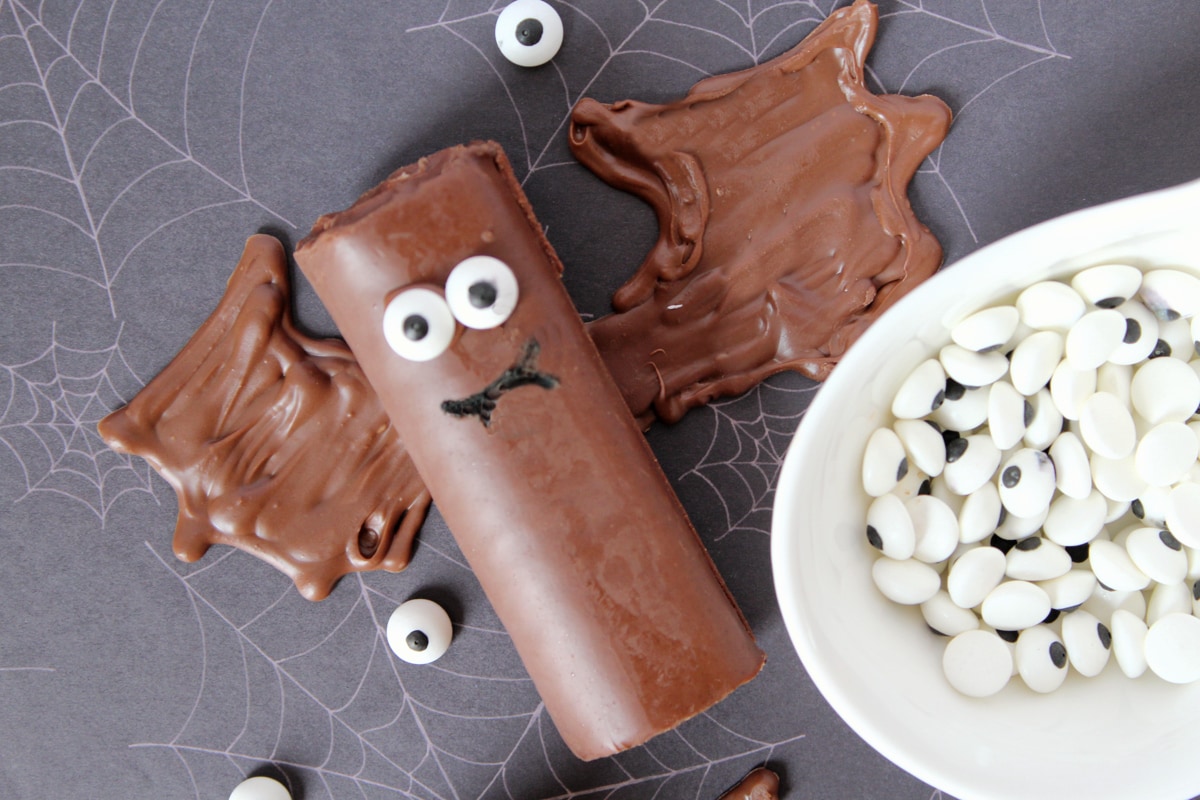 Ingredients for Halloween Bat Treats
For these bat treats, pick up your favorite chocolate rolled snack cakes.
We used the Swiss Rolls, Little Debbie snack cakes.
You'll also need some semi-sweet chocolate chips and fun Halloween candy eyes and a black food marker.
These will work without the black food marker, but we gave our bats little fangs to give that "vampire bat" feeling, which is perfect for a Halloween snack.
How to Make Bat Treats
To make these bat treats, start by drawing a set of bat wings onto some parchment paper.
Leave enough room in between each wing for the snack cake to go.
Using your black food marker, draw a cute little mouth onto your snack cake. We drew sets of cute bat fangs.
Using the microwave or the double broiler method, melt your chocolate chips until its creamy and smooth.
Be careful not to burn your chocolate as it will make the texture hard to work with.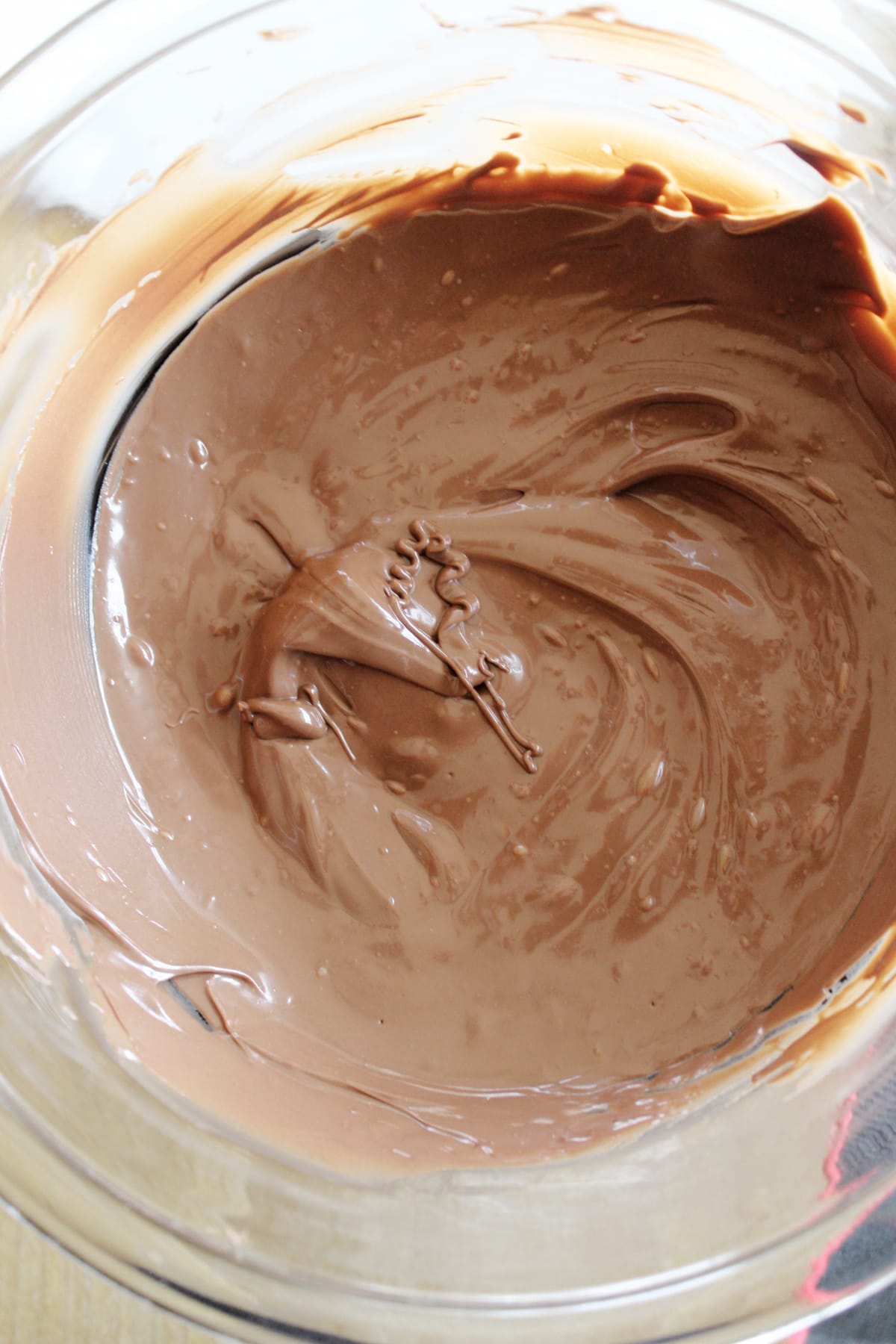 Place your melted chocolate into a pastry bag with a small tip or use a small squeeze bottle for better control over your chocolate.
Squeeze two small dots of chocolate for each eye of your bat treat. Then attach a candy to each dot of chocolate making sure its secured.
Using the squeeze bottle, trace the bat wing shape with the chocolate and fill it in like. Pipe a strip of the chocolate in the middle of the wings to act as the glue for your snack cake bat.
Place your bat body onto the strip of chocolate and press down gently.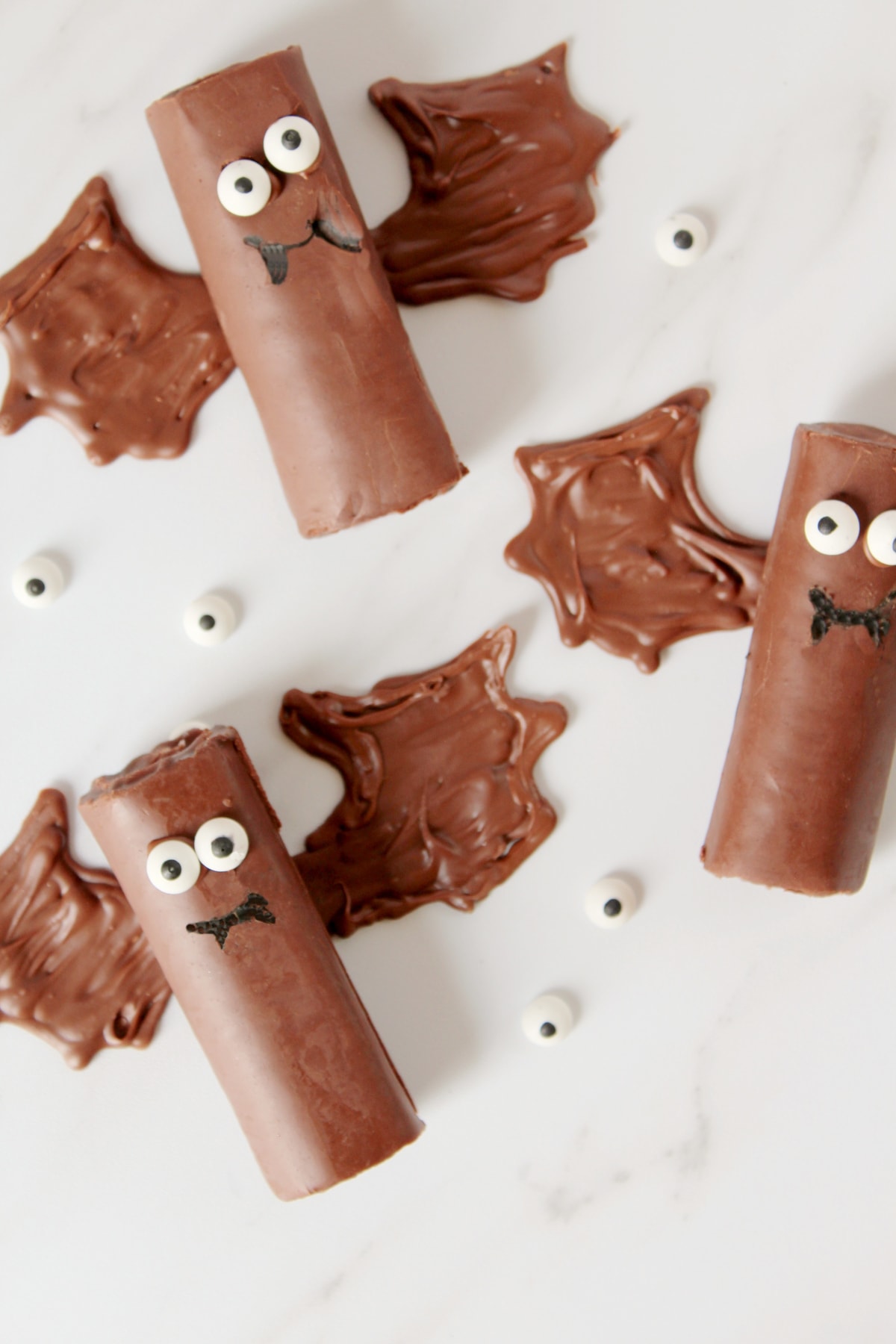 Place your bat treat into the fridge to set for 5-10 minutes.
Carefully remove your bat treats from the fridge and carefully peel away the parchment paper.
You're bat treats are done and ready to serve as a fun Halloween treat!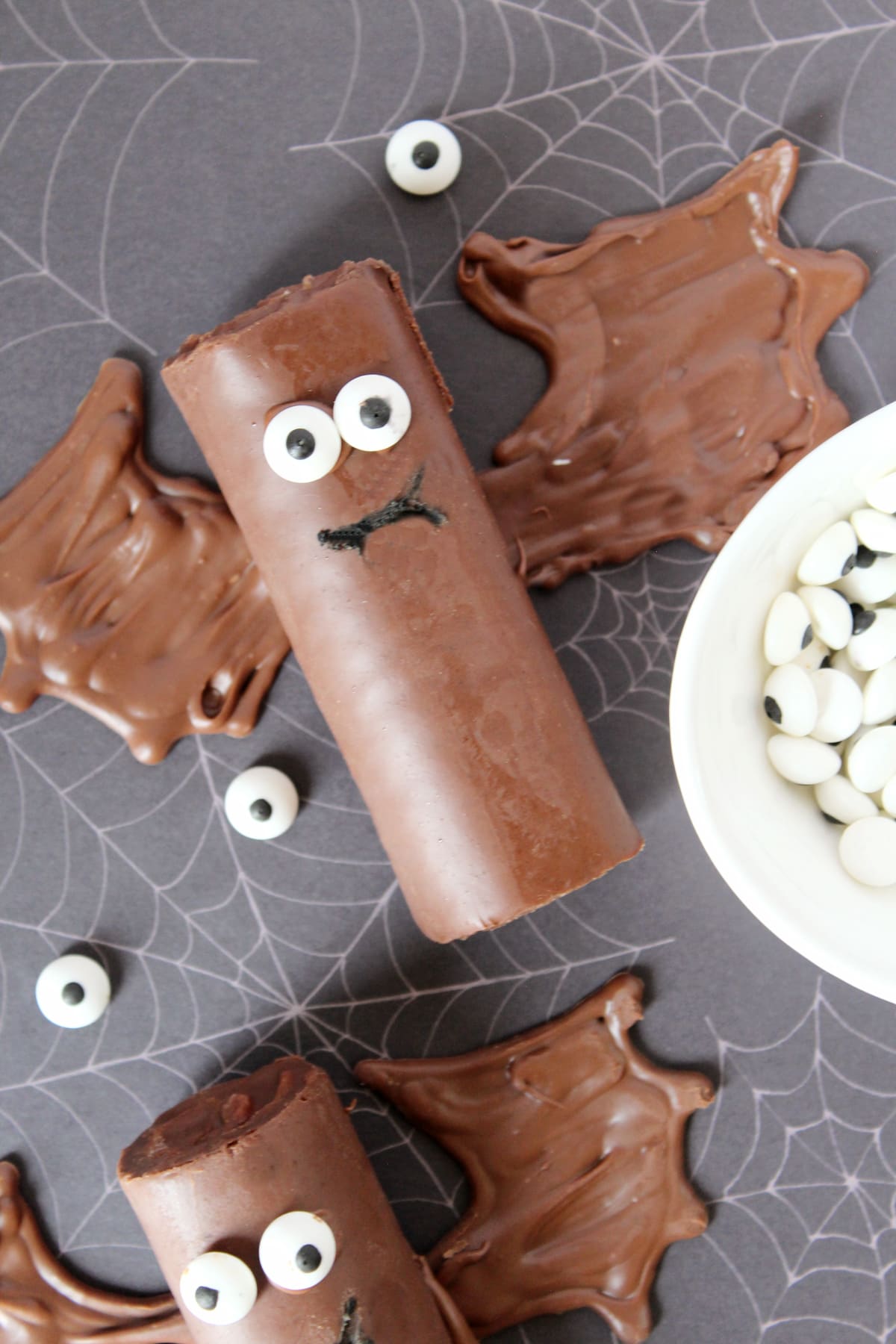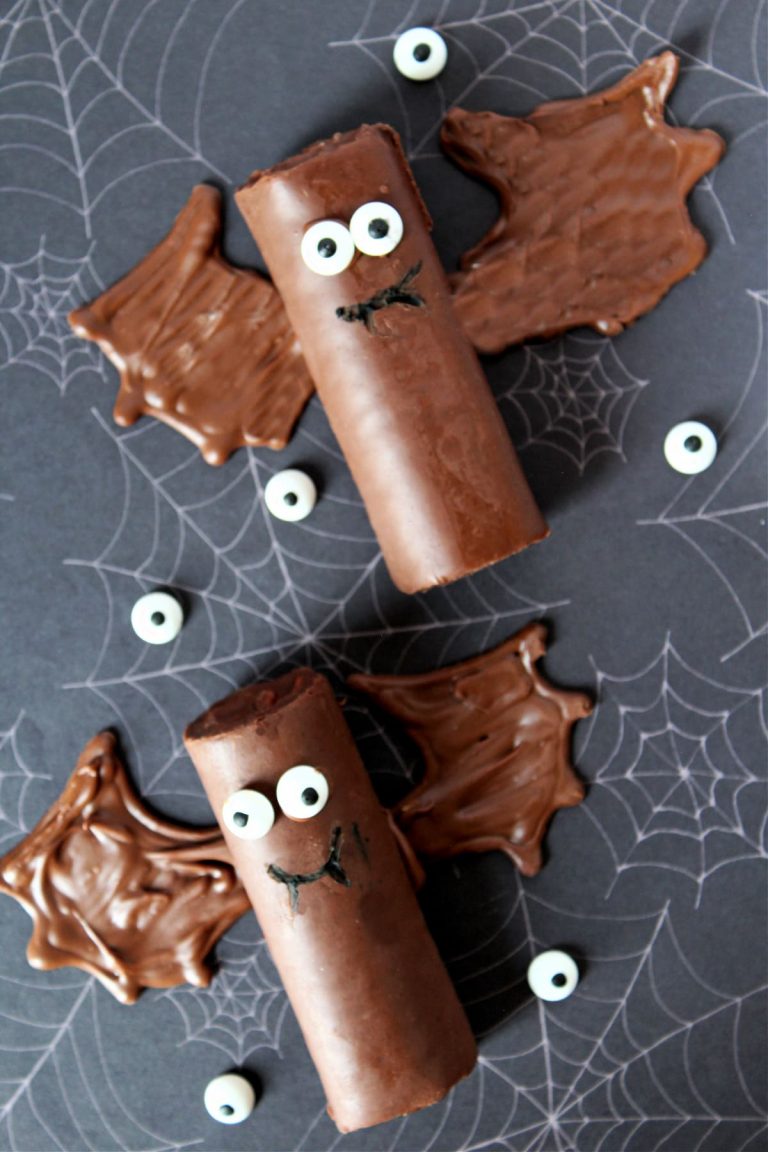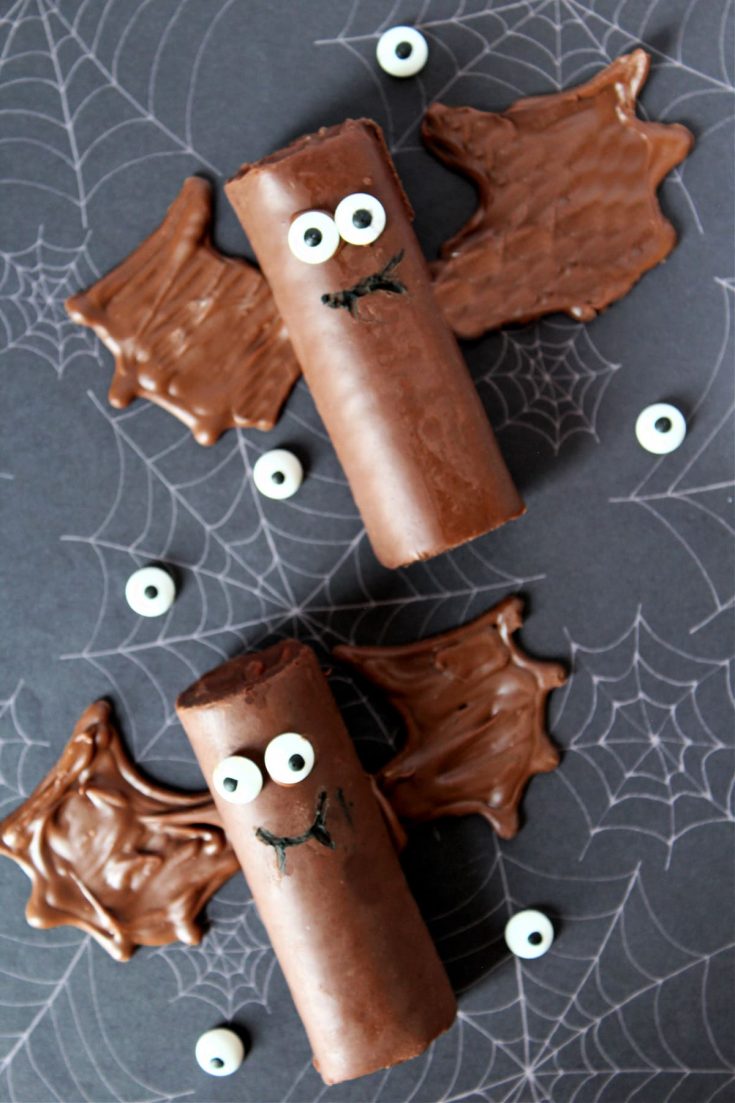 Yield:

6 Bat Treats
Halloween Bat Treats
Additional Time:
10 minutes
These super cute bat treats are easy to make and a perfect kids Halloween treat.
Ingredients
1 box of Little Debbie Swiss Rolls
1 ½ cups of chocolate chips or baking chocolate
Candy eyes
Black food marker
Instructions
Start by drawing bat wings on a piece of parchment paper with a marker or pen. Make sure you leave enough room between each wing for the snack cake.
Using the food marker, draw a mouth or some fangs.
Over a double broiler melt the chocolate until it's smooth. Transfer melted chocolate into a small squeeze bottle or pastry bag.
Squeeze a small drop of chocolate onto the back of each eye and attach it to the snack cake right above the mouth
Squeeze the melted chocolate in the outline for your bat wings and fill the whole inside.
Pipe a strip of chocolate in the middle of the wings and set the snack cake on the top of the strip.
Place bats into the fridge for about 5-10 minutes, allowing the wings to fully set.
Remove from the fridge and carefully peel your bat snacks from the parchment paper.