Halloween Mason Jar Monster
Today we have this super cute Halloween mason jar monster craft! We love us some mason jar crafts around here and this cute little guy is such a cute decoration for Halloween.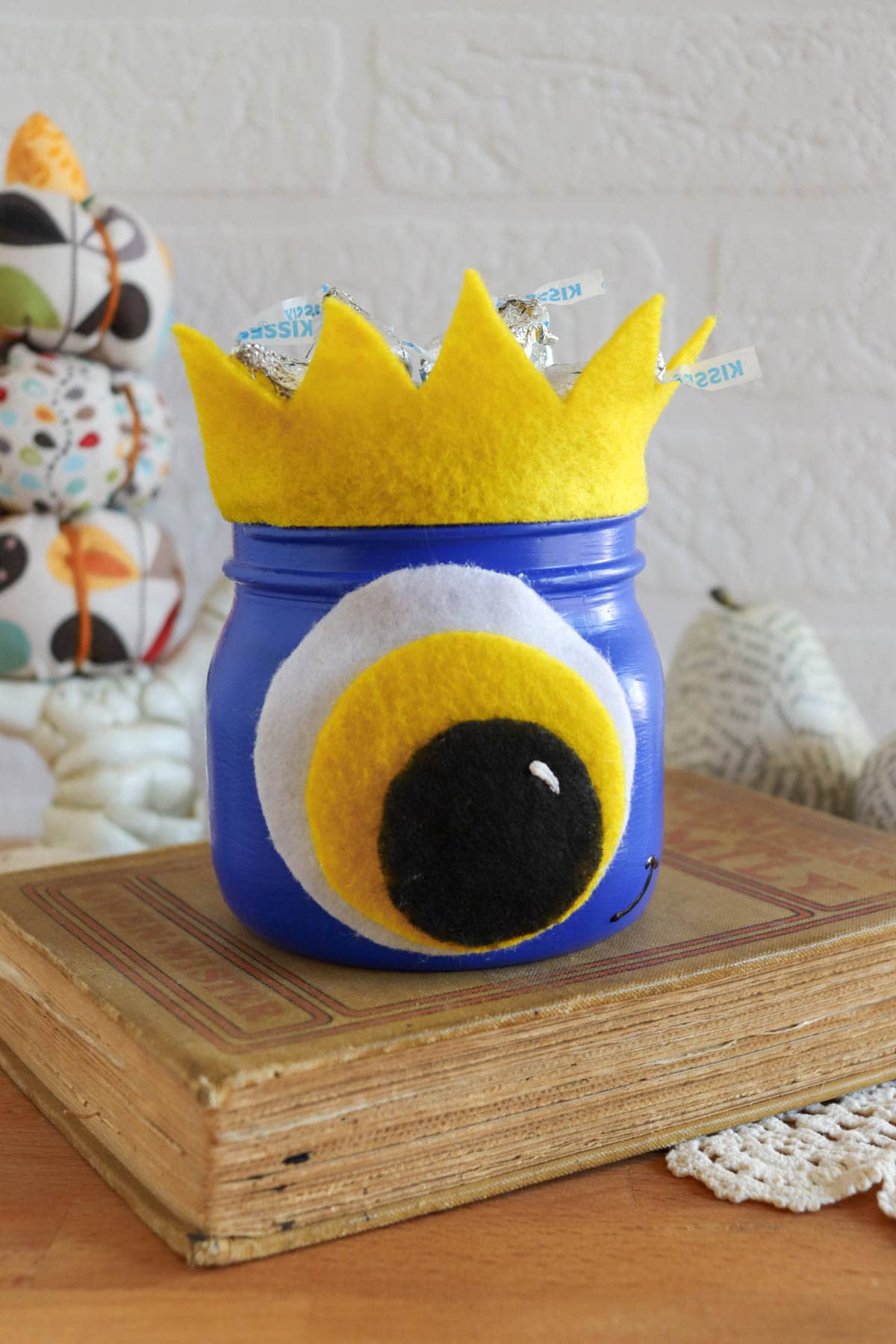 This easy craft is a ton of fun! We used smaller mason jars that are wider than they are tall. This gave our little monster a cute rounder appearance.
This is a great Halloween craft for kids if your kids are old enough to be handling glass jars and hot glue guns safely.
We use him to hold onto some of the Halloween candy.
Making the Halloween Mason Jar Monster
I am going to list the supplies we used to create our little mason jar monster.
However, you can absolutely substitute some of the materials for other ones you already have.
Again, we used the shorter wide mouth mason jars like these.
If you want to use a taller mason jar, go right on ahead!
You can also change up the colors to reflect more of the Halloween colors like orange, purple and black if you prefer.
I however think the yellow and blue are perfect for this little guy.
Supplies
Mason Jar (we used the 500 ml wide mouth mason jar)
Blue acrylic paint
Black and White puffy paint
Felt material (We used white, yellow and black)
Scissors
Hot glue gun
Glue gun sticks
Mod Podge (optional)
How to Make our Halloween Mason Jar Monster
We started by painting our mason jars. I painted all of the jars but will be using the other colors for other projects.
So right now we'll focus just on the blue jar. Paint the entire outside of the jar with your blue acrylic paint.
Then grab your sheets of felt material. We used the yellow, black and white colors for our monster. Since mason jars are made of glass, the paint tends to be see through for the first coat.
Make sure to apply 2-3 coats until your jar is completely covered and opaque.
Next, seal the painted jar with a coat of mod podge. This step is optional, but will protect your mason jar from chipping.
Next, cut out a large circle from the white felt material for the monsters eye. Our eye was about 3 inches wide.
Cut a slightly smaller circle from the yellow felt, to create the iris of the eye. About 2.5 inches wide.
Then cut out a smaller circle from the black felt to create the monsters pupil. About 2 inches wide.
Clue the iris and then the pupil to the white circle, like shown below.
Next cut out a little jagged hair or crown for the top of your monster. Ours was about 3.5 by 1.5 inches.
Next, glue the eye to the front of the jar. Glue the hair piece to the top front edge of the jar. Add a little smile with the black puffy paint and a little highlight to the eye with the white puffy paint.
Fill your jar with candy and you got yourself the cutest little Halloween mason jar monster.
How cute is that little side smirk! We love our little guy and names him blue. What about you? Are you planning on creating any mason jar crafts for Halloween?