Super Easy Mummy Hot Dogs! (With arms and Legs)
Today we are making mummy hot dogs! This is a fun and easy Halloween appetizer or even dinner idea thats quick, easy and so stinkin cute!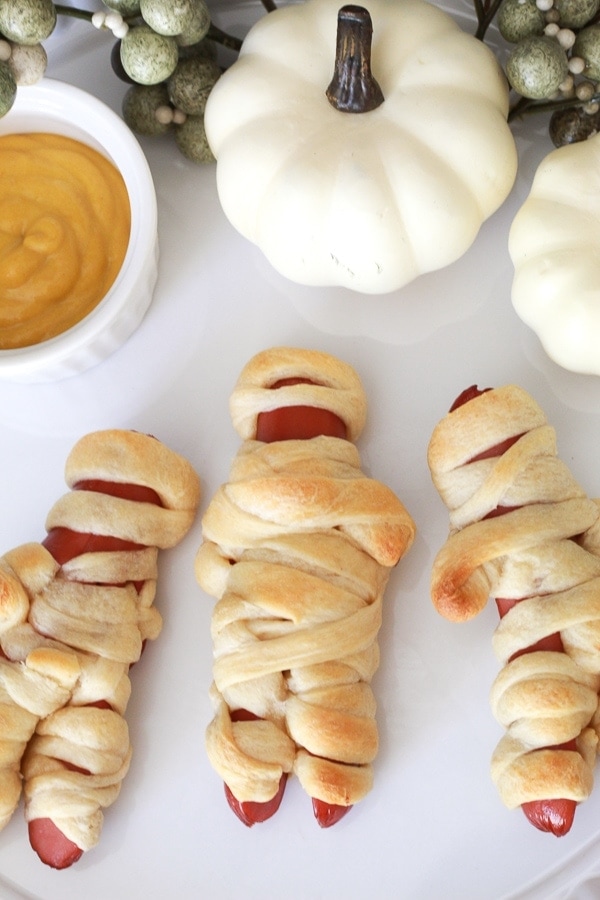 Looking for a totally delicious and easy to make Halloween party appetizer?
We've got just the thing! Mummy hot dogs!
These easy peasy Halloween hot dogs are so cute with just the right amount of spooky!
I had originally seen these on the Pillsbury site but I just had to try these out for my boys. And they were a total hit! (Lots of squeals!)
We'll definitely be bringing these to the next Halloween party were invited to.
Even if you have nearly no crafty-ness at all, no problem.
These are super easy to make, require only 2 ingredients and 20 minutes.
Plus we'll show you step by step how to make these mummy dogs!
Ingredients for Mummy Hot Dogs
10 hot dogs
1 roll of crescent dough (we used Pillsbury crescent roll dough but any crescent dough will work)
Yes, that's right. Just 2 simple ingredients, hot dogs and crescent roll dough.
While you don't have to, we are going to make making are hot dog mummies with arms and legs!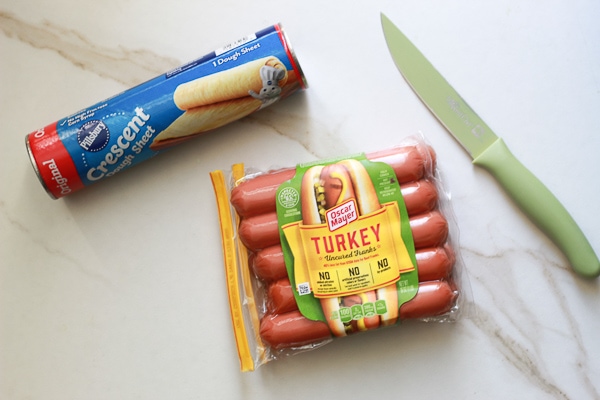 This will yield 10-12 mummy dogs, depending on how much dough you use per hot dog.
How to Make the Mummy Dogs
First, start by preheating your oven to 350 degrees.
The first step to making these mummy dogs is prepping your hot dogs.
I cut all of our hot dogs to have 2 legs and 2 arms, like shown below.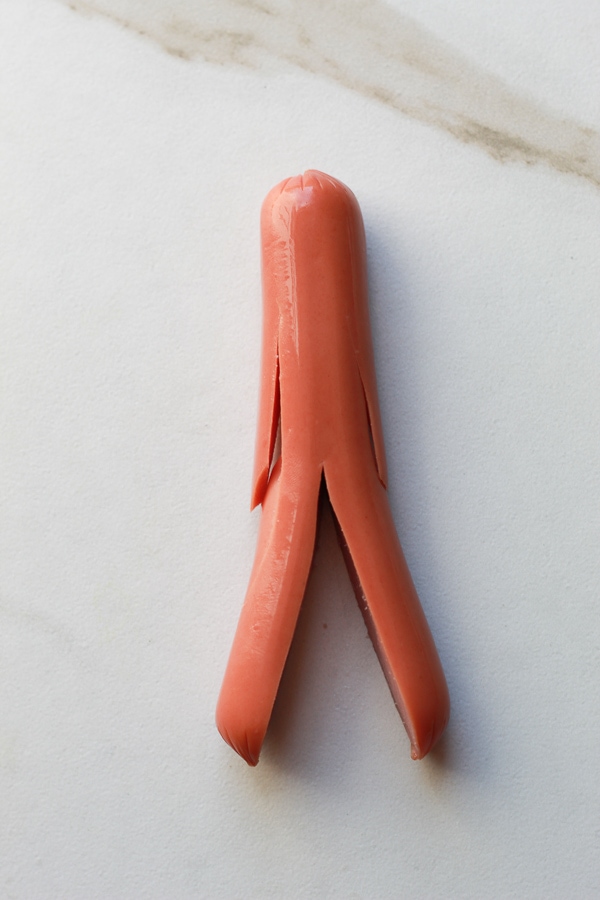 Once all of your dogs are cut up and ready, lightly grease a baking sheet and set it aside to place the mummy hot dogs on when they were ready.
Now unroll your crescent dough onto a cutting board. Cut the dough sheet into thin strips.
It was helpful to use a sawing motion with the knife to cut the strips of dough. You could also use a rolling pizza cutter to get more uniform lines.
Once your dough strips are ready, start wrapping your cut up hot dogs. Use one strip at a time and wrap around each hot dog.
Make sure to gently wrap the arms and legs separately.
This will make your hot dog look more human-like with the arms and legs separated from the rest of the hot dog body.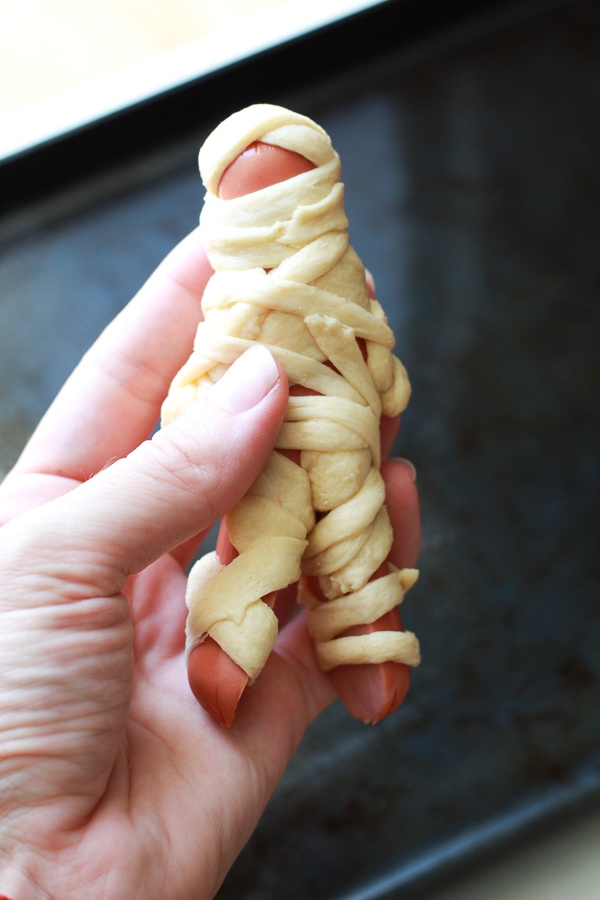 Once each hot dog is turned into a mummy, place it on your greased baking sheet and start wrapping your next hot dog.
Repeat until all of your hot dogs are wrapped as mummies.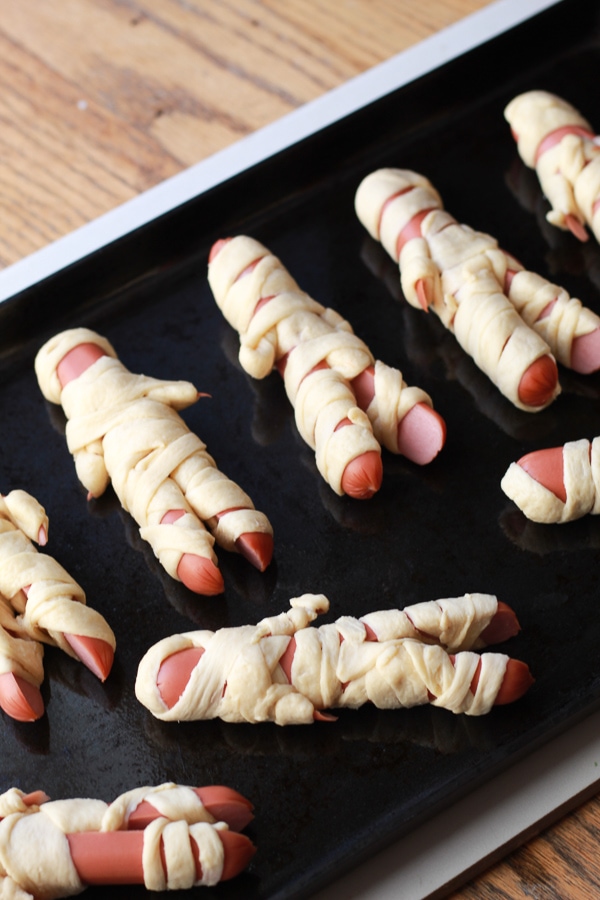 Bake your mummy dogs at 350º for 15 minutes, or until the crust is golden brown and cooked through.
Let your mummy hot dogs cool for 15 minutes. We served ours with ketchup and mustard.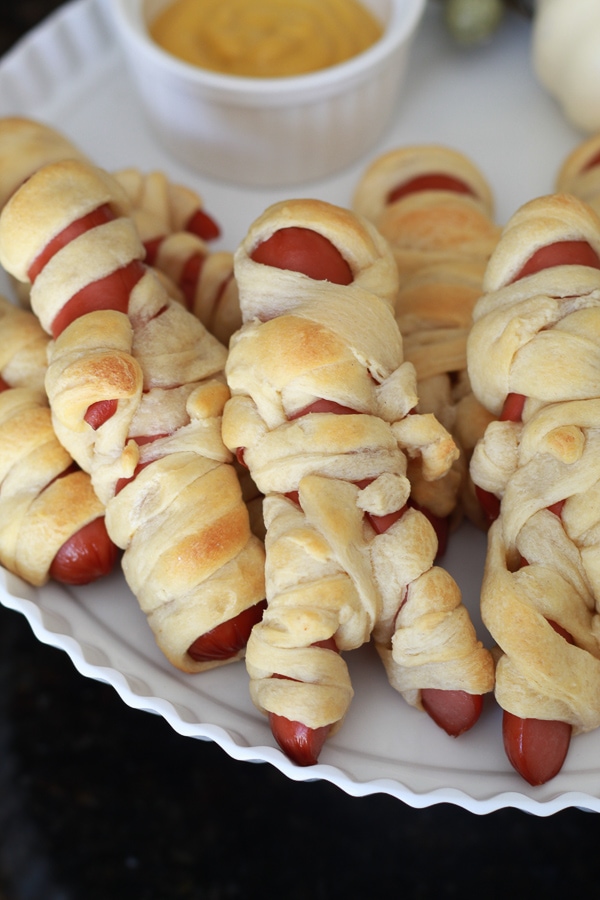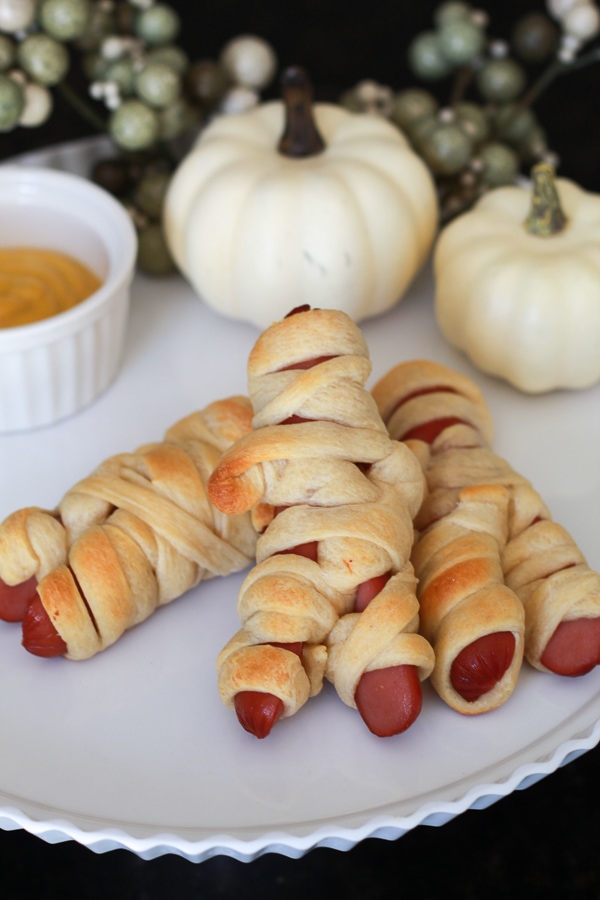 Yield:

10 Mummy Dogs
Easy Mummy Hot Dogs
These adorable mummy dogs are the perfect quick appetizer to serve at a halloween party, for just for a fun dinner idea the kids will love!
Ingredients
10 Hot Dogs
1 Roll of crescent dough
Instructions
Preheat the oven to 350 degrees.
Cut up your hot dogs so that they have arms and legs. Set aside.
Roll your crescent dough out on a cutting board. Cut into thin strips.
Wrap your cut up hotdogs so that the arms and legs are seperated slightly from the body.
Line your crescent dough wrapped mummy dogs onto a lightly greased baking sheet.
Bake for 15 minutes, or until the crust is a golden brown.
Remove from oven and let cool slightly before serving.
Enjoy your spooky halloween mummy dogs!
Notes
We found that one roll of dough makes ten mummy dogs comfortably. If you used a little less dough per dog, you could probably make the full 12 hot dogs that come in a pack. If you are serving these guys at a party you would just double or triple the ingredients.
Nutrition Information:
Yield:
10
Serving Size:
1
Amount Per Serving:
Calories:

172
Total Fat:

15g
Saturated Fat:

6g
Trans Fat:

0g
Unsaturated Fat:

7g
Cholesterol:

30mg
Sodium:

435mg
Carbohydrates:

4g
Fiber:

0g
Sugar:

1g
Protein:

6g
These little mummy dogs were a total hit with my picky kids too!
I can usually get them to eat the hot dogs, but never the bun! But they devoured these hot dogs dough and all in a matter of minutes!
If you like these mummy hot dogs, be sure to check out our Mummy Jalapeno Poppers!
They are almost as easy at the hot dogs, but have a deliciously spicy and cheesy twist!