28 Spooky & Fabulous Halloween Cupcakes
We've rounded up some of the best Halloween cupcakes! Here you'll find awesome tutorials for both creepy and cute cupcakes that are perfect for any Halloween occasion.
With Halloween just around the corner, we have had spooky treats on the brain!
Around here, we especially love cupcakes!
So we've found some of the coolest Halloween cupcake ideas from some awesome creators and rounded them all up here for you.
These are perfect for parties or to make for a bake sale!
Some of the cupcakes are spooky while others are super cute!
They also vary greatly in skill level so hopefully, you'll find a few right up your alley and get inspired to make your own fabulous Halloween cupcakes.
Now, on to the Halloween fun!
Grim Reaper Halloween Cupcakes
Here are some very unique and oh so fun grim reaper cupcakes from momfoodie.com
These are actually a lot easier to make than they look so even a novice in the cupcake decorating arena could make these.
They use fun Halloween themed peeps with a few other simple supplies. So creative and so cool!
Grave Yard Cupcakes
These fun graveyard cupcakes are made from Halloween candy and white chocolate!
Not only are these cupcakes super cute, but they look delicious!
I am a chocolate lover though, so I may be biased. The tutorial even shows you where to get the printable Halloween cupcake toppers for free!
Killer Cupcakes
These killer Halloween cupcakes are both creepy and cute!
These also look so yummy!
I like how the cupcakes have a varied feel. Some are simply full of creepy eye candies while the others have a dagger sticking out with yummy bloody icing.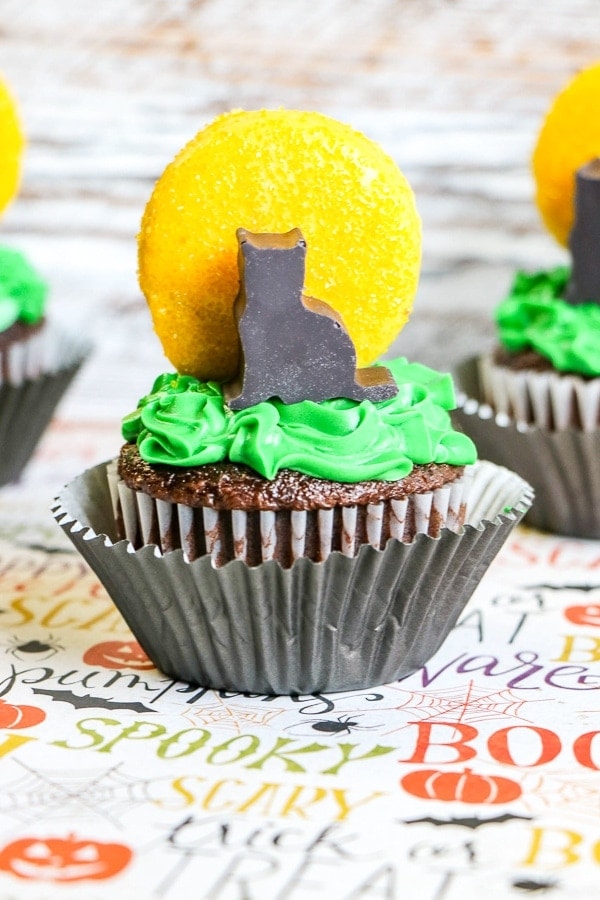 Black Cat Cupcakes
These adorable black cat cupcakes are not nearly as complicated as they look.
With just a few ingredients you can have yourself these elegant, yes spooky cupcakes whipped up in no time!
The Moon is actually a candy-covered Oreo! Yum!!
Spider Web Cupcakes
These spider web treats from the gracious wife are another one of our favorite halloween cupcake decorating ideas. 
They look great and are so stinkin easy to make! I'd love to serve these on a black tray surrounded by fake spiders.
You could even reverse the colors and try black frosting with white webs for a spooky variation.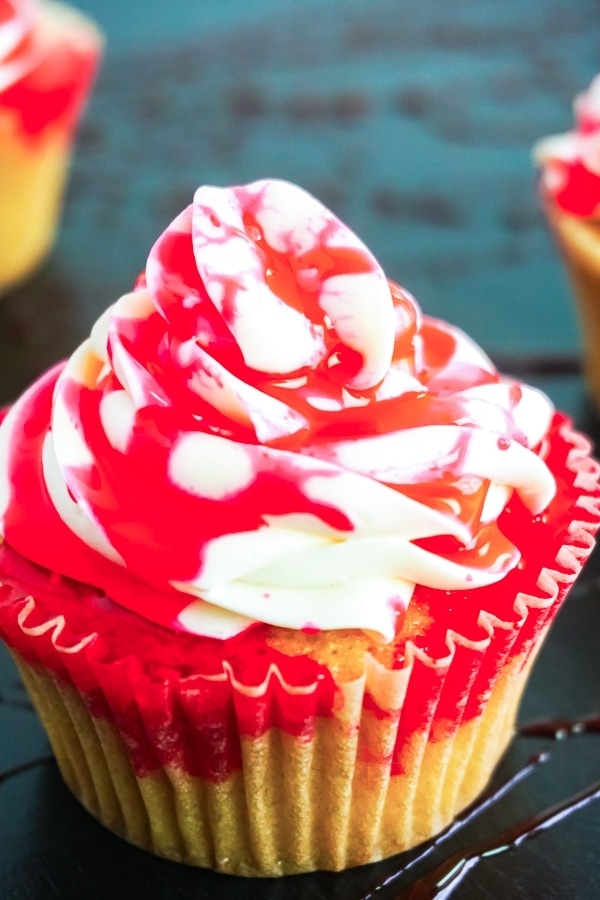 Bloody Halloween Cupcakes
Here are some great bloody cupcakes that would be perfect for a Halloween party!
Although, we made these so I may be a little biased.
They're pretty easy to make as they are just cupcakes with vanilla frosting with our homemade fake edible blood recipe.
What I like about making the fake blood, is that you could whip up all of your favorite treats for a party like cakes, cupcakes and cookies and decorate them all with the tasty blood.
IT Inspired Cupcakes
I have to admit, these It cupcakes by a Magical Mess are super impressive!
"It" was pretty terrifying to me as a kid. And seeing these cupcakes definitely brings up some spooky, eerie feelings.
Which makes them perfect for Halloween!
These do take a little more effort and precision than some of the other ideas on this list, but just adds to the wow factor.
These would be especially great for an adult Halloween party and would definitely wow your guests.
They even give you a full step by step tutorial so you can recreate them yourself.
Easy Ghosty Cupcakes
These ghosty cupcakes look creamy, delicious and have just the right amount of spook.
The ghosts are even made from chocolate!
You can find an entire video tutorial for these easy ghost cupcakes over at Fab Food 4 All.
Halloween Ghost & Bat Cupcakes
Here are a few adorable easy Halloween cupcakes by recipes from a pantry are super easy that even the unskilled baker can make look great.
These are cute and kid-friendly and won't take you a terribly long time to make.
Perfect for a last-minute Halloween treat!
Cute Oreo Bat Cupcakes
Aren't these little oreo bat cupcakes the cutest!
The full recipe over mind over batter looks delicious and these cupcakes are actually cookies and cream cupcakes!
These are decorated with just Oreos and candy eyes! Making them super easy to put together.
And very fitting, as the frosting IS made from Oreos as well!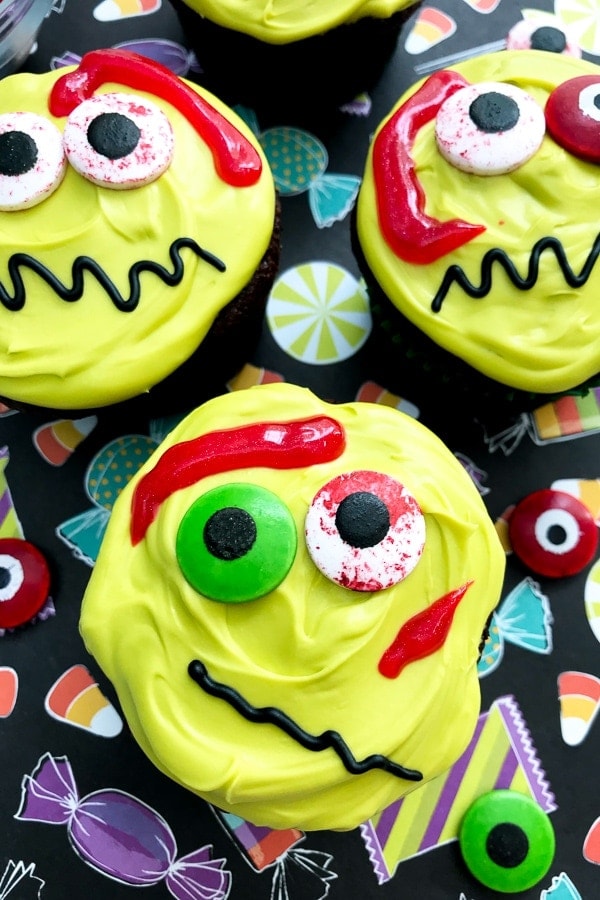 Silly Zombie Cupcakes
These silly zombie cupcakes are one of our own creations. These are perfect for Halloween parties where kids are gonna be, as they are spooky and fun, without being scary.
Plus these are super easy to make!
We like the idea of letting guests decorating their own Halloween cupcakes by setting out all the supplies and letting their creativity loose and making their fun and unique zombie faces.
Creepy Bloodshot Eyeball Cupcakes
These bloodshot eyeball cupcakes are kinda gross…. in the best possible way!
After grossing each other out is a favorite for us, especially during all hallows eve.
These cupcakes are another super-easy way to decorate cupcakes for Halloween.
Adorable Frankenstein Cupcakes
I am in love with these Frankenstein cupcakes from Mom Foodie!
They are so stinkin adorable and so much fun.
They're easy enough that you can follow along with the tutorial and make them in your own kitchen, but look like they were made professionally!
Besides, what's Halloween without a little bit of the classic monster Frankenstein!
Creepy Severed Finger Cupcakes
Now, these severed finger cupcakes are super creepy!
And while they are not so child-friendly, they would be AMAZING for a grown-up Halloween party!
If you look close, these fingers even have a string tied around them as some sort of forgotten reminder which gives them an eerie touch.
I love the idea of making these cupcakes and sending them as invites, sending the message to your guests not to forget your party!
And of course, there is a full tutorial on how you can recreate these Halloween cupcakes!
Simply follow along with the step by step photos and you'll have creepy forget me not cupcakes of your own.
Spooky Jack O'Lantern Cupcakes
These Jack O'Lantern cupcakes are another easy to make but super cute way to decorate your cupcakes this Halloween!
You can make the faces creepy or nice! Depending on who your baking for.
I love the little details of the edible pumpkin stem!
And these treats wouldn't take long to whip up at all.
Royal Icing Bat Cupcakes
These bat cupcakes are made with royal icing and are much more time-intensive to make than some of the other cupcakes.
But it's the extra time that makes these cupcakes so delicious and special.
You can find a full tutorial of these adorable Halloween cupcakes over at Kudos Kitchen by Renee.
Jason Mask Halloween Cupcakes
These are both seriously adorable and seriously creep at the same time.
The detail in the Jason masks are perfect! These cupcakes look like they were made by pros.
But, the best part is you can find the full tutorial for these Jason mask cupcakes over at Tikkido.
Nikki makes it easy for you to make great looking cupcakes for your next Halloween party.
Creepy Tentacle Cupcakes
We've found another fantastic creepy cupcake tutorial by Tikkido. Tentacle cupcakes!
These cupcakes are so eerie that they are perfect for Halloween.
And so much easier to make then they look! Just check out the full tutorial for these tentacle cupcakes.
Easy & Cute Ghost Cupcakes
If you're looking for a less scary, more cute Halloween cupcake, these ghost ones are perfect!
The ghosts are easily made from a bit of fondant and popped on top of creamy orange frosting.
These would be great for a classroom Halloween party or any kids Halloween themed event.
Oozing Slime Cupcakes
These extra gross cupcakes are perfect for Halloween!
The ooze is actually lemon custard, which is pretty brilliant and sounds delicious!
You could easily and quickly whip up cupcakes like these.
You can check out the full tutorial for these oozing slime cupcakes over at a mummy too.
Zombie Eye Cupcakes
Okay, these cupcakes are seriously disgusting looking. I would be so impressed seeing these on a staged Halloween table.
How could you not love the realistic, yet totally gross goo of the bloody eyes!
Not only that, but when you see the ingredients the toppings are made of, it'll make you drool.
It's all very confusing.
These fantastic zombie eye cupcakes can be found at Boulder Locavore.
Vampire Bite Cupcakes
These vampire bite cupcakes are so stinkin easy! And perfect for any vampire fans out there.
Seriously though, so easy yet so brilliant.
If you were in a real pinch to whip up some Halloween cupcakes for a last-minute hoorah you could even buy regular store-bought vanilla cupcakes with white frosting, and create the vampire bites with just a bit of food coloring to make the blood!
Cute Pumpkin Cupcakes
If you are looking for a cute way to decorate your Halloween cupcakes, but without being scary at all, why not try these pumpkin patch cupcakes!
The recipe is actually for pumpkin spice cupcakes. Yum!
And these are super cute without being scary at all!
Purple Monster Cupcakes
Of course, there are tons of monsters and ghouls associated with Halloween.
These fun monster cupcakes are perfect for any Halloween occasion. They are cute with all that purple fuzz everywhere.
Plus squishing out all of the purple frosting through those fine tubes would be a lot of fun!
Impressive Witch's Hat Cupcakes
I don't know what it is about these witch's hat cupcakes, but I'm totally in love!
These would look so elegant at a grown-up Halloween party.
These cupcakes are almost too pretty to eat! Almost…
And can you believe that these are made entirely from frosting!! (And some fun green sprinkles)
Candy Spider Cupcakes
These chocolatey spider cupcakes look so rich and decadent.
The little spiders on top are also an easy way to decorate your cupcakes for Halloween.
I also love the idea of decorating some of the cupcakes with the spiders, while decorating others with white chocolate spider webs!
Slime Monster Cupcakes
These slime monster cupcakes are so cute!
The fun variety makes the cupcakes interesting while definitely adding a fun and cute, but slightly creepy feeling.
These cupcakes are made with a fun pudding topping that acts as the "slime!" So clever.
Cute Halloween Witch Cupcakes
Another cute idea to decorate Halloween cupcakes is using ice cream cones and making these witch hat cupcakes!
The idea is simple and easy but comes out lovely.
The height alone would make these cupcakes stand out on a Halloween party table!
You could even fill the cone hats with various other Halloween candies for a special little surprise.
Headless Horseman Cupcakes
And finally, to finish up our list of amazing Halloween cupcakes, we leave you with these headless horseman cupcakes.
Now, these cupcakes aren't as easy as most of the ones on the list. That's because you actually need to draw out the headless horsemen!
But Claire at The Simple Sweet Life even gives you a template when you check out the recipe that you can print and trace.
Because these cupcakes would be super impressive to whip out yourself but it does take a certain amount of artists touch.