Delicious Non Alcoholic Eggnog
Today we are making delicious eggnog. This particular recipe is a non-alcoholic, cooked eggnog. It's yummy, safe for those worried about raw eggs, and the kids can enjoy it too!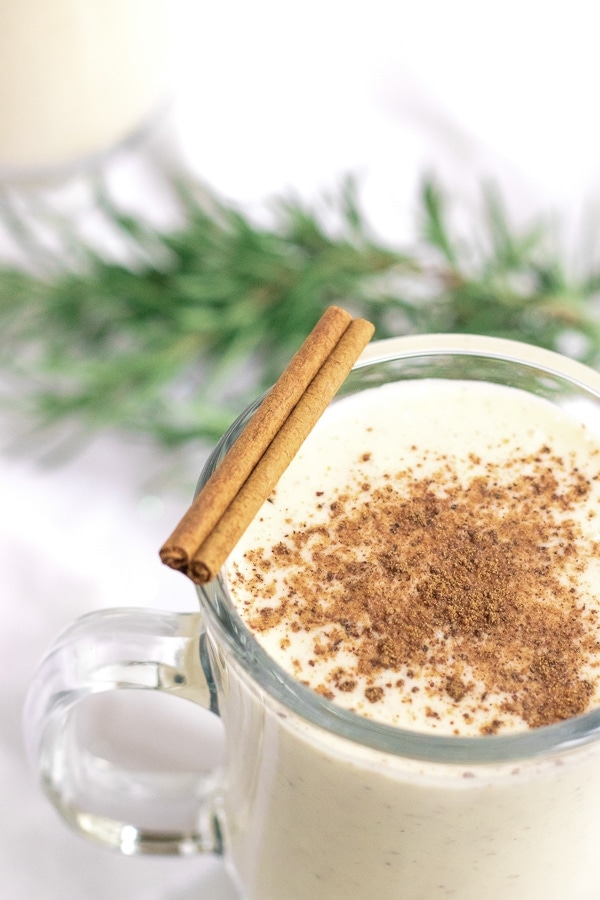 Eggnog is a classic holiday drink. Alteast here in the United States.
It's rich, creamy gooness mixed with festive spices makes a yummy combination.
It seems as though most people either hate eggnog or love.
However, according to Time, those who don't have eggnog, probably have never tasted real, homemade, classic eggnog.
Which is very different from the grocery store eggnog.
So today, we'll show you how you can make your own delicious, classic version of eggnog, just without the alcohol.
And, if you do end up making this eggnog, make sure to whip up a batch of eggnog pancakes to go with it on Christmas morning!
This post may contain affiliate links. That means if you click a link, we may earn a commission at no cost you. You can read out full disclosure here.
Ingredients for Non-Alcoholic Eggnog
This recipe makes 4-6 servings of non-alcoholic eggnog. It only takes about 30 minutes to cook but does need to cool for a few hours before serving.
3 Cups of whole milk
1 Tablespoon of real vanilla extract
1 Teaspoon of nutmeg
3 Eggs
3 Egg yolks
1/2 Cup of sugar
16oz of heavy cream
Optional Garnish Ingredients
These ingredients are "optional" but really elevate the experience of the drink:
Whipped Cream
Nutmeg
Cinnamon
How to Make Non-Alcoholic, Cooked Eggnog
To make your eggnog, start by whisking together the whole milk and vanilla extract in a small sauce pan.
Bring the milk mixture to a simmer and remove from heat.
In a large mixing bowl, use a hand mixer to beat the eggs, yolks, sugar and salt together for 5 minutes, until the mixture is thick and a bit frothy.
Once your egg mixture is finished, slowly pour the mixture into the saucepan with the milk and vanilla.
Make sure to whisk constantly as you pour to ensure both the eggs and milk incorporate well.
Return the pan to medium-low heat and whisk constantly while cooking for about 5 minutes.
If you have a thermometer, you want the temperature to reach 165 degrees.
Once your eggnog has finished cooking, remove from heat and pour in the heavy cream.
Stir your eggnog together until well combined.
As long as your whisk constantly, your eggnog should not have any lumps.
If lumps do form, you can pour the eggnog a through fine mesh strainer.
Pop the eggnog into the fridge for 3 hours before serving.
This will allow the eggnog to thicken up and become richer and creamier.
Your eggnog should last in the fridge 2-3 days.
Enjoy!
Now that you've got fresh eggnog, why not try a fun recipe using this delicious drink!
We've got eggnog pancakes and eggnog cupcakes! (And of course, eggnog buttercream icing.)