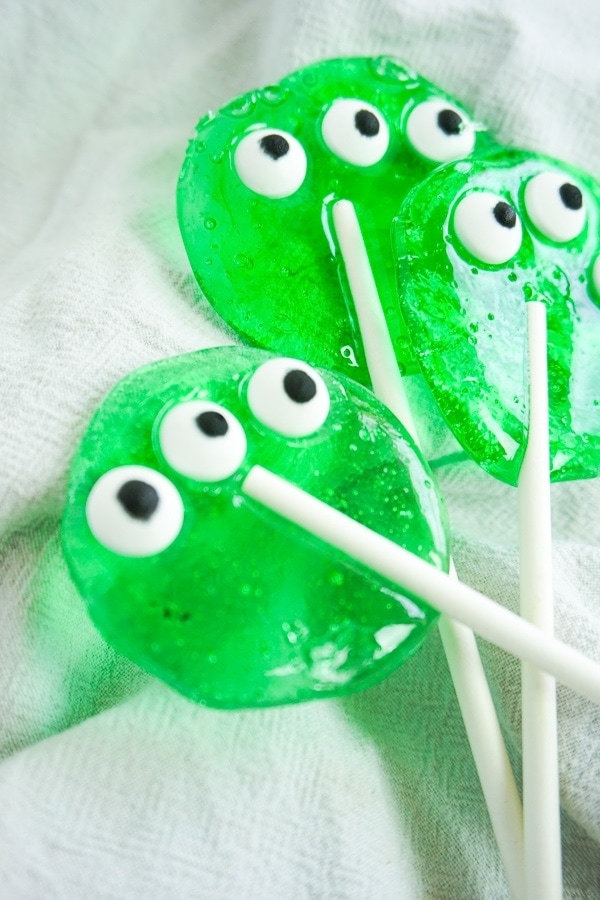 Are you looking for a cute and simple Toy Story Treat to make yourself?
These Toy Story lollipops are super cute and would make a great addition for any Toy Story Birthday party.
Supplies needed for Toy Story Lollipops
2 cups of regular white sugar
3/4 cups of water
2/3 cups light corn syrup
Green gel food coloring
Candy Eyeballs
Cake Pop Sticks
Silicone baking sheet
A candy thermometer will come in handy too if you have it
How to Make Your Toy Story Lollipops
In a medium sized saucepan combine your sugar, corn syrup, and water together.
Bring it to a boil. If you have a candy thermometer, you can put your candy thermometer in now if you have it.
Stir occasionally while boiling.
Once your candy has come to 300 degrees, you can remove from heat.
If you are not using a thermometer, you can take a spoonful of the mixture and drizzle it onto your silicone baking sheet to see if it's in the "crack" phase.
This will also show your candy is ready.
Now you can add your green food coloring.
Immediately after mixing in your food coloring, start spooning into circles on your silicone baking sheet.
You can pour over your cake pop sticks or you can press the stick into your lollipop circle once you have created your green lollipop base.
Now add 3 candy eyes to each of your lollipops, making an adorable toy story alien lollipop.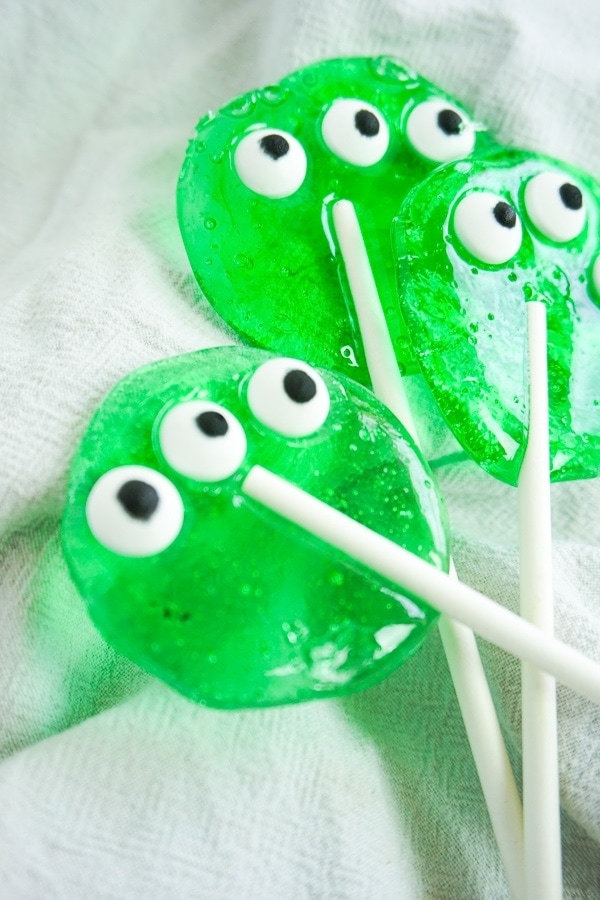 Yield:

Several really cute alien lollipops
DIY Toy Story Lollipops
Make these super cute alien Toy Story lollipops with just a few ingredients!
Materials
● 2 cups granulated white sugar
● 3/4 cups of water
● 2/3 cups light corn syrup
● Green GEL food coloring
● Candy Eyeballs
● Cake Pop Sticks
Tools
● Candy thermometer, if you have one
● Silicone baking sheet
Instructions
In a saucepan combine sugar, corn syrup, and water.
Bring to a boil. If you have a candy thermometer, insert it.
Occasionally stir while boiling.
Once at 300 degrees or the "hard crack" stage, remove from heat and add food coloring.
Immediately spoon into circles on the silicone baking sheet.
Press cake pop sticks into the circles of lollipop.
Add 3 candy eyeballs to each lollipop.
Allow lollipops to sit until hardened (about 2 hours). Make sure to cover while it sits.