Sand and Beach Pudding Cups
These beach pudding cups are made with sand pudding! It's a fun beach themed dessert perfect for those sunny hot days.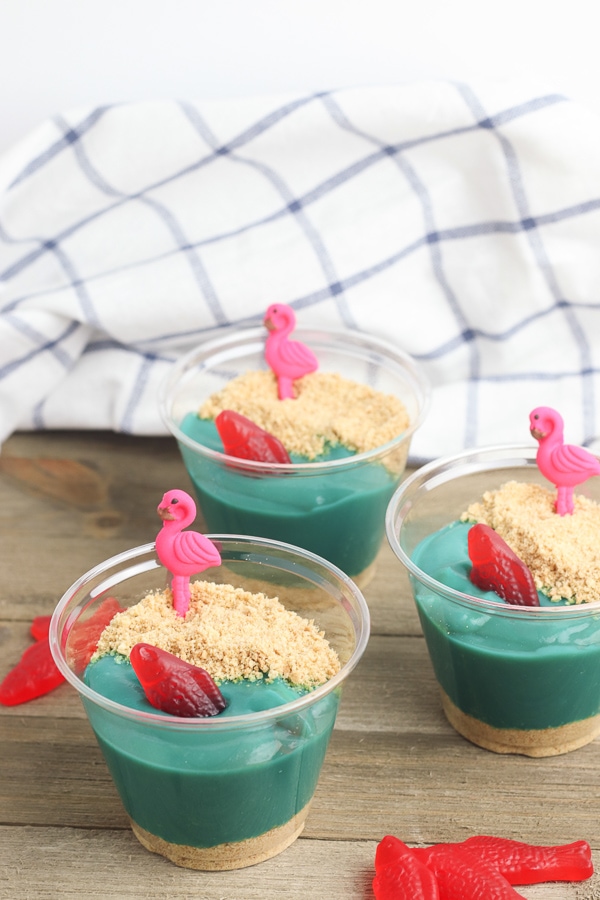 These fun sand and beach pudding cups are so stinkin cute and really tasty.
My daughter likes to call them "ocean pudding cups." Which is a pretty great title too. They are made with pudding and graham cracker "sand." Although, the tan oreos would work great too!
They make a great summer dessert and would be awesome to serve at a beach party, flamingo party or any even a mermaid themed party.
Plus these "pudding dirt cups" are so easy! Just whip up some pudding, layer your dessert and you're beach themed treats are ready to go!
Supplies for Beach Themed Pudding Cups
The supplies for this recipe makes 4 cups. If you need more simply increase the amount of pudding and gram crackers you use.
Makes 4 Pudding Cups
Vanilla instant pudding
Blue food coloring
Graham cracker crumbs or vanilla oreos
Wiltons Flamingo candy (We got ours at Walmart)
Small plastic cups
How to Make your Sandy Beach Pudding Cups
To make these cups, you will be using vanilla pudding as your "ocean" and your gram crackers as your sand.
This is very similar to a traditional dirt cups dessert you may have made as a kid.
If you want to substitute golden oreos instead of the gram crackers, that would work too for these pudding cups!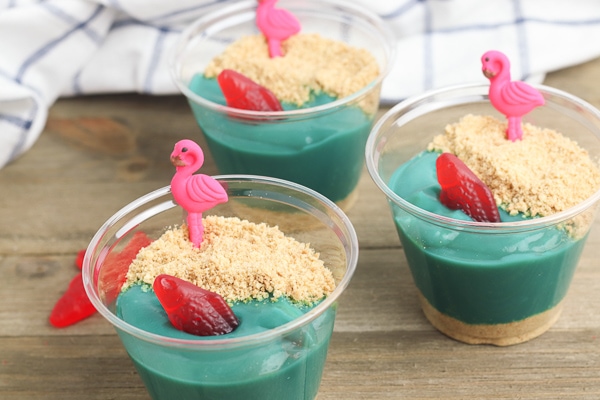 Step 1: Make your Pudding
To make your beach pudding cups, first make your vanilla pudding according to the instructions.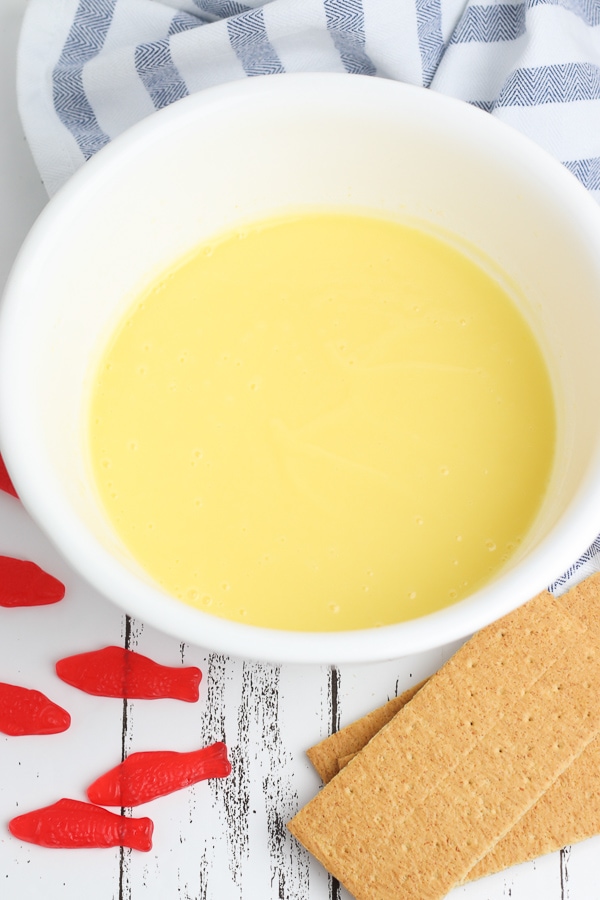 Step 2: Color your Pudding an Ocean Color
Then add in blue food coloring until you get your desired ocean color for your pudding, and set aside.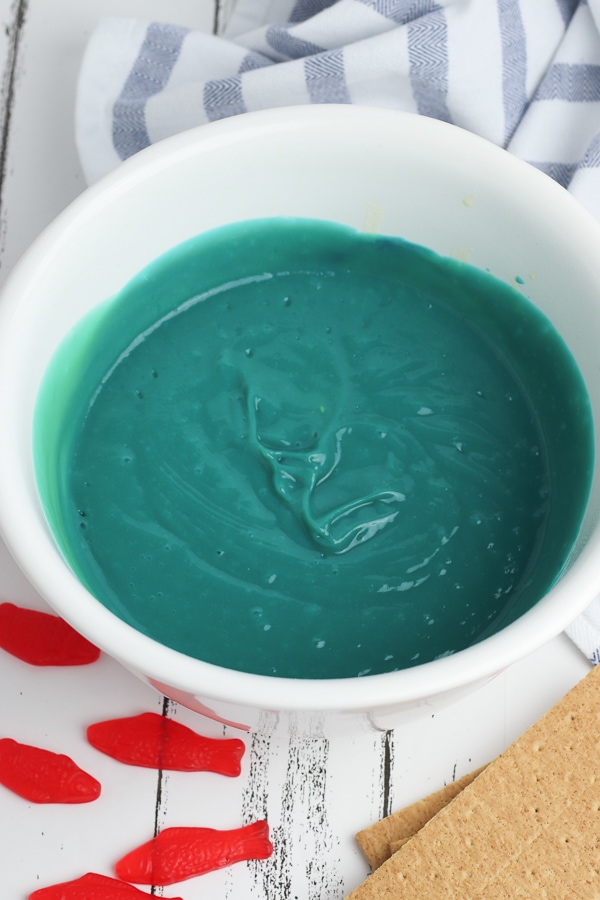 Step 3: Make your Pudding Cup Sand
Make your own graham cracker crumbs by placing the graham crackers in a thick zip lock bag. Using a roller pin, crush the graham crackers into a sandy texture.
Again, you could also substitute the graham crackers for golden Oreos and get a similar sandy feel.
They make perfect pudding sand!
Then add a layer of your sand to the bottom of each of your empty pudding cups.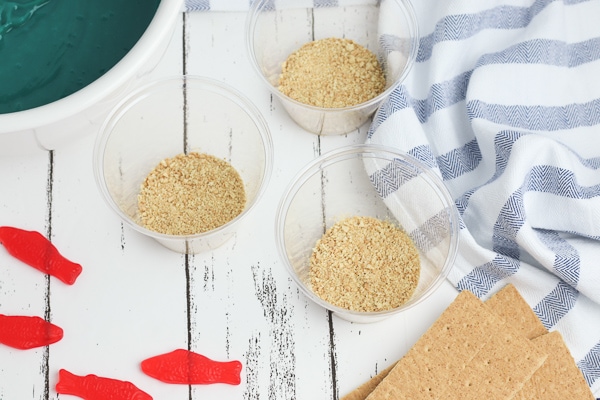 Step 4: Add your Ocean Pudding
Next, fill up your cup almost to the top with your ocean colored pudding.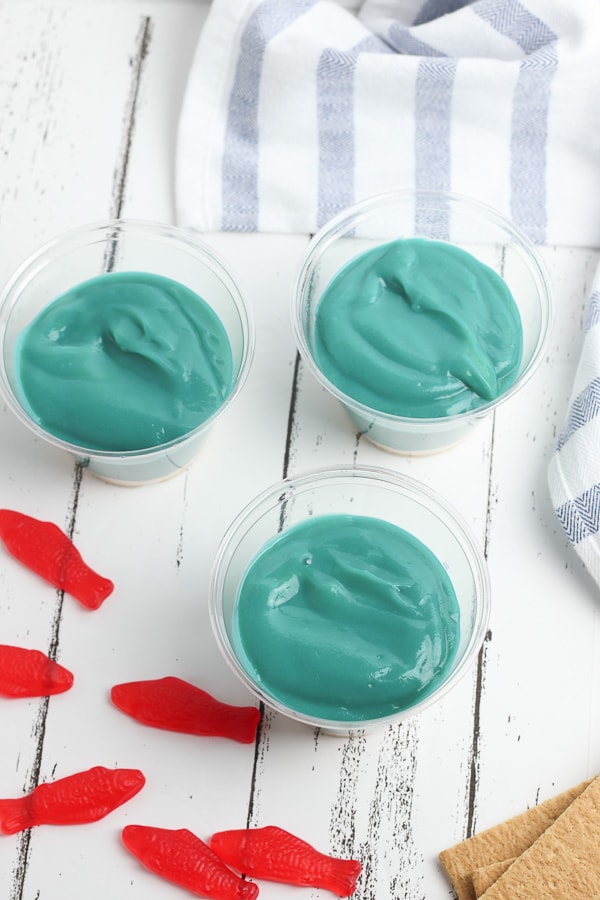 Step 5: Decorate your Beach Cup
Here is our favorite part! Start decorating your beachy pudding cup. Add some of the remaining gram cracker sand to half of your pudding cup top to form the beach.
We added a candy flamingo to each of our beaches and a red candy fish to the ocean.
If you can't easily find the Wilton flamingo candies, you could also find some cute flamingo candy on amazon like these ones.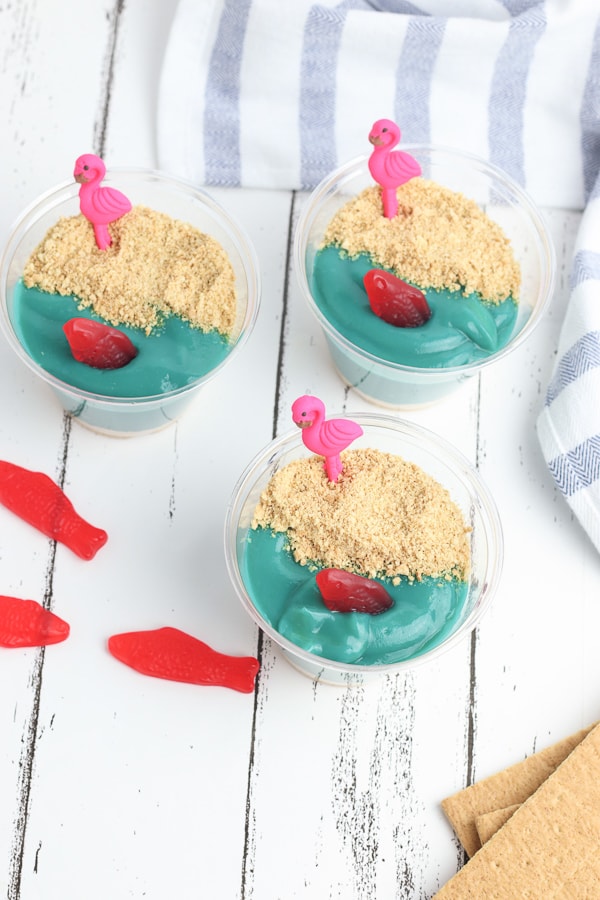 Keep your pudding cups refrigerated until ready to serve. Anyone will love these refreshing little treats on a hot summer day!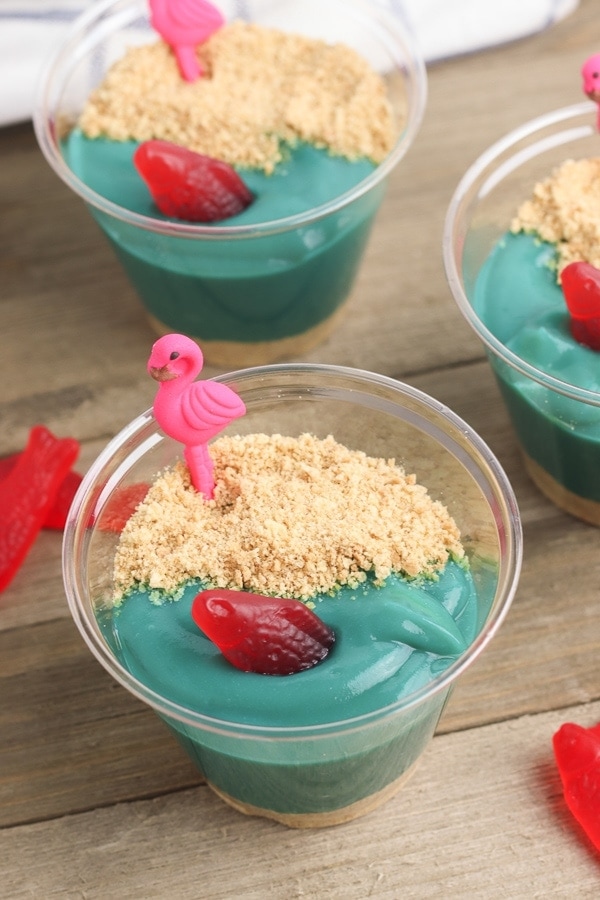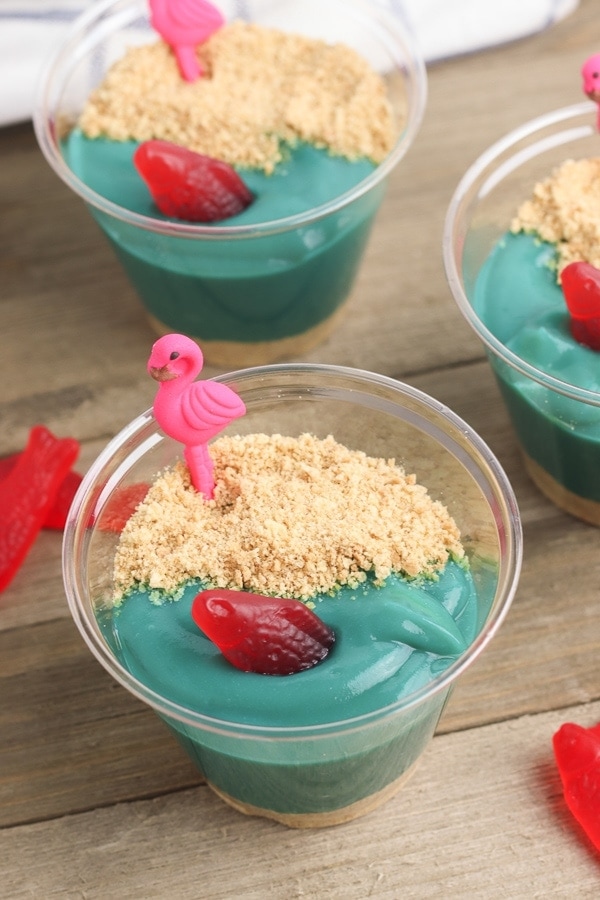 Sand and Beach Pudding Cups
These cute beach themed pudding cups are a great twist on the traditional "dirt cups." Made from instant pudding and graham crackers.
Materials
1 small package vanilla instant pudding
Blue food coloring
2 cups graham cracker crumbs
Flamingo candy
Fish candy
Small plastic cups
Instructions
Mix pudding according to package directions and add blue food coloring until your pudding is an ocean color. Set aside.
Make your own graham cracker sand by placing graham crackers in a thick zip-lock bag and crush them with a rolling pin.
Put a layer of graham cracker sand at the bottom of each plastic cup.
Pour your ocean pudding over the top of the crumbs.
Sprinkle graham cracker crumbs over one half of the top of the pudding to form a beach scene in your pudding cup.
Finally, decorate your beach with a candy flamingo on top of the graham cracker crumb sand and a candy fish inside the ocean area of the pudding.
Keep refrigerated until ready to serve.
Notes
This recipe makes only 4 cups. To make more simply use more graham crackers and pudding.
If you'd rather, you can also use golden oreos instead of the graham crackers to make your sand. Just crush them the same way you would the graham crackers.