Easy Easter Bark with Chocolate Eggs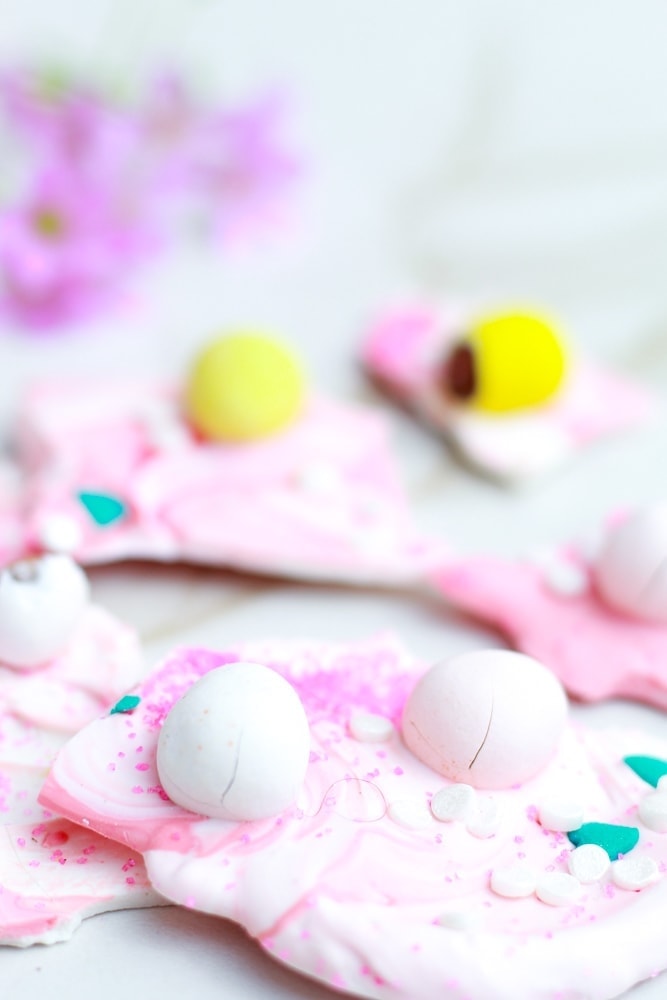 Easter time is a perfect time to break out the fun desserts and treats!
One of my favorite ways to add a little holiday spirit to any occasion is making simple and easy candy bark. In this case, Easter bark!
I like to keep a stash of candy melts in a variety of colors so that we can whip up fun treats when the mood hits.
We had some leftover chocolate Easter eggs this year after making our Chocolate Easter Chick Jars.
So the kids and I decided they'd be a perfect addition to our Chocolate Easter bark!
How to make an Easy Easter Candy Bark
First, you'll have to gather your supplies. In this case, all you really need is your candy melts and various other Easter candies.
Easter Candy Bark Supplies
Candy melts (we used white, and a few red candy melt chips to make pink)
Chocolate Easter eggs
Sprinkles
Wax paper
Once you have all of your supplies gathered, it's time to melt your candy. You'll have to work kind of fast if you are going to be using different colors.
I wanted pink in our Easter bark, so I used what we had, white and red candy melts.
First, we melted the while candy bark and "plopped" it in sections onto our wax paper.
We added a few red melts, remelted the whole thing to make a light pink.
We "plopped" that in between the white candy plops.
We repeated the process once more to get a bit darker pink candy and "plopped" that in between the rest of the melted candy.
Then using a spoon, we smeared the candy all together to create a unified candy layer.
Once your candy is spread around, you can add in your chocolate Easter eggs and sprinkles. We used a fun variety of sprinkles to create a springtime, Easter feel.
After it has dried for a few hours, you can use a large knife and chop up into squares. Some parts may crumble, but that's ok.
We just eat those before they hit the plate!
Finally, just put on a plate and serve. This candy should last quite a while. Just keep in an airtight container in a cool, dark area if you don't eat it right away.
Ours never lasts long enough to worry about storage though!