Adorable Meringue Monster Cookies
These cute Monster cookies are so easy and so much fun to make! A fun Halloween treat idea.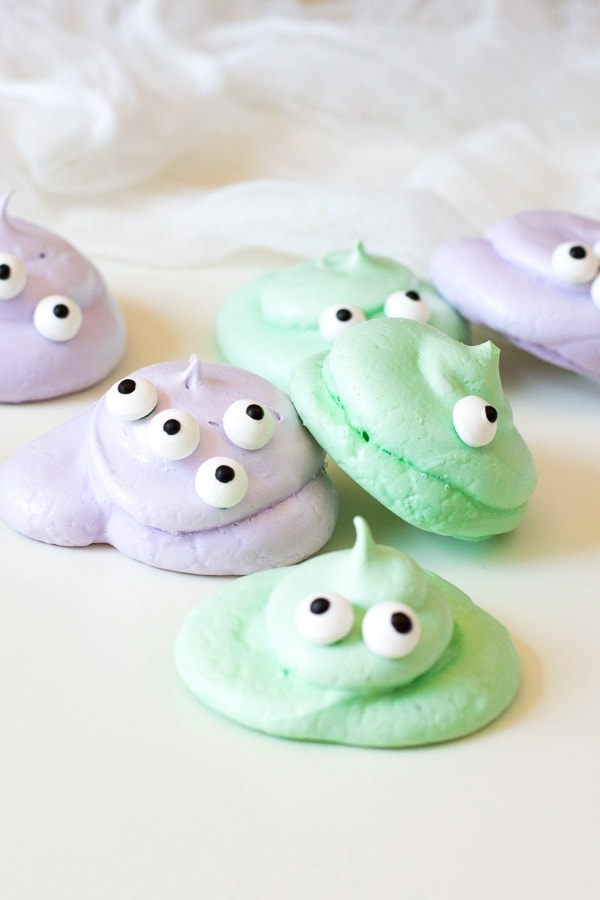 Meringue cookies are an easy and fun cookie to make that are so deliciously delicate.
We've been having fun making lots of different Halloween party foods.
And since Halloween is right around the corner, we decided to make these cookies monster cookies! 
Turning meringue cookies into monster cookies is actually really easy!
All you need is a couple of extra ingredients. Mostly just food coloring and candy eyes!
We'll show you step by step how to whip up your own batch of meringue monster cookies. Just follow our tutorial below.
Ingredients Needed for Meringue Monster Cookies
This recipe will make anywhere from 12-18 meringue cookies depending on the size of your little monsters!
4 egg whites set out to warm to room temperature

1 cup granulated white sugar

¼ tsp of lemon juice

Gel food coloring (or any color you like! We used green and purple)

Candy googly eyes

Decorating frosting (any color you like! It'll be used to "glue" your eyes)
How to Make Your Monster Cookies
Start by lining a baking sheet with parchment paper and set out of the way. Preheat your oven to 200 degrees.
This is the only time my oven has ever been set that low! But these cookies need the low heat to form and bake without burning.
Separate your egg whites from your egg yolks and place your egg whites into a large mixing bowl.
Beat the egg whites. For this we used a stand mixer on a slow speed.
A handheld mixer would work fine too, but unless you have a second set of hands helping, it's much easier with the stand mixer.
Once the egg whites start to form tiny bubbles, add in the lemon juice and continue to beat on a medium speed.
Now you can slowly add in the sugar while increasing the beating speed to high.
Beat for 12-15 minutes until you see stiff peaks forming creating your meringue.
Now divide up your meringue batter to color. However many different colors you are going to use is how many bowls you'll need.
Since we only made green and purple monster cookies, we divided our batter into 2.
Mix each bowl with your food coloring until the batter is completely the color you want for your meringue cookies.
Scoop the meringue batter into decorator bags, with Wilton tip #12 attached at the end.
You'll want each color to have it's own bag.
Now you are going to "frost" your meringue cookies onto your lined baking sheet. We made ours about 2 inches wide, but they don't all have to be the same size.
Bake in the oven at 200º for 2 hours. Once they have finished baking turn your oven off and let them sit in the cooling oven for another 30 minutes.
Remove the monster cookies from the oven and place on a cooling rack to cool for at least 15 minutes.
Once all of your cookies have cooled down, you can now monst-ify them!
To turn your regular meringue cookies into fun and exciting monster cookies just add eyes!
We just dotted the back of each candy eye with a bit of decorating frosting. Then we stuck on a random number of eyes to each cookie.
We found that under 5 eyes looks best, but have fun doing however many eyes you want!
They are ready to serve and enjoy!