Cute and Easy Butterfly Snack Bags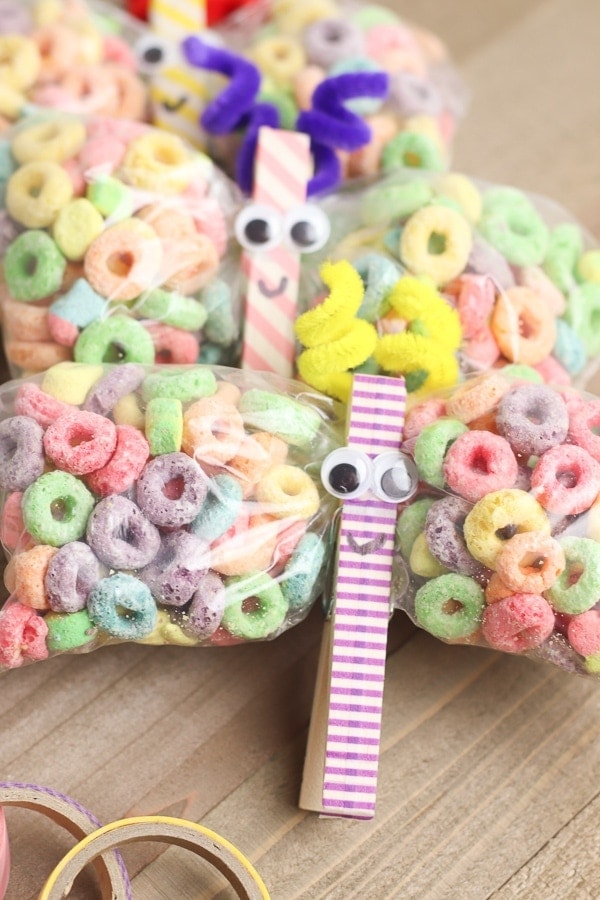 I don't know about you, but having a portable snack available for the kids is a must for us.
These adorable butterfly snack bags are not only functional but make any snack look like fun!
Of course, you can fill your bags with pretty much anything.
For us, we usually stuff our butterfly snack bags full of pretzels. But today we are using colorful cereal.
Supplies Needed for Butterfly Snack Bags
Clothespins
Washi tape
Googly eyes
Zip-top bags
Snack of choice (We used fruit loops)
Clear tape
Colorful pipe cleaners
How to Make These Butterfly Snack Bags
Start by placing a piece of washi tape onto each of your clothespins. This will be the colorful body of your butterfly snack bags.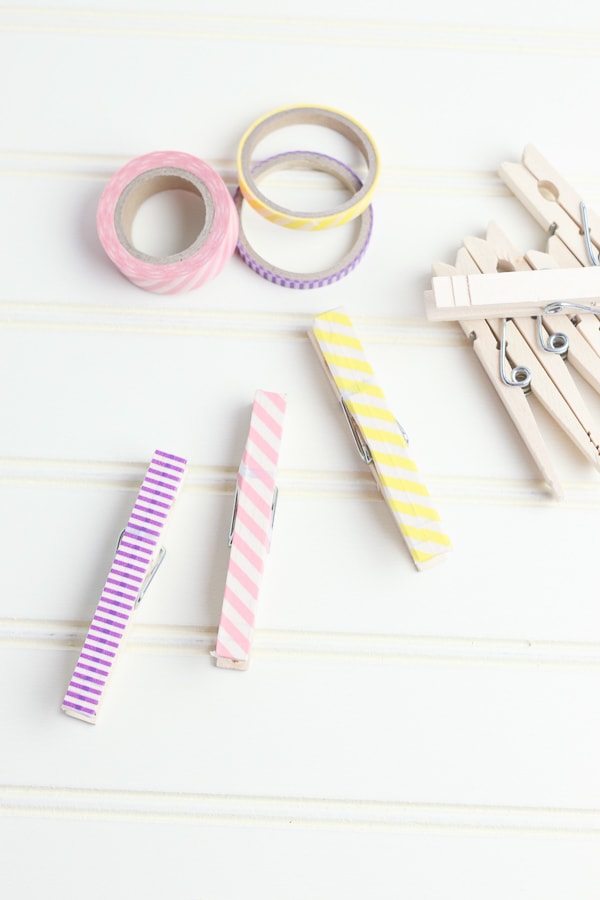 Glue a set of small googly eyes toward the top of each of the clothespins.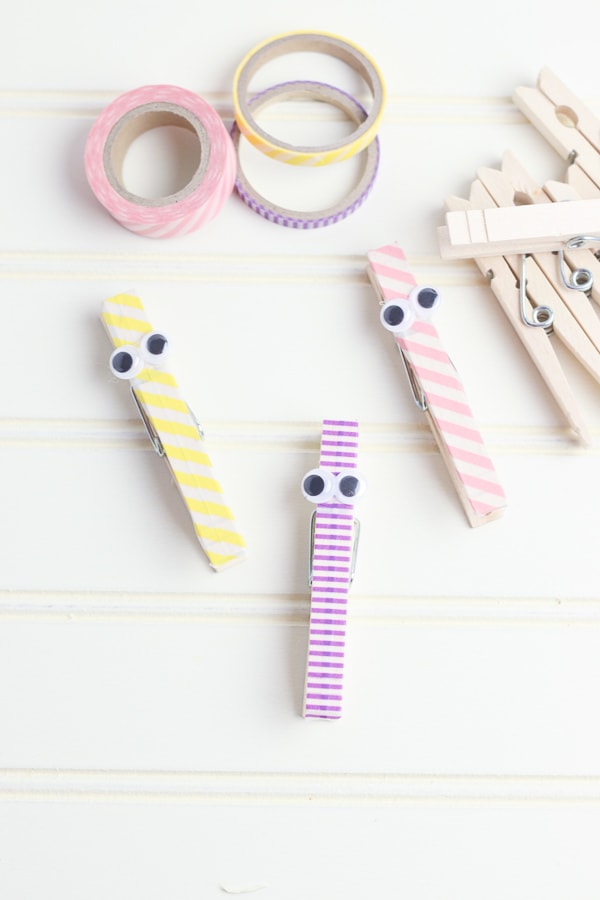 Fill the small zip lock bags halfway full of your snack. We used rainbow fruit cereal like fruit loops.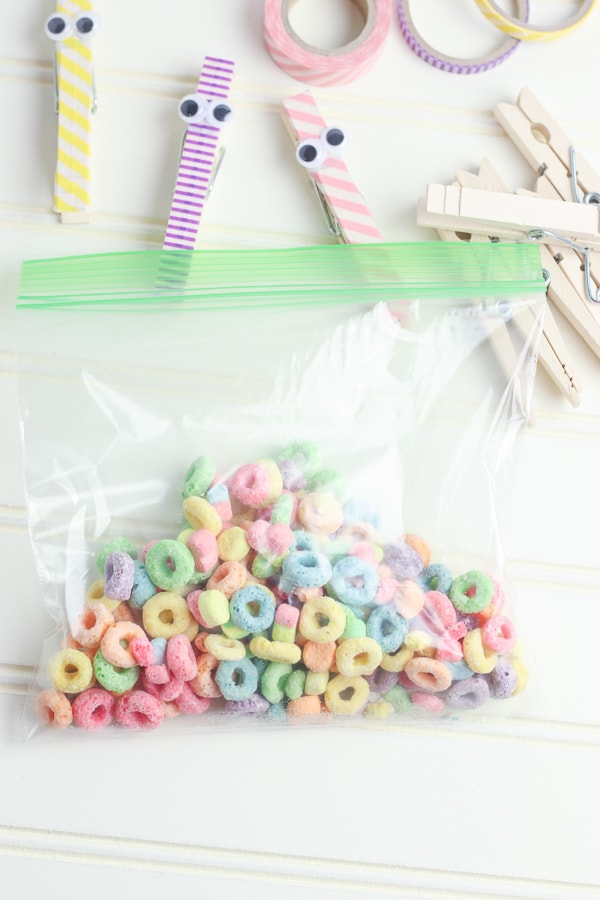 Now you can fold the top of the snack filled bag down and secure with a piece of clear tape on each end like shown below.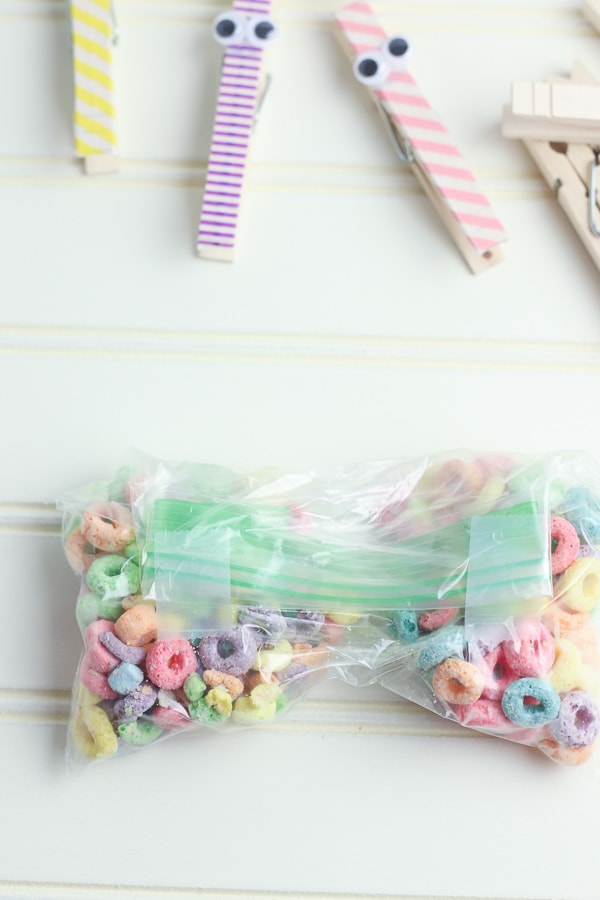 Divide the snack pieces in half to create the wings of your butterfly leaving a free space in the center for your clip to secure to.
Bunch up the center of the bag and secure together with the butterfly clothespin.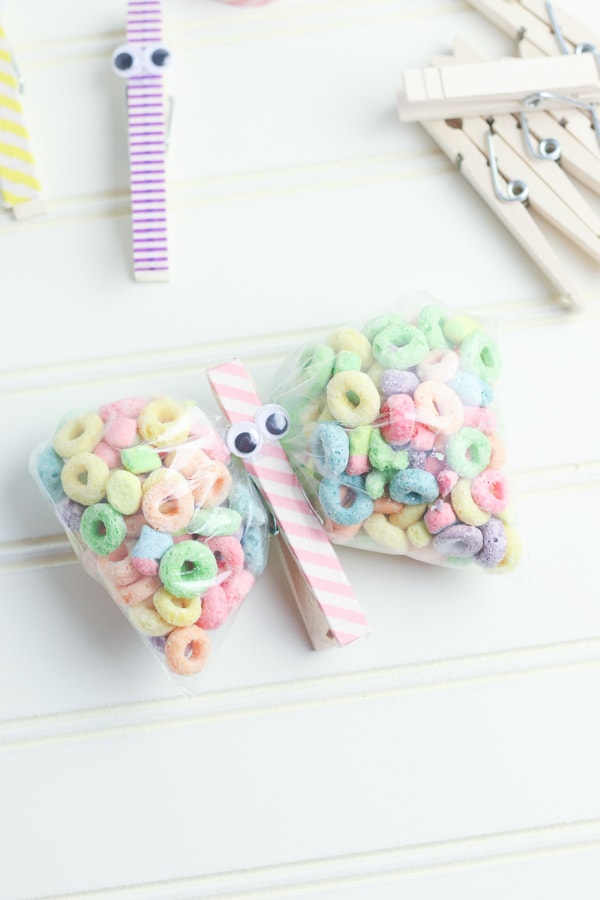 Now you can create antennae for each butterfly by cutting different color pipe cleaners in half, and folding those pieces in half.
Twist both side around a pen to create a squiggly swirl.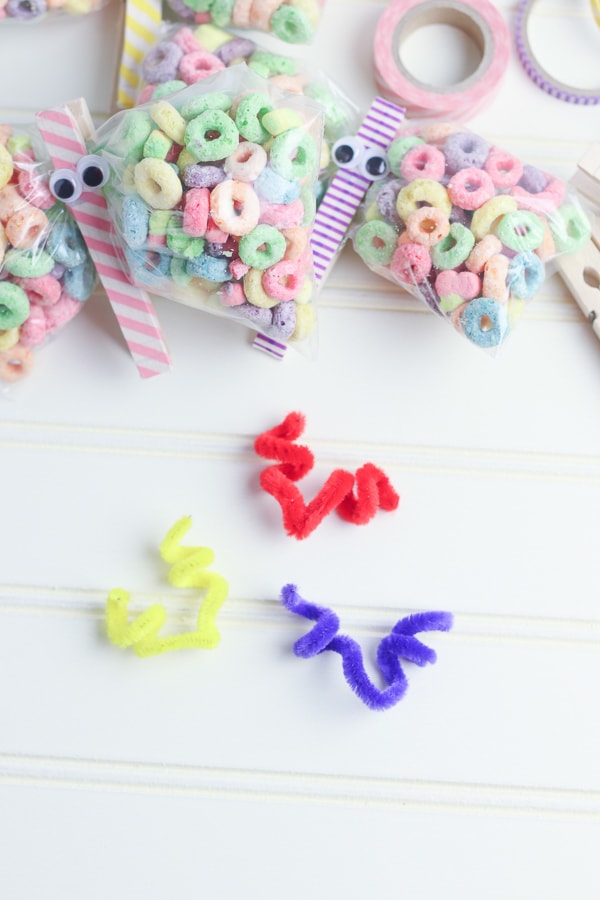 Attach one antenna to each of your clothespin butterflies to finish your snack bags.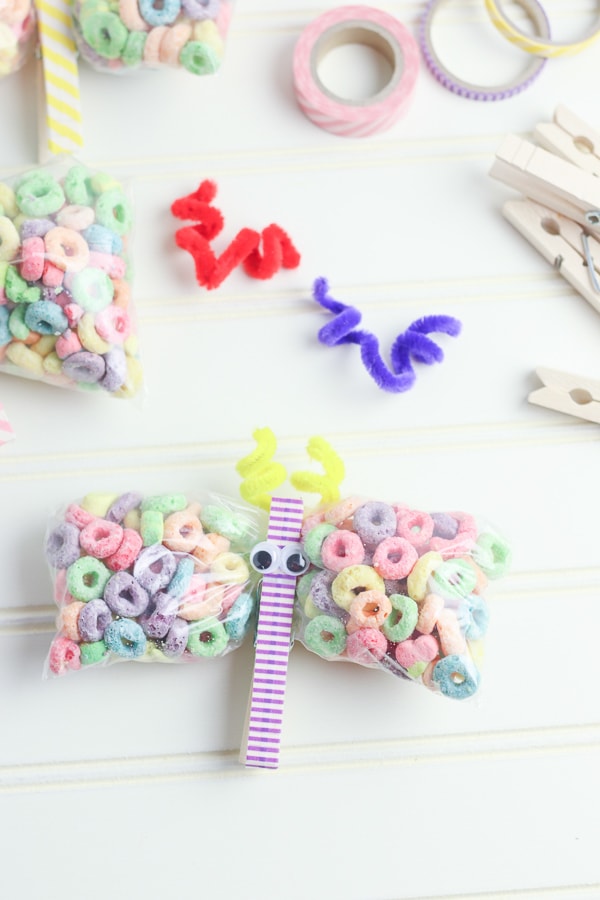 Sit back and enjoy your adorable little creations. These butterfly snack bags will sure to be adored by any kid.
It would make a sweet springtime surprise tucked into a lunch bag.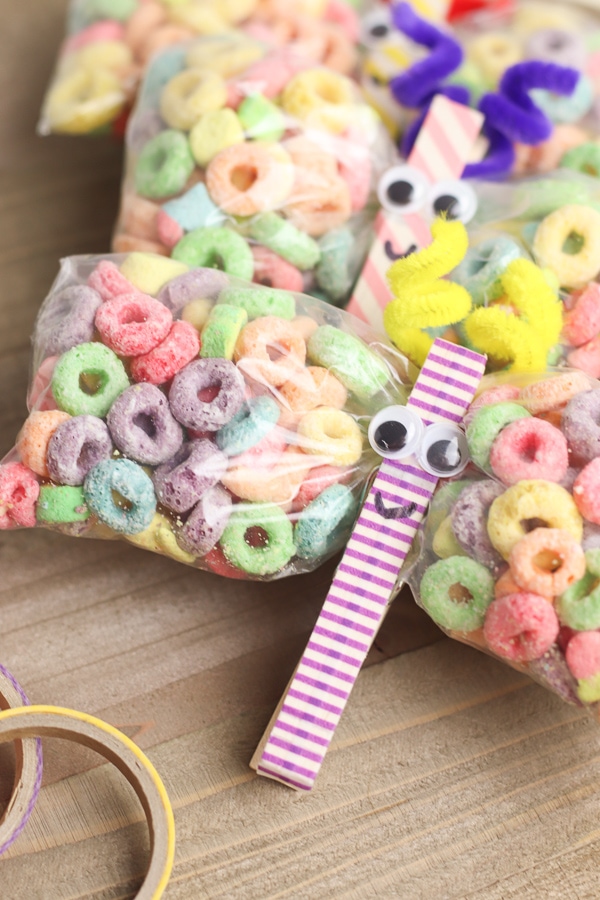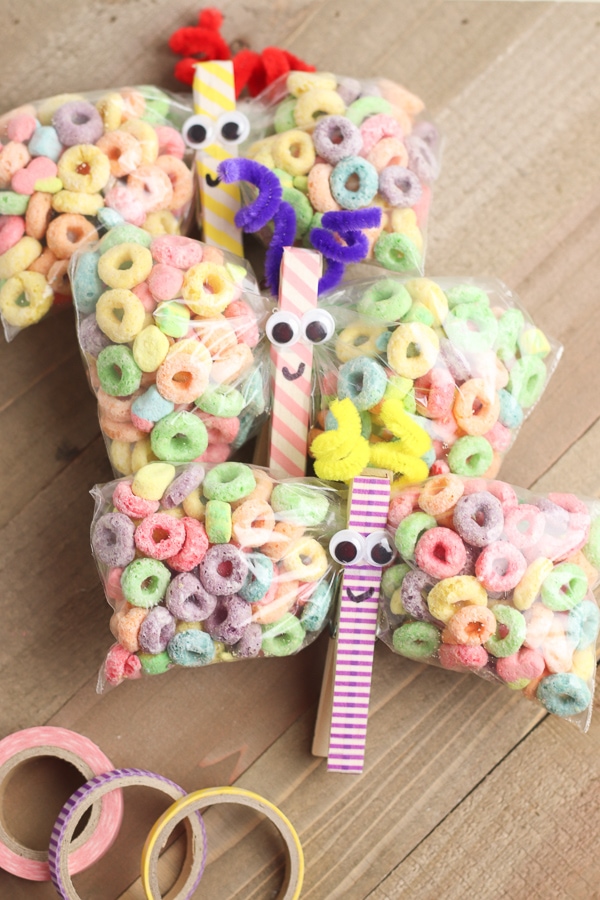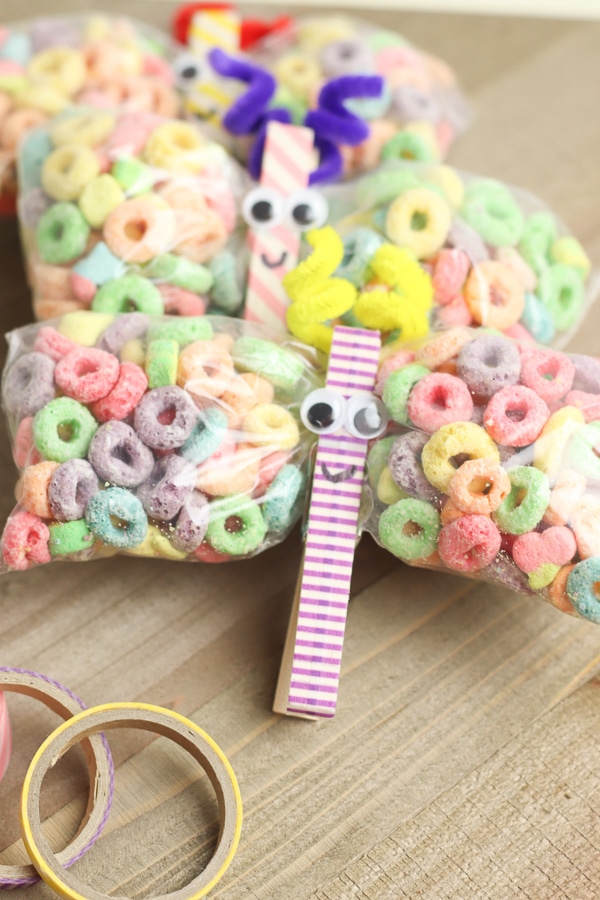 Other fun Bug Crafts
Here are a few more fun bug crafts for kids to check out!