Soft and Chewy Oatmeal Raisin Cookies
These oatmeal raisin cookies are so soft and chewy! It's a classic cookie recipe that makes fantastic cookies every time.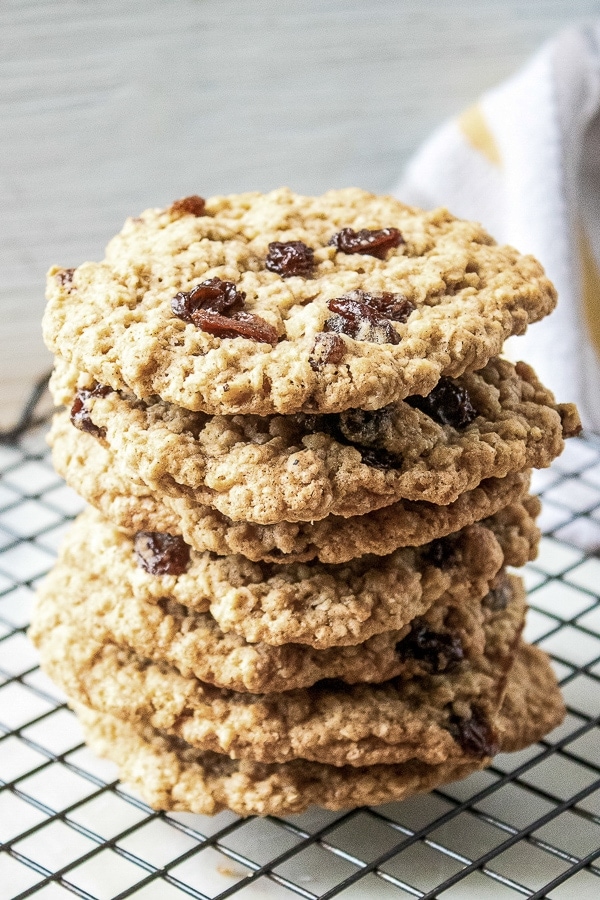 I'll admit I'm not normally a fan of things like raisins and other dried fruits in my cookies.
But there are a few exceptions.
Much like the craisins in my favorite cranberry white chocolate cookie recipe, the raisins actually add a delightful tangy sweetness to the cookies.
And these cookies really are good!
This post may contain affiliate links. This means if you click a link and make a purchase, we may earn a commission at no cost to you. You can read our full disclosure here.
Ingredients Needed for Soft and Chewy Oatmeal Raisin Cookies
For these oatmeal raisin cookies you'll need:
1 cup unsalted butter, softened at room temperature

1 cup brown sugar

½ cup granulated sugar

2 eggs

1 teaspoon real vanilla extract

3½ cup quick-cooking oats

1 cup all-purpose flour

1 teaspoon of pumpkin pie spice

½ teaspoon baking powder

½ teaspoon baking soda

¼ teaspoon salt

1 cup of raisins
How to Make the Oatmeal Raisin Cookies
Start by preheating your oven to 375°F.
Line a large baking sheet with parchment paper. You could also use a reusable lining sheet like this.
In a large mixing bowl, cream the room temperature butter in with the brown sugar and white sugar with a hand mixer.
Once they are creamed and mixed well, add in the eggs and vanilla extract and mix well on a low speed.
In a separate mixing bowl, mix the remaining dry ingredients, the oats, flour, pumpkin spice, baking soda and salt, together.
Now add the wet ingredients to your dry ingredients and mix well.
Once you cookie batter is finished, fold in the raisins.
Cover the oatmeal cookie dough and pop in the fridge for 30 minutes to chill.
Once your cookie dough has chilled completely, roll the cookie dough into even balls about 1 to 2 inches wide.
Arrange the cookie dough balls onto the lined baking sheet, leaving 1-2 inches in between each of the cookies.
Using a flat bottomed glass, use gentle but firm pressure to flatten each cookie dough ball.
You can wet the glass ahead of time to prevent the cookie dough from sticking to the glass.
Bake the cookies in the preheated oven, for 8-10 minutes.
Remove your cookies from the oven.
Remove the cookies from the baking sheet and place on a cooling rack to cool before serving.