Halloween Jalapeno Poppers: A Mummy Inspired Treat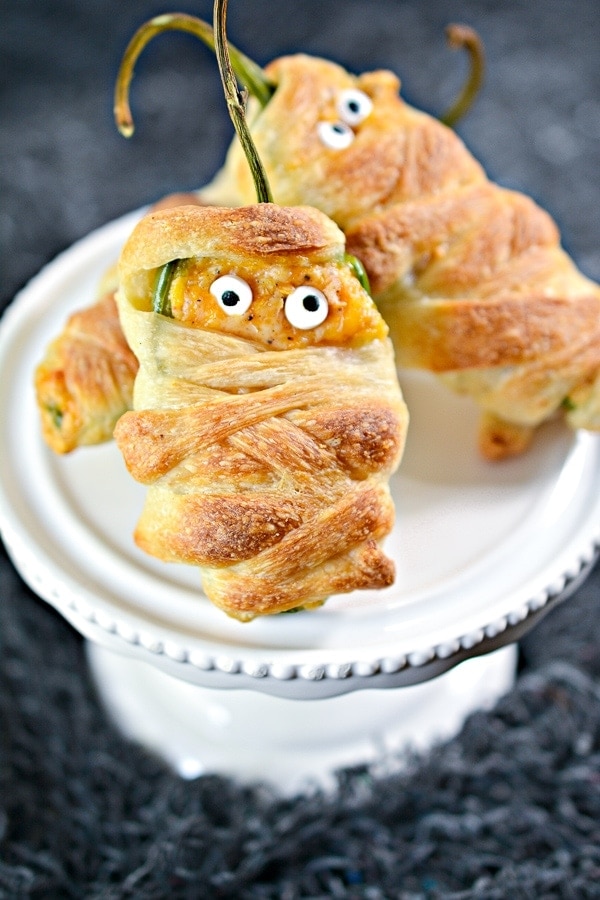 How much fun are these Halloween themed mummy jalapeno poppers. They would make an awesome creepy appetizer for a Halloween party!
These are pretty easy to make and taste great!
The recipe uses fresh jalapenos. These will be a bit spicy depending on the peppers used, but the cheese and wrapped dough make them delicious with just enough heat.
They are almost as easy to make as our Halloween Mummy Hot Dogs.
Well even show you step by step how to make them, so it will be super easy for you!
I will warn we used candy eyes for these, which some people may find weird. I get it, why candy in jalapeno popper!
But it was the easiest way to make these little guys look really mummy-like. However if you rather, you could use something like olives cut up instead.
Either way, your guests will probably remove the eyes before eating these Halloween poppers anyway.
*This post may contain affiliate links. This means if you click a link and make a purchase, we may earn a small commission, at no cost to you.
We only recommend products we love and use and think you'll love too! You can read our full disclosure here.
Halloween Jalapeno Popper Appetizer
These jalapeno poppers will only take about 15 minutes to prep so they are quick and easy.
If you're short of time on your party day and want to serve them fresh, you can make the filling ahead of time and keep it in the fridge for a day or two before filling your jalapenos.
Ok! Now down to how to make these delicious Halloween themed appetizers.
Ingredients needed for Mummy Jalapeno Poppers
6 Large Jalapeno peppers
1 Package refrigerated pizza dough
2 oz. Cream cheese
½ c Shredded cheddar cheese
¼ c Shredded mozzarella cheese
¼ tsp Chili powder
Salt and pepper to taste
Candy eyes
How to Make Your Spooky Appetizer
To make these tasty jalapeno poppers, start by preheating your oven to 375º.
Then slice up all of your jalapenos long ways in half, like shown below.
Carefully hollow out your jalapeno pepper halves with a spoon to remove all of the seeds inside.
If you have sensitive skin, I suggest using gloves or carefully hold your pepper halves with a towel while you scoop.
I've burned my hands before slicing peppers and it is NOT a fun experience. Make sure to avoid touching your eyes or nostrils too!
In a mixing bowl combine your cream cheese, cheddar and mozzarella all together.

Next add in your chili powder, salt and pepper. This gives your cheesy filling a nice spicy and savory flavor.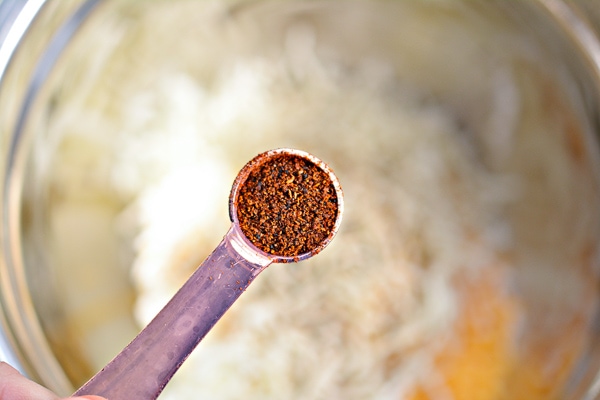 Mix until fully combined.
Now you can start filling each of your jalapeno popper halves with your tasty cheese mixture.
Once all of your pepper halves have been filled you can start preparing your mummy crust.
Unroll the pizza crust dough and start slicing it in longwise.
Put half of the dough off to the side and out of the way. Cut the other half of the pizza dough into thin strips.
This will be used to wrap your jalapeno poppers and turn them into delicious mummies.
Now you can start wrapping your jalapeno halves with the dough strips. Wrap strips of the dough in criss-cross patterns around each stuffed pepper.
Be sure to leave an open area at the top of your peppers to put your mummies eyes once the peppers have baked.
You'll want your peppers to look like the one below.
Once all of your poppers are filled and wrapped, line them up on a baking sheet an inch or so apart.
Bake the poppers for 12 to 15 minutes until the dough is golden and thoroughly cooked through.
Allow your peppers to cool for at least 15 minutes and then add two candy eyes to each pepper, creating fun little mummies.
Enjoy your Fun Halloween themed appetizer!
Yield: 12
Halloween Mummy Jalapeno Poppers
Prep Time: 15 minutes

Cook Time: 15 minutes 12 seconds

Total Time: 30 minutes 12 seconds

These lovely little jalapeno popper mummies are perfect to serve as an appetizer for a halloween party! They are spicy and savory with just the right about of spooky fun.
Ingredients
6 Large Jalapeno peppers
1 Package of ready-made, refrigerated pizza dough
2 oz. Cream cheese
½ cup Shredded cheddar cheese
¼ cup Shredded mozzarella cheese
¼ tsp Chili powder
Salt and pepper to taste
24 Candy eyes
Instructions
1. Start by Preheating your oven to 375 degrees.

2. Slice up each of your jalapeno peppers in half longwise and hallow out completely, removing all of the seeds.

3. In a mixing bowl, mix the cream cheese, mozzarella and cheddar together.

4. Add in your chilli powder, salt and pepper and stir well.

5. Unroll your refrigerated dough sheet and cut it in half longwise. Set one half off to the side out of the way.

6. Now cut the other half of the pizza dough into thin long strips.

7. Using the dough strips, wrap each of your stuffed peppers with a criss-cross pattern as shown above. Make sure to leave an open area at the top of your peppers for the eyes to go after your peppers are done baking.

8. Line your peppers on a baking sheet and bake for 12-15 minutes until they are golden colored and baked through.

9. Let your peppers cool for 15 minutes and the add a pair of candy eyes to each jalapeno popper.

10. Serve and enjoy!
Notes
These peppers are best served fresh. If you are short on time the day you are wanting to serve these, you can prep your peppers ahead of time up until baking time. So fill your peppers with the cheese mix and wrap them in dough and refrigerate (up to 3 days) until ready to bake and serve.