Make Your Own Monster Game for Kids
Today we have this fun make your own monster game for kids! It's a free printable game that you can print and let your kids create their own monster with the roll of a dice.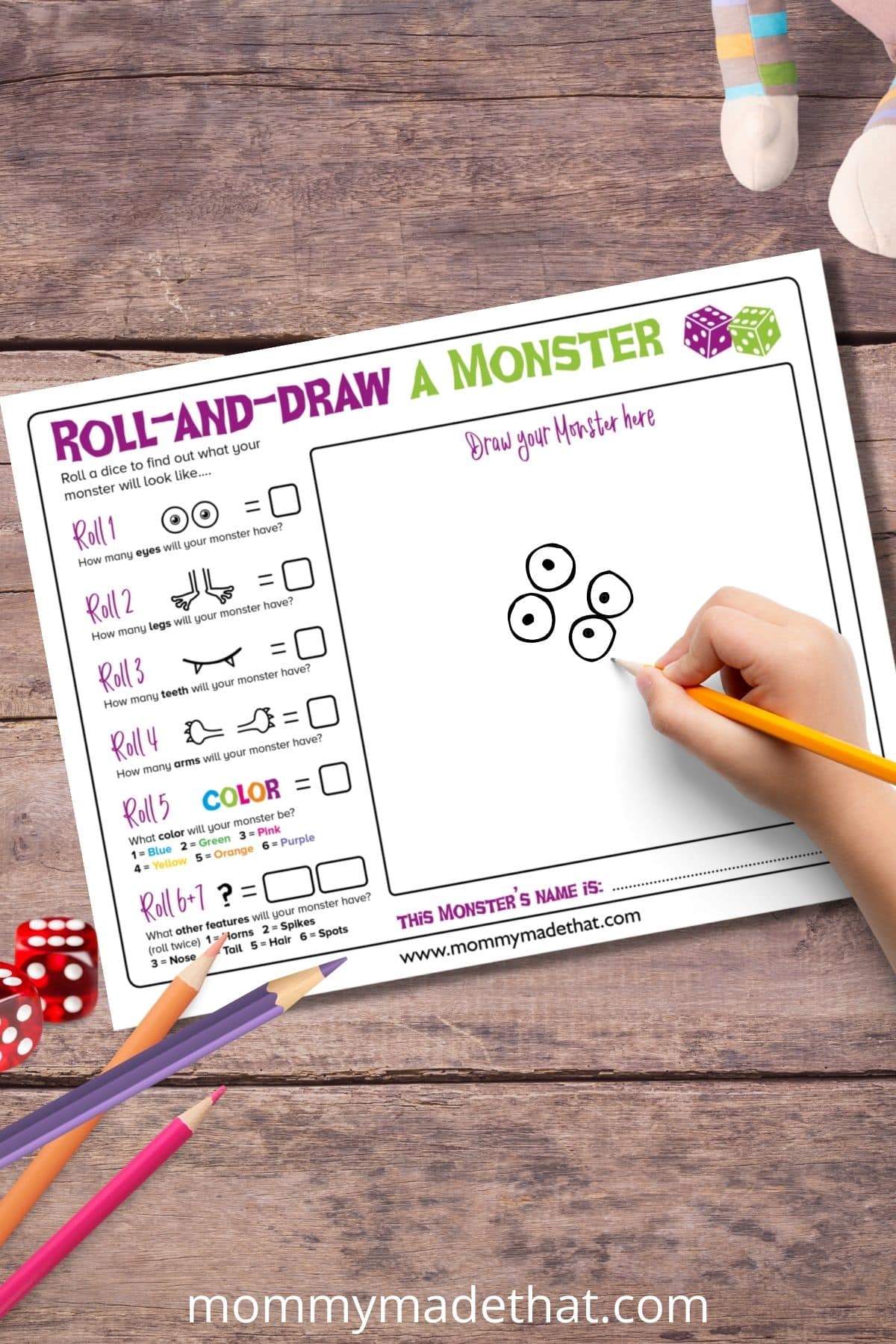 This free printable make your own monster game is a ton of fun. It's one of our favorite printable Halloween games!
It's so easy and simple to pay and there is no losing and winning. Only winning!
How to Use the Make a Monster Printable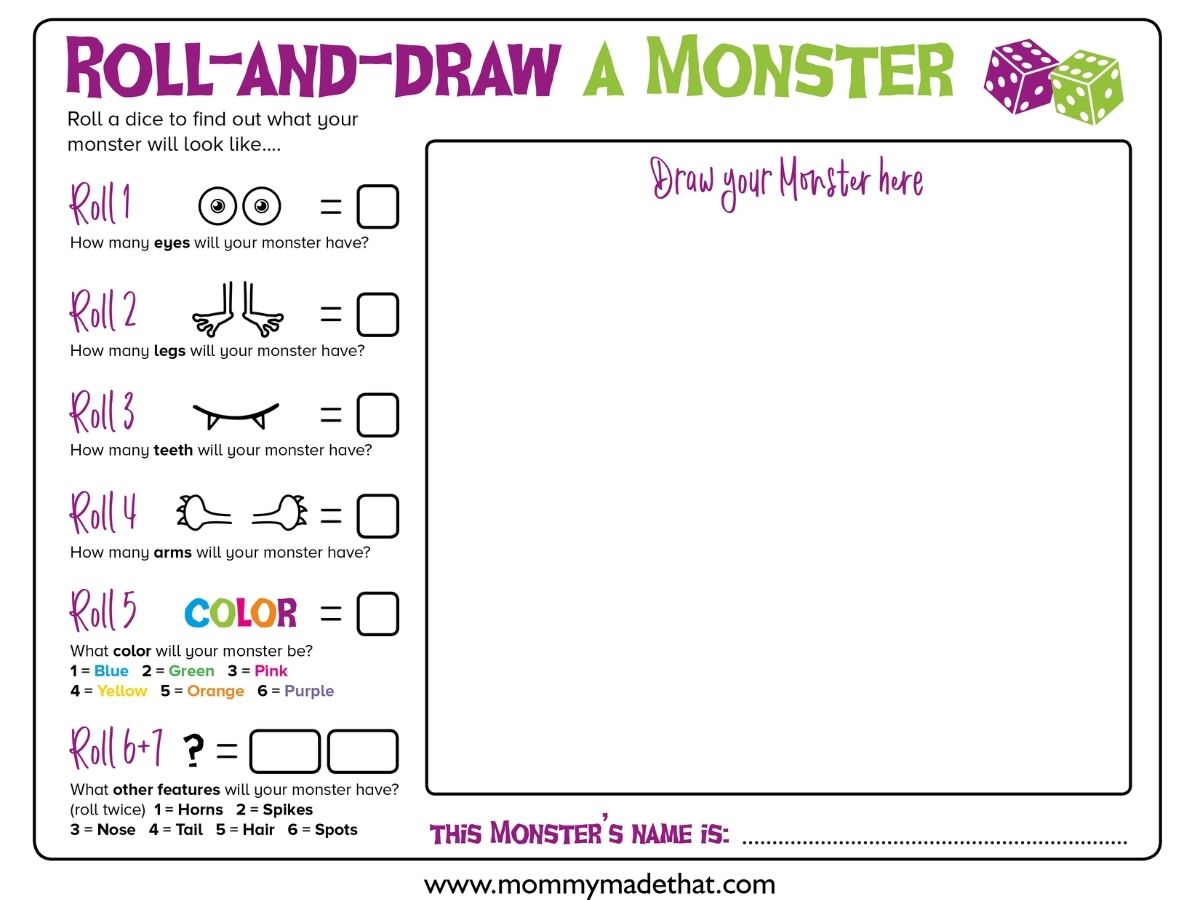 To use the printable you'll simply grab the link and download the printable. Don't use the photo of the printable as it'll come out blurry and poor quality.
Our printable is 100% free and easy to download.
Once you have the make a monster game printed out the next step is to grab some dice, a pencil and a few crayons, markers or colored pencils.
How to play the Build a Monster Game
You'll need to grab a set of dice. If you don't have real dice you can make your own paper dice using our free template.
To play the game you'll have the child roll the dice. Whatever the first roll is they'll write that number in the first box of the monster printable.
That number is how many eyes your monster will have. So if they roll a 5, then they'll draw 5 eyes for their monster.
Then it's time to roll again. This second roll will determine how many legs their monster will have. So if they roll a 3, then their monster will have 3 legs in total.
You keep going for each body part of the monster including their teeth and their arms.
The 5th roll will determine what color their monster will be. Simply line up the number with the color associated with that number.
For example if they roll a 2, their monster will be the color green.
Finally, for the 6th and 7th rolls, it'll give their monster other descriptive attributes, such as height, hair a possible nose, etc.
Make Your Own Monster Game Tips
The thing I love about this make your own Monster game printable is that it can be very versatile. It can be used as creatively as you like.
My kids have come up with fun and creative ways to change the game up. It's fun to see their creativity spark with game board.
Here I'll list a few ways we have changed up how to play the build your own monster game.
Forgoing the Dice
For instance, my oldest didn't like being limited to the number the dice gave him. Instead he decided to preplan on how he was going to build his own monster.
He wrote the numbers for each items he wanted to draw for his made up monster and wrote them down before drawing it.
He then made up an entire story to go along with his monster and described why he had so many legs and such few eyes.
Rolling the Dice Yahtzee Style
Another way to play the make a monster game was to roll the dice and decide where that number would fit best.
My youngest liked this way because then he could assign certain things he wanted his monster to have with early rolls.
To do this, roll the dice and check out the number it lands on. Then your child can determine where on the printable the number should go.
My kid really wanted his monster to have spots, so the first time he rolled a 6, he made sure to put it in the additional monster features box.
It's a fun way to teach having to make decisions and sacrificing amount of body parts he didn't care so much about in order for his monster to have the features he really wanted to draw.
Creating Your Monsters Story
Another fun part is to create a story for your monster after they are created.
For us, my kids built their monster, cut them out of the printable and created a whole story for them.
Where the monster lived, what they enjoyed to eat and what made their own monster special.
Then they drew their monster's "home" on a separate piece of paper and placed their drawn monster inside.
It's so much fun to watch their creativity flourish as hear them tell you the full story.
You can completely see how proud they are of the monster they built.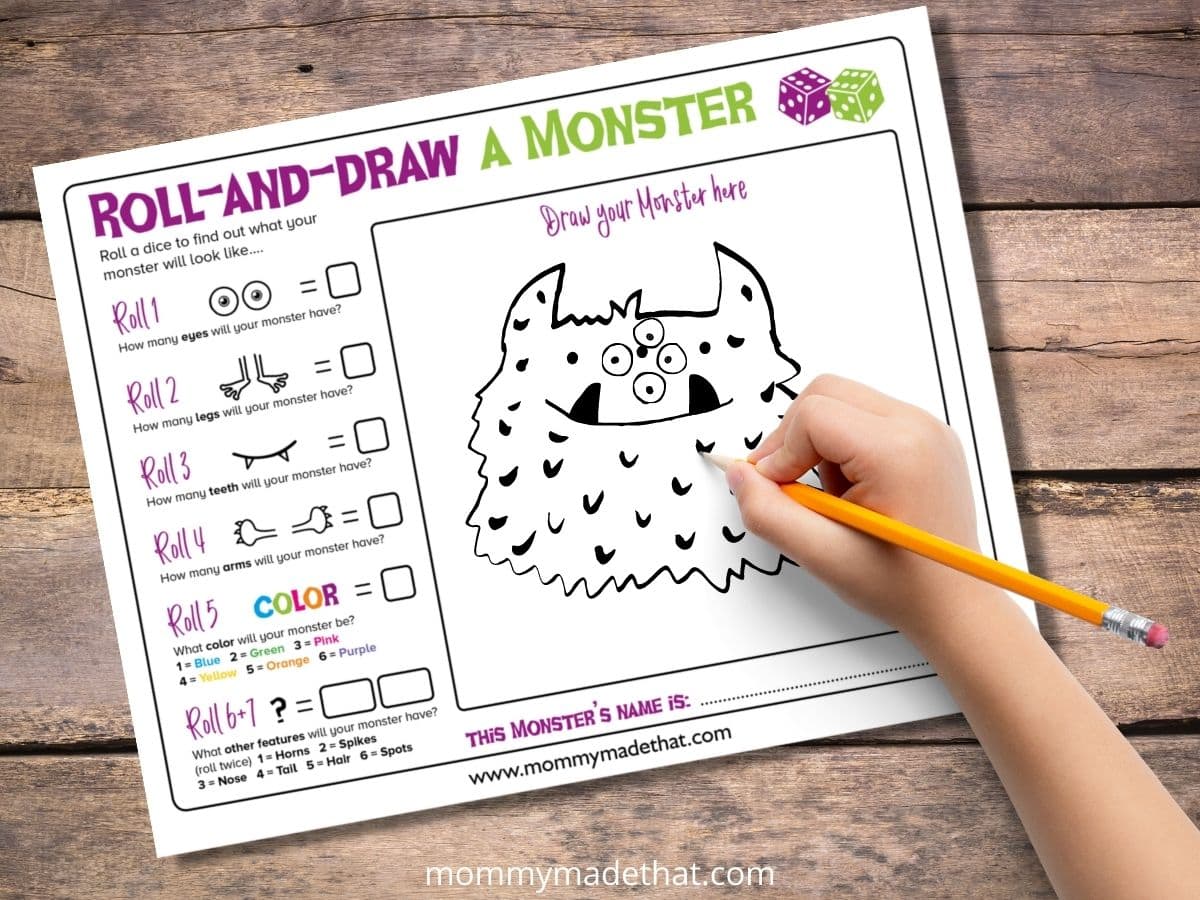 How to Get the Make Your Own Monster Printable Game
To grab the free printable just head over to our printable library. It's full of fun printables with all sorts of crafts.
You can even find other monster craft printables in there like the one for our Halloween Monster Puppets.