This printable dice template lets you make dice to play your favorite games even if you don't have any real dice on hand. Here we'll show step by step you how to make a paper dice.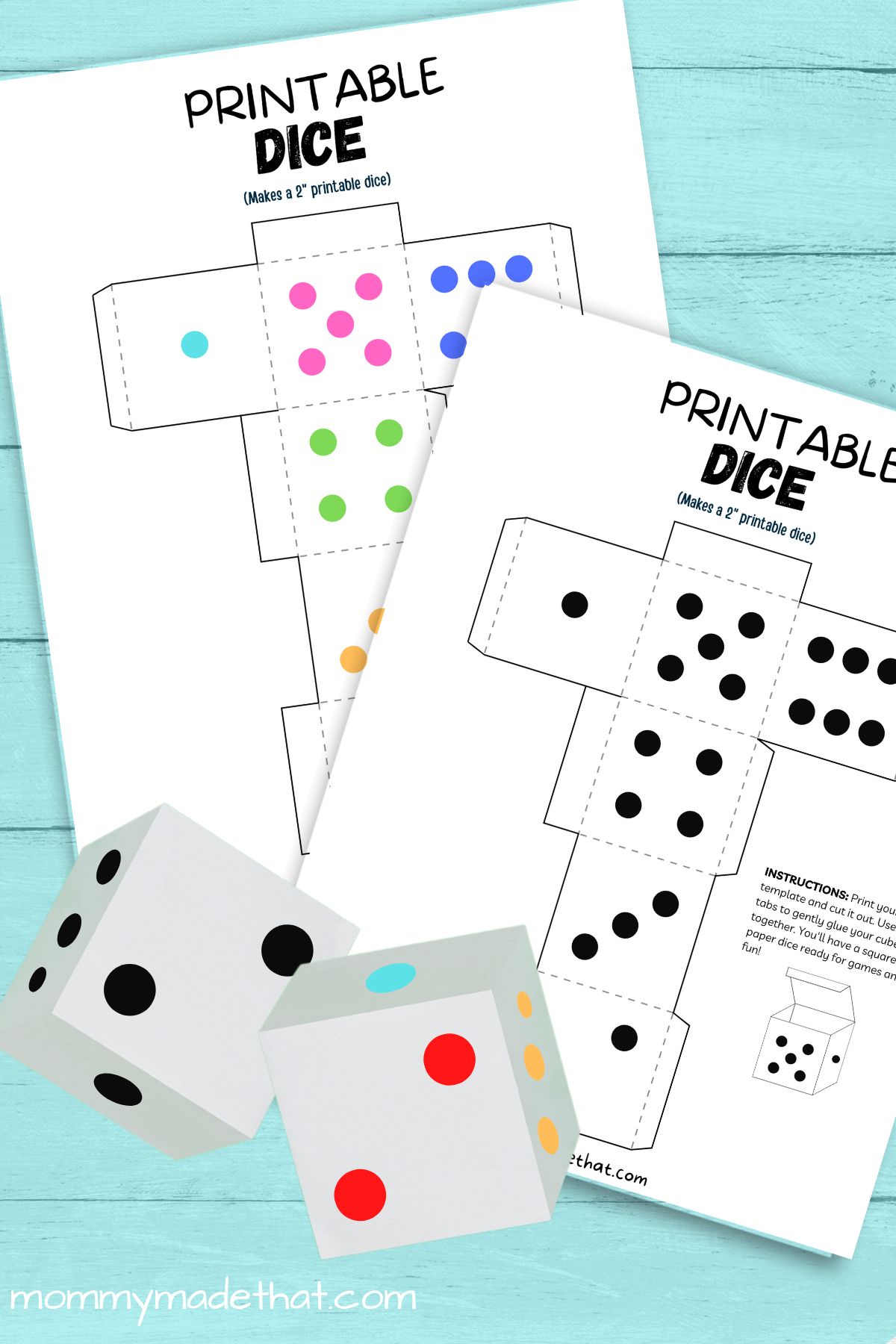 We have lots of fun printable roll a dice games here on our site, but realized that you may not have a pair of real dice on hand.
So we came up with a quick and easy solution. Printable dice!
Our dice template makes it super easy to grab, print and fold your dice in only a few minutes.
Leaving you lots of time to play your favorite games.
These will come in handy for all sorts of fun printable activities.
We even include a blank dice template so you can create your own custom dice if have something creative in mind.
These work great with a lot of our printable games and if you enjoy these, you'll also like our printable playing cards.
The Printable Paper Dice Templates
We have six different dice templates so that you can find just the right one for your needs.
We have larger printable dice that measure about 2 inches wide when assembled.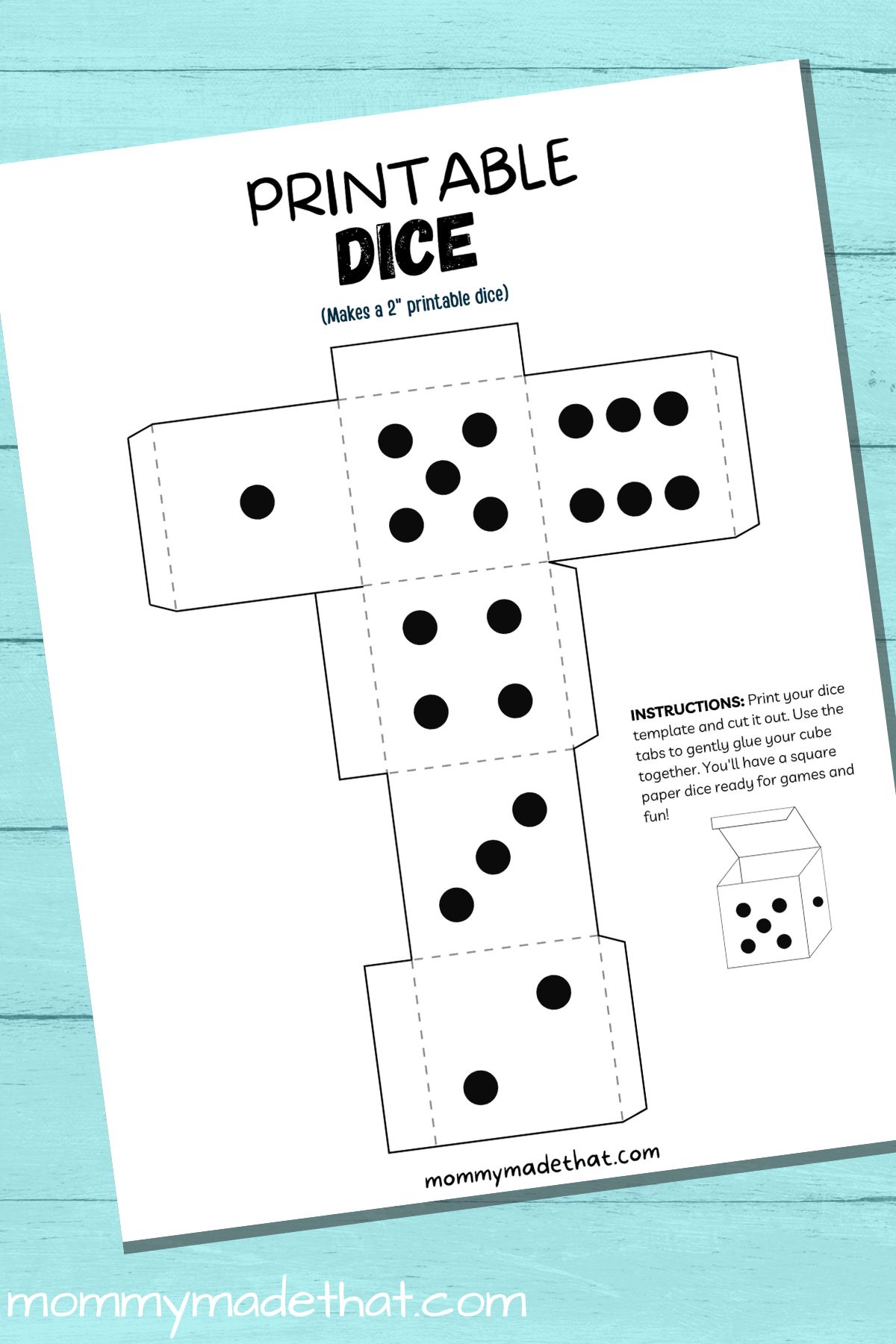 The first one is a printer friendly black and white version.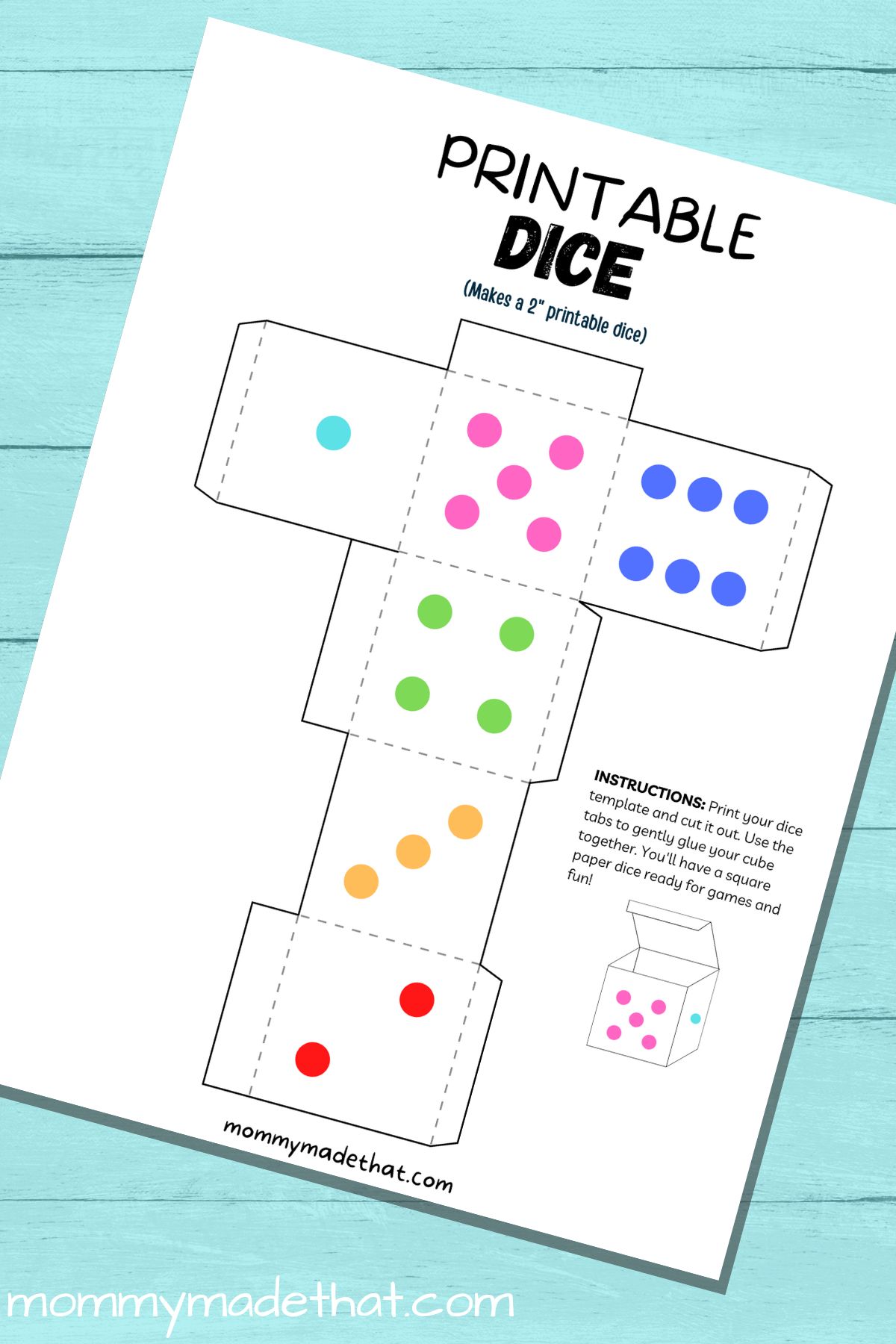 And since my kids love ALL things rainbows, we created a fun bright colorful template as well.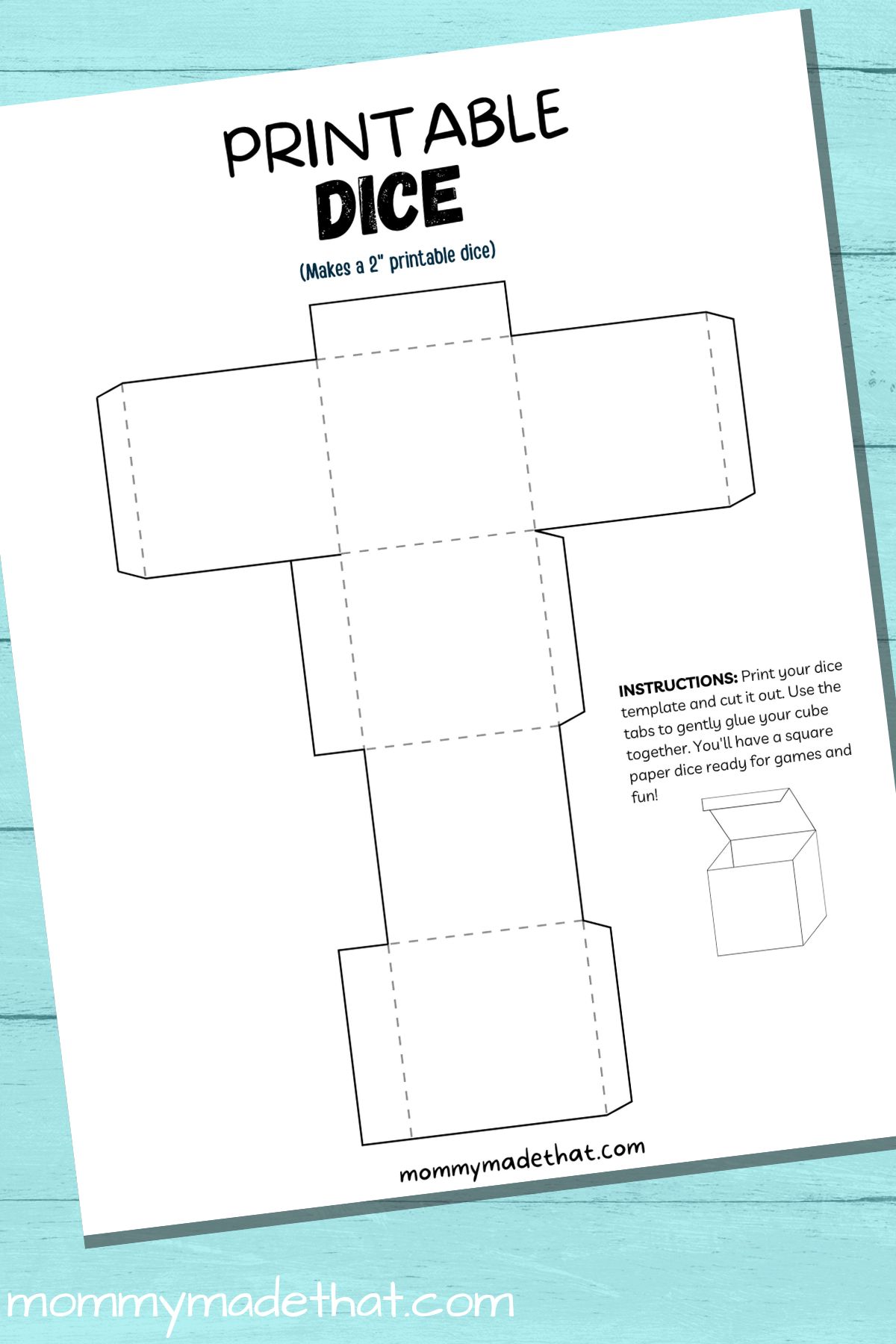 And if you're feeling extra creative, we have a blank dice printable template so that you can fill the spaces with any type of shapes or designs you like or need.
This one is good for printing on colored paper and adding white punch-out holes or stickers to it. Kids will love creating their own custom dice to play with.
The blank ones are also great for creating your own dice game with, or creating fun math games.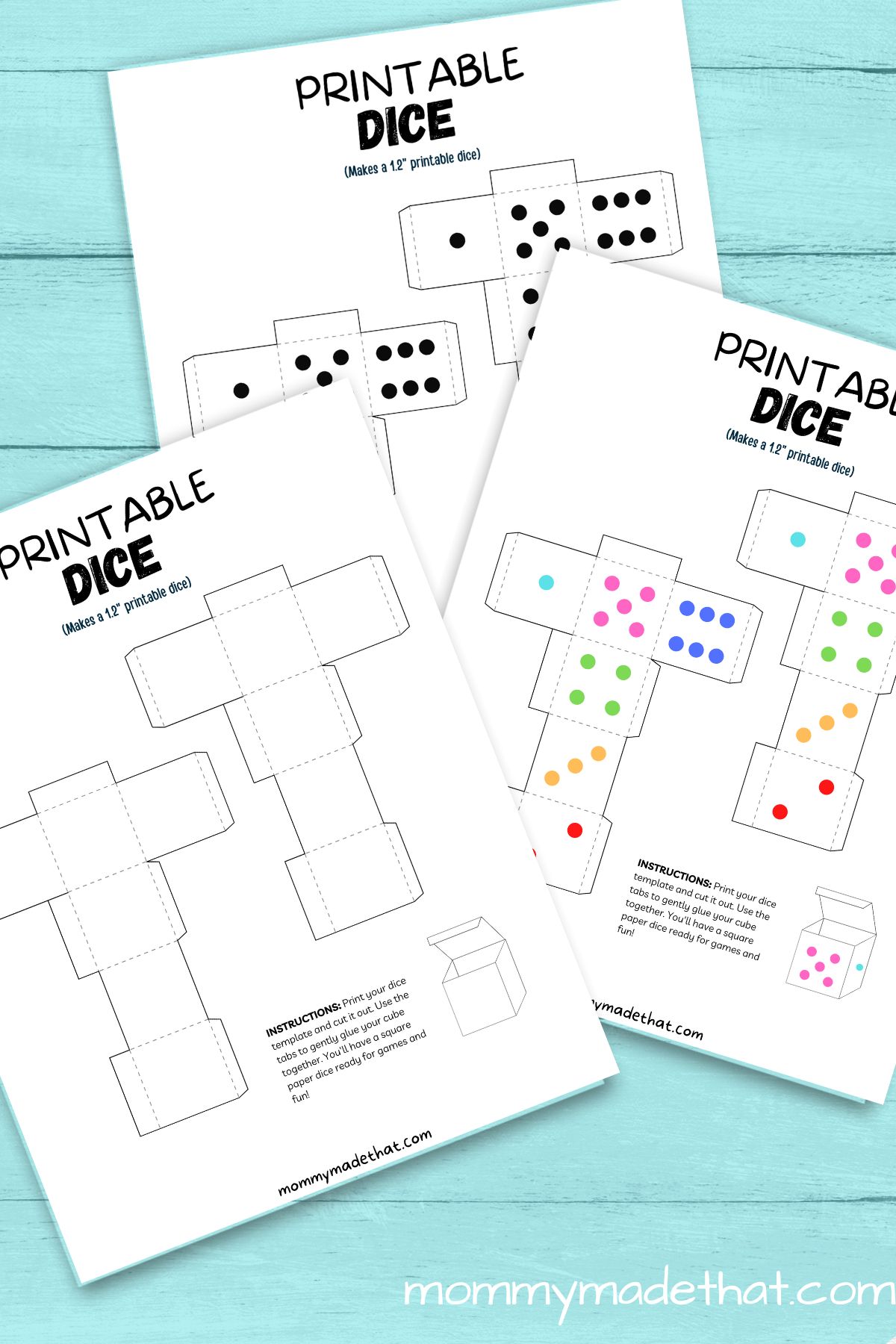 And if you need a smaller printable paper dice template we have these ones, that measure to 1.2-inch cube when assembled.
They're just smaller versions of the three larger templates above.
How to Make Paper Dice
First, grab and print out the dice template. You'll find it at the end of this tutorial.
You'll also need either tape or craft glue to hold the cube shape together.
You can choose from one of the three templates that we provide.
The PDF file will come with all 6 dice in one file. So I suggest when printing, select the actual page number of the one you want and just print that one out.
It'll save you paper and ink.
Then cut the template out around the solid lines. Don't cut through the dotted areas.
You'll end up with a shape like this.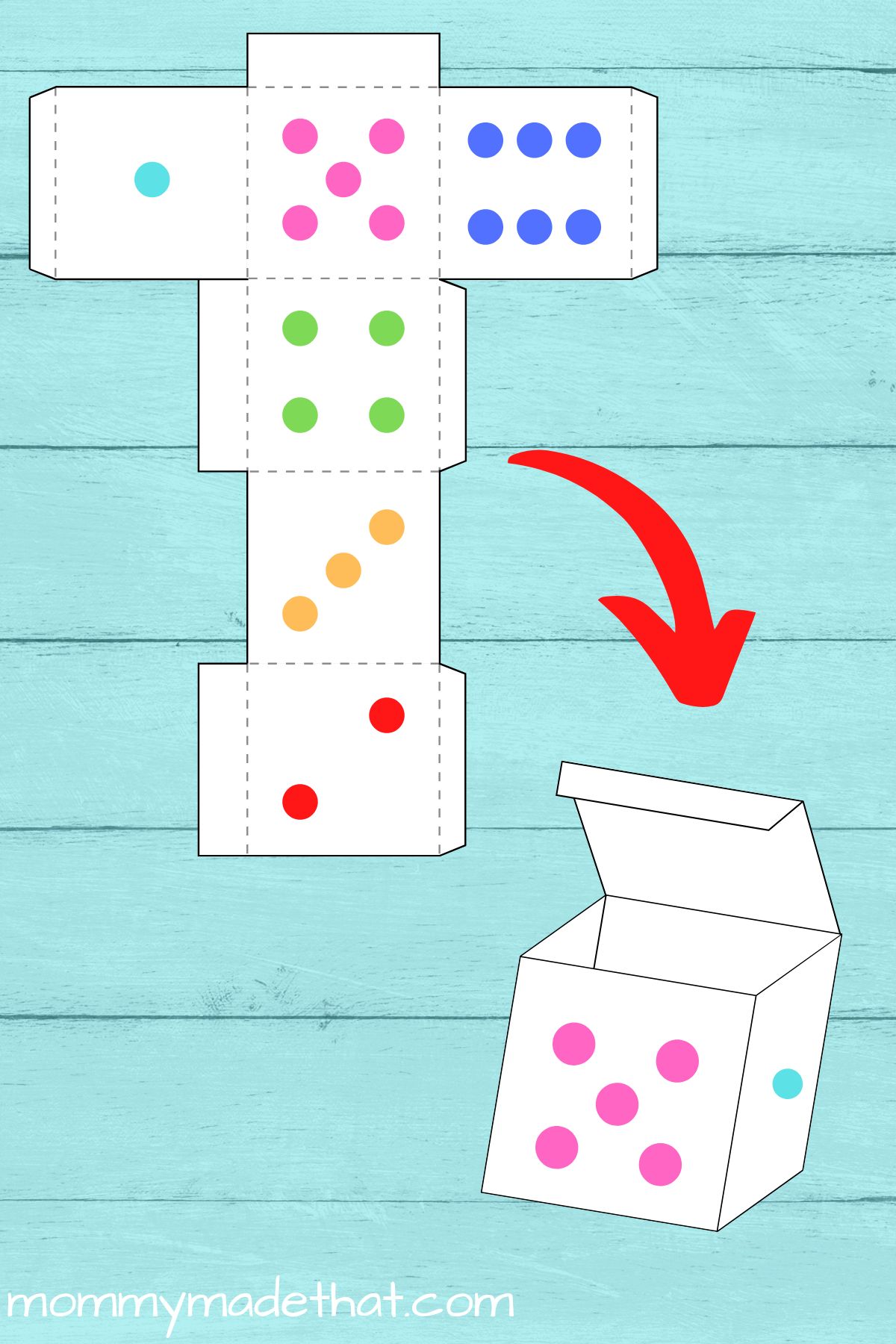 The fold the tabs on the dotted lines one a flat surface to make sure you create a nice sharp fold.
Then start folding the shape up to make a cube. Here's a step by step video to assemble the paper dice from Just the Art Teacher.
For more durable paper dice, I recommend using cardstock to print out your templates. This will make for a sturdier cube shape and they will last much longer.
Grab the Dice Printable Templates
To grab the free printables, put your email in the box below. We'll send the template straight to your inbox.
This is for personal or classroom use only, please. Not for commercial use. Thank you!
What will you be using your DIY dice for? Let us know in the comments and give others some good ideas!