Free Acorn Template Printables
Today we have a free acorn template just for you! If your looking for an acorn coloring page or an acorn pattern to make crafts with, you're sure to find one of these templates to your liking!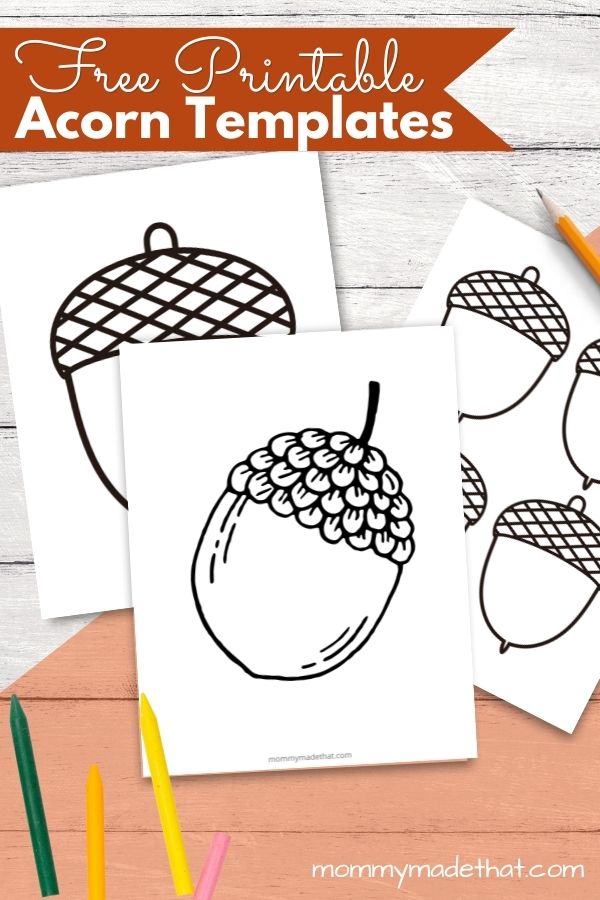 These free printable acorn templates are perfect for all sorts of craft activities, art projects or school activities.
You can use them as coloring pages or cut out and make fun fall decor for a classroom. The possibilities are endless.
Here we have a few different types of acorn templates for you to print out and use for crafts and art projects.
You can use them for anything from scrapbooking to coloring pages.
These acorn templates come in handy when you want to have a fun nature or fall project to work on and pair great with our corn templates and pumpkin templates.
These types of templates make it fun for your kids to do art projects like decoupage or even mod-podge.
Each acorn template below has a unique shape or size, so you can pick the one that best fits your project.
This post may contain affiliate links. This means if you click a link and make a purchase, we may earn a small commission at no cost to you. Thank you!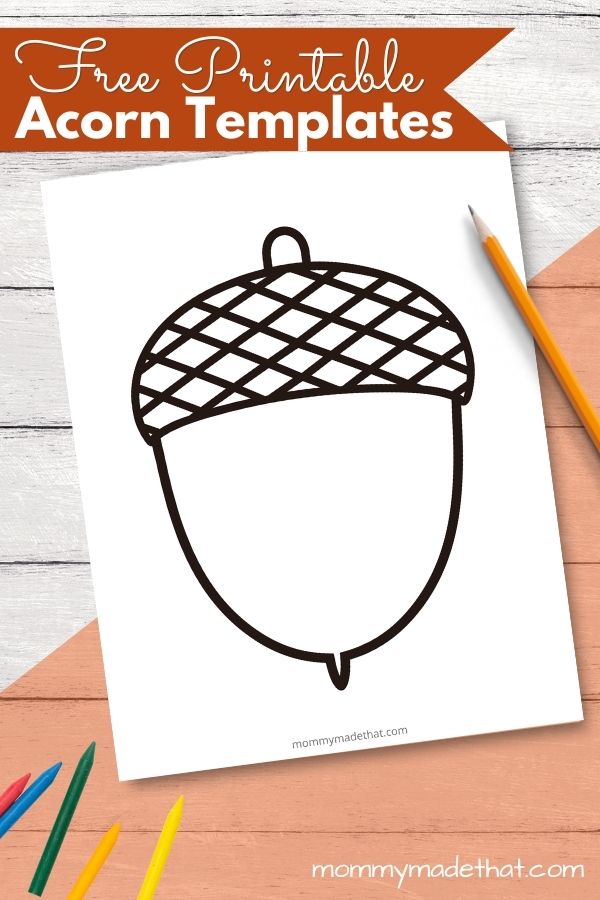 Using the Acorn Templates for Craft Projects
Acorn crafts are a fall favorite. And paper acorn crafts are a favorite amongst preschoolers and elementary aged kids.
Some of the craft projects that you can use these acorn templates for are scrapbooking, coloring pages, and other crafts.
These types of templates make it fun for your kids to do art projects like decoupage or mod-podge.
You can also print out the acorns and use water color paints, crayons and markers to decorate the acorn.
Kids love playing with different mediums, and decorating the acorns with more than one type of medium will get their creative juices flowing.
You can also get outside and have the kids collect brown and yellow leaves to decorate the top of the acorn and color the bottom half of the acorn brown.
Using the Acorn Templates in Art Projects
You could also laminate the acorn template and play with it with playdough.
Or you can find brown and earthy colored photos from magazines or pieces of scrap paper and add them to the acorn template.
Using the Acorn Templates for School
Finally, these acorn templates have so many great school uses.
They can be used to help decorate a bulletin board or cut out multiple acorns and make a fun fall banner.
You can also have the kids write a short story on the inside of the large acorn template.
The possibilities are endless.
Downloading the Printable Acorn Template PDF
You can grab all of the acorn templates below. Then download the template. Then print out the ones you want to use by going to print settings and selecting only the pages you want to print.
Make sure not to just click the picture and print from there. Your acorn templates will turn out very blurry.
Free Acorn Template Coloring Page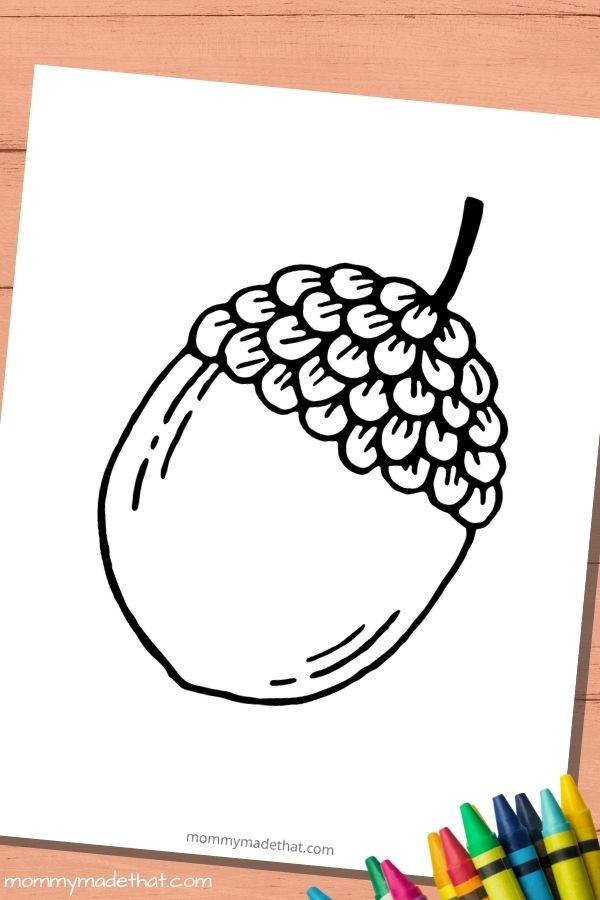 This large acorn coloring page template is my favorite acorn template. It makes for a fantastic acorn coloring page.
Large Acorn Printable Template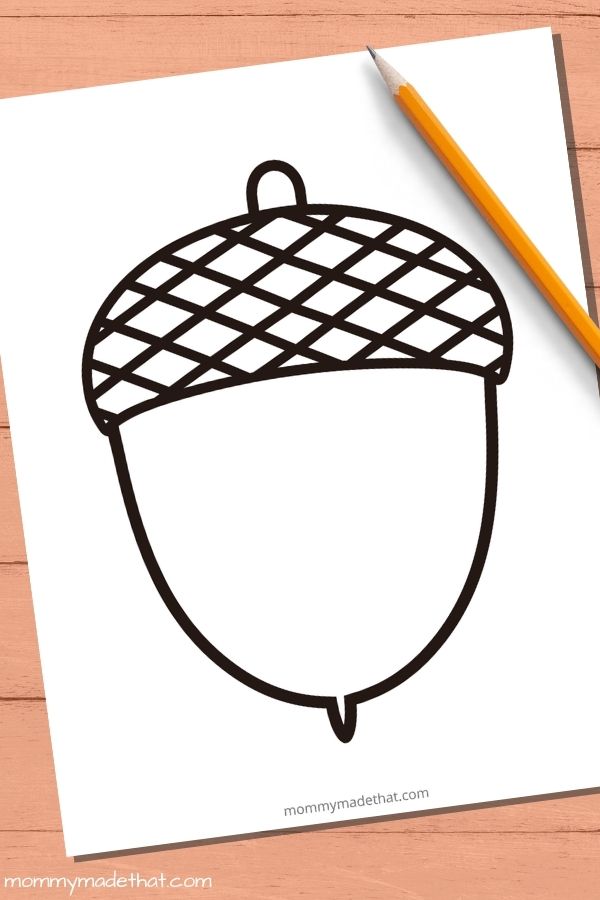 This larger acorn template is perfect for projects where you'll need more space.
Like creating stories within the acorn or turning the acorn into cute faces.
Medium Acorn Templates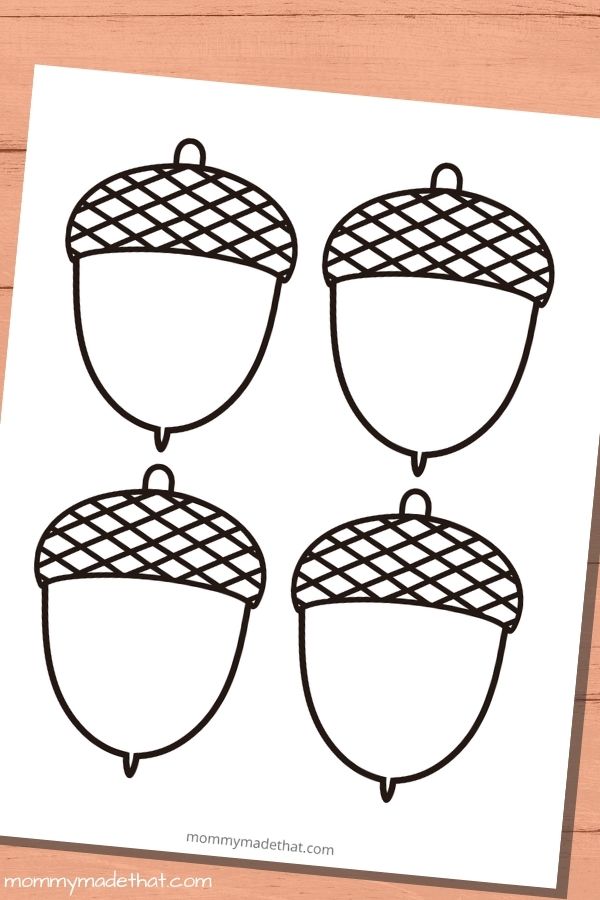 These medium templates still have enough room and space inside the acorn for projects, but comes with multiple acorns on a page.
Small Acorn Templates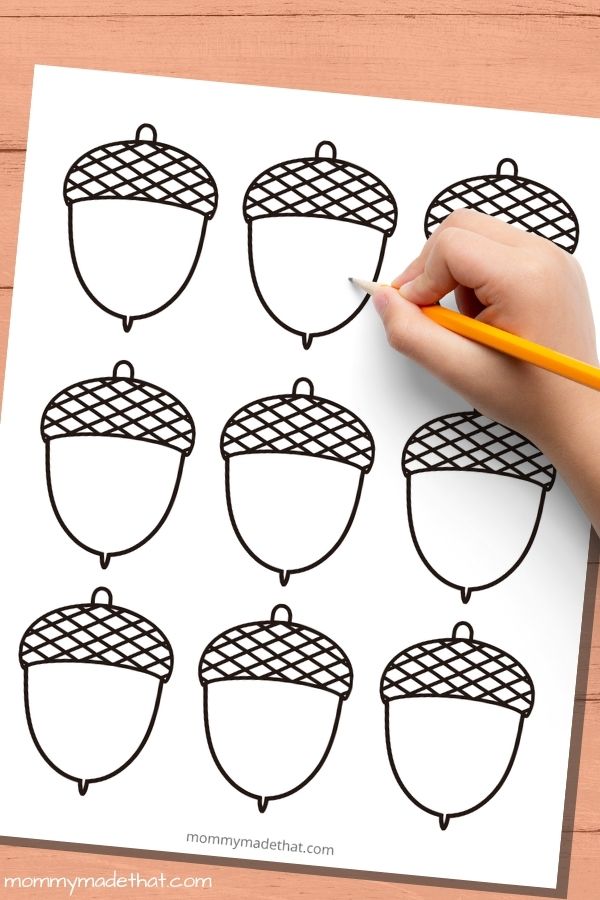 Finally, projects where you'll need lots of acorns at a time, we have these small acorns that fit 9 on a page!
Best Acorn Books
We love tying in learning with fun crafts. This usually means lots of stories and books! Here are a few of our favorite acorn books. Make sure to pick up a copy at the library or snag a couple of Amazon.
If you're looking for more acorn fun, make sure to check out our cute squirrel coloring pages too!
How to Grab the Acorn Templates
Ready to get started with your acorn craft or project? Enter your email in the box below and we'll send all the printable templates right to your inbox!
These are for personal or classroom use only, not for commercial use. But feel free to download and print as many as you like! Thank you.
What will you be doing with your printable acorns? Give others some new ideas in the comments below!