Cute Christmas Light Templates (Free Printable!)
Need a few Christmas light templates? We've got several for you! They're free to grab and download and perfect for all sorts of Christmas crafts!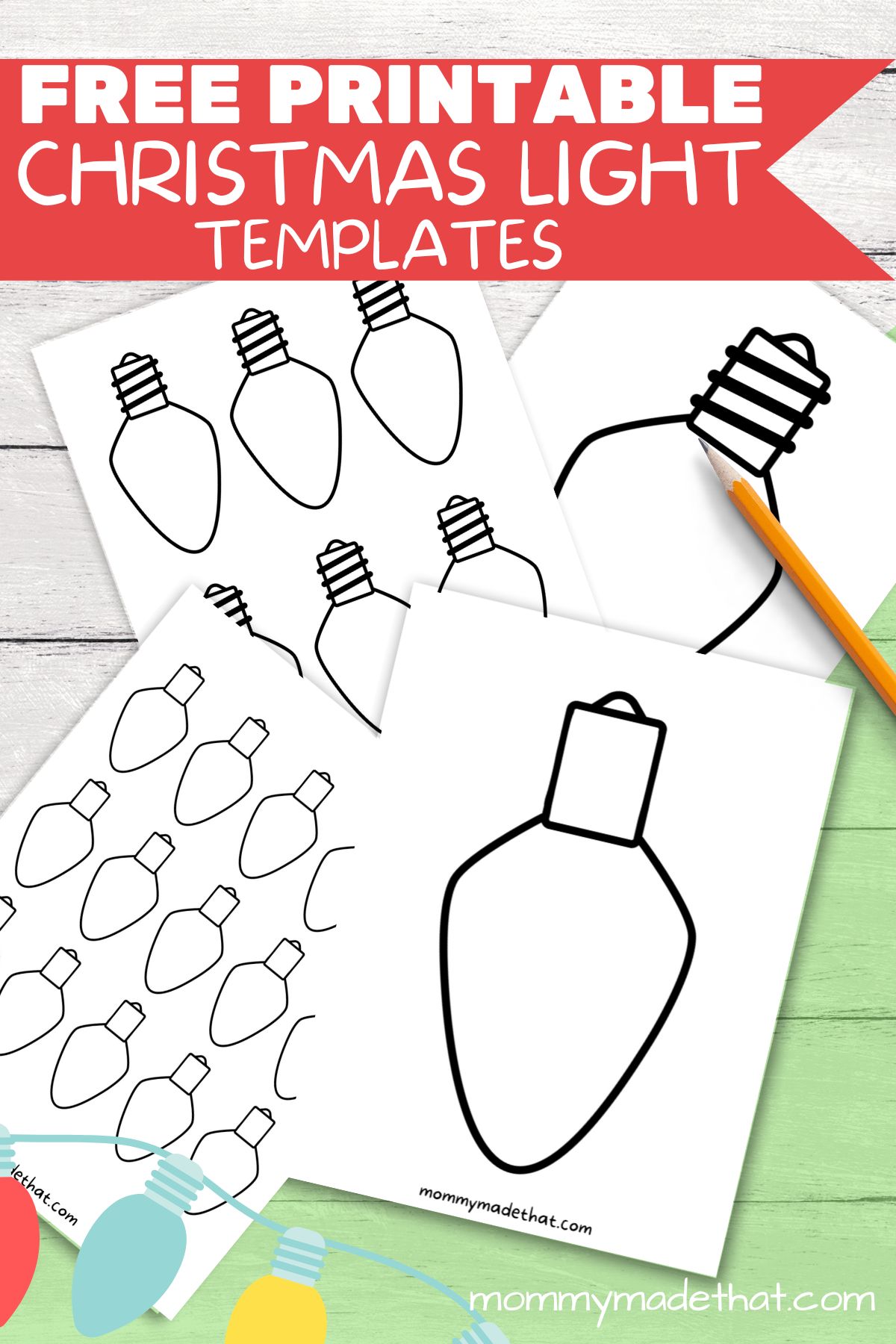 The holiday season is here! And we are whipping up lots of fun Christmas crafts. Like our free printable Christmas crafts.
These free printable Christmas light templates are perfect for a ton of different Christmas activities and make a great Christmas craft idea for kids or other fun winter crafts.
There is something magical about Christmas lights.
And they inspire a lot of Christmas time creativity.
We include two different types of light bulbs in several different sizes, so you can grab the one that will fit your needs.
They also work great with our other Christmas printable templates, like our candy cane templates and our gingerbread man templates.
Ideas for Using the Christmas Light Templates
Kids Christmas crafts: These are perfect for a ton of different kids crafts.
You can grab the big light bulb template and cut it out.
Then let them decorate it with different craft materials.
Let them cover it with tissue paper, glitter, pom poms.
It's a fun way to let their creativity fly.
Christmas decorations: You can also use these as a Christmas light stencil.
Then trace out the light bulb outline onto different colors of craft paper. I like the idea of using that foam glitter paper.
Then string them together on a piece of cord and hang them up as a decorative garland.
Coloring pages: Since these are blank outlines, you can also use them as coloring pages.
Or combine them with our other Christmas printable templates and turn them into a collage to color.
Other ways to use the templates: You can use the Chrismas lights templates to create Christmas cards, to make your own DIY Christmas ornaments and to make decorations for a Christmas party.
Ideas for the Classroom
You can also use our Christmas light printable for fun classroom activities.
You can grab the small Christmas lights and write a letter into each one, then hang them up as an alphabet garland.
You can also have the kids write Christmas words, especially if your working on site words, in each of the lights.
Then hang them up around the room as Christmas decorations and review vocabulary.
Use the big Christmas light template to make ornaments on a paper Christmas tree!
Have the kids decorate their Christmas light bulbs and write their name on them. Then add it to the big tree.
Large Christmas Light Templates
If you need a large Christmas light template, we've got two! These free printables take up almost the entire page.
One has more detail while the other is a little more simple.
These are great for classroom activities, to use as writing prompts and crafts, etc.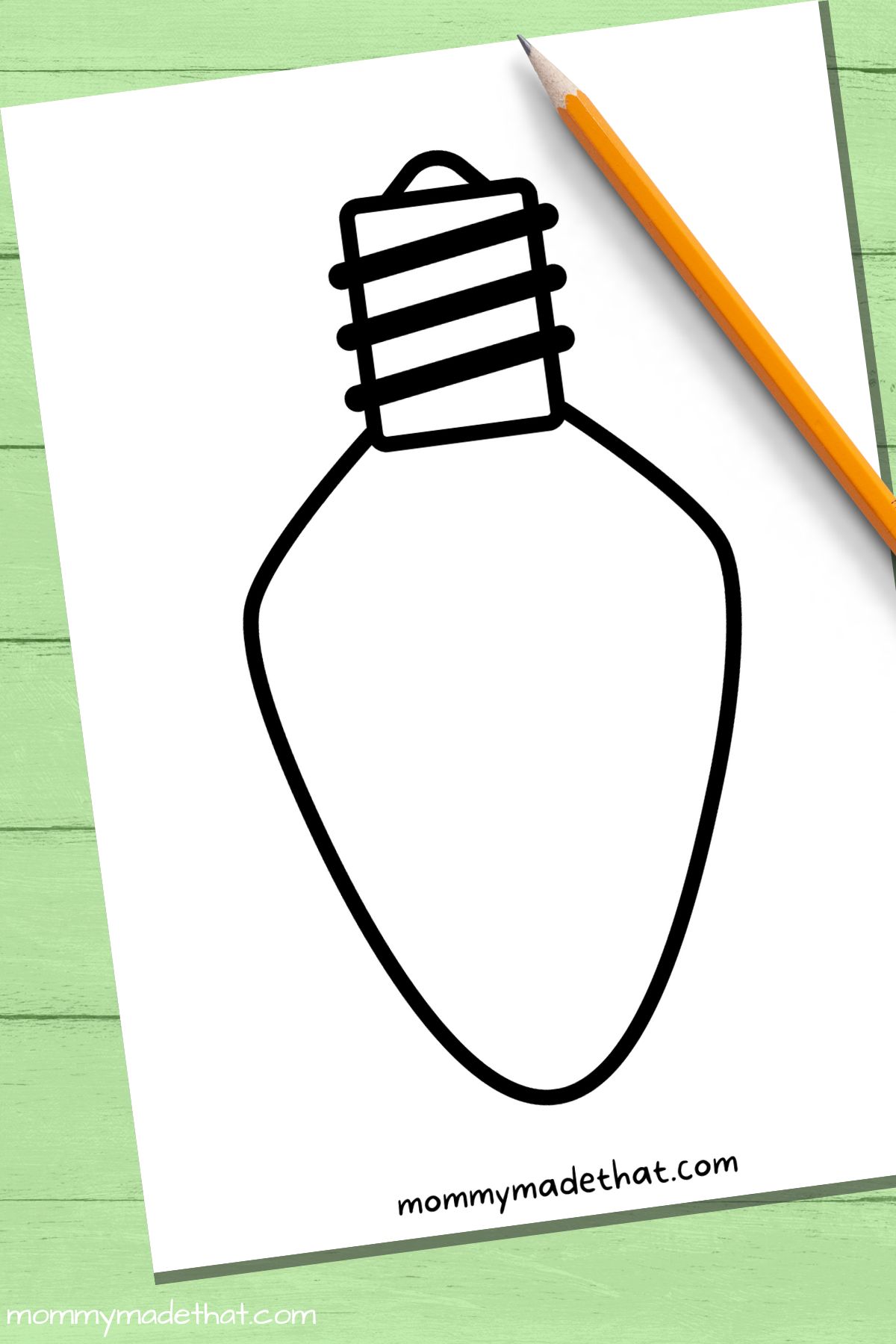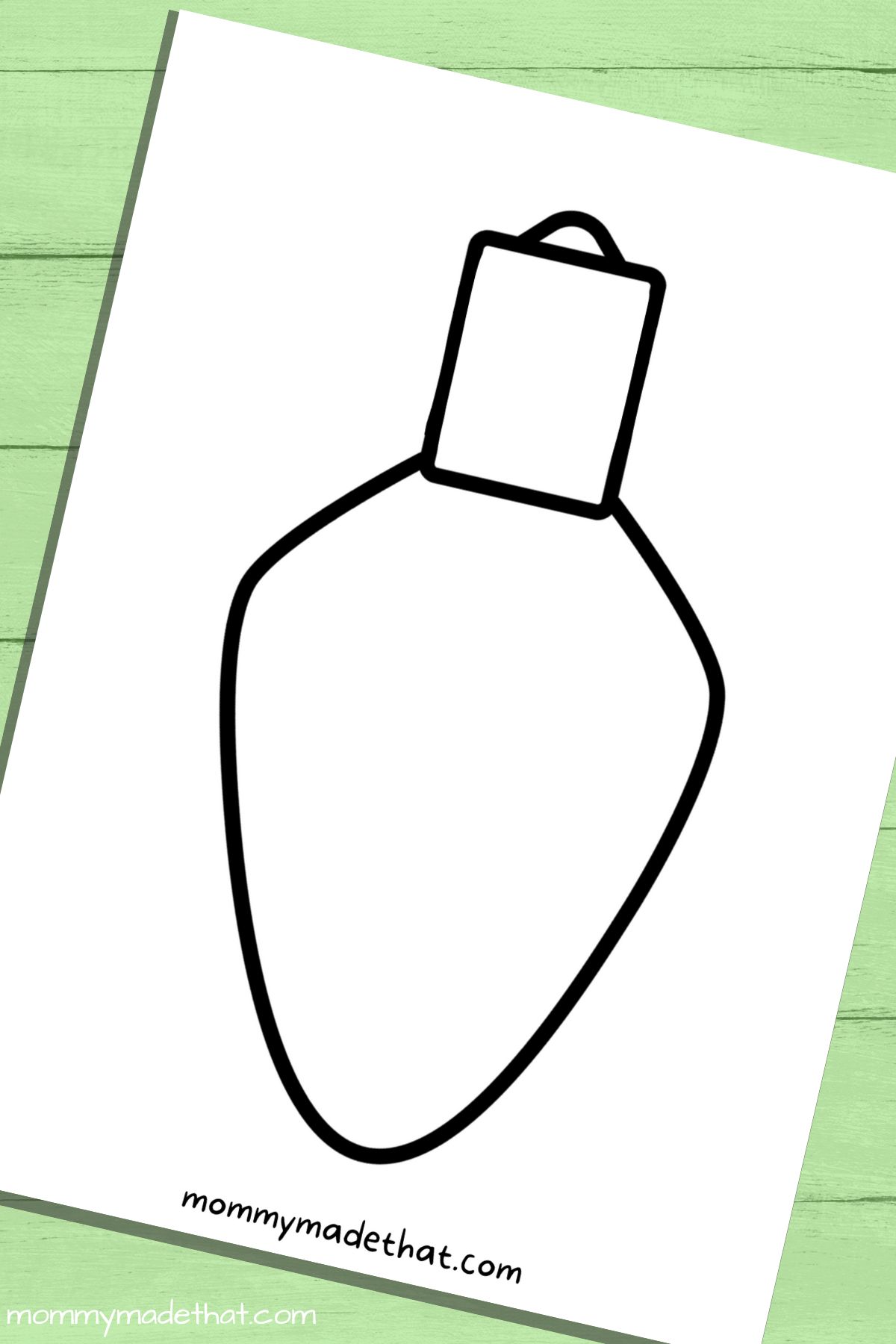 Medium-Sized Christmas Light Outlines
We also have a few medium-sized outlines. These are probably the most useful for kids' crafts.
They're easier for children to cut out themselves and large enough to decorate without being overwhelming.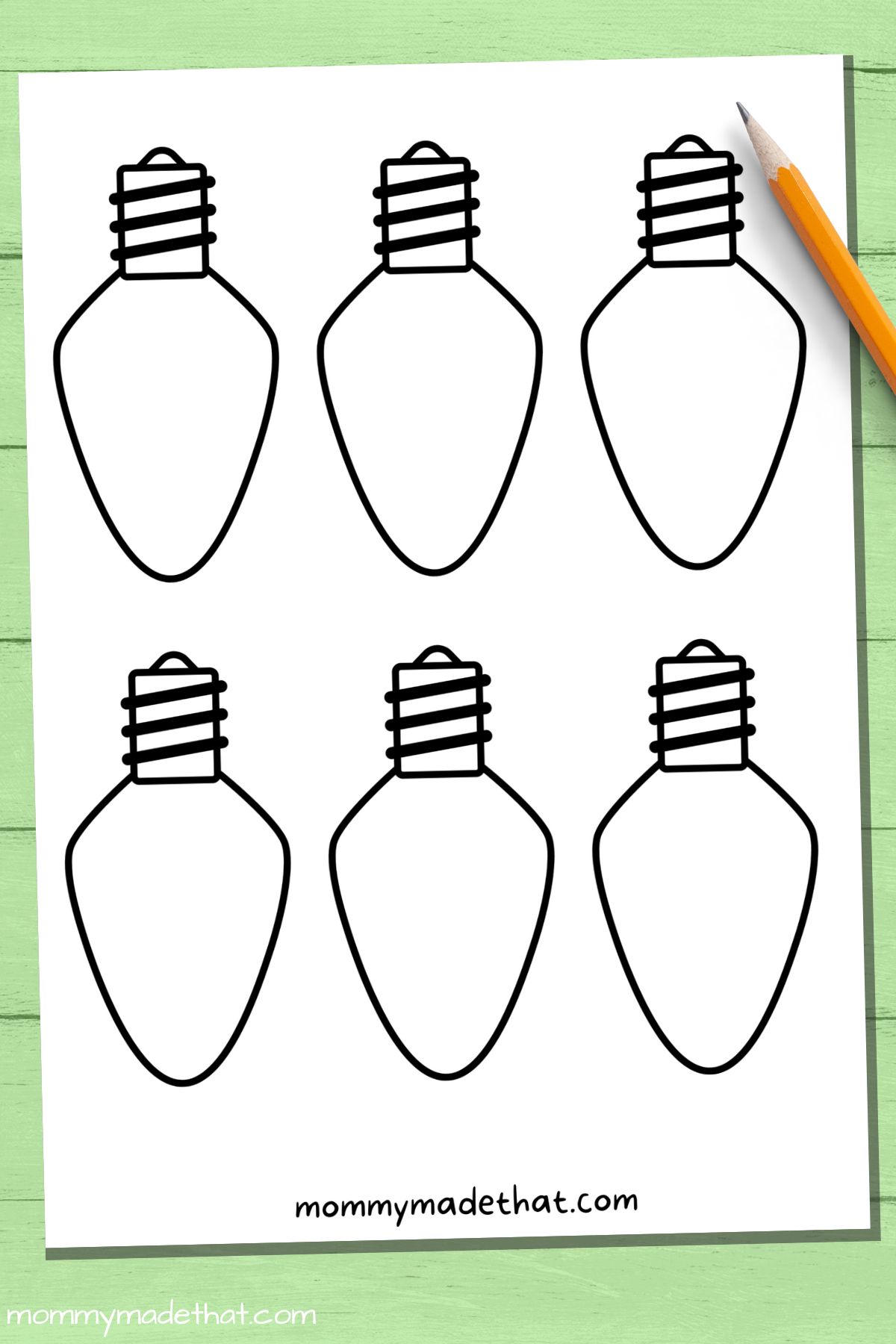 Small Christmas Lights Templates
Our small light bulb templates are perfect for small crafts and to use for Christmas cards or gift tags.
We have them in both the detail light bulbs and the simple ones.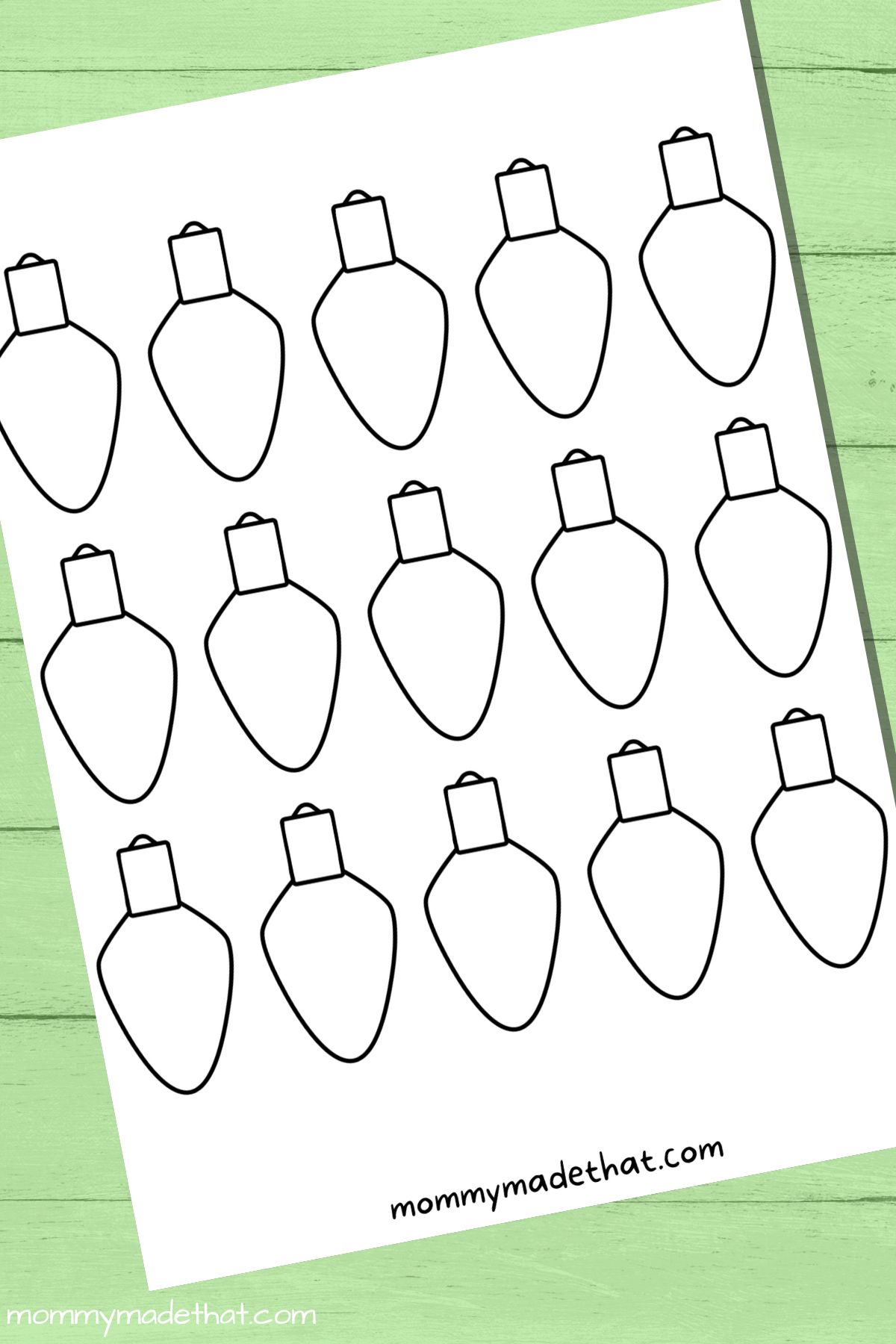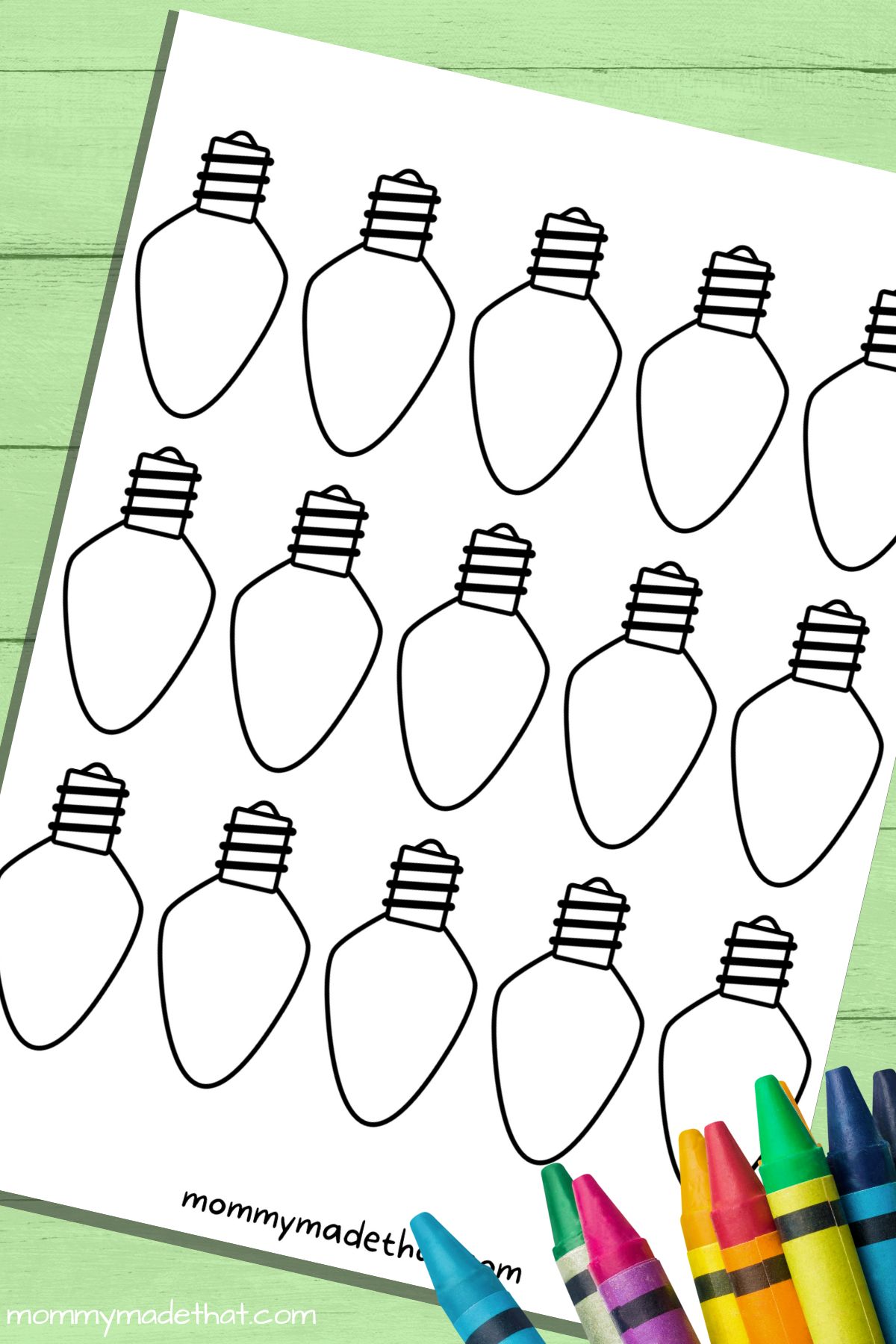 How to Grab the Free Templates
To get one of the free printables, put your email in the box below. We'll send you all of the light bulb outlines, and you can pick which Christmas light template you want to print. Or you can print them all!
We also periodically send other free templates and holiday printables to our subscribers depending on the time of year.
These are for personal or classroom use only. If you'd like to share please send your friends this link directly. These are not for commercial use, but feel free to download them and print out as many as you like! Thank you!
Thanks for checking out our Christmas light templates! We hope you find them useful for all sorts of Christmas crafts and activities.
If you have any other ideas for how to use these Christmas lights, be sure to let us know in the comments below.
And don't forget to grab your free printables before you go!