DIY Rudolph Ornament Kids Craft
These cute Rudolph ornaments are a fun Christmas craft to make with the kids and they are made from recycled materials!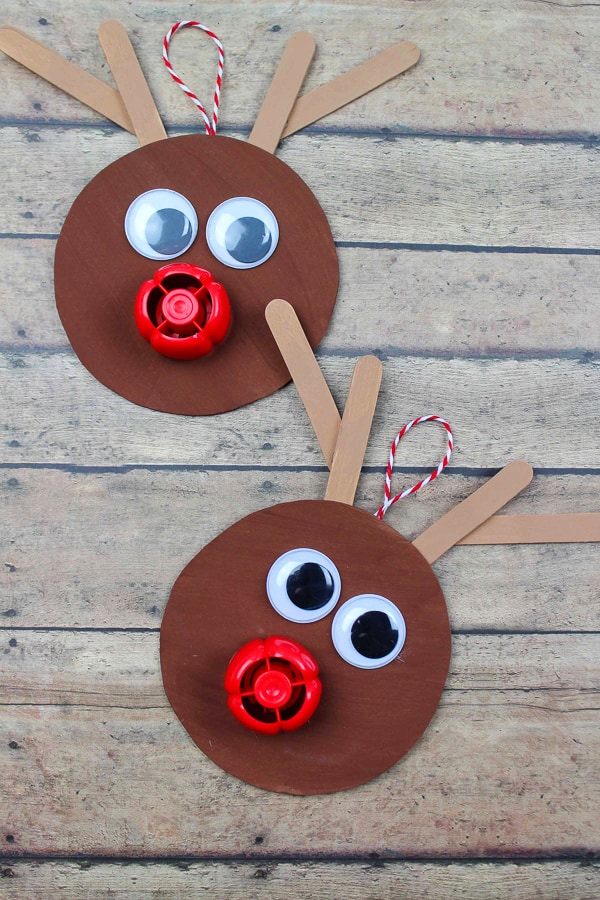 Today we are making super cute little Rudolph ornaments with a few recycled materials.
It's a fun Christmas craft for kids that helps show kids fun ways to reuse items normally seen as trash.
With just a bit of creativity and some glue, you can create works of art out of just about anything!
They're fun and easy DIY Christmas ornament the whole family will enjoy making.
We've got lots of other great winter crafts for kids as well, so be sure to check them out!
We'll even show you how to make your own little Reindeer ornaments with this step by step tutorial.
Supplies Needed for DIY Rudolph Ornaments Kids Craft
Cardboard
Paint
Paintbrush
Googly Eyes (Or printable eyes)
Applesauce Lid
Mini Popsicle Sticks
Glue
Scissors
Decorative String or Ribbon
How to Make These Cute Rudolph Ornaments
First, start off by cutting the cardboard into circles the size you want your Rudolph ornaments.
Paint your cardboard circles with light brown paint and allow them to dry completely.
While painting the cardboard circles paint your mini popsicle sticks with the light brown paint as well.
Make sure both the cardboard circles and mini popsicle sticks dry completely.
Glue the popsicle sticks together to form antlers for your Rudolph.
Then glue the antlers onto the back of your cardboard circles to hold them in place.
Now glue on a set of googly eyes on your Rudolph ornaments and glue on the apple sauce lid to make Rudolph's nose.
Next loop decorative string or ribbon and glue it to the back of your ornament.
That's it. Your cute little Rudolph craft is done!