Printable Halloween House (3D Printable Spooky Castle)
Today we have a fun printable haunted house perfect for Halloween. You print, color and cut out the pieces to create a 3D haunted house or Halloween castle!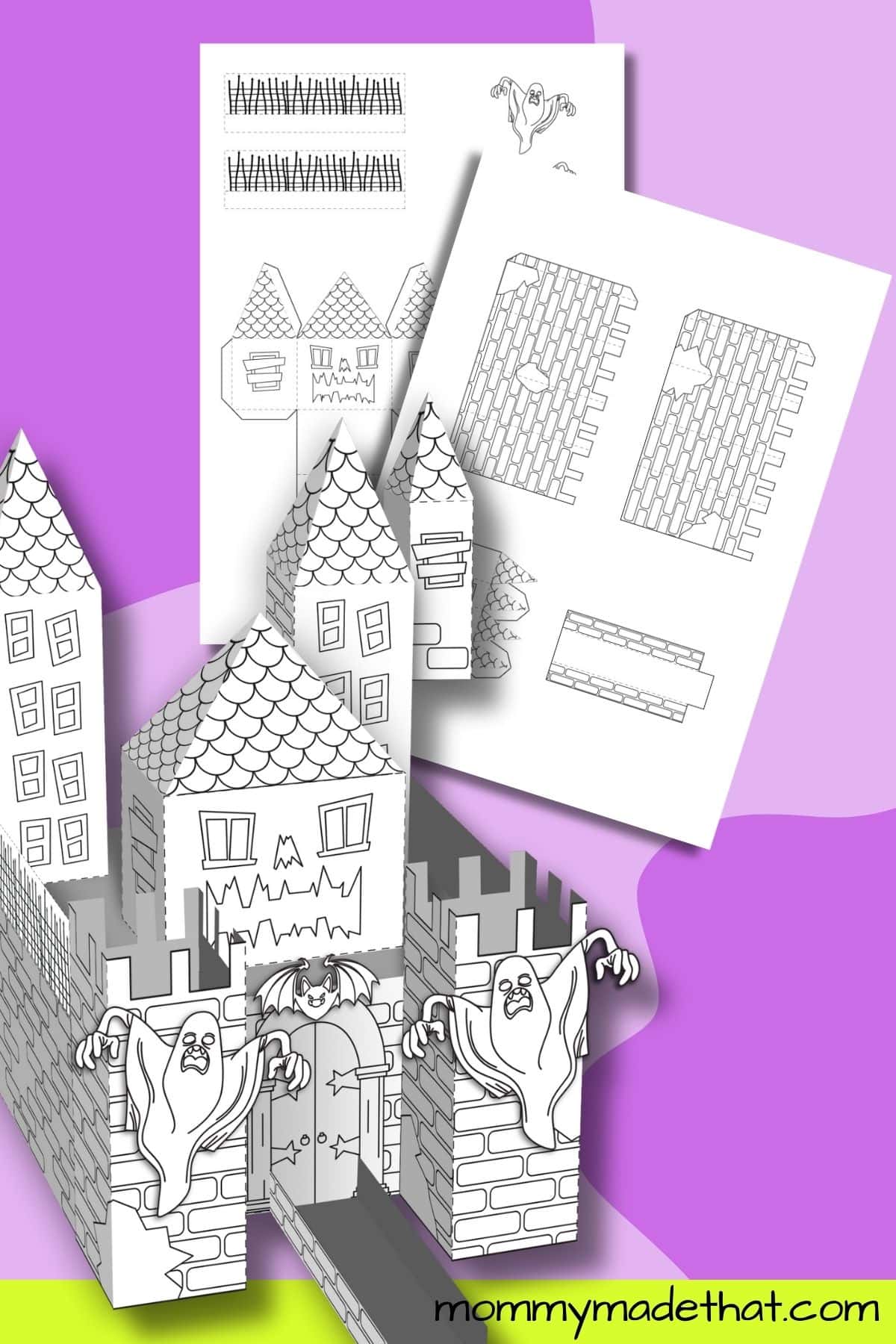 The haunting season is approaching and what better way to set the mood than by creating your very own 3D haunted house? Dive into this fun and interactive project where you can transform a flat printable into a spooky castle, ready to be the centerpiece of your Halloween décor!
It's perfect to print out, color in exactly as you like it, then assemble together a haunted house perfect for Halloween.
These printables are great to use as Halloween coloring pages for kids but doubles as a fun Halloween craft project as well.
While you're assembling your haunted castle, why not add more to the Halloween festivities? I've got just the thing!
Explore our other delightful Halloween printables that promise to amplify the spookiness. Check out our popular Halloween coloring cards that you can personalize with your own touch of eerie hues.
And if you're still in the mood for more crafty adventures, dive into our witch craft template, embark on our Halloween scavenger hunt, or challenge your mind with the Halloween vowel worksheets.
It's a world of haunting fun just waiting for you, so don't miss out!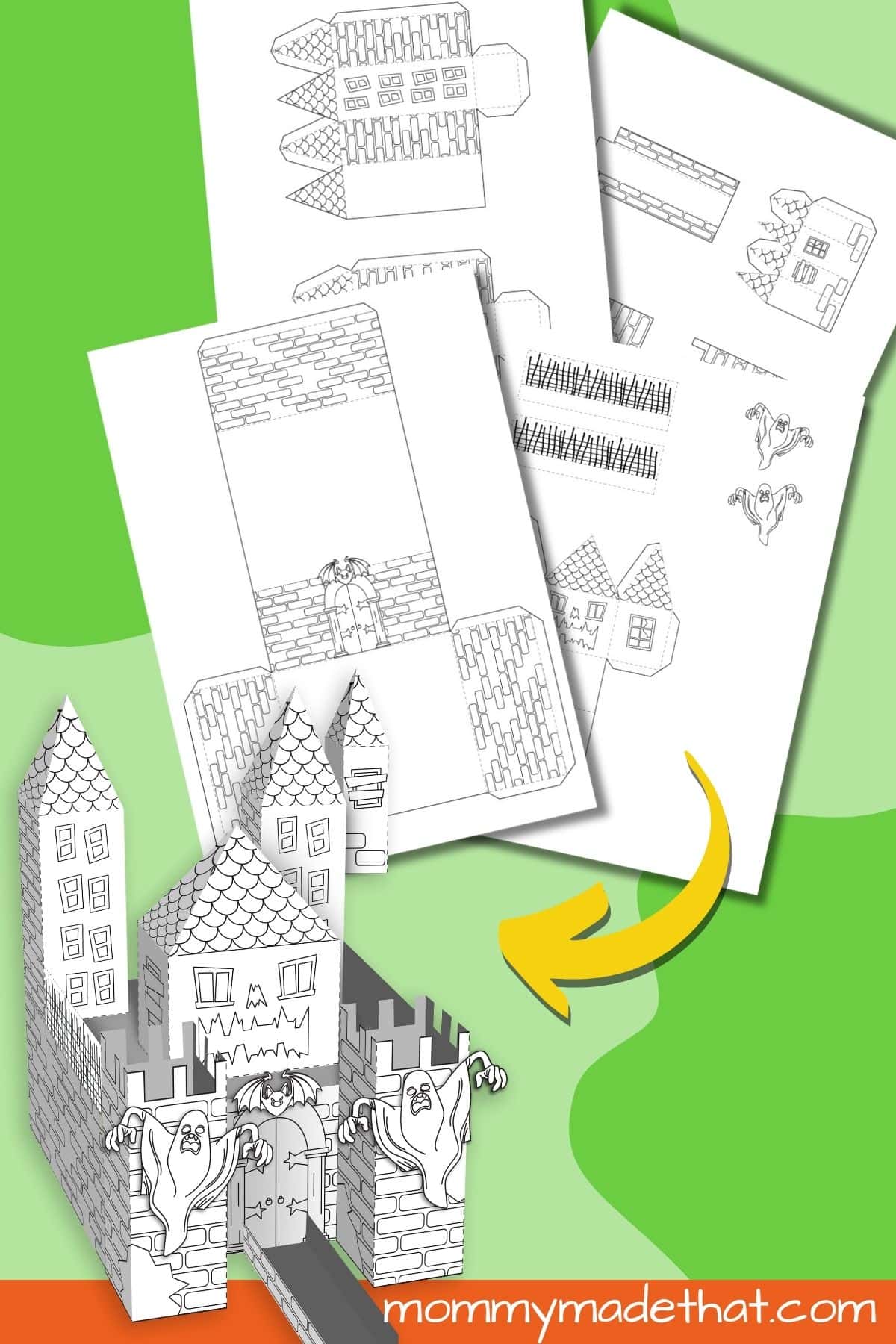 Materials Needed
Sturdy printing paper (Cardstock or any thick paper will do wonders).
Coloring tools: Crayons, colored pencils, markers, or even paint if you're in the mood to get a bit messy!
Scissors (Sharp ones for precision. And always be safe!).
Glue or double-sided tape.
A sprinkle of imagination and a dash of spooky vibes!
Instructions
Set the Stage: Prep your crafting area, maybe even light a pumpkin-scented candle for added ambiance and Halloween fun.
Print: Start by printing out the 4 pages of our haunted house template.
Coloring Session: Bring out the shades of midnight blues, eerie greens, and ghostly whites and color in the castle details.
Precision Cuts: With scissors in hand, carefully cut out each piece of the castle, making sure to follow the lines closely.
Assemble the Castle: Using glue or double-sided tape, connect the pieces as indicated to watch your 3D spooky castle come alive!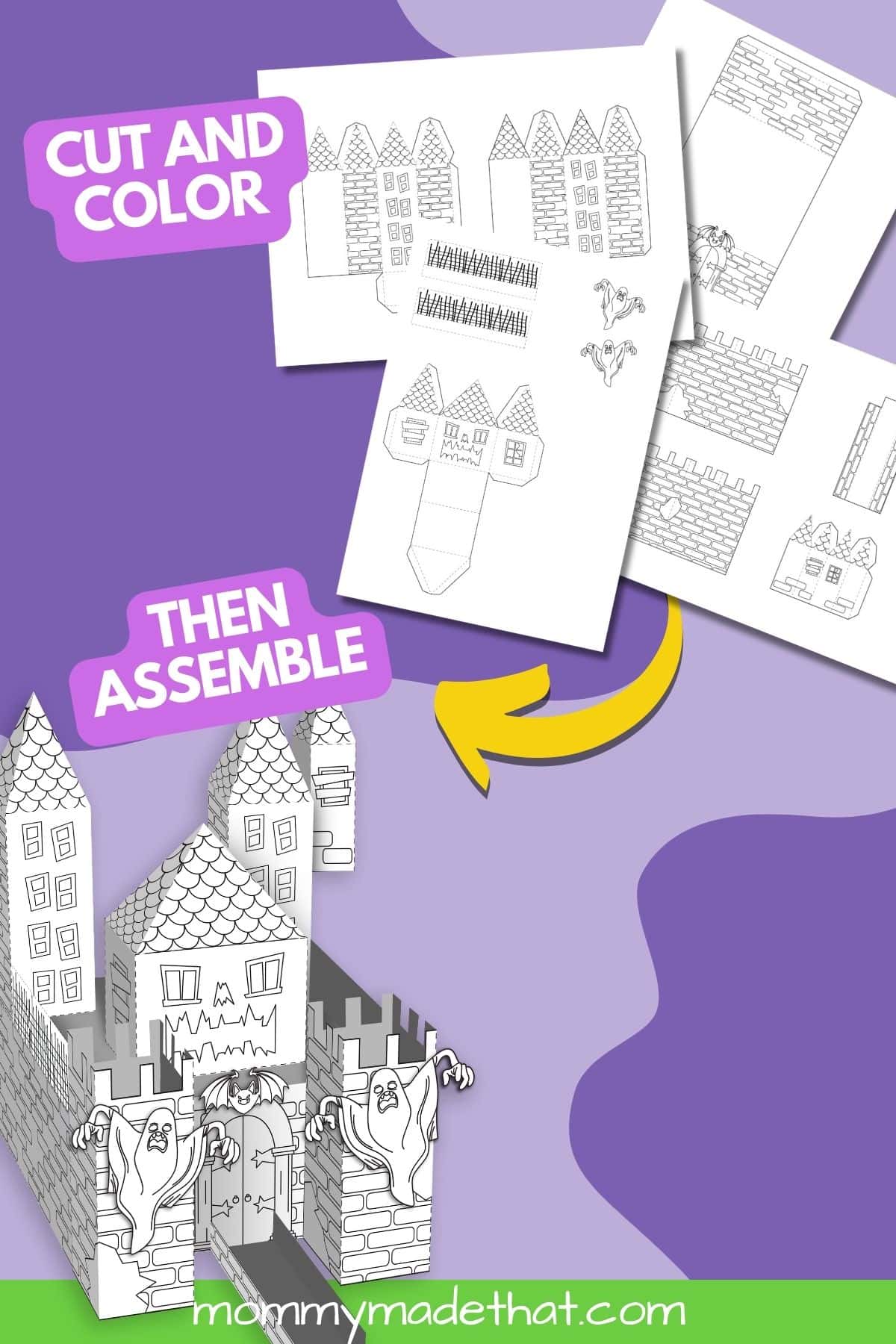 Note* When assembling the castle you can refer to the image, since it's a little hard to explain in words how to assemble it.
But I'll try my best. Start by cutting out the base of the haunted house (as labeled) and putting it together.
Then cut out and assemble the top center piece and put it on the center and top of the base piece you just built.
Then attach the back towers to the back of the house on top of the base structure. Then attach the front towers to the FRONT of the house, not the top.
Put the bars attaching between each side, one back tower to one front tower attached along the top of the base structure.
Your house should look similar to that below.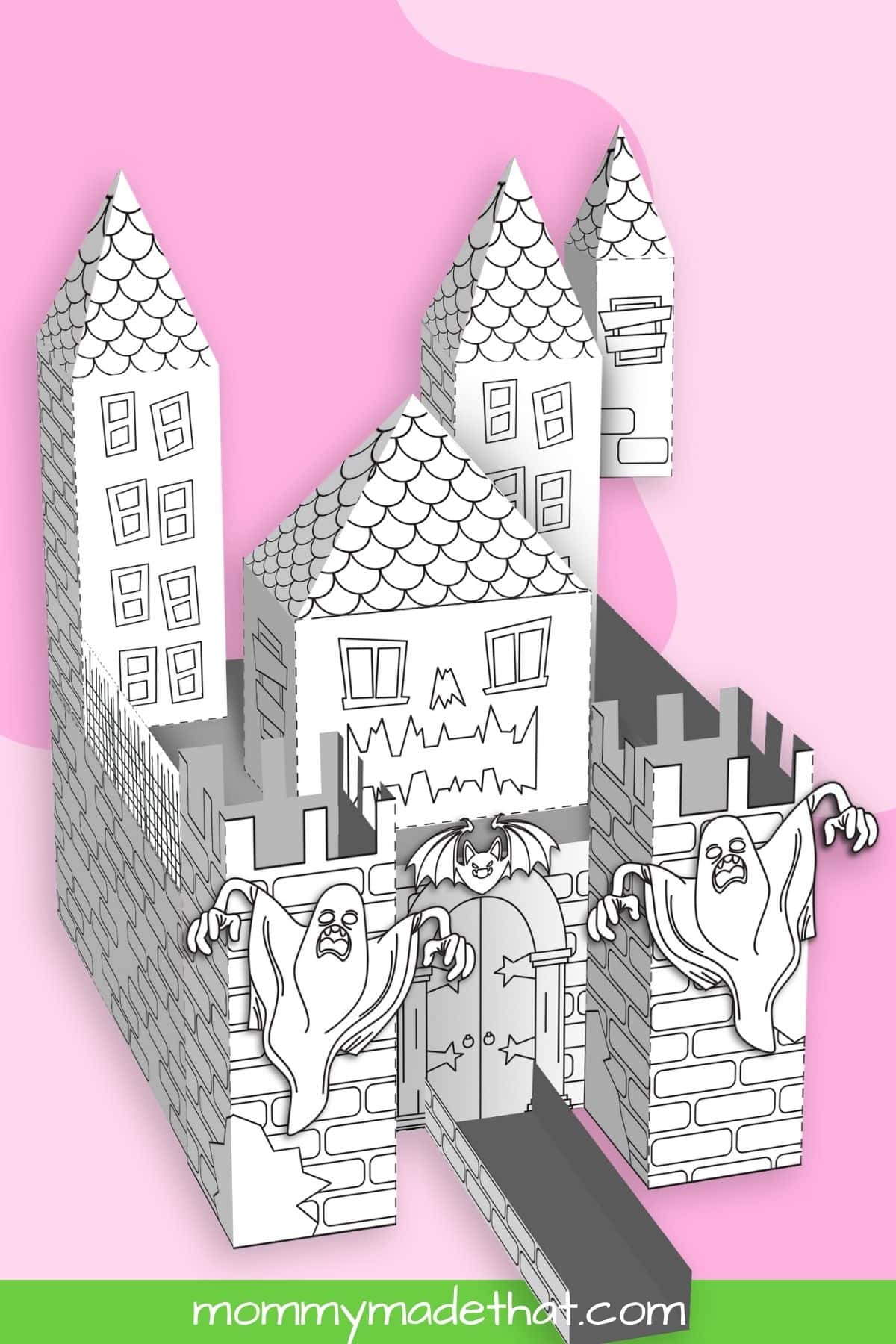 Printing Tips
Always use the "best" or "high-quality" print setting to get clear lines and detailed illustrations.
When printing, ensure the scale is set to 100% so the pieces fit together perfectly.
A quick test print on regular paper can save you from any unexpected surprises.
Grab the Free Printable Haunted House
Eager to embark on this eerie adventure? Simply put your name in the pink box below, and we'll whisk the printable haunted house template right to your inbox, along with some other Halloween treats and updates.
Ways to Use the Printable Haunted House
Centerpiece: Once assembled, this 3D haunted castle makes a fantastic centerpiece for your Halloween table spread.
Haunted Diorama: Create a spooky scene by adding mini figurines, fake spiders, or cotton ball cobwebs.
Lantern: Place a battery-operated tea light inside and watch the windows of your castle glow eerily.
Gift Box: Fill your castle with Halloween treats and gift it to a friend or loved one for a spooky surprise.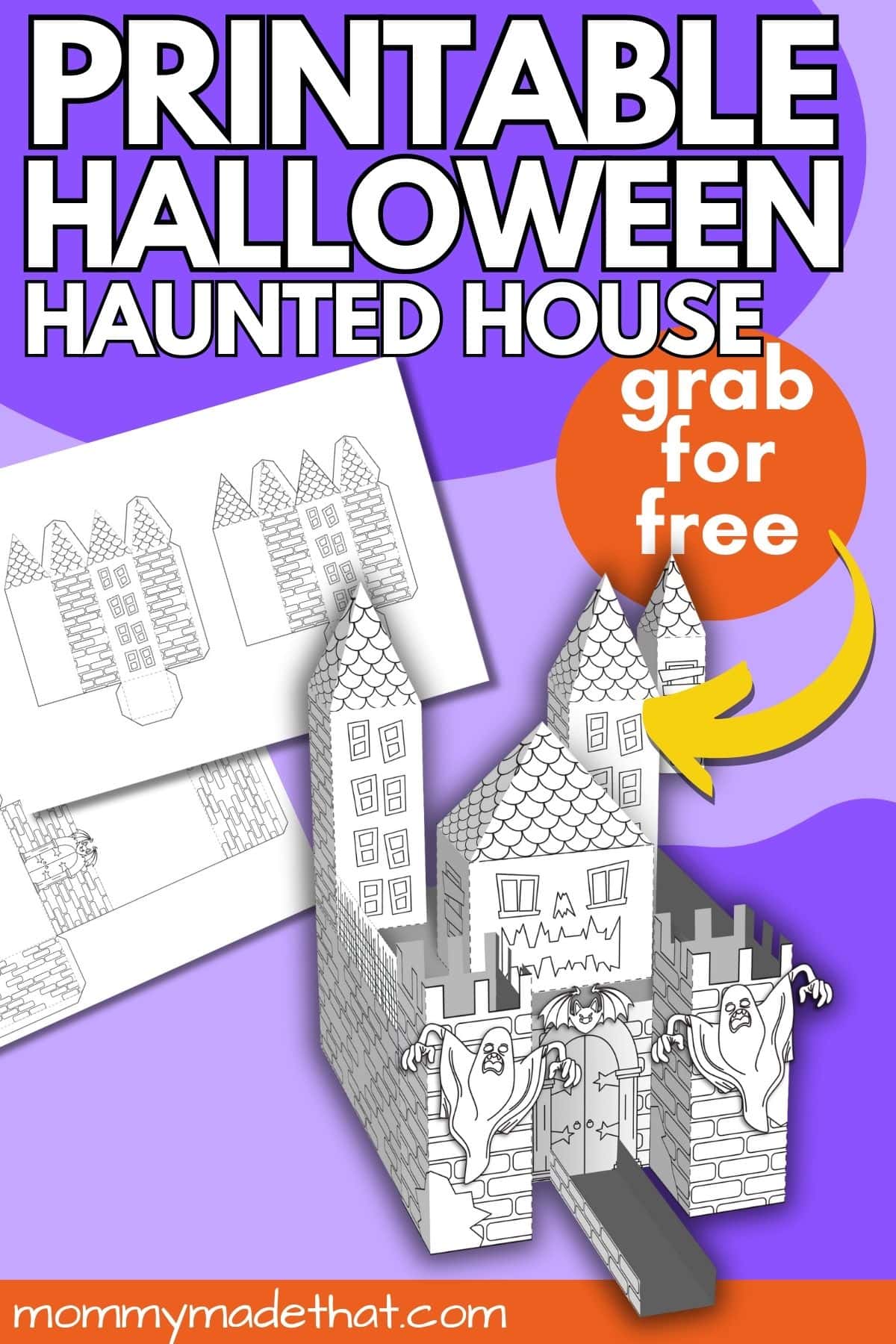 I don't know about you, but we loved making this paper haunted house. Such a fun and creative project.