Halloween Surprise Cards: A Fun Coloring Activity
Today we have a fun and easy printable that kids will absolutely love! I call these the Halloween surprise cards. Print out the free Halloween printable and color in the pages. Then fold on the dotted lines to create a surprise card kids will be so proud of.
The spooky season is upon us, and what better way to dive into the festivities than with a delightful craft activity?
I'm thrilled to introduce our latest printable: the Halloween Coloring Surprise Card!
Perfect for adding that personal touch to your Halloween parties and celebrations, these cards combine the joy of coloring with the surprise of discovering a hidden image.
Kids love creating these surprising cards.
While you're in the Halloween spirit, don't forget to check out our other bewitching Halloween printables! For those of you who've loved our previous activities, you're in for a treat.
Unleash your inner sorcerer with our cut and paste witch craft template, or embark on a spooky adventure with our Halloween scavenger hunt. If games are more up your alley, our roll a skeleton game or roll a monster game promises giggles and fun times.
And for the little scholars out there, our Halloween vowel worksheets are both educational and spooktacular! Dive into this Halloween treasure trove and make this season unforgettable.
Materials Needed
Good quality printing paper (letter size preferably).
Scissors or a paper cutter.
Coloring materials: Crayons, colored pencils, markers, or even watercolor if you're feeling fancy!
A keen spirit for creativity and fun!
Instructions
Preparation: Start by ensuring your workspace is clean and you have all materials within reach. I always find that putting on some spooky tunes helps set the mood!
Print: Using our provided printable, print out the 6 pages. Each page contains two unique cards just waiting to be brought to life.
Cutting Time: Now, carefully cut along the edges of each card. If you're letting little hands help, make sure to supervise!
Coloring Fun: Dive into your artistic side and color in each image. Remember, it's not about being perfect but about having fun and letting your creativity shine!
Fold It Right: Follow the dotted lines on the card to fold it into a Jack O'Lantern. The surprise hidden inside is what makes these so special.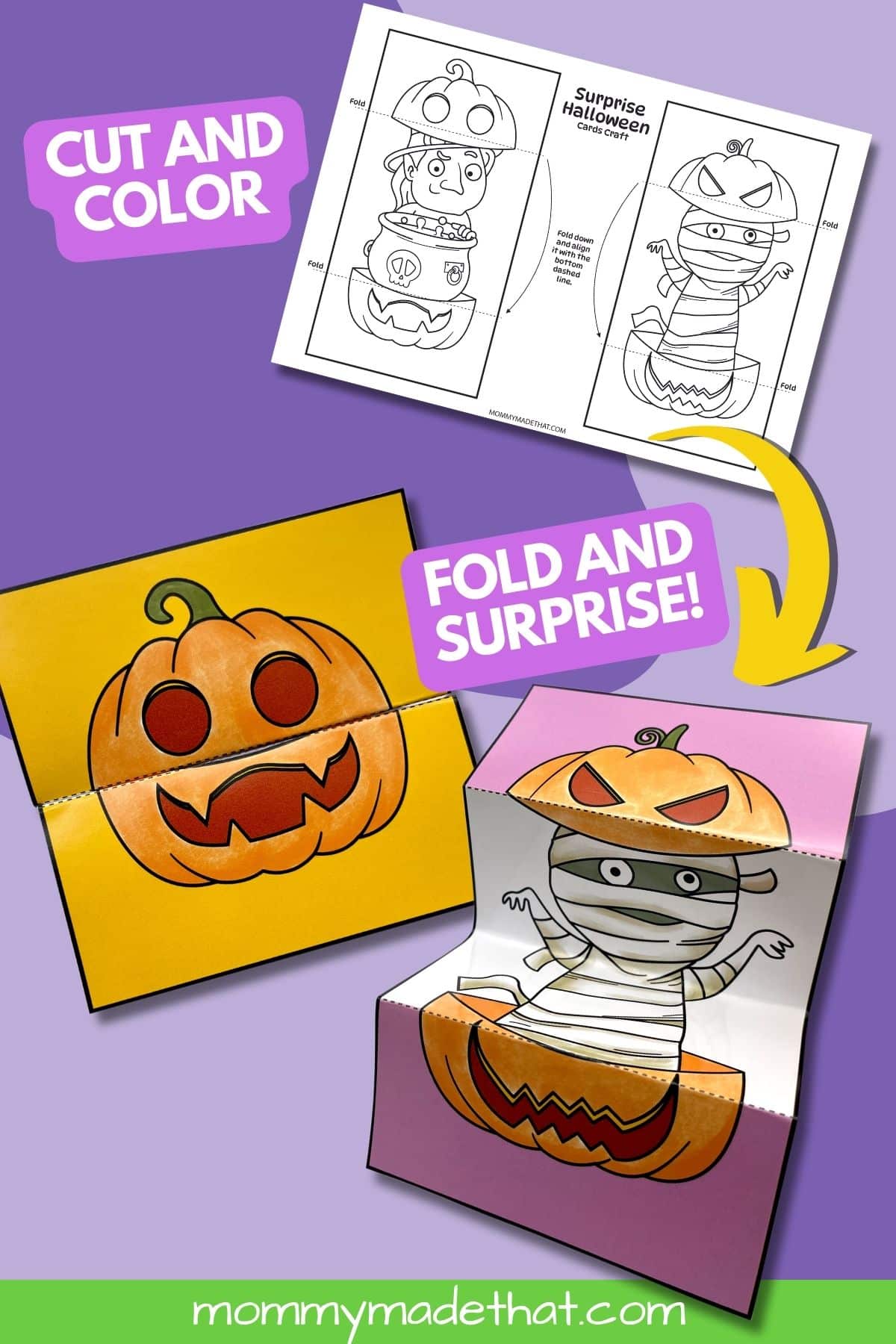 The Halloween Coloring Cards Surprise Printables
We include 6 different pages of Halloween cards to color and make. They include images of cute Halloween creatures such as a ghost, a mummy, a voo doo doll, a creepy vampire, a Halloween bat, a skeleton and lots more.
You can check them all out below.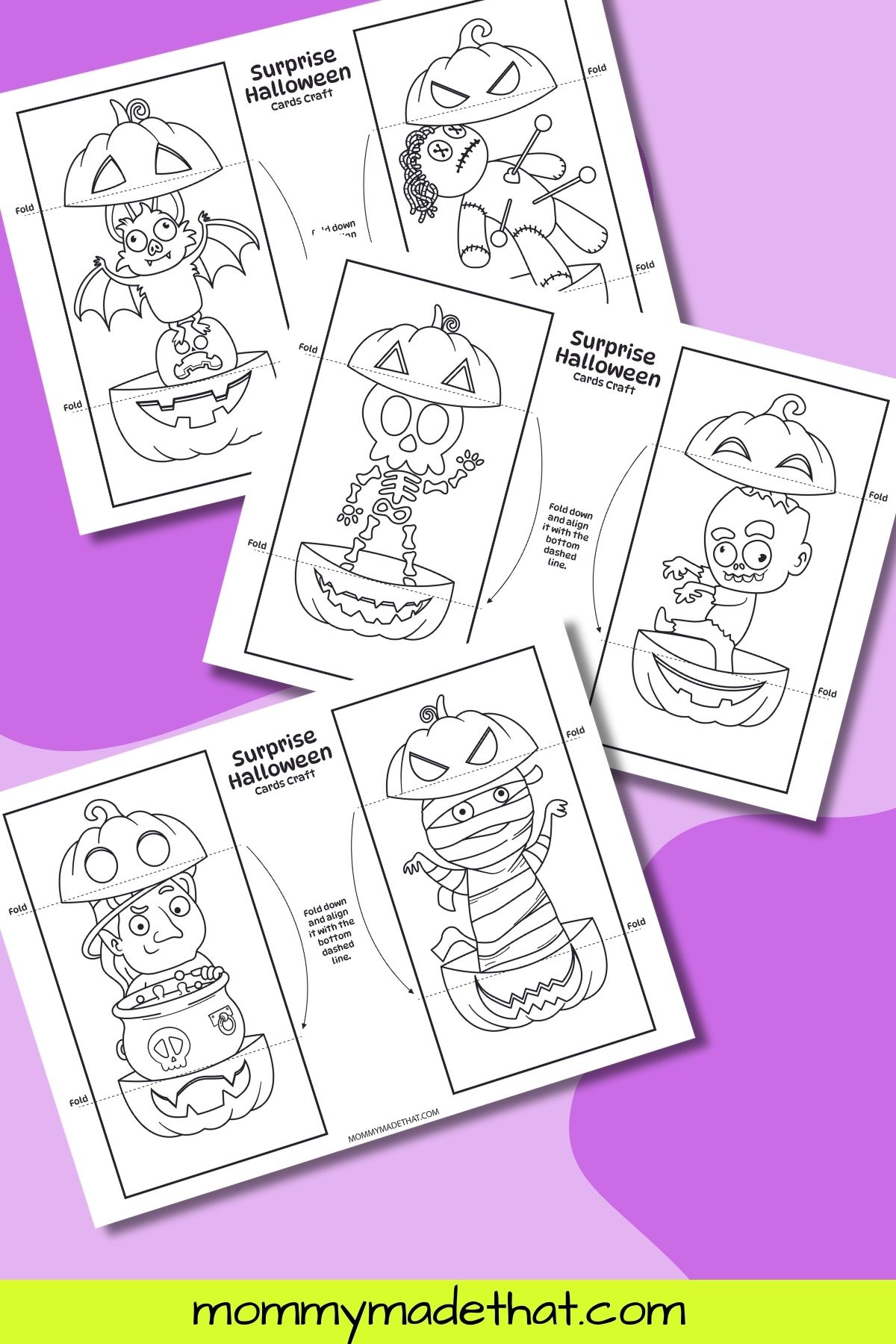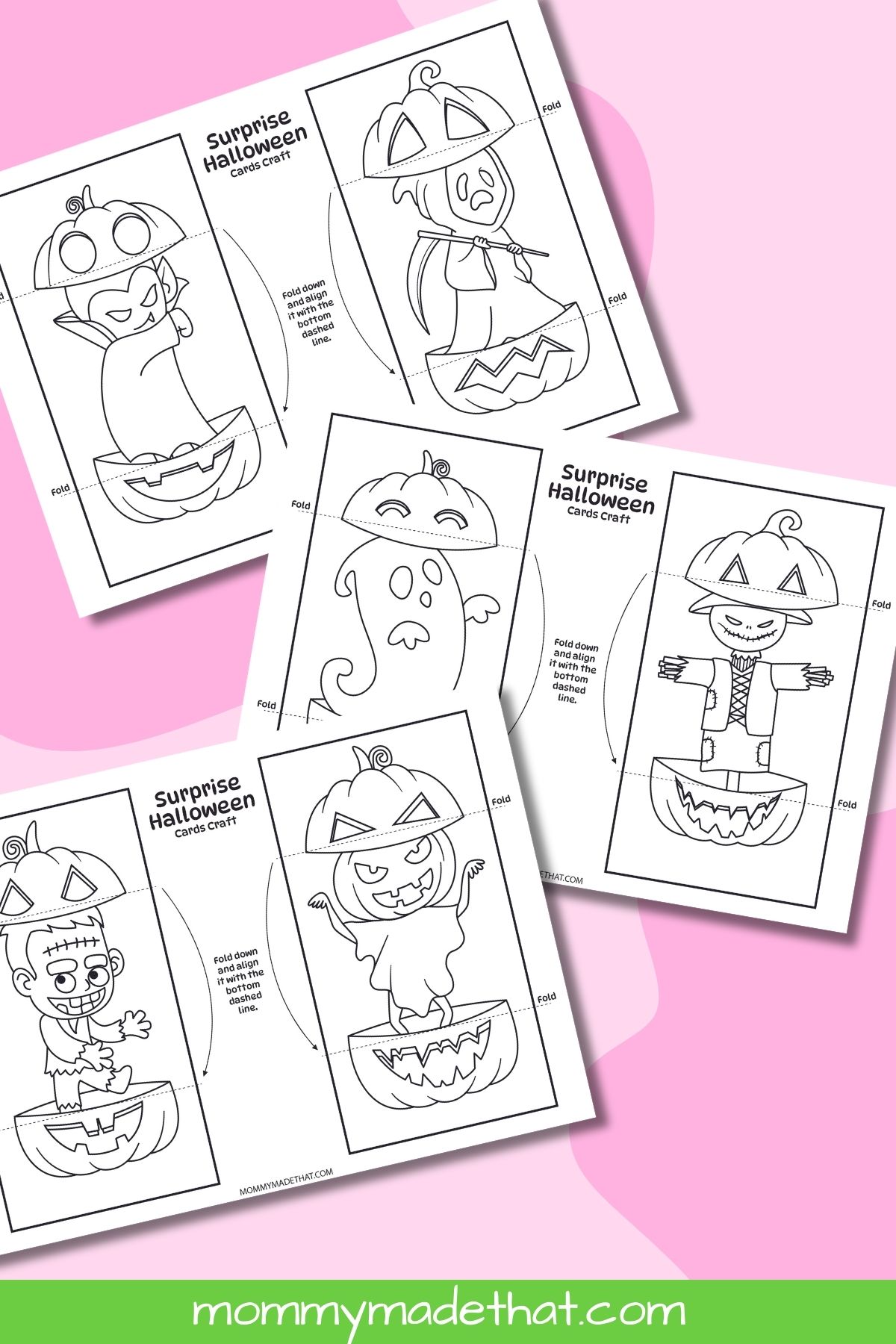 Printing Tips
Always ensure you're using the correct paper setting on your printer. For these cards, a thicker paper might work best.
Check the print preview! Sometimes images can get cut off or not be aligned properly.
How to Grab the Free Printable Card
Alright, folks, here's the magical part. Ready to get your hands on these adorable Halloween Surprise Cards?
Simply pop your name and email in the pink box below, and voila! We'll send the Halloween printables straight to your email, along with other fun updates and crafty goodies from our treasure trove.
Ways to Use the Printable
Halloween Greetings: Use them as greeting cards for friends and family. A personal touch always makes holidays extra special!
Classroom Activities: Teachers, these are great for classroom fun! Let the kids color them and then exchange with classmates for a delightful surprise.
Halloween Party Invites: Hosting a party? These make for unique and exciting invitations!
Decor: Once colored, these can be strung together to create a festive garland or even used as placemats.
Happy Crafting and a Spook-tacular Halloween to you all! Always remember, it's the little creative moments and the joy they bring that make life so colorful.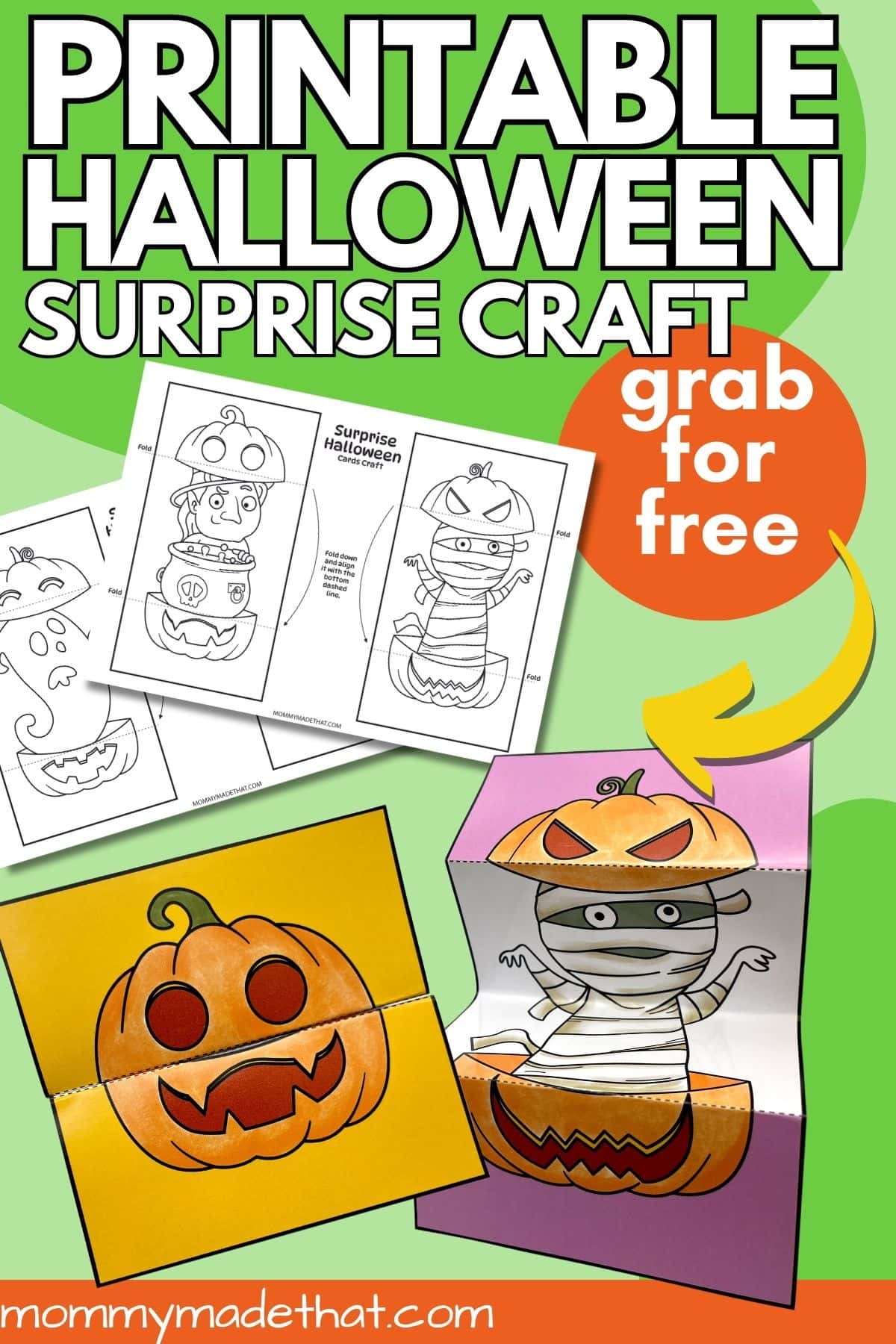 If you like this activity, be sure to check out all of our Halloween crafts for kids for some more spooky fun.