Cut and Paste Zombie Craft (Perfect for preschool)
This cute cut and paste zombie craft printable is a free printable that's perfect for younger kids in preschool or early elementary years. Cute and not too spooky. It's a great Halloween craft kids will love.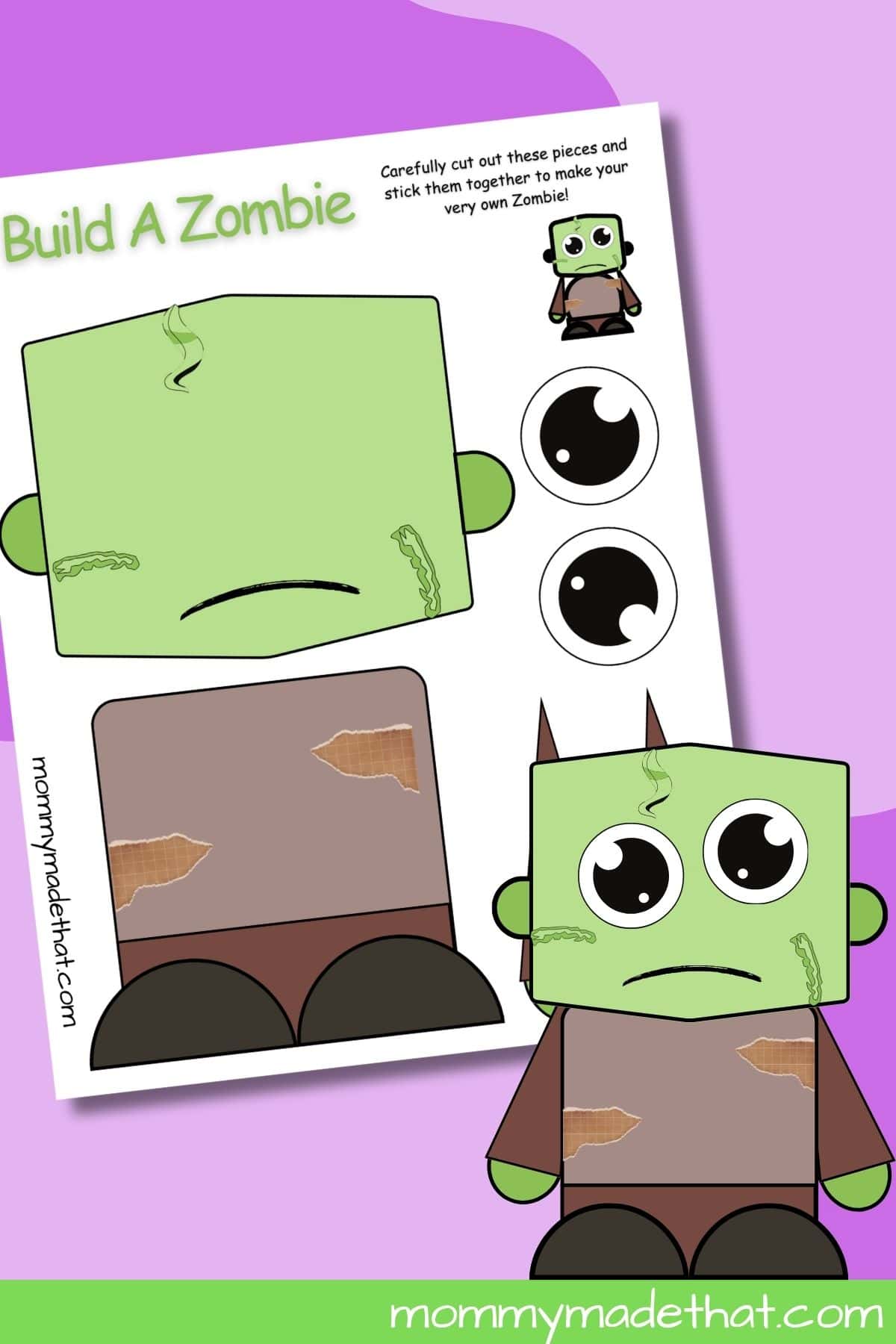 Are your kiddos ready to create their own friendly (or maybe just a tad spooky) zombie friend?
This cut and paste zombie craft is not just adorable but super easy, making it perfect for our little preschooler pals and younger craft enthusiasts. Let those tiny hands dive into some zombie-fied fun!
If your little ones are hungry for more Halloween crafts, we've got just the lineup.
Dive into the magic of our paper plate witch hat, our toilet paper roll vampire or embark on a delightful quest with our Halloween scavenger hunt printable.
If games tickle their fancy, the roll a skeleton game or make your own monster game will surely be a hit.
And for those moments of learning amidst fun, our Halloween worksheets are perfect.
Cut and paste crafts are perfect for preschoolers and younger children to develop their fine motor skills and focus skills.
Materials Needed
Our printable zombie craft template (trust me, it's way cuter than it sounds!).
A pair of child-safe scissors.
Glue or a glue stick.
Optional: Colored construction paper as a backdrop for your zany zombie.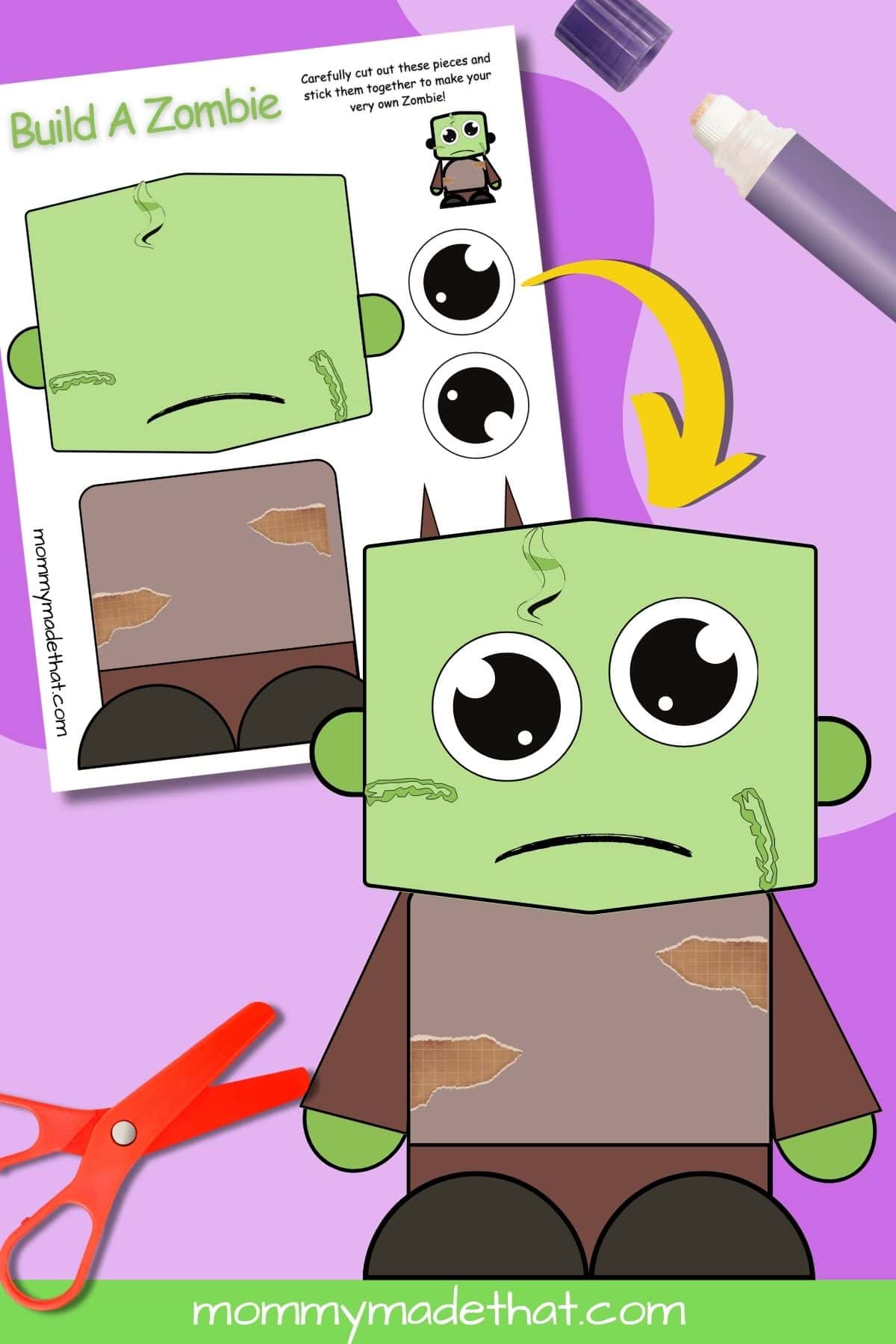 Instructions
Crafting Station: Set up a fun crafting space for your little one, maybe play some fun, upbeat Halloween tunes in the background.
Print: First things first, print out our adorable zombie template.
Snip-Snip: Help your child or let them cut out the zombie parts. Those round heads, wiggly arms, and tiny shoes can be quite the fun challenge!
Sticking Fun: Now, paste those pieces together to form your zombie or glue them onto a sheet of colored construction paper to give it a vibrant backdrop.
*If you are prepping this craft for a group of smaller children in preschool, you can staple 3-4 together at a time and cut them out at once. More than 4 I find it hard to cut through the paper, but this will save loads of time!
Printing Tips
Ensure the printer is set to 'color' mode to capture all the cute details of our zombie.
Using a thicker paper can make cutting and pasting easier for little fingers.
Always preview before printing, just to make sure our zany zombie isn't missing a shoe or an arm!
Ways to Use the Printable
Halloween Decor: Once done, these zombies can adorn windows, doors, or even be part of a Halloween garland.
Storytime: Create a mini-story around the zombie's adventures and let your child's imagination soar.
Zombie Parade: If you have multiple kids or a classroom, everyone can create their own unique zombie and then have a little zombie parade!
How to Get Your Hands on the Printable
Ready to get zombified? Just pop your name and email into the pink box below, and we'll send this little printable straight to your inbox.
Plus, you'll get updates on all our future craft-tastic endeavors!
Check out some of our other Halloween cut and paste crafts perfect for preschoolers like our cut and paste bat craft and our cut and paste Frankenstein craft.
They might also enjoy coloring in our printable Halloween masks.