Free Printable Halloween Coloring Masks
These free printable Halloween Masks are so much fun for kids to print out, color and make all their own!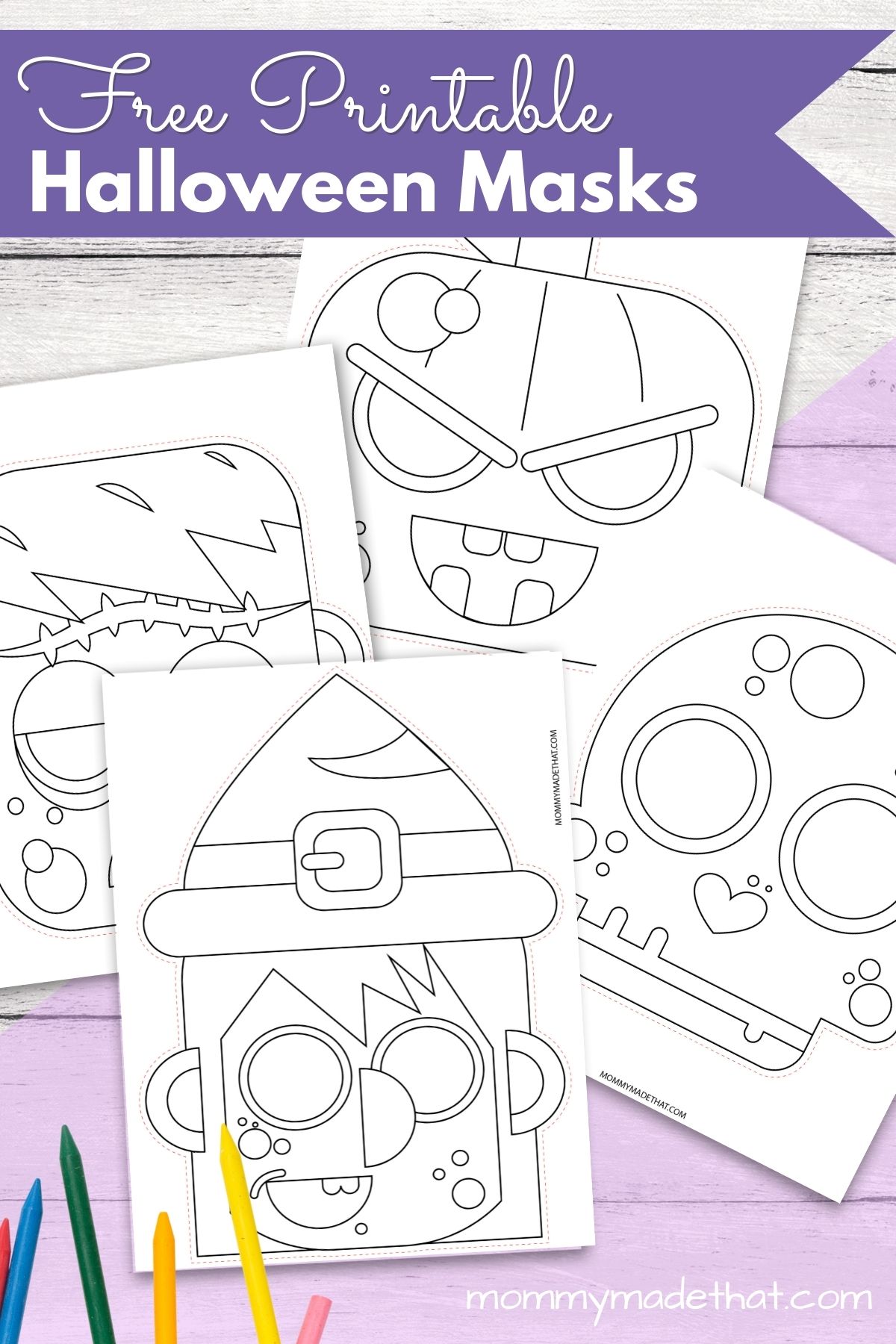 Today we have these super fun Halloween masks you can print and color! They're a fun printable mask perfect for spooky events.
My kids love coloring pages, and these masks are extra fun because they get to wear and play with them after their coloring session.
And be sure to check out all of our Halloween printables and Halloween coloring pages too.
There are 8 printable masks in total! So a ton to choose from.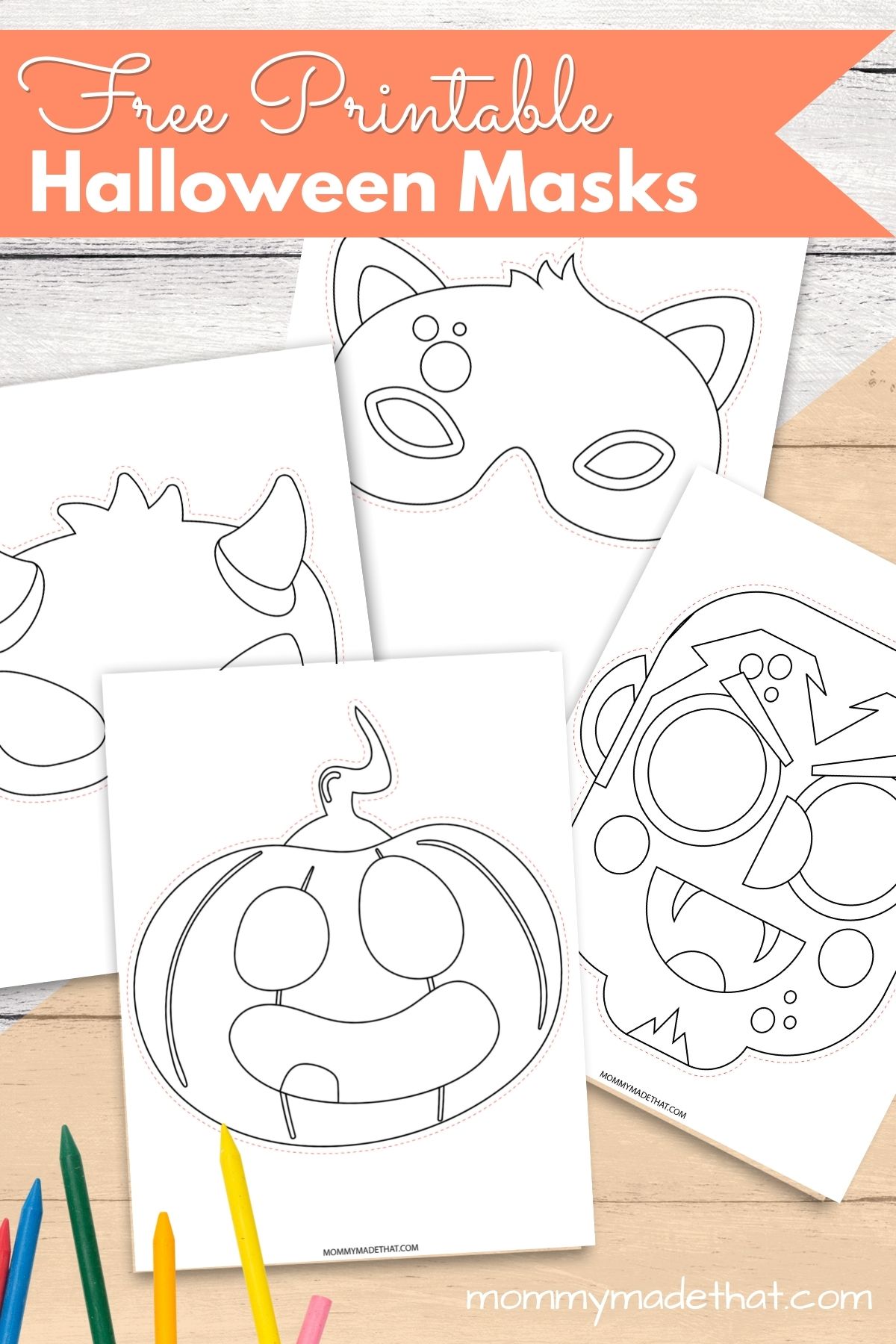 How to Download the Printable Masks
To download these masks you'll go to our printable library. We have tons of fun printables in there for loads of crafting and coloring fun.
You then click the download printable button and a PDF should pop up in a new page. Then you can click print and you're good to go.
I also suggest checking out our Printable Halloween Games for even more fun. There's a lot to choose from and they are all completely free. Just click, download and print!
Making Masks from the Printables
After you've printed the masks you want out, you can then get coloring! Once the kids are all done coloring, cut the masks out on the dotted line and cut out eye holes so they can see.
Then you can either glue or staple some elastic string or regular string to each side. I suggest elastic as you can use one continuous piece. If you use string or ribbon, you'll have to attach 2 pieces, one to each side of the mask.
Then you'll be able to tie them into a bow behind your child's head.
I suggest using card stock when printing out your masks. You could use regular paper, but they won't hold up to a lot of play.
You could also laminate your masks after they've been colored so they're good for use over and over again.
Fun Ways to Use These Printable Masks
I like these kinds of printables because they're perfect for several different occasions.
Coloring Activity at Home
You can use them at home for a fun activity for your kids to keep busy and get into the Halloween spirit. Kids love all types of coloring pages and these ones add a fun twist.
Halloween Party Activity
They're also great to print out as a fun activity at a Halloween party. You can print out several and put them on a table with a bucket full of crayons and colored pencils.
Set out a few pairs of scissors and let your guests create their own spooky masks to wear at the party. These also make for fun photo booth props.
Classroom Fun
If you have a classroom, you can print out several copies and let the kids grab the one that calls to them. They can then color them, glue down cute little jewels or pom poms and go nuts.
You can let them wear the masks or pin them all up on a bulletin board to display to the whole class. They can gather around and take turns guessing who made which mask.
This would be perfect for a school Halloween party.
Printable Halloween Masks
We have several masks for you and the kids to choose from. We've got monsters and halloween animals. Plus lots of shapes are on the masks to make the coloring a bit more fun.
Halloween Witch Mask
This witch mask is so much fun. All the different shapes make for lots of fun details to color. This is also the largest mask in the collection and looks so much fun when worn.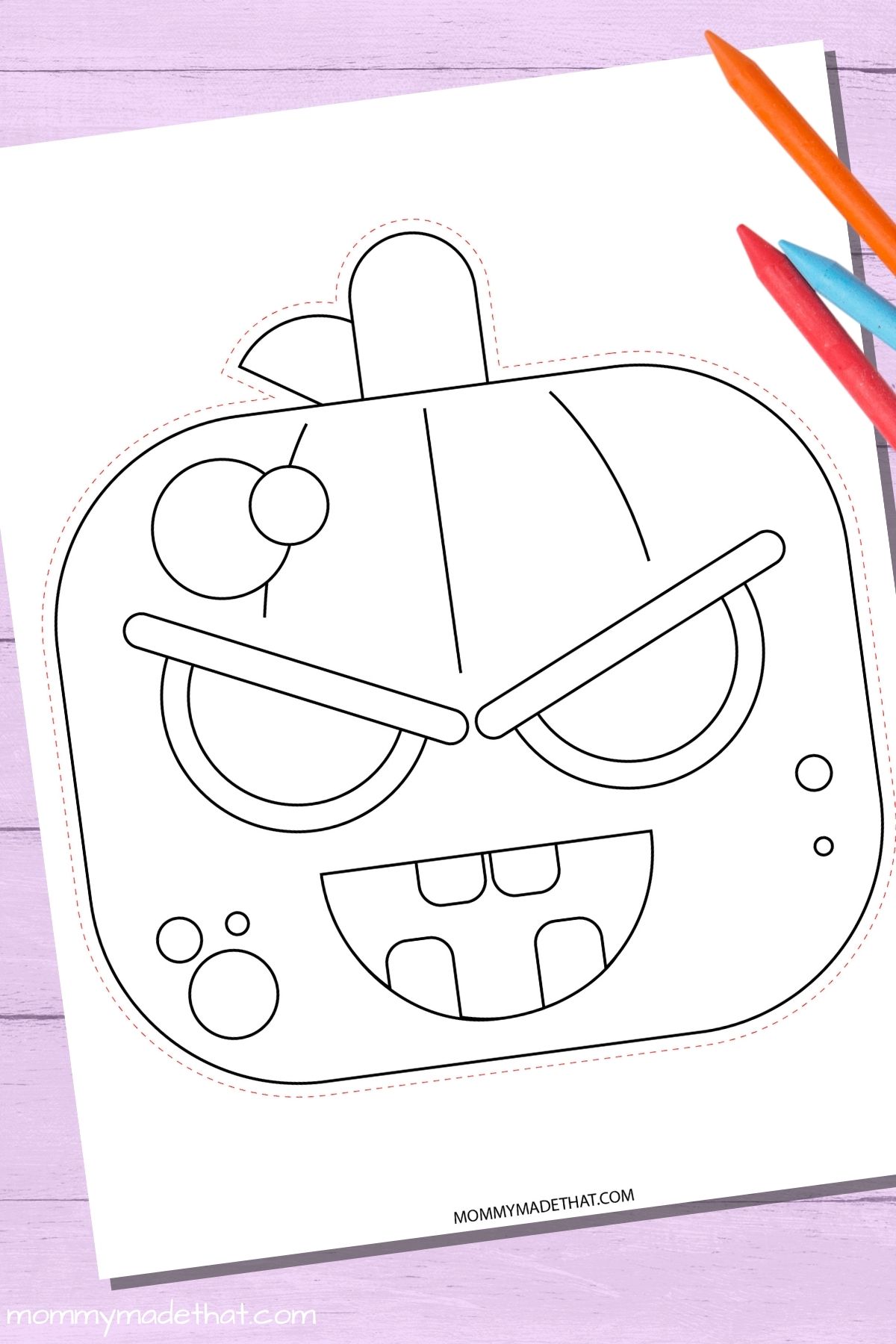 Printable Jack O' Lantern Mask
This next one is a little mean looking, but still a ton of fun. It's a Jack O' Lantern mask perfect for a spookier mask.
Cute Pumpkin Mask
This is another pumpkin mask, but way more cute than spooky. My youngest particularly liked this one. As he wasn't feeling a creepy vibe and wanted something cuter to wear.
Printable Zombie Mask
This fun zombie mask is a hit in my home as my kids are zombie fanatics. It could also double as a mummy mask since his head is wrapped. It all boils down the perspective.
Printable Frankenstein Mask
Of course we had to include a Frankenstein mask! What's Halloween without the infamous Frankenstein.
The fun part is you can color him green or purple or blue if you want a fun twist on the classic monster. That's what makes the coloring part so great.
Printable Sugar Skull Mask
Next we have a sugar skull mask. Sugar skulls are tons of fun to color. Plus they look great when worn. This is my personal favorite of the bunch.
Printable Cat Mask
Next we have a kid favorite for sure, a cat mask! Kids love pretend play and acting like cats and wearing this little Halloween mask makes it so much more fun.
Printable Little Devil Mask
Finally, we've got a cute little devil. Or beast. I'm not really sure which, but depending on how you color it, you can call it what you want.
I hope you enjoy these free printable Halloween masks! We had a ton of fun with them and I'm sure you will too.
How to Get the Printables
We made it super easy to grab the printable masks. Put your email in the box below and we'll send the printable masks straight to your inbox.
These are for personal or classroom use only, not for commercial use. Thank you!