Free Printable Ghost Template (Lots to grab!)
Do you want to make a fun ghost craft for Halloween? Then one of these free ghost templates should work for you! We have a good variety so you should find the perfect ghost for your crafting fun.
We have several ghost templates that you can print out and either cut out by hand or with a paper cutter.
This ghost will be perfect for your festivities and won't cost anything because it's free!
And if you like these, you'll love our free printable ghost coloring pages too!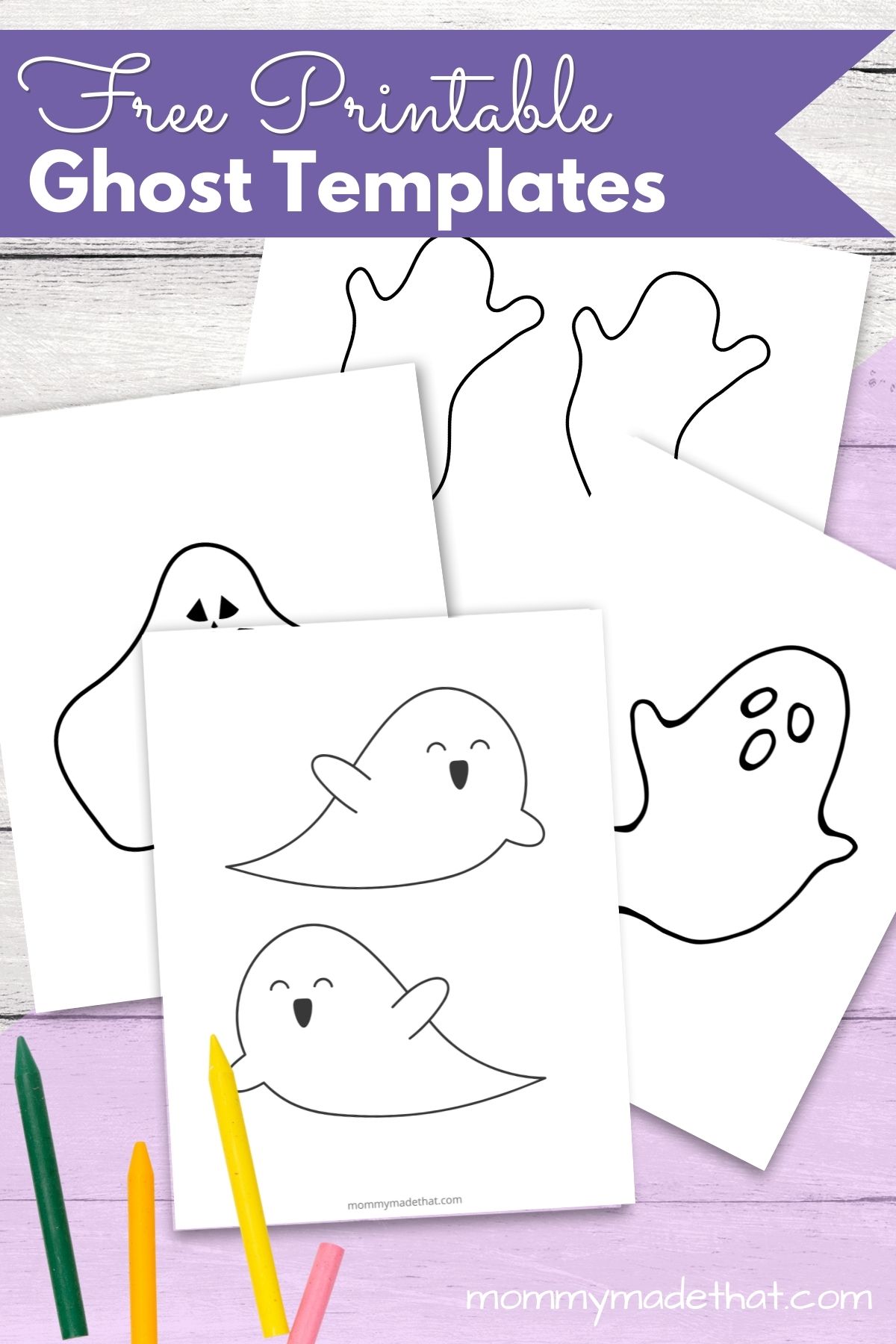 Fun Craft Ideas to Use for Using the Ghost Templates
There are tons of fun craft ideas you can do using the ghost templates. Here are a few of our favorites.
Use as Art or Coloring Pages
The easiest way to use these ghost templates is by turning them into coloring pages. This is the easiest craft idea here. All you have to do is set out some crayons or markers and the printable pages.
Let the kids (or yourself) go wild coloring the ghosts any color you like!
If you want to keep the ghosts a traditional white, you could have fun just coloring the background. Get as creative as you like, creating a cemetery scene or a friendly, slightly spooky party scene behind the ghost.
My youngest had a blast coloring a rainbow behind his pale friend.
Use Crumpled Tissue Paper
One of my favorite crafts to do with the kids is letting them "color" their ghost figures with tissue paper. You can grab a few different colors of tissue paper and let them spend some time ripping them up into smaller pieces.
They can crumple the pieces and use some Elmer's glue to glue the tissue paper onto the ghost.
You could also go the opposing route again, since ghosts are typically white, and just fill in the background of the ghosts with fun colors.
Sparkly tissue paper is always a favorite by the way. Typically we just use what we have leftover from gifts.
Create a Spooky Bunting
Another fun way to use these ghosts templates is to print out several of the ghosts and then cut them out. Use a hole punch and some tape to attach them to a string and create a ghost banner or bunting to string up on the wall or above a doorway.
This ghost banner would be perfect for a Halloween party!
Decorate with Glitter
These ghosts would also be awesome done in glitter! You can use glue to cover the whole ghost shape and then pour the glitter over it, or just do the features like the eyes and mouth.
If you use one of the templates without a face, it would be a good activity to have the kids create their own ghost faces and have them describe what kind of face their ghost is making. This is great in helping them identify emotions.
How to Download & Print the Ghost Templates
We wanted to make it as easy as possible for you to access the templates. All you have to do it click the links below to grab the templates you want. They'll open in a new page. You can then download and print from there!
Easy peasy.
These templates are for personal or classroom use only. Please don't repost the files online. Thank you!
Large Ghost Templates
Here we have several different ghosts in different shapes. Some are a bit spooky while the others are cute. So you'll have a few to choose from.
This ghost template has nice thick bold lines that are good for the tissue paper crafts or to use it as a tracing template. My kids have so much fun tracing over the ghosts onto new paper.
Makes them feel like they really drew it all by themselves. It's great for the confidence and fine motor practice.
This ghost is a little spookier than the others but has more interesting lines and shapes.
This ghost template is a little goofy in my opinion, but for some reason its one of my youngest's favorite ghosts of these printables.
This particular ghost is very wide. I actually used this little guy as a lollipop holder to give as gifts at a kids Halloween party.
We simply cut two slits, one below his little jack o lantern mouth and one another inch down. Then we threaded the lollipop through the holes. Perfect for passing to classmates too!
This little ghost figure is plain with no face. It would be perfect to print out and use as a template for kids photos on a bulletin board.
Cut out each child's face into a circle and pop it over where the ghost face would be.
They love seeing the ghastly version of themselves.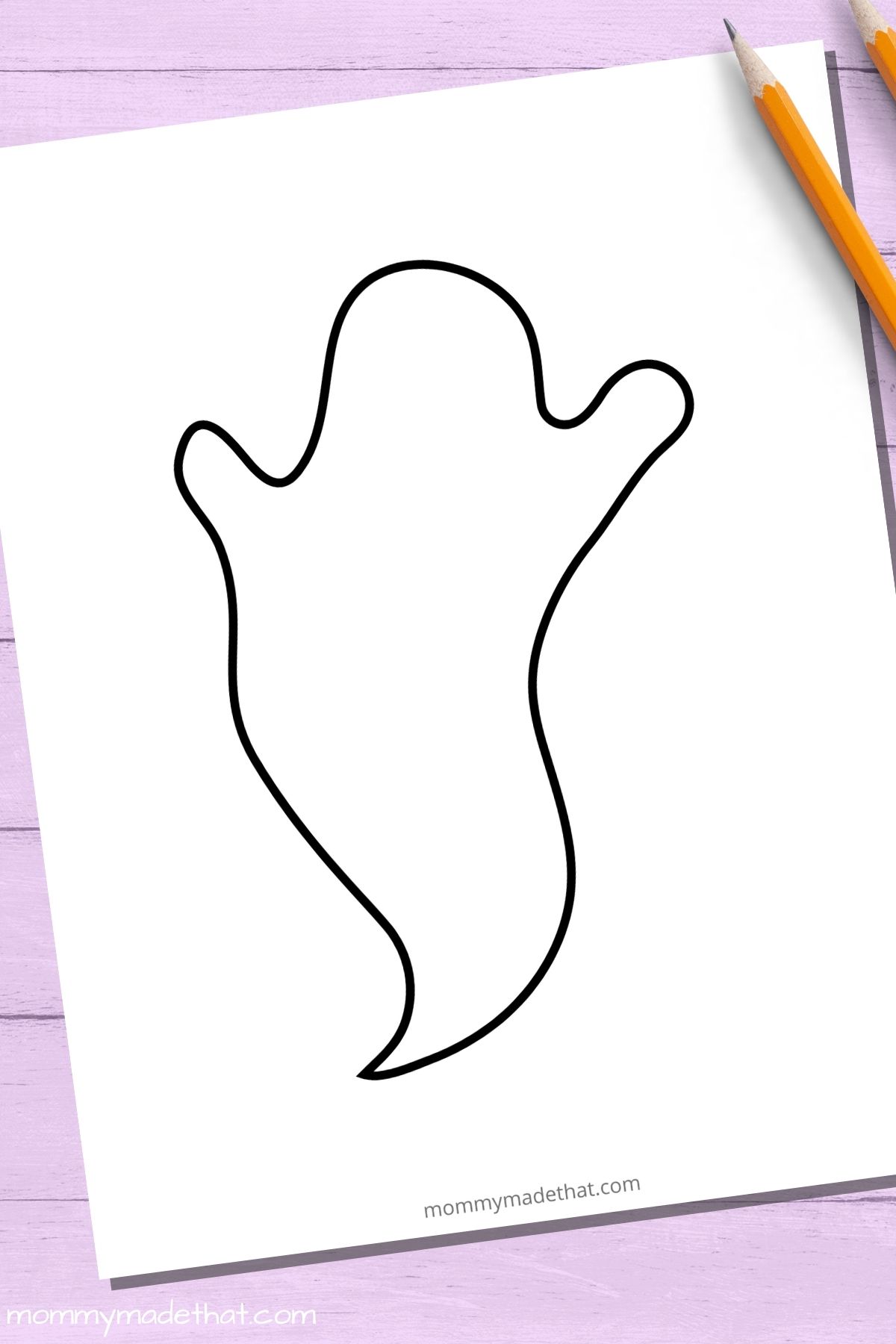 This ghost printable is great for decorating! Cut out a few of these guys and cover in a dark purple glitter, or trace onto a piece of glittered foam and hang them up with some double sided tape.
They'll look fabulous over a treat table.
This little pair are the cutest ghosts on this whole page! These ones are my eldest's favorite. He just can get enough of the happy ghosts.
He says they look like they are singing.
Small Ghost Template
And just in case you needed a small ghost shape, we added a small template here too. These would make good gift tags or to create a classroom bunting.
You could also gut these shapes out and add a little spooky Halloween note to tuck into your kids lunch box. They'll get a kick out of the unconventional lunch box note.
We hope you get a ton of fun crafty use from these free printables! Make sure to check out all of our other templates too!
Grab all of our ghost templates here!