Perler Bead Ghost Template
Today we have a perler bead ghost template you can grab, print and get to creating! Perler beads and hama beads are a great way to have a little creative fun.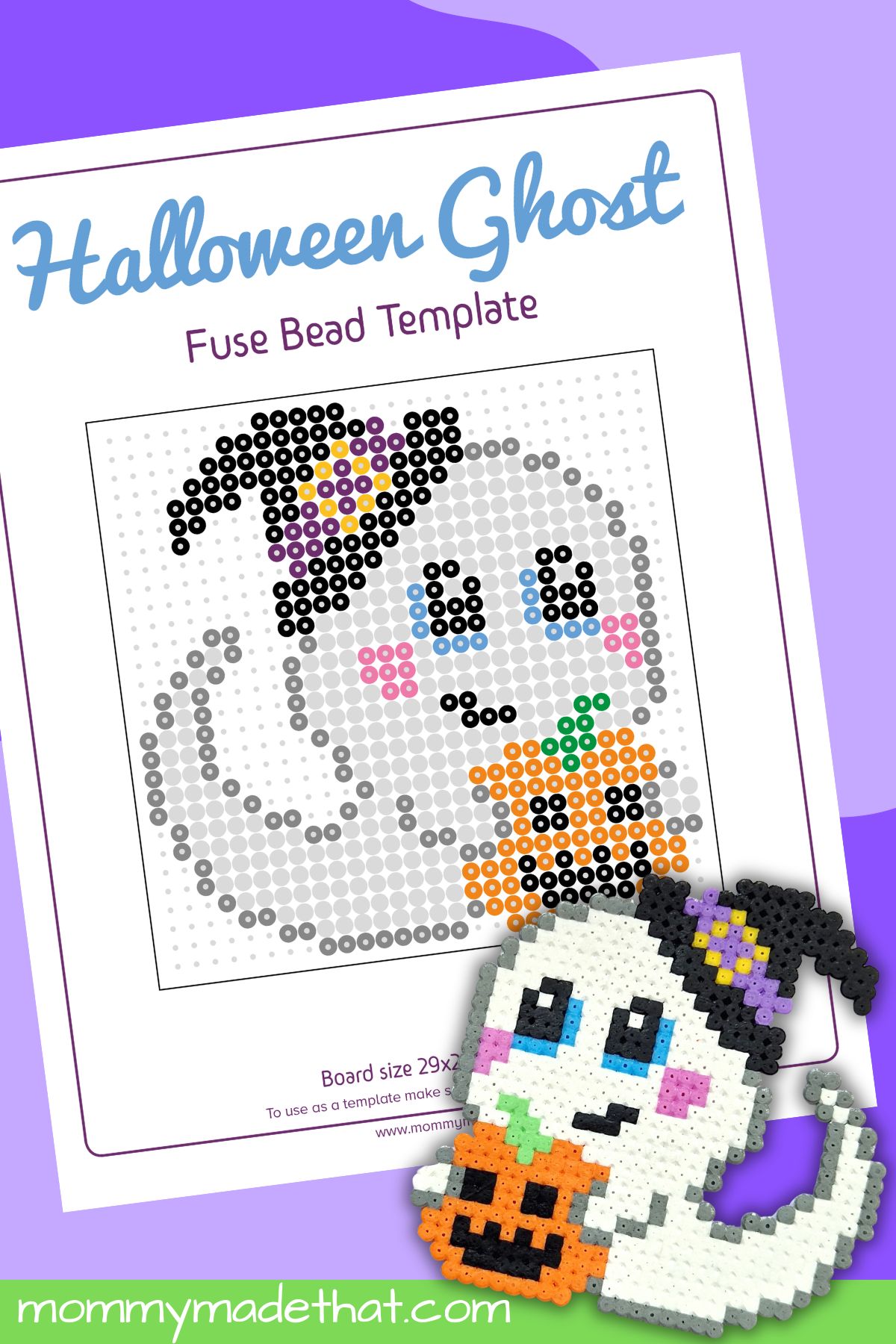 Ready for some perler bead fun? We've whipped up something special that's sure to get you in the haunting mood—a ghost perler bead pattern!
This hama bead ghost pattern is an adorable little specter and is the perfect DIY project for both kids and adults. So grab your perler beads and let's get to it!
While we're on the topic of perler beads and all things spooky, why stop at just one craft? We've got tons of free Halloween printables and Halloween crafts.
If you've got a soft spot for perler beads, then our Halloween perler bead pattern printable is perfect for you.
More of a paper crafts fan? No worries! Our make a monster printable will have your creative juices flowing.
If you're looking for something interactive, the Halloween charades printable is a game-changer.
And let's not forget our ever-popular printable haunted house that can transform a couple of pieces of paper into a ghostly manor!
Materials Needed
Our ghost perler bead pattern printable (it's frightfully cute!)
Perler beads (or Hama beads)
Square pegboard
Ironing paper such as parchment paper (not wax paper, it can melt the wax onto your iron)
An iron
Optional: Tweezers for intricate beading
You can use whatever colors you'd like for your ghost pattern. We used white/grays for the body. Black, orange and purple for the witch hat. Orange, green and black for the pumpkin, and blue, black and pink for the face.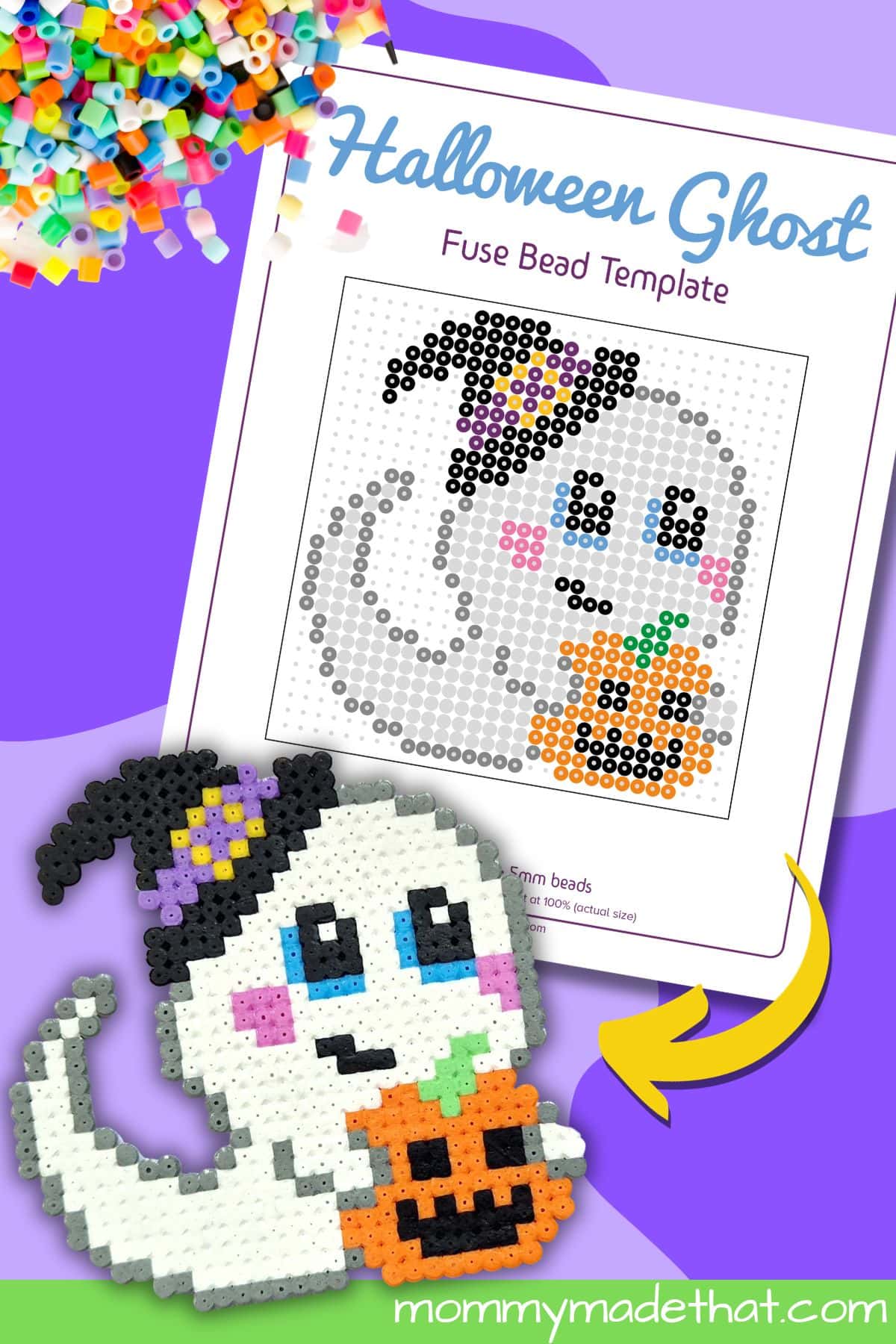 Instructions
Prep Your Craft Space: Set the stage for your bead crafting. Maybe dim the lights and play some spooky music to get in the spirit!
Print the Template: Go ahead and print our perler bead ghost pattern.
Arrange the Beads: Place your beads on the pegboard following the colors and pattern on the printable.
Ironing Time: Carefully place the ironing paper over your beads and gently iron until they're fused together.
Cool & Remove: Let your ghostly creation cool for a bit before carefully removing it from the pegboard.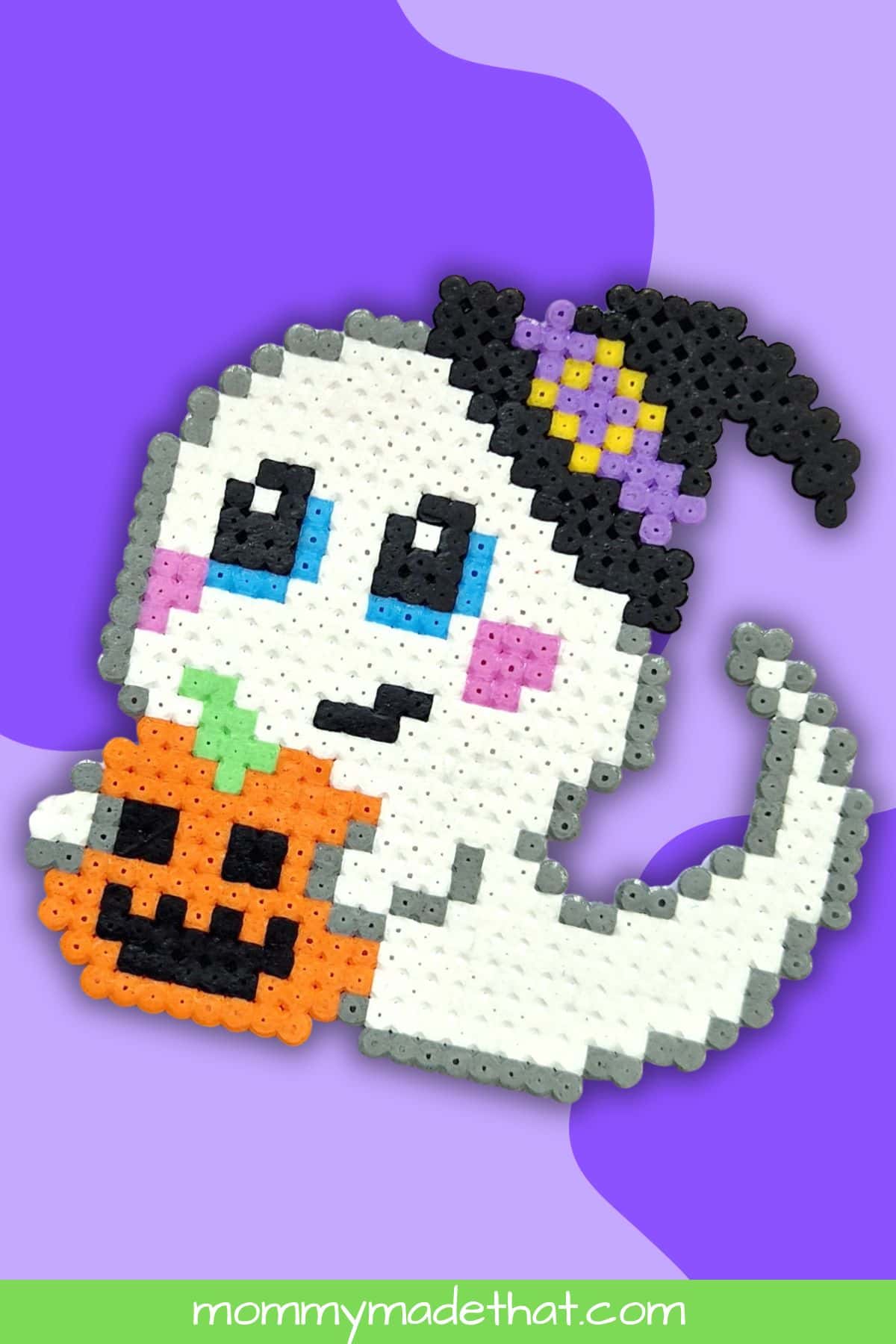 Isn't this little Hama bead ghost just the cutest!
Pro Tips for Using Perler Beads
If you're new to the world of perler beads or even a seasoned enthusiast, it's worth taking a moment to review some best practices for optimal results.
Utilizing tweezers can greatly improve precision when placing individual beads. Equally important is the ironing process—uniform heat application ensures consistent fusing of beads, creating a more polished end product.
And using a sheet of parchment paper, not wax paper, keeps the beads from melting onto your iron.
If you're crafting with young children, be cautious of the iron's temperature to ensure safety.
Finally, allow your completed design to cool on a flat surface before moving it to prevent any warping.
Printing Tips
Use a 'high-quality' print setting for the clearest pattern.
Make sure to print at 100% scale so your beads align perfectly with the pattern.
How to Get Your Hands on the Printable
Want this ghostly bead pattern for your next crafty venture? Easy-peasy! Put your name in the pink box below, and this we'll send our perler bead ghost pattern right to your inbox along with more fabulous updates from us.
Ways to Use Your Beaded Ghost
Halloween Ornaments: Hang your perler bead ghost in windows or from tree branches for a spooky effect.
Magnetize It: Add a small magnet to the back and spook up your fridge!
Keychains: Make a hole at the top before ironing and transform your ghost into a cute keychain.
We hope you enjoy this free printable perler bead template! If you are looking for more ghost fun check out our free printable ghost templates, our ghost coloring pages and our build a ghost printable.