Halloween Charades (Free Printable)
Looking to play a fun game of Halloween Charades? We have lots of great ideas for the game plus a free printable version so you can get the fun started.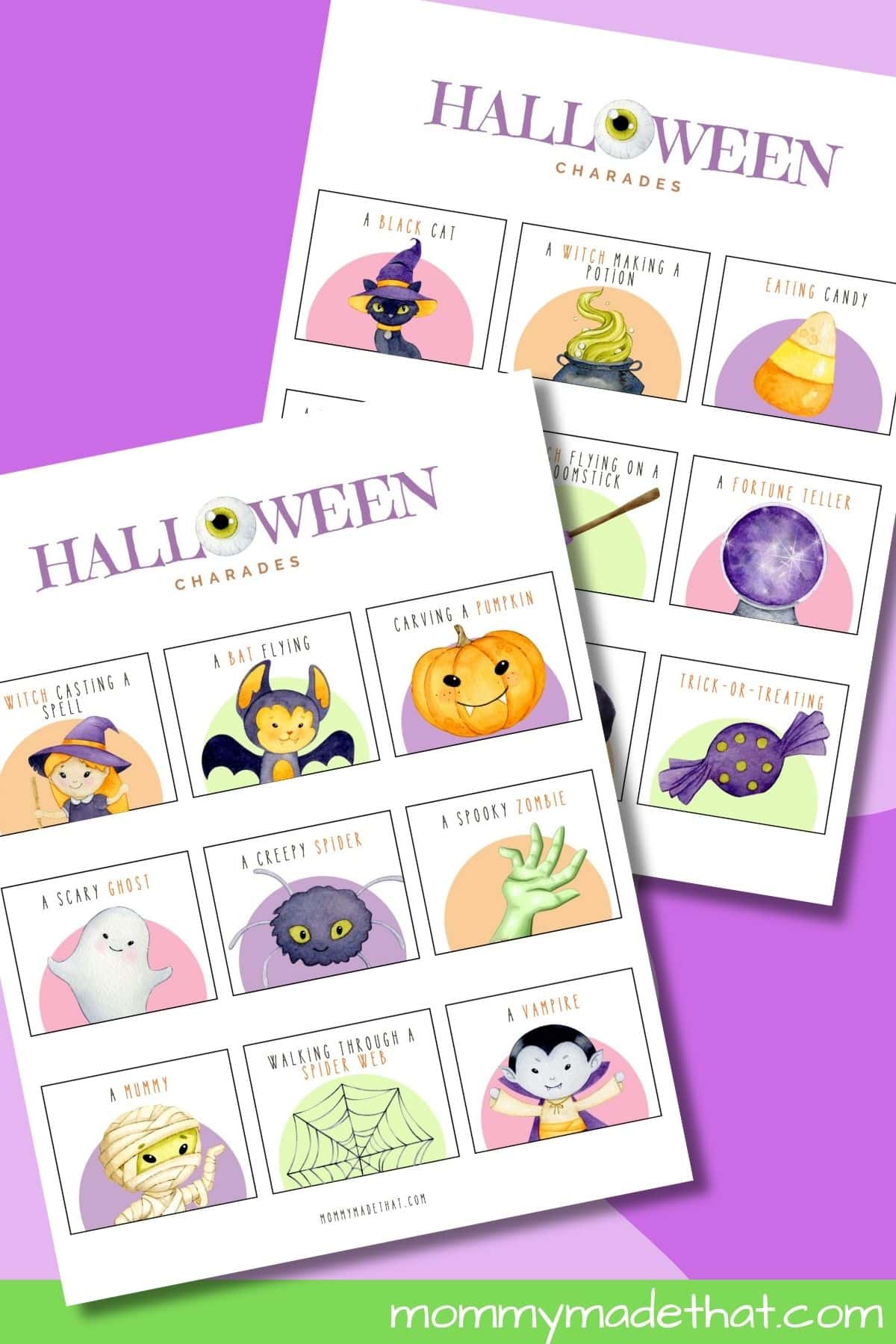 Halloween is just around the corner, and it's time to start thinking about how to make your celebrations fun and memorable.
Whether you're planning a Halloween party for kids or adults, one game that's sure to be a hit is Halloween charades.
Charades is a classic game that's been around for ages, but by adding a spooky twist, you can make it perfect for Halloween.
We've got lots of fun printable Halloween games, like our Halloween bingo and our Halloween scavenger hunt.
Our if you are planning for general Halloween fun we've got lots of Halloween themed printables like our please take one Halloween sign or our Halloween coloring pages.
Benefits of Charades
Sure, here are some benefits of playing charades that you can use as bullet points in the post:
Improves communication skills: Charades encourages players to express themselves through body language and gestures, which can help improve their nonverbal communication skills.
Enhances social skills: Playing charades involves working together as a team, taking turns, and showing support for one another. This can help improve social skills and promote positive interaction between players.
Promotes creativity and imagination: Charades requires players to think creatively when acting out words or phrases, as well as when guessing what others are acting out. This promotes imagination and encourages players to think outside the box.
Fun for all ages: Charades is a game that can be enjoyed by people of all ages, from young children to adults. It's a great way to bring people of different ages together and promote intergenerational bonding.
Develops cognitive skills: Charades requires players to use their memory and recall skills to remember words and phrases they have seen or heard before. This can help develop cognitive skills and promote brain function.
Provides entertainment: Charades is a game that can provide hours of entertainment for players. It's a fun and engaging activity that can be played repeatedly without getting boring, making it perfect for parties and gatherings.
How to Play Charades
To get started with Halloween charades, all you need is a group of players, some Halloween-themed words or phrases, and a timer.
The game is typically played in teams of two or more, with one person acting out the word or phrase while the other players try to guess what it is.
Here's a step-by-step guide for how to play:
Divide the group into two or more teams.
Choose a player from one team to go first. This player will choose a word or phrase and act it out without speaking.
The other players on the team have to guess what the word or phrase is, and they only have a set amount of time to do so (usually one or two minutes).
If the team successfully guesses the word or phrase before time runs out, they get a point. If they don't guess it in time, the other team gets a chance to steal the point by correctly guessing the word or phrase.
Play then moves to the next team, and the process repeats until all players have had a chance to act out a word or phrase.
The team with the most points at the end of the game wins.
But why not take it up a notch and use our printable Halloween charades game?
The Halloween Charades Printable
A printable version of the game makes it fun and easy and can save you time and energy in coming up with ideas for words or phrases.
Our game features spooky but cute illustrations and Halloween-themed words and phrases that are perfect for your Halloween party.
These Halloween charades cards makes it easy to print out cut and get started.
The game includes instructions on how to play, how to set up the game, and the rules of gameplay.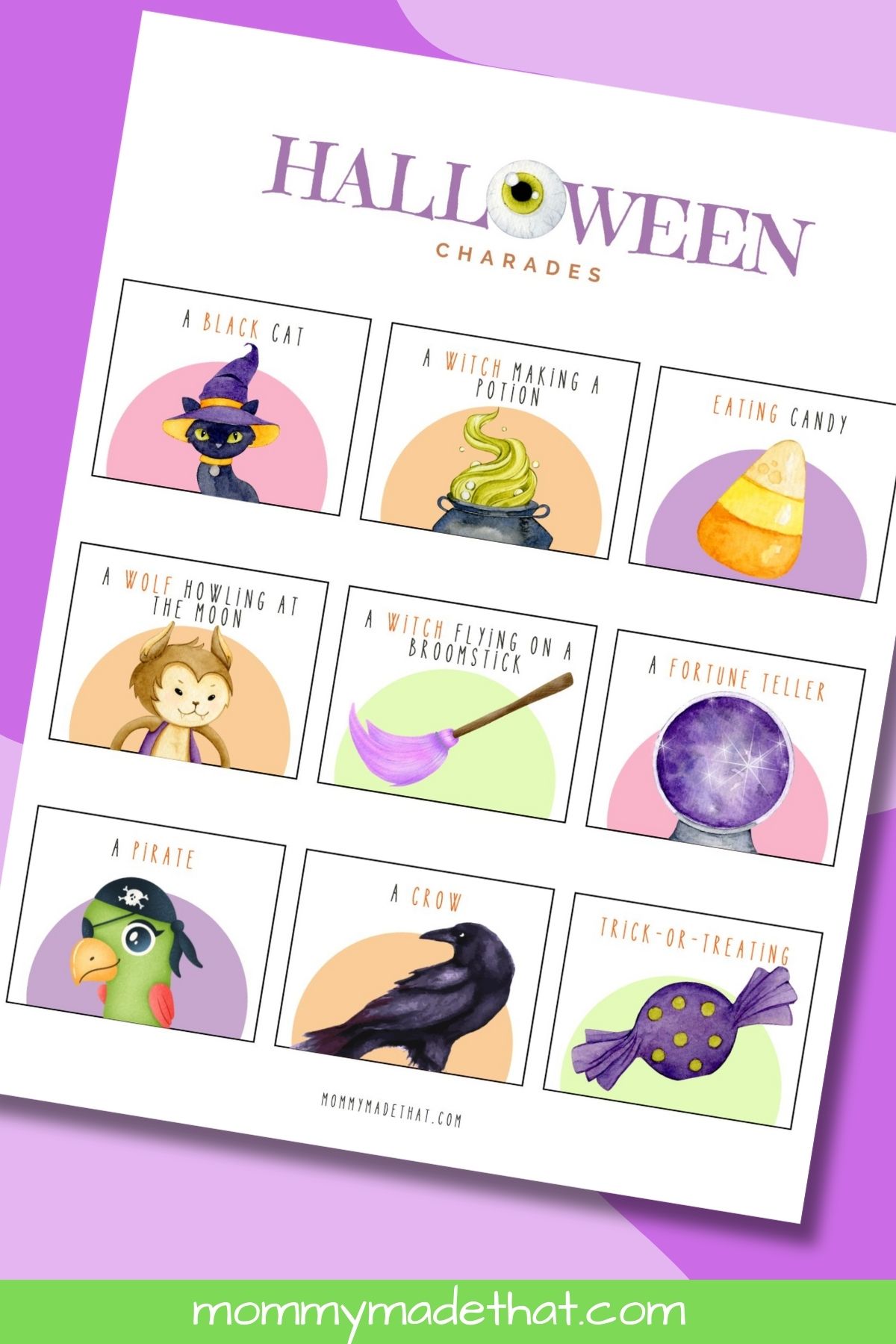 With multiple rounds of gameplay, this game is sure to provide hours of entertainment for your guests.
To use the Halloween Charades Printable Game, simply download the file, print it out, and cut out the pieces. Then, divide your group into teams and start playing!
Charades Ideas
Need some other Halloween charades ideas? Here are some of our favorites:
Ghost
Witch
Zombie
Vampire
Skeleton
Mummy
Werewolf
Jack-o-lantern
Haunted house
Bat
Black cat
Spider web
Cauldron
Broomstick
Full moon
Scarecrow
Frankenstein
Dracula
Grim Reaper
Headless Horseman
Gargoyle
Coffin
Tombstone
Candy corn
Trick-or-treating
Pumpkin carving
Hocus Pocus
Monster Mash
Phantom of the Opera
The Addams Family
The Mummy
The Invisible Man
Beetlejuice
Sleepy Hollow
Poltergeist
The Exorcist
The Shining
Psycho
The Twilight Zone
Casper the Friendly Ghost
These words and phrases include a mix of spooky characters, Halloween activities, and classic horror films and TV shows to make your Halloween charades game both fun and challenging.
Grab the Free Printable
To grab the free printable Charades game, put your email in the box below.
We'll send it straight to your inbox. This is for personal or classroom use only please. Not for commercial use. Put feel free to download it and print it out as many times as you like!
Thank you!
Halloween charades is a fun and engaging activity that's perfect for Halloween parties.
By using our Halloween Charades Printable, you can make it even easier and more enjoyable for everyone involved.
So, whether you're hosting a party or just looking for a fun activity to do with friends and family or in the classroom, give Halloween charades a try and see how much fun you can have!